At the TOH 2021 Modern Barnhouse, designer/owner Amy Matthews was inspired by her Scandinavian heritage and inherent love of nature. Light-hued oak is synonymous with the clean, uncluttered philosophy of Scandinavian design, and Matthews used it thoughtfully throughout the home—from flooring, to trimwork, to doors. She opted to stain a few doors black for maximum impact in the otherwise neutral spaces. And she was able to use the flooring remnants to create a few custom pieces, too, ensuring not one plank was wasted.
Here's a closer look at all the beautiful hardwood products from our friends at Baird Brothers Fine Hardwoods that helped bring Matthews' dream home come to life.
Sleek and stunning doors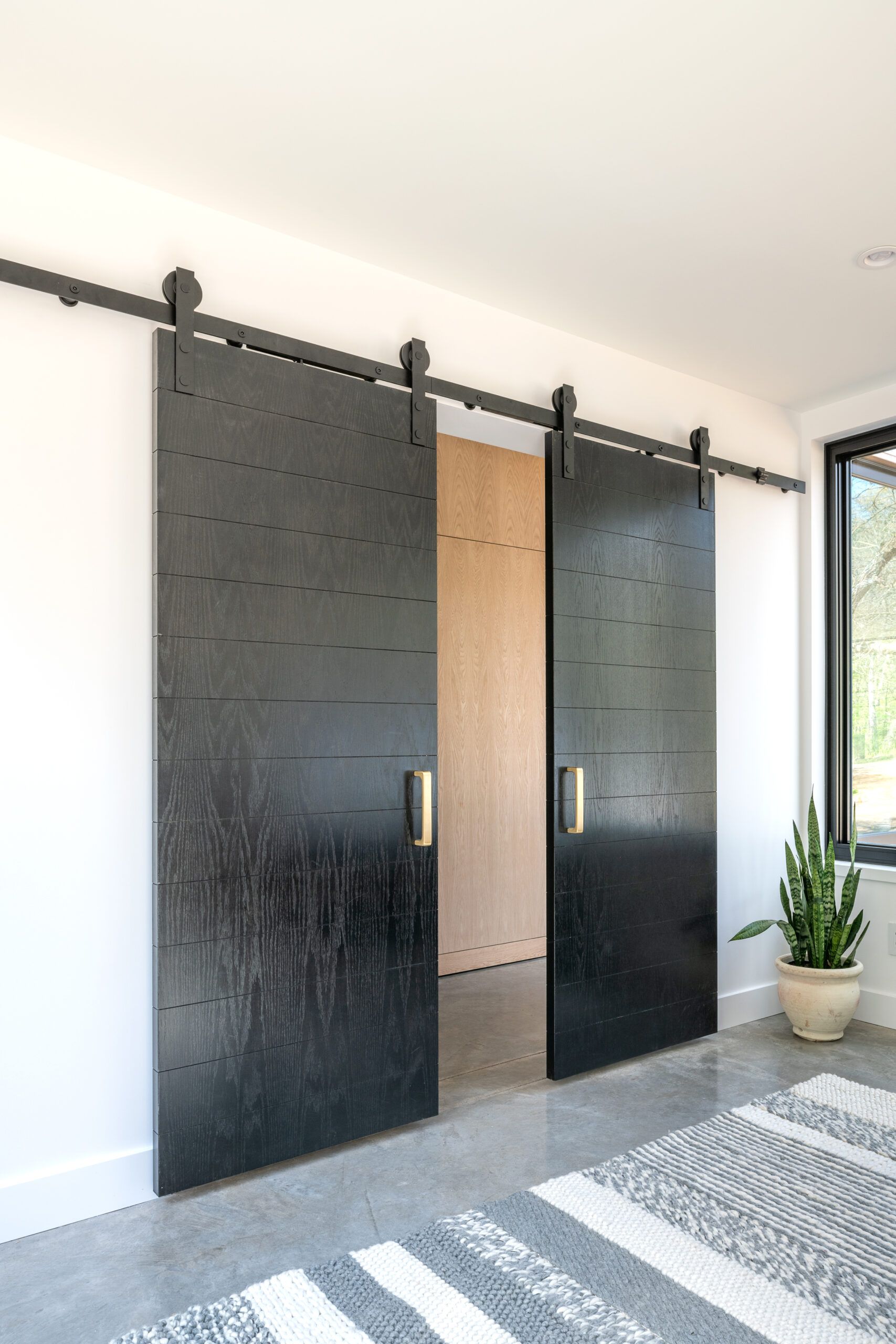 For these barn doors leading to the ground-floor sunroom, Matthews wanted them to appear to be created of individual slats of wood, much like the Shou Sugi Ban-inspired black exterior siding. Builder Chad Maack (Hartman Homes) milled recessed grooves into the faces of the solid-core Birch and Oak Flush Doors, and stained them black to mimic the look.
Details that make the difference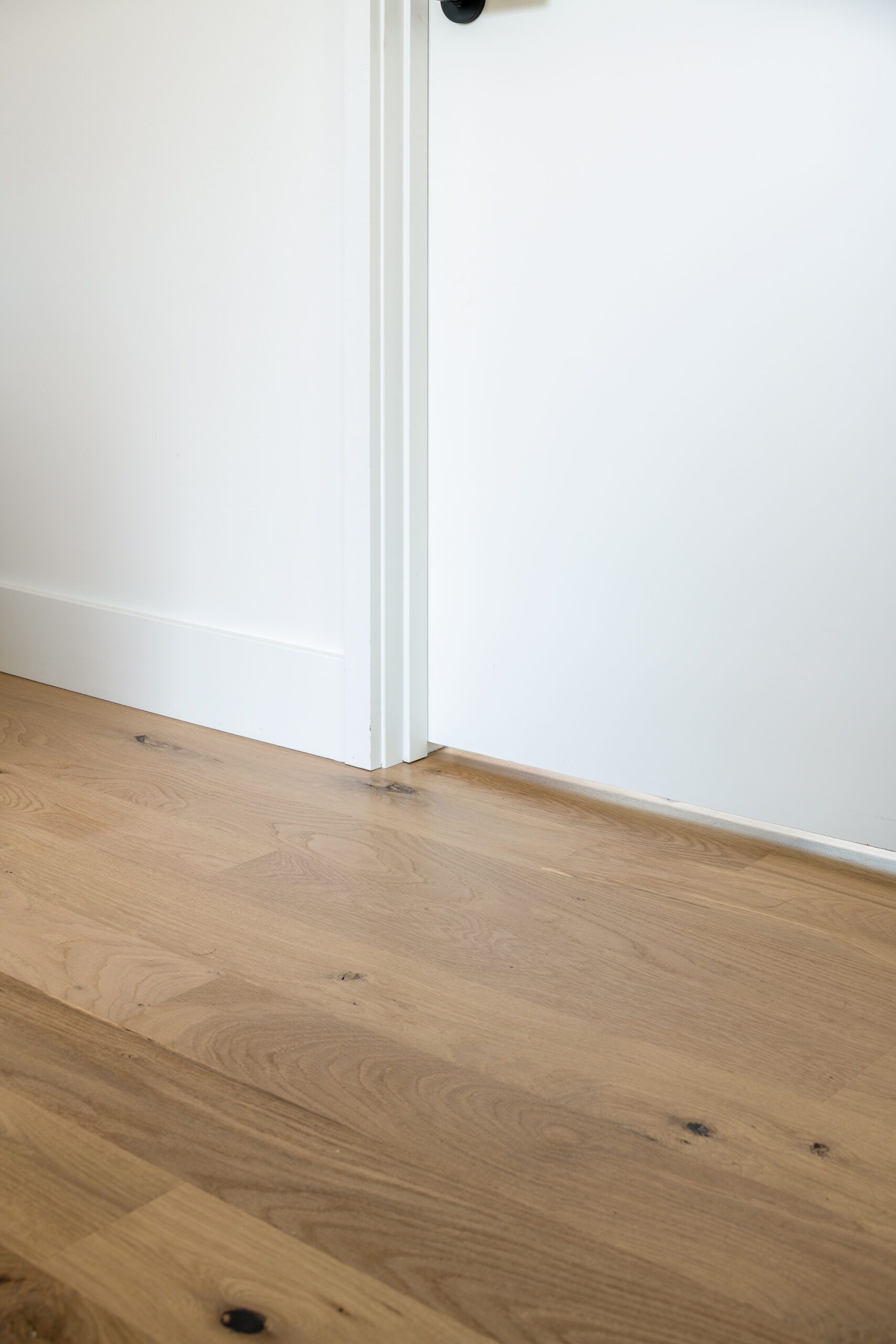 Upstairs, Matthews opted for 5″ Plain-sawn Character Grade White Oak Floors throughout the living spaces. To maintain the character of the wood, Matthews filled the naturally-occurring knots with clear epoxy, before three coats of clear matte finish; the result is a smooth surface with lots of character and an aged quality. Simply designed poplar casings and baseboards complete the classic look.
To learn more about the flooring installation at the 2021 Modern Barnhouse, check out Episode 3 of our Idea House video series.
A grand entrance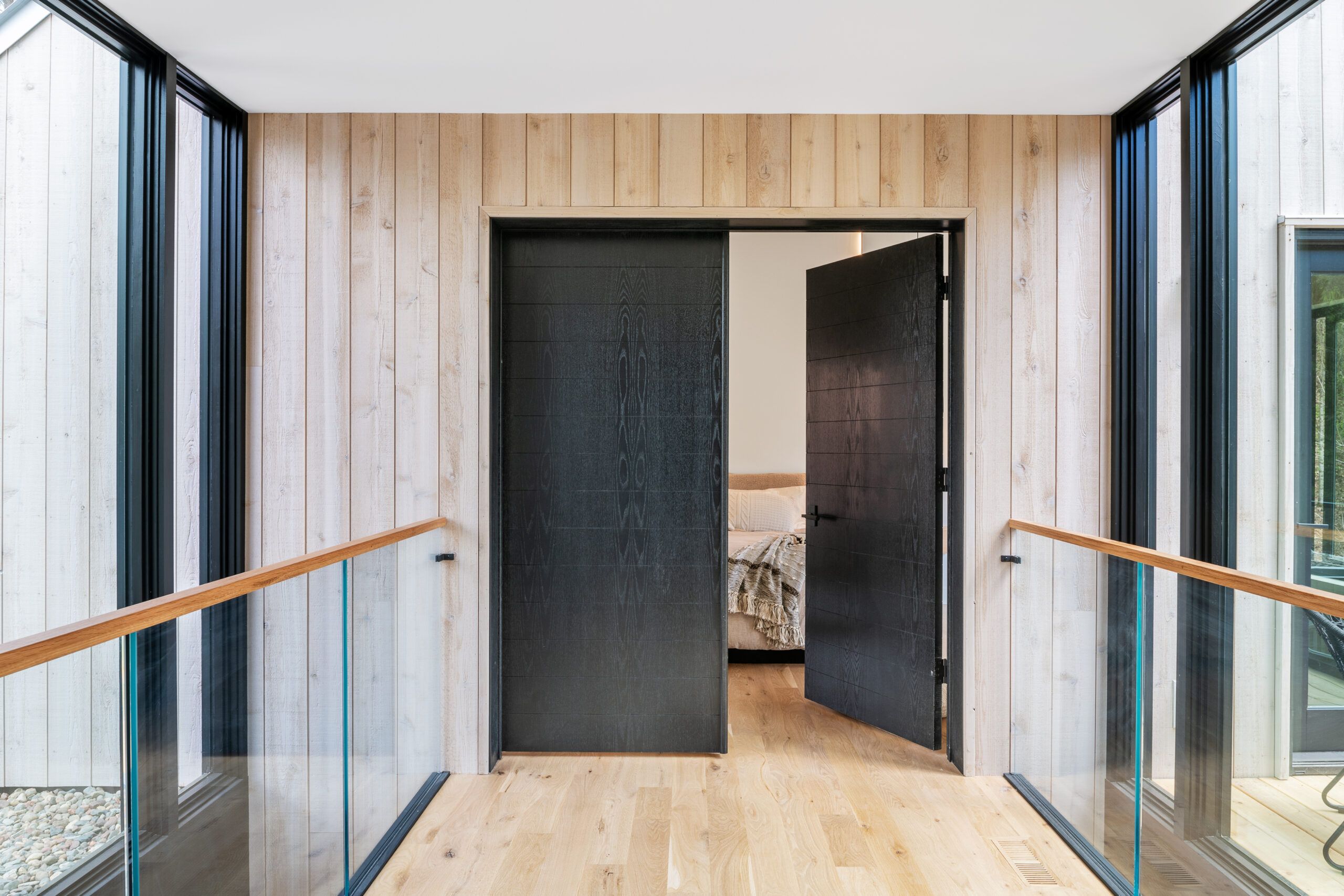 The whole house was designed to embrace nature, and this link between the main house and the owner's suite is one of Matthews' favorite experiences. Shown here, a Character Grade White Oak runway is flanked by glass railings and walls of windows. A pair of black-stained Solid-core Birch and Oak Flush doors with custom sawcut grooves create a dramatic, grand entrance.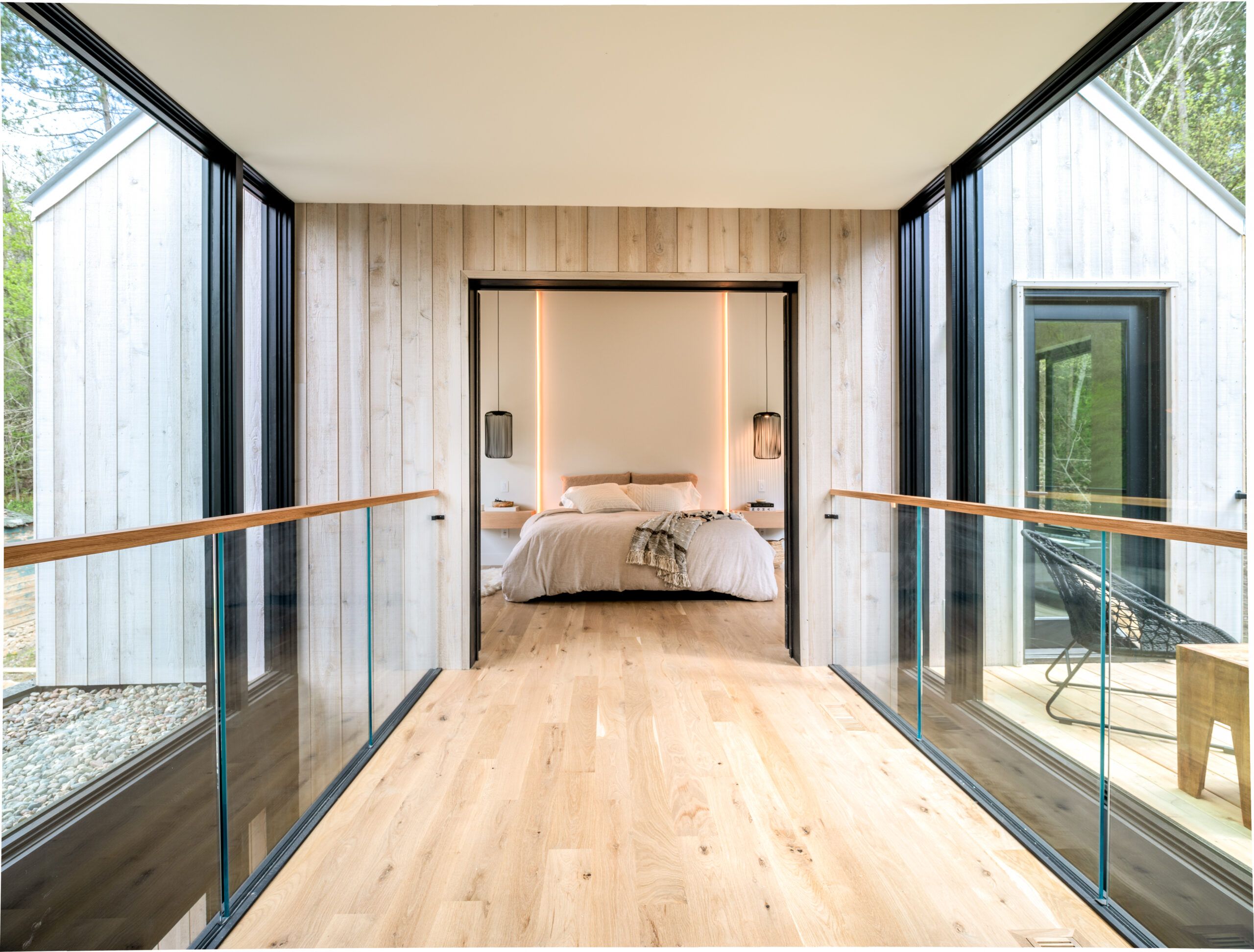 When the doors are opened, you are invited into the rustic retreat beyond.
DIY project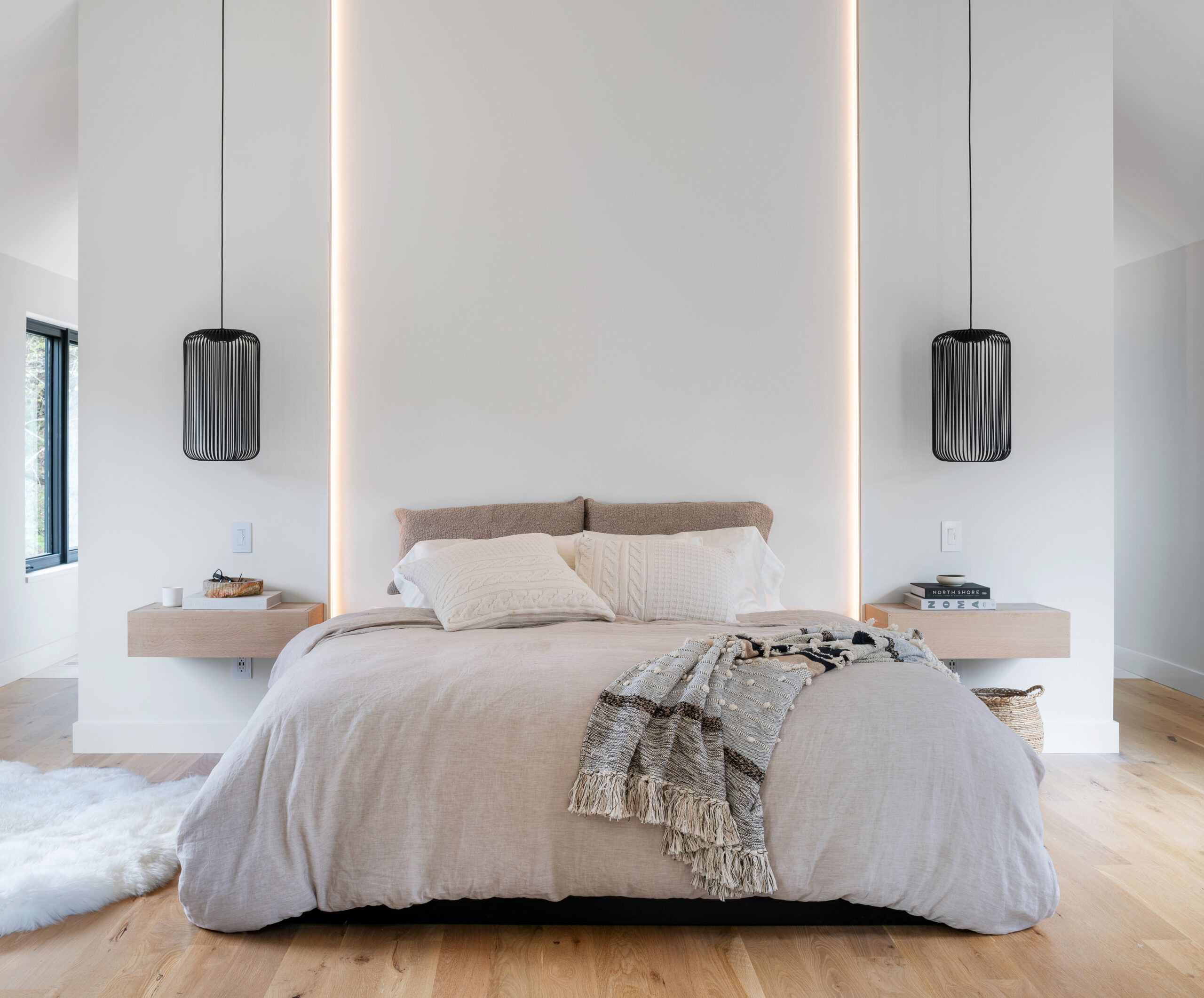 Never one to pass up an opportunity to upcycle, Matthews and her fabricator Bill McCallum built the bed frame and floating side tables out of remnants of Character Grade White Oak flooring. Soft fabrics and faux furs complete the Nordic-inspired look.
Spa-inspired bath
Just around the corner from the sleeping quarters is this spacious, spa-inspired bath. Matthews wanted to incorporate more warmth into the tiled space; she and McCallum used more remnants of the white oak flooring to create the floating vanity and shelves. Strips of LED lighting cast a soft glow.
Small space solutions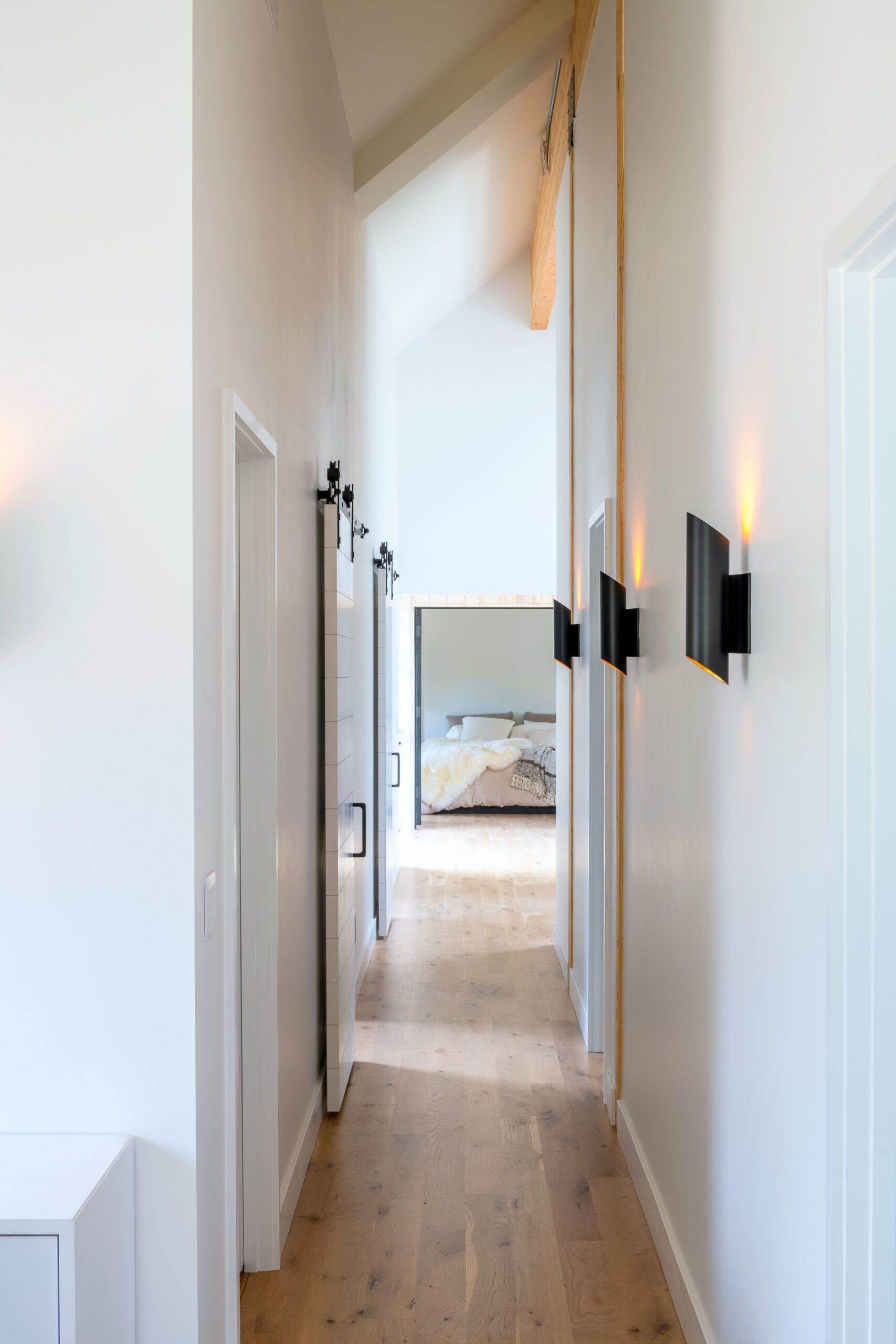 Scandinavian design strips back unnecessary extras; everything is planned with purpose. In the narrow upper hallway, Matthews opted for sliding barn doors to create unobtrusive entrances to the bedrooms and laundry. Character Grade White Oak flooring runs from end to end of the entire second floor for a continuous, seamless look.
Modern lines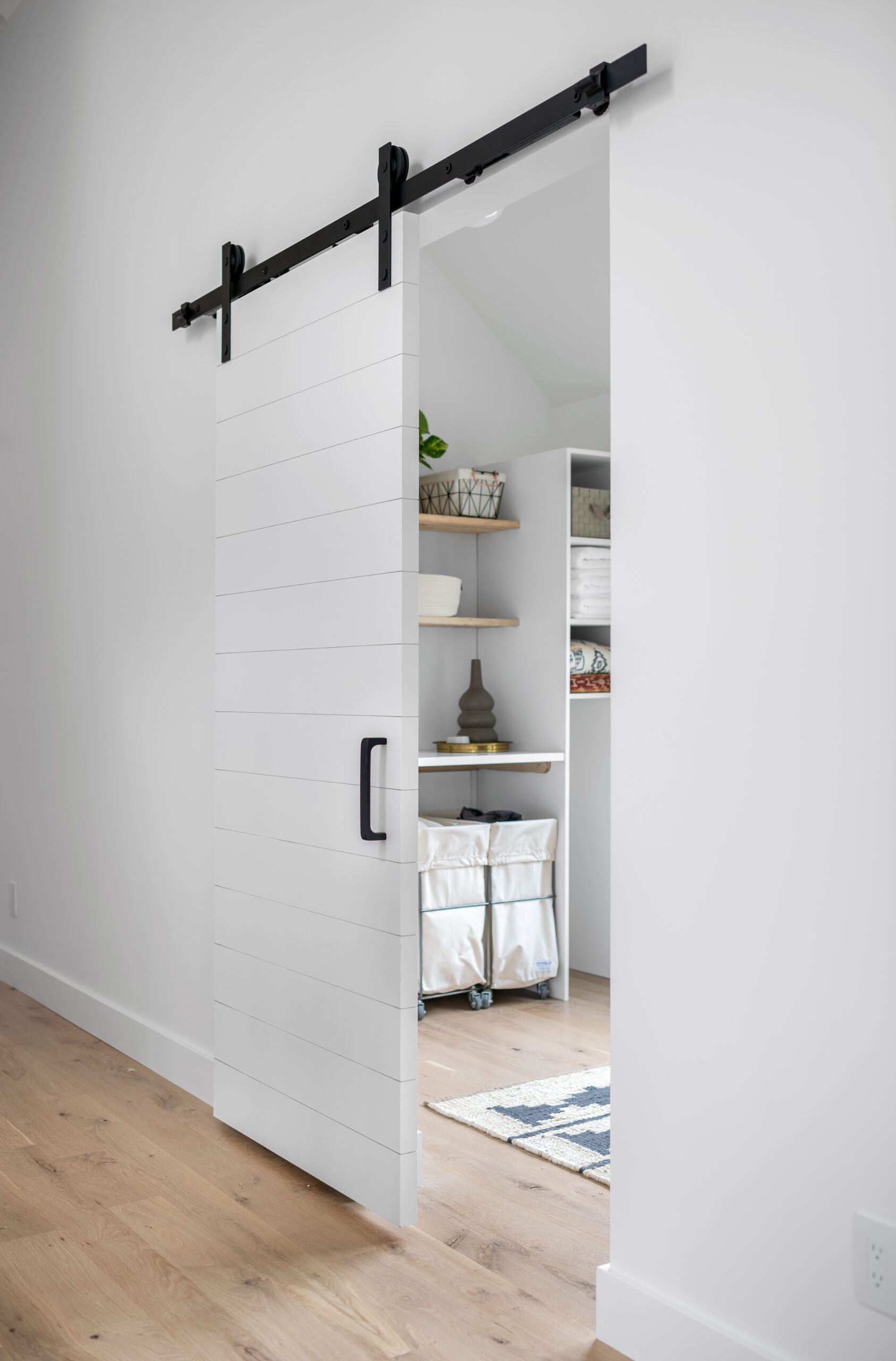 The custom-milled barn doors feature sawcut grooves for textural interest, and are painted white at the entrance to the laundry room and other upstairs living spaces.
Serene studio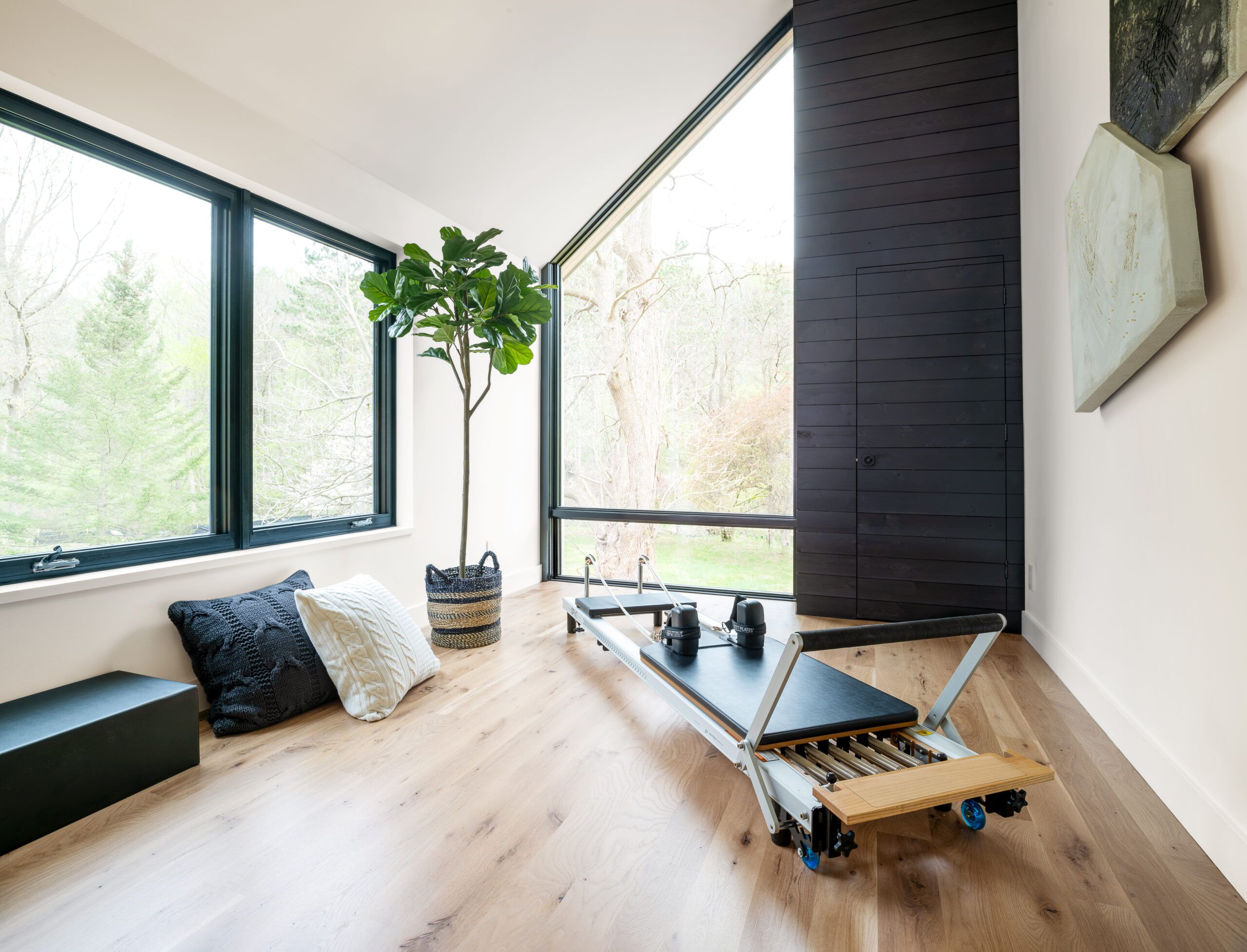 An avid Pilates and yoga enthusiast, Matthews created this "very zen" fitness studio with Character Grade White Oak floors, a serene palette, and oversized windows that act as picture frames for the incredible view.
Baird Brothers Fine Hardwoods manufactures and retails high-quality architectural hardwood products, including mouldings, handrails, stair parts, flooring, interior doors, S4S lumber and more. To learn more, visit bairdbrothers.com.