This article appeared in the Spring 2021 issue of This Old House Magazine. Click here to learn how to subscribe.
The minute she set foot on the old farmstead in Afton, Minnesota, Amy Matthews says she "felt something magical about this place." Located in the greater St. Paul area, just 35 minutes from her current home in downtown Minneapolis, the site is surrounded by wooded slopes and sheltered in a hollow carved long ago by retreating glaciers, screened from any neighbors.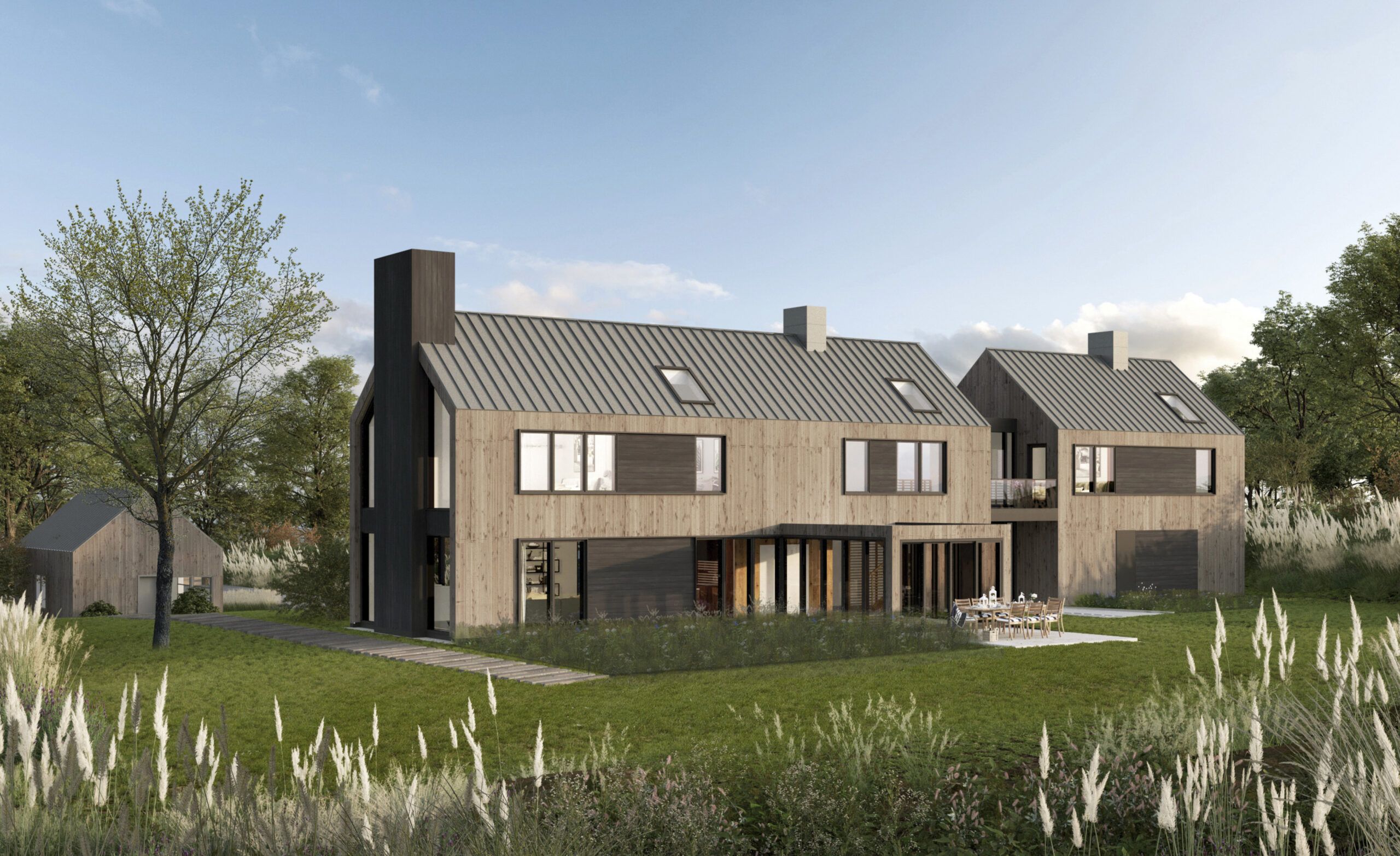 Amy envisioned a rural farm compound that would serve as a private refuge for her and her 9-year-old son, Eli, but also offer an experience for guests. Working with architectural designers Colin Oglesbay and Aaron McCauley-Aburto, she developed plans for a 3,800-square-foot home with a long, narrow, barn-like shape 20 feet wide and 100 feet long. At the west end would be an open-plan kitchen and a large vaulted living room with a fireplace, suitable for entertaining.
Flanking the house on the north and south sides on the main level would be one-story 14-by-15-foot glassed-in extensions—one to serve as a family room (later switched to a home office), the other as the dining room. Upstairs would be three bedrooms, one to be used as Amy's workout space, plus a guest bath, and her own large, private suite over the garage on the east end, accessed by a glassed-in bridge.
The house, with its home office and outbuildings, will support Amy's work with Habitat for Humanity and the Ronald McDonald House Charities, as well as her own nonprofit, And Now She Rises (ANSR). ANSR is sponsoring the restoration of an on-site workshop, which will serve as a space for women recovering from domestic abuse to get training in the building trades.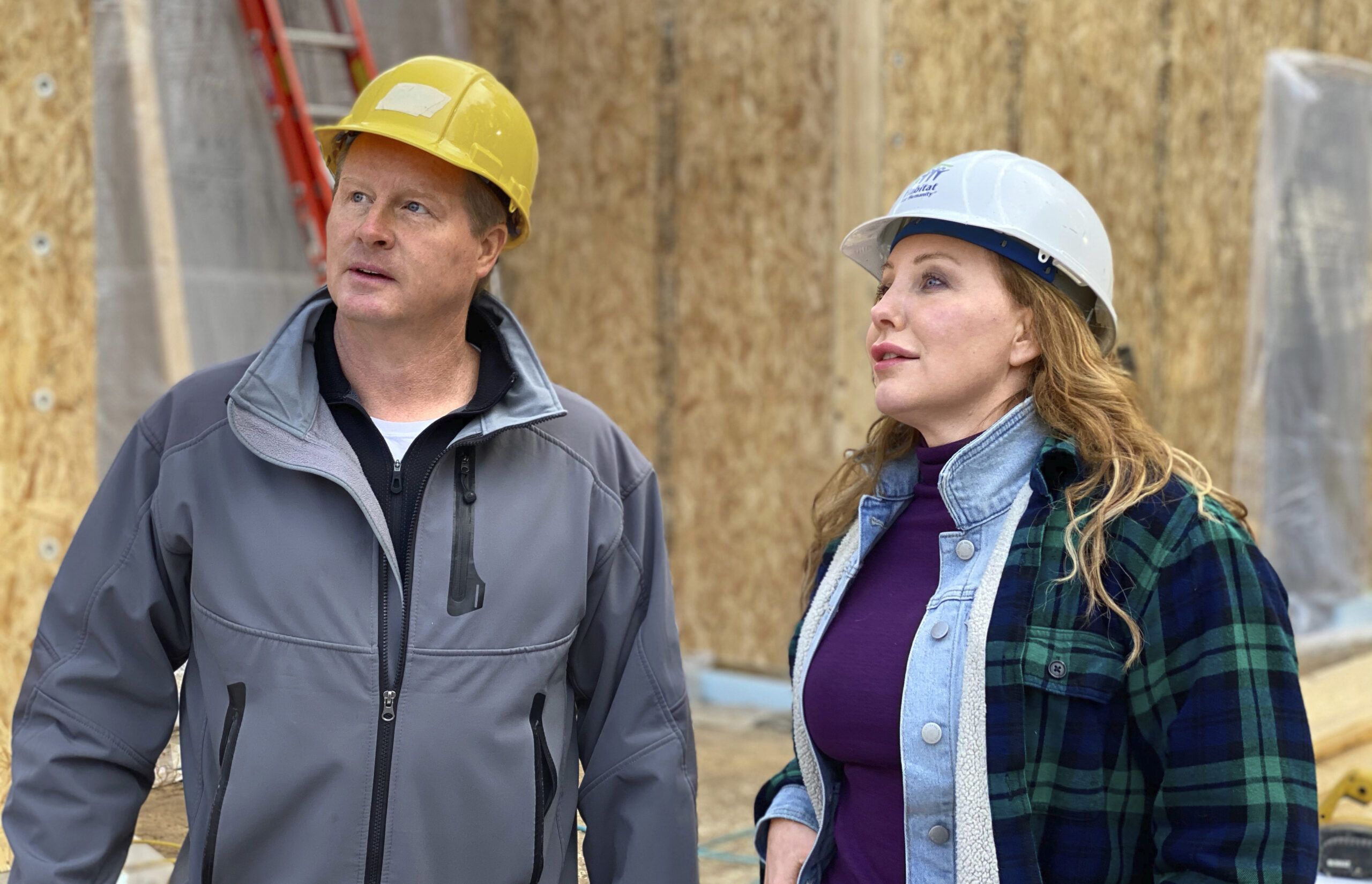 Amy is no stranger to construction. A licensed contractor, she hosted HGTV's Renovation Raiders and DIY Network's Sweat Equity for years. But as she points out, new construction is different. "Renovation is troubleshooting," she says. "You plan for everything, but if things go wrong, you pause and you troubleshoot. With a new build, you have to troubleshoot before you break ground."
Energy-Efficient Products Keep Things Warm in Winter, Cool in Summer
Carefully chosen products and systems will deliver energy-efficient comfort year-round. In Minnesota's climate, winter comfort is a priority. The main level of the Modern Barnhouse will be heated with a hydronic radiant slab on grade: Flexible cross-linked polyethylene or PEX tubing will snake through the slab, carrying water heated by a high-efficiency natural gas boiler.
Heated to 80 to 85 degrees F, the floors will feel warm underfoot in winter. The polished concrete will also serve as the finished floor, an ideal way to heat the vaulted living room and the glassed-in extensions, says Amy.
But in the living room, the hydronic heat will get help from a linear gas fireplace. In the shoulder seasons of fall and spring, the fireplace alone will be able to supply enough heat for the space. "With these fireplaces, you get a heat feed source which is sent to a register that you place in the room, so you're able to target that heat," says Oglesbay. "They're a lot more like a furnace than a conventional masonry fireplace would be."
Shown left: On the roof, remote-controlled, solar-powered skylights will open and close automatically for natural convection cooling in summer.
Skylight: VELUX
Shown right: On the first floor, PEX tubing buried in the exposed concrete slab will circulate heated water to create radiant heat underfoot.
Floor warming: Uponor
The second story's heat will come from a forced-air furnace, with ductwork running through the floor framing trusses. That ductwork will also serve for cooling in summer, but the air-conditioning may not see much use. Instead, the home is designed for cross-ventilation and natural convection cooling: Electronically controlled skylights will open when needed, creating a chimney effect that will draw in cooling breezes.
Two years in the planning, Amy's dream home has been through some changes on paper. But once the windows were ordered and the structural insulated panels (SIPs) were being fabricated, it was commitment time. " There's no 'Oh, this window came in and we need a couple more inches,' " she says. "It all had to be decided."
Those decisions reflect Amy's personal aesthetic, based in the modern-rustic tradition blended with her Swedish and Icelandic heritage. "I love clean lines," she says. e simple barn-like shape is practical to build and plays well with the site's existing outbuildings (a barn, a workshop, and a milk house). Large windows will bring in light during Minnesota's dark winters—"the Scandinavian light trick," Amy calls it. "Light and shadow work together to create an atmosphere that is natural, cozy, warm, and inviting," she says. Vertical cedar siding with accents of Shou Sugi Ban charred wood will wrap from the exterior into the home's entryway, helping to blur the distinction between indoors and outdoors.
"We wanted to keep materials simple and honest," says Oglesbay. " The barn wood will age to silver over time, like old farm structures. The roof's galvanized aluminum will patina to a soft gray. So eventually the house will go silver and gray and just be a quiet thing in the landscape."
For Amy, the whole house is a chance to interact with the landscape—part of the reason that she hired Oglesbay, whose background is in landscape architecture. "I could tell you before the walls went up what you will see from every single window," she says. Glassed-in, flat-roofed wings extend from the simple barn shape on the long north and south sides to create floor-to-ceiling panoramic views from the dining room and office. "I wanted to be able to sit in a room that makes you feel like you are sitting in a snow globe and surrounded by the weather." Oglesbay plans plantings of short prairie grasses around those windowed extensions: "It will feel like you're hovering there in the native vegetation." The dual-glazed windows with warm-edge polymer spacers will be coated with three layers of silver oxide, rejecting the sun's heat in summer but keeping warmth in the building in winter.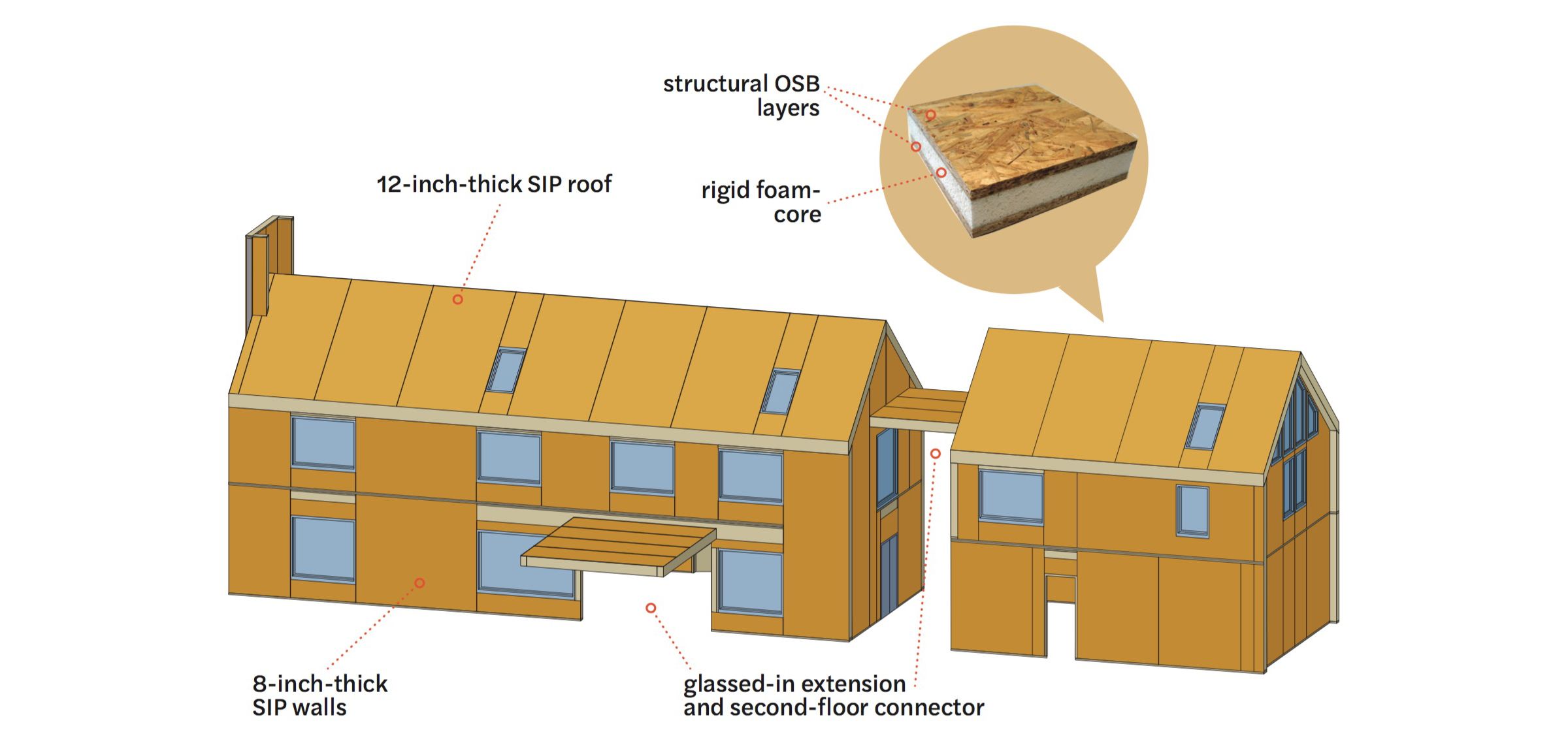 One technical key to executing the vision is an advanced component: those SIPs. Like an ice cream sandwich made with a core of insulating foam and skins of structural oriented strand board, SIPs have the strength of traditional stick-framing but offer much better energy performance because the insulation is uninterrupted by heat-conducting wood studs or rafters. Panel joints are meticulously sealed, resulting in a shell with exceptional airtightness. For this project, the SIP supplier specified thicker-than-usual panels: 8 inches thick for the walls, and 12 inches thick for the roof. With the SIPs, says builder Chad Maack, meeting Minnesota's strict energy code was "a piece of cake."
"Using structural insulated panels built in a controlled environment just makes sense: It reduces waste, increases construction efficiency, and means the building shell goes up quickly." —Amy Matthews, homeowner
SIPs have been around for decades, but the technology has advanced. Previously assembled by hand, panels these days are fabricated on a computer-controlled factory line. The panels for Amy's house took about two days to make, including the detailed cuts required to precisely fit the whole panel package to the outlines of the house. Besides their energy performance, SIPs have another practical advantage: speed of construction. Once the panels were delivered, the shell was ready for windows in about 14 working days.
SIPs lend themselves to a simple architectural form like the Modern Barnhouse. Still, there were some engineering challenges. Aside from the chimney, the 28-foot-tall west gable end is almost all glass, with custom windows 6 feet wide. To manage "lateral loads"—the sideways pressures of wind—that gable end needed a 20-foot-long engineered wood beam at the second-floor deck, spanning the width of the house and tying into the 10-foot-wide SIP-framed chimney structure. As Extreme Panel Technologies sales manager Perry Penske explains, "That fireplace chute is a huge structural member on the end of that wall."
The glassed-in dining room posed its own challenges. To brace its walls, the room needed a welded steel reinforcing frame with stiff beams and rigid corners, called a moment frame, which required custom engineering. "We have five-inch I-beams for columns and an eight-inch I-beam going across," says project engineer Derek Phillips. "The beam is flush with the roof panel, and the entire steel frame fits inside the wall, so you won't know it's there." A dropped ceiling in the room creates space for mechanicals.
All that engineering is a new wrinkle for Amy. "As much as I've seen in seventeen years in the remodeling industry," she says, "I never had to put in anything like this before. The fun thing about this house is, I'm still learning."