Imagine a stovetop that cuts your cooking time in half, and maybe your cleaning time, too. One that doesn't retain heat after it's turned off, send out harmful fumes, or waste almost half the energy you pay for to power it. Welcome to the world of induction.
Of course, the technology itself is not exactly new: Frigidaire enticed housewives in the 1950s with a prototype of a cool-to-the-touch induction cooktop made from marble. When Westinghouse launched a single-burner induction range in the early 1970s, it didn't get many takers. But energy-conscious Europeans have been all in on induction for decades, and now, after a slow but steady rise in induction cooktop sales, appliance makers across the board are doubling down with a new lineup of induction ranges. Add in fresh tax incentives to go electric, growing concerns about indoor air quality associated with natural gas, and a general shift away from fossil fuels, and suddenly induction is looking pretty hot.
Ready to learn more? Read on for the pros, cons, and surprising payoffs of owning a state-of-the-art induction range.
How Induction Ranges Work
The technology produces heat by inducing a rapidly alternating magnetic field: An electric current races through copper coils, passing through a sheet of ceramic glass to generate electrical currents in an iron-containing, or ferromagnetic, pan. The metal's resistance instantly generates heat; the pot gets hot but not the stovetop. Because heat can damage the internal components on any electric range, an induction stovetop also houses cooling fans.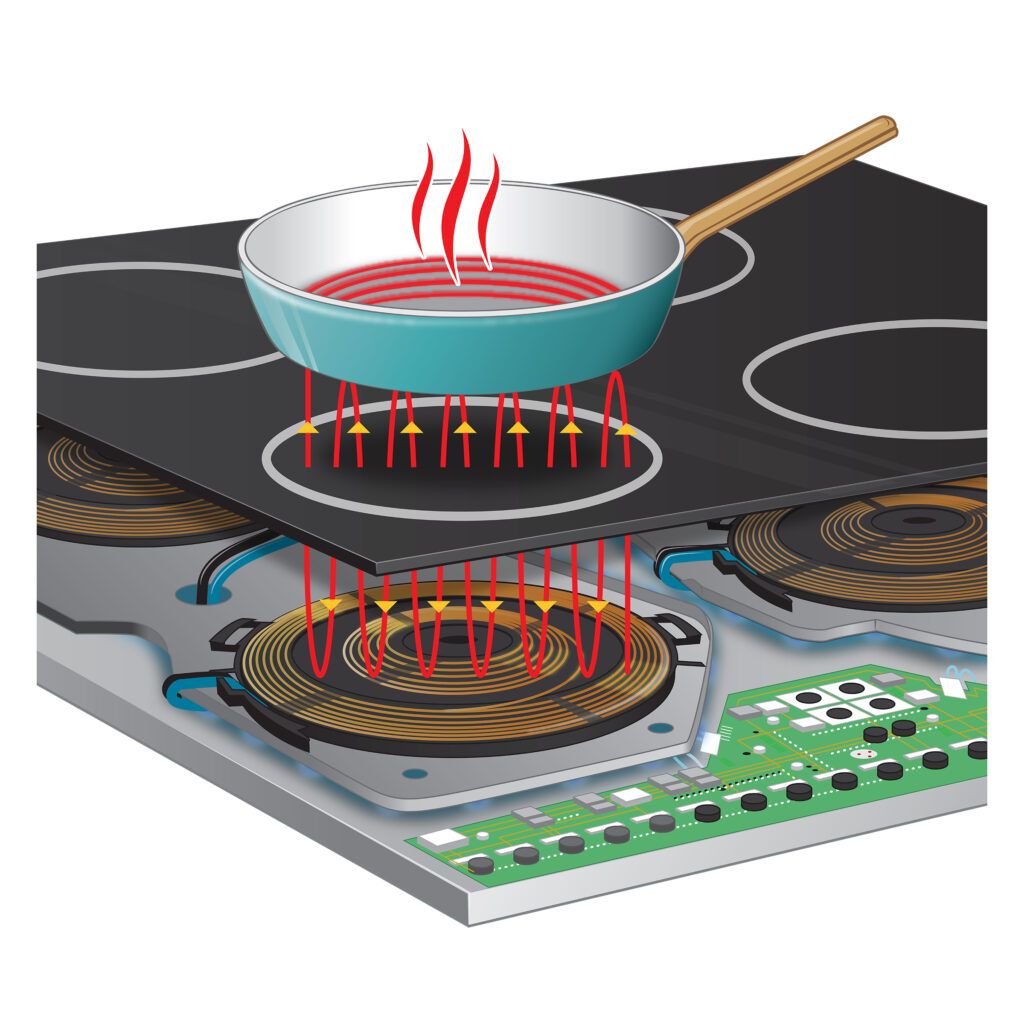 How Much Do Induction Ranges Cost?
Slide-in and freestanding models typically range from 24 to 48 inches wide; expect to pay from $2,500 for the former and upward of $9,000 for the latter. The popular 30-inch category starts at under $2,000; 36-inch models from about $4,500; and rarer 40-inch ones from $9,000. Once they are widely available, you will find them significantly discounted from the manufacturer's suggested retail prices listed here.
How Long Do Induction Ranges Last?
Generally, these workhorses last about 10 years with typical daily use. According to one trade analysis, power may start to sag after 2,500 hours of cooking time. Ceramic glass can scratch and will crack if hit with enough weight and force. Before you buy, read the fine print in the warranty, and ask if the manufacturer
sells replacement parts.
What is the Warranty?
Expect to find a one-year warranty for parts and labor; some high-end brands offer two-year warranties.
What About Maintenance?
Unlike a conventional electric range, the induction stovetop does not get very hot, so spills don't turn crusty fast and will clean up quickly with dish soap and water. Most ovens are self-cleaning. Some offer a steam-clean cycle: Water is poured on the bottom of the oven and then heated to loosen up sticky residue, which can then be wiped away with paper towels.
Is an Induction Range Right for You?
Weigh these pluses and minuses before you buy.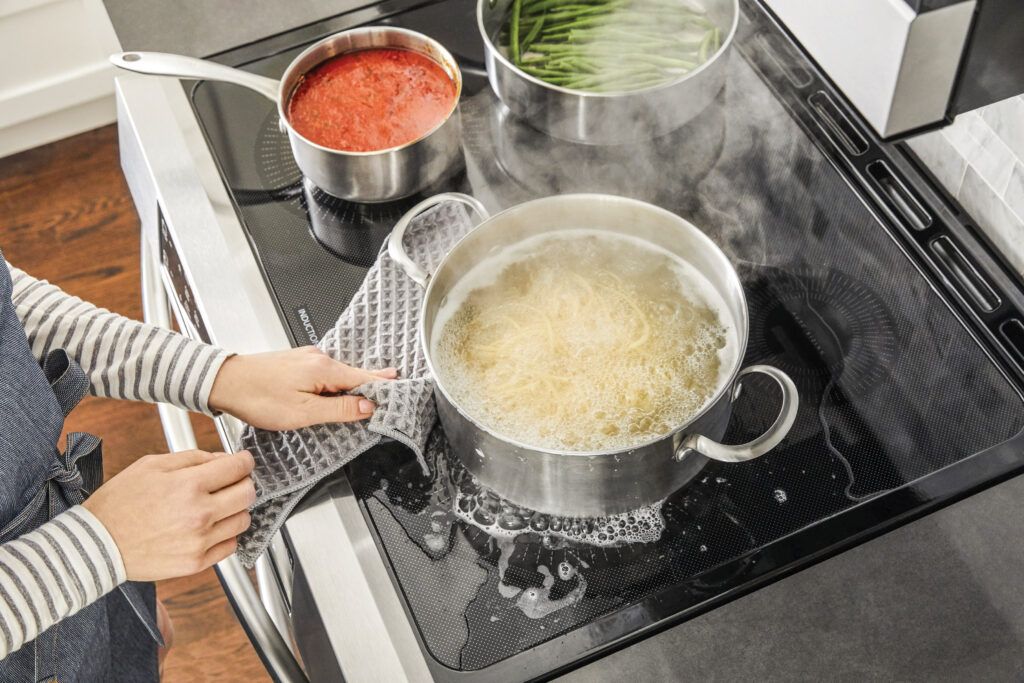 Pros
IT'S EFFICIENT—AND FAST. Gas is 32 percent efficient, meaning only about a third of the energy used goes into cooking. Standard electric is 75 to 80 percent efficient. Induction is up to 90 percent efficient; that is why water boils so much faster. The pot becomes the burner. Less time warming up means less electricity used—and less need to crank the AC when the kitchen heats up.
IT'S INCREDIBLY RESPONSIVE. On an induction range, food starts cooking the instant a current creates a magnetic field. And in virtually all cases, precision controls allow the food to be kept below a simmer.
IT'S SAFER. With standard electric, it's easy to get burned by residual heat long after a burner has been shut off. But with induction, only the pot gets hot; no pot, no heat—though it can make the glass warm to the touch. Most cooking zones have heat sensors: If a pan gets too hot, the stovetop shuts down. Many controls have child-proof locks, and induction ranges with front controls are often ADA-compliant.
IT'S BETTER FOR YOU AND THE ENVIRONMENT. Gas appliances produce lung irritants, including nitrogen dioxide (linked to asthma) and tiny particles called PM2.5. Gas ranges throw off climate-damaging methane by just sitting there, says the Natural Resources Defense Council, which equates the climate impact of gas cookers in the United States to tailpipe emissions from 500,000 cars.
Cons
YOU MAY NEED A SERVICE UPGRADE. You will need a dedicated 220- or 240-volt circuit and 40 to 50 amps. If you already have an electric range, you may have the panel capacity, but if switching from natural gas, you might need to upgrade. Electricians are in short supply right now, and upgrading a panel from 60 to 100 amps costs $800 to $1,500 on average—and from 100 amps to a new 200-amp panel, $1,300 to $3,000.
YOU MAY NEED NEW POTS AND PANS. Cast iron and enameled iron work well, and so does ferrite-containing stainless steel; the flatter the bottom of the pan is, the more efficient it will be. Ceramic, glass, copper, and aluminum pots and pans won't cut it, though you can try them on top of an "induction interface disk" or a cast-iron skillet, but with a noticeable loss of power.
IT TAKES GETTING USED TO. If you've been cooking on a conventional electric cooktop, you may assume you can turn the heat on and walk away while the pot warms up. Not with induction, which acts fast. If you lift a pan off the cooking zone and move it to the counter to, say, check the steak for doneness, the power (and magnetic field) will likely cut off, so you will have to hit the controls again when you put the pan
back down.
IT CAN BE NOISY. Cooling fans are a necessity. At certain settings, all that magnetic activity can generate conspicuous clicks and buzzes.
Watts vs BTUs
While gas ranges talk in Btus, with induction it's all about watts, and the two are hard to compare: Watt-Btu equivalency claims vary enormously. While the number of watts a burner can draw does indicate power, when comparing ranges it makes more sense to ask how much time it takes to boil water: Frigidaire calculates that its induction range can boil a quart of tepid water in a 10-inch, 6-quart pot in half the time it takes a gas or electric stove
Induction Range Burner Features
Cooking surfaces on induction ranges have many similarities and a few differences. Here are some features to consider and compare.
Cooking Zones: Most 30-inch induction ranges have four burners, typically sized for different pans and with one extra-large zone that can run from 8 to 11 inches. Some have a flex zone, or bridging option, which can heat an entire pan by straddling two cooking zones—helpful with griddles, oval pans, and gravy-inducing roasters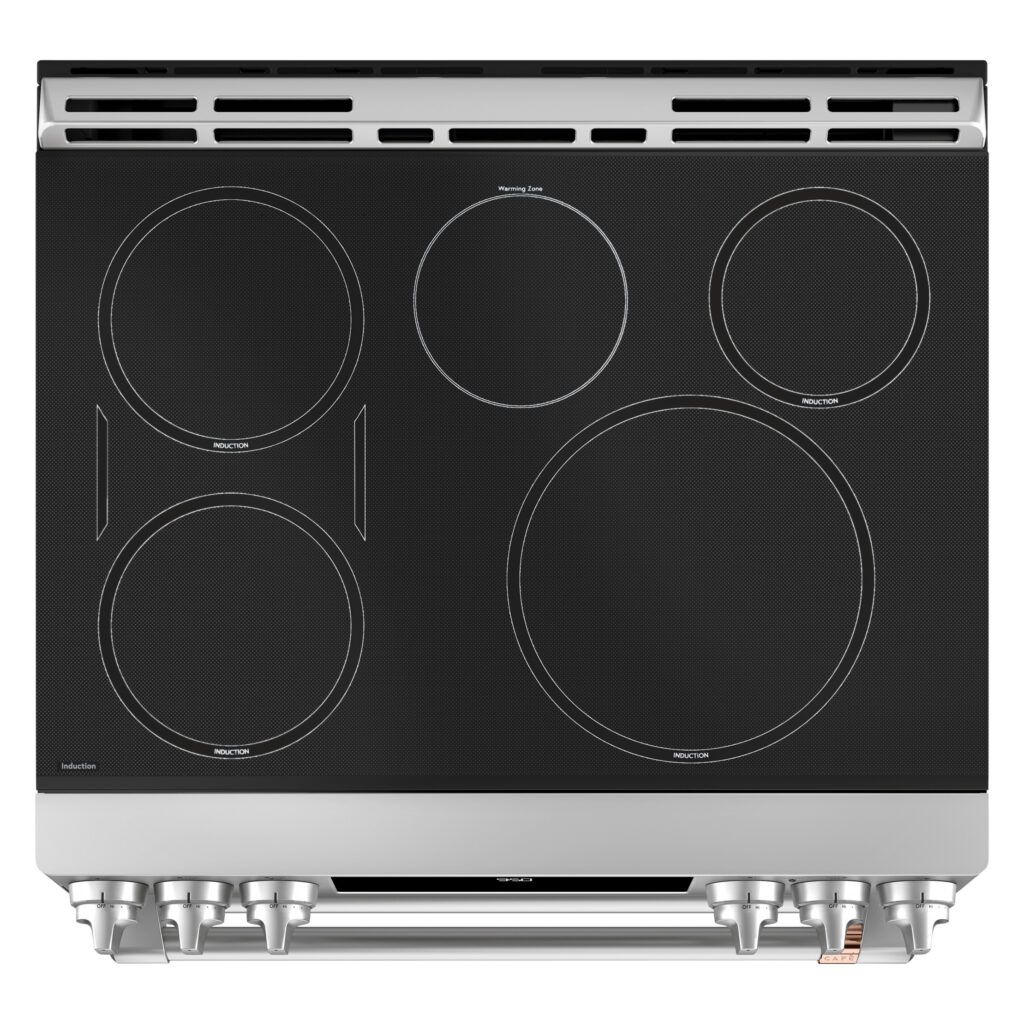 Power Boost: Cooking zones typically draw from 1,200 to 3,700 watts each, assuming the pot matches the size of the cooking zone; if it's smaller, it's not drawing full power. Often one or more zones can increase their wattage (and speed) by using "power boost," drawing power from another zone and reducing the watts available to it. This may suit your cooking style fine, but if you like to have lots of pots going at once, look for a range that allows you to either simmer on two burners while boosting power on a third, or to boost power on two burners at the same time, or to cook on all zones simultaneously.
Controls: Watch for where they are—at the rear, on the glass stovetop, or in the front—how easy they are to manipulate (tap, press, slide, turn?), and how finely calibrated. Knobs can feel nice, but some ranges bristle with so many of them it's hard to keep track of what they turn on.
LED Indicators: Since cooking with induction comes with a learning curve, some manufacturers include
signposts that remind you where the power's on. These include fake blue flames that grow bigger with higher heat settings (Samsung's Smart Slide-In Induction Range With Virtual Flame) and glowing red bars that get longer with higher settings (LG's Smart Wi-Fi-Enabled Induction Range).
Sous Vide Setting: This pro-style prep technique, which keeps ingredients at a set low temperature in a controlled hot-water bath, can be an option on some induction stovetops (and with some ovens, too).
Induction Range Oven Features
Some ovens share their capacity with a warming drawer or a second smaller oven. Here's what to look for inside:
True convection: European, or "true," convection unites a fan (or fans) with a heating element on the oven's rear wall to generate hot, fast winds for more even baking, roasting, and, in some cases, air frying. Some luxury models rely on a high-powered fan with separate heating elements.
Air frying: The convection fans that come with some ranges blow enough hot air fast enough to make the oven into an air fryer, turning out bigger servings than you get with a countertop-hogging plug-in model.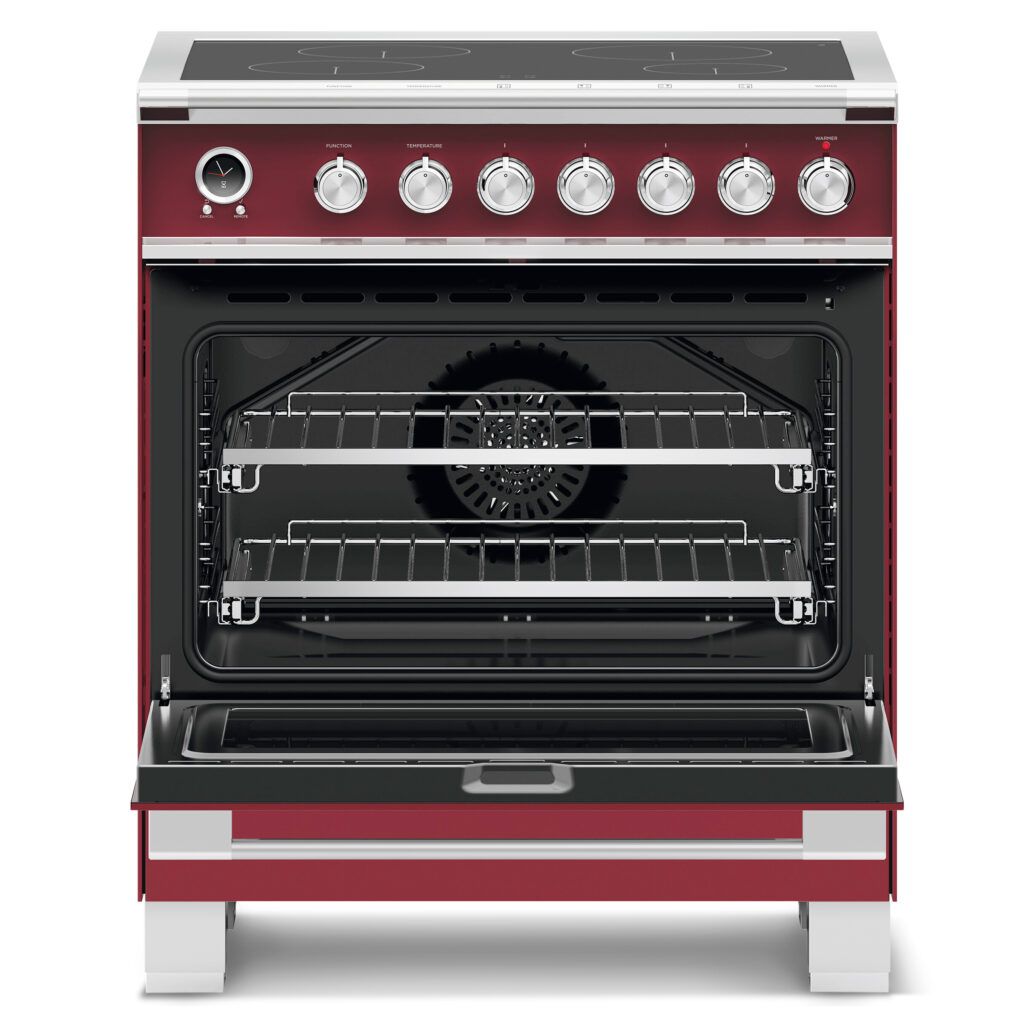 Hidden baking element: This is a heater on the bottom of the oven that is sheathed in metal to make cleanup easier.
Wider-ranging temperature settings: The ovens on some induction ranges can go as low as 80°F, for proofing dough, say, or as high as 550°F, for cooking pizza.
Self-cleaning: This prolonged, super-high-heat setting is an option with most ovens. Some ranges have the option of a shorter, gentler steam-clean cycle.
Common Types of Induction Ranges
Basic and budget-friendly
Frigidaire Gallery 30″ Freestanding Induction Electric Range With Air Fry (GCRI3058AF), $1,649 as shown
This range was designed with busy parents in mind. It forgoes some nice-to-haves for a power-boost option on all four cooking zones to get the pasta to the table faster and a true convection oven that can air fry potatoes for a crowd.
Basic Design: Just under 26 inches deep, this freestanding range has no pretense of looking built in. It comes in a black or stainless steel finish with black-painted steel sides. Touch controls are on a raised rear panel that doubles as a backsplash.
Four Zones: The largest of the four cooking zones is 8.3 inches across and, when using power boost, draws up to 3,600 watts. There is no bridging feature.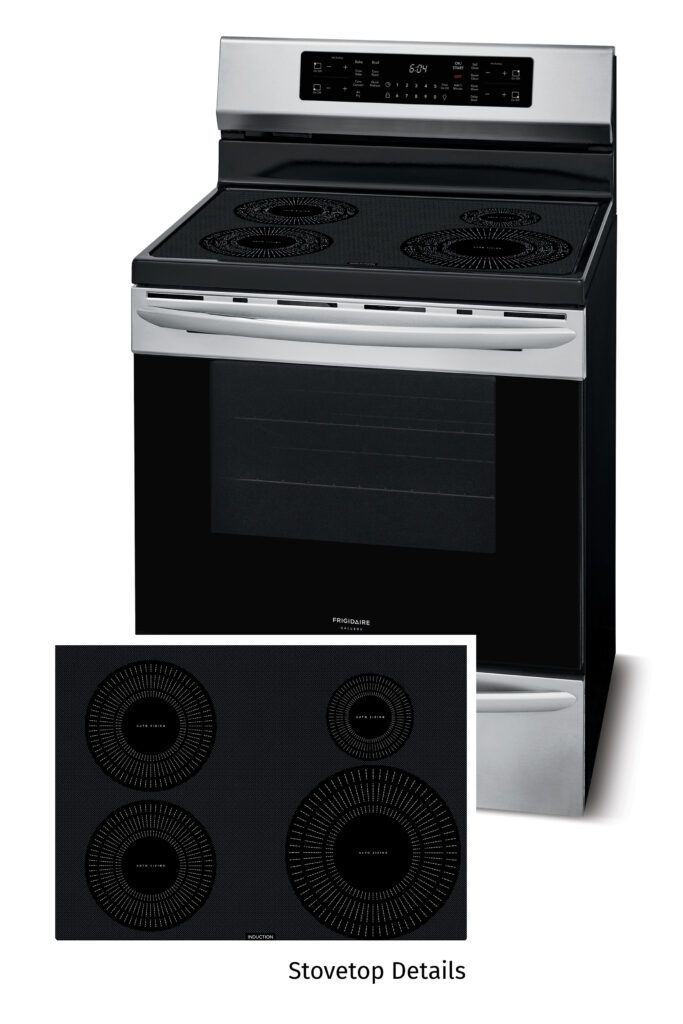 Oven Options: The oven has 5.4 cubic feet of interior space; the temperature can be set from 170°F to 550°F, and with the help of true convection it turns into an air fryer. Selecting "delay start" allows you to preset it and head out to school pickup; the oven shuts off automatically after 12 hours. A door lock keeps kids away from the oven interior and all the controls.
Self-and-Steam-Cleaning: Along with 2- and 4-hour self-cleaning cycles, there is a 30-minute steam-
lean option: Simply pour a cup of water onto the bottom of the oven, close the door, and set the oven
High-end
Electrolux 30″ Induction Freestanding Range (ECFI3068AS), $5,499 as shown
This range was designed with attention to detail, high-end materials and styling, and an emphasis on performance. All four cooking zones offer a power boost; two can be bridged.
Sleek Good Looks: Pin-striped glass, front controls with sturdy knobs, and solid stainless steel (on the sides, too) give this range pro-style polish. At just under 25 inches deep, it also comes close to
a built-in look.
Four Zones: An 8.3-inch cooking zone handles big pots and, when using power boost, pulls in
3,700 watts for a fast boil. Bridging two zones can evenly heat a large pan or griddle. Indicator lights remind you where the heat is on. The stovetop and oven controls can be locked to keep kids safe.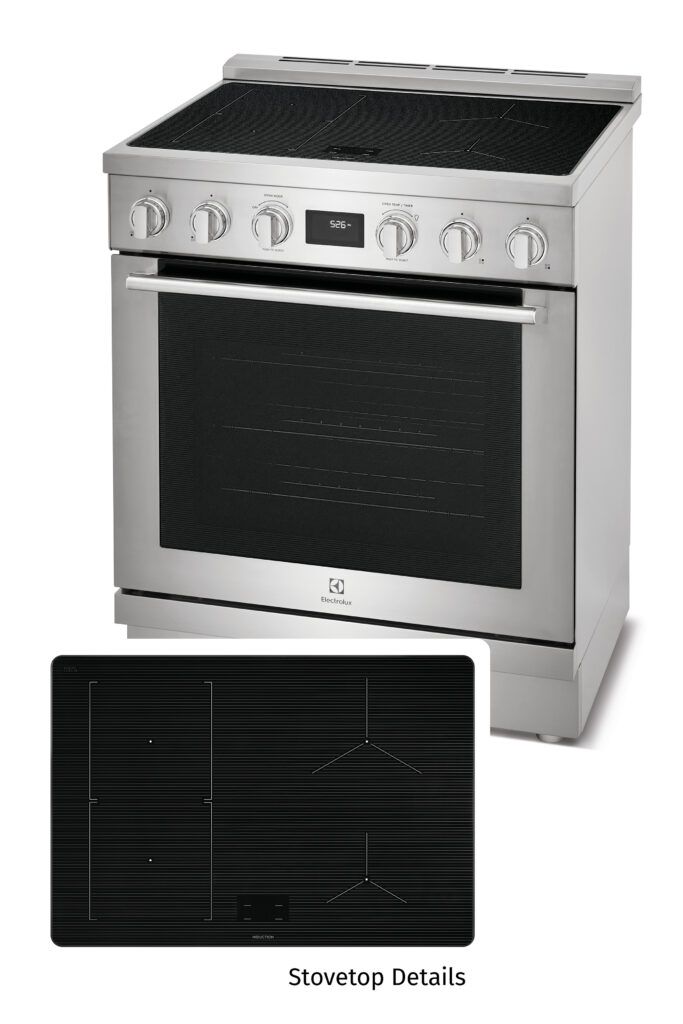 Oven Features: The oven's soft-close door has an extra-large viewing window and a substantial feel. Its 4.6-cubic-foot interior has three stainless steel racks; one is a sturdy glide rack that makes light of heavy roasts. A temperature probe lets you know when that roast is done to your liking. True convection helps ensure even baking. Temperatures dip down to 91°F and climb up to 550°F.
Steam Cleaning: Turn on the setting and add 1.7 cups of water on the bottom steel plate for a 1-hour steam clean.
Portable, plug-in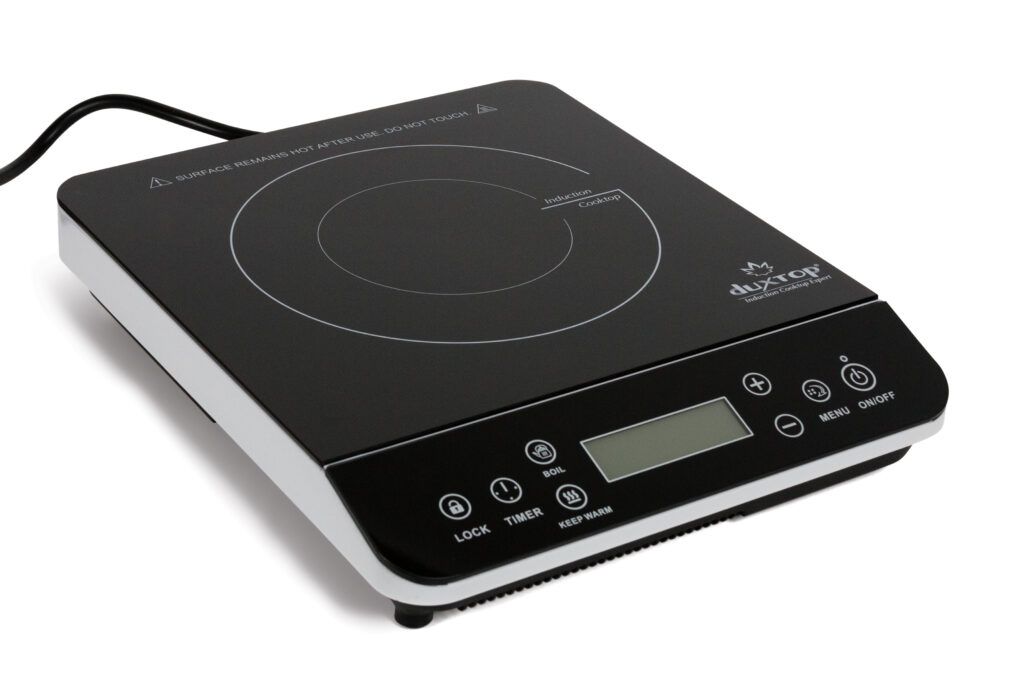 Want to start small?? Consider a single plug-in burner. It can lend a hand during holiday cooking binges or travel outside with the lobster pot. Keep in mind: It won't be as powerful as the big guys, there's no vent to whisk away smoke and steam, and the fan might drown out conversation. The Duxtop 9600LS (at left) draws only 1,800 watts and achieves low temperatures by cycling on and off. On the plus side, it has intuitive controls; settings from 100°F to 460°F; a quick-touch "boil" setting; and a 10-hour timer, so you can run errands while leaving your lamb to braise
Tips for Shopping for Induction Ranges
Don't wait until your old range breaks down to start the process—it takes time to comparison shop, and shipping delays are still common. Some ranges may be back-ordered and require a wait of six months or more.
Look for local dealers that let you try before you buy. Some high-end showrooms and design centers
regularly host pro-chef demonstrations.
Check the latest consumer reviews, keeping in mind that not all reviews cover all brands,
especially at the high end. For those, you may have better luck trawling sites like Houzz (houzz.com), where consumers exchange tips.
Talk to friends, neighbors, and friends of friends; they will tell you if their induction range's cooling fans are noisier than a leaf blower.
Finally, remember that list prices tend to be higher than what you see online or at big-box stores, or what you can negotiate in a showroom. Appliance sales can bring down prices, too. Watch for holiday
specials–Memorial Day, July Fourth—which could include free installation and removal of your old range, if not a price cut. Or wait until January, when dealers may be eager to move out last year's models.
Induction Range Design Options
These induction ranges look as good as they cook.