We spend so much of our day in the kitchen—cooking, cleaning, raiding the fridge, eating—most of it on our feet. Picking the ideal kitchen flooring option is an important investment in not only your home's beauty, but also your wellbeing. You want the kitchen to be warm, inviting, beautiful, and fun to spend time in, and that starts with decisions that include the flooring type you choose.
The best kitchen flooring options have one or more of these attributes:
Durability—Especially under the harshest conditions, from a dropped jar of pasta sauce to a soccer team's post-game rush for snacks, you want that floor to take a licking with grace.
Cost Effectiveness—Innovative ideas don't have to break the bank.
Ease of Cleaning—Floors get dirty, thoroughly and often. Cleaning them shouldn't take too much time or effort.
Attractiveness—Chances are you're going to be looking at that kitchen floor pretty often, will your family and guests. So, choose something you like—and something you'll likely still find attractive over time.
Ceramic Tile Flooring
A classic kitchen flooring option, ceramic tile has great durability and is easy to clean up with a sponge or a mop, or even a wet paper towel. You can pick a tile design that speaks to your style with patterns, textures, and shapes that are classic or trendy.
You can go expensive or not with ceramic tile, which runs as low as $2/sq. foot. Just be sure to seal the grout well to avoid seeing reminders of each spill and splatter. A very durable kitchen flooring option, ceramic tile can take anything you can dish out, but it's also going to be hard to stand on all day, so consider placing rugs in key places, like in front of the sink and frequently used prep areas.
Hardwood Flooring
Wood floors are a classic choice, especially in older homes. Why do we love them so? Well, they're warm and cozy, and hardwood floors can take a lot of traffic, plus they clean up easily with a mop or quick squirt of cleaning solution.
Watch lighter colored hardwoods when it comes to stains (darker tones are better at hiding what you missed with the broom). Good news is when they get worn down, hardwood flooring is pretty straightforward to refinish and start with a beautiful new shining surface.
Hardwood flooring costs are similar to ceramic tile, around $3-$14/sq. foot.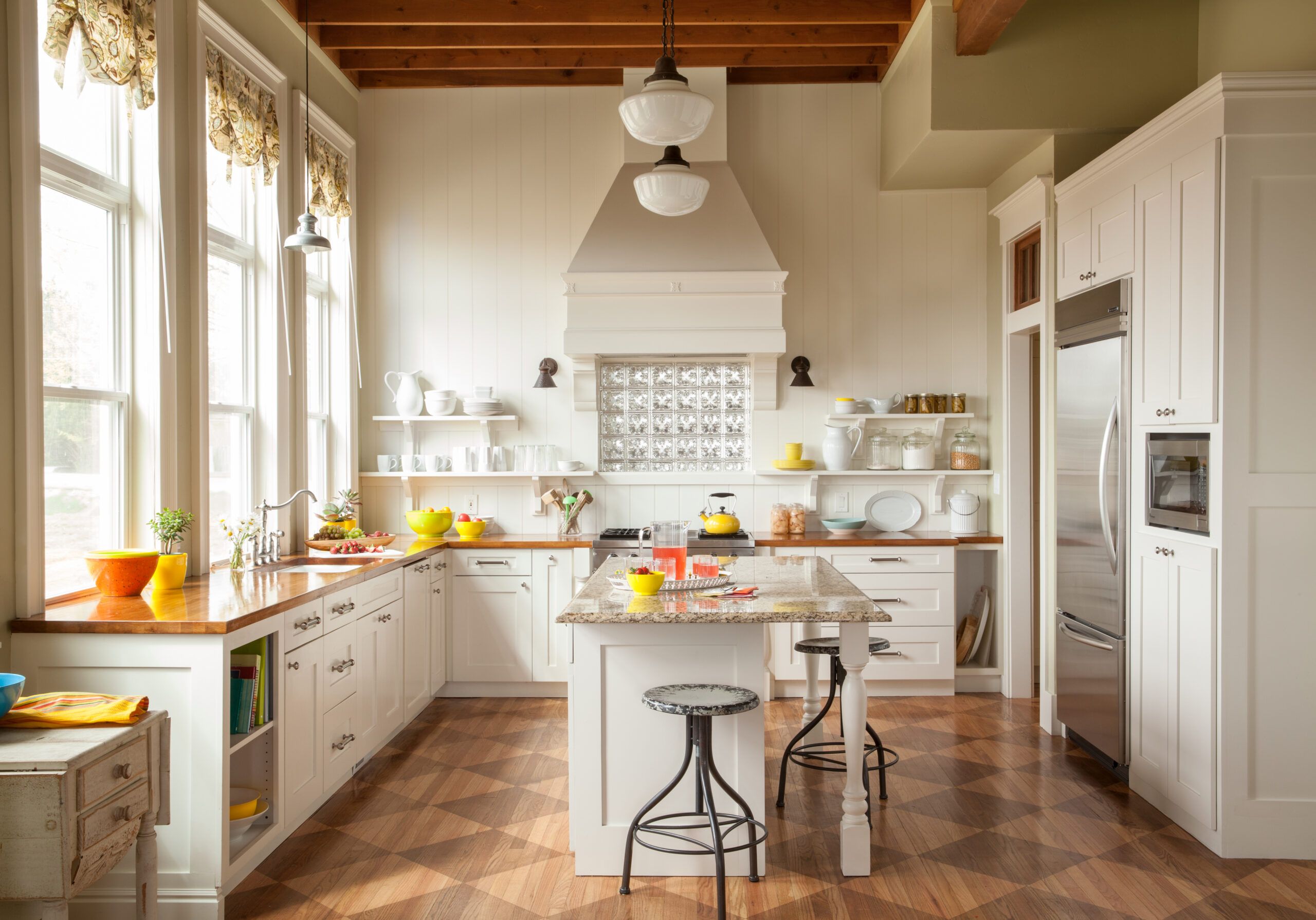 Bamboo Flooring
A renewable resource, with a lot of shades and styles to choose from, bamboo kitchen flooring makes a lot of sense on the durability scale (it's actually harder than hardwood flooring), but it's also more expensive. (Bamboo flooring runs about $3.80/sq. foot.)
Bamboo tends to resist moisture and stains, and most types (but not all), are easy to refinish (if needed down the road). Engineered bamboo flooring can be difficult to refinish, while stranded bamboo and horizontal bamboo flooring are easier. If your home or kitchen swings from low to high humidity, you could find your bamboo flooring cracking.
Cork Flooring
Want a treat for your aching feet and legs? Try cork flooring in the kitchen and enjoy the soft, spongy texture of this renewable resource. Cork flooring typically comes in tiles that are constructed from the shed bark of the cork oak. It's also naturally resistant to mold and mildew—great for homeowners with allergies.
Two other pluses are its natural warmth and its ability to absorb noise (excellent in an open floor plan kitchen/living room). Some drawbacks are the need to seal it regularly and its hardness, which is about the same as hardwood, but it can be damaged by lots of heavy foot (or dog paw) traffic, by an appliance or a heavy stool or chair.
Vinyl Plank Flooring
Nearly indestructible, vinyl flooring is a popular kitchen flooring option. It's easy to mop and sweep, is typically impervious to water problems, and is very durable. You can select styles that look like hardwood or even natural stone, to meet any design needs. Make it more comfortable to stand on during long cooking sessions by installing padding underneath.
Laminate Flooring
Easy to match your color palate, and often a snap (literally) to install, laminate flooring is on the inexpensive end of flooring options for the kitchen, starting as low as $.70/sq. foot. Laminate is made to look like hardwood flooring, which can save you the trouble and expense of sourcing actual hardwood.
The bad news is, if your kitchen is prone to a lot of moisture or big spills, then laminate would be a bad choice (though some brands market their products as being more water resistant than others). And since laminate can't be refinished (even if it looks like hardwood, it doesn't act that way), you'll need to replace it if it gets worn down.
Concrete Flooring
Durable, simple to clean, easy to polish or stain in your tint of choice, and virtually impervious to water damage—a concrete has some great advantages. But it also has some drawbacks, like how hard and cold it is, which might not feel great after standing on it for hours, and might be uncomfortable for kids who like to play at your feet.
Cross one problem off the list by installing underfloor radiant heating when you pour the concrete.