Of all the working parts in a kitchen, the faucet might be the one we use the most. According to the EPA, each American uses an average of 88 gallons of water a day, and a lot of it is to wash hands, rinse off produce, fill the tea kettle, or simply get a glass of water.
Today, these workaholic fixtures come in a wider variety of price points than ever before. You can purchase a kitchen faucet for as little as $15, although we recommend spending more than that to ensure its durability. After all, if you're going to be using your kitchen faucet so frequently, it's best to buy one that'll last.
Better manufacturing and engineering help today's faucets stay drip-free and longer-lasting, and quick-connect fittings have made them a cinch to install. Meanwhile, the number of designs and features has exploded into a dizzying array of choices. No matter how fancy or simple the faucet, however, they all contain the same basic elements. We'll examine these in more detail below.
Kitchen Sink Faucet Parts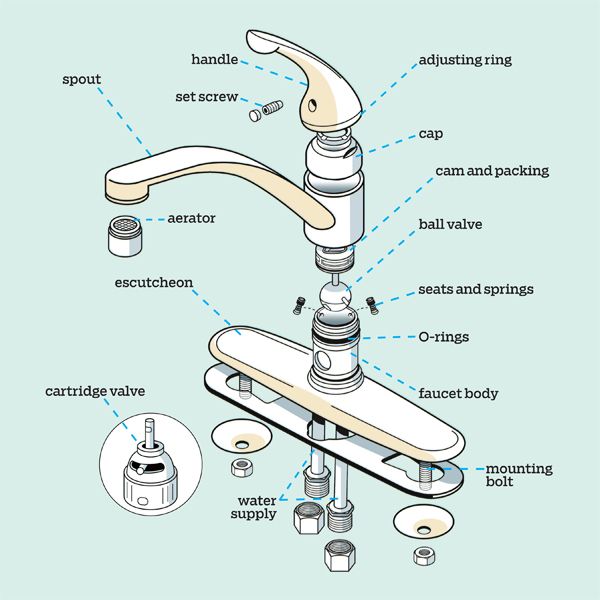 Before you purchase a new faucet, settle on the sink first. Its size, shape, and features will determine where the faucet should be mounted and how much reach the spout should have.
Also make sure you measure the spout's height. It should ideally be tall enough to clear your deepest pot, but not so tall that water splashes everywhere when it hits the sink. Make sure there's enough room behind and beside the faucet to clean around the body and to use the handle comfortably.
Aerator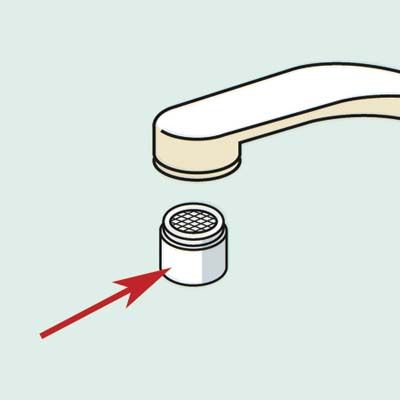 Starting at the tip of the faucet, this is the part (typically made of mesh) that breaks up the water flow into multiple small streams to dilute the water with air. Aerators reduce the volume of water flowing while maintaining the feeling of a high-pressure flow, greatly reducing splashing in the sink.
Spout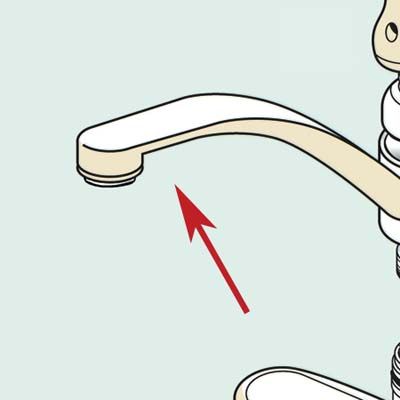 The spout is the part of the faucet that most people notice first; it's the part that delivers water from the body to the sink and it can be distinctive in its design. A straight spout provides a long reach with a low profile. A gooseneck spout has an elegant, high-arc shape that comes in handy for filling deep pots. The shepherd's crook design is shaped just as it sounds and offers extra clearance along with a bit of intrigue. And an articulating spout features multiple joints that let you direct the water stream to where it's needed.
In addition to these style considerations, it's important to anticipate how you'll be using your spout in the kitchen. Pull-out versions have a retractable sprayer head that docks on the spout; the pull-out heads, available in several spout styles, are held in place by gravity.
On the other hand, pull-down spouts (generally fitted to the gooseneck design) require a magnetized or locking dock to stay put when not in use. There are also hands-free spouts, which turn on with the help of a foot pedal or motion sensor.
Handle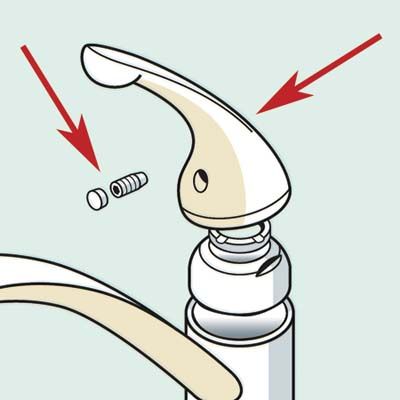 When it comes to the faucet handle, which opens and closes the valve, your choices are one or two. The single handle is easy for people of all ages and abilities to use. It can be mounted on top of the spout, on either side of it, on the front, or beside it, requiring a separate hole. The two-handle faucet has a whole extra handle to worry about, but its timeless charm is an attractive feature for any kitchen.
Valve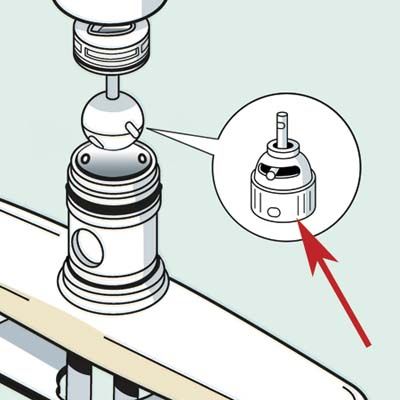 To control water flow and temperature, today's faucets use cartridge valves that enclose all the working parts in a single, easy-to-replace unit (meaning no washers to swap out). Some valves are made of plastic or metal, but the best ones house a pair of hard, smooth ceramic discs that rarely leak and aren't affected by hard‑water deposits. The discs can crack if they snag any debris, so make sure to flush your supply lines before installing the faucet. (Supply lines connect the house's hot and cold-water pipes.)
Cartridge valves differ by faucet make and model. If you ever need to replace one, order it directly from the manufacturer.
Body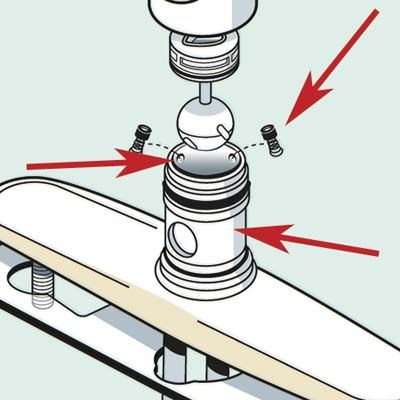 The body is where the hot and cold water are mixed before passing through the spout. In a single-hole design, hot and cold water are combined in a one-piece casting that also houses the valves. This type of body is available in one- or two-handle designs.
With the bridge design, a pipe joining two separate valves blends the hot and cold water before it reaches the spout. This look isn't very common but is sometimes featured in period designs.
A third option is the widespread body, which requires three holes. It mixes the hot and cold water like a bridge-style faucet, but the pipe is hidden beneath the counter.
Mount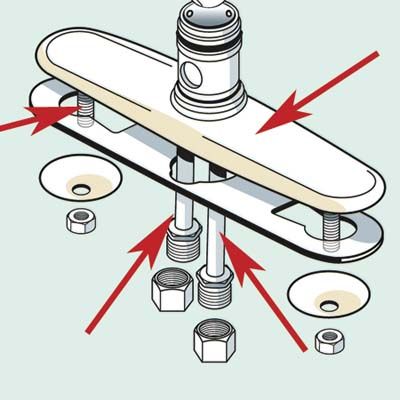 What will the faucet be attached to? A deck mount, where the faucet is connected to the sink, is the most common option, and it's simple to install if there's enough clearance between the sink and the wall. It requires holes in the countertop or sink.
A second option is to attach the faucet to the wall, which has the benefit of freeing up countertop space and making cleanup easier. But this isn't a good idea for exterior walls in cold climates, where pipes may freeze.
Common Materials: Brass, Stainless Steel, Plastic, Zinc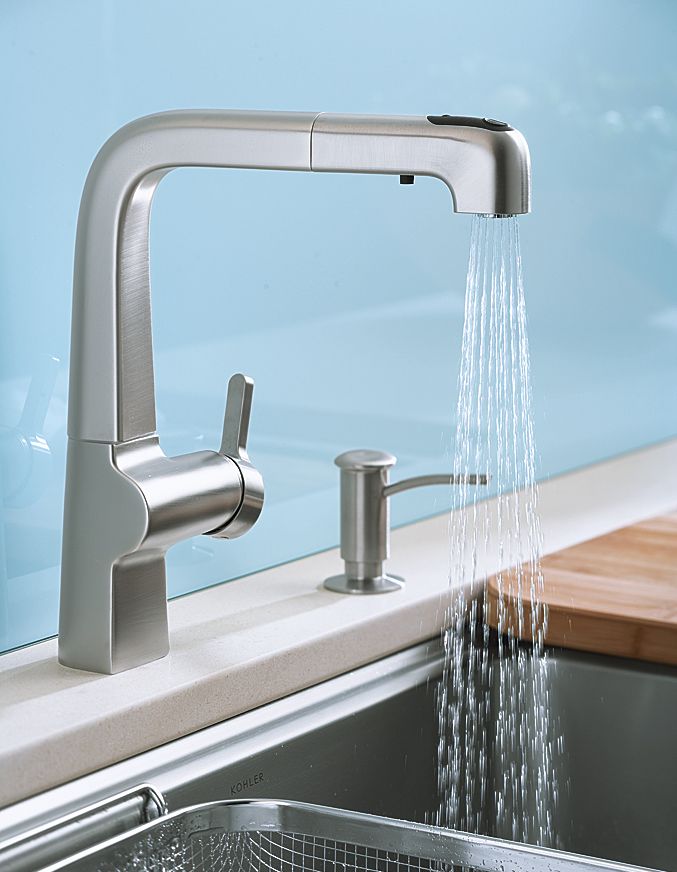 Standard options for the faucet material include brass, stainless steel, plastic, and zinc. Brass is the most popular choice. It's durable and easy to cast, and companies offer a wide variety of models and finishes. Some have sprayer heads made of plastic, so they weigh less and stay cool to the touch; other parts might be made of zinc.
Brass is usually alloyed with lead to make it easier to cast. By law, faucets sold in the U.S. can't contain more than 8 percent lead, but even that amount can contaminate water sitting in the faucet body for more than a few hours. Running the tap for a few seconds will flush it out. California and Vermont have enacted a stricter standard, a "maximum weighted average" of no more than 0.25 percent. Do your research so you know what you're buying.
Solid stainless steel is another good choice, but it's more expensive than brass. (Don't confuse it with stainless-steel finishes applied over brass.) Some companies apply a clear protective coating to stainless steel to shield it from water spots and fingerprints.
Plastic or zinc faucets are the least durable option. They may be designed to look like brass, but they're made from a much cheaper material. The best way to tell them apart is to pick them up—plastic and zinc are light, while brass has heft to it.
Finish application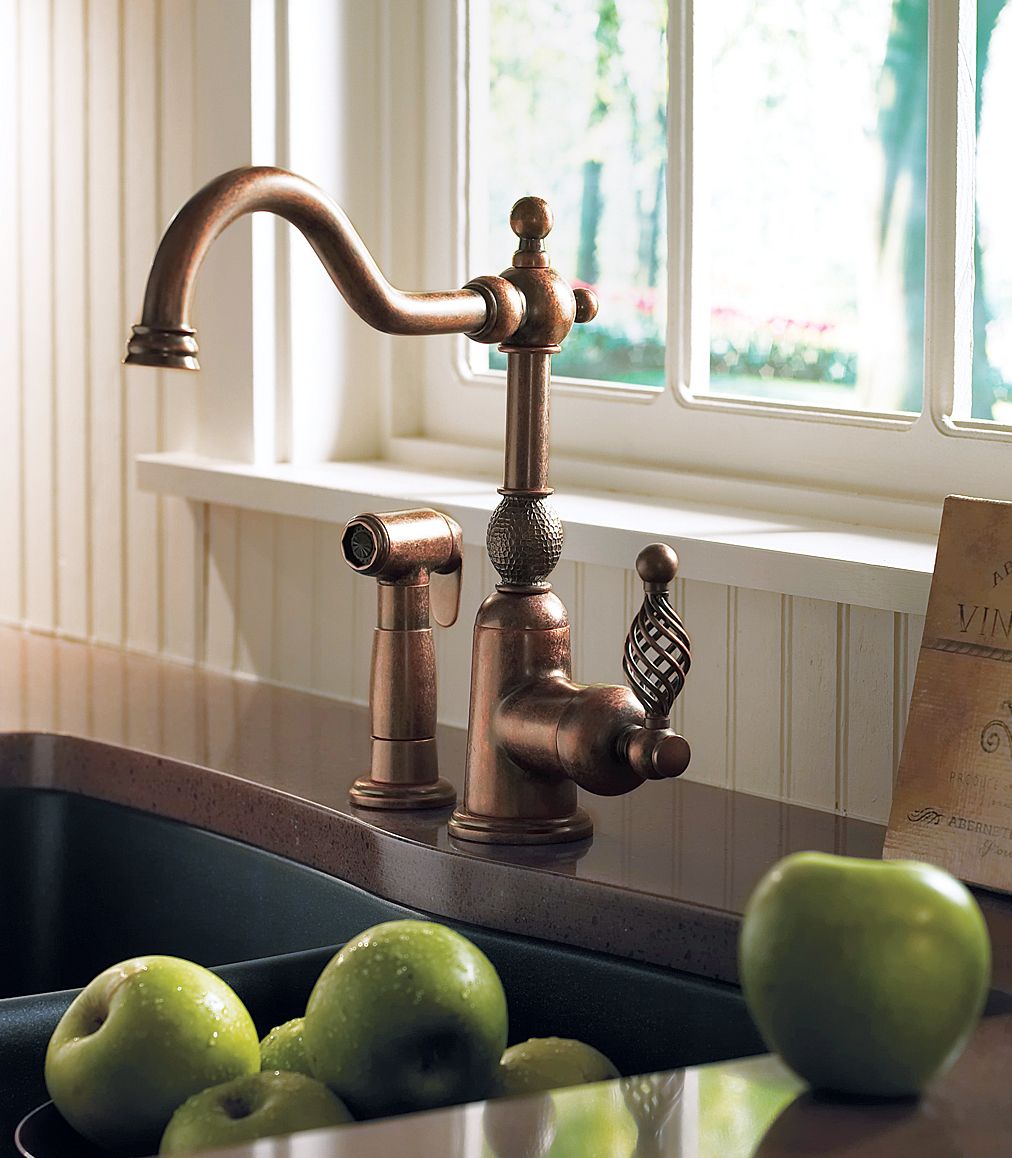 The oldest and most common method of applying a finish to a faucet is electroplating. The faucet is dipped in a bath of dissolved metal that adheres to the surface when a current is applied. It offers a durable, long-lasting finish, but the plating is susceptible to harsh cleansers.
A more expensive technique is to use physical vapor deposition (PVD). The faucet is placed in a vacuum and bombarded with metallic ions that bond to the surface. This results in a very hard, tough finish that doesn't need a clear coat.
And then there's powder-coating, where the faucet is sprayed with a dry powder that cures when exposed to heat. Powder-coating leads to an even, thick finish, but it's not as durable as PVD or electroplating.
Installation tips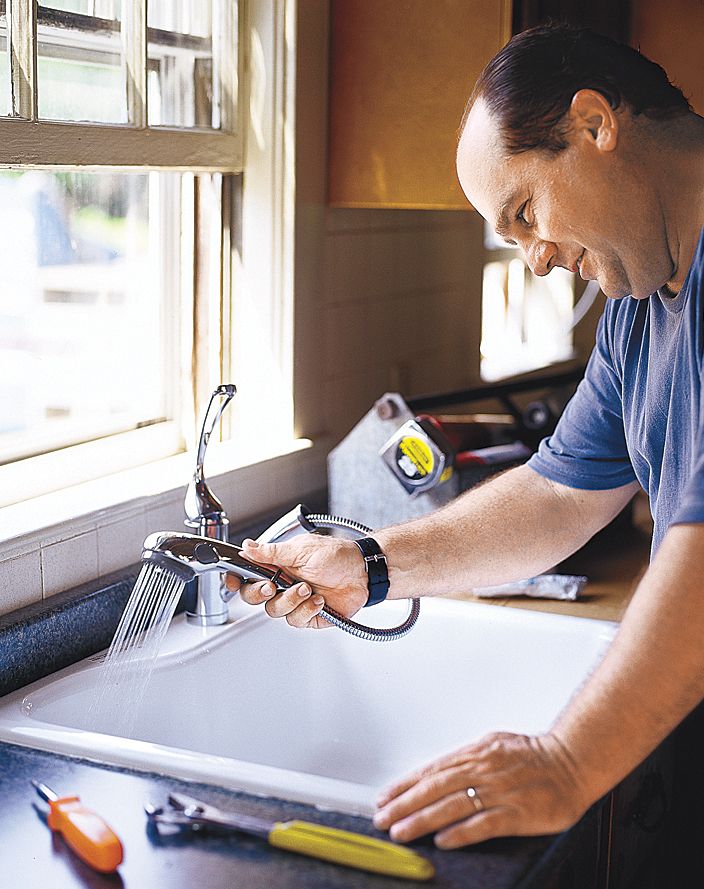 New faucets are so easy to install that you barely need tools to do it. If you're removing an old faucet, use a heat gun or hair dryer to loosen any rusted-on nuts. Remove the nuts with water-pump pliers or a basin wrench.
If you have a stone countertop, skip the plumber's putty, which contains oil that can stain the stone. Otherwise, use the putty to form a seal between the faucet base and the countertop. Most modern faucets have an O-ring in the base and don't require a sealant.