BEFORE | Functionality Challenge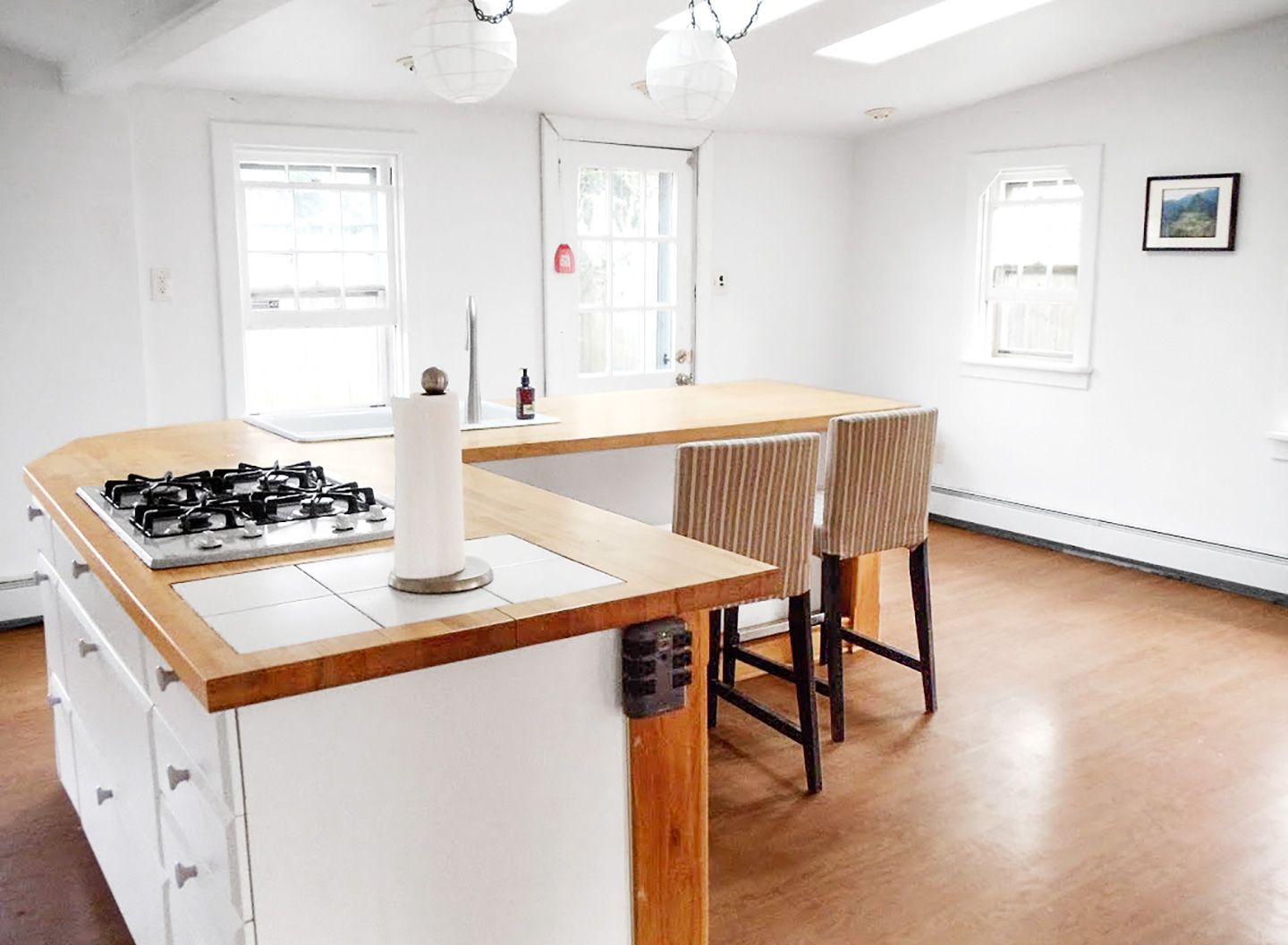 Old kitchens are a bit like frosted cakes: You don't really know what you've got until you slice them open. That was certainly the case with the one in Bobbie and Jack Larkin's circa-1850 farmhouse, located in Radnor, Pennsylvania. The home was so rife with centuries-old hiccups that the Larkins felt lucky to find local craftsmen used to elderly homes to tend it. "When they tore up the kitchen floor, they found five different layers, the lowest of which was just resting on soil," says Jack. "We also discovered a thirty-foot well two feet from a support pillar"—it eventually got capped with steel and concrete.
Shown: With a barely functioning stove, a seriously sloping floor, peeling melamine cabinets, and an awkward L-shaped island, the old cook space wasn't pleasant—or all that practical.
AFTER | Vintage Charmer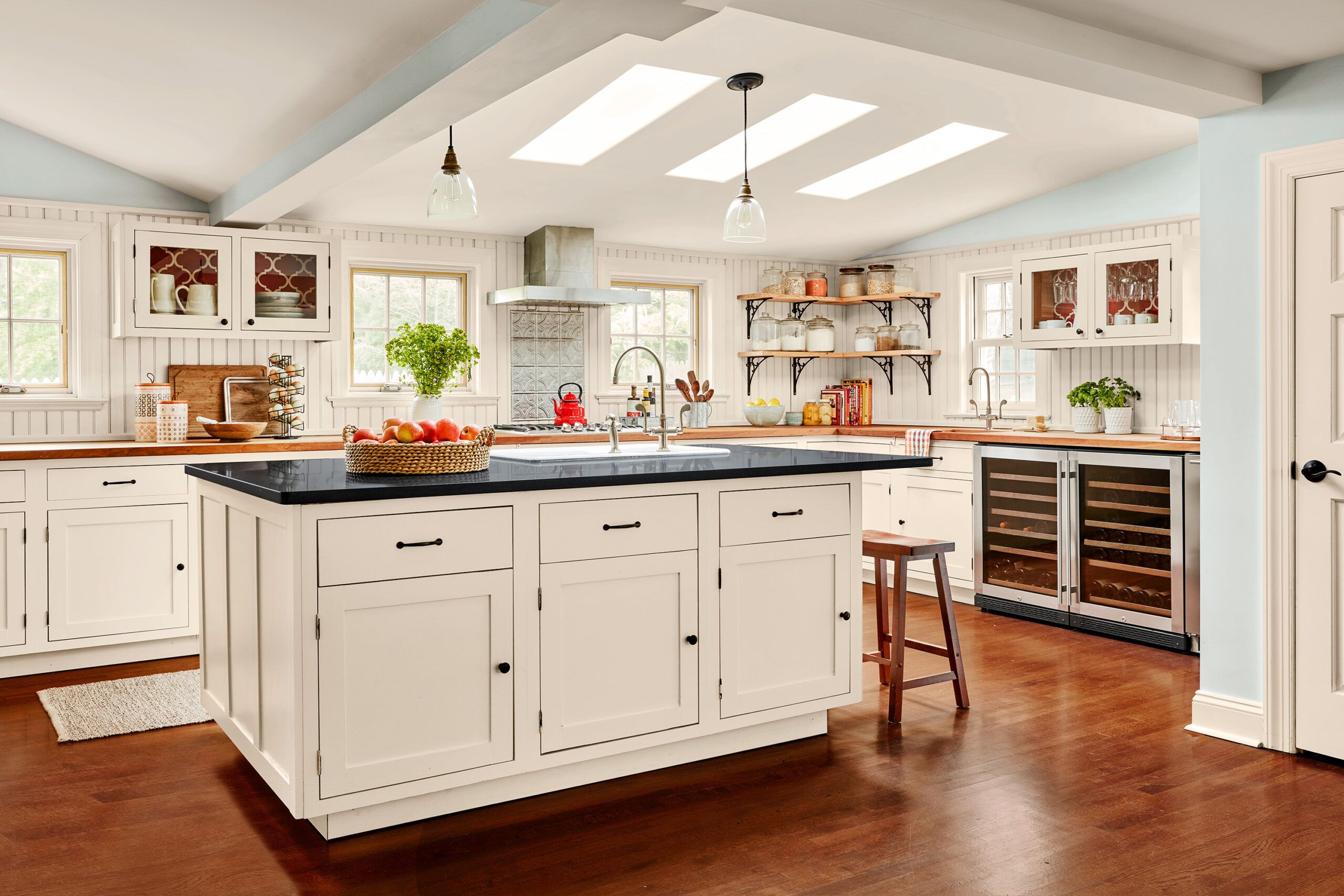 Once the Larkins put their dream kitchen on paper, with help from R.A. Hoffman Architects, they got right to work, aiming to finish long before the arrival of their first child. Their simple goals: to create a floor level with the adjacent dining room (fixing a 6-inch slope) and to add proper venting. "We wanted to cook bacon and onions without smelling it throughout the house," says Bobbie. But a major gut reno ensued, with new plumbing and electrical and the rebuilding of two exterior walls—in February. When it was suggested they budget $60,000 for custom cabinets, Jack seized the chance to beef up his woodshop and build them himself, following Norm Abram's New Yankee Workshop tutorials. Total DIY cost, including a top-notch saw: $7,000. New appliances, a prep sink, a kegerator, and a wine fridge give the classic cabinetry a dose of modern functionality. Says Jack, "We love the kitchen we built!"
Shown: Shaker-style hardwood cabinetry, a new island with a granite countertop, and white oak flooring transformed the kitchen's look and feel.
Paint (cabinets): Sherwin-Williams's Steamed Milk
Structural engineer: Structural Design Associates
The Homeowners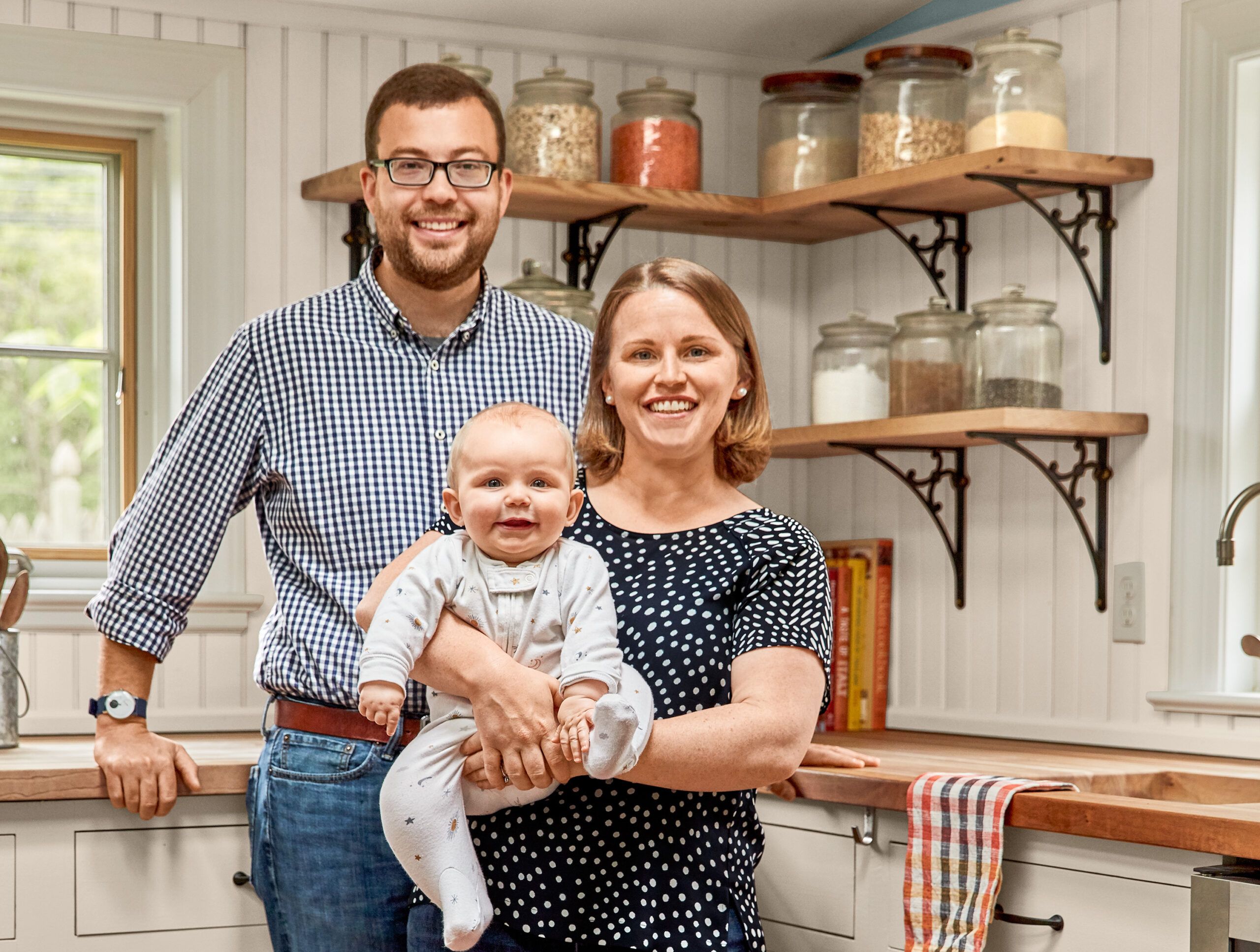 Jack and Bobbie Larkin with their daughter, Margaret. "We knew we wanted to get the kitchen done before we had a small human in the house," Bobbie says.
Everything in Its Place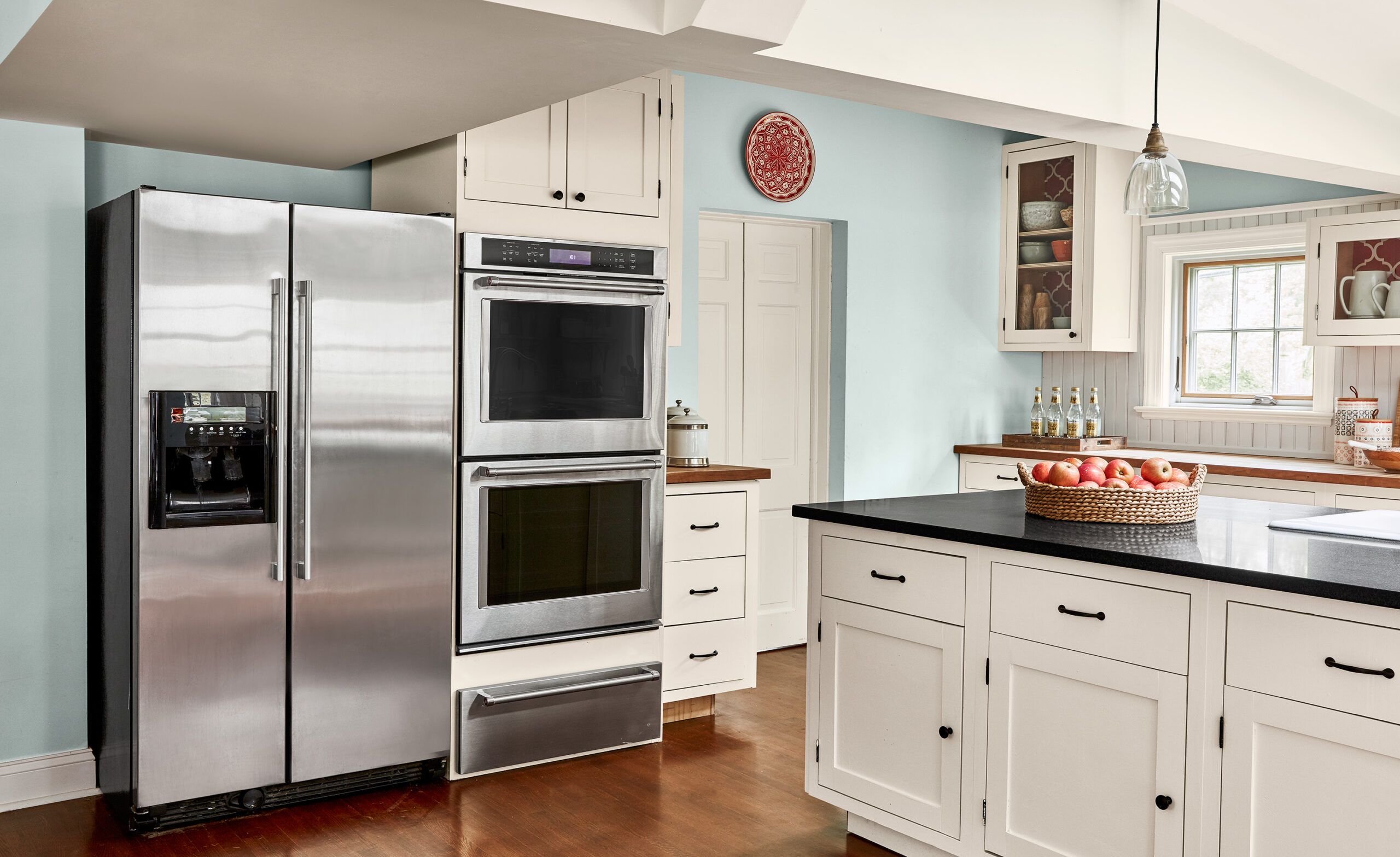 The couple reused their existing refrigerator, but upgraded with double wall ovens and a warming drawer, testing them in person to be sure they'd suit Bobbie's 5-foot-2 stature. "You don't want to burn yourself!"
Wall ovens and warming drawer: KitchenAid
Metallic Accent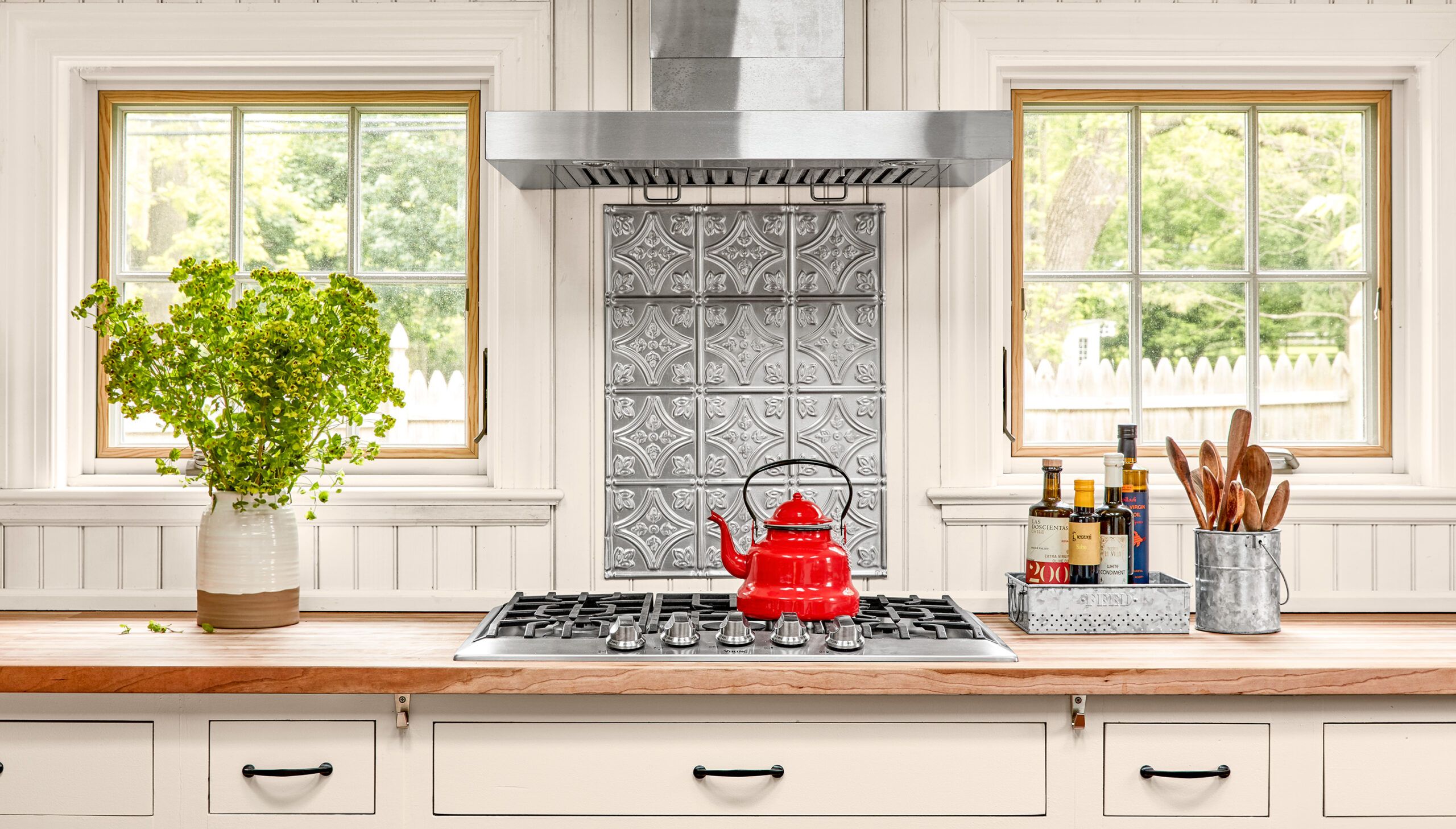 In lieu of traditional tile, the Larkins elected to use pressed-metal ceiling panels behind the cooktop, applied with Liquid Nails glue. "It cost $20, and has held up so well!" Bobbie says. "The texture hides splashes. It's one of my favorite parts of the kitchen."
Vent hood: Z Line
Tin ceiling tile: The Home Depot
Windows: Andersen Windows & Doors
Cooktop: Viking
Table Triumph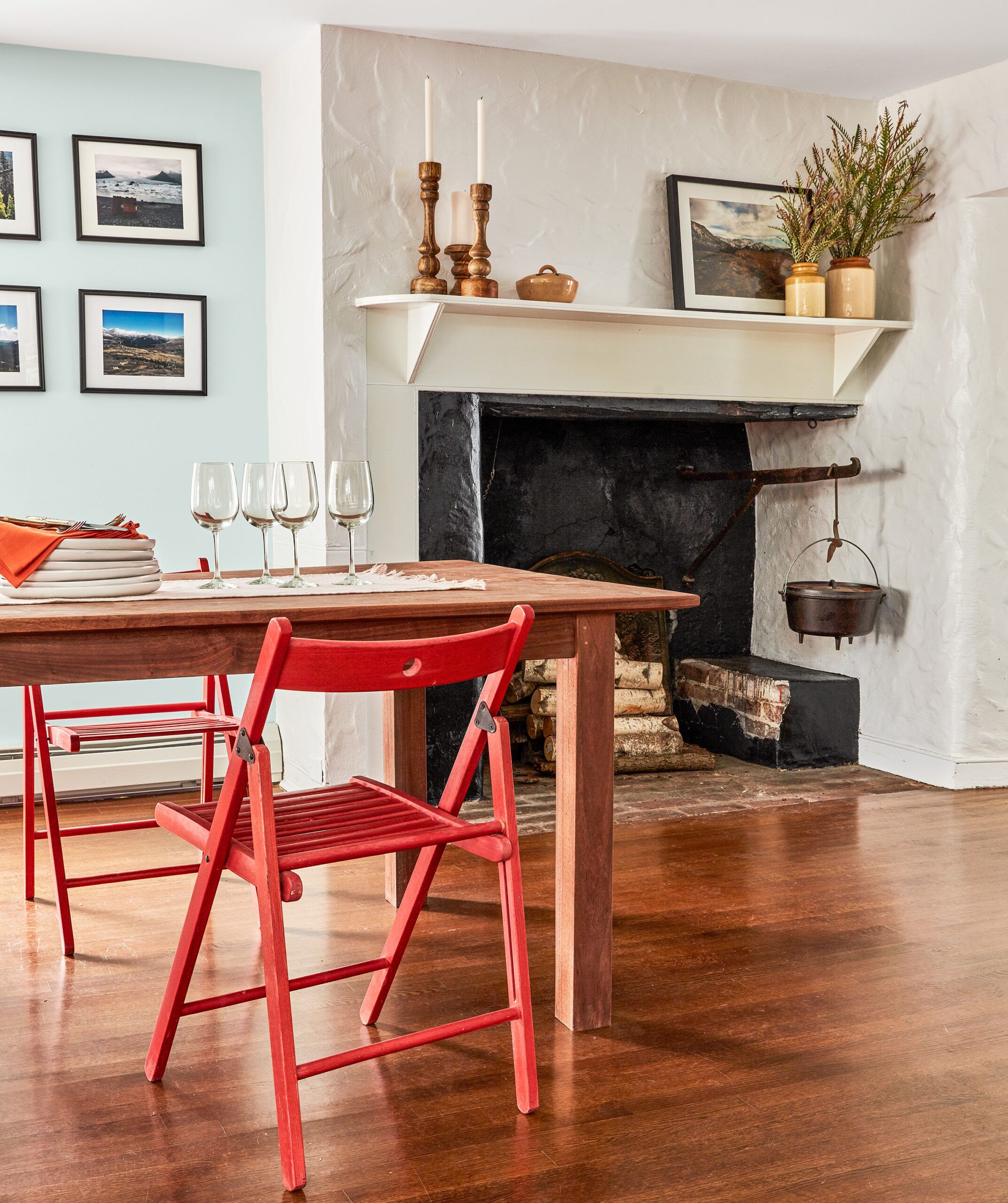 Jack made the 11 ½-foot dining table from two black walnut trees that had to be taken down, as they were invading the foundation. It is placed near the house's original cooking hearth, which is now more connected to the kitchen.
Flooring: Fred Callaghan Carpet & Flooring Center
Counter Culture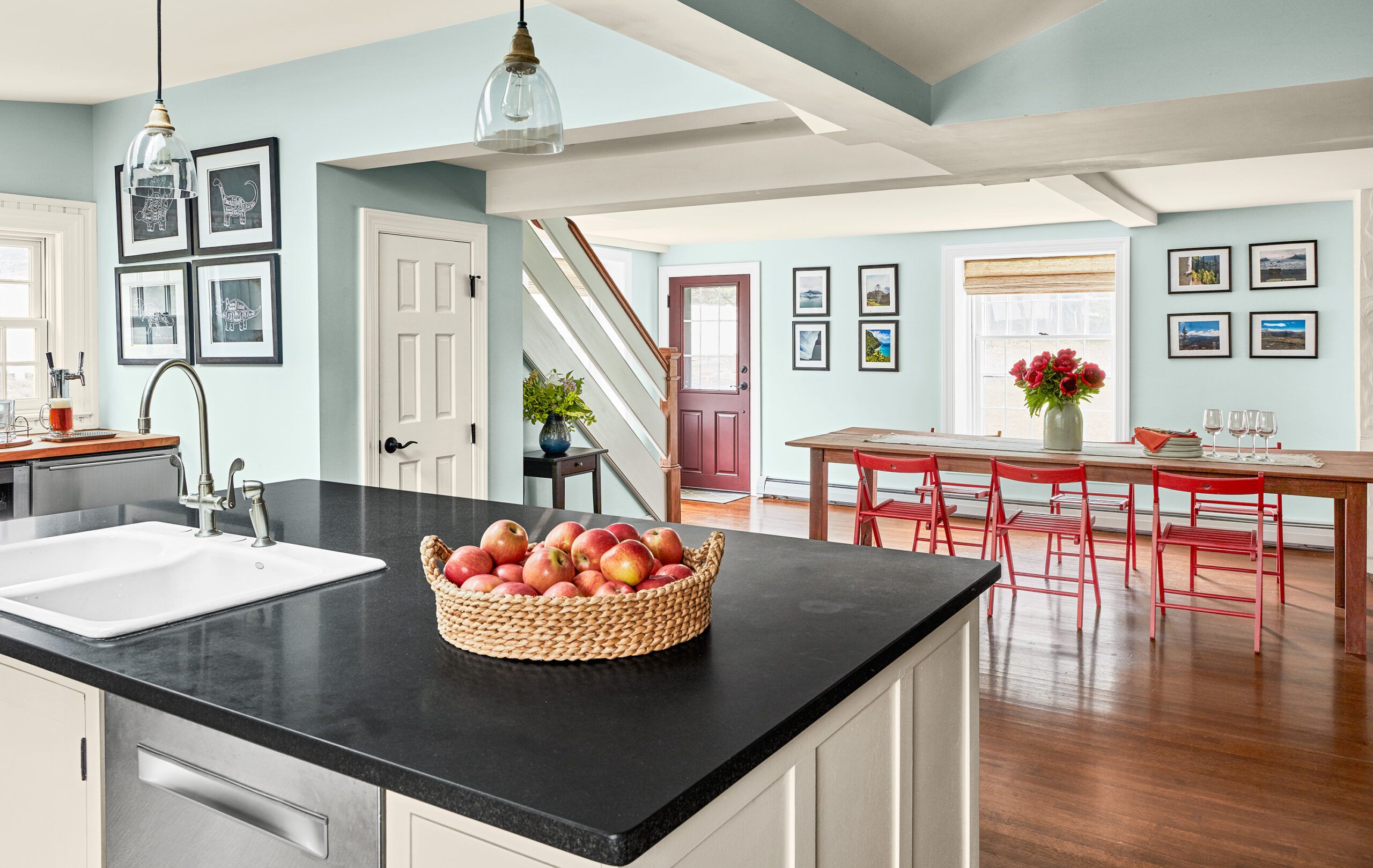 The couple originally wanted a soapstone island top, but decided on lower-maintenance black granite. It provides a nice contrast with—and a heatproof alternative to—the cherry butcher block that rings the kitchen's perimeter.
Granite: Essence of Stone
Pendant lights: Lowe's
Double Up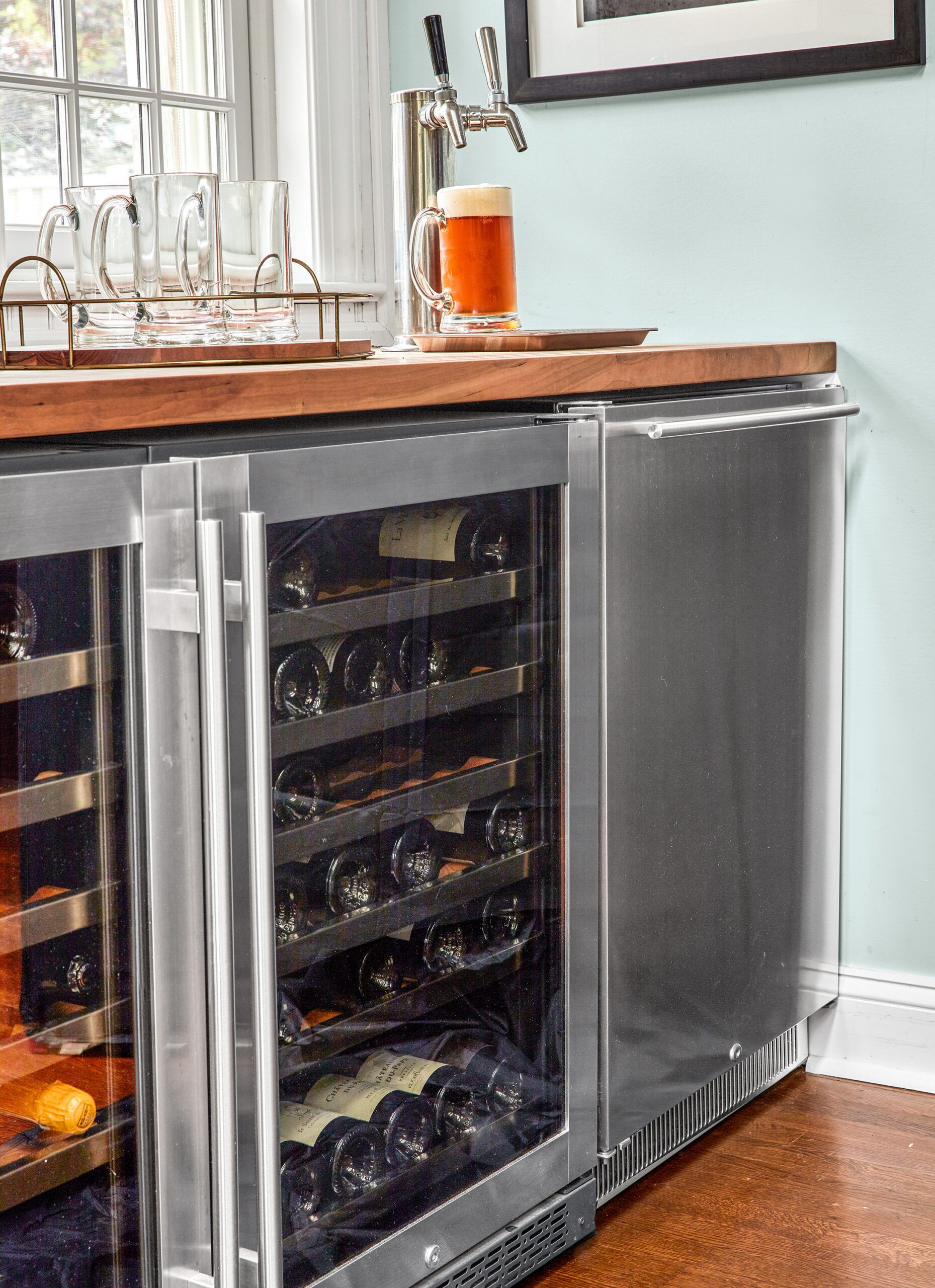 "Our trade-off was, if Bobbie gets two sinks and a warming drawer, I get a double wine fridge and a kegerator," Jack says. He stocks the silver-handled tap with club soda; the other one often holds his own home-brewed IPA.
Kegerator and wine fridge: The Beverage Factory
Old-Fashioned Find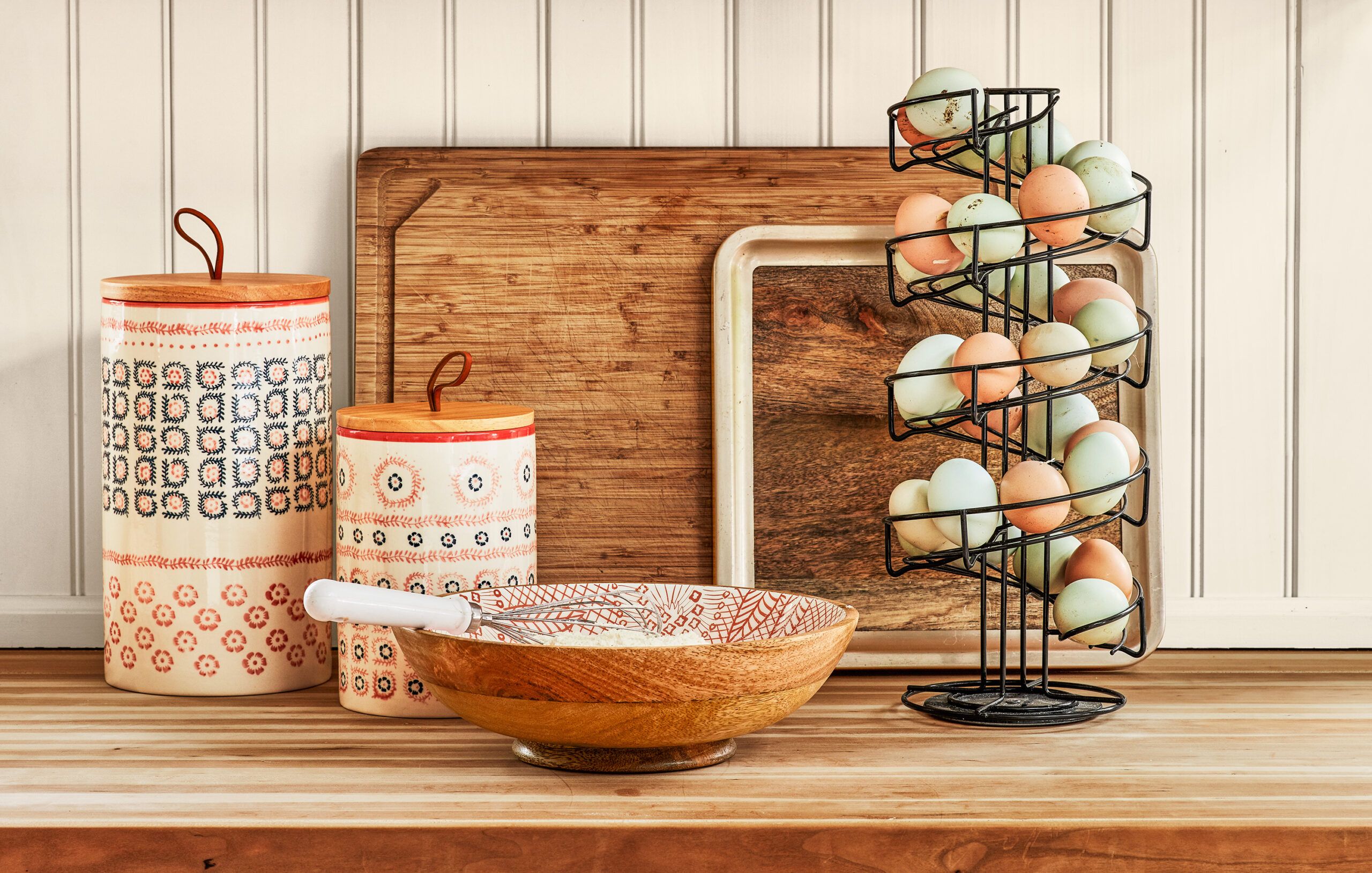 The couple found a spiral egg holder for the output of their chickens. "You always know which eggs are the oldest because they're on the bottom," Bobbie says.
Egg holder: Amazon
Shelf Star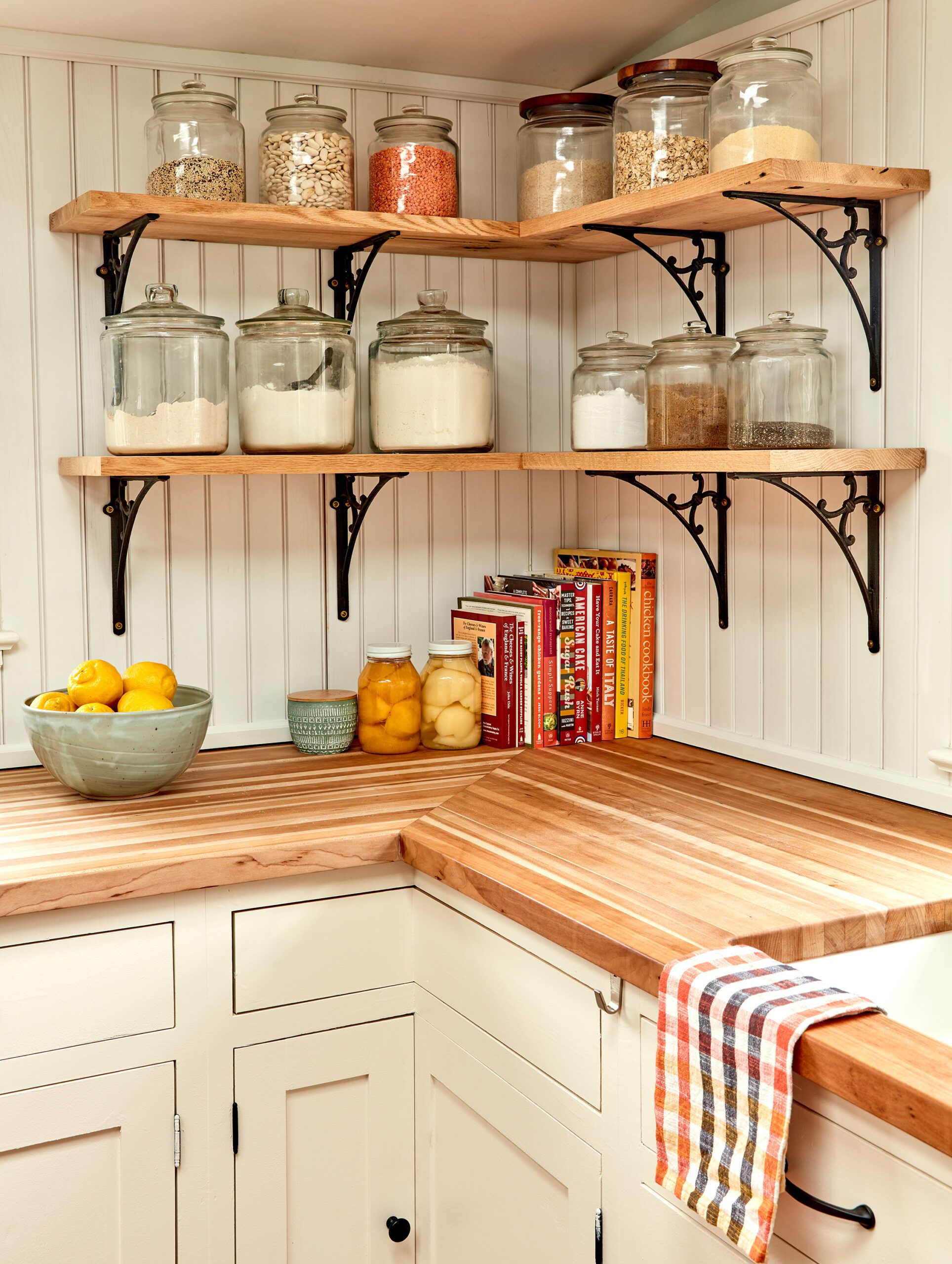 Pieces of 150-year-old chestnut, reclaimed from a barn in nearby Chester County, make the corner open shelves extra eye-catching.
Backup Basin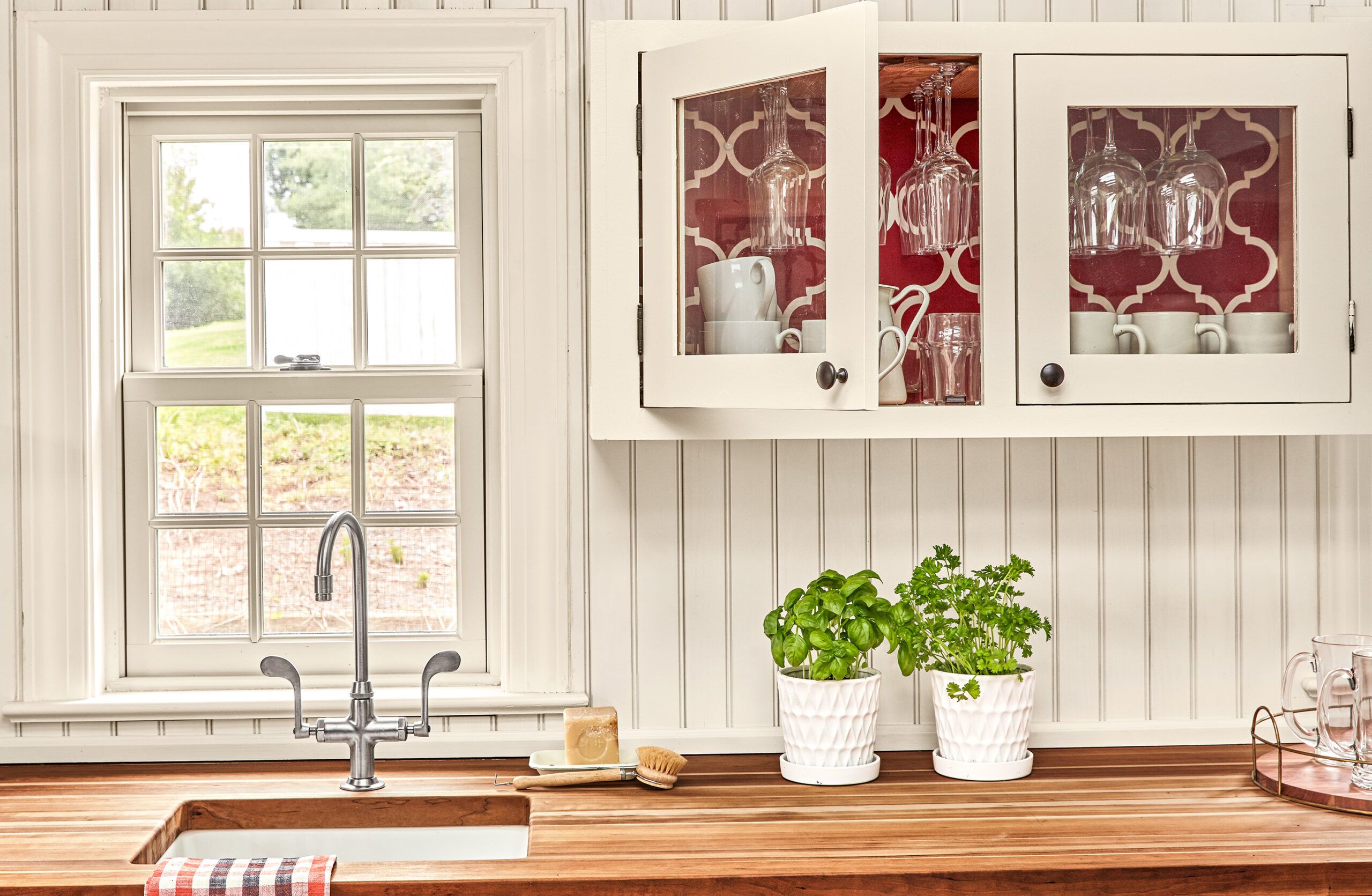 The couple admit that they rarely use their small prep sink, which has a view of their one-acre property, but say it's still nice to have.
Prep faucet: Moen
Prep sink: Kohler
Taste on Tap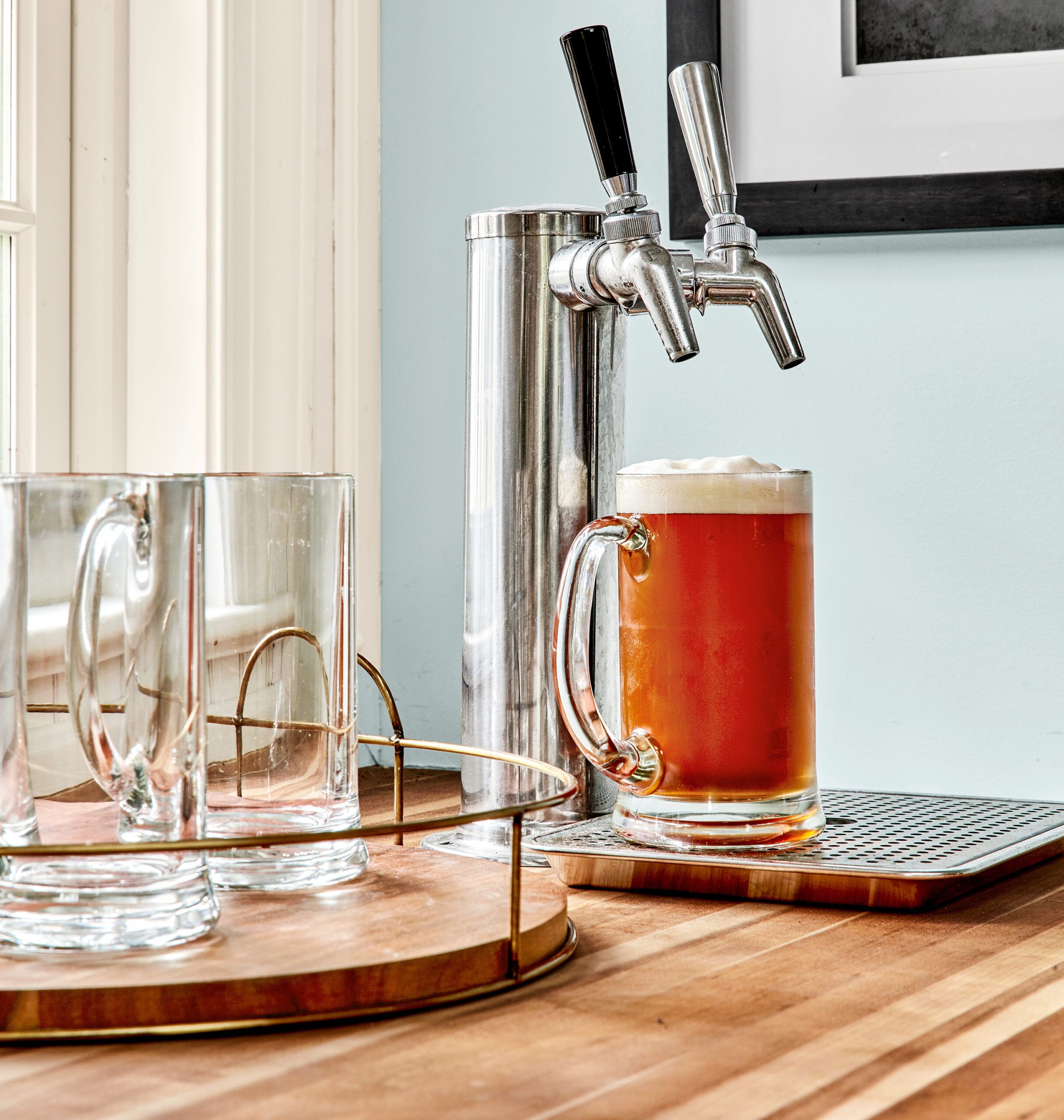 One perk of a beer dispenser: Waste not, want not. "The setup's really easy, and it means you can have half a beer without wasting any the way you would with a bottle."
Worry-Free Surface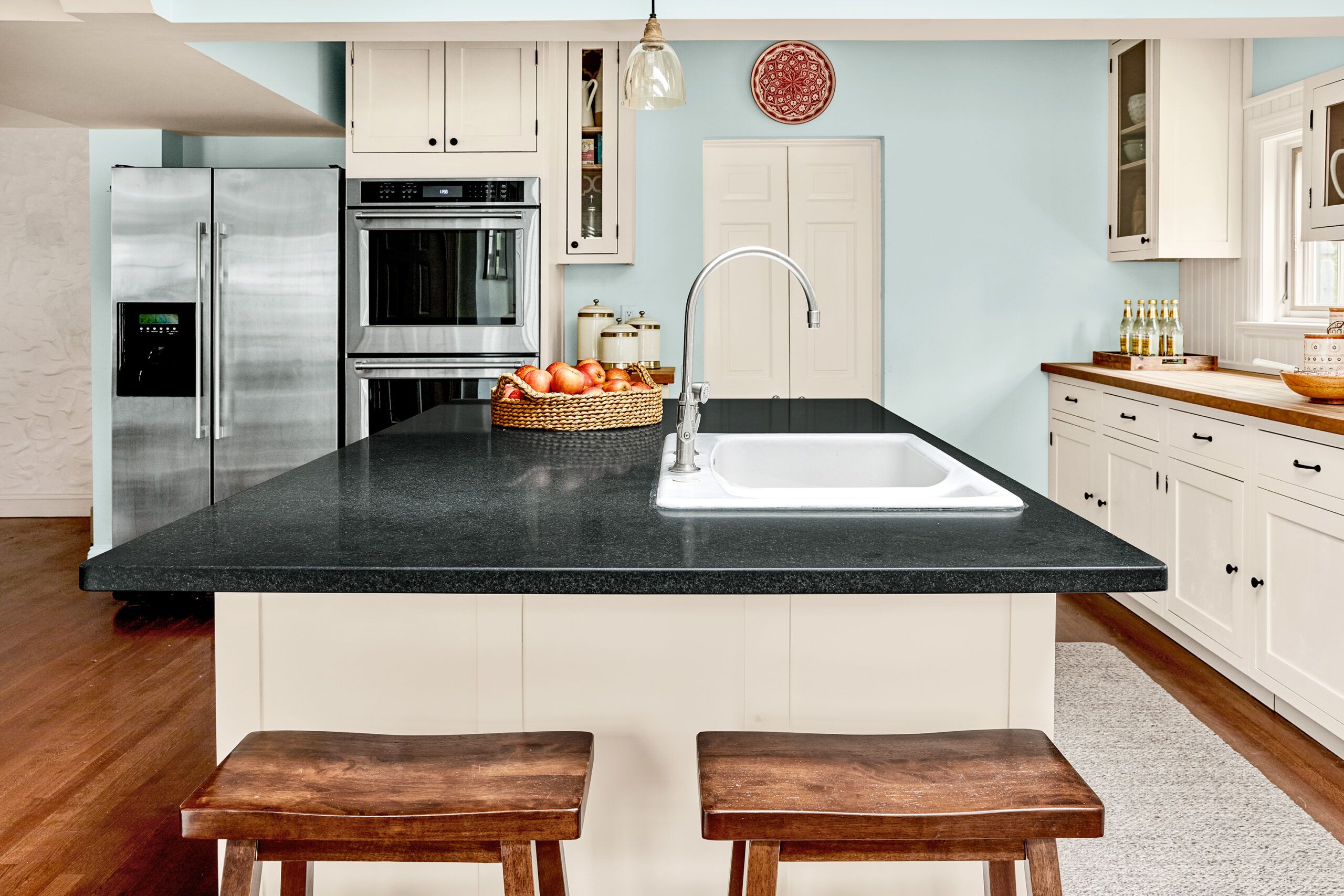 The perimeter countertops are cherry butcher block. "They're gorgeous but delicate, so we decided we needed one sturdy work surface," Bobbie says of choosing black granite for the island countertop. They repurposed the drop-in sink from the old kitchen.
Butcher block: MacLaren Kitchen & Bath
Faucet: Moen
Before Floor Plans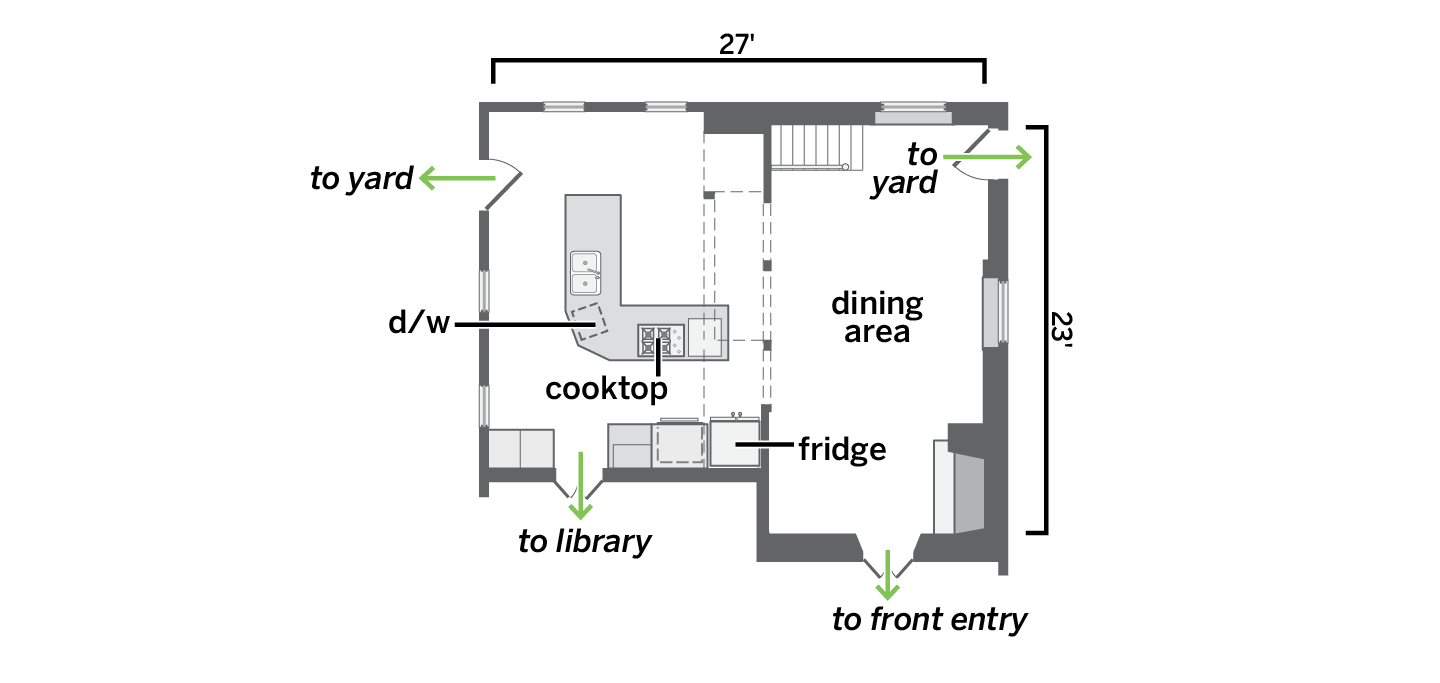 Minimal counter space, aging appliances, and a hard-to-navigate island were far from ideal.
After Floor Plans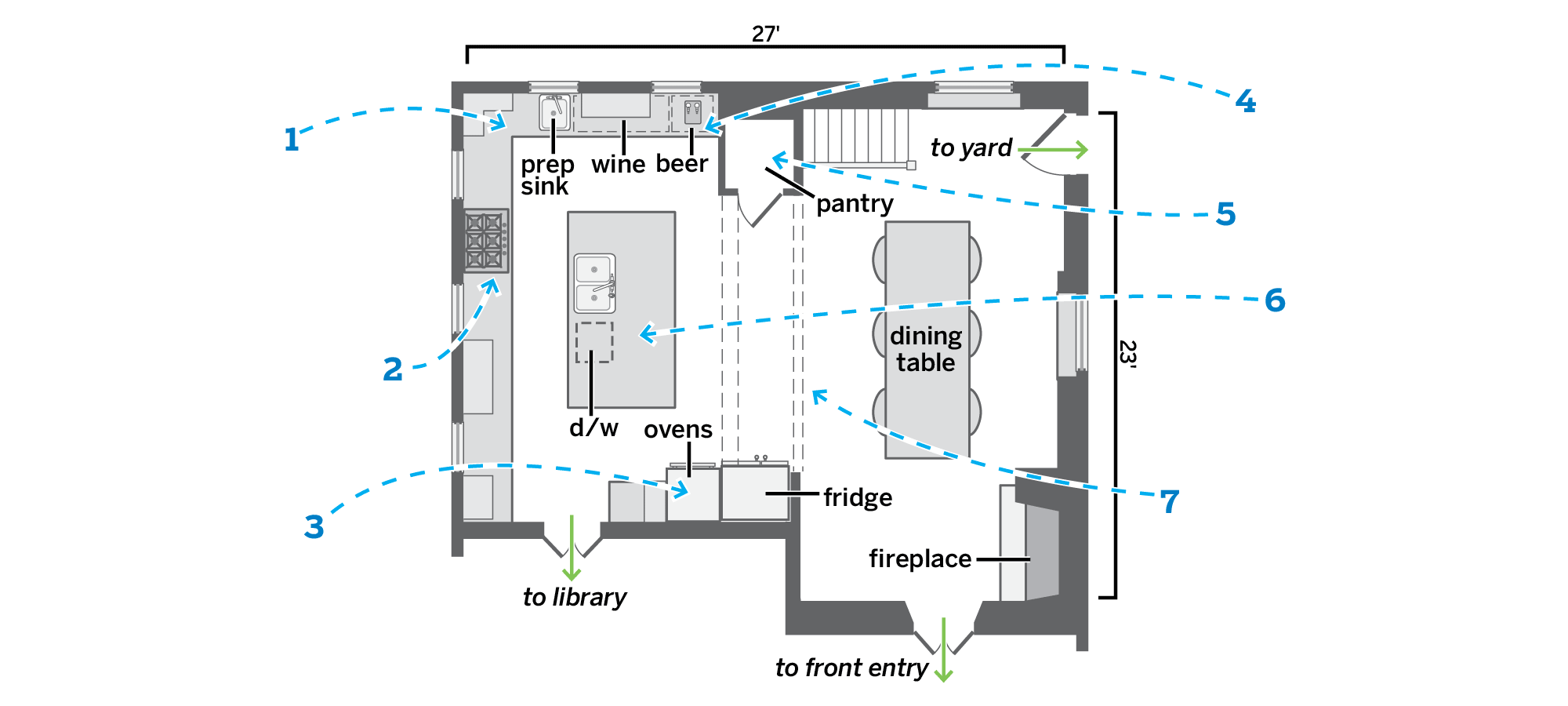 The 325-square-foot cook space now holds all of the couple's dream upgrades: a large island, a food pantry, a vent hood, a prep sink, a wine fridge, even a kegerator.
Added perimeter base cabinets to increase storage and workspace, plus a prep sink; hung small upper units and open shelving, unified with a beadboard backsplash.
Relocated the new cooktop and added a proper vent hood to improve the home's air quality.
Installed double wall ovens and a warming drawer to boost the kitchen's cooking capacity.
Created a beverage center with a kegerator and wine fridge.
Added a pantry closet for easy-access food storage.
Built a new island for better flow, keeping the dishwasher and main sink there.
Replaced support posts with an overhead beam to fully open the kitchen to the dining space.