Before: Obstacle Course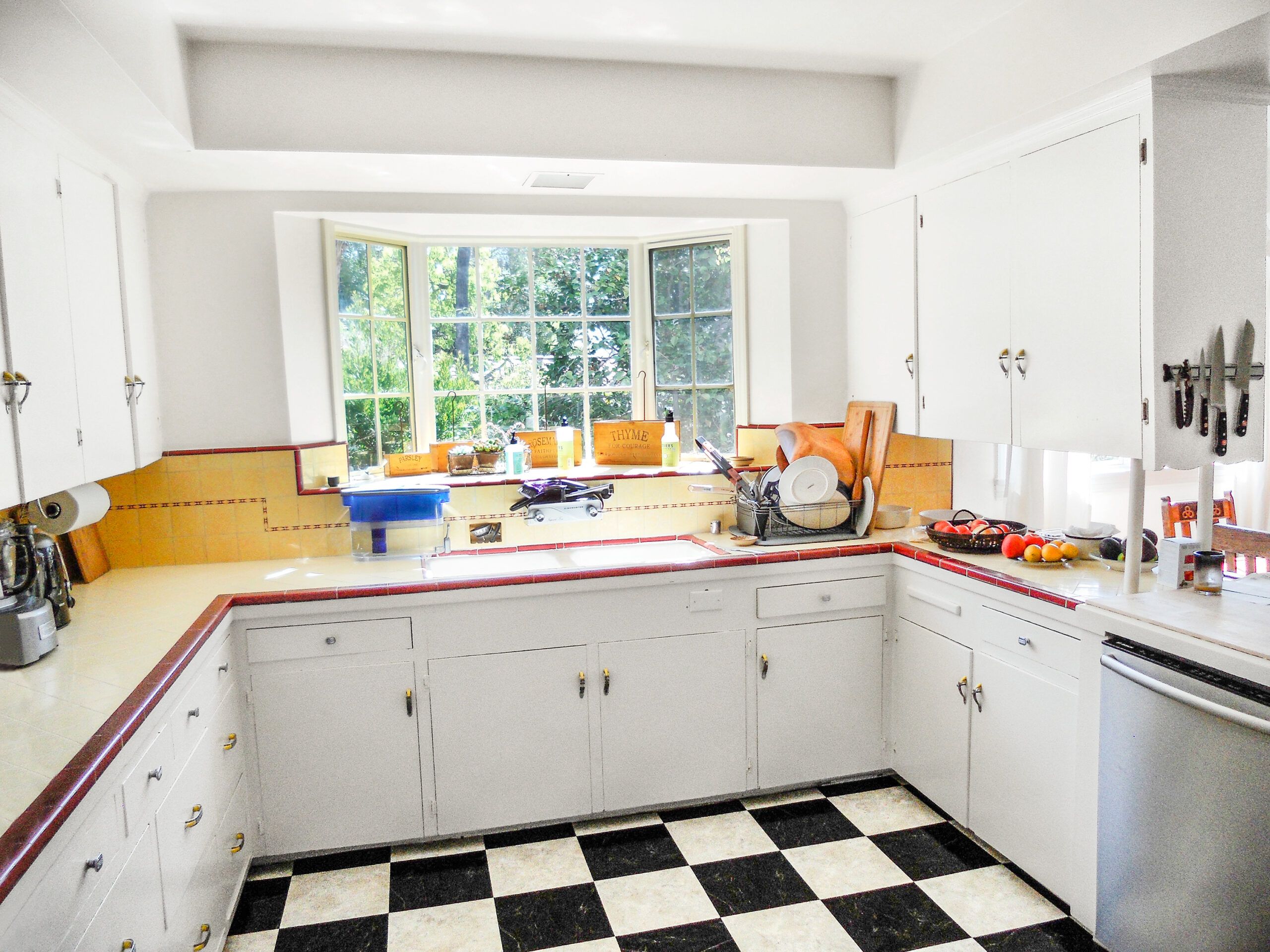 An obstacle course can be fun—but not in your kitchen. Melissa Loy and Mike Margolin's Hollywood, CA, cook space had a peninsula that separated it from the breakfast nook, and the range placed at one end and the sink at the other. "Lots of water got spilled!" says Mike.
Shown: A peninsula to the right of the sink cut the kitchen in half, with upper cabinets that blocked light from the breakfast-nook window. Soffits further congested the space.
After: Open and Inviting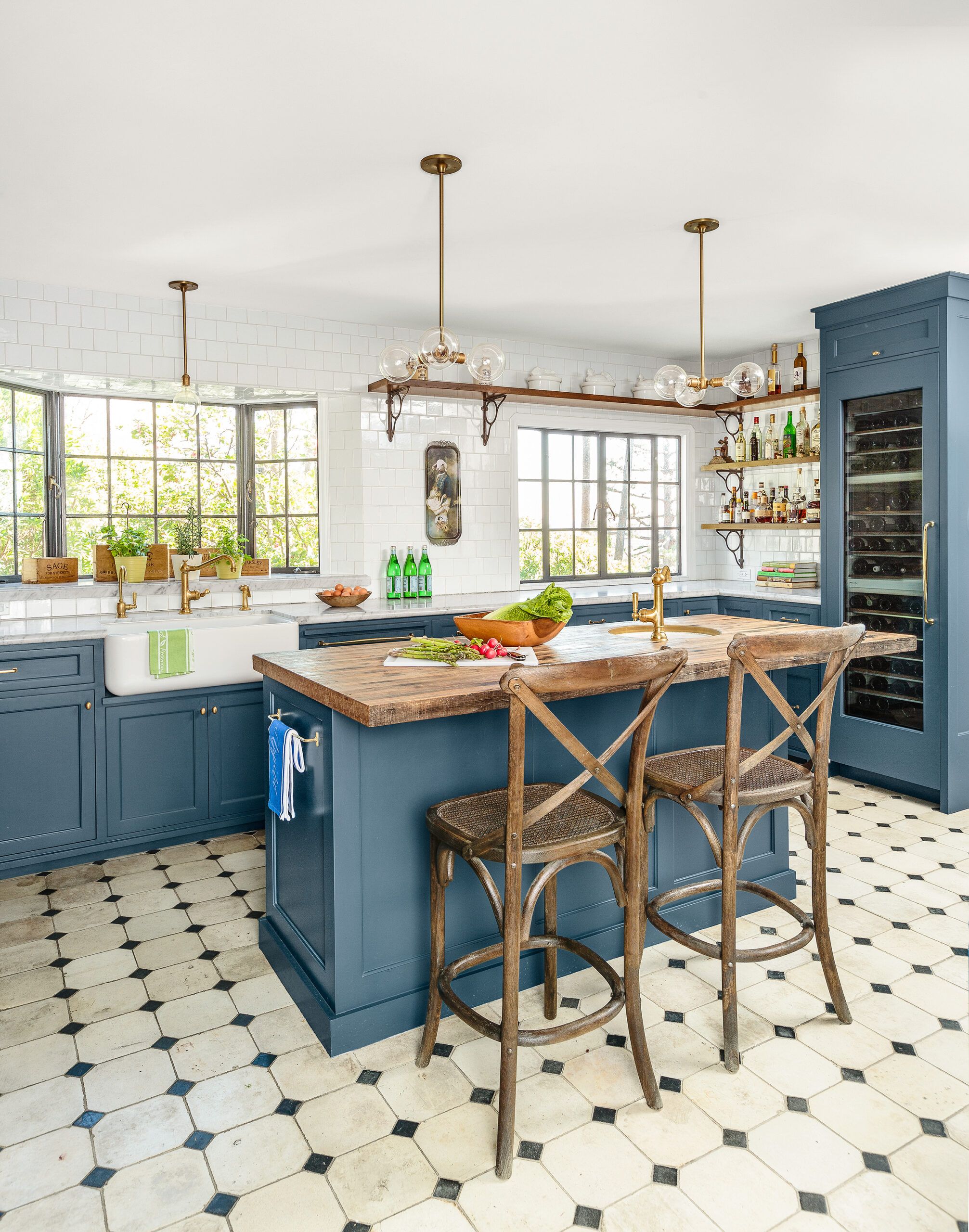 Losing the peninsula opened up the 232-square-foot space, where activity now flows around a multiuse island. The range and dishwasher are positioned closer to the sink, and where soffits once loomed overhead there are now open shelves and ceiling-height built-ins, including a wine fridge and a china hutch. Reclaimed wood and salvaged cement tile suit the 1939 Mediterranean-style home, and the freed-up layout means Mike and Melissa aren't tripping over their 5-year-old son and the family dog. "The kitchen is so comfortable, functional, and inviting now," Mike says. "It's become the hub of our home."
Shown: The opened-up kitchen revolves around an island that features a prep sink, storage, and seating. The reclaimed-wood island top and cement floor tile give the blue-painted cabinets, marble counters, and white subway tile a lived-in look that suits the 1939 Mediterranean-style house.
Built-Ins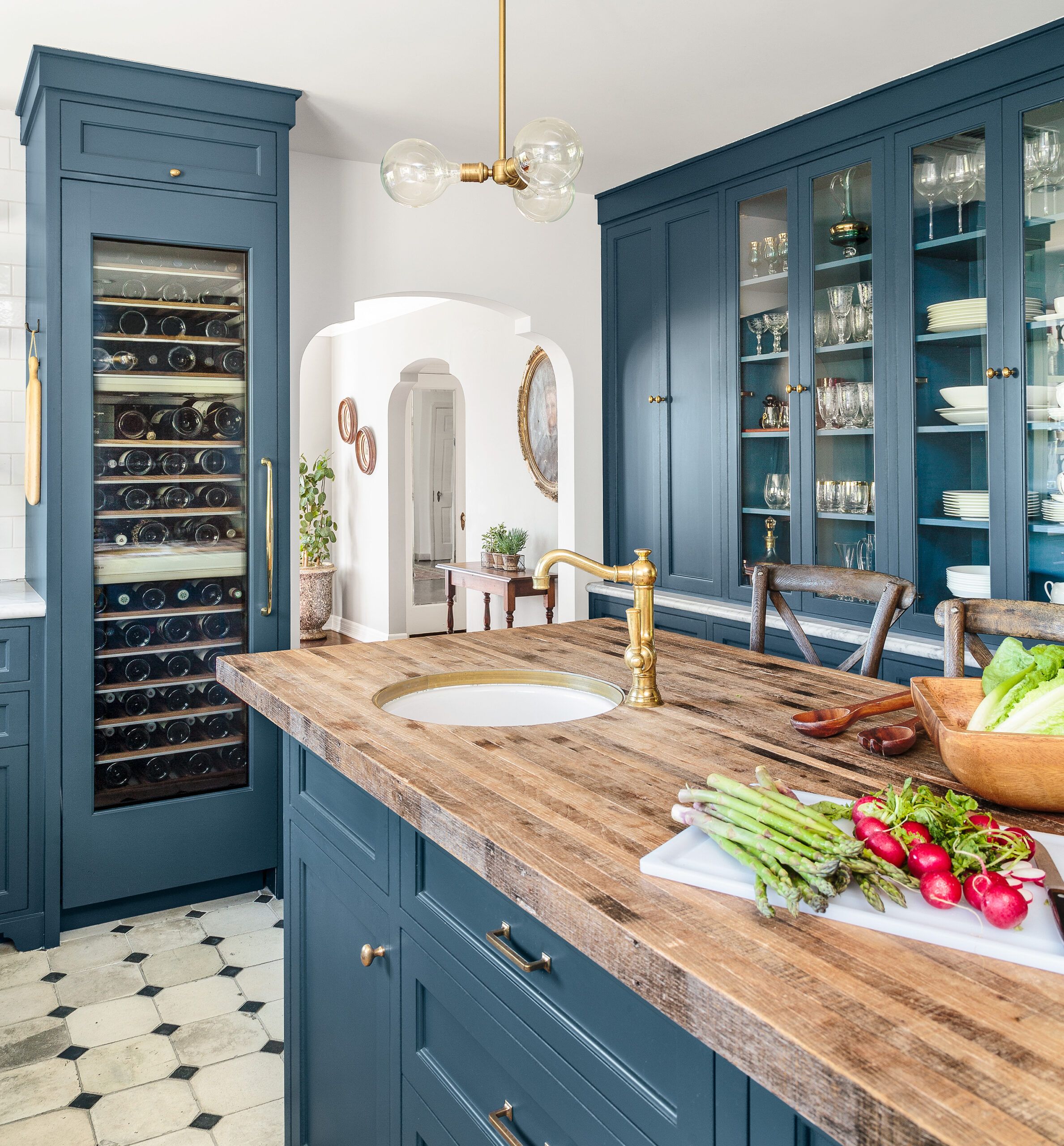 A wine fridge and built-in china hutch line walls beyond the cooking zone. The island holds a second sink for food prep and handwashing. The 4-foot-wide arch replaced a doorway, enhancing the home's character.
Faucet: Newport Brass
Wine fridge: Miele
Weathered Floor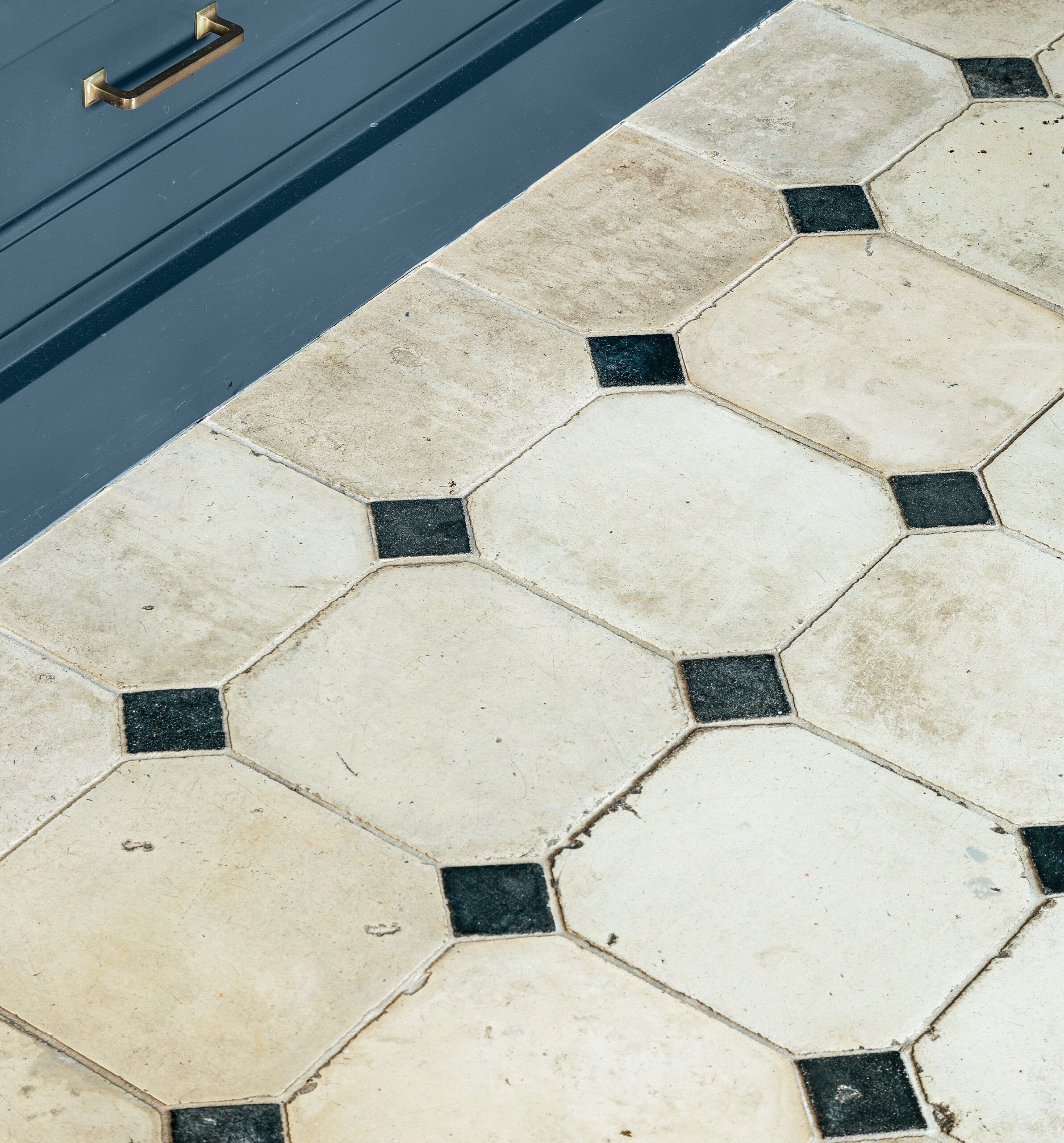 "The charm of an antique floor is that it's already been scratched, discolored, spilled on, you name it!" says Melissa of the cement tile, salvaged in Spain.
Floor tile: Exquisite Surfaces
Bright and Airy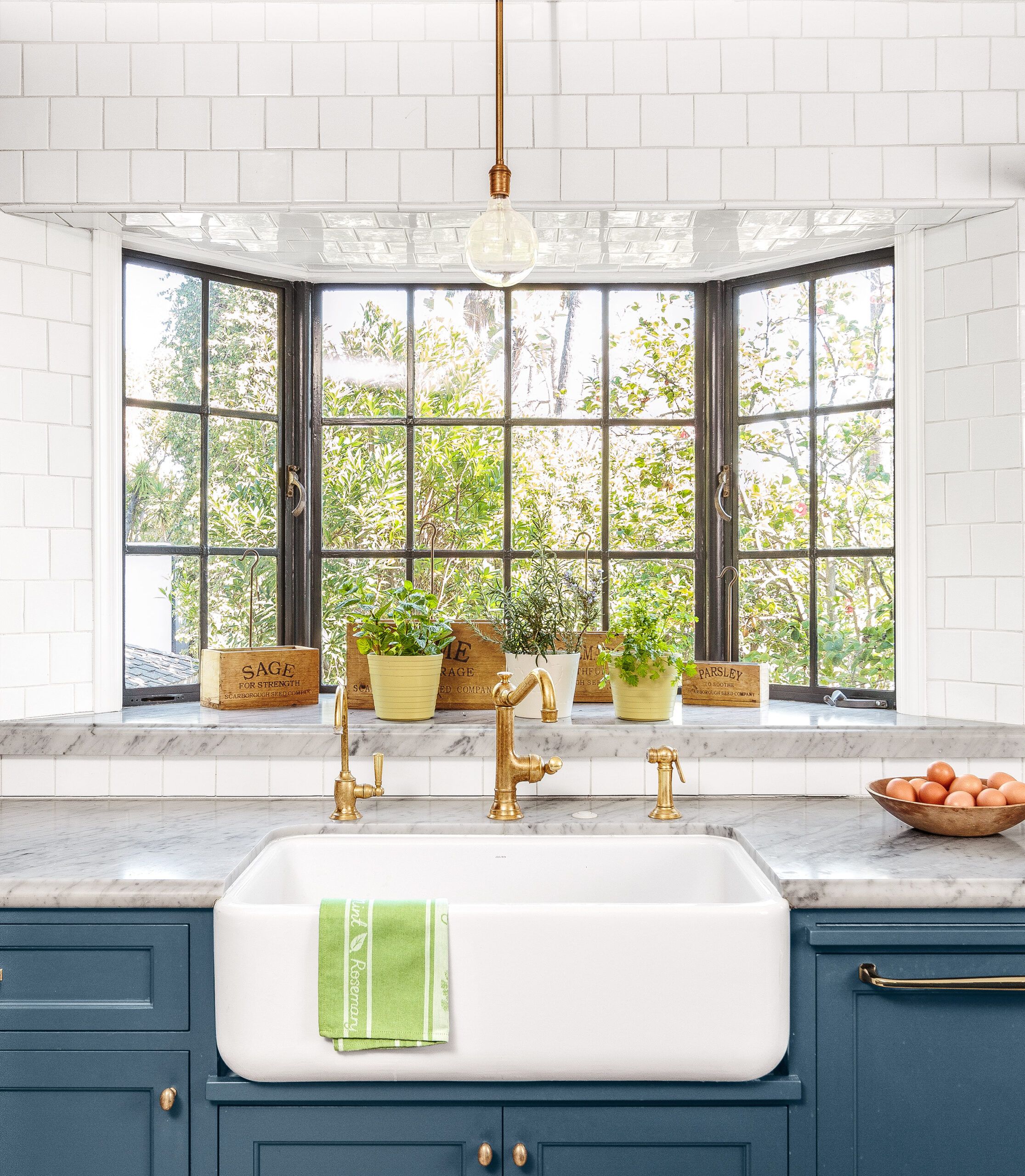 Removing soffits that ringed the room gained 2 feet of space above the sink. White subway tile and a curvaceous farmhouse sink add to the bright, airy feel. Thick Carrara marble tops the perimeter base cabinets and lines the area under the original bay window, adding a moisture-proof surface for herb pots.
Sink: Julien
Faucet: Newport Brass
Dishwasher pull: Baldwin
Kitchen Remodelers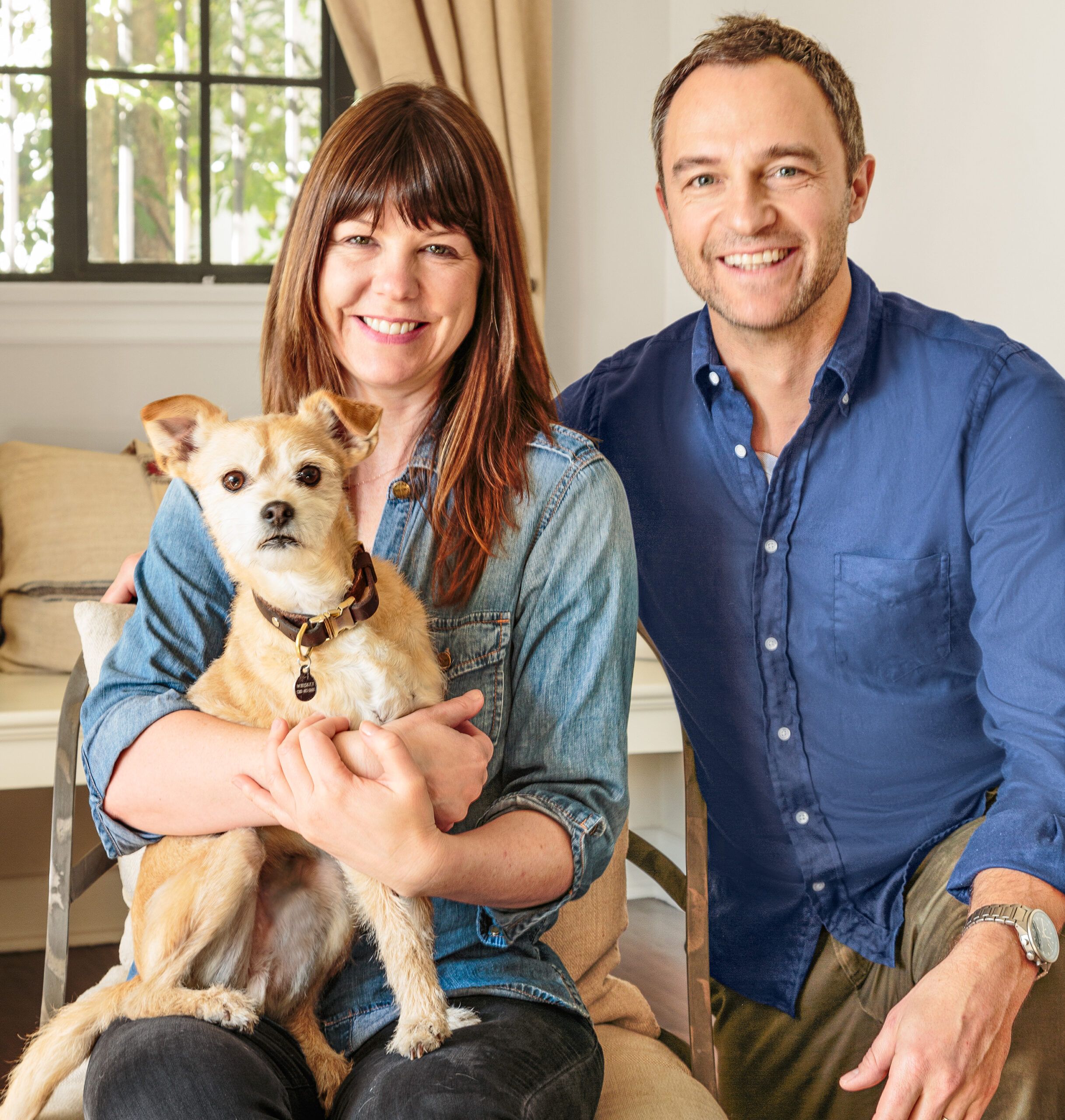 Melissa Loy and Mike Margolin (with Whiskey, their terrier mix) wanted an old-house feel in their remodel. "We chose materials like Carrara marble and unlacquered brass that would scratch and patina," says Mike. "It's hard to tell whether our kitchen is original or new."
Island Top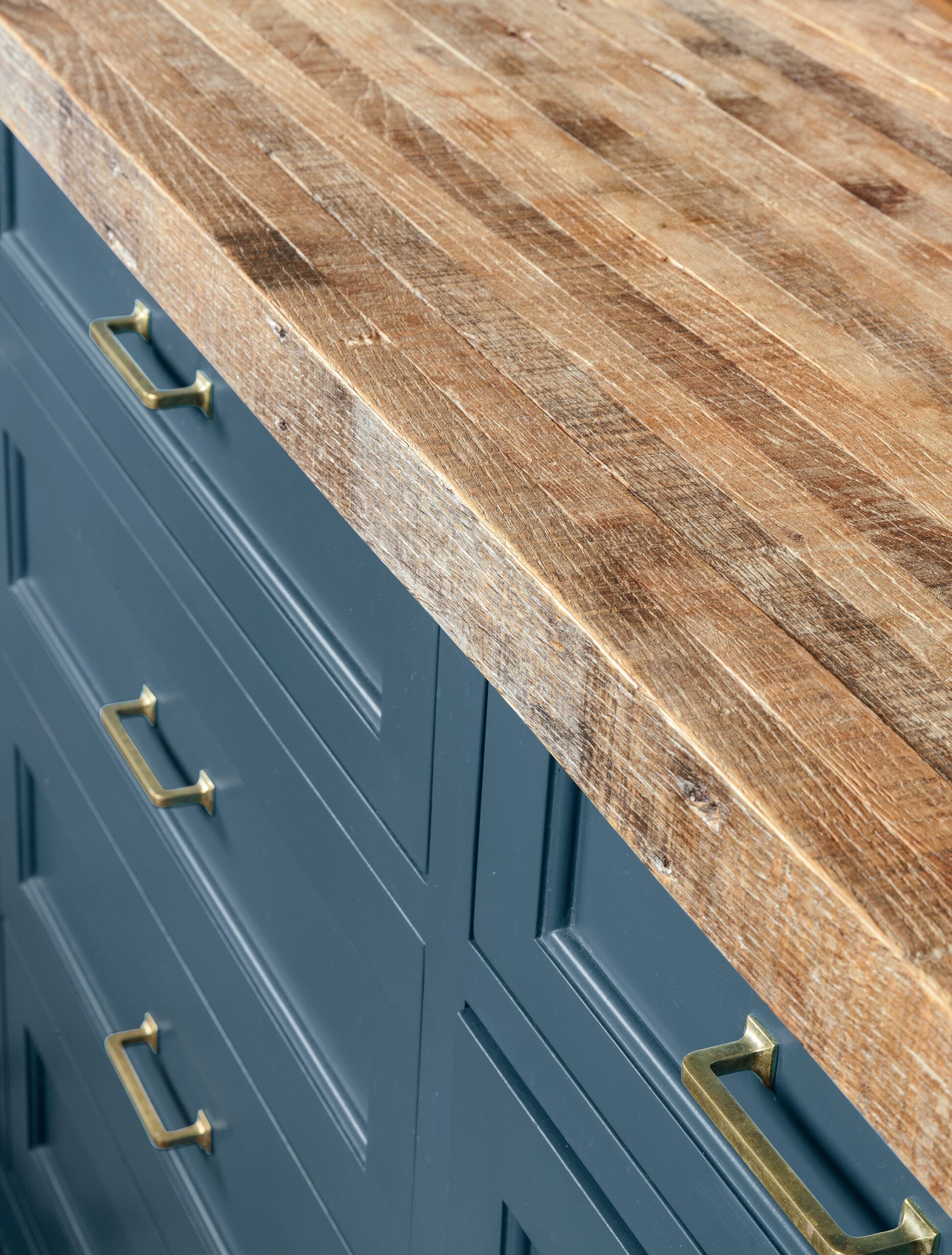 The custom butcher-block island top was crafted from reclaimed oak and pine, and given a wax finish that helps keep it from staining.
Island top: Croft House
Framed Backsplash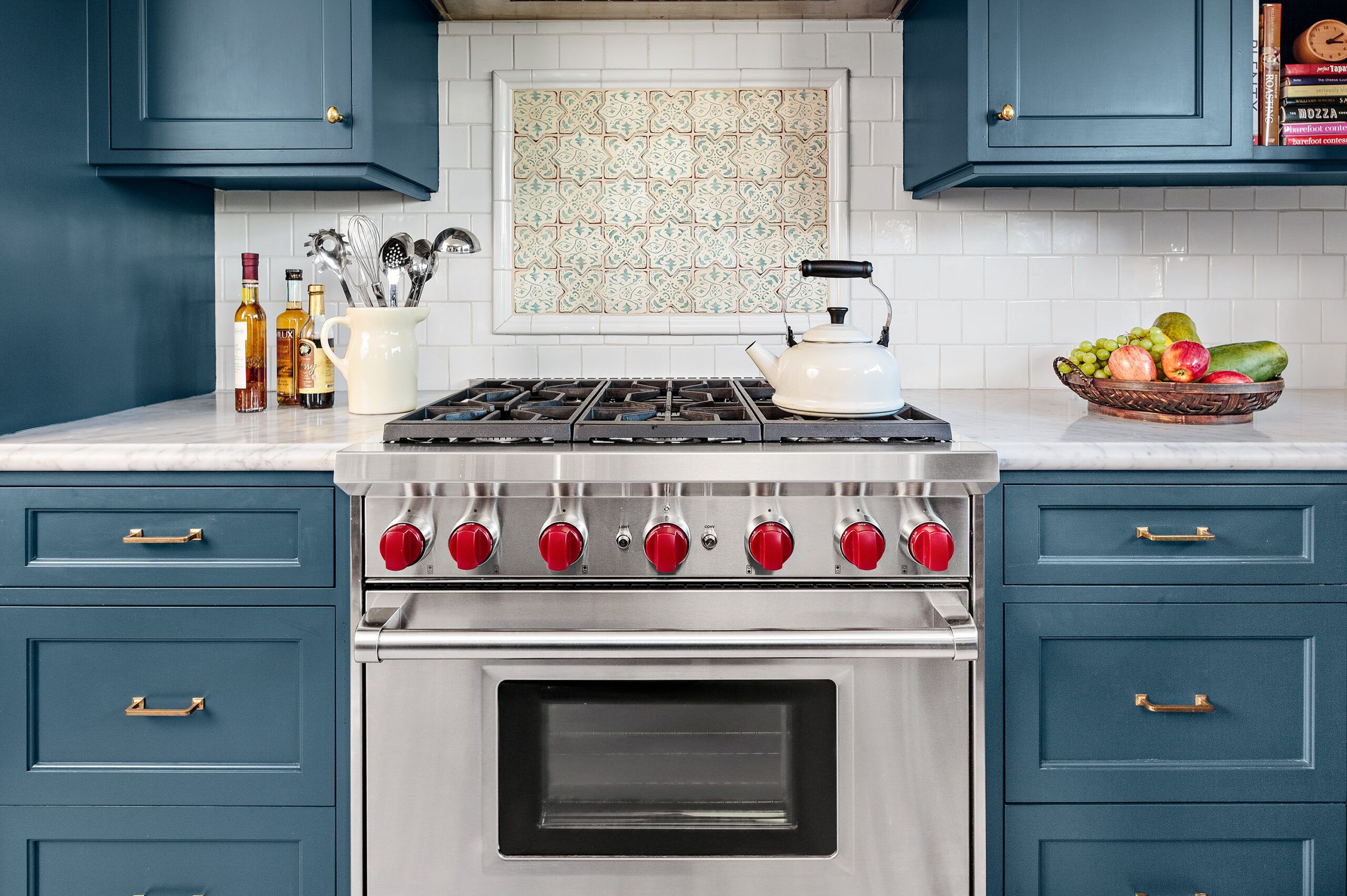 A backsplash inset of handmade Moorish tile plays off the rich blue hue of the custom cabinetry.
Range: Wolf
Cabinet hardware: Rejuvenation
Paint (cabinets): Farrow & Ball's Stiffkey Blue
Breakfast Nook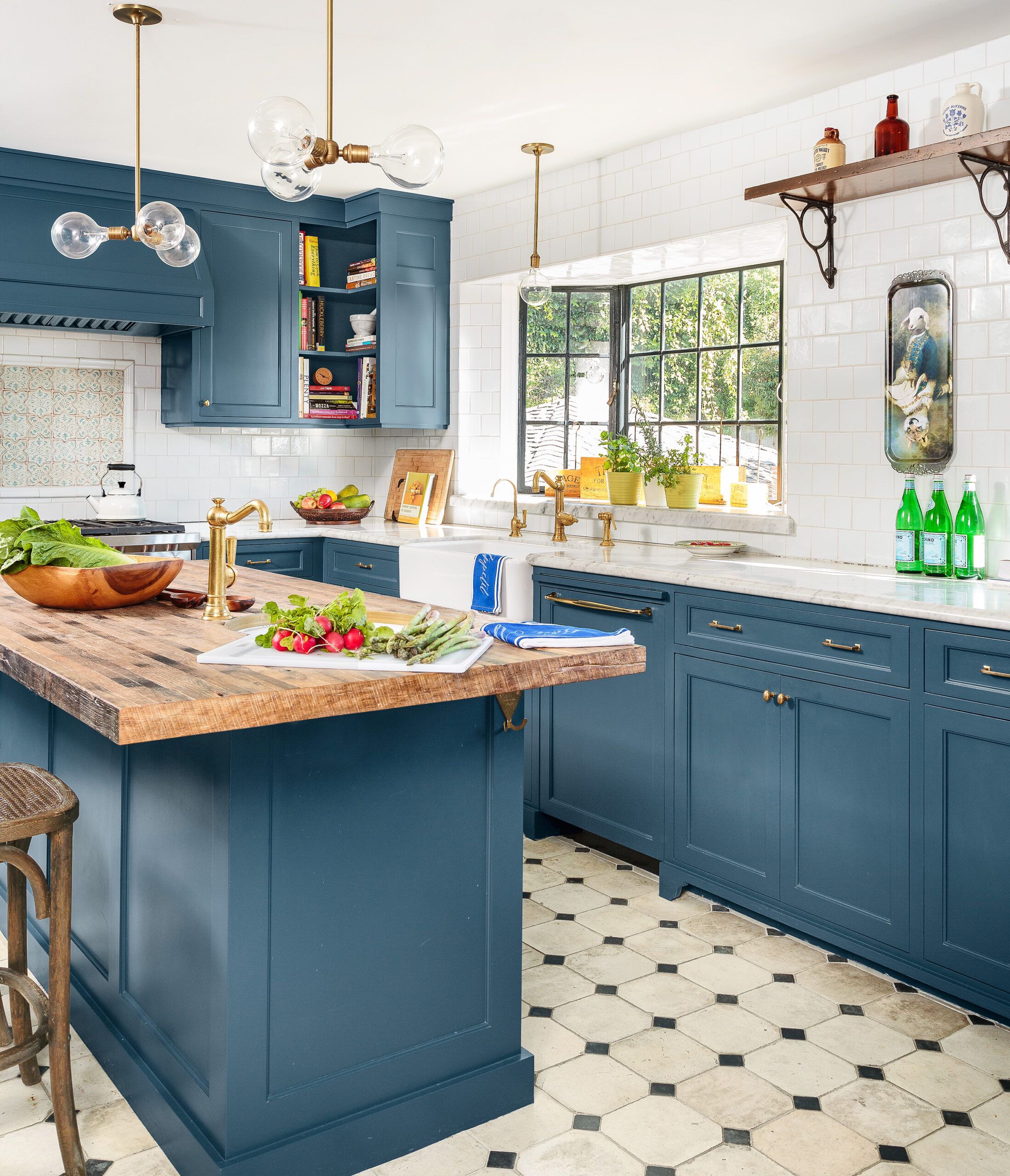 The island features an ample overhang on two sides for stools, which allows for a great view out the bay window—and plenty of kitchen conversation.
Bar Area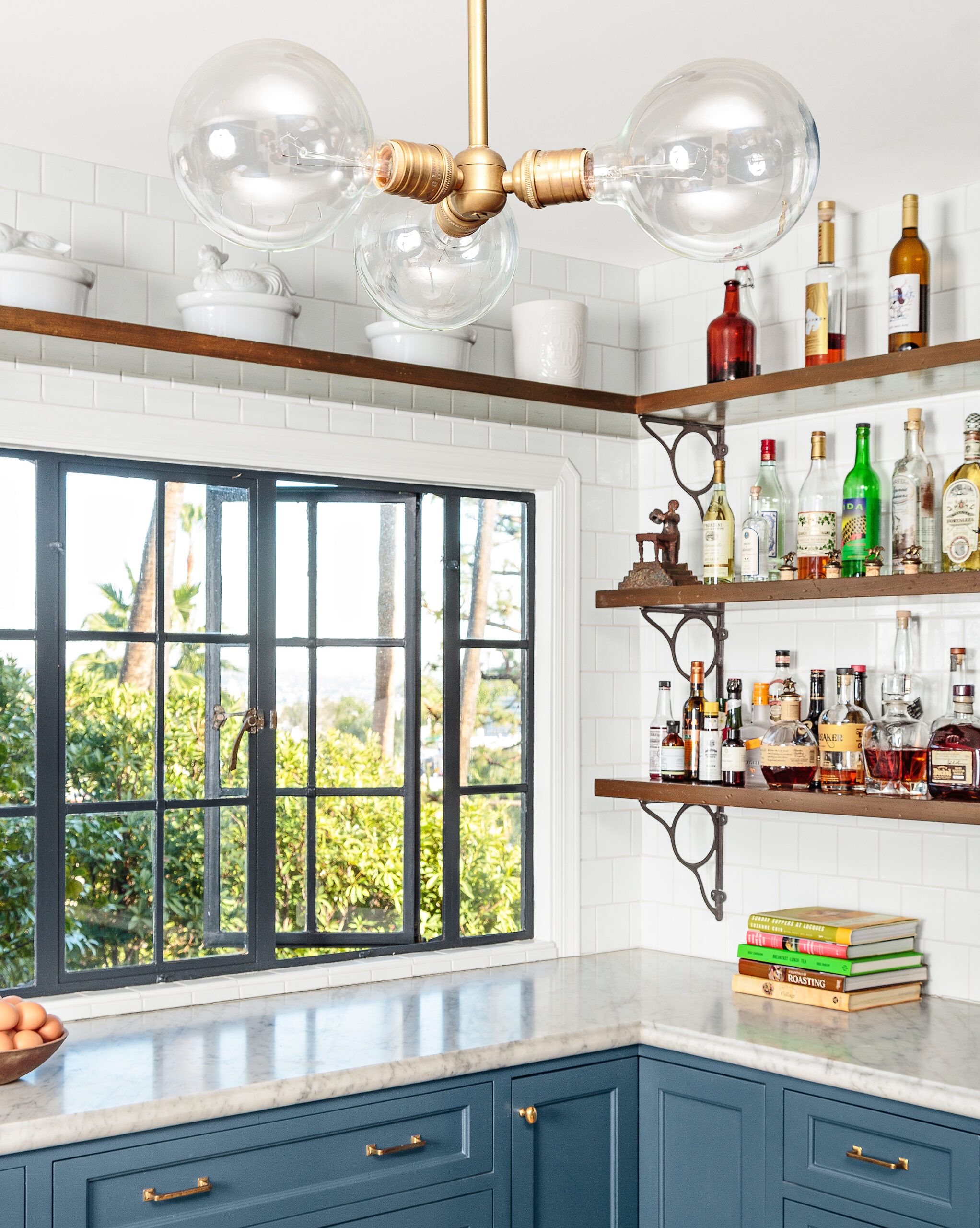 Open shelves form a bar area, where Mike can mix up cocktails, and offer a lighter look than closed cabinetry. Industrial brass ceiling fixtures add a whimsical touch.
Lighting: Schoolhouse Electric & Supply Co.
Marble countertops: Carrera Marble
Before Floor Plans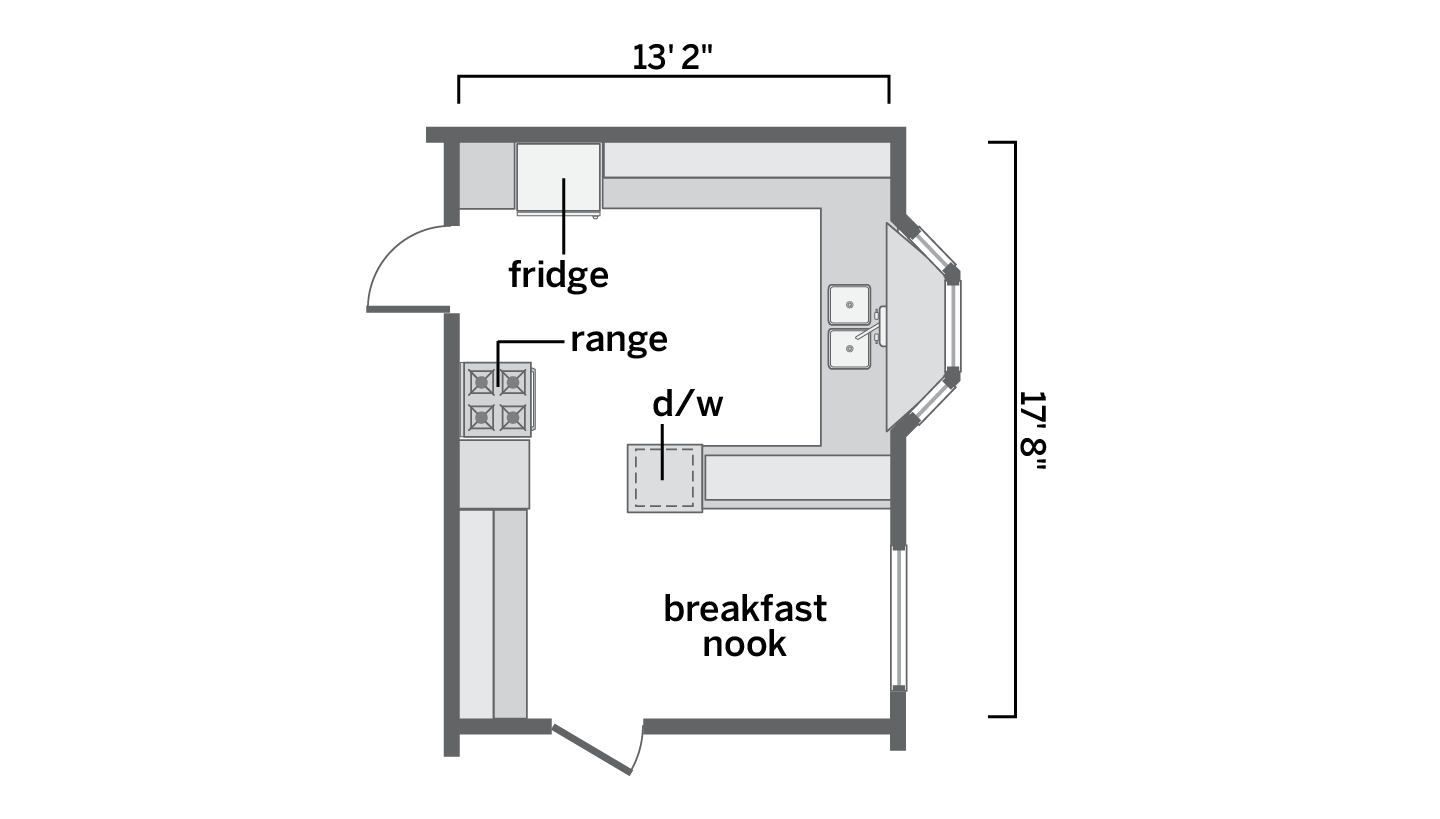 Appliances were too spread out, and a peninsula crowded the food-prep area.
After Floor Plans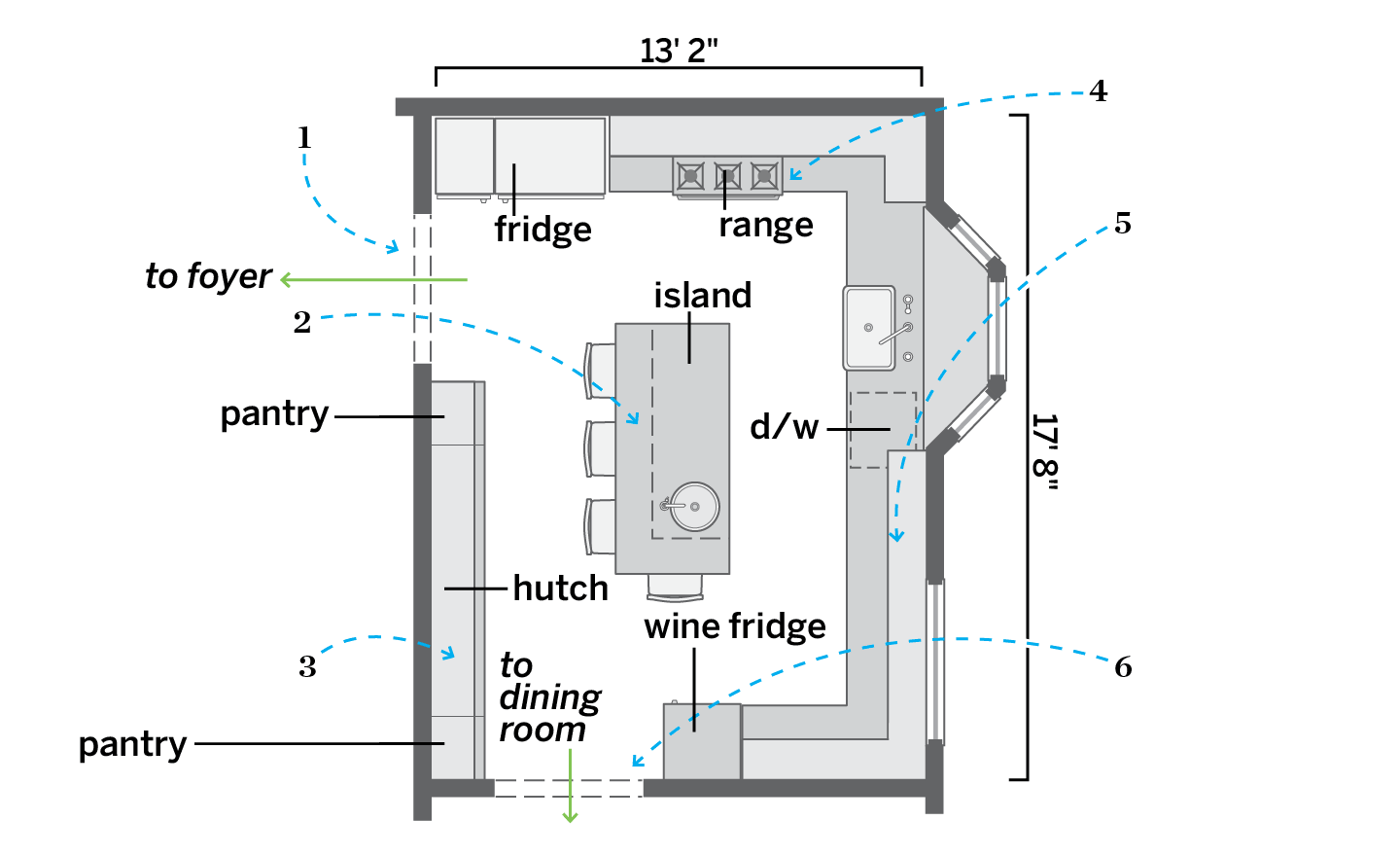 Scrapping the peninsula and annexing the breakfast nook allowed for more natural light and smoother flow around a center island.
Replaced a door with an arched opening that's 16 inches wider.
Added an island with a prep sink, barstools, and cabinet storage.
Built to-the- ceiling pantry storage and a hutch for dishware.
Relocated the range to space between the fridge and sink for a more ergonomic work zone.
Took out the peninsula and its upper cabinets for a larger U-shaped work zone; moved the dishwasher next to the sink.
Replaced a door with an archway that matches one in the foyer.
Architect/designer: Jeff Troyer, JWT Associates, Los Angeles
Contractor: Duane LaDage, True Line, Los Angeles
Cabinets: Thomas J. Lawlor, Los Angeles