Farmhouse Sinks
Sexy, supersized appliances used to dominate the kitchenscape, but that was before a sink came along that refused to hunker down in a cabinet. Suddenly all eyes were on the cleanup zone, where a bossy, glossy-white heavyweight pushed aside the humble, hardworking stainless-steel basin.
America's appetite for farmhouse, or apron-front, sinks can be traced to the late 1990s, when companies like Rohl realized they could romance a boxy U.K. import made from lustrous, rock-hard fireclay by evoking farmhouse style—or a glorified idea of it. "Your choices used to be overmount or undermount, which sound boring, while 'farmhouse' sounds like it has a story," says David McNamara of Franke, a Swiss sink-maker attuned to North American tastes. Even as it has swelled in popularity, the curvaceous classic has been evolving too. "Today the farmhouse sink has been modernized," adds McNamara, "with tighter lines and new materials, like stainless steel."
As kitchens continue their move toward large, open gathering spaces, here's a roomy focal point that also hides dirty dishes and practically says "jump right in." Read on for what you need to know before taking the plunge.
Shown: This classic silhouette, in sparkling white fireclay, finds a flattering partner in a high-arc bridge faucet.
Shaws Original single-bowl farmhouse sink, from $1,845; Rohl
The Precursor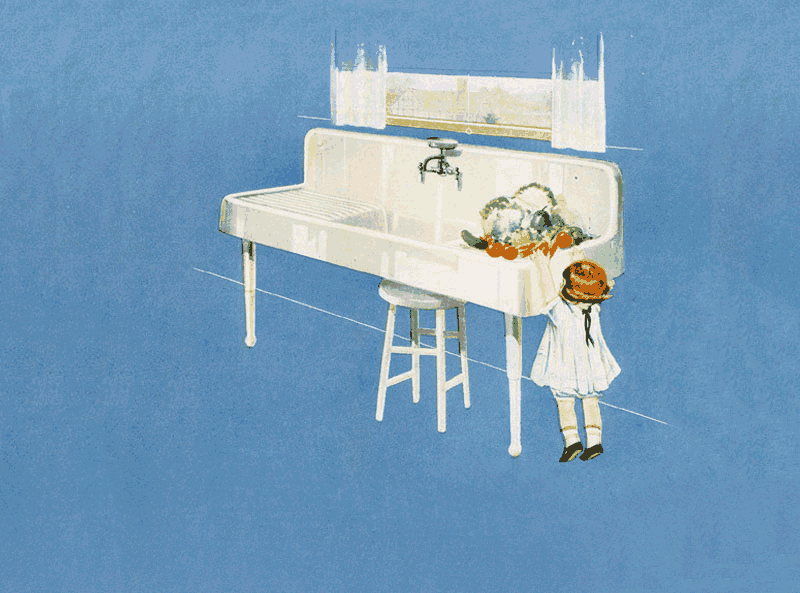 Large workstation sinks moved into American kitchens during the so-called sanitation movement of the 1920s. These wall-hung behemoths, made of enameled cast iron, typically had integrated backsplashes and drainboards, short aprons, and legs in front for added support—no cabinet needed.
Vitals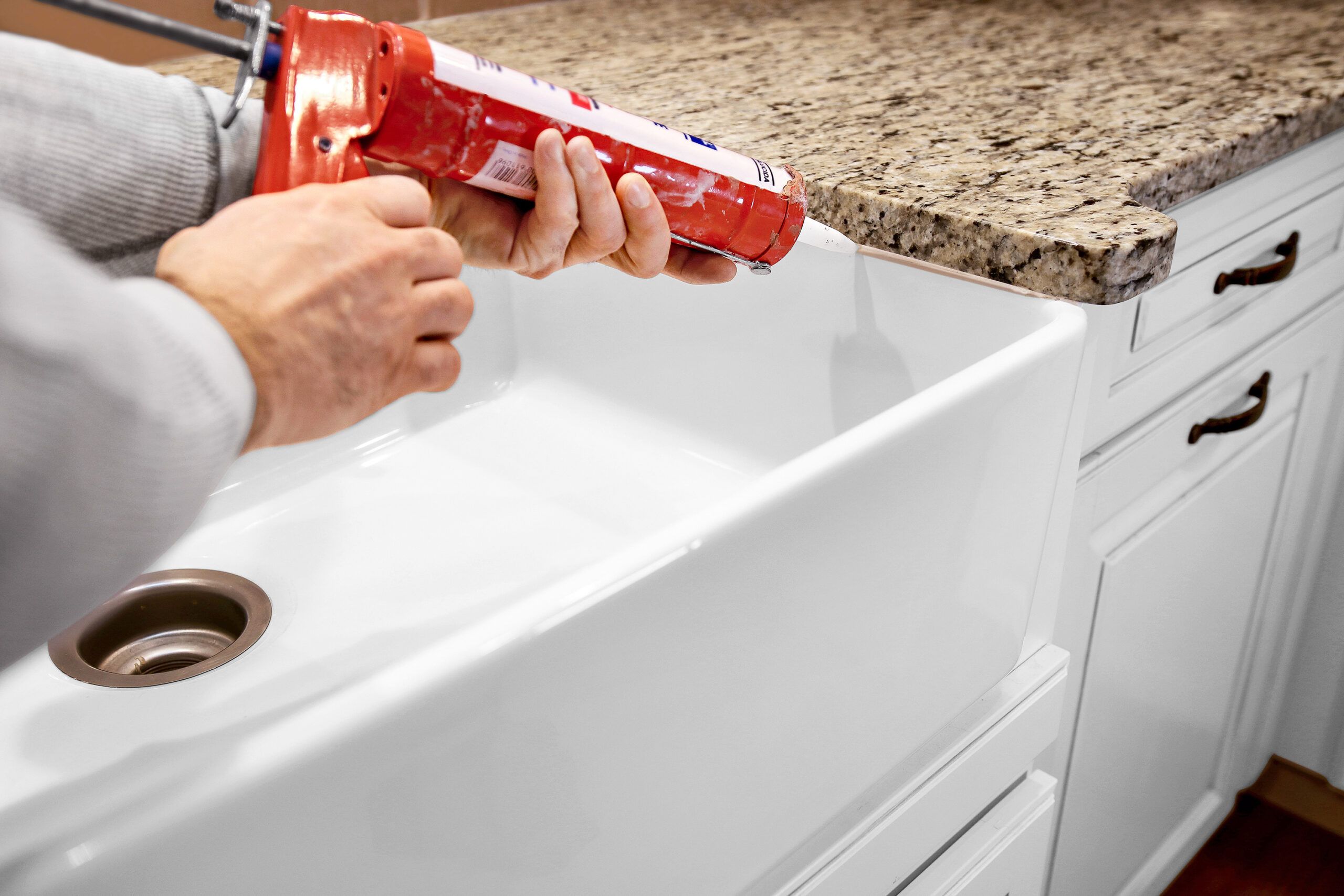 WHAT DO THEY COST? Stainless-steel and ceramic versions start at less than $200; those made from pricier materials like fireclay and cast iron sell for $700 to $2,000—and on up.
DO I NEED A SPECIAL CABINET? Not necessarily, but most cabinets will need added support (see "Beefing Up the Box," slide 10). At 20 to 42 inches side to side and 7 to 10 inches deep, these sinks can easily weigh 100 to 200 pounds.
DIY OR HIRE A PRO? Cutting out the cabinet front, reinforcing the box, wrestling the basin into place, and coordinating the sink, cabinet, countertop, and faucet installation are usually best handled by an experienced pro.
HARD TO KEEP CLEAN? Generally, a mild cleanser like Bon Ami takes care of marks and stains on fireclay and enameled cast iron. But materials vary widely; follow the product manufacturer's guidelines so as not to void a warranty.
Classic White, Three Ways: Drop-In
Tailor your sink style and installation to your countertop—and personal preference. Pull it forward to shorten your reach and add extra toe space; pick a depth that feels comfortable too.
These sinks have a finished lip that bridges the countertop cutout—handy with wood or laminate. This model specifies countertops at least 1 inch thick, and comes with a metal bar for more support.
Shown: Domsjö 30-inch ceramic sink, 7 inches deep, $159; IKEA
Classic White, Three Ways: Undermount
Designed to sit on supports inside the cabinet, undermounts allow the countertop to extend over the sink on three sides, so crumbs and spills can be swept right in.
Shown: Vigo 36-inch Casement Front solid-surface sink, 9 5⁄8 inches deep, $595; The Home Depot
Classic White, Three Ways: Pulled Forward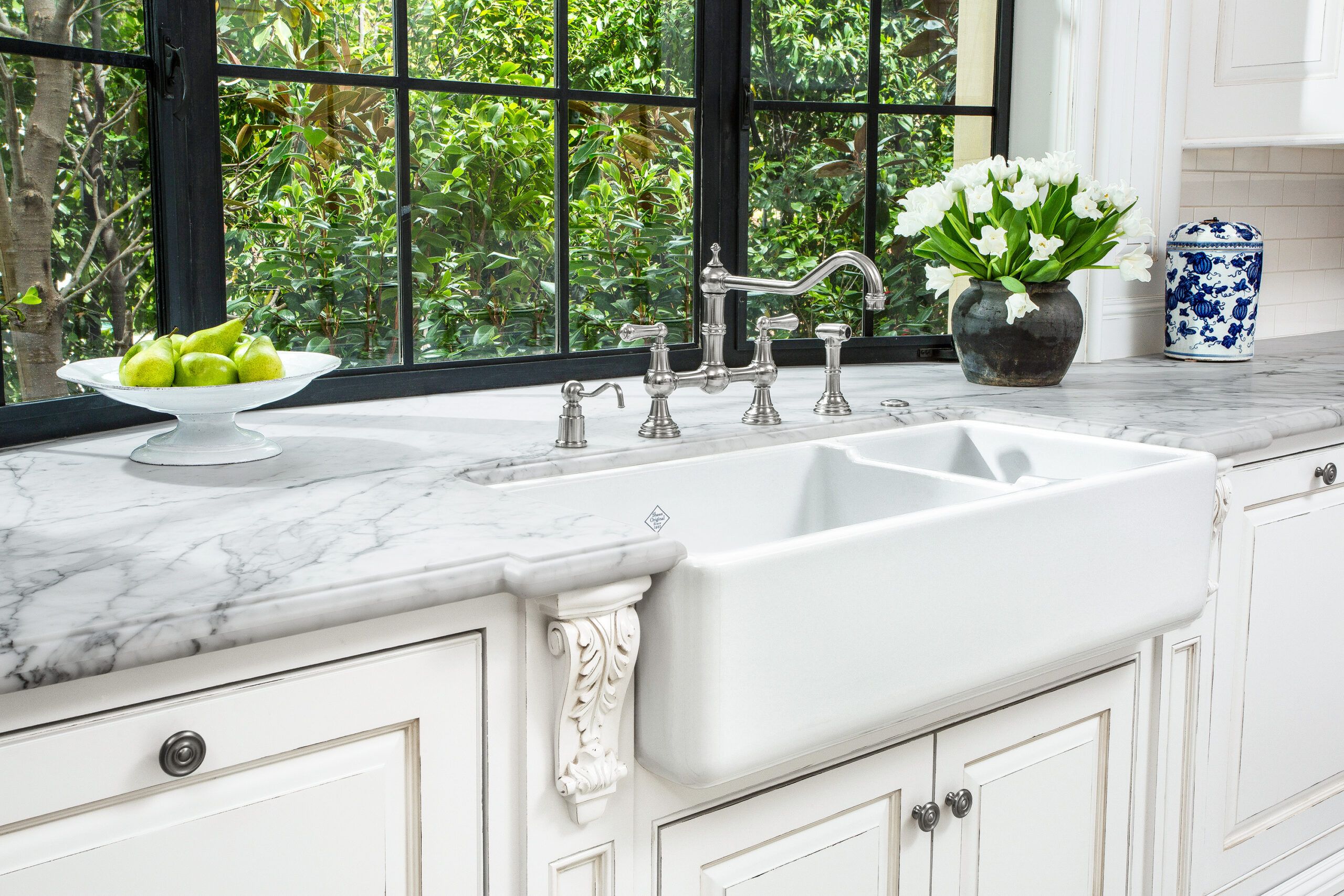 Beefy, glossy, thick-walled sinks gain even more presence when their rounded apron fronts come forward a few inches—the better to lean against during dishwashing duty.
Shown: Shaws Original Rutherford 39 ½-inch fireclay sink, 10 inches deep, $4,295; Rohl
LEARN MORE about this sink in a YouTube video from Rohl
Know Your Options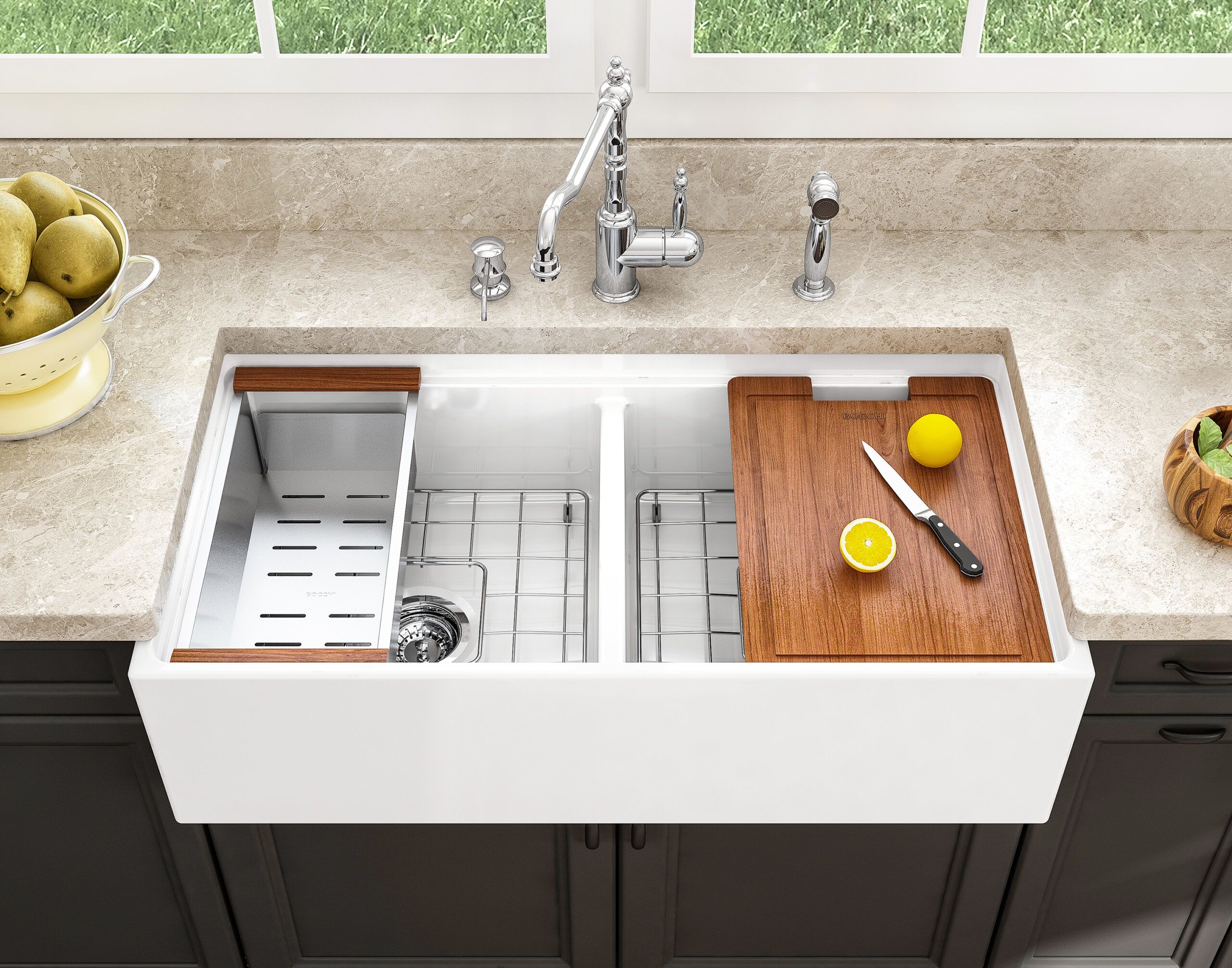 All whites are not alike Fireclay is made from a special clay mix that is molded, glazed, and fired at very high temperatures, yielding a hard, long-lasting material that resists chips and scratches. Baking layers of enamel onto cast iron also produces a highly durable surface. These materials command higher prices than ceramics that are fired at lower temperatures and solid-surface acrylics. Note: If your sink is going next to a white cabinet or counter, request samples to make sure you like the color mix.
One bowl or two With a single big basin, it's easy to scrub a roasting pan. With two, you can devote one to dirty dishes or a drying rack, the other to prepping salad greens. A low divider helps accommodate pot handles.
Workstation accessories A step-down rim adds function and flexibility with add-ons like a cutting board or a dish drainer.
Faucet function Pull-downs are a top choice because they can reach all four sink corners. With a faucet that doesn't pull out, make sure it clears your tallest stockpot, and add a side spray for easy cleanup. If space behind the sink is tight, consider a wall-mount faucet or a sink that has a deck with predrilled holes.
Exit strategy When the drain is positioned to one side, dishes can pile in without blocking the water flow.
Extra protection If new-sink syndrome makes you anxious, add a bottom rack (about $50). Some have a cutout to ease drain access.
Shown: Contempo 36D Step Rim fireclay sink, $1,600; Bocchi
Downsized Sinks for Smaller Spaces: Pantries, Bars, and Islands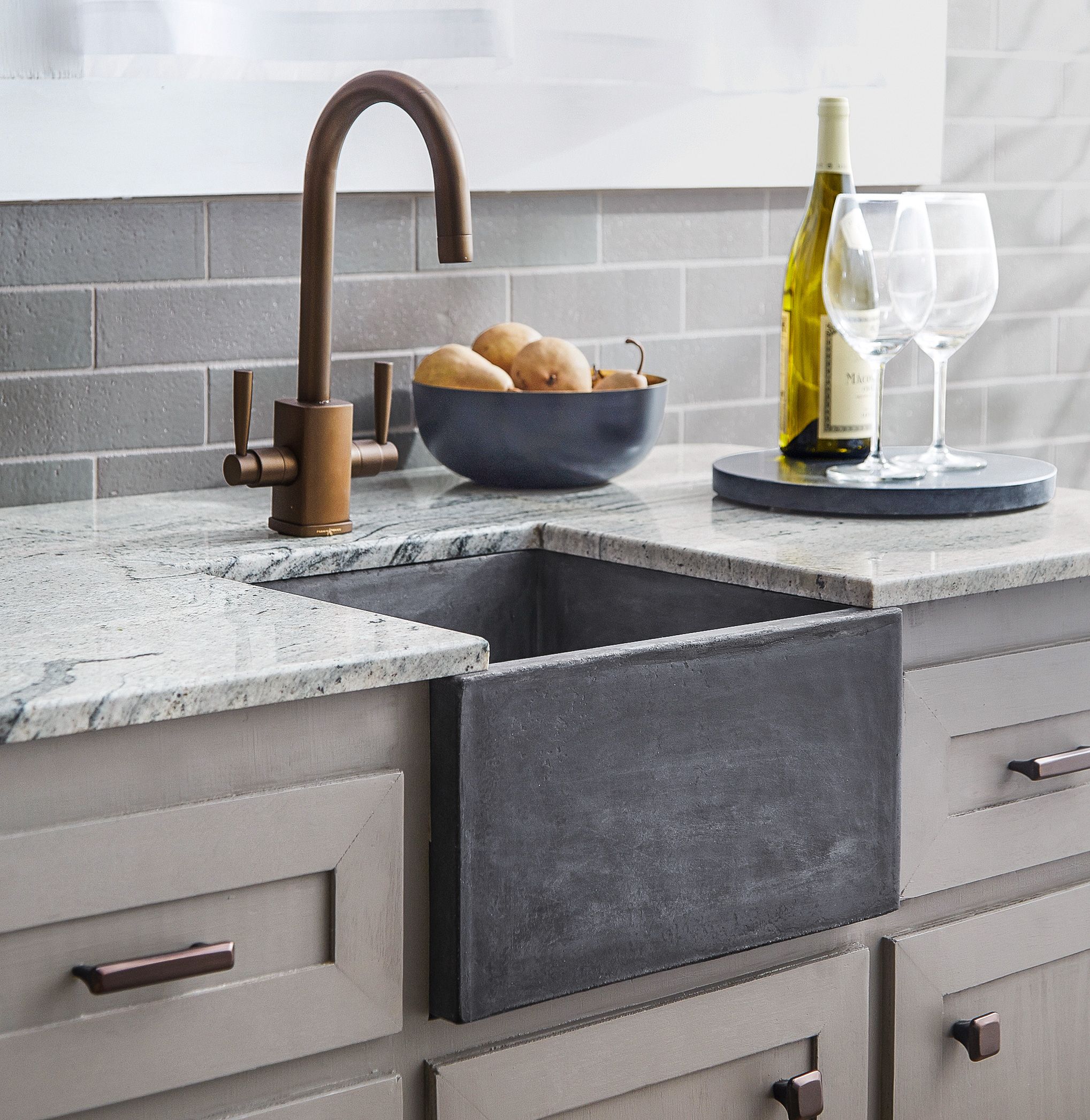 Chunky sinks with shorter spans offer the same period charm as their bigger brethren. And that extra depth is just as handy outside the kitchen.
For pantries, bars, and islands: This faux-slate sink, just 15 inches square and 7 inches deep, can help ready a long-stemmed bouquet or prep all the ingredients for a big salad. During a party, fill it with drinks and ice.
Shown: Ventana prep sink, $725; Native Trails
Downsized Sinks for Smaller Spaces: Baths and Laundries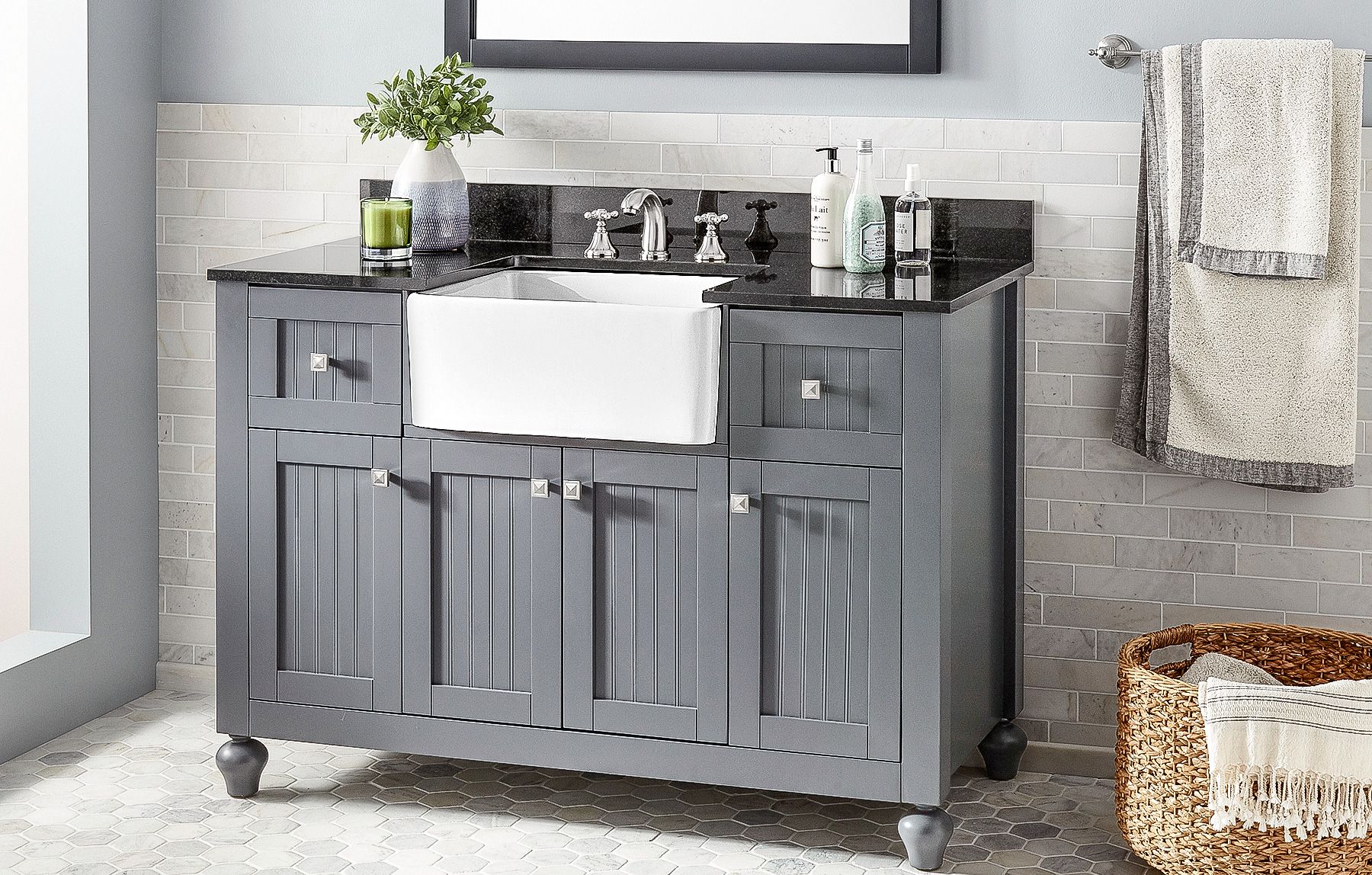 Finally, a stylish 20-inch lav sink that doubles as a soaker for hand-washing. Its companion vanity has bun feet and beadboard to reinforce its vintage appeal.
Shown: Nellie vanity with granite top and ceramic sink, $1,500; Signature Hardware
What's Old Is Renewed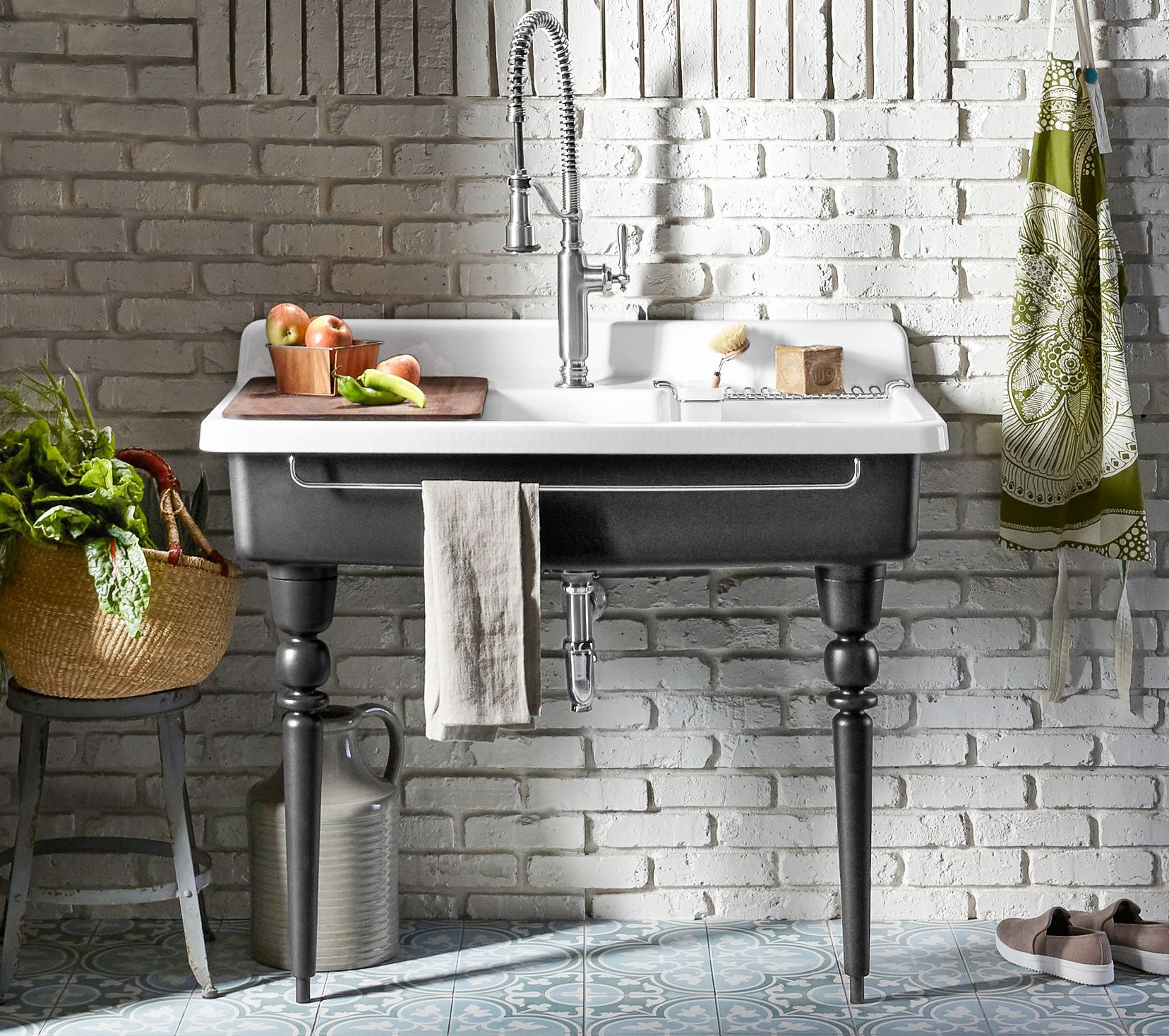 Some of the latest sinks are looking to the past. Signature Hardware's 42-inch Cast Iron Wall-Hung Kitchen Sink with Drainboard comes with the high-rise backsplash of yore ($996; Signature Hardware).
Shown: Kohler's new wall-mount 45-inch Farmstead can be supported by 1920s-style cast-iron legs or dropped into a cabinet ($3,150, with seven accessories; legs, $600; Kohler).
Dressing Up the Apron: Linear Looks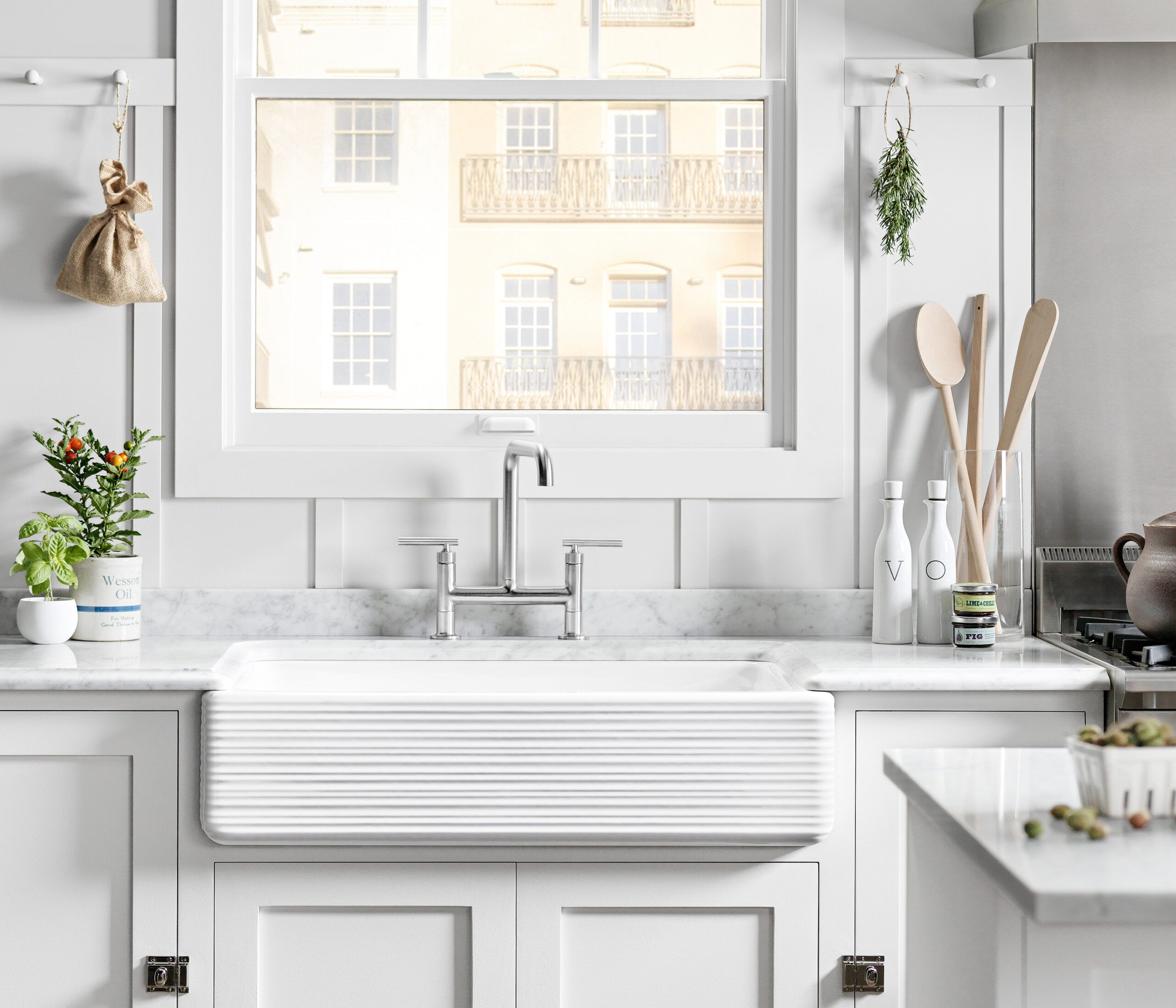 If a plain white box leaves you cold, choose a model that puts texture, color, or ornamentation front and center.
Ribbing, fluting, grooves, and frame details can play up a sink's generous length and depth.
Shown: 35 11⁄16-inch Whitehaven Hayridge cast-iron sink, $1,933; Kohler
Dressing Up the Apron: Swappable Panels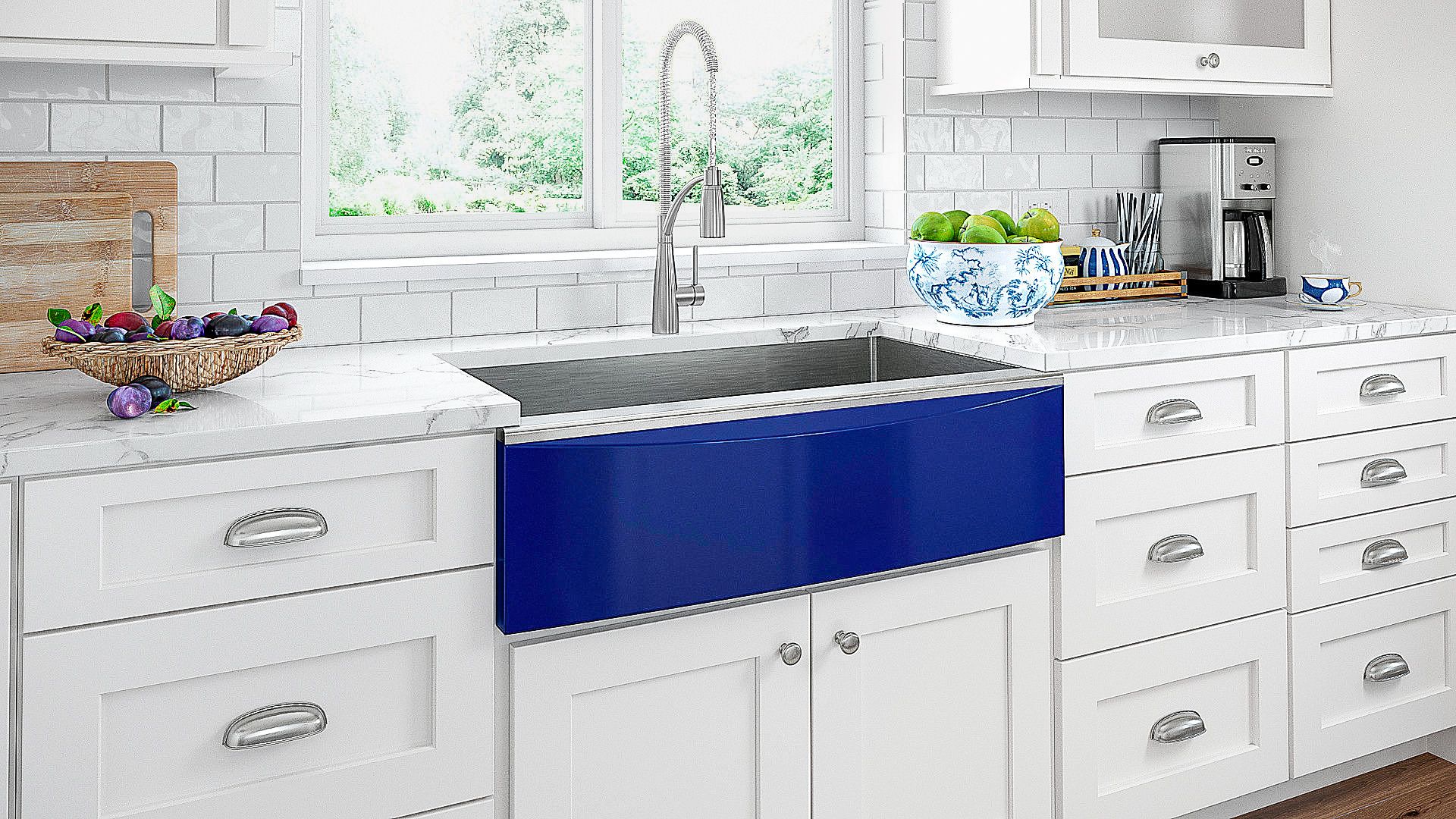 This stainless-steel sink lets you change the front from blue to copper to white fireclay.
Shown: 36-inch Farmhouse Sink, $949 as shown; Interchangeable Aprons, from $250 each; Elkay (available in September)
Dressing Up the Apron: Pattern Play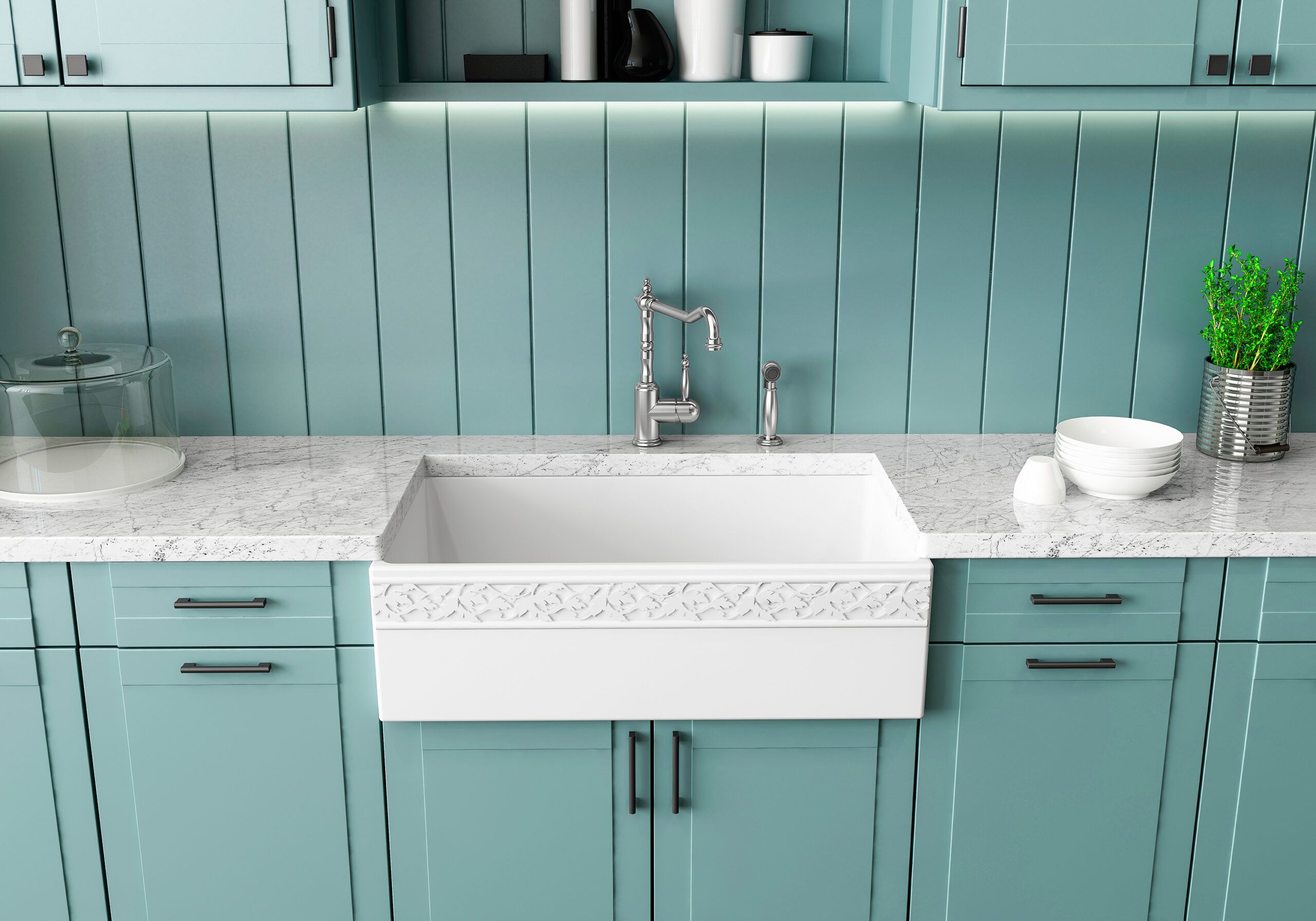 Florals and geometrics add a decorative flourish. Reversible sinks offer two options in one.
Shown: Vigneto 33-inch fireclay sink, $1,250; Bocchi
Installation Know-How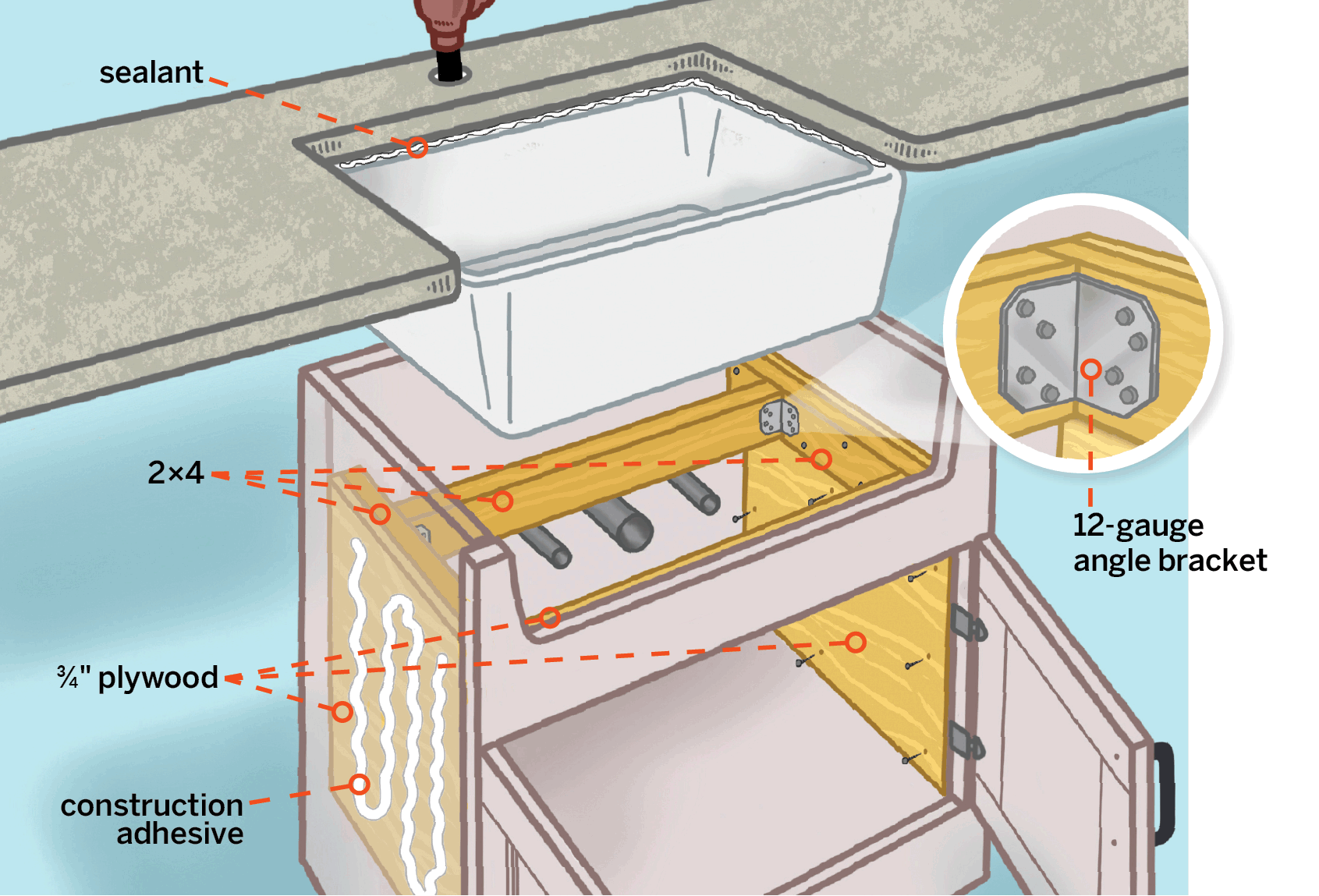 The No. 1 mistake homeowners make: not accounting for the sink's true size and weight, especially when filled. Fireclay and ceramic come out of the kiln with a 2 percent size variation. A 36-inch cabinet may not hold a 36-inch sink, and its upper portion may not be tall enough to fit an undermount's apron. Settle on the sink first, then order the cabinet, say the pros, and cut the opening on-site. In most cases, the cabinet is likely to need shoring up, as shown above.
Beefing Up the Box
Big fireclay and cast-iron sinks can tip the scales at 200 pounds or more. Add a garbage disposal, gallons of dishwater, and heavy pots and pans, and a farmhouse sink's sole support—its base cabinet—may be holding up twice the sink's shipping weight. Here's how TOH general contractor Tom Silva readies a cabinet to hold one of these heavyweights.
Reinforce the sides and front with 3⁄4-inch plywood. Attach each piece with construction adhesive and flathead wood screws.
Attach 2x4s to the plywood. Glue and screw the cleats 1⁄8 inch below the sink's vertical depth. Always measure the sink itself; its actual measurements can vary slightly from what's printed on the spec sheet.
Mount a 2×4 crosspiece to support the sink's back edge, clear of the drain. Use steel angle brackets to carry the load to the cleats.
Scribe and cut out the cabinet front to match the sink's apron.
Position the sink. Shim it in place until the rim is level and 1⁄16 inch below the top edge of the cabinet.
Close the gap. After the countertop goes in, run a bead of tub-and-tile sealant around the sink rim to keep water out.
Looking to Retrofit, Not Renovate?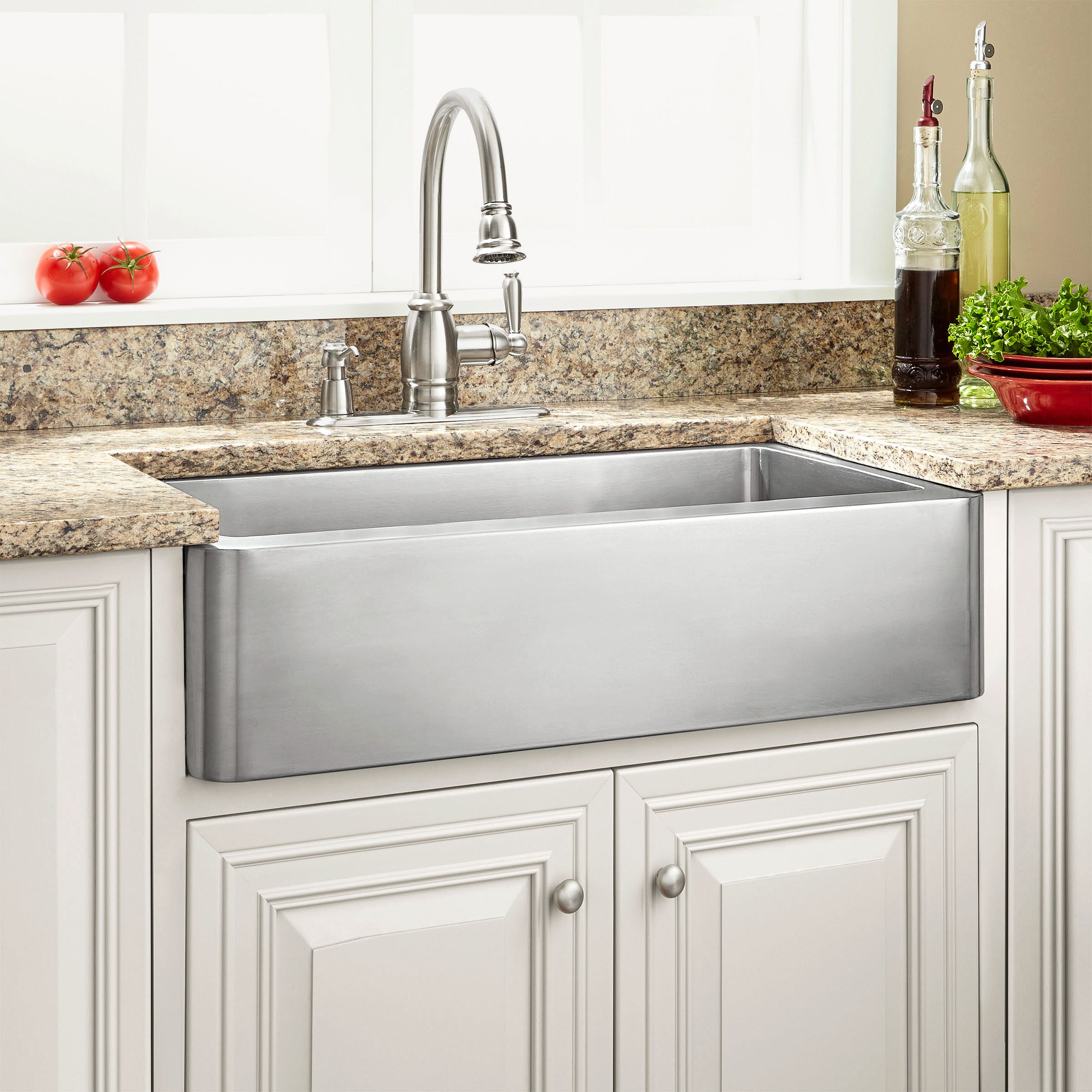 If your cook space needs a lift but your bank account says "no new cabinets, please," consider a so-called retrofit sink that works with existing cabinetry. Rachiele's proprietary retrofit design, which can be installed as a drop-in or undermount, has an apron with a channel behind it that slides over the top of your old sink cabinet's face frame (from $3,463; Rachiele). With undermount installation, you can expect to replace your countertops, too, since they have to come out with the old sink—or be significantly altered. The 30-inch Hazelton Retrofit, shown left, has a short apron, so it can sit in a standard 33-inch-wide cabinet with the false drawer front removed ($499; Signature Hardware). And stainless steel isn't the only option: Kohler's 29 11⁄16-inch cast-iron Whitehaven has an 8 13⁄16-inch-high apron designed to overlap a rough-cut opening on an existing 30-inch cabinet.
High-Profile Materials: Cast Iron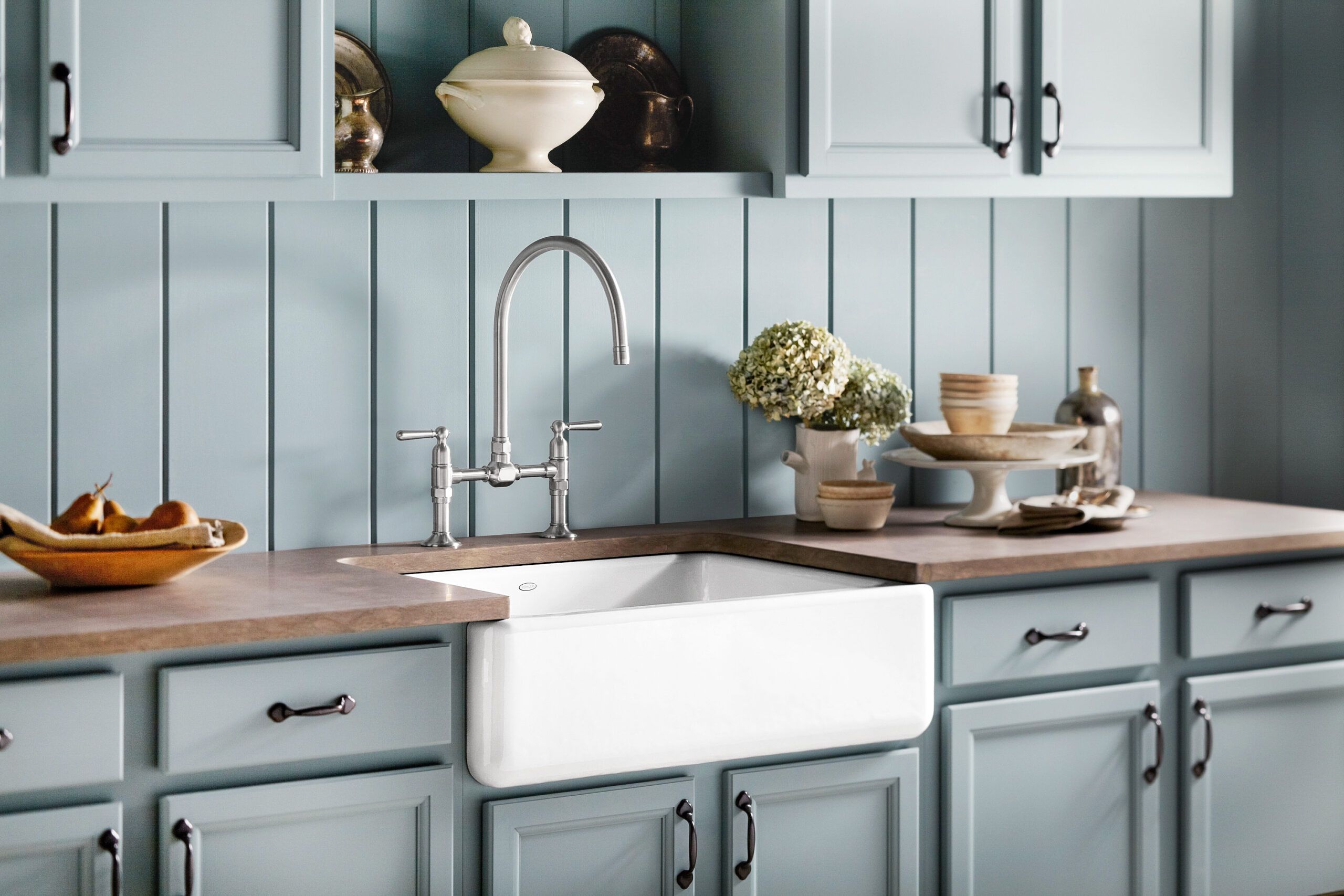 Eye-catching options include hammered metal and natural stone.
This cast-iron sink's lustrous look is achieved with a durable 1⁄16-inch coating of enamel that's baked on in layers. It comes with a lifetime warranty against chips, cracks, and burns.
Shown: Whitehaven 29 11⁄16-inch undermount, $1,199; Kohler
High-Profile Materials: Stainless Steel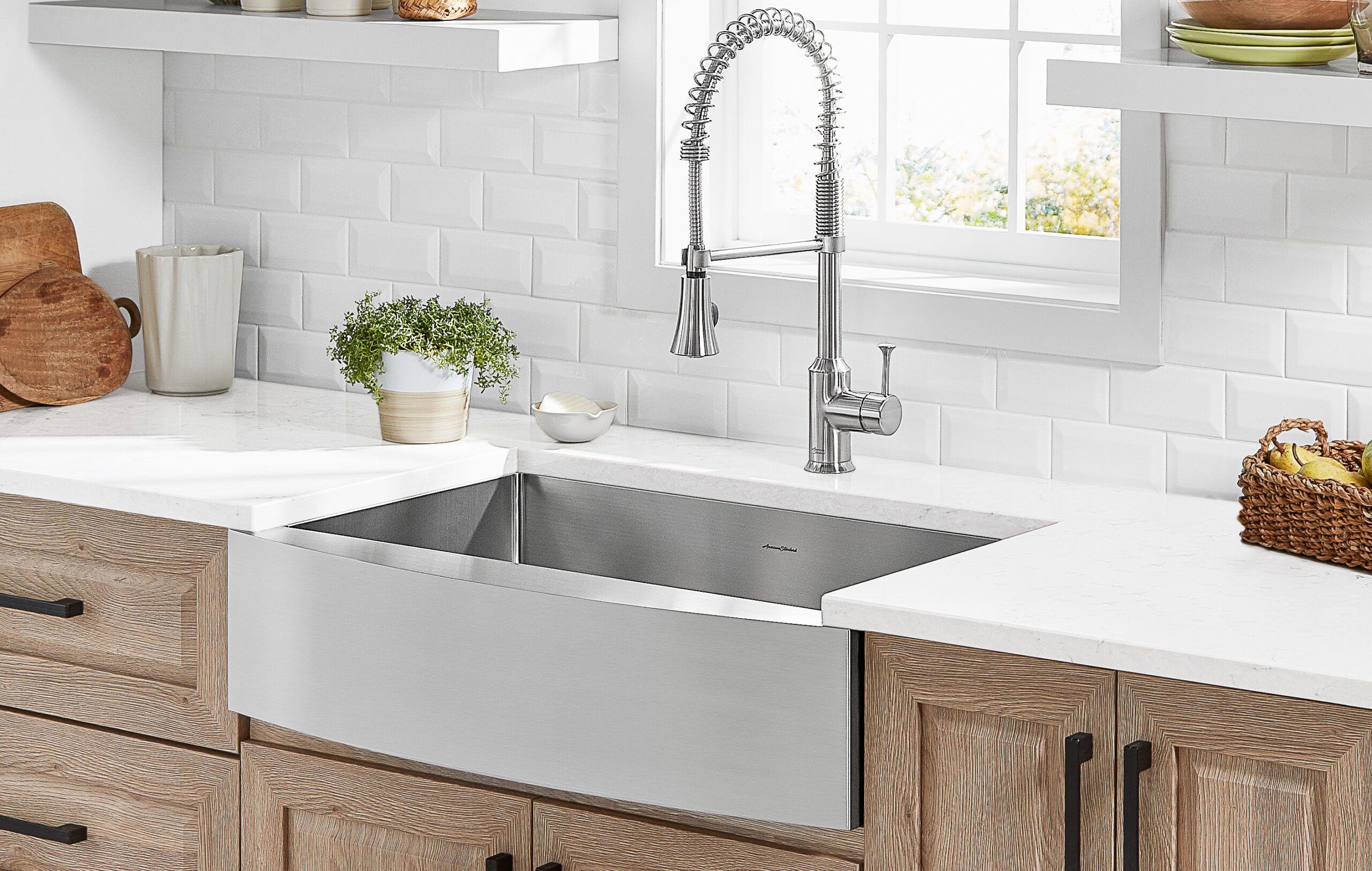 This rugged, easy-care material takes well to crisp lines and tight corners. A hefty-looking apron usually fronts thinner walls that reduce weight.
Shown: Pekoe 18-gauge 33-inch sink, $750; American Standard
High-Profile Materials: Copper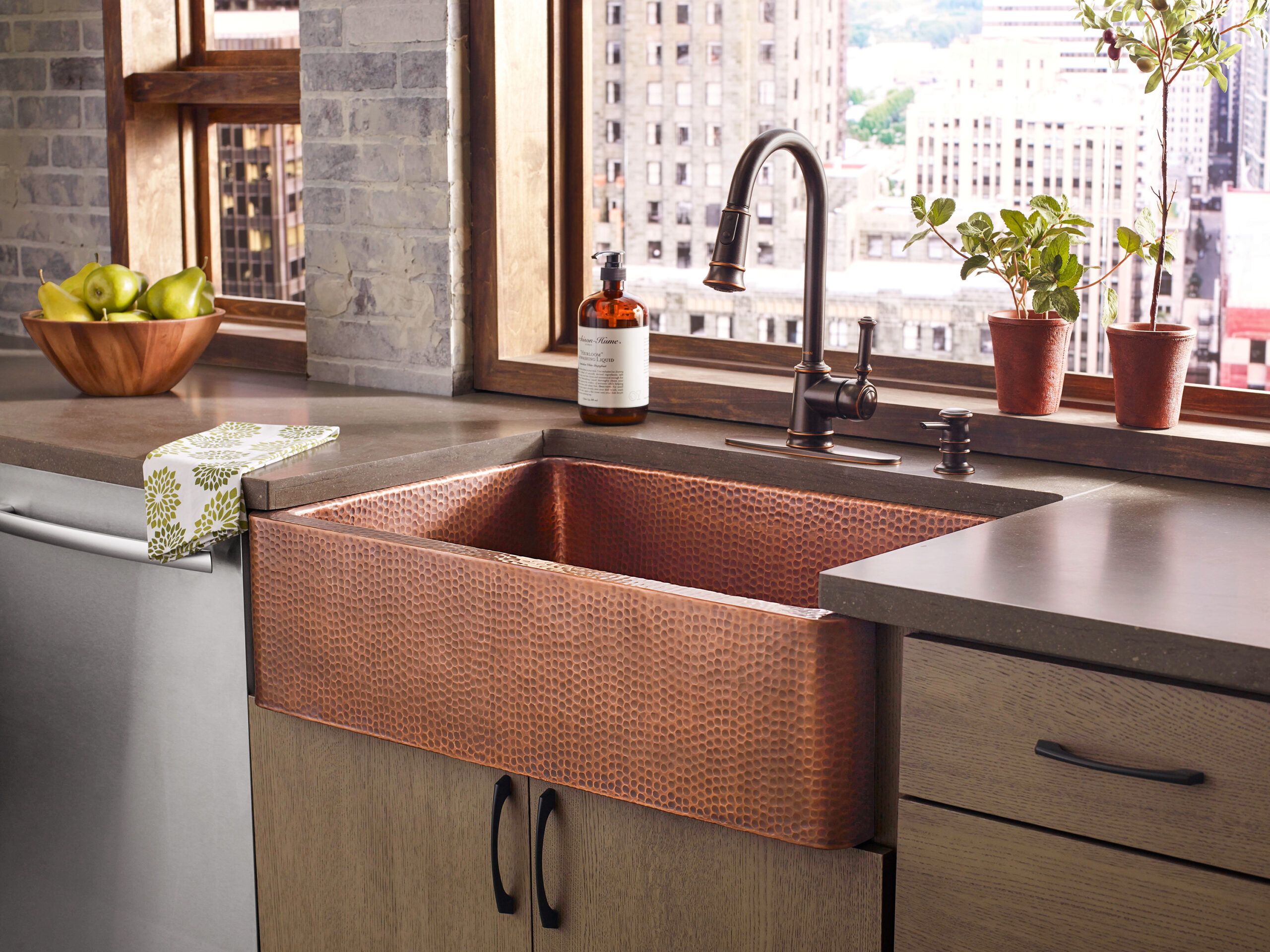 Smooth and penny bright or hand-hammered with an antiqued finish, copper will darken unless it is sealed. This 32-inch sink's shape mimics thick-walled fireclay, so it can be pulled forward even more.
Shown: Lucca Antique Copper sink, $1,228; Thompson Traders
LEARN MORE about this sink in a YouTube video from Thompson Traders
High-Profile Materials: Composite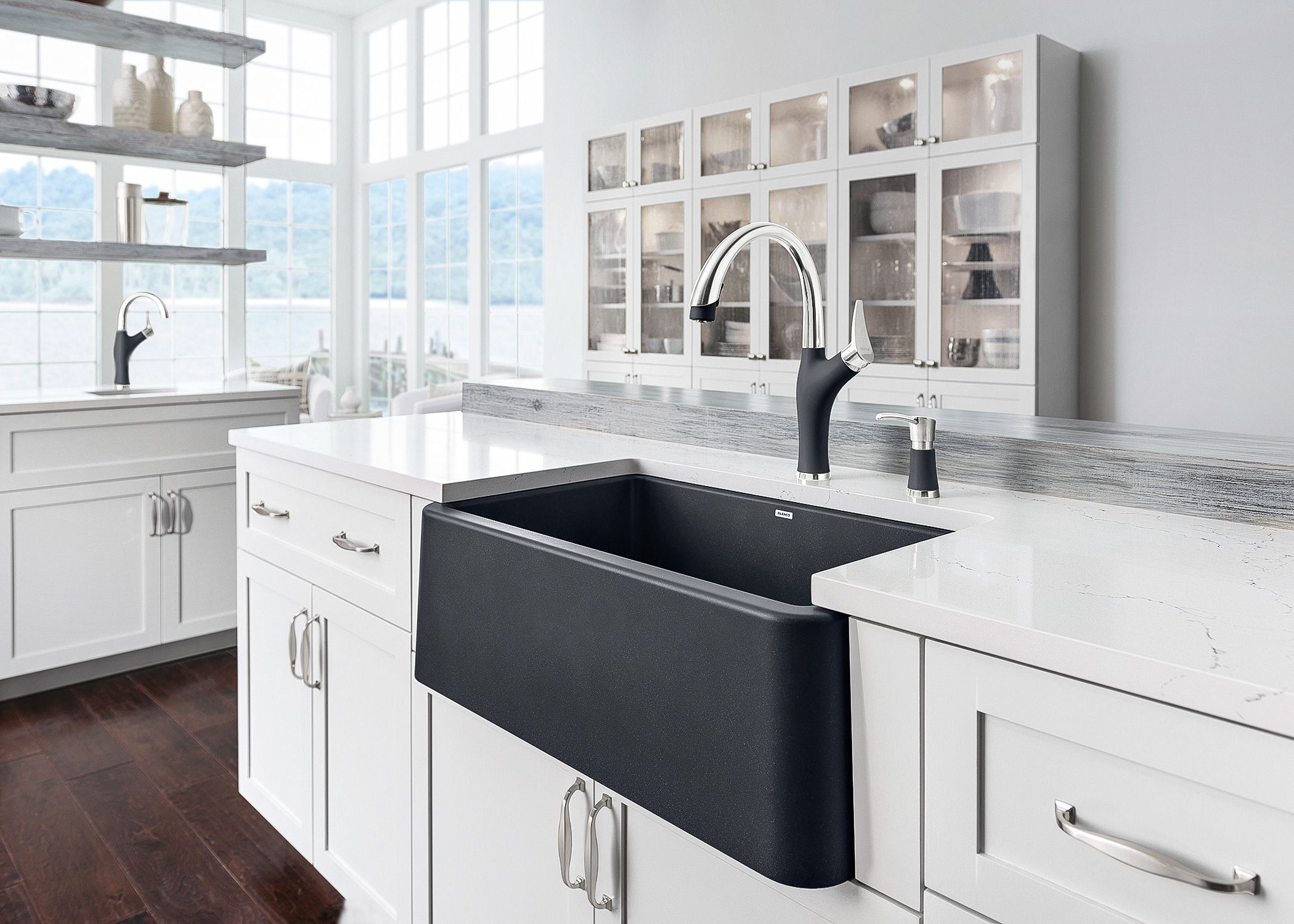 Pulverized stone mixed with resin creates a tough, scratch-resistant material with a smooth, contemporary look.
Shown: 30-inch Ikon Silgranit Apron Front sink, $1,395; Blanco
High-Profile Materials: Concrete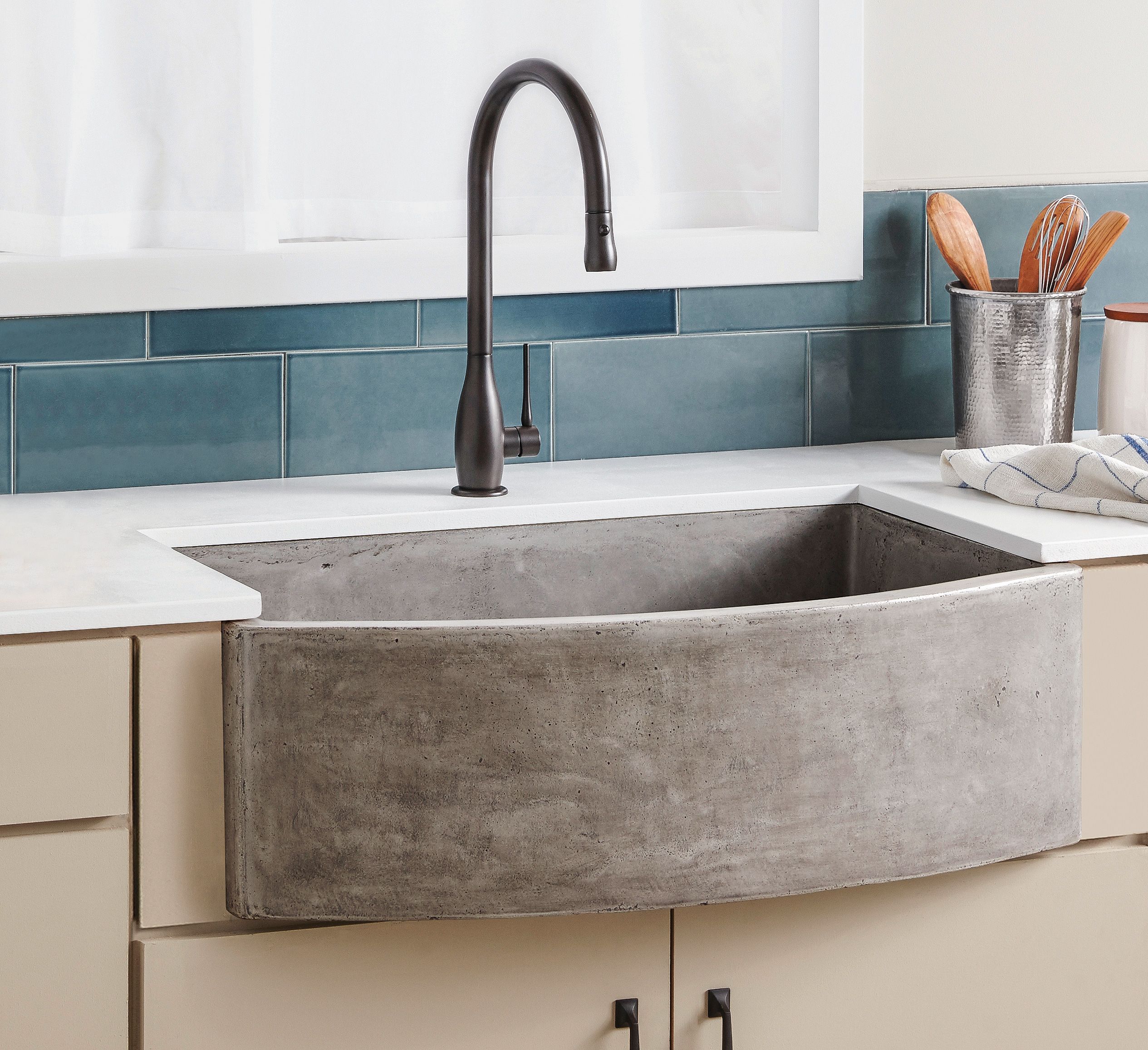 This curved-front number is made from a cement-jute mix that's 40 percent lighter than regular concrete. Factory sealing helps it resist stains. Resealing every 5 to 10 years is recommended.
Shown: Farmhouse Quartet 33-inch sink, $1,885; Native Trails
High-Profile Materials: Stone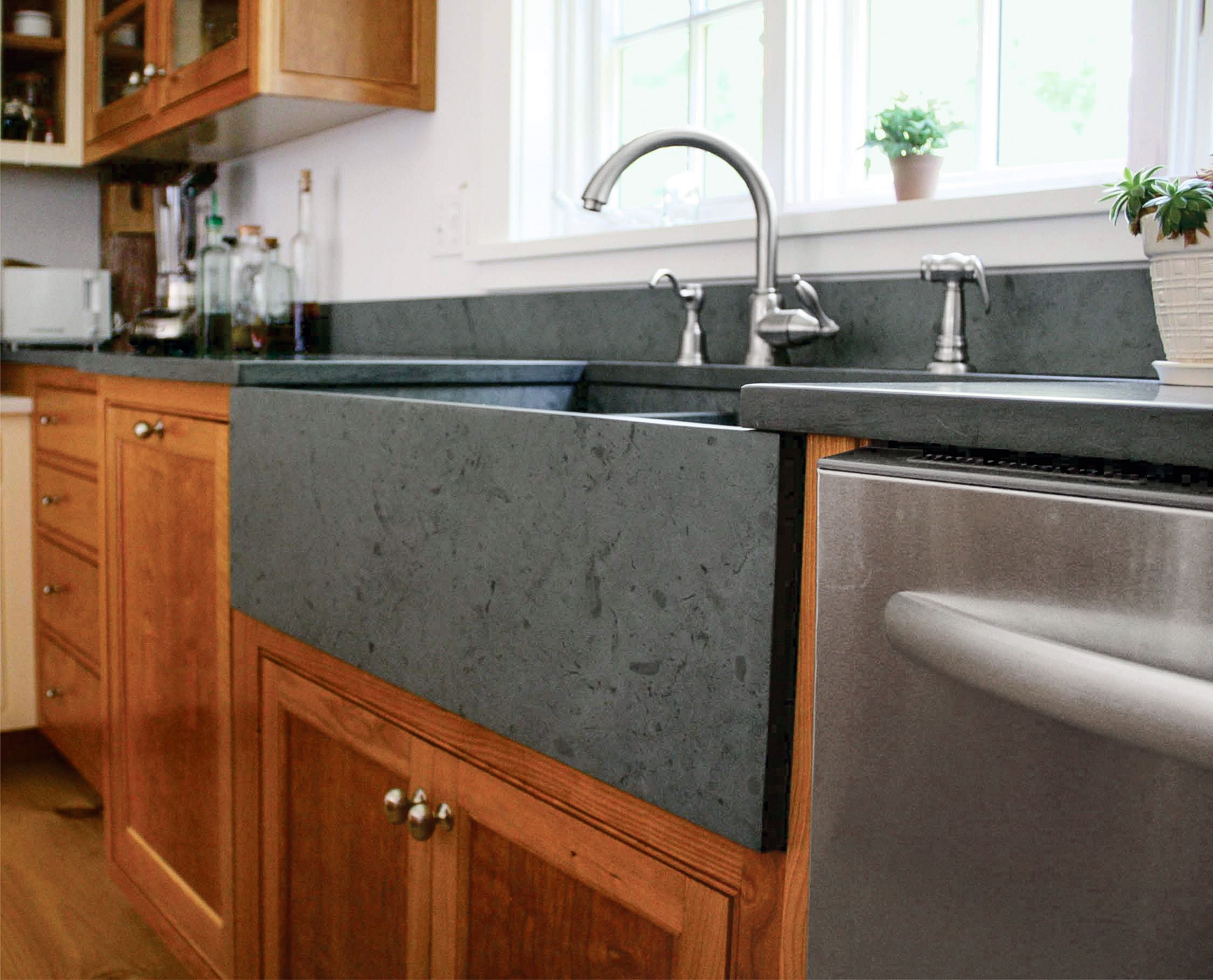 Soapstone, slate, and marble offer the beauty of natural stone and can be integrated with your countertop. Slate is hardest and maintenance-free; periodic mineral-oil treatments help soapstone darken evenly. In both cases scratches, and even minor dings, can be buffed out. Porous marble needs regular sealing against stains and acid-etching, and can chip; it's more often seen as a bar sink.
Shown: Custom 33-inch sink made from domestically quarried slate, $1,447; Sheldon Slate Products
Thanks to Craig Tolmie, Tide Mill Restoration, Fairfield, CT; 203-256-1240. Rohl. Adriel Harris, Signature Hardware. Akgun Seckiner, Bocchi. David McNamara, Franke. Greg Jastrow, Kohler. Marion Hendricks, Herbeau Creations. Dino Rachiele, Rachiele, LLC.
Are your appliances protected? Learn more about appliance warranties.