Shabby Cook Space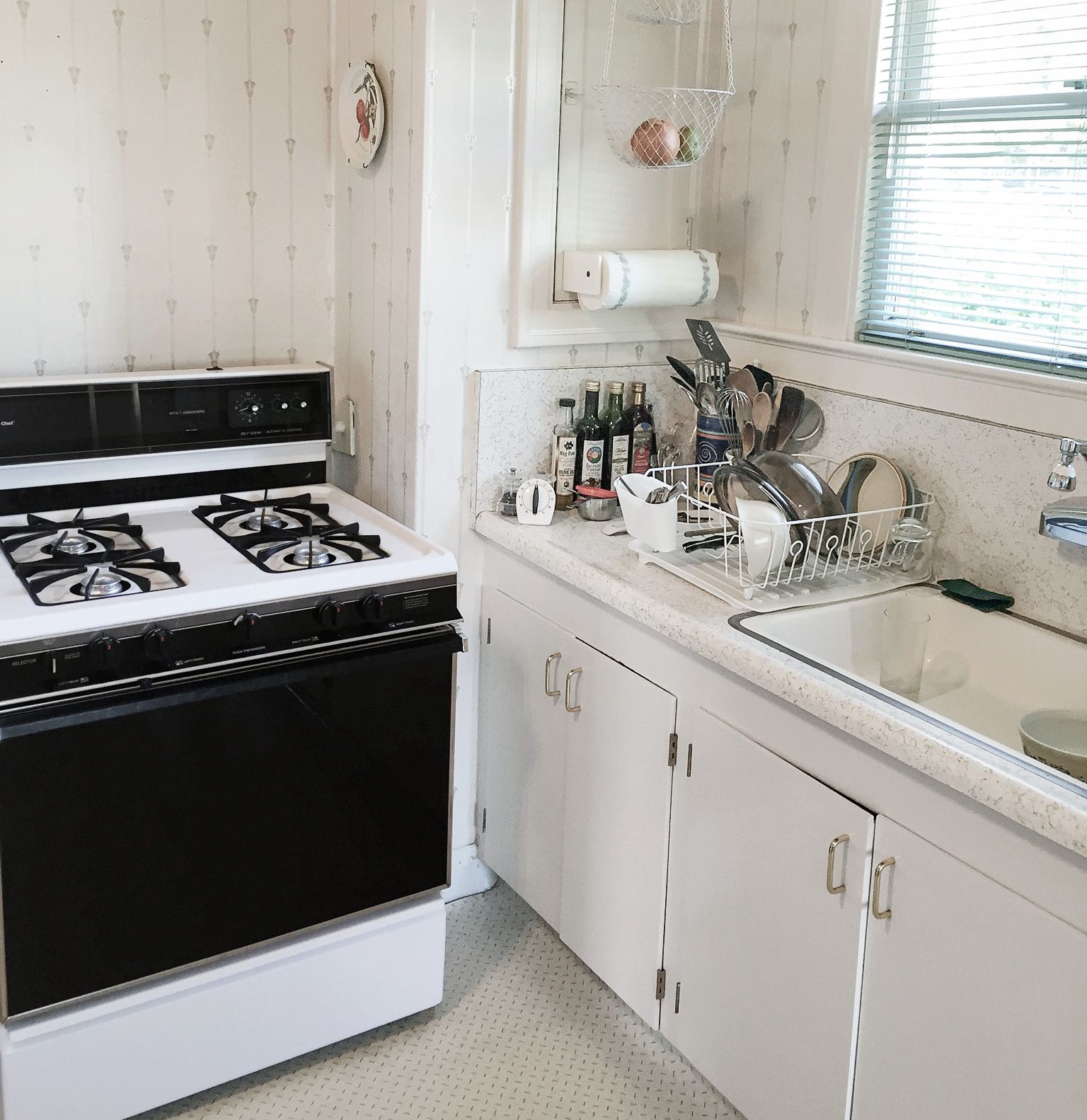 When it comes to the number of rooms in a house, more isn't always merrier. Take Barbara Kridl's 1926 Craftsman-style bungalow in Oakland, CA, where a warren of three small rooms—for cooking, breakfasting, and doing laundry—impeded flow to the backyard and home office. Plus, the kitchen itself was badly laid out. "The countertop, sink, and stove were on one side, while the drawers and cabinets were on the other," Barbara says. Not to mention that the space had its last cosmetic upgrade when she bought the house 32 years ago.
Shown: Peeling paint and wallpaper, plus curling vinyl flooring, made the cramped cook space look shabby.
Warmth Update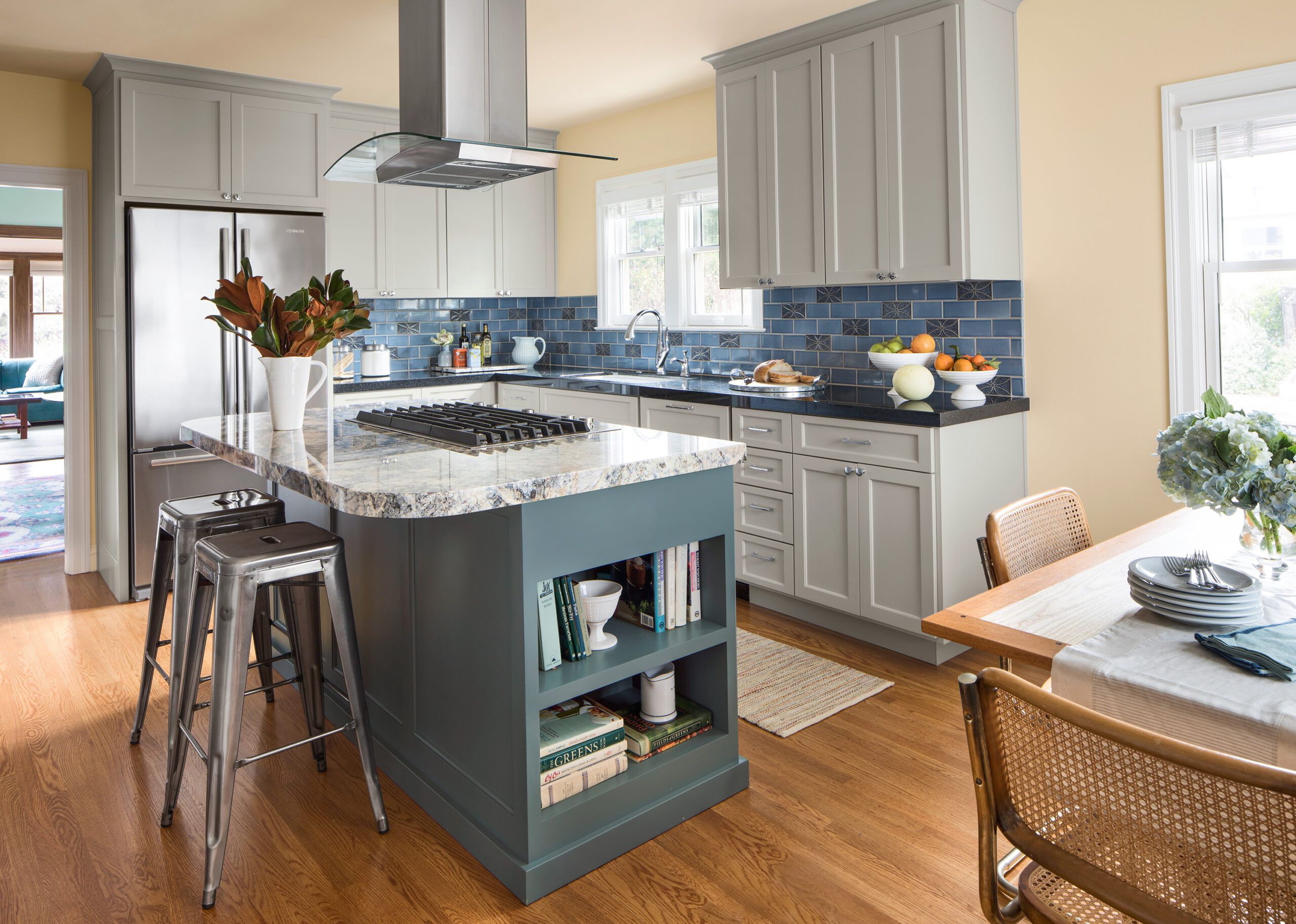 Designer Cillesa Ullman's solution was to gut all three rooms, gaining an open footprint of 280 square feet. A center island holds the cooktop for meal prep opposite a breakfast bar with stool seating, with the sink, fridge, and wall oven just steps away. For laundry duty, slim stacked washer and dryer units take the place of side-by-side machines and are set behind nifty retractable doors that open up the work zone. A banquette offers space-saving seating for the table and basks in light from two windows. Sleek appliances, including a glass-and-steel vent hood, are softened with pale-gray cabinetry, apricot walls, and a tile backsplash of soothing blues.
"For the first Thanksgiving in this kitchen, ten people were maneuvering around comfortably to prepare the meal," Barbara says. "It was wonderful!"
Shown: Updated and warm, with a practical open work zone, the kitchen features a center island topped with azurite granite and white oak flooring that matches the floors in the rest of the house.
Paint: Benjamin Moore's Country White (walls), Stonington Gray (cabinets)
Sink: Cape Dory Sink in Ice Grey; Kohler
Sink hardware: Belo; Brizo
Pitcher on island: Crate & Barrel
Cat Cutaway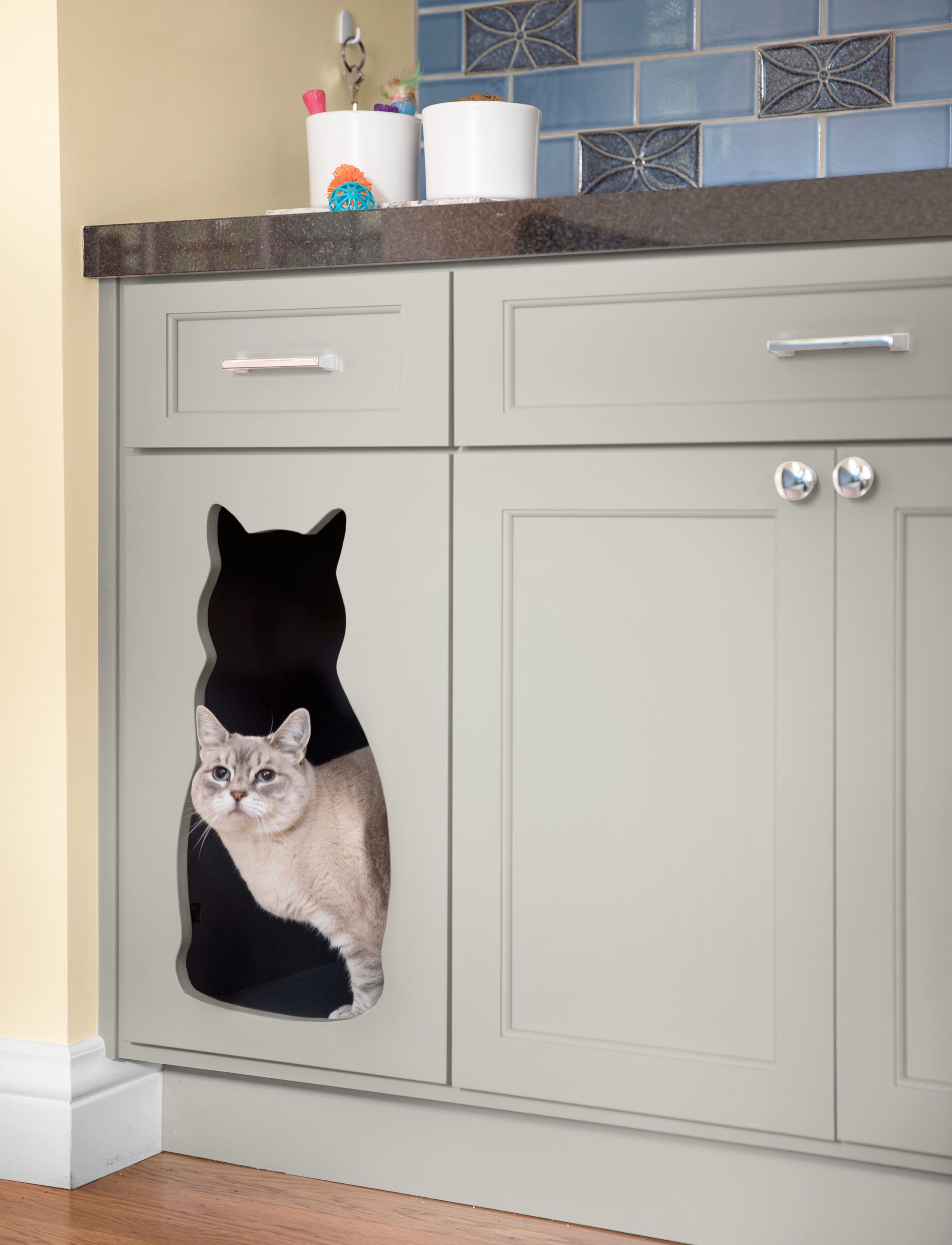 Blue, a Siamese-tabby mix, accesses her litter box in private, thanks to a cutout cat cave. The cabinets have traditional out-swinging doors so the litter box and other pet supplies are within easy reach.
Cabinet hardware: Bergen (knobs), Emtek (pulls)
Wash/Dry Combo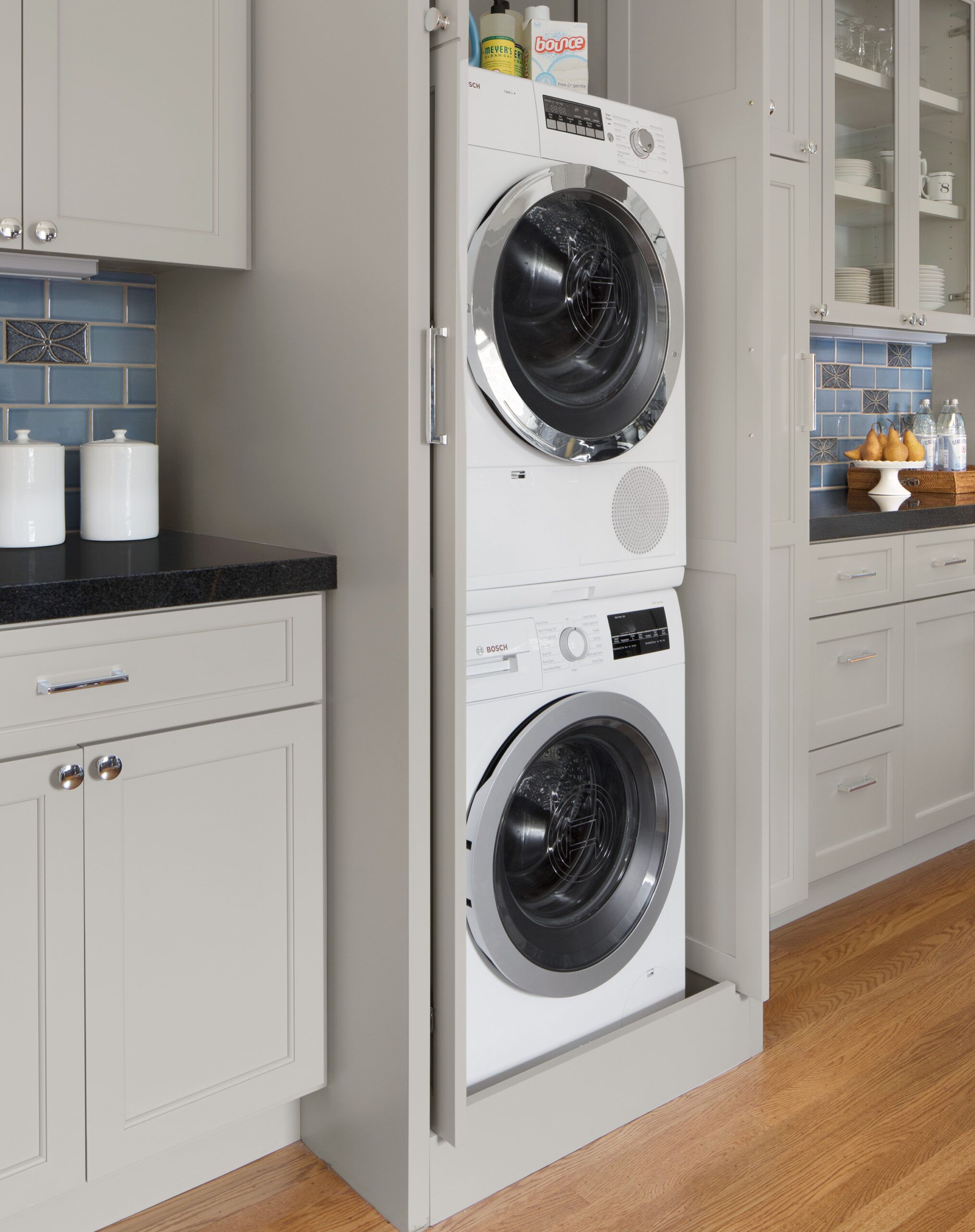 A slimmed-down vertical washer-dryer combo, the ideal size for a single person, saves space. Doors swing open and slide back to keep the work area unencumbered.
Washer and dryer: Bosch
Canisters: Container Store
Corner Dining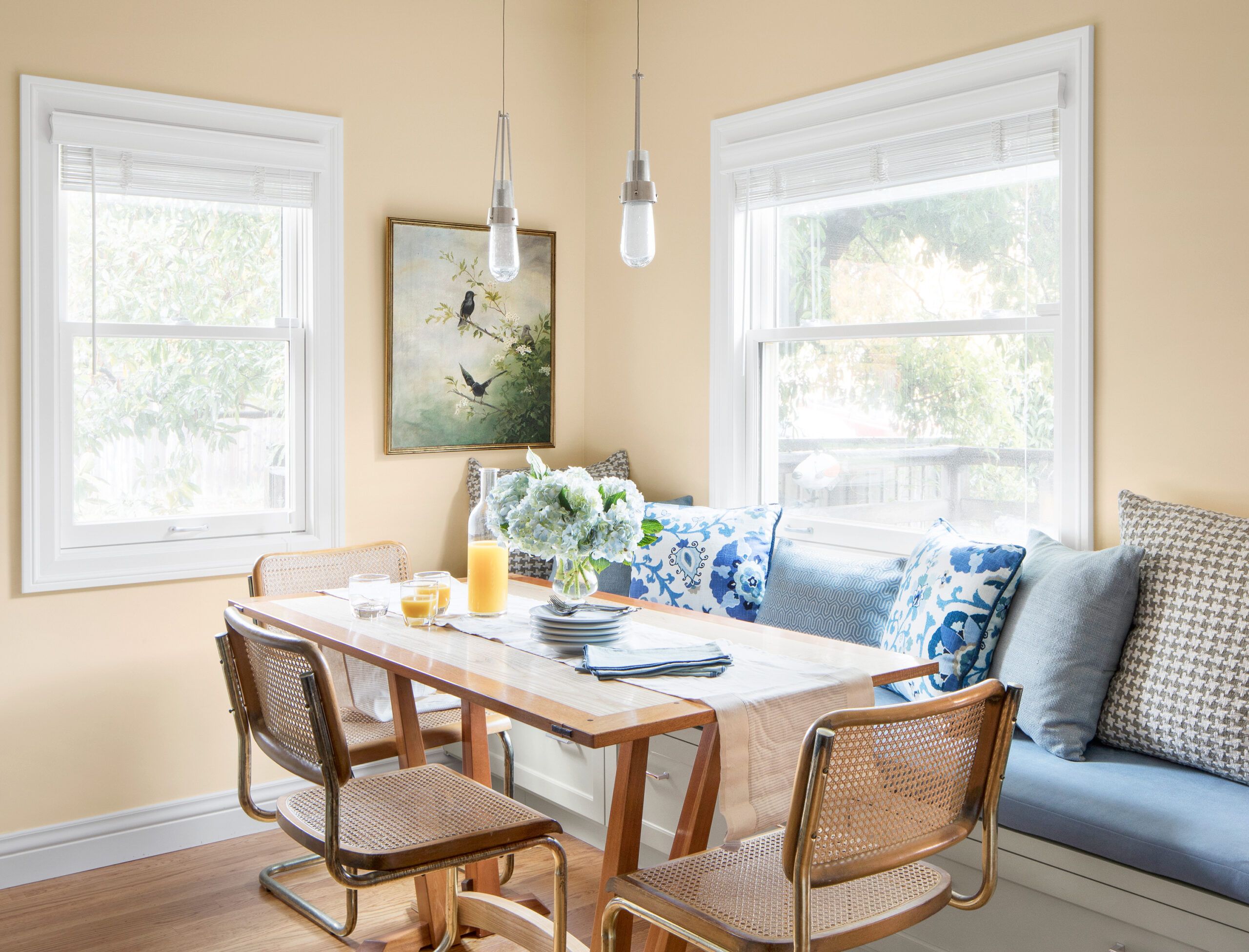 Lavished with light from two windows, the corner eating area seats six—eight in a pinch. The table, built by the homeowner's woodworker brother, can be moved to squeeze in extra guests and access storage beneath the built-in bench.
Pendant lights: Link pendant lights in blue, Hubbardton Forge
Windows: Pella
Window treatments: Parkland Blinds; HunterDouglas
Juice carafe: Crate & Barrel
Tray, vase on table, plates: Pottery Barn
Table runner, napkins, light-blue pillows, yellow pillows: West Elm
Glistening Backsplash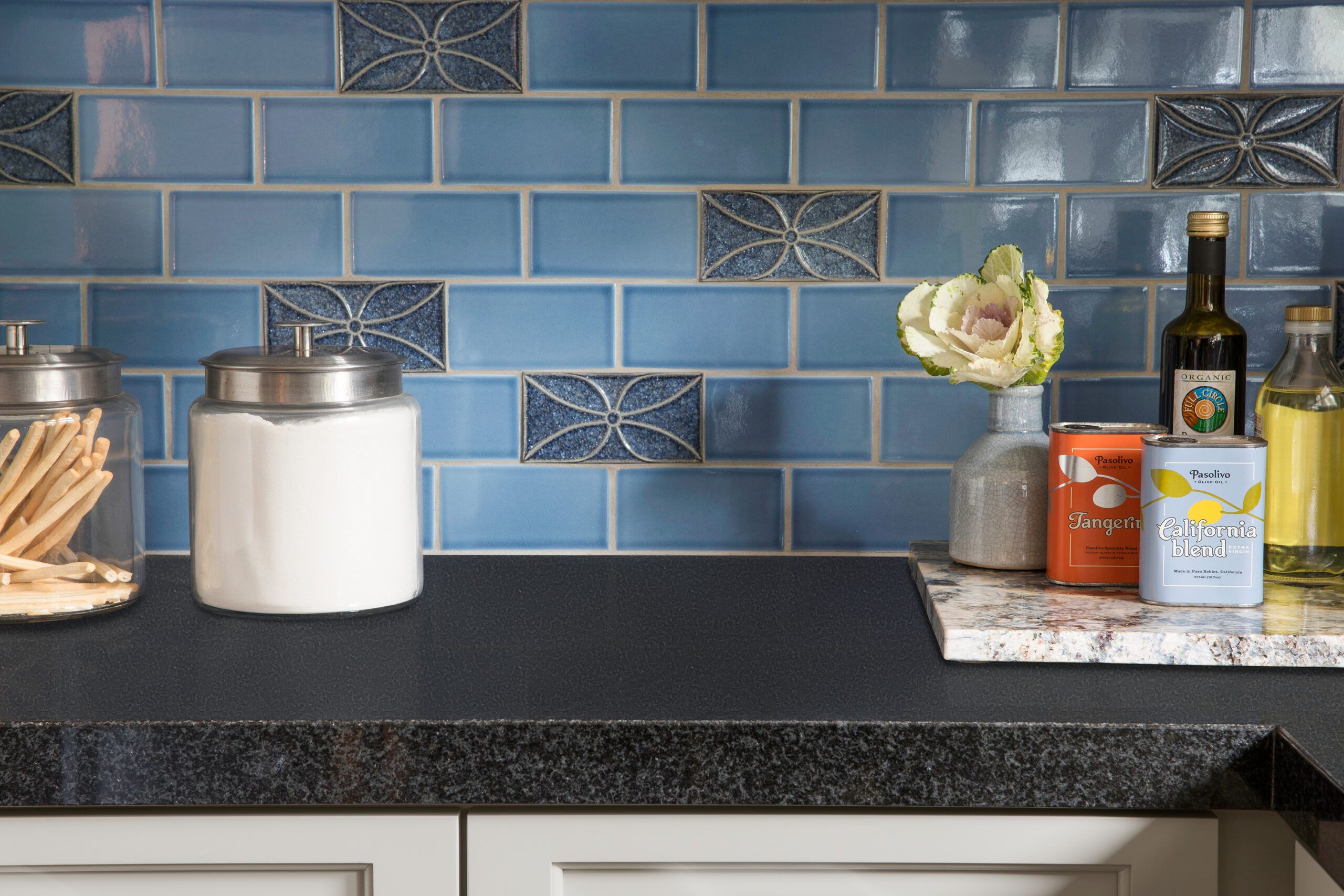 Undercabinet lighting illuminates a black granite countertop and makes the blue-glazed-tile backsplash glisten.
Tile: Sonoma Tilemakers
Handy Linen Storage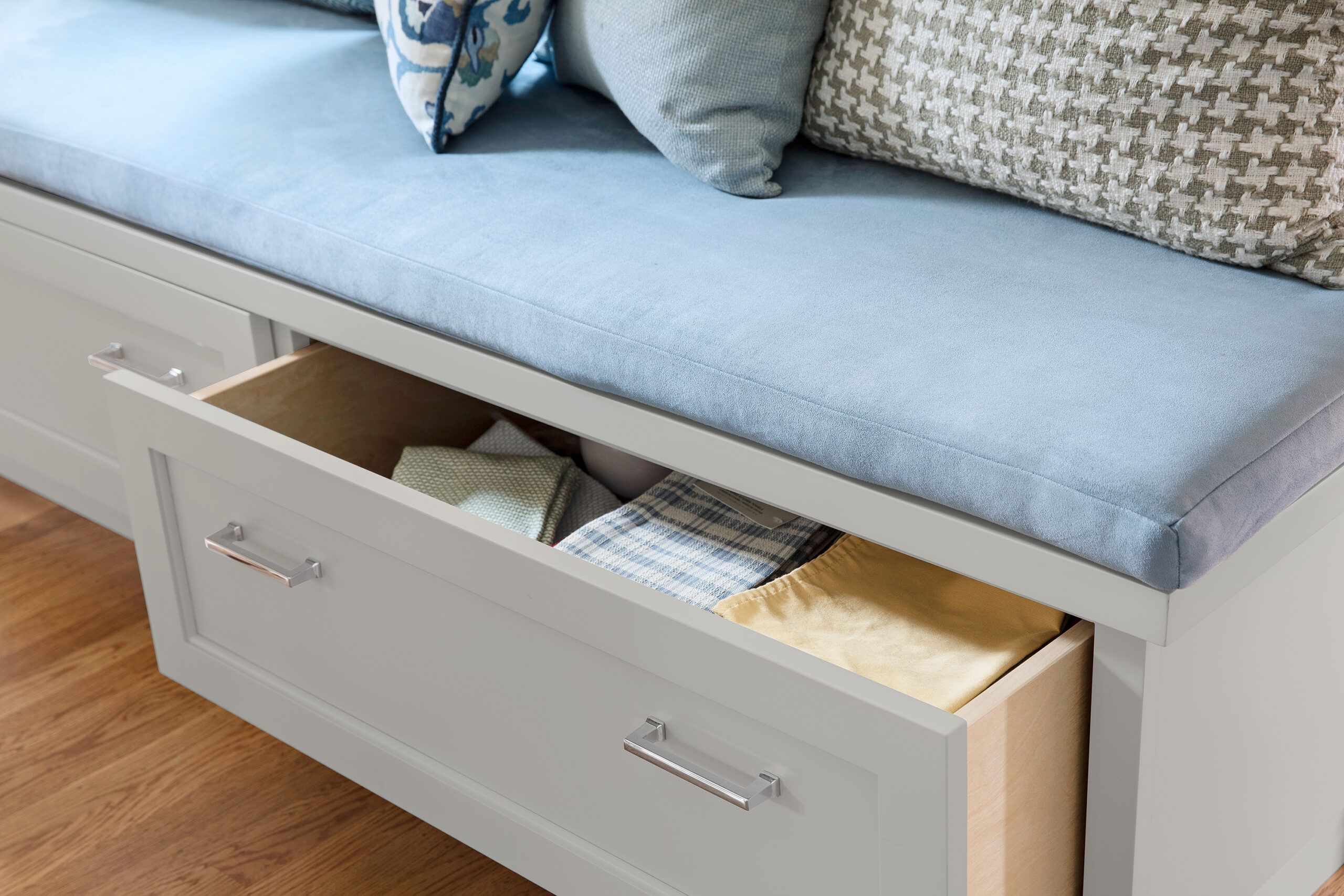 Large, flat items like trays and linens are stored in the base of the banquette. The bench cushion is covered in no-nap microfiber ultrasuede. "It's claw-proof!" says Barbara.
Heat-Resistant Countertops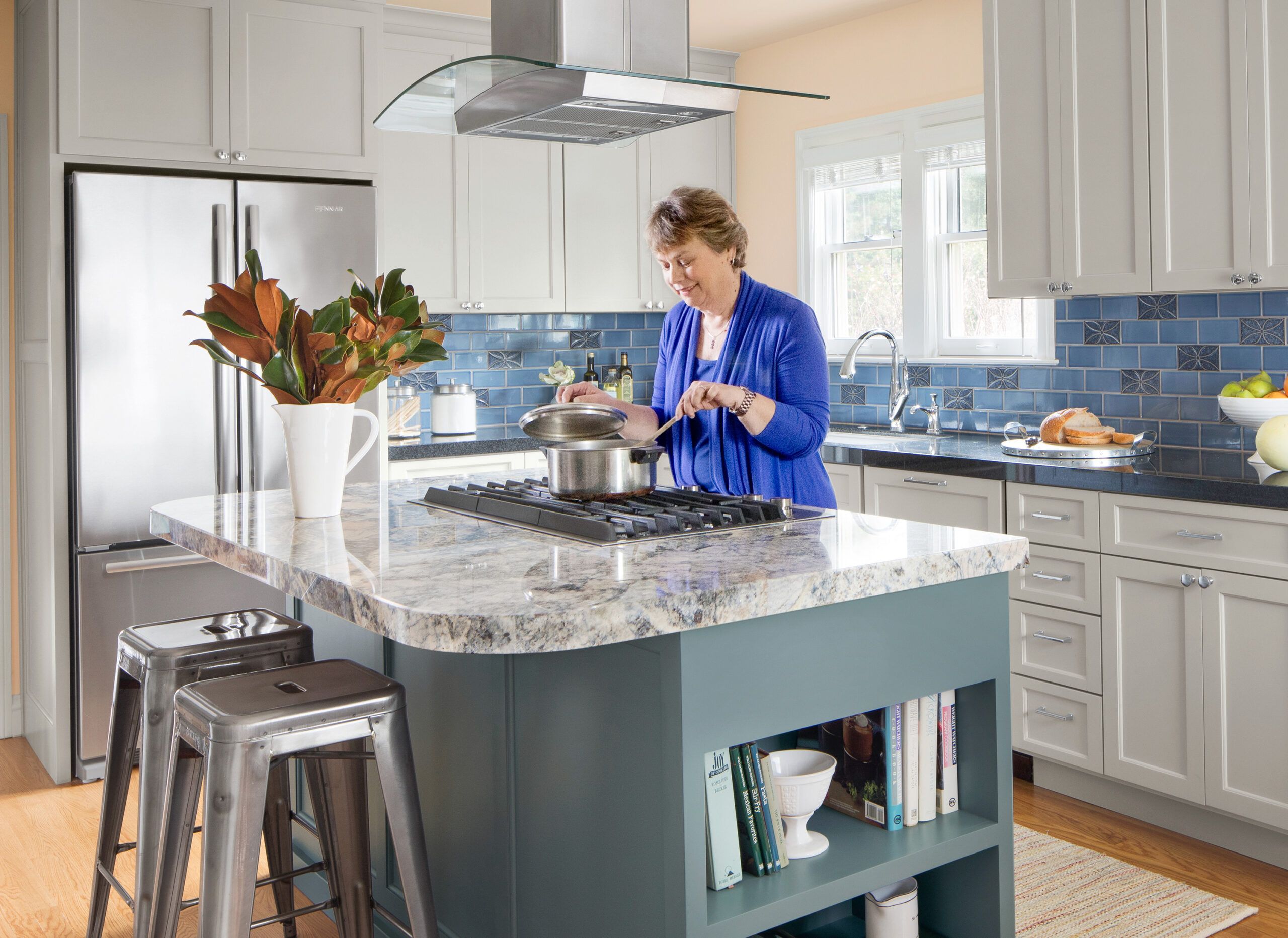 Barbara loves that she can move pots and pans directly from the cooktop onto the island's heat-resistant granite countertop. Plus, she's got enough prep space to have ingredients for cookies and spaghetti sauce out at the same time.
Countertops: Marble Unlimited Inc.
Vent hood: Zephyr Milano
Island Library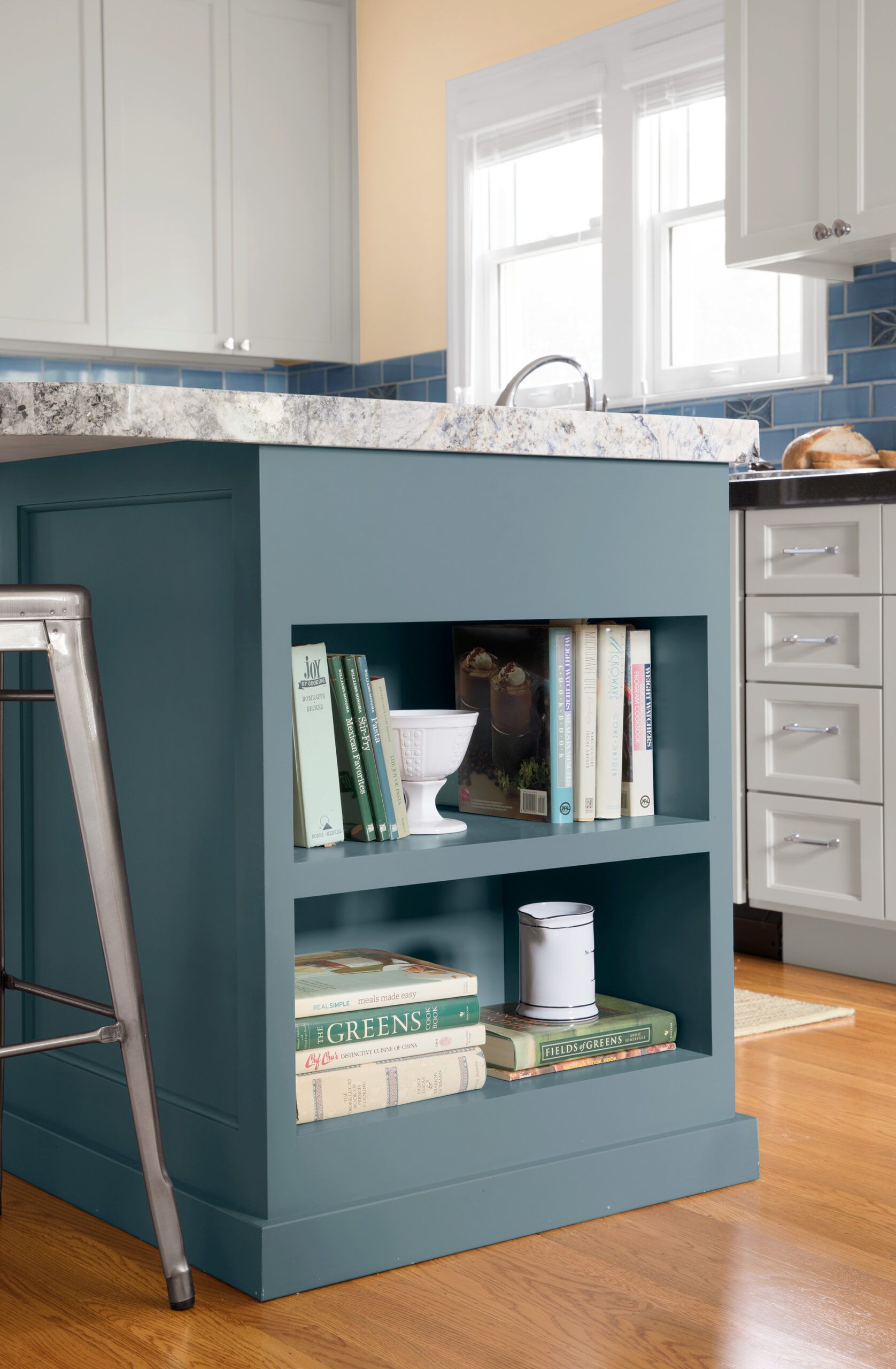 The island has open shelves for Barbara's favorite cookbooks and drawers for pots and pans. "The great thing about drawers is you don't have to dig around at the back of cabinets," she says.
Floors to Match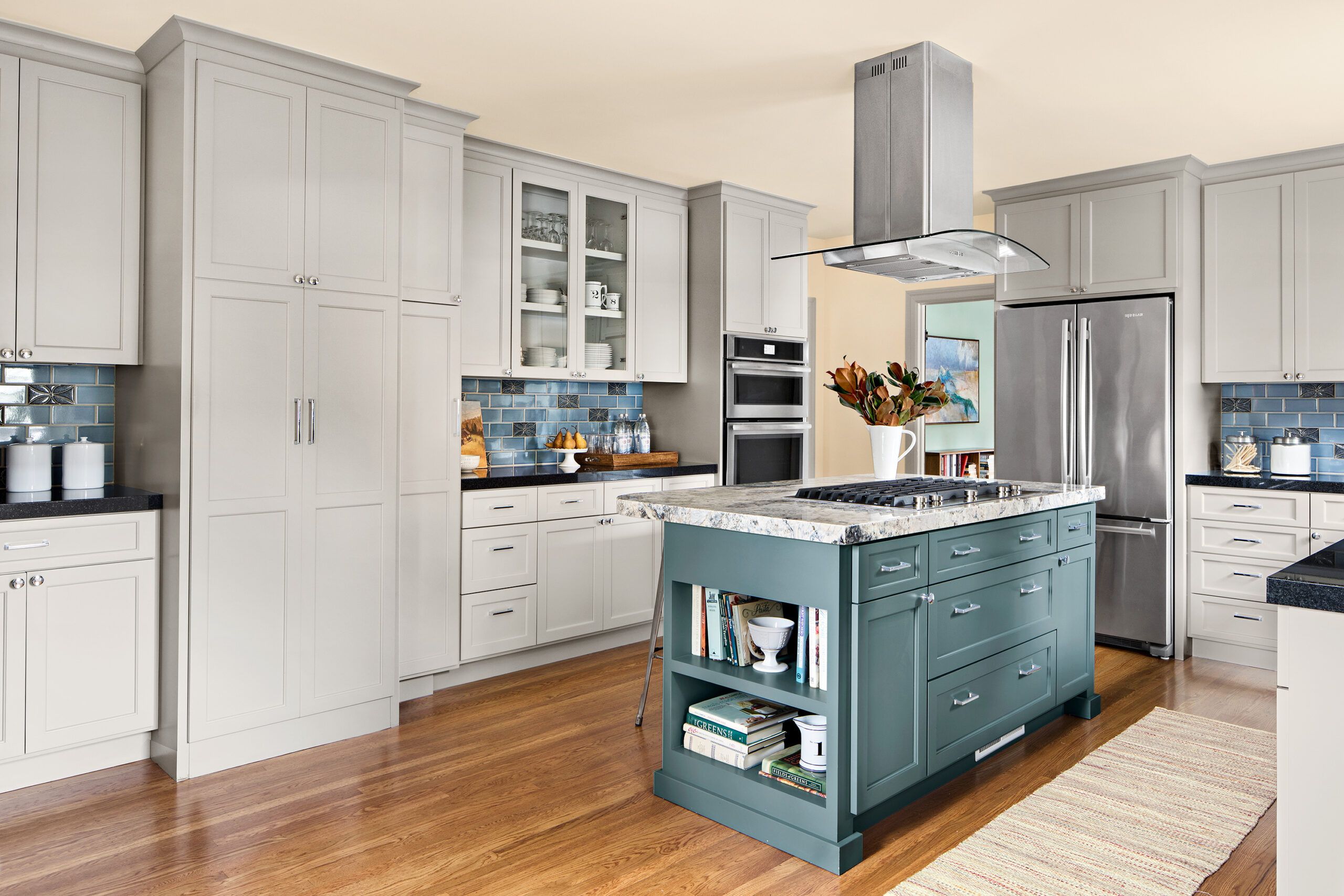 "Consistent flooring materials make a small house look larger," says designer Cillesa Ullman. Flooring pros matched the color and grain of the new floors to the original white oak that is elsewhere in the home.
Homeowner tip: "Make accidents happy! The opening for my wall oven was inadvertently cut too large, so the cabinet- maker built a drawer under it that's perfect for my extra oven rack." —Barbara Kridl, Oakland, CA
White Oak Flooring: T&T Flooring, Oakland, CA
Cooktop, refrigerator, dishwasher: Jenn-Air
Rug: Target
European Size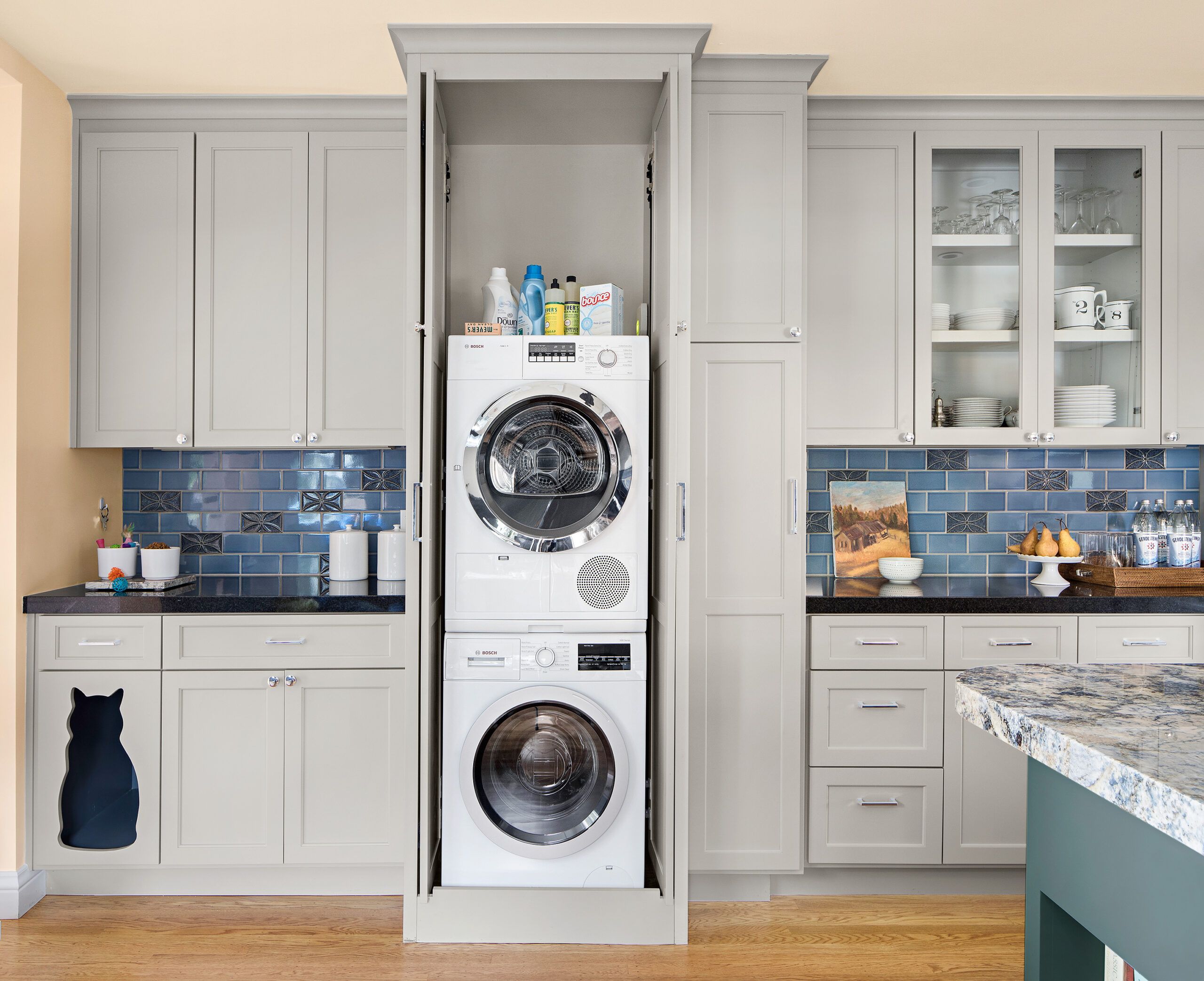 When there's no alternative spot for a washer and dryer, smaller "European size" stacked units require less real estate and are easily concealed behind doors. And for stuff you want on display? Glass cabinet doors show off collectibles while keeping them dust-free.
Custom cabinetry: Precision Cabinets
Before Plans
Three separate rooms impeded traffic flow, and old appliances wasted space.
After Plans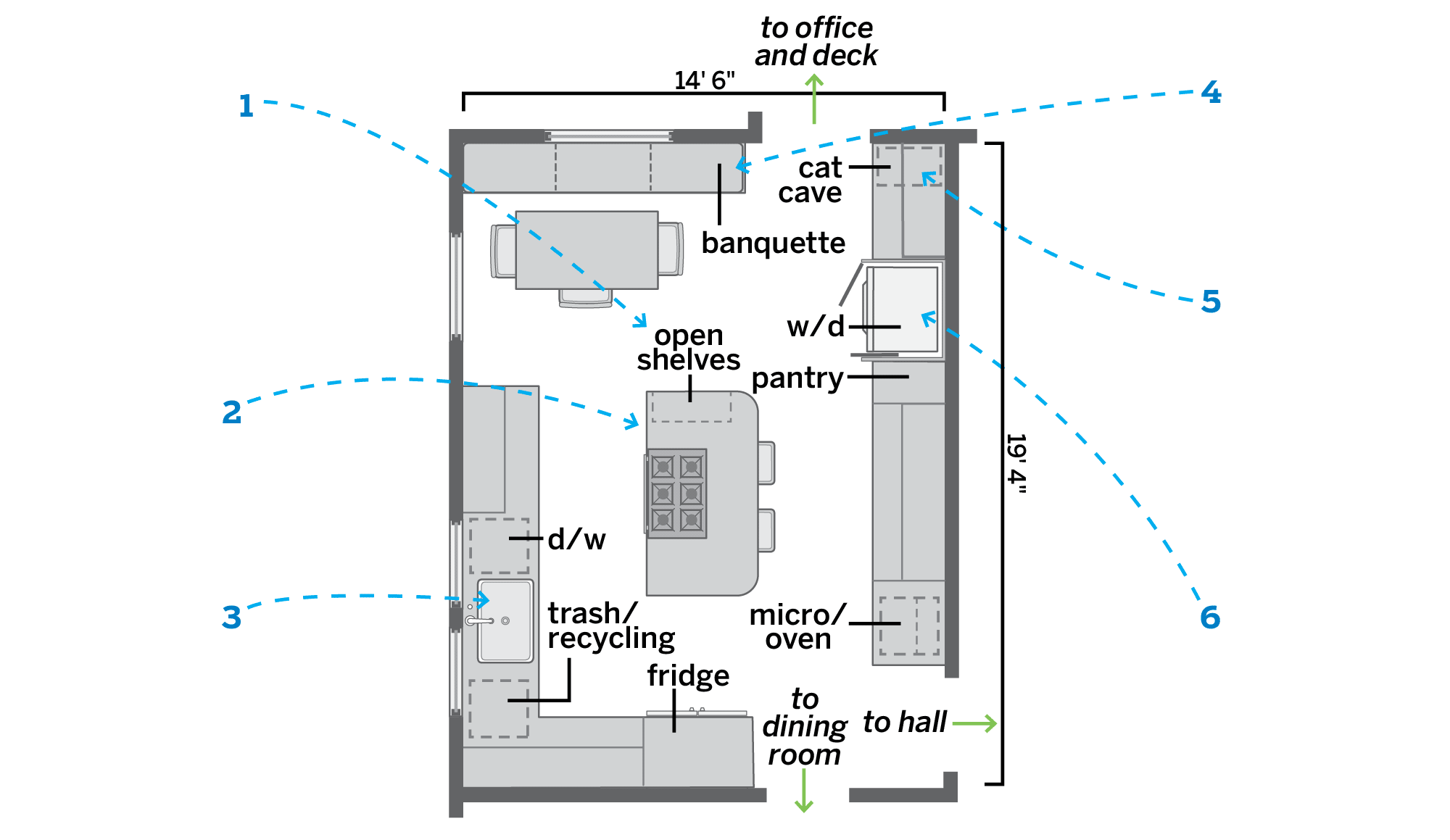 Work flows around a multipurpose island in the middle of the now open and airy 280-square-foot room.
1. Removed walls to unify three rooms into one cooking, dining, and laundry space.
2. Added an island with a cooktop and stool seating.
3. Centered the sink under two windows, flanking it with the dishwasher and trash/recycling bins.
4. Built in a banquette with under-seat storage drawers next to the table.
5. Put in a "cat cave" cabinet for the litter box, with pet supplies in the adjacent cabinet.
6. Replaced the washer and dryer with stacked units behind retractable doors; added a tall pantry cabinet alongside them.