Pretty Surface Workhorse
From a design perspective, glass mosaic tiles provide wonderful opportunities to play with color, whether subdued neutrals or bold brights. They show off plenty of special effects, too, from "hammered" metallics to matte sea glass to textural treatments that mimic variegated stone or woven fabric. "Glass mosaic tiles offer so much variety today, you can really put your own stamp on a room," says Bellavita Tile's Ryan Fasan, an 18-year veteran of the industry.
But glass mosaic tile is more than just a pretty face. In terms of performance, livability, and hygiene, it offers an impervious surface that inhibits mold, mildew, and bacteria. And more good news: As demand and improvements in manufacturing have made the style options soar, they've also brought prices down. So how do you choose? Shop around, bring samples home, read our guide—and you're on your way.
Shown: A floor-to-ceiling expanse of glass mosaic tile makes the cabinets appear to float in this sleek cook space. Bronx Glass in Grey, $28 per sq. ft.; Uson Tile Solutions
Bits of History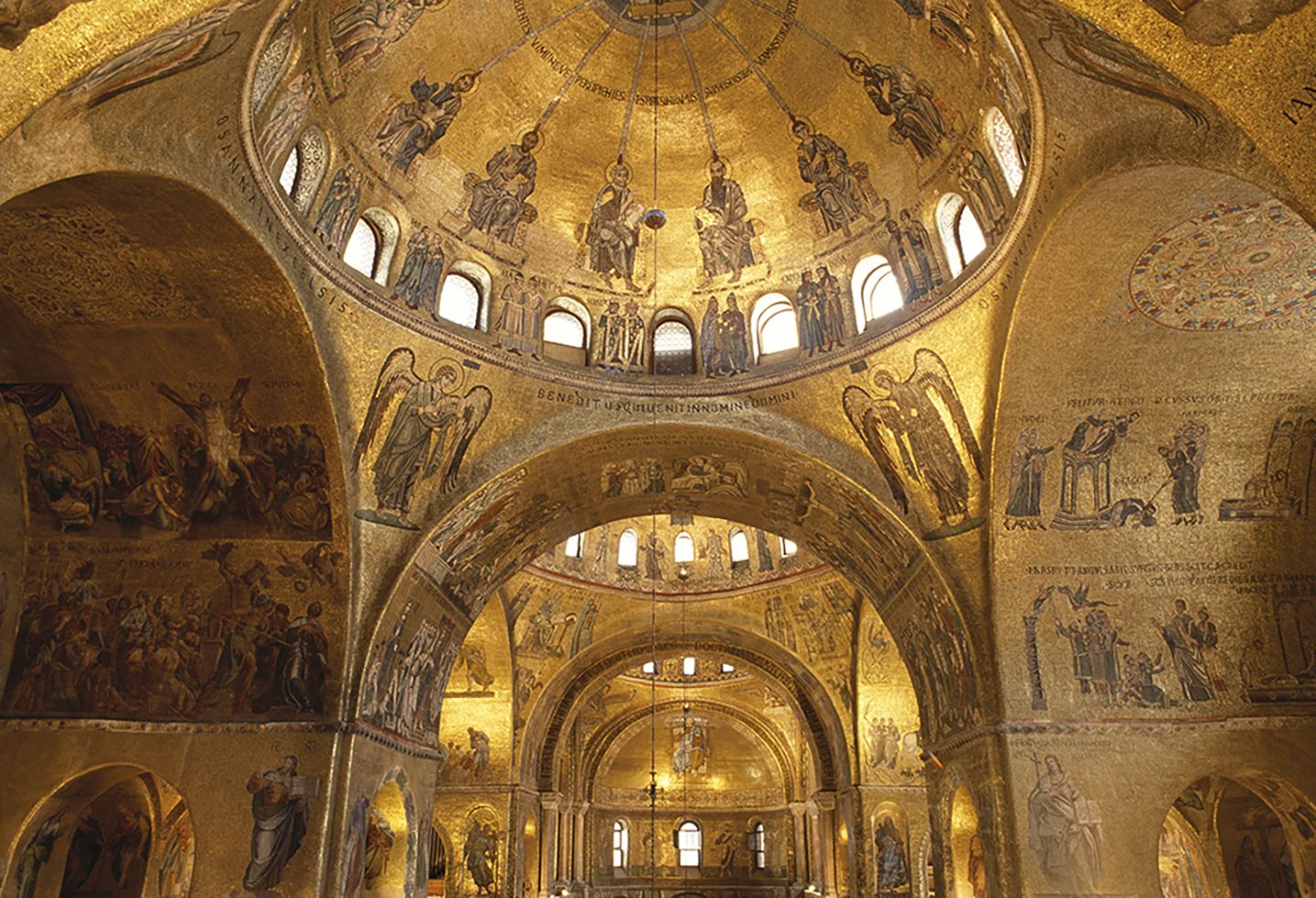 Originally, mosaics were assembled from small, hand-cut pieces of stone, glass, or ceramic set in mortar to create a pattern or picture. Glass mosaics first appeared in Egypt 3,500 years ago, traveled to Greece and India, then on to the Byzantine Empire and the West. Their lustrous beauty was prized for its decorative impact, as shown in St. Mark's Basilica in Venice.
Glass Mosaic Tile Vitals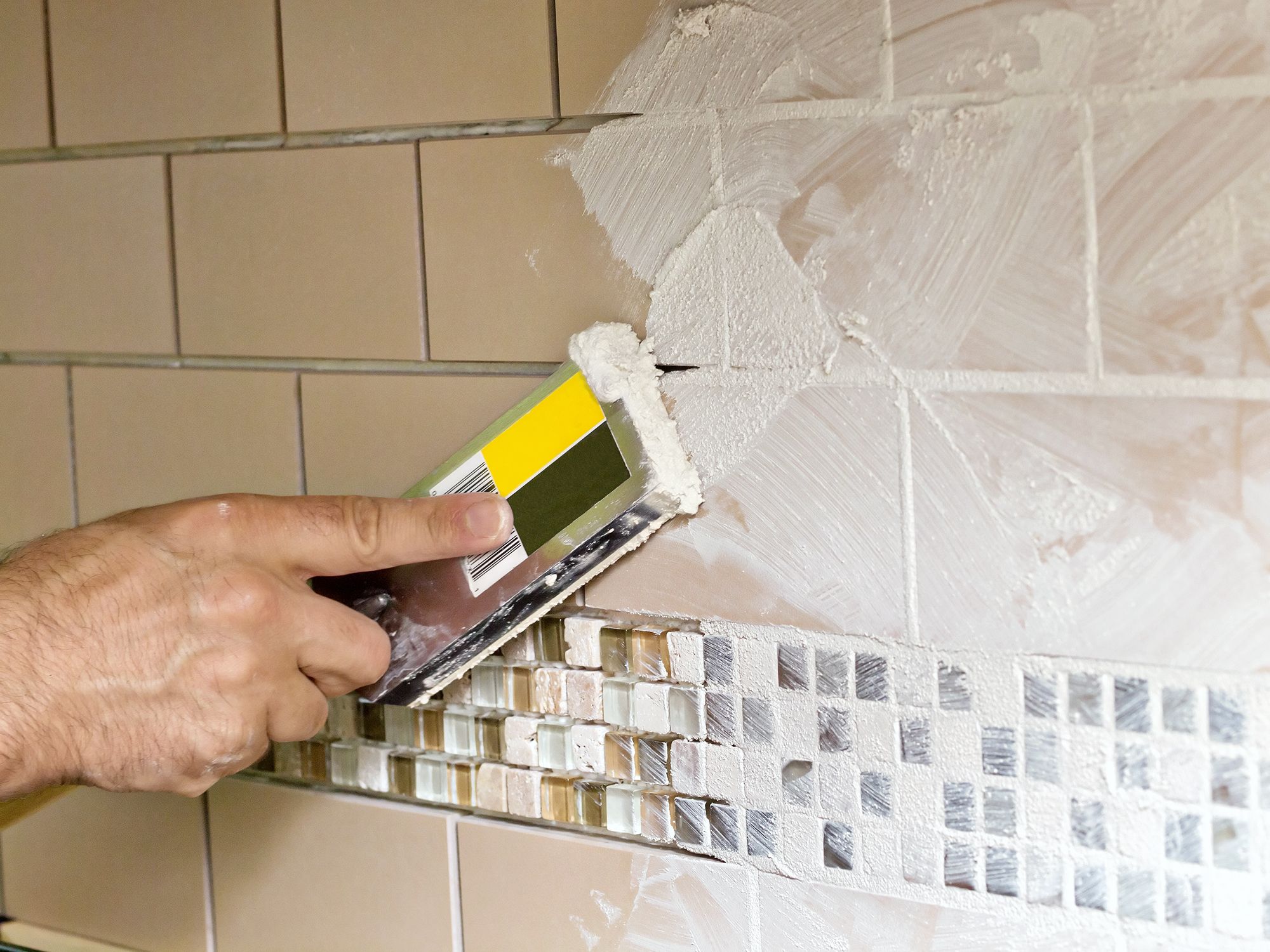 What's the cost? Sold in sheets about 1 foot square; prices start at about $5 per square foot and can go up to $90—and higher. But you can find many options for $15 to $20 per square foot.
DIY or hire a pro? A mesh backing or a paper front connects pieces to ease installation. But you may want to leave projects with lots of complex cuts, or installation in a wet area, to a tile setter.
Where to use it? It's popular for backsplashes and in bathrooms, but consider it anywhere you'd use other tile, from a fireplace front to an accent wall.
Will it hold up? Drop a heavy object on it and it can crack, like ceramic or stone. But with care and proper installation, glass mosaic tile will last as long as you want it to.
Is It for You?
Its lustrous beauty belies its more practical properties. But you do need to take care with where and how you place it
Pros:
Whether translucent or opaque, glass mosaics catch and reflect light to brighten up a space, and they marry well with other natural surfaces, including stone, ceramic, and wood.
Countless options for color, shape, and surface texture let you create a standout effect even with just a little bit of tile, so you needn't bust your budget. A kitchen backsplash or a simple border set into field tile in a bath will ramp up the glamour.
It's impervious to moisture and unaffected by UV rays, so it won't stain from spills or fade from exposure to detergent or sunlight. With a swipe of a damp cloth, it's easy to maintain, too.
Cons:
Like many other kinds of tile, it can break with heavy impact—if a cast-iron tub bumps into it on the way to being installed, say, or a pan bangs the kitchen backsplash.
Installation can be tricky. While a mesh backing or paper facing helps the mosaic tile stay evenly spaced, it can be a challenge to keep the many pieces aligned, and to make precision cuts for outlets and other openings.
It's pricier than some other options, like ceramic. If you're covering a large area, skill and patience are required to achieve a seamless effect, so labor can be more costly.
Similar to shown: Opulence Mosaic Tile in Opal, $22 per sq. ft.; daltile.com for dealers
Shop Smarter
Follow these tips to get the best product for your project:
Samples: Do your research online, then visit a variety of showrooms to see tile that's installed. Ask for samples you can take with you; many retailers will charge a few dollars for these. If a sample is not readily available, you may have to pay to have one shipped from the factory.
Continuity: Get a full-size sheet for a true idea of the color and pattern, and ask the tile store if it's from a dye lot that's in stock. Glass pigments are natural minerals, just like tile glazes, so dye lots can vary from batch to batch. It's important to make sure there's enough tile from one particular lot to cover your project.
Lead time: Tile stores and home centers can't stock everything they sell, so delivery of your order can take anywhere from a couple of days to 10 weeks, if the tile you buy is coming from a factory overseas—unless you want to shell out for a hefty airfreight charge.
Quality: It looks pretty, but how do you know you're getting a well-made product? Ask for a manufacturer's data sheet with information on national standard testing that rates performance with regard to breaking strength, water absorption, and chemical resistance. None available? Then buyer beware.
Tile Calculator

Most glass mosaic tile comes in individual sheets about 12 inches square. Measure your project space, round that number to the next-highest square foot, then add 10 percent (go up to 15 percent if the installation has a lot of cutouts or corners) to cover waste, cuts, and breakage.
Pick Your Tile: Playful Patchwork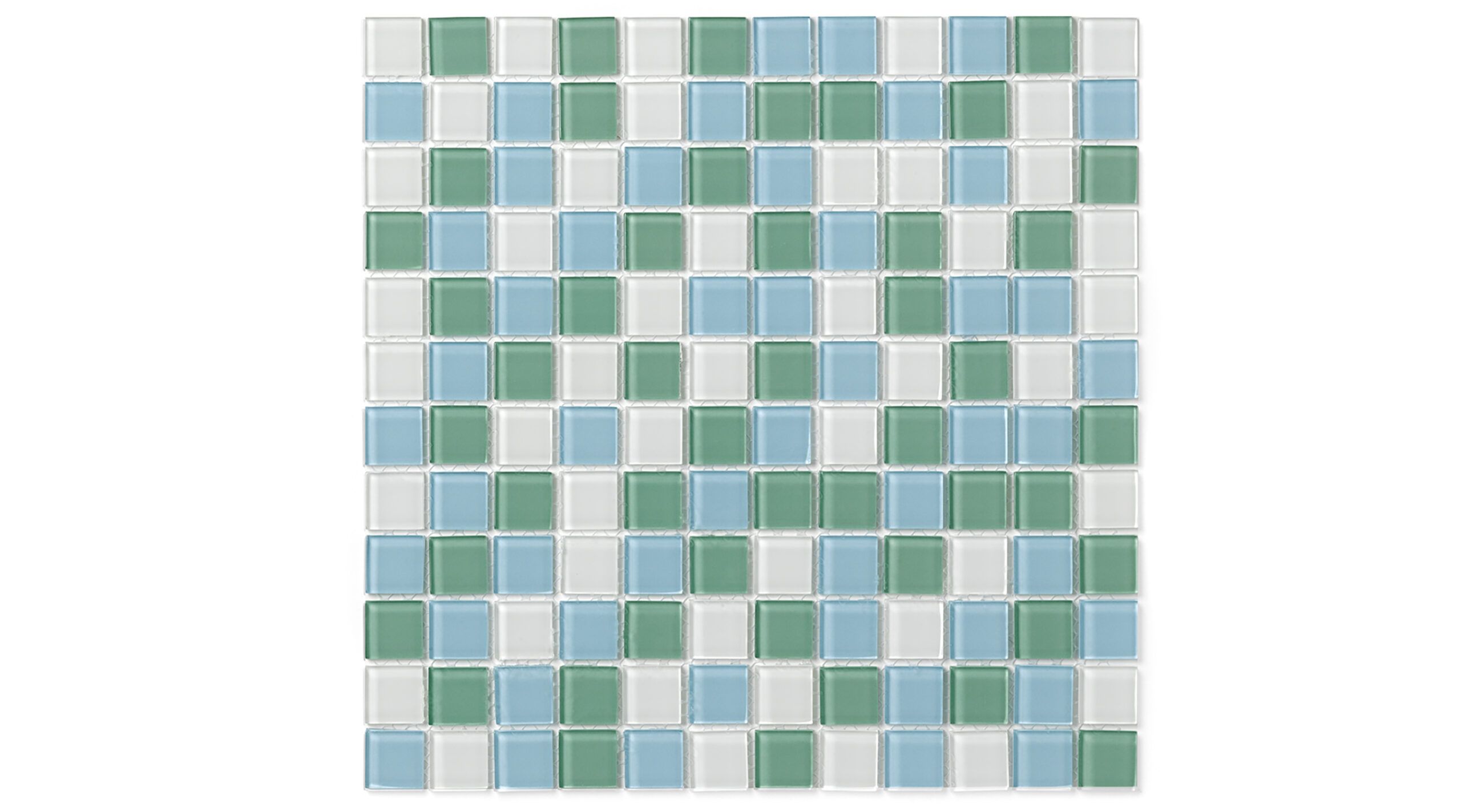 White, blue, and green 1-inch squares alternate for a carefree cottage look. Spectrum Fresh Square Glass Mosaic Wall Tile, $6.95 per sq. ft.; The Home Depot
Pick Your Tile: Woven Beauty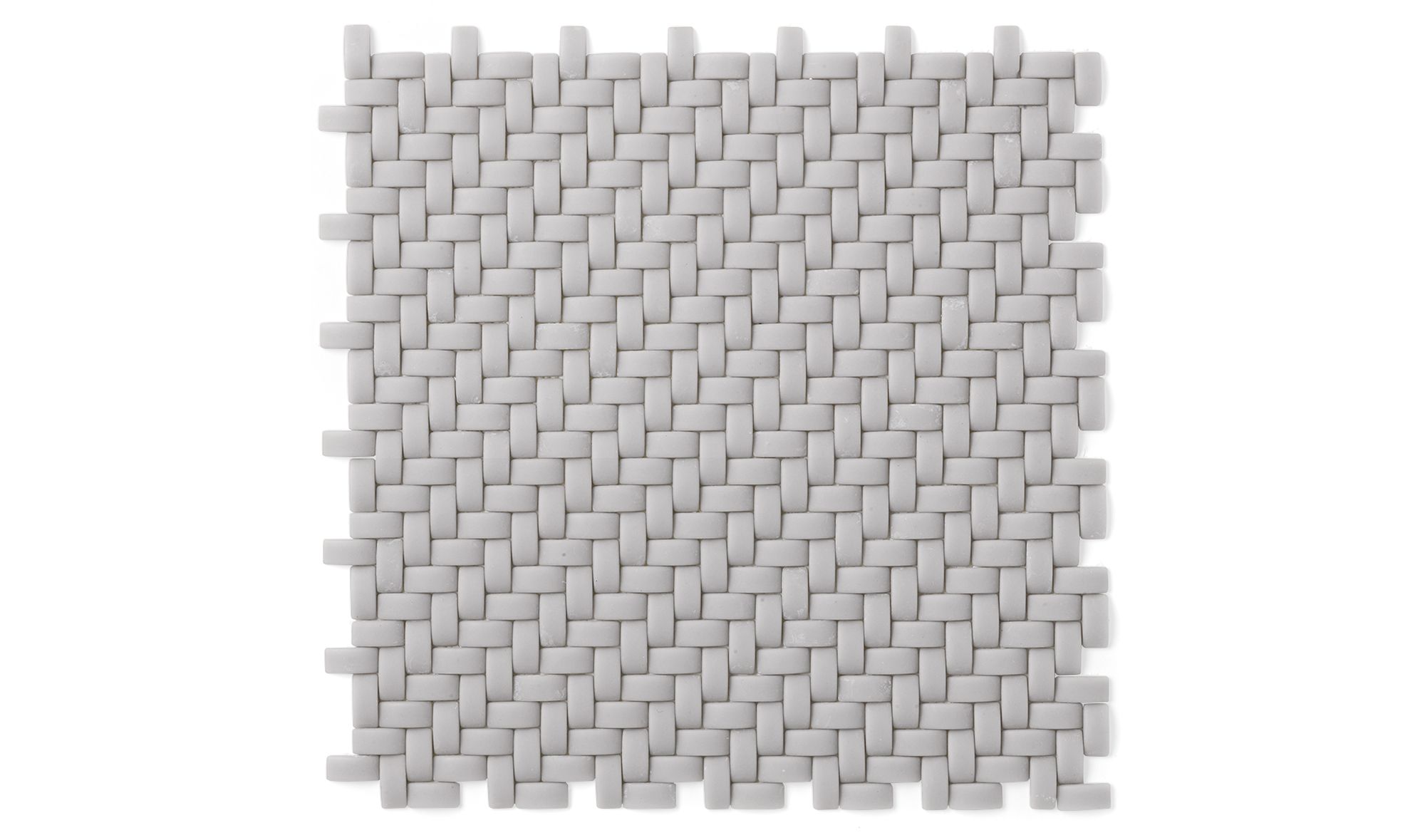 Interlocking gray mosaics in a matte finish have the textured look of basketry. Verre Collection in Parisian Vintage, $19 per sq. ft.; Hudson Tile Supply
Pick Your Tile: Mini Subways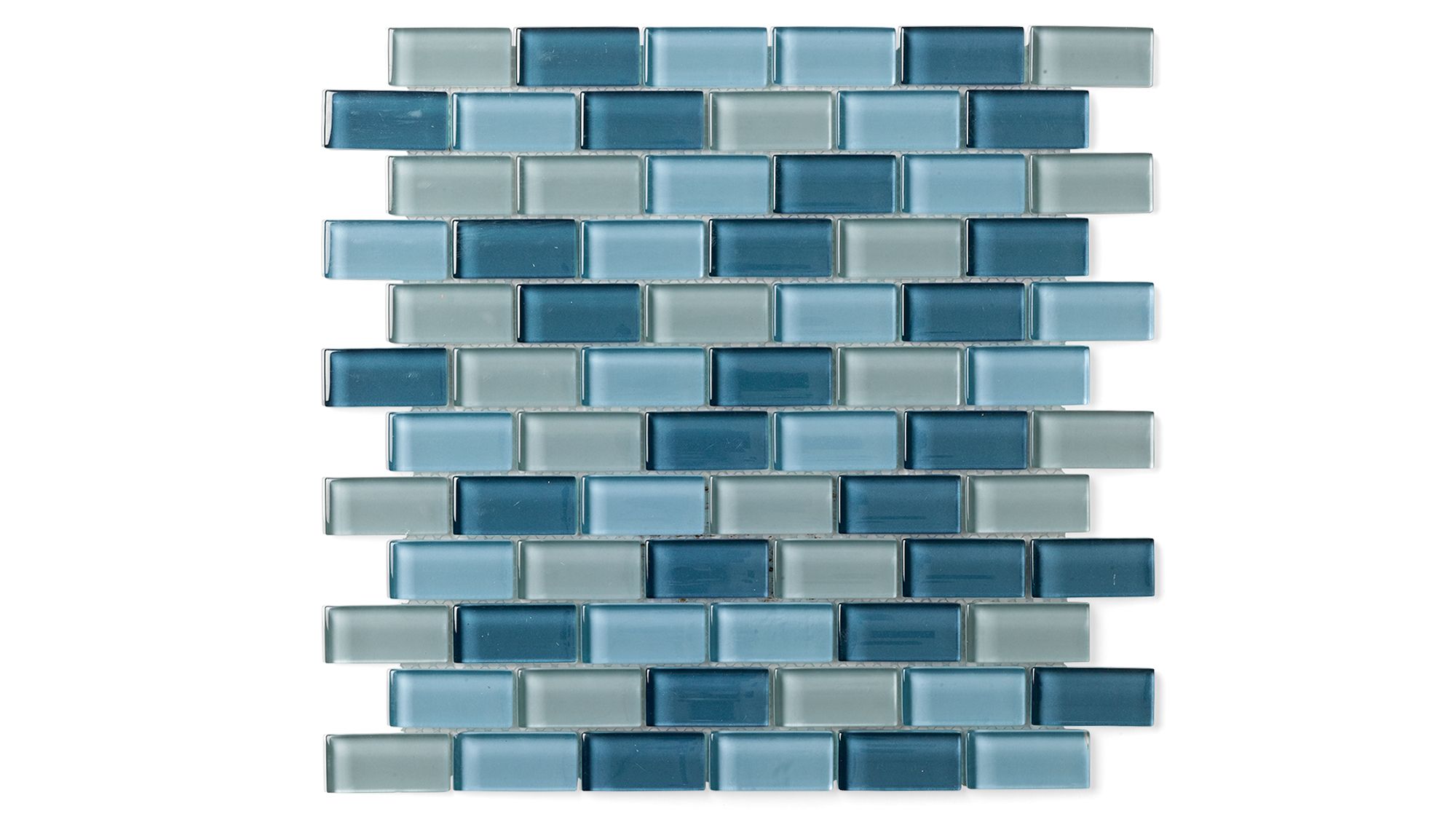 This scaled-down classic gets its oomph from a trio of cool blues. Color Wave Brick-Joint Mosaic in Winter Blues, $30 per sq. ft.; Daltile
Pick Your Tile: Say Spa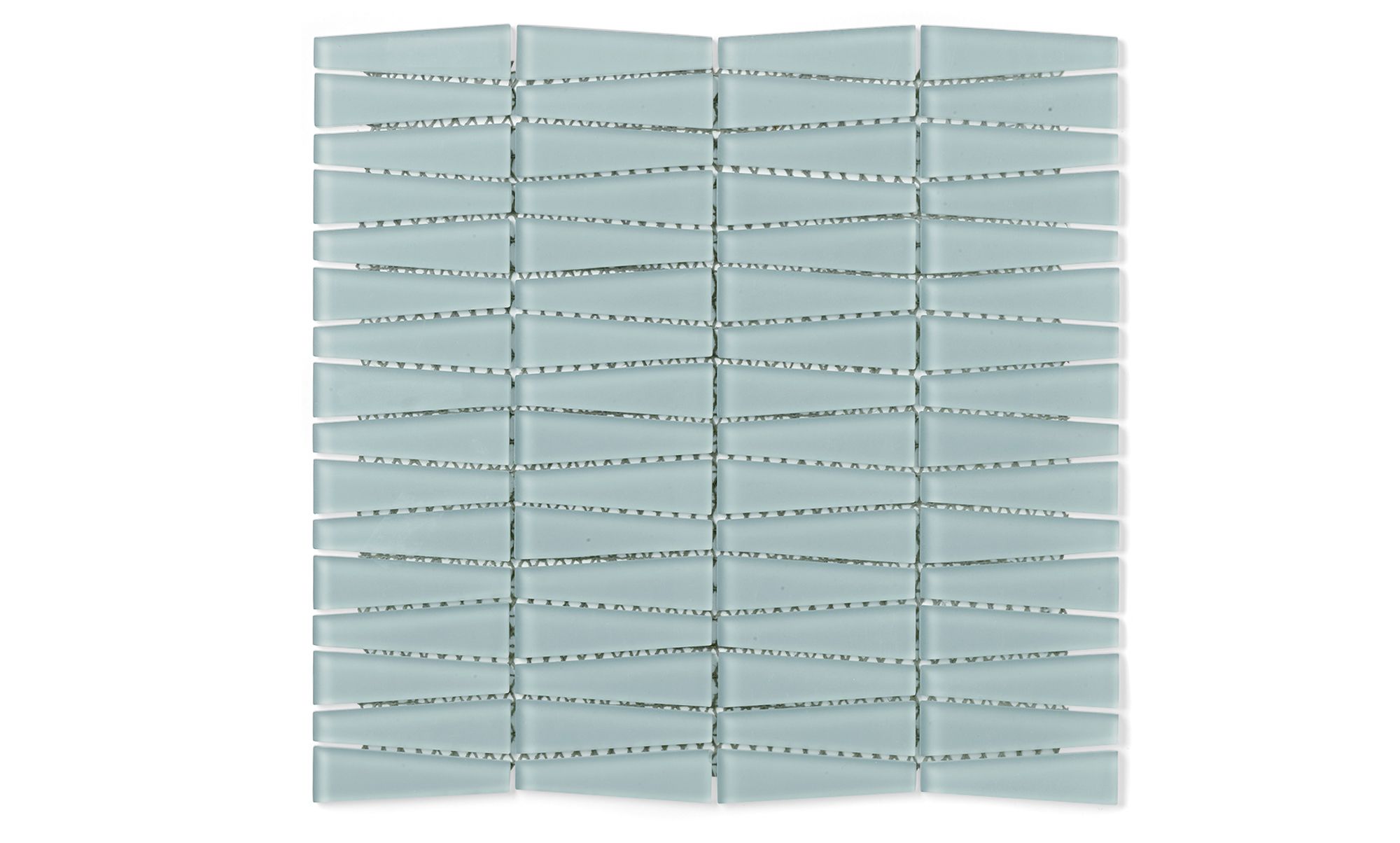 Pale-green wedge shapes in a brushed finish create a serene effect. Waveline Mini in Stratos, $30 per sq. ft.; Island Stone
Pick Your Tile: Perky Penny Rounds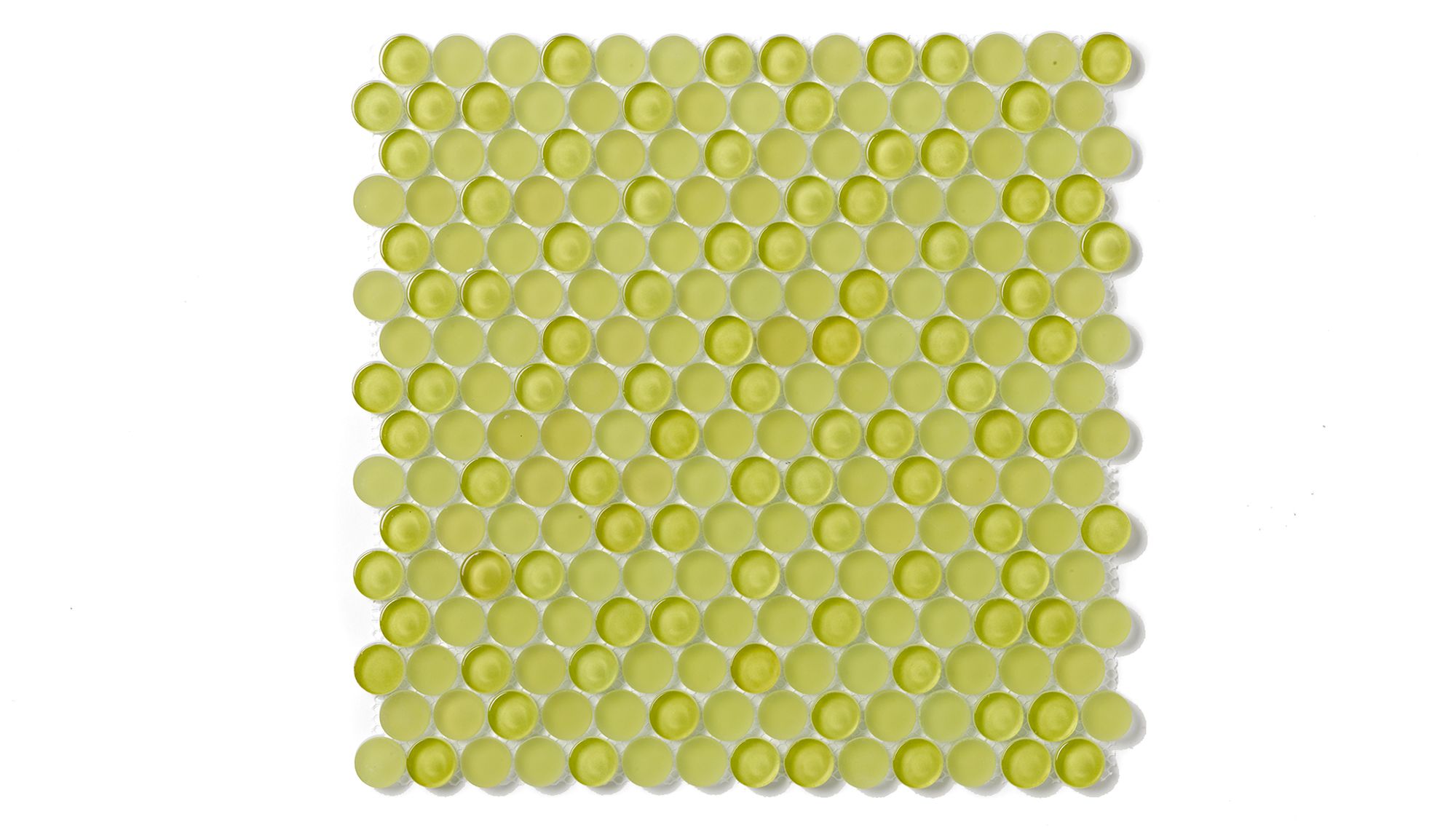 Clear and opaque glass circles alternate, both in vivid yellow. Mata Hari Penny Round Glass Tiles in Yellow, $23 per sq. ft.; TileBar
Pick Your Tile: Graphic Grid
Tile triangles in five soft hues have a random repeat. Groove Glass Mosaic in Vogue, $41 per sq. ft.; Crossville
Pick Your Tile: Blue Mood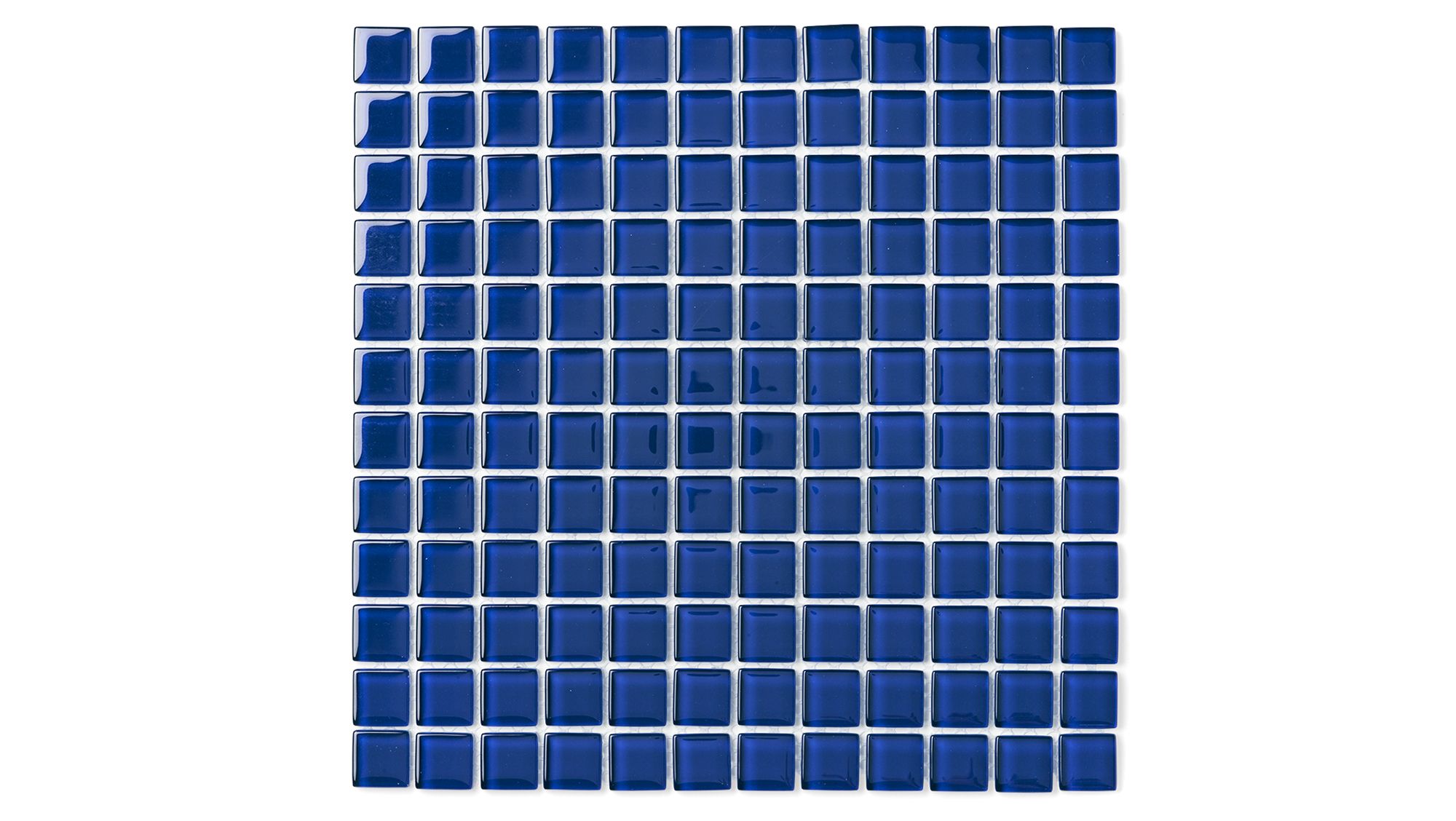 Still a favorite—small squares in a deep-blue hue. Cobalt Glass Mosaic Square Indoor/Outdoor Wall Tile, $10 per sq. ft.; Lowe's
Pick Your Tile: Sleek Chevron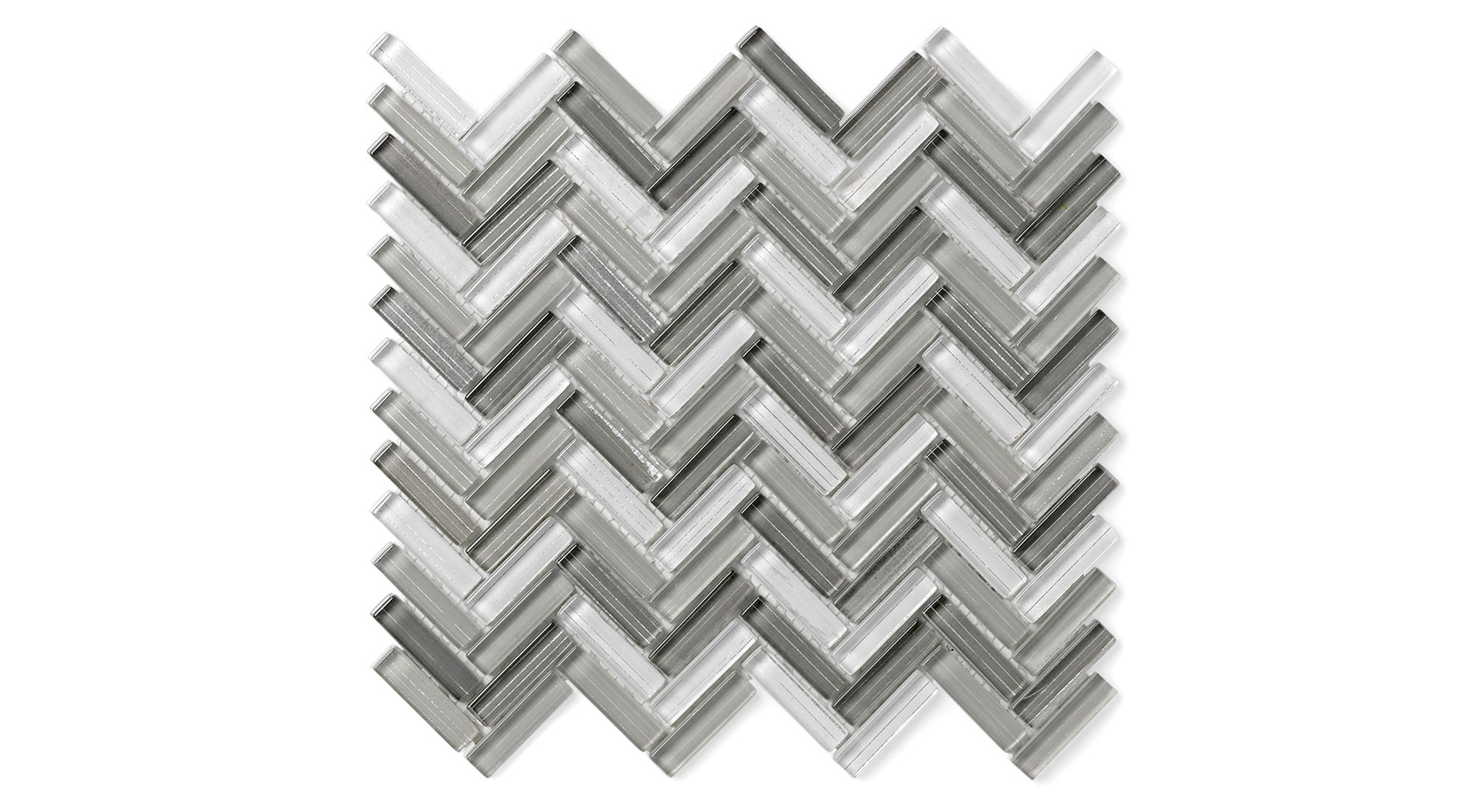 Three shades of gray zigzag for instant visual impact. Pleasantville Glass Mosaic Wall Tile, $14 per sq. ft.; The Home Depot
Pick Your Tile: Linear Look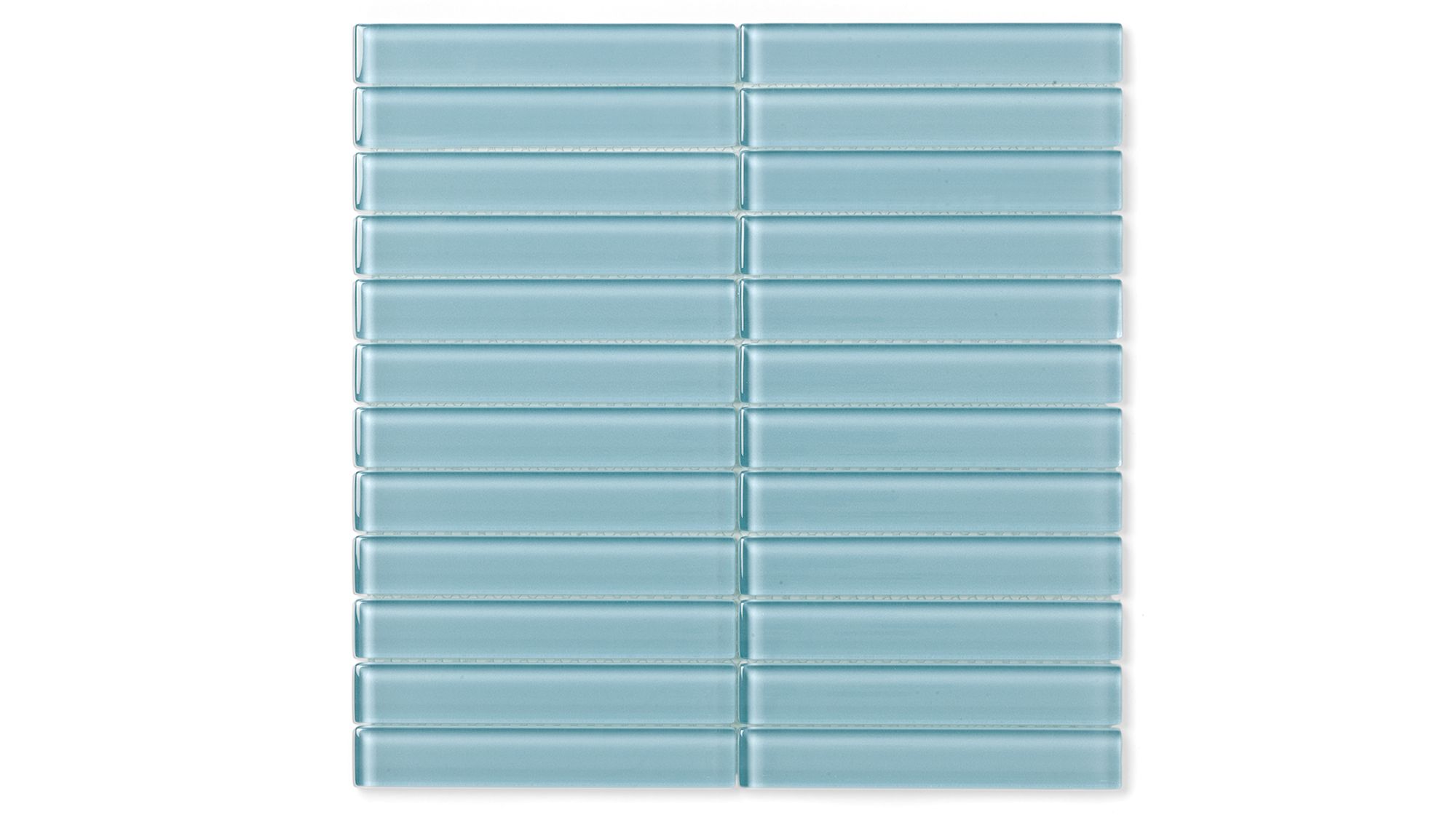 Cleanly stacked rectangles in a soft blue. Color Wave Straight-Joint Mosaic in Blue Lagoon, $36 per sq. ft.; Daltile
Pick Your Tile: Making Waves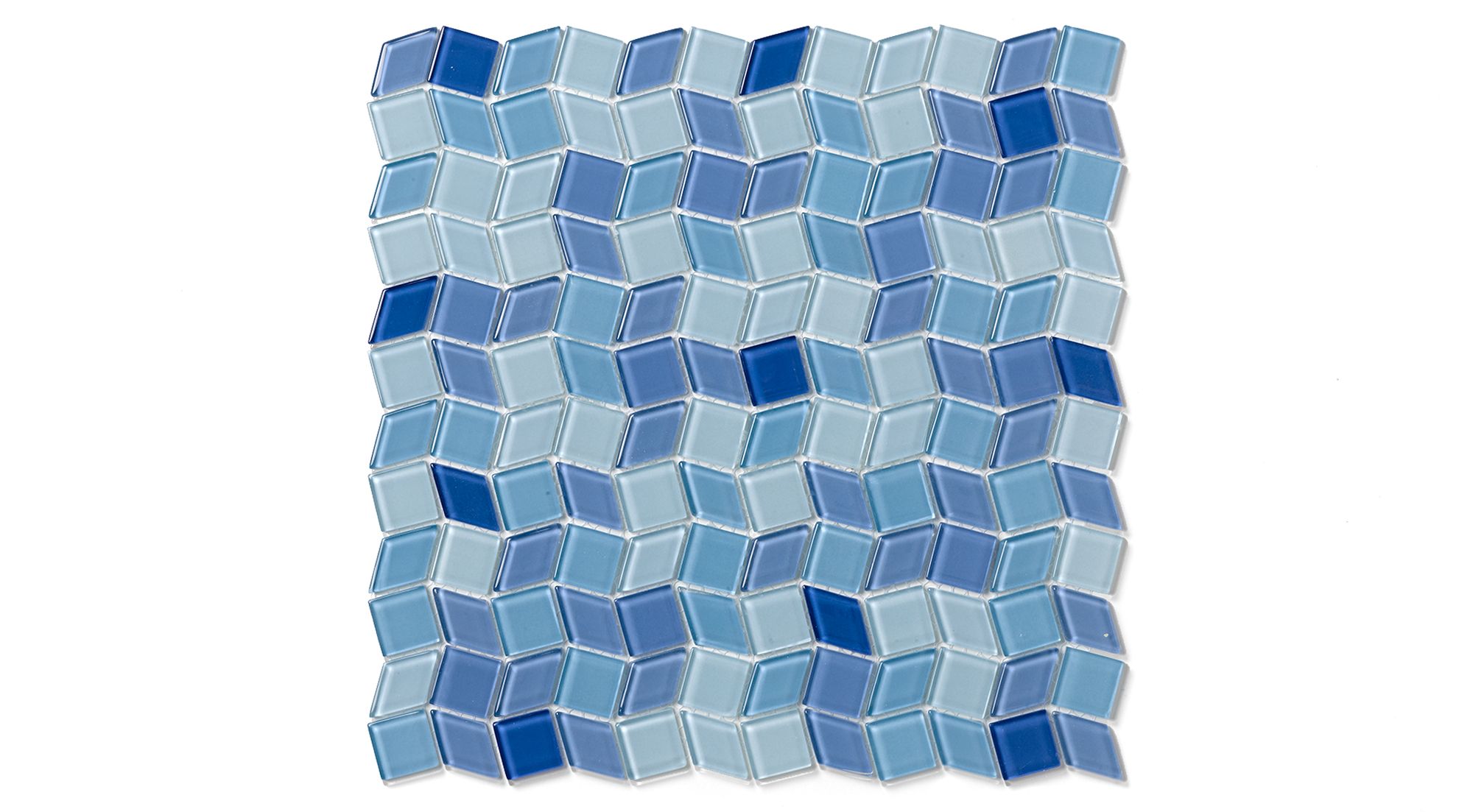 Slanted squares in four watery hues seem to undulate. Crystal Springs Collection in Illusion Stream, $12 per sq. ft.; Hudson Tile Supply
Pick Your Tile: Go Mod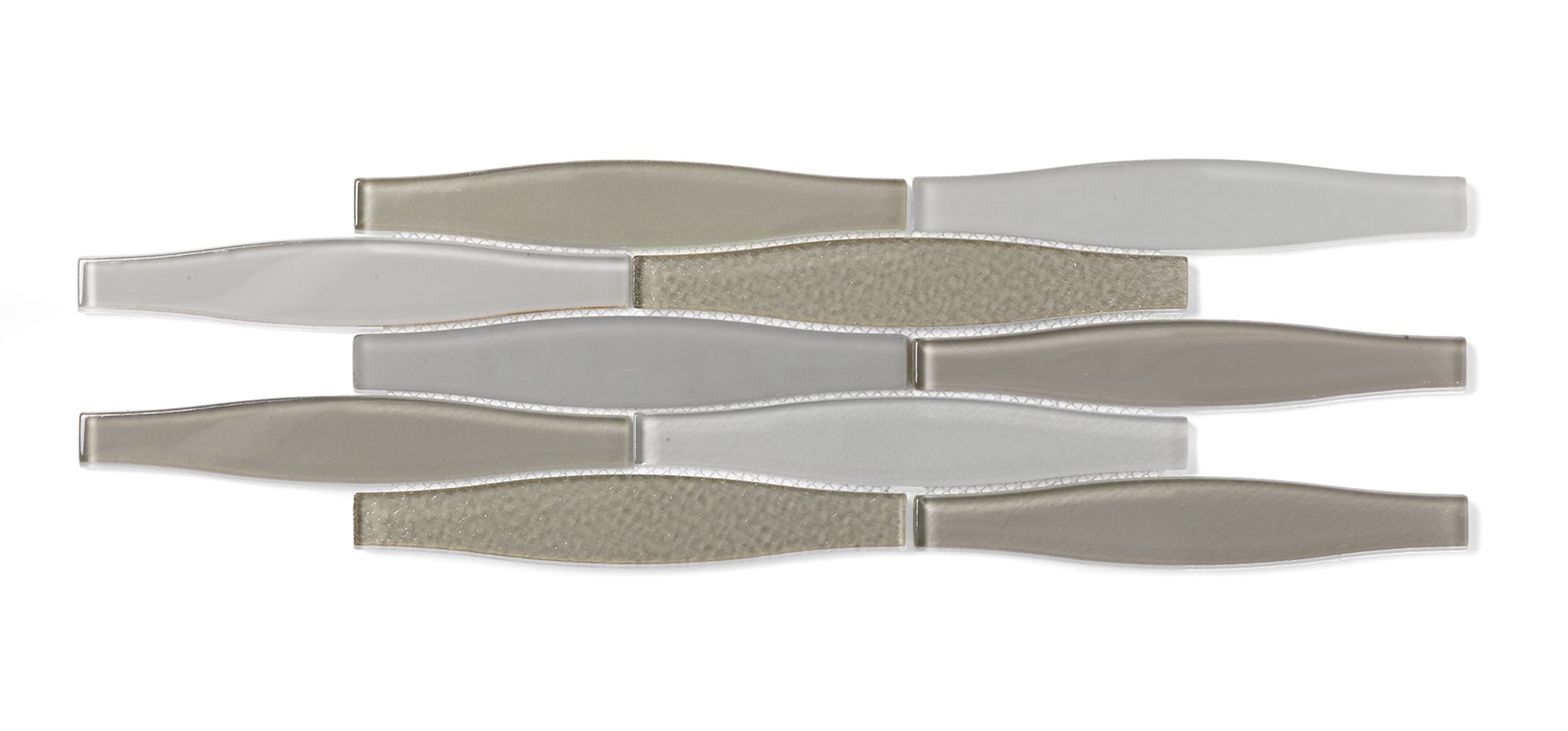 Sinuous shapes lend retro-modern charm. Pisces Collection in Stingray, $38 per sq. ft.; Bellavita Tile
Pick Your Tile: Metallic Effect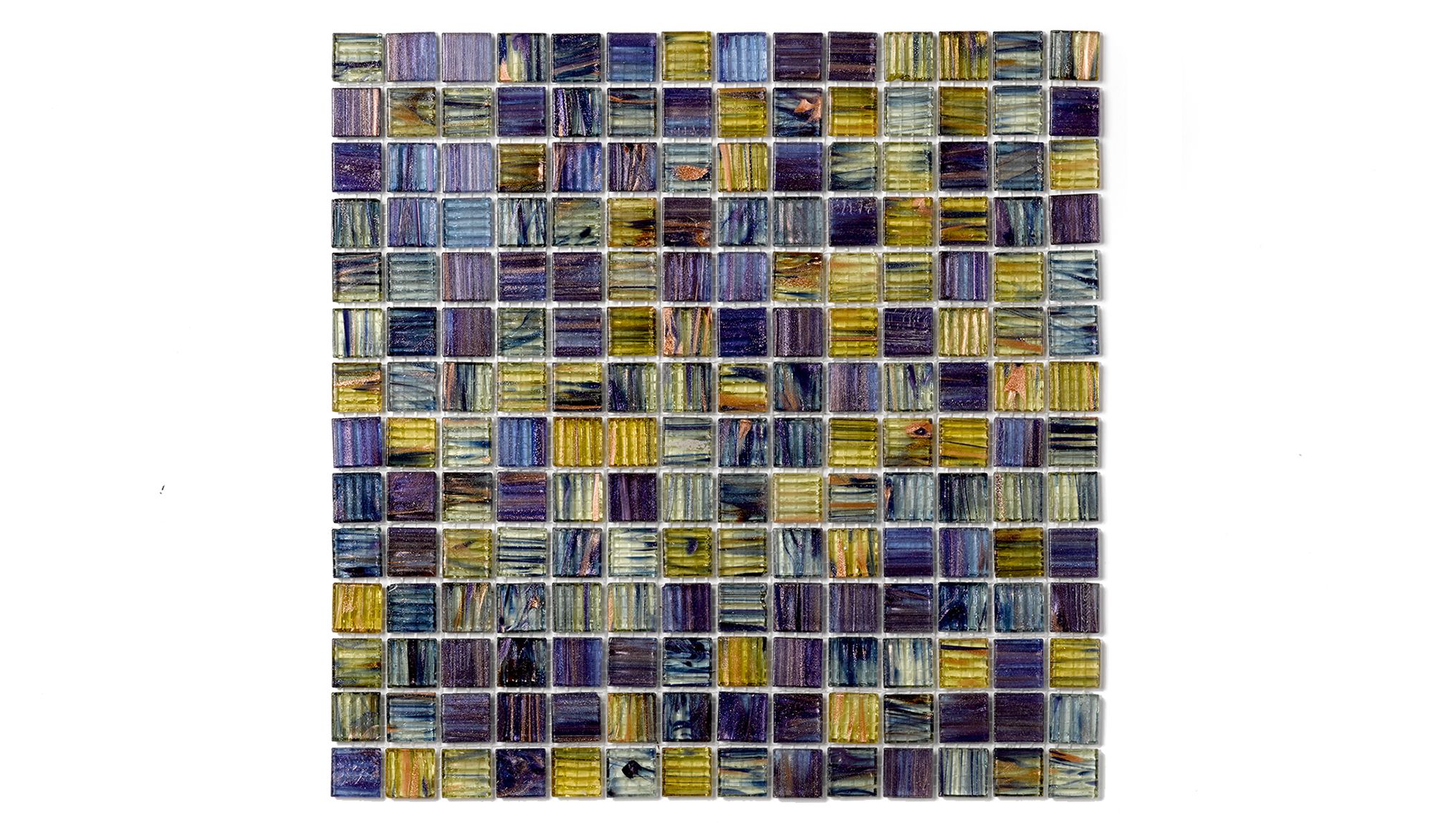 A coppery marbleized vein imparts shimmery shine. Vineyard Glass Mosaic Wall Tile, $4.99 per sq. ft.; The Home Depot
Pick Your Tile: 3-D Effect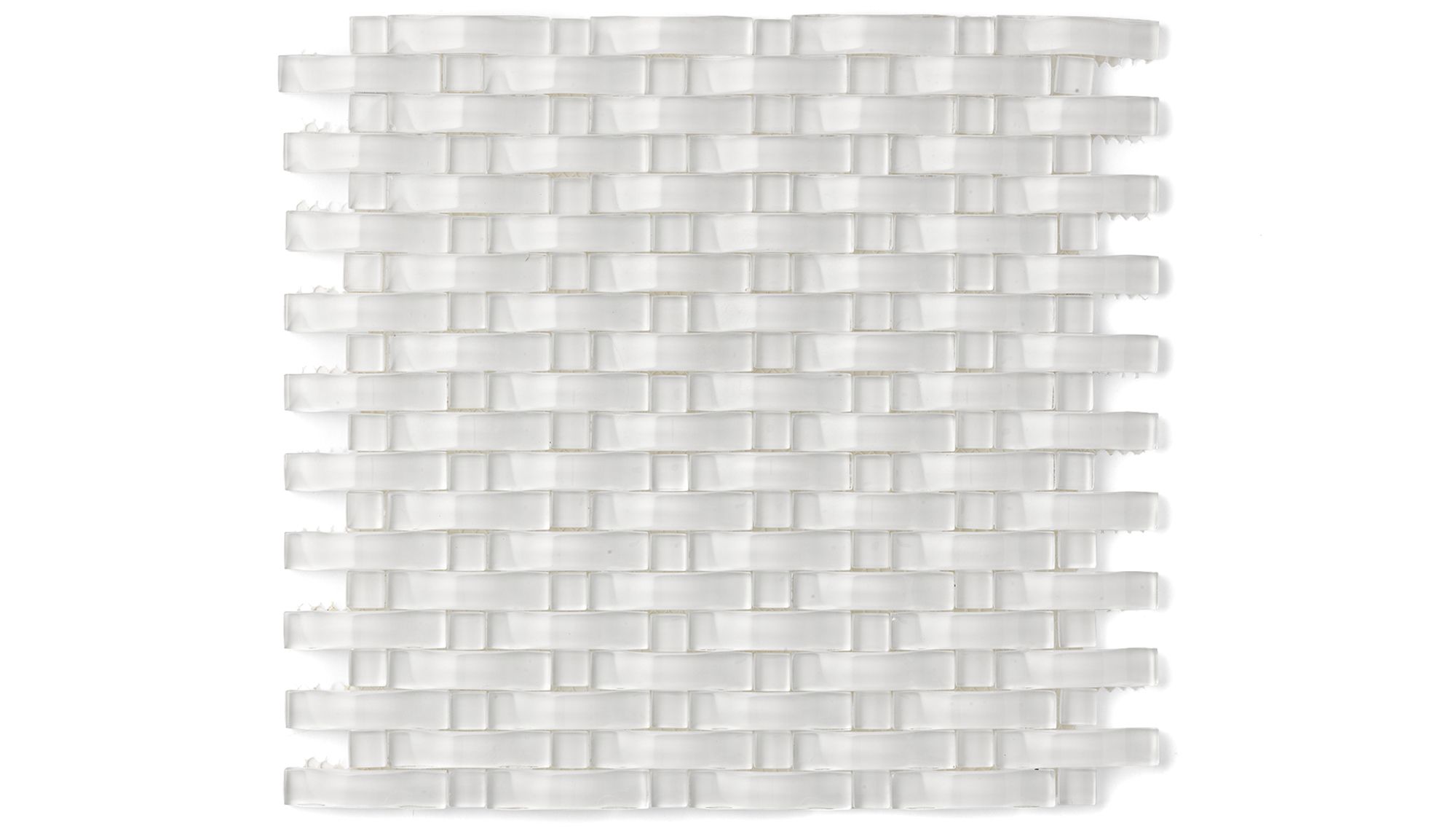 Luminous "woven" white glass adds texture to walls. Curve Super White Glass Tile, $25 per sq. ft.; TileBar
Pick Your Tile: Spring Green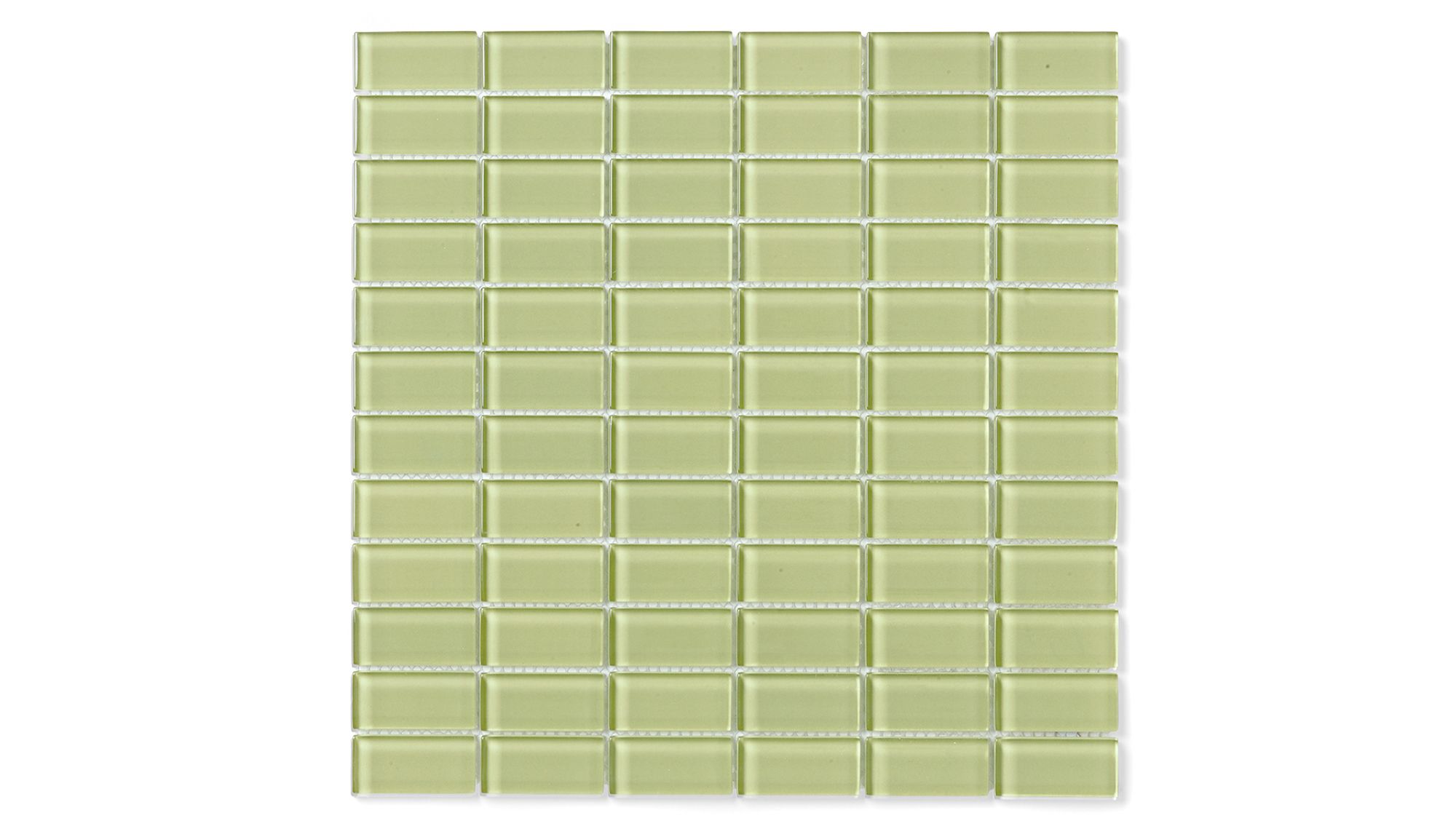 A vibrant choice for any kitchen—indoors or out. Glassique Glass Mosaic Square Indoor/Outdoor Wall Tile in Pear, $7.82 per sq. ft.; Lowe's
Pick Your Tile: So Crafty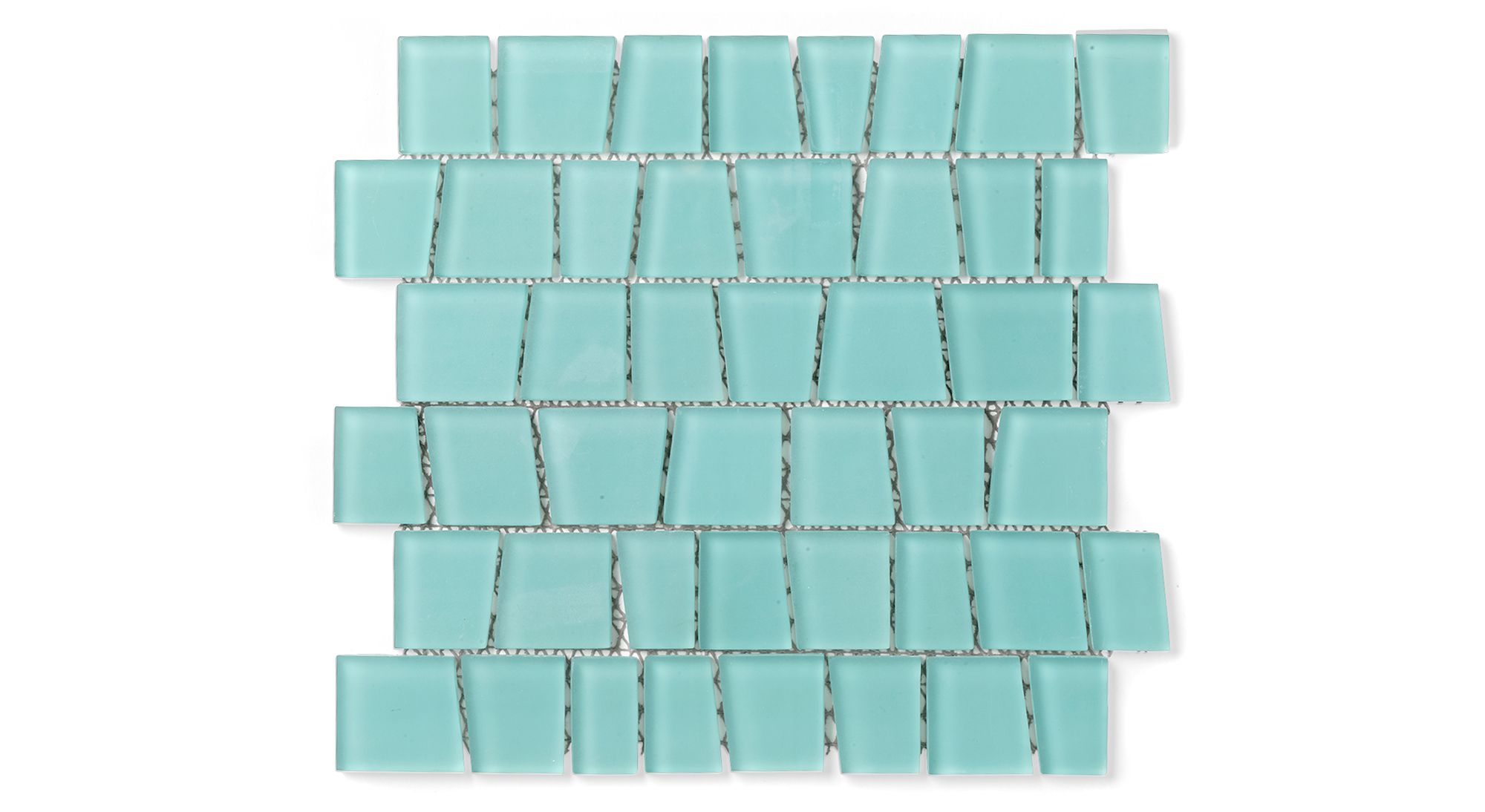 Irregular shapes in a frosted finish appear hand-cut. Artifact Collection in Spring, $30 per sq. ft.; Island Stone
Pick Your Tile: Touch of Texture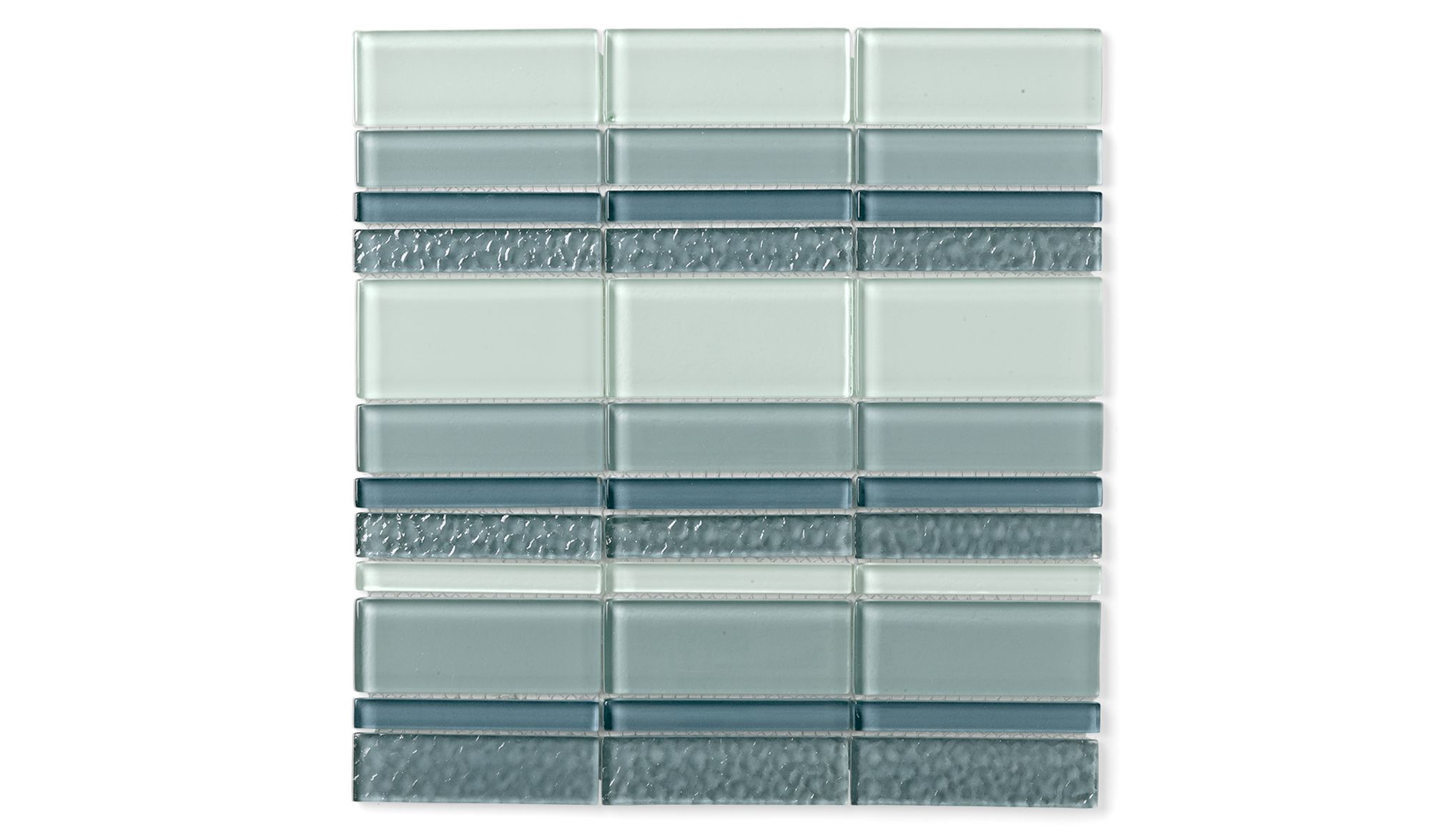 Some tiles with a pebbled surface lend tactile appeal. Tessera Meridian Cirrus Glass Mosaic Wall Tile, $14 per sq. ft.; The Home Depot
Pick Your Tile: Faux Stone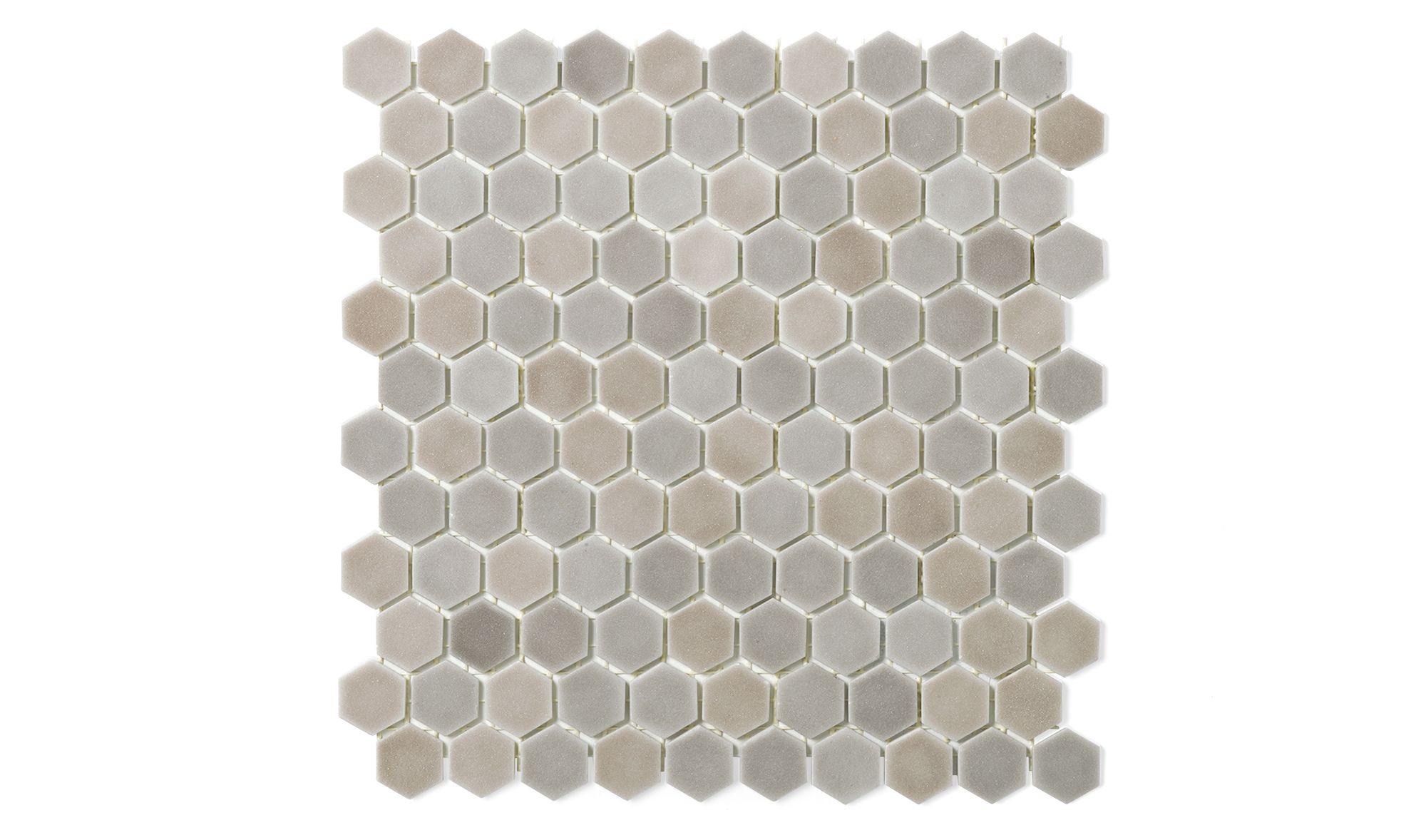 Subtle variations mimic limestone. Uptown Glass in Matte Frost Moka, $23 per sq. ft.; Daltile
Mixed Materials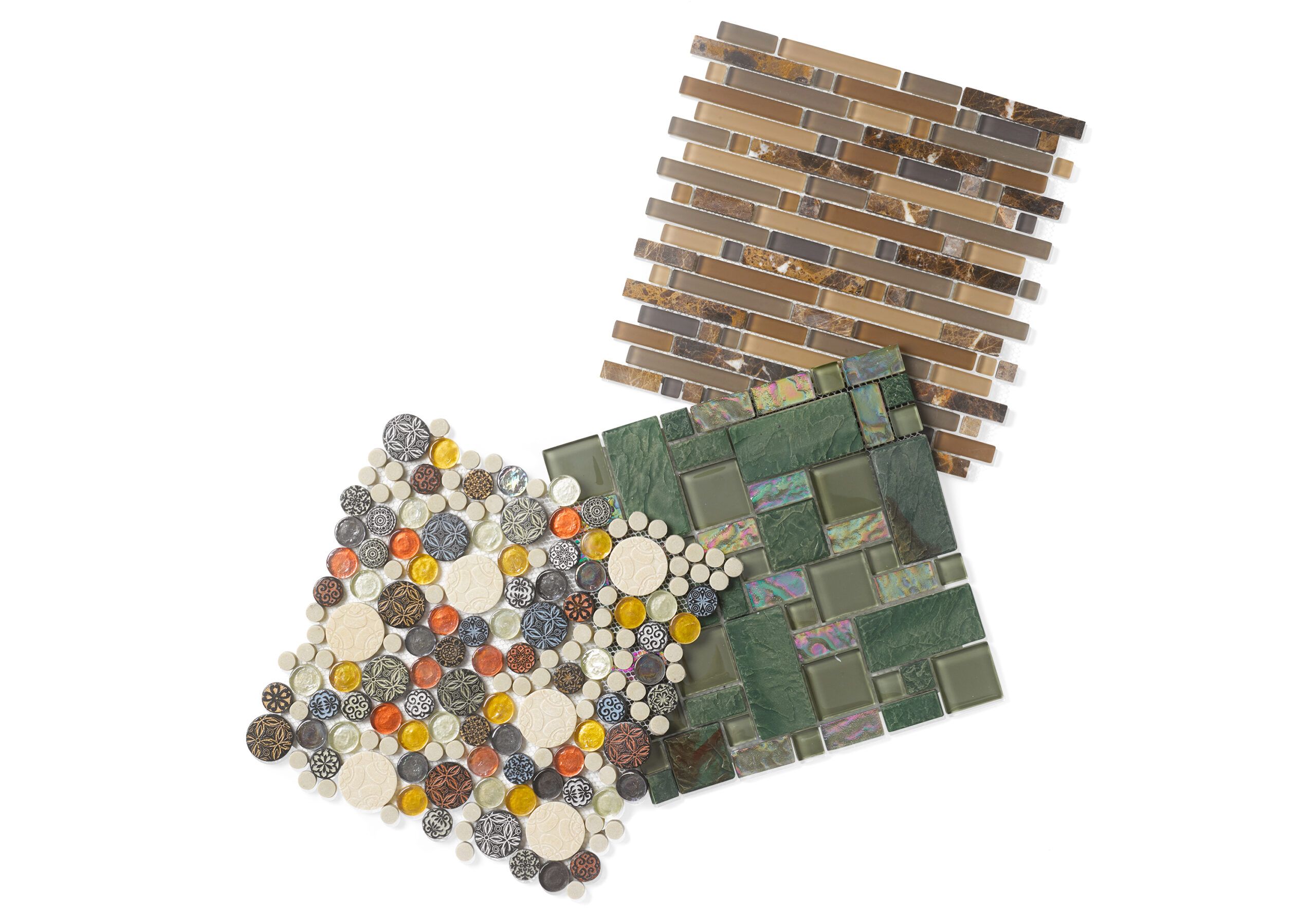 Glass partners well with other natural surfaces, particularly stone and ceramic, to yield beautiful and sometimes surprising results. Recognizing this, manufacturers are doing the mixing for you with varied materials combined in a single mosaic sheet. All the pieces should be of the same thickness; if a delicate material is used, like metal or mother of pearl, it is often applied as a veneer to a ceramic base.
Shown, from left: Netherlands Collection in District Dark, $30 per sq. ft.; Hudson Tile Supply. Verdi Slate Glass Mosaic, $14 per sq. ft.; Lowe's. Oasis in Chestnut, $20 per sq. ft.; Bellavita Tile for dealers
What About Custom?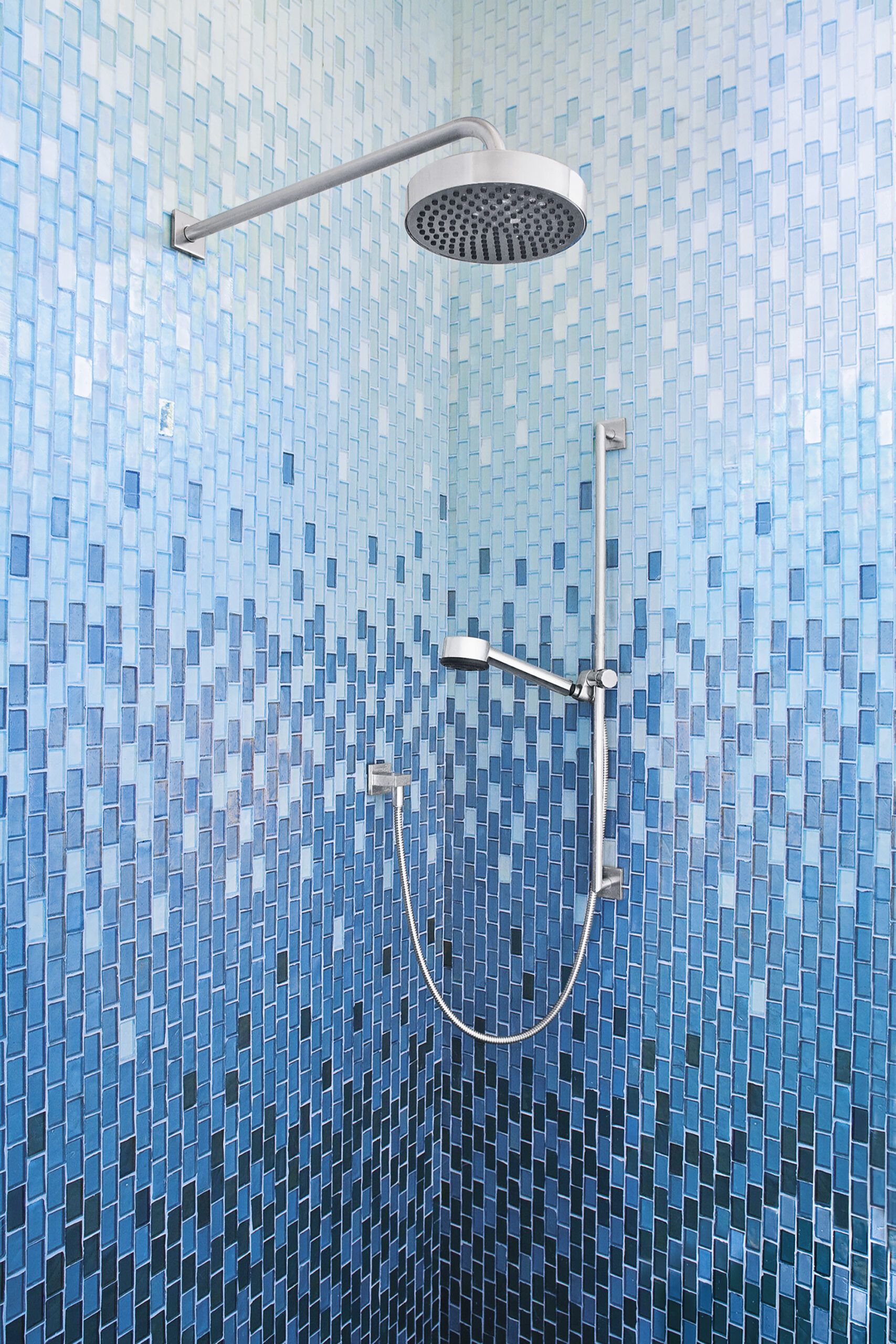 In search of a one-of-a-kind pattern or color? You're in luck. Some companies will create unique combinations from their product offering with a computer program. If you want to match a color swatch, ask your local tile store whether any of its suppliers will do this. Many manufacturers will produce special colors for a minimum order of 600 square feet at no extra charge, as long as no rare mineral, like gold, is required to get the hue. Texture may also be customizable if you select from the palette of choices available in their tile lines. Allow up to 12 weeks for review, approval, manufacturing, and delivery.
Shown: This custom gradient effect is designed with a computer. From $65 per sq. ft.; Oceanside Glass Tile for dealers
On Grout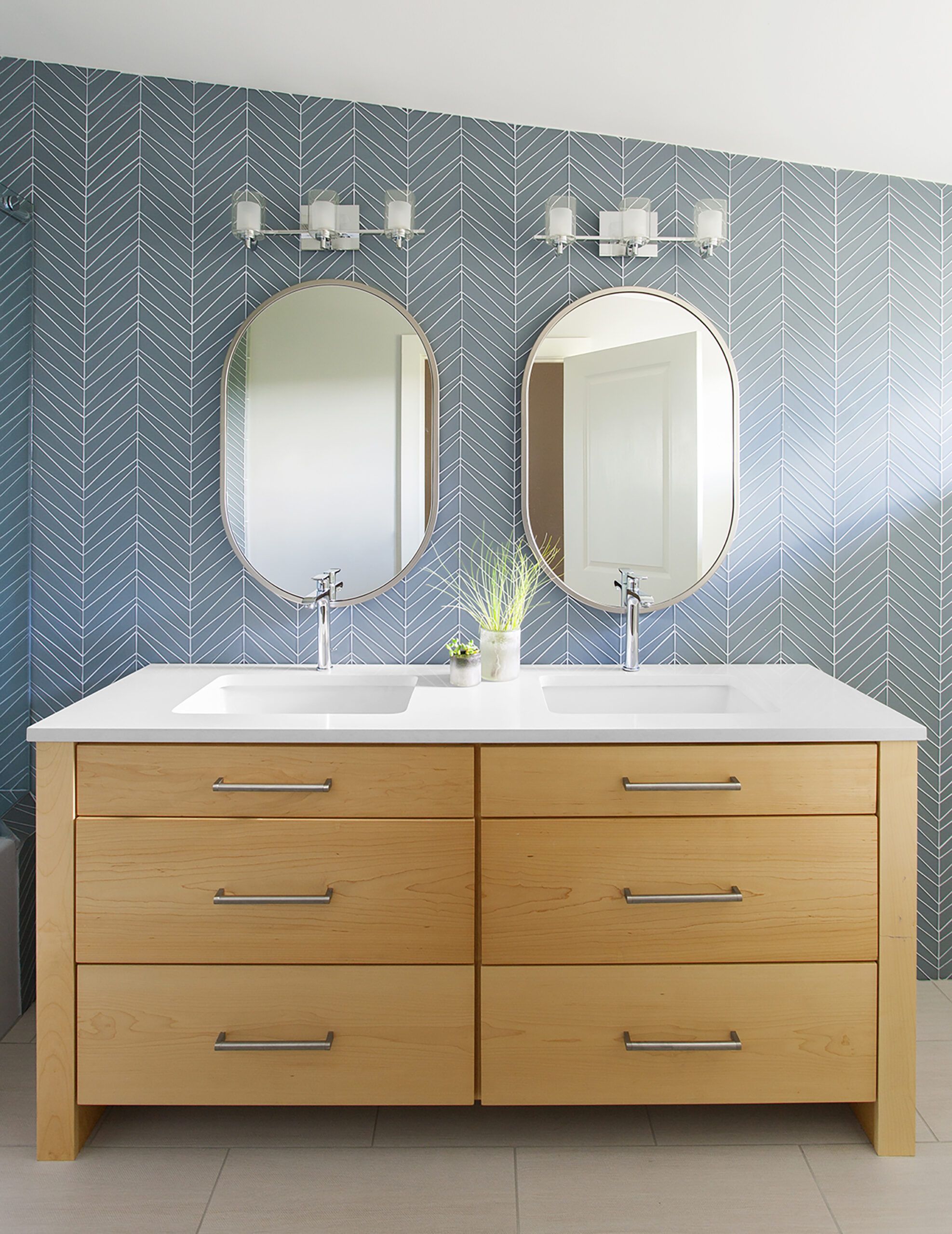 It bonds tiles together and seals out water. It also affects the finished look of your mosaic.
What to use: A relative newcomer, urethane grout is an ideal match for glass mosaics. It combines the superior water and stain resistance, color retention, and flexibility of epoxy grout with the longer working time and sandy matte look of traditional cementitious grout. It comes premixed, with synthetic polymers that won't scratch glass, and never requires sealing. It is pricier, at about $60 per 9-lb. pail, but should be virtually maintenance-free.
White or color? Because it's reflective, glass picks up the colors of the materials near it, including grout. If you want to highlight a mosaic shape, opt for a contrasting grout color. For a blended look, match tile and grout. Know, however, that small glass mosaic tiles can shift while being installed, even when held together with mesh, and contrasting grout may make any spacing irregularities more obvious.
Care for corners: Anytime tile meets another surface or material, like a stone counter, fill the joint with a silicone sealant. This allows for their different expansion and contraction rates, to prevent cracking at the joint.
Shown: Palms Collection in Stratos, $28 per sq. ft.; Island Stone for dealers
Where—and How—to Use It: Bold Band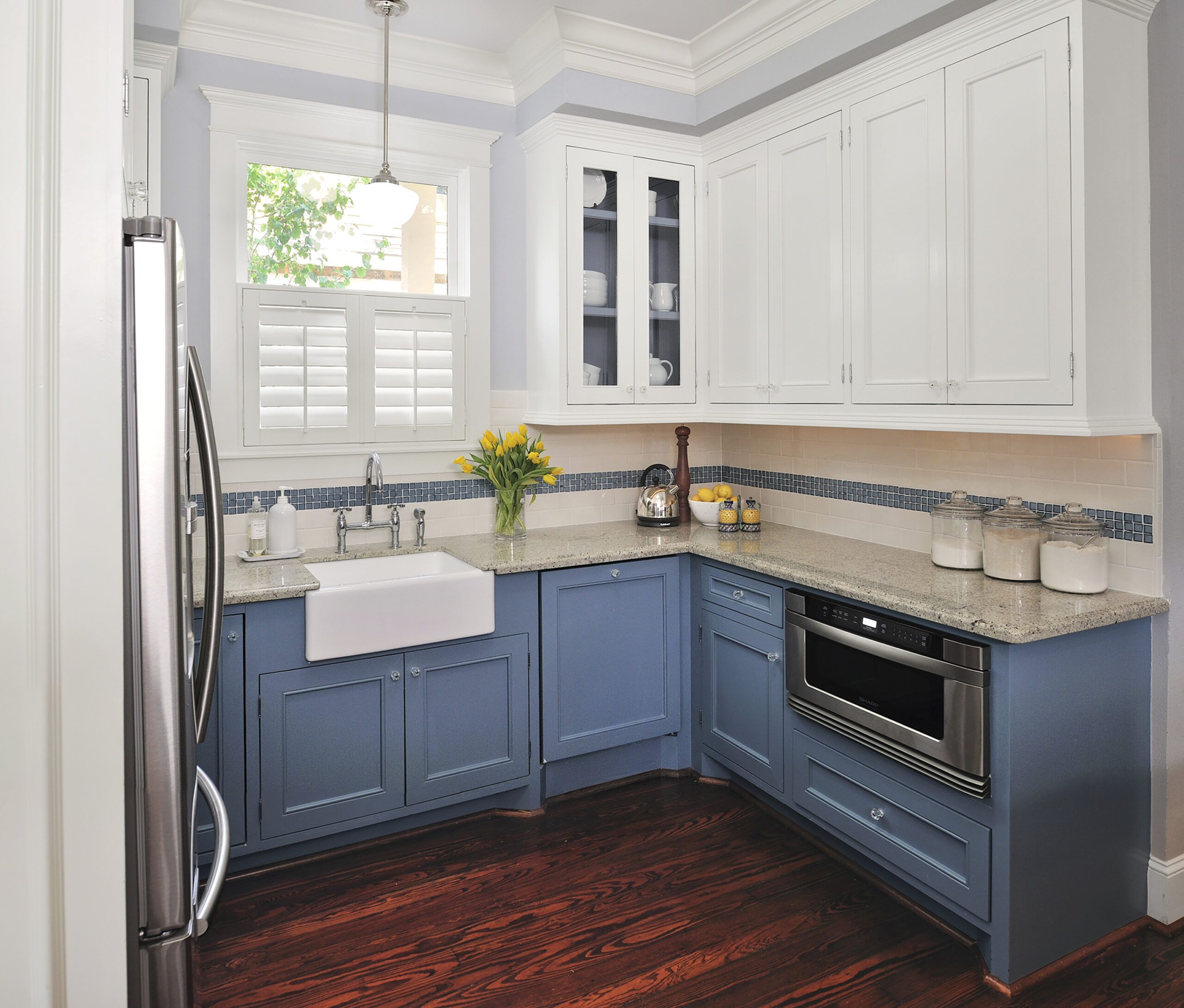 A simple ribbon of three rows of glass tile adds punch to this classic blue-and-white kitchen. It breaks up the expanse of white above the counter and echoes the base cabinet color.
Designer: Carla Aston
Shown: Tessera 1″ by 1″ in Fleet Blue, $35 per sq. ft.; Oceanside Glass Tile for dealers
Where—and How—to Use It: Fun Frame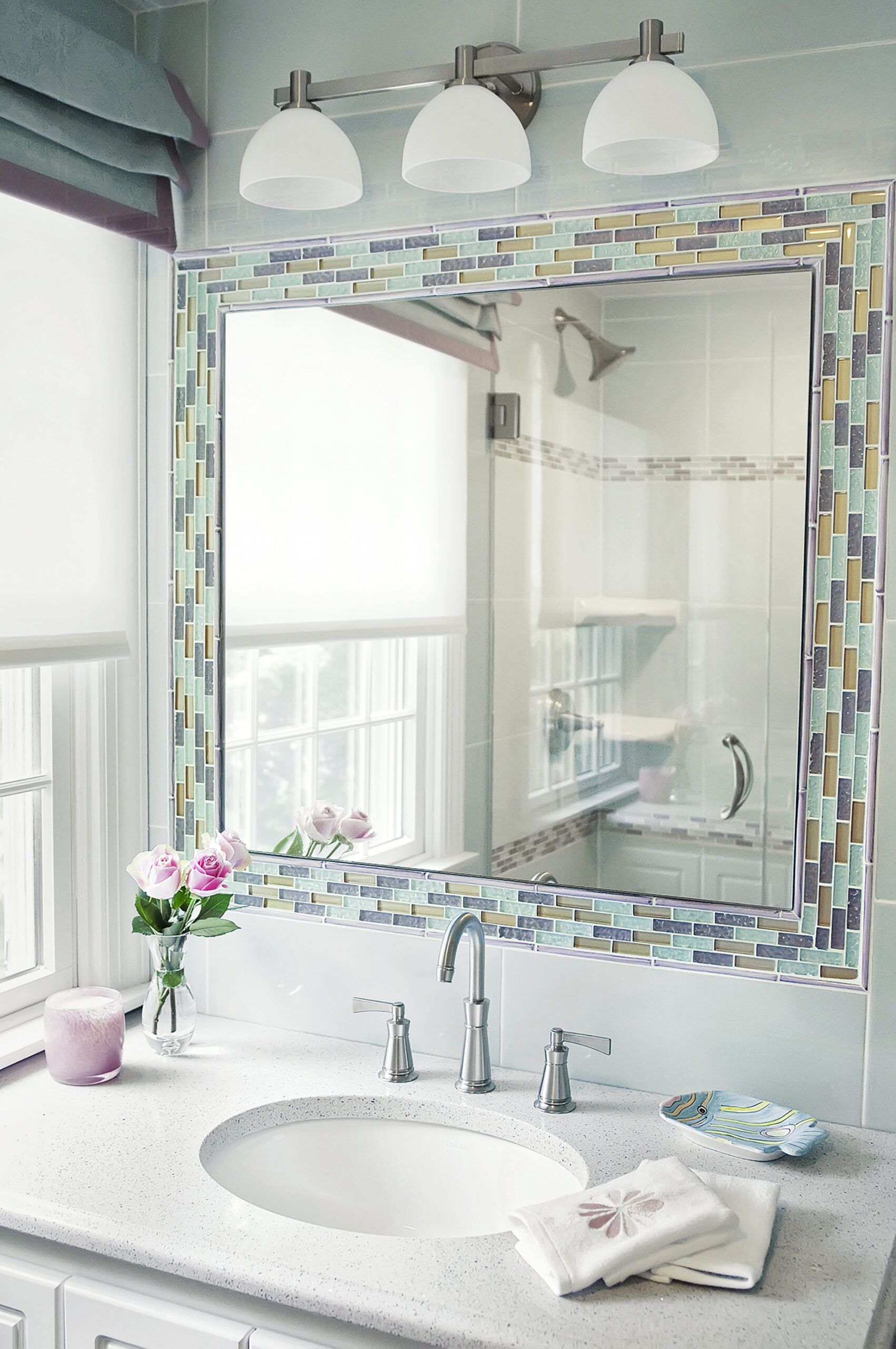 Looking for a special effect, but want to stay on budget? Plan a few pretty touches. Here, a band of mosaic frames a mirror and rings the shower wall, adding a hit of glamour to simple field tile.
Designer: Interiors by Nanette
Shown: Vetro Splash Beige Brick, $28 per sq. ft.; Merola Tile NY for dealers
Where—and How—to Use It: Fireplace Feature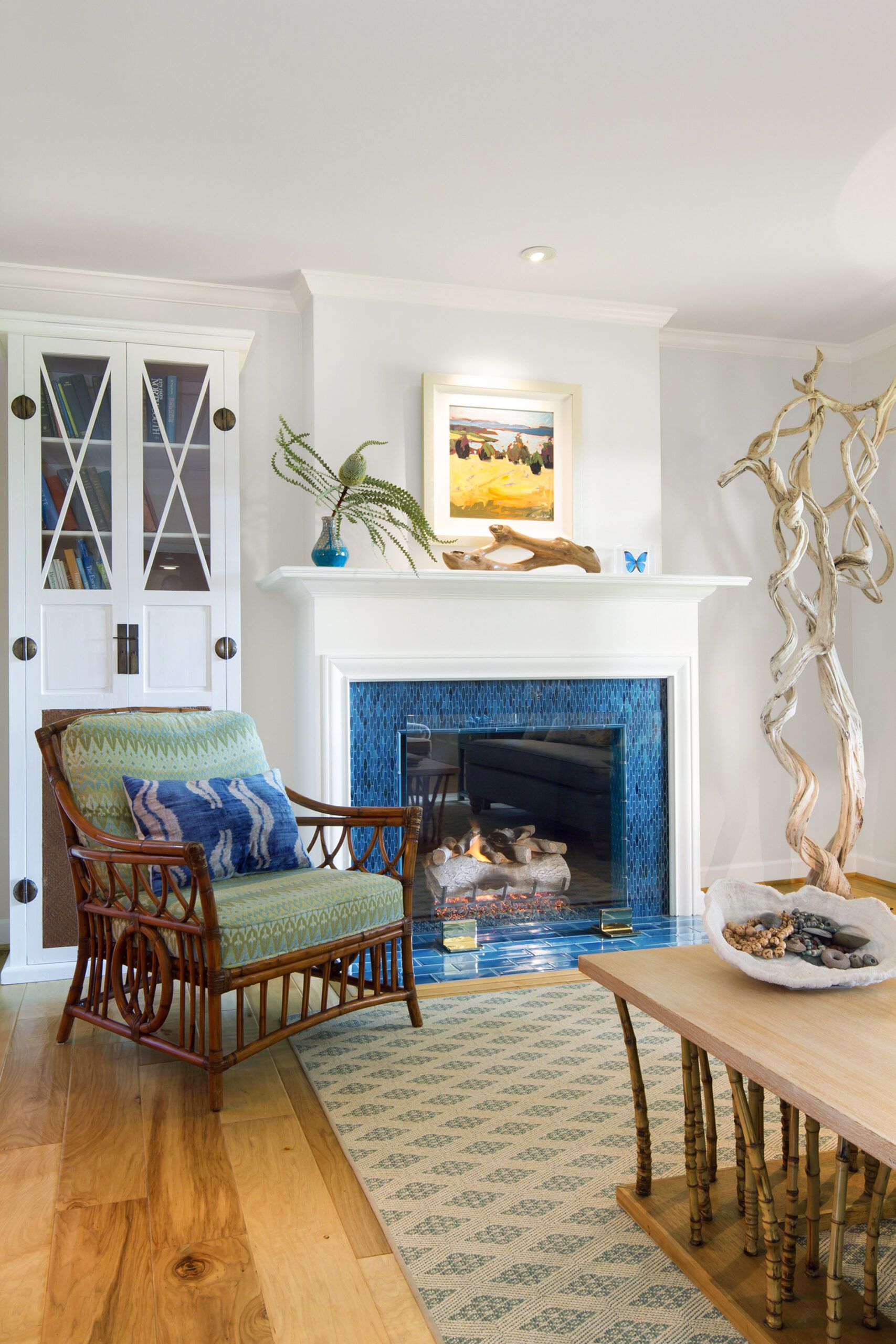 Since glass mosaic is fire-resistant, it offers a stylish alternative to brick or stone around a firebox. Here, a lustrous cobalt blue makes the surround glow.
Designer: Charmean Neithart Interiors
Shown: Rainbow Glass in Pisces 8, $33 per sq. ft.; Lunada Bay Tile for dealers
Where—and How—to Use It: Faux Effect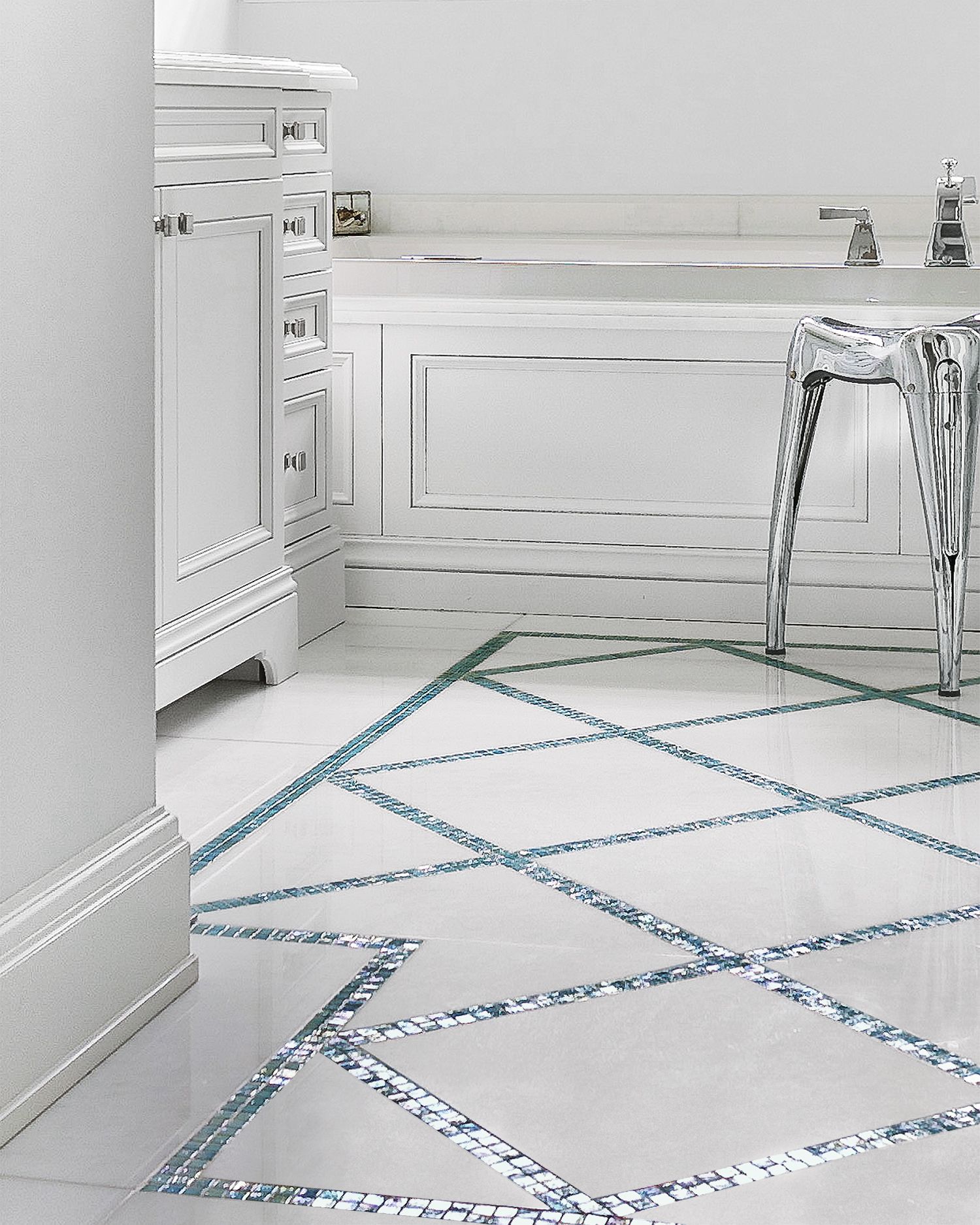 Iridescent aquamarine-colored glass mosaic crisscrosses a marble bathroom floor, staying within its own blue border to mimic an area rug.
Designer: Interieurs Finnie Ward
Shown: Sicis Iridium 5/8 by 5/8 in Hyacinth, $30 per sq. ft.; Artistic Tile and Stone
Where—and How—to Use It: Light and Texture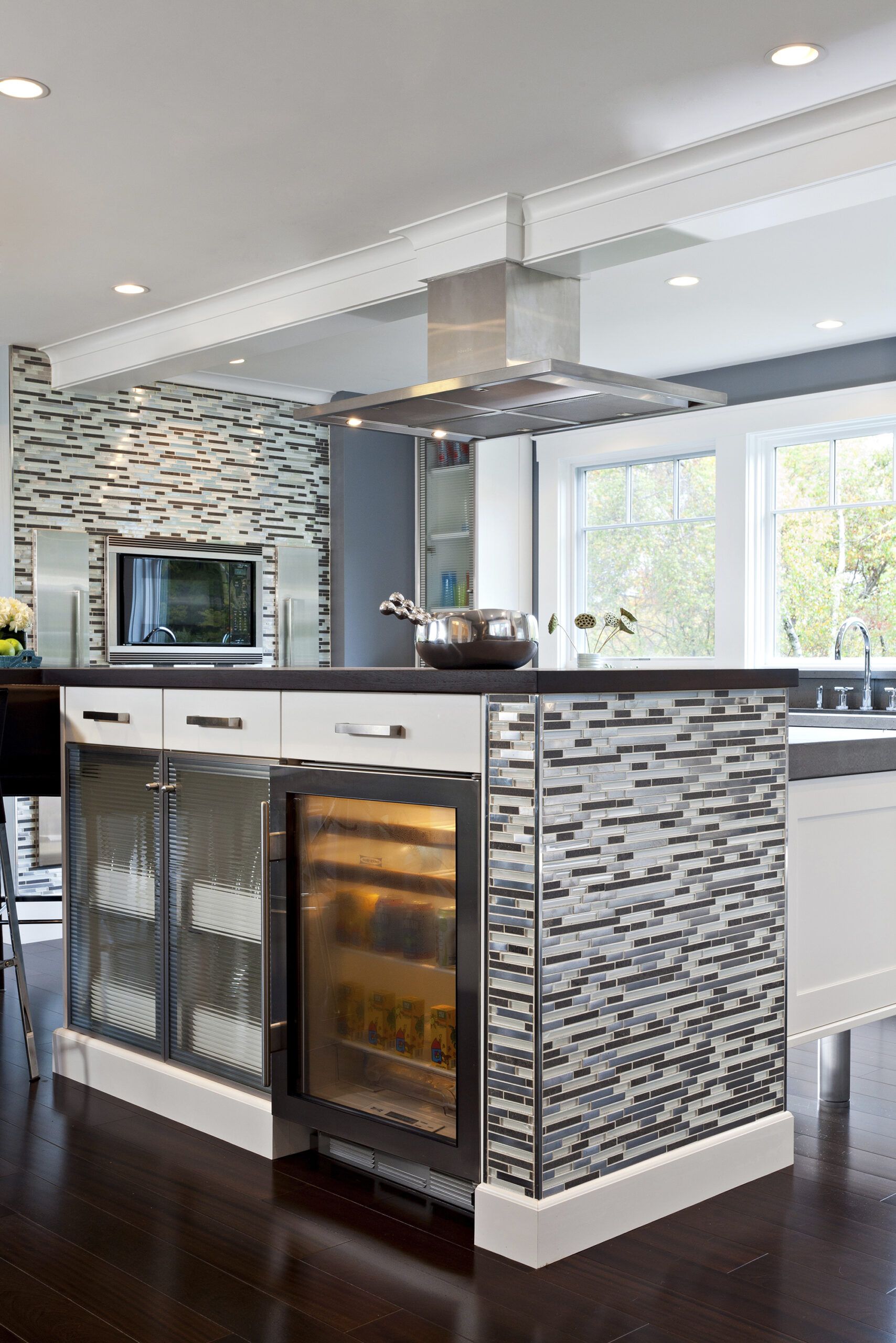 A mixed mosaic of glass and stone on the island's sides and the oven wall brings warmth and unity to a large kitchen.
Similar to shown: Venatino Mixed Material (Stone and Glass) Mosaic Random Wall Tile, $11 per sq. ft.; Lowe's
Take It Outside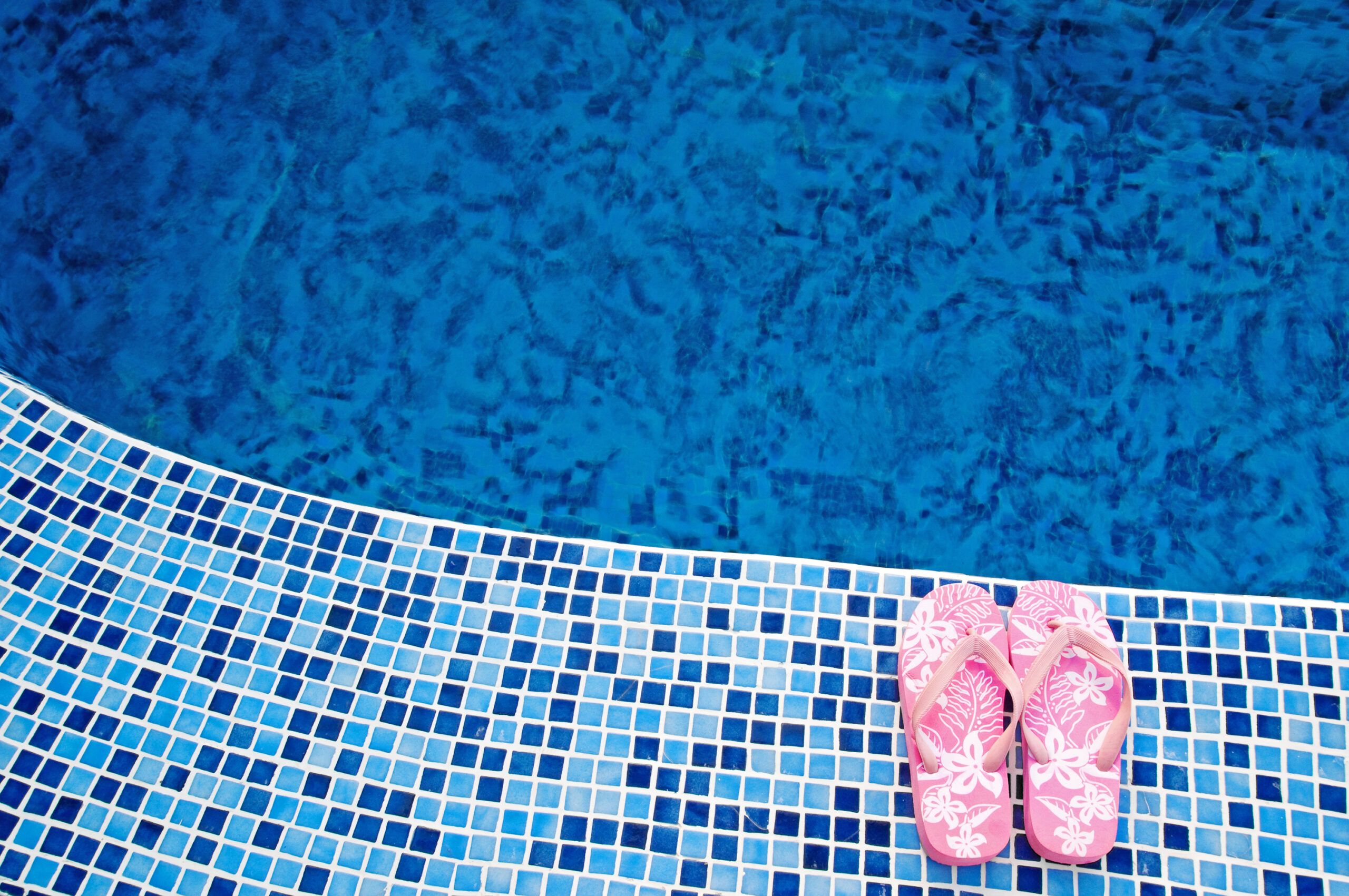 Waterproof, fade-proof, and stain-proof, glass mosaic tile can be a natural for outdoor use, too—consider it for a kitchen backsplash or for trim along the edge of a pool or spa. Since it's even more prone to expansion and contraction with changes in humidity and temperature than other tile materials, be sure the one you choose is made for exterior use. The manufacturer's data sheet will list how it rates for water absorption and frost and scratch resistance.
Installation Tips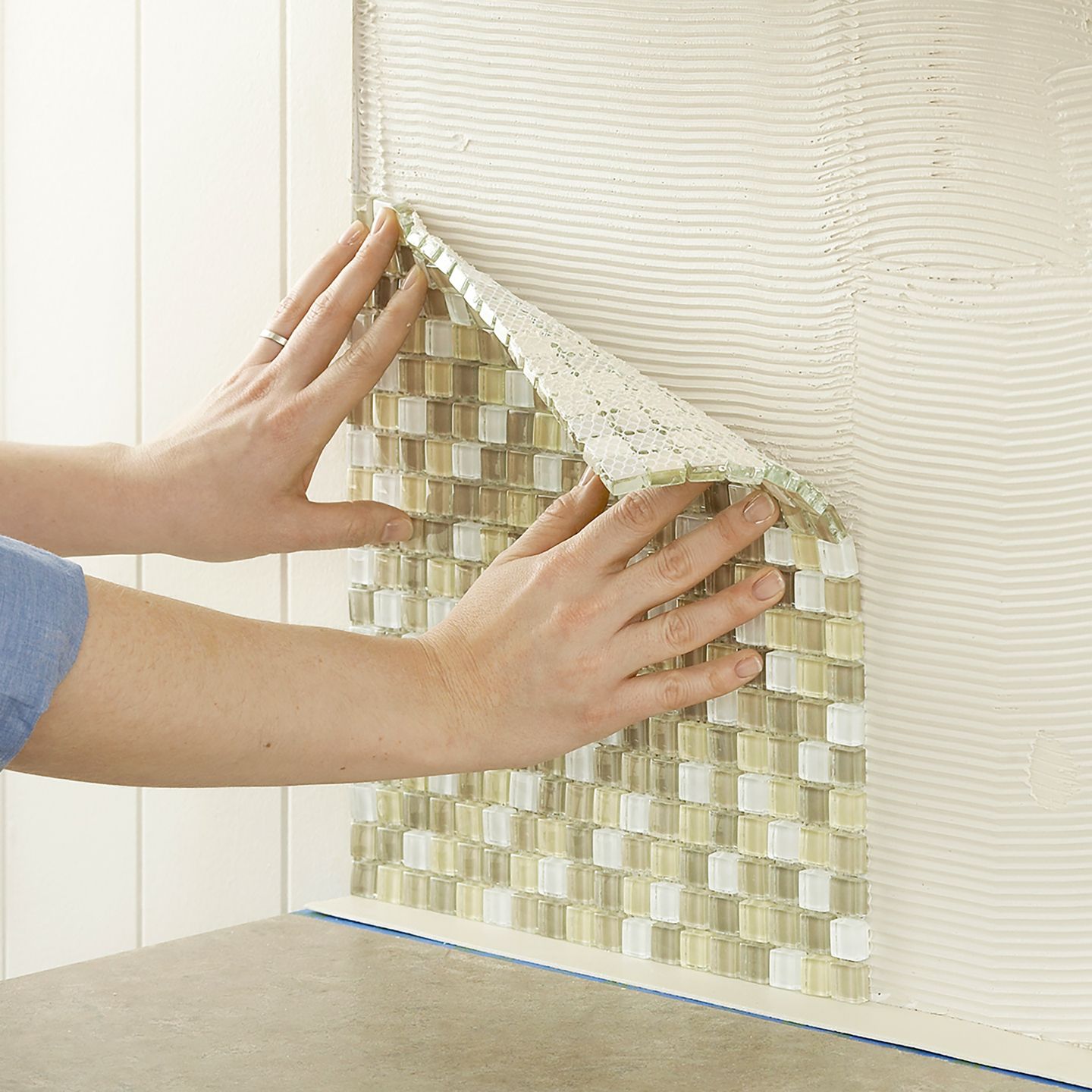 Layout: "The surface should be perfect for mosaic tile, freshly skim-coated and perfectly plumb," says New York–based tile contractor Joe Cangialosi. "Glass mosaic should be laid out dry first, to see where the sheets come together and to avoid visible cuts." To cut glass mosaics, use a glass-tile nipper ($13; The Home Depot) or a wet saw for the cleanest line.
Anti-fracture membrane: As a room settles, shifting can cause any tiles to crack; in addition, glass expands and contracts more than other types of tile, and mosaics have more grout lines. So it's key to install an anti-fracture membrane—mesh sandwiched between two layers of a rubbery waterproof compound—before applying a bed of thinset for the tile.
Connective material: Mesh is the most common, joining tiles in back to form sheets about 12 inches square for quicker installation and easier, more accurate adjustments. Paper facing is used for some transparent glass tiles, so there is no backing that shows through once the tile is installed.
Thinset, grout, etc.: Pick one brand of setting materials and use the entire system so you are covered by the company's warranties. If your tile lacks an opaque coating in back—a superthin layer baked on during manufacturing—use white thinset and smooth the trowel marks before installing the mosaic sheets, so no gaps are visible.
Shown: After thinset is troweled on, place the mosaic sheets along the surface. Slightly rock the sheet up and down to help the tile settle into place.
Removing a Paper Facing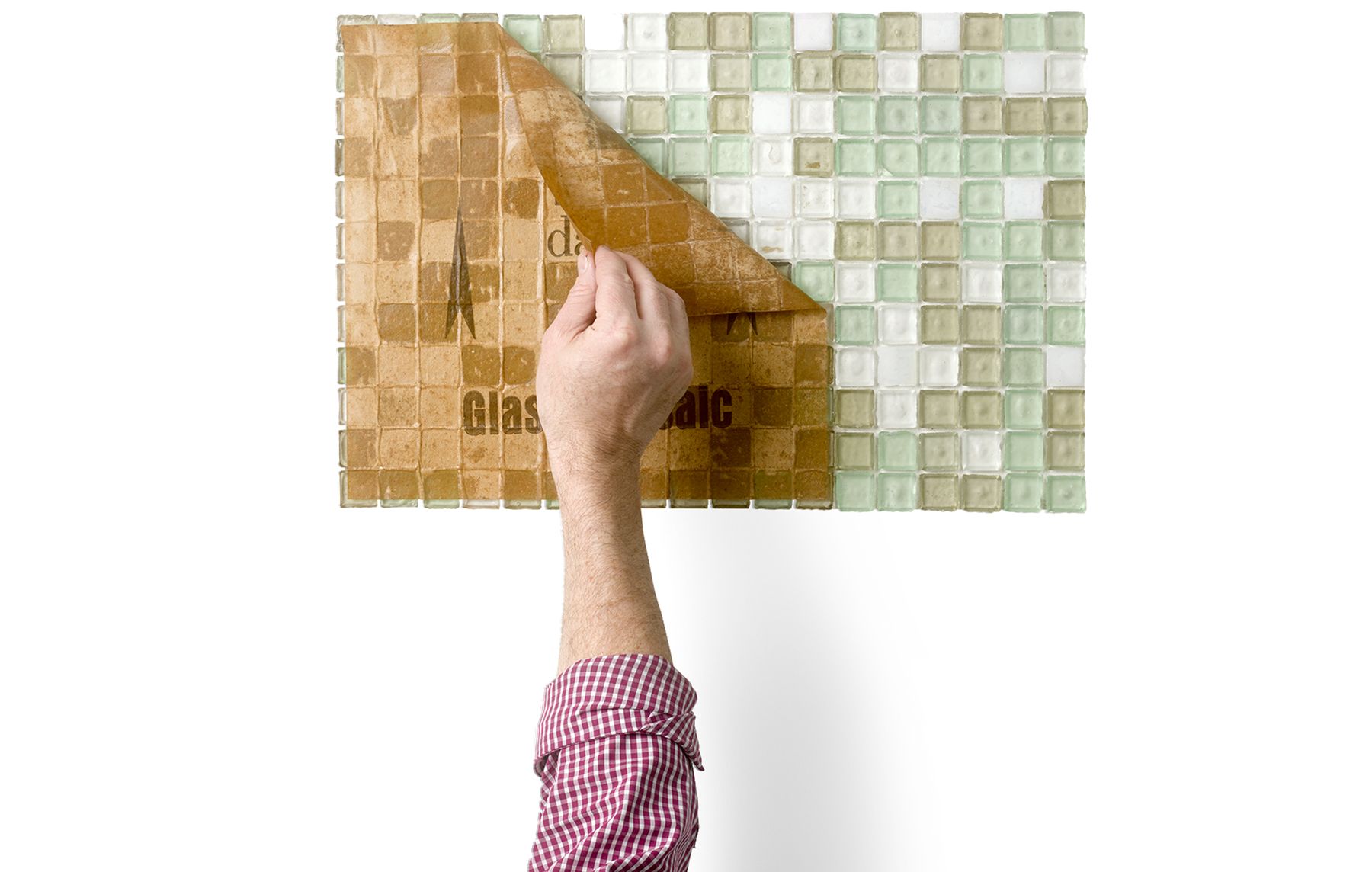 To remove a paper facing, blot it with a wet sponge several times; wait 5 to 10 minutes. Once the paper is saturated, peel it off at an angle, starting from an upper corner.
Watch a step-by-step video on How to Install a Glass Mosaic Tile Backsplash
Shown: Egyptian Glass in Peridot Fusion, $42 per sq. ft.; daltile for dealers
Care and Maintenance
Though the upkeep is easy, give glass mosaic tile regular attention to keep it sparkling.
Cleaning: Use a soft, lint-free cloth and a nonabrasive cleaner to keep glass gleaming. With cementitious grout, avoid acid-based cleansers, including distilled white vinegar, which can weaken it. In areas like the shower, mineral buildup may necessitate more frequent cleaning.
Sealing: Use a Teflon grout sealant on cementitious grout after installation, as soon as it's dry, to protect it from water and stains. You will still need to stay on top of spills and spatters, like tomato sauce on a backsplash, and wipe them up before they have a chance to seep in. If you choose a glass-and-stone blend, ask if the stone is presealed, or if you need to take care of that after installation, then reseal periodically.
Repairs: As with any tile, if it gets cracked or broken, you can tape off and remove the damaged pieces and setting materials to patch in new tile. Keep a carton of extra mosaic sheets on hand to ensure that the replacements match perfectly. This is especially crucial if the repair involves plumbing behind the tile surface and requires removing and then replacing several square feet of mosaic.