Baby on the Way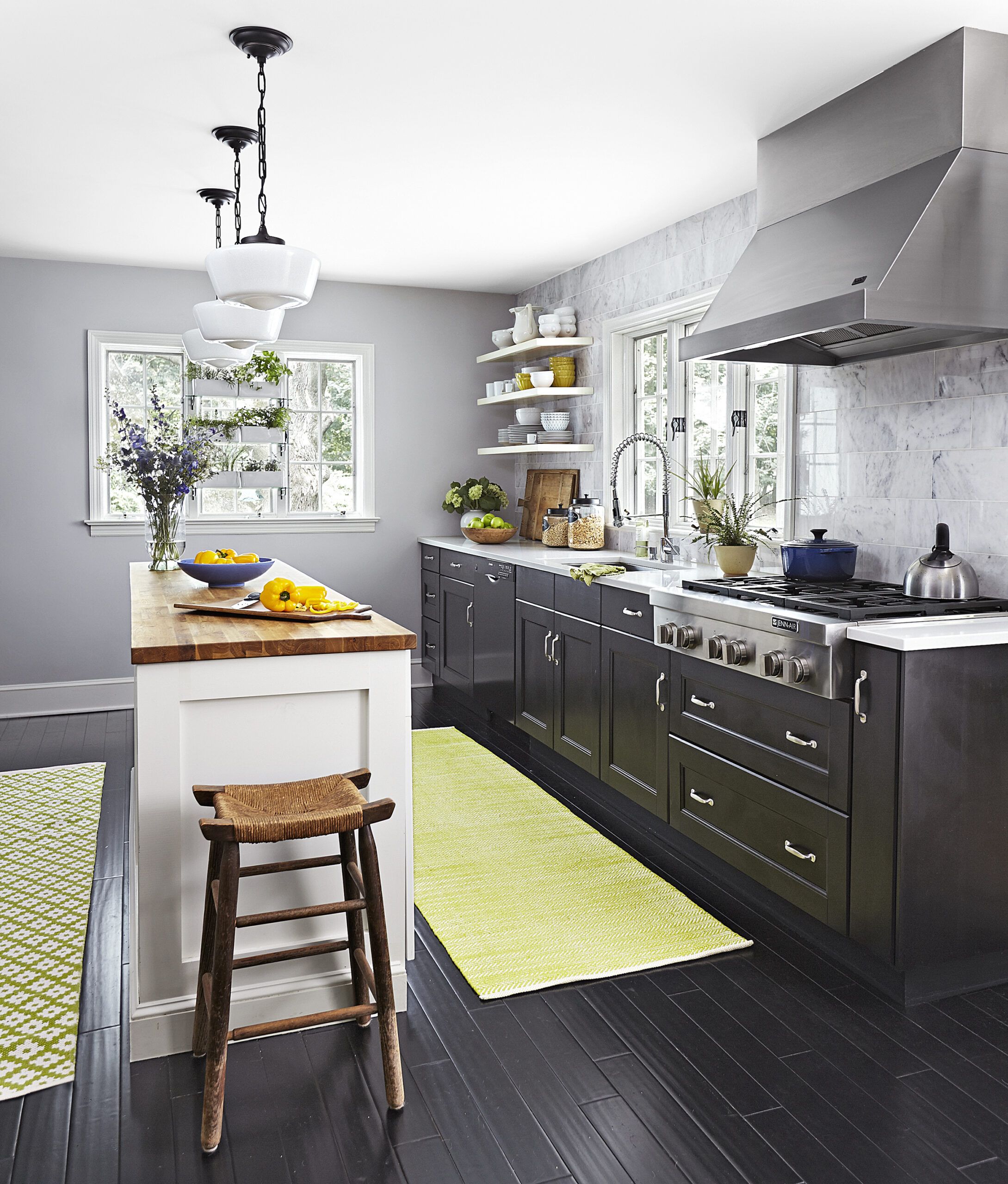 Kitchens are naturally clutter prone, only becoming more so when kids enter the picture. As parents-to-be, Ryerson and Meredith McBride Kipp had just that in mind when designing the new cook space in their 1805 farmhouse in Franklin Lakes, New Jersey. "We needed more storage to hide baby gear, plus prep surfaces resistant to chips and stains," Meredith says. "And that '60s decor had to go!"
Shown: The couple's objective: "a sleek, durable kitchen that still conveyed historical style." So they chose a classic black, white, and gray scheme with recessed-panel cabinets, a white quartz countertop, and Carrara marble tiles covering the sink wall. (The couple saved by installing the marble tile wall themselves.) Shelves of potted herbs in the window bring the outside in.
Before: That '60s Look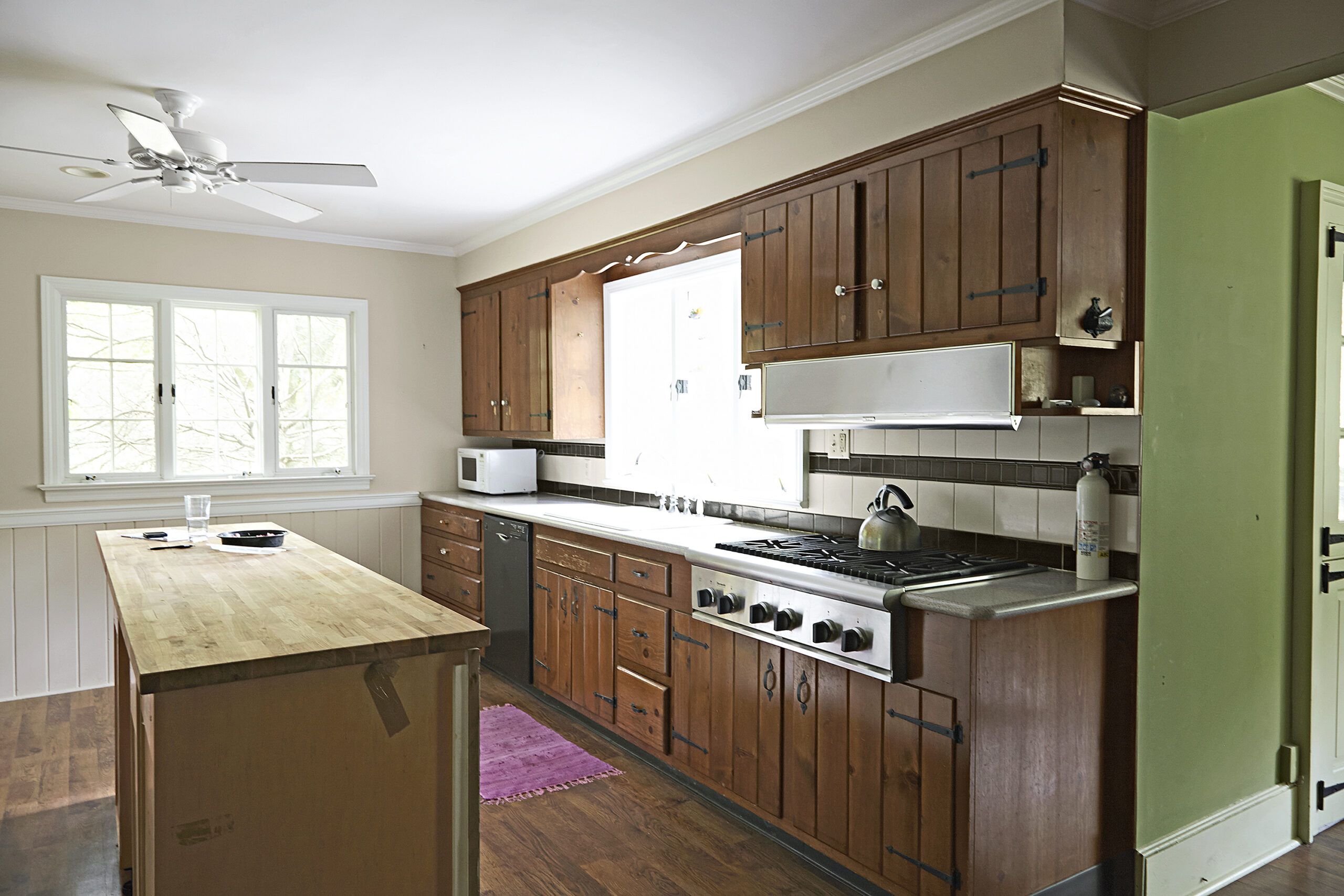 In the old kitchen, dark cabinets set a gloomy mood and offered little space for both storage and prep.
After: Island Time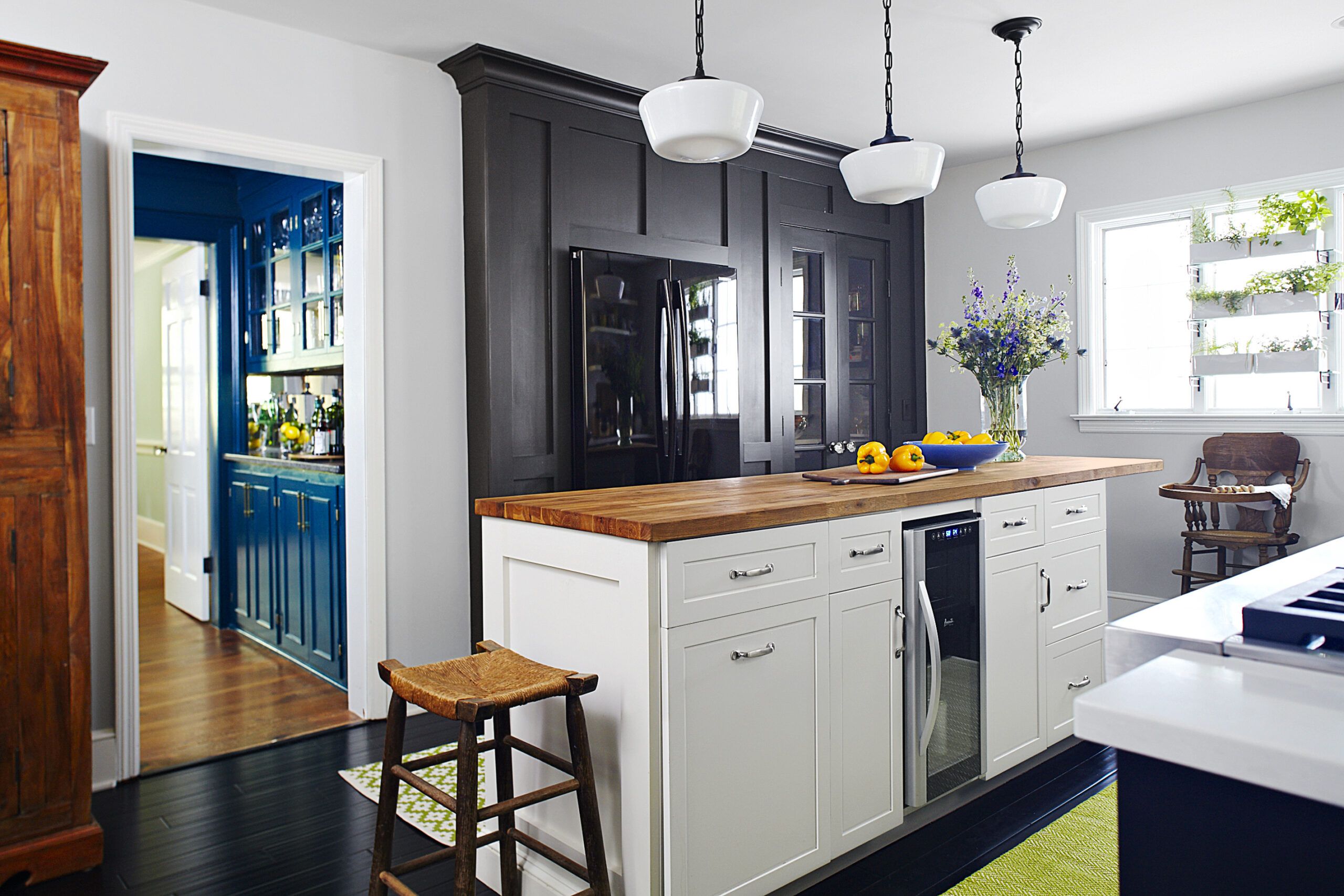 To begin, the Kipps annexed part of the adjacent den to create a walk-in dry-goods pantry with room for the refrigerator alongside it. That opened up space for an island, which replaced cabinets lost in the reconfigured layout and doubled the work surface. To improve flow, they carved out a second passageway to the living room.
The sink wall turned out to be no easy fix. "We found confusing framing, plus defunct water and gas lines and two electrical boxes buried in that exterior wall," Ryerson says. "So we ended up gutting the whole mess."
Shown: Doors in the island hide recycling and trash, while drawers hold everyday utensils and cookware. A wine fridge stands ready to dispense party drinks or a quick beverage. An overhang at one end of the butcher-block countertop offers just the spot to grab a bite or make a shopping list. Adding chains and ceiling caps turned flush-mounted fixtures into pendants.
Black cabinets, butcher block: IKEA. Island cabinets: Green Demolitions. Quartz countertop: Caesarstone. Marble backsplash (sink wall): Metropolitan Tile & Stone. Flooring: Lumber Liquidators. Cooktop: Jenn-Air. Range hood: BEST. Custom vent cover: Broadhurst Sheet Metal Works; 973-427-3972. Refrigerator: Samsung. Sink: VIGO. Faucet: Danze. Wine fridge: Avanti.
At Your Service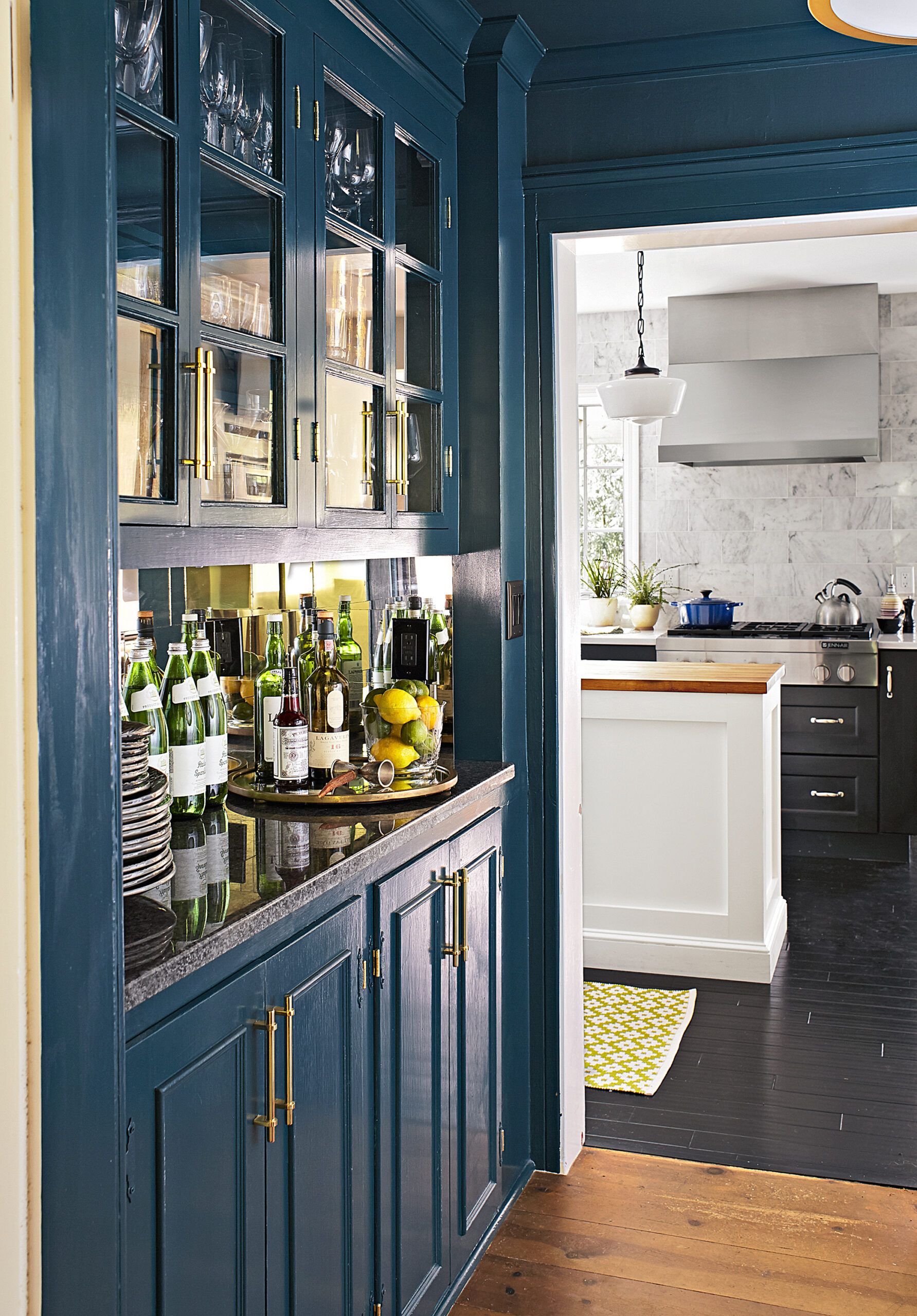 Sleek black bamboo replaced the worn laminate flooring; an easy-care quartz countertop and childproof latches went in on all the flat-panel cabinet doors—a must with daughter Kate, now 2.
And when company comes over? The butler's pantry turned drinks station is ready to serve. To accommodate tall bottles on the counter, the Kipps took out a soffit to raise the upper cabinets by about 6 inches. To beef up the vintage originals, they rebuilt the boxes with ¾-inch plywood and reused the original doors. Undercabinet lighting adds a glamorous glow to the bar at night.
Special Effects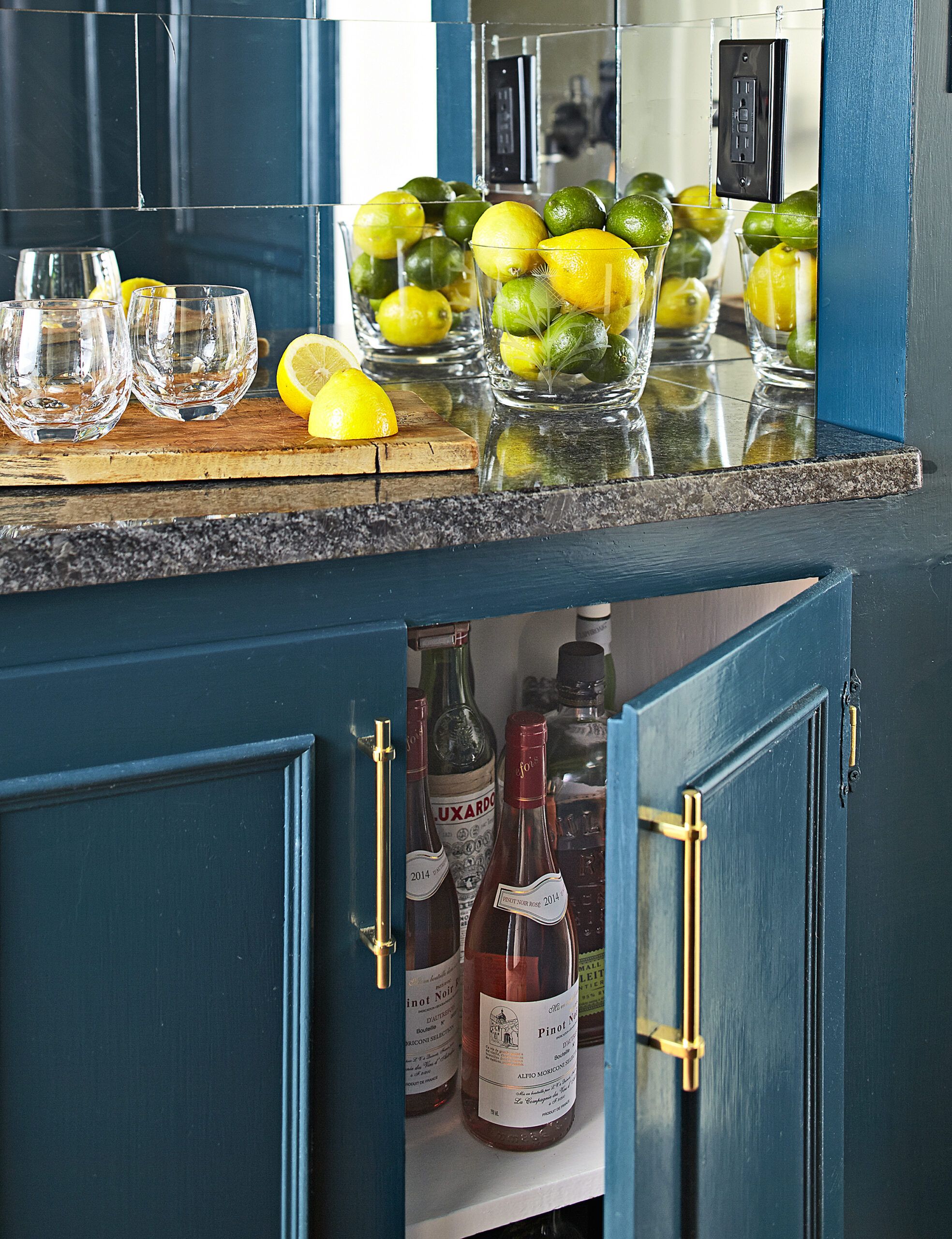 The existing lower cabinets in the butler's pantry got a fresh look with wall-frame molding, and brass pulls and hinges. The entire alcove received a sophisticated makeover with a couple of coats of deep-teal paint, a black granite countertop, and a backsplash lined with mirrored tiles.
Homeowner Tip
From Meredith McBride Kipp, Franklin Lakes, NJ:
"Treat butcher block with mineral oil. Inexpensive and easy to find at both grocery and drug stores, it's also completely food safe."
Smart Storage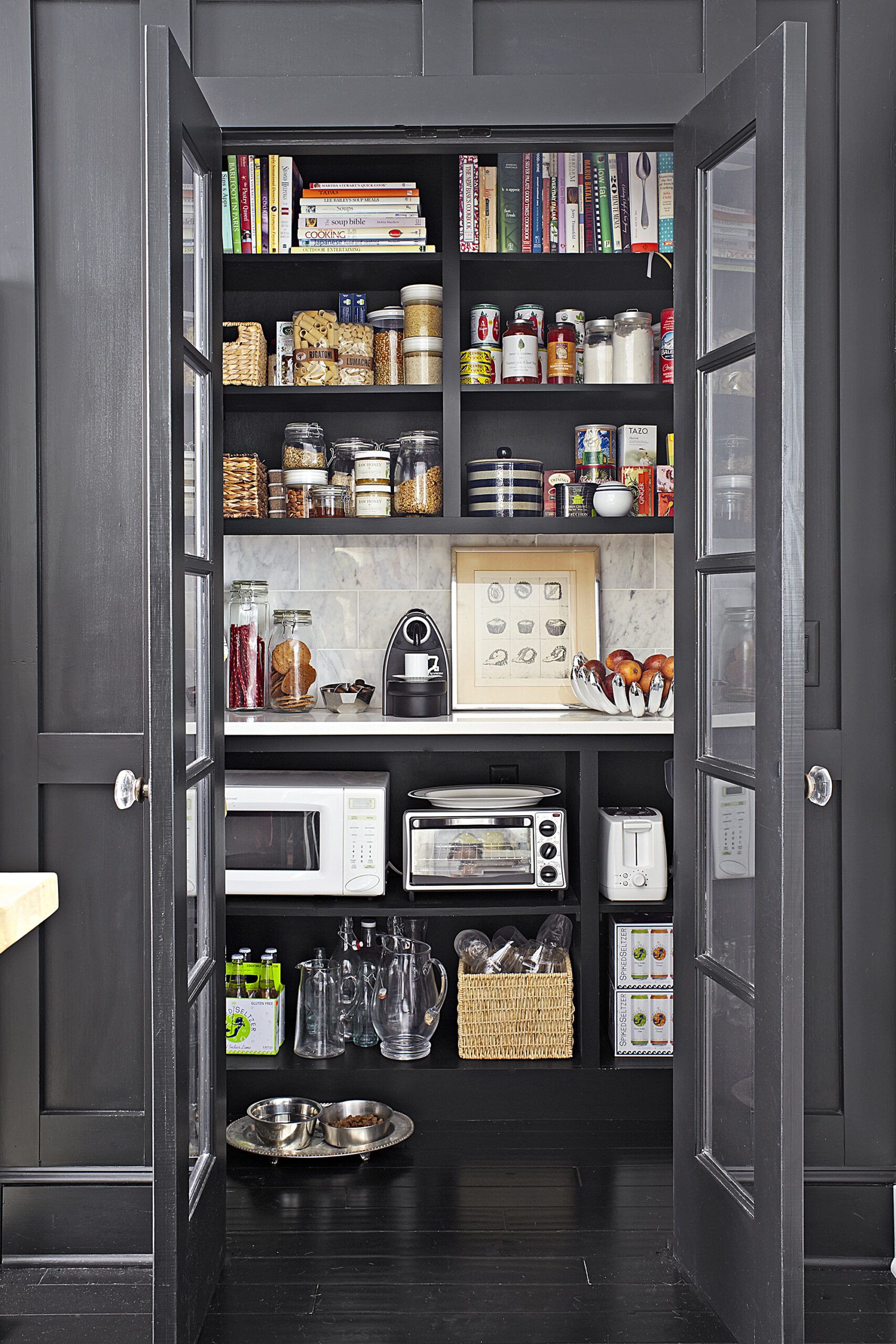 Small appliances can encroach on needed counter space, so the Kipps created deep pantry shelves with electrical outlets for the microwave and toaster oven. French doors with glass knobs lighten up the pantry closet and ensure it stays orderly, since it's on display.
Floating Shelves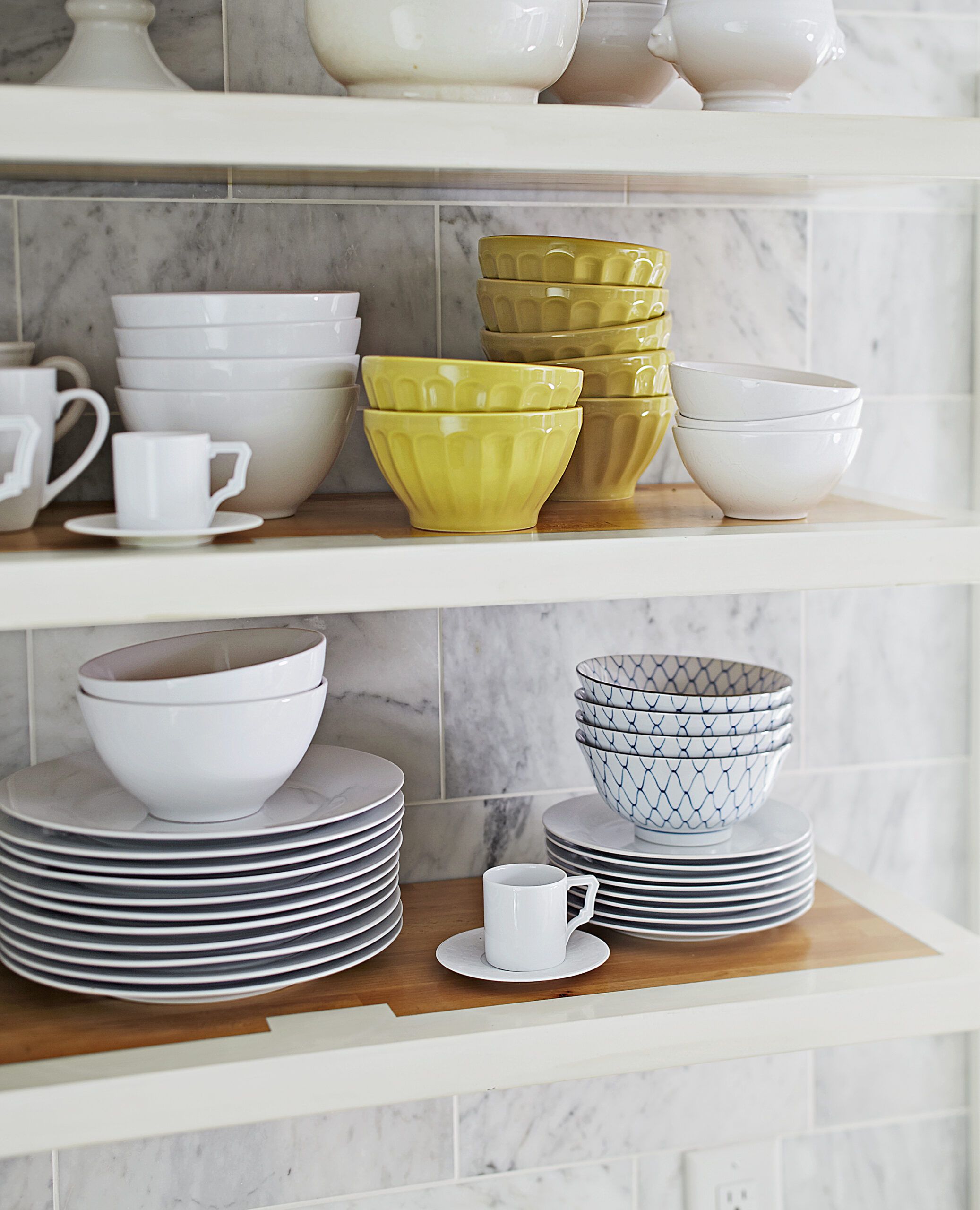 Wanting open shelves that showed no brackets but could handle a lot of weight—like stacks of day-to-day dishes—Ryerson anchored them to the wall studs using ¾-inch black pipe and epoxy. "These shelves can now hold an adult," says Meredith.
Paint (shelf edges): Benjamin Moore's White Dove
Worth the Effort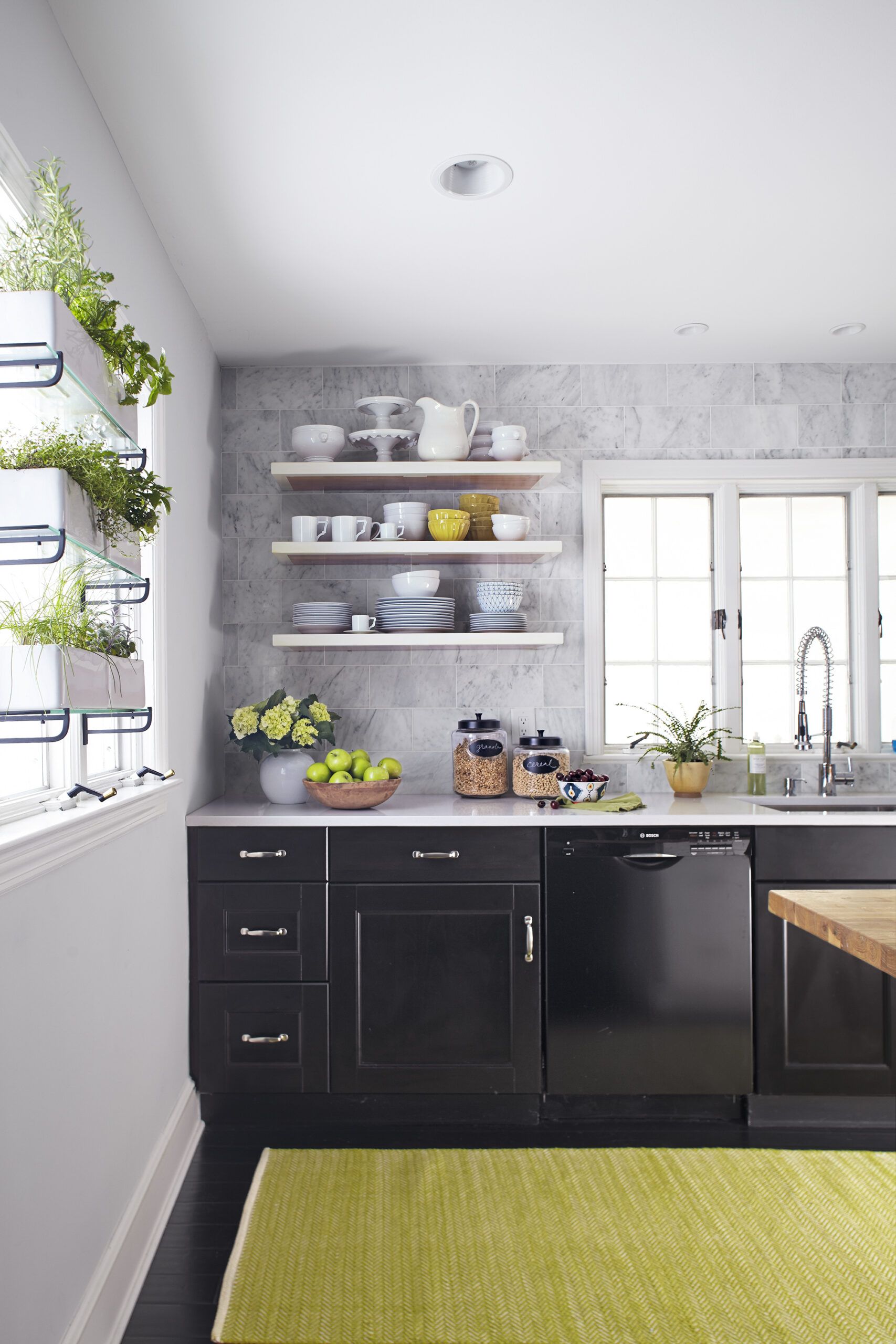 The DIY duo handled about a third of the reno work themselves, and they love the results. "We entertain a lot, and our friends and family have children, so a big, open, clutter-free kitchen is vital," says Meredith. "Now ours is perfect!"
Architect: Pam Watt McBride, William G. Brown Architects, Wyckoff, NJ; 201-805-3825
Contractor: Mark Ferrero; 201-926-3967
The Kipps' Kitchen—Before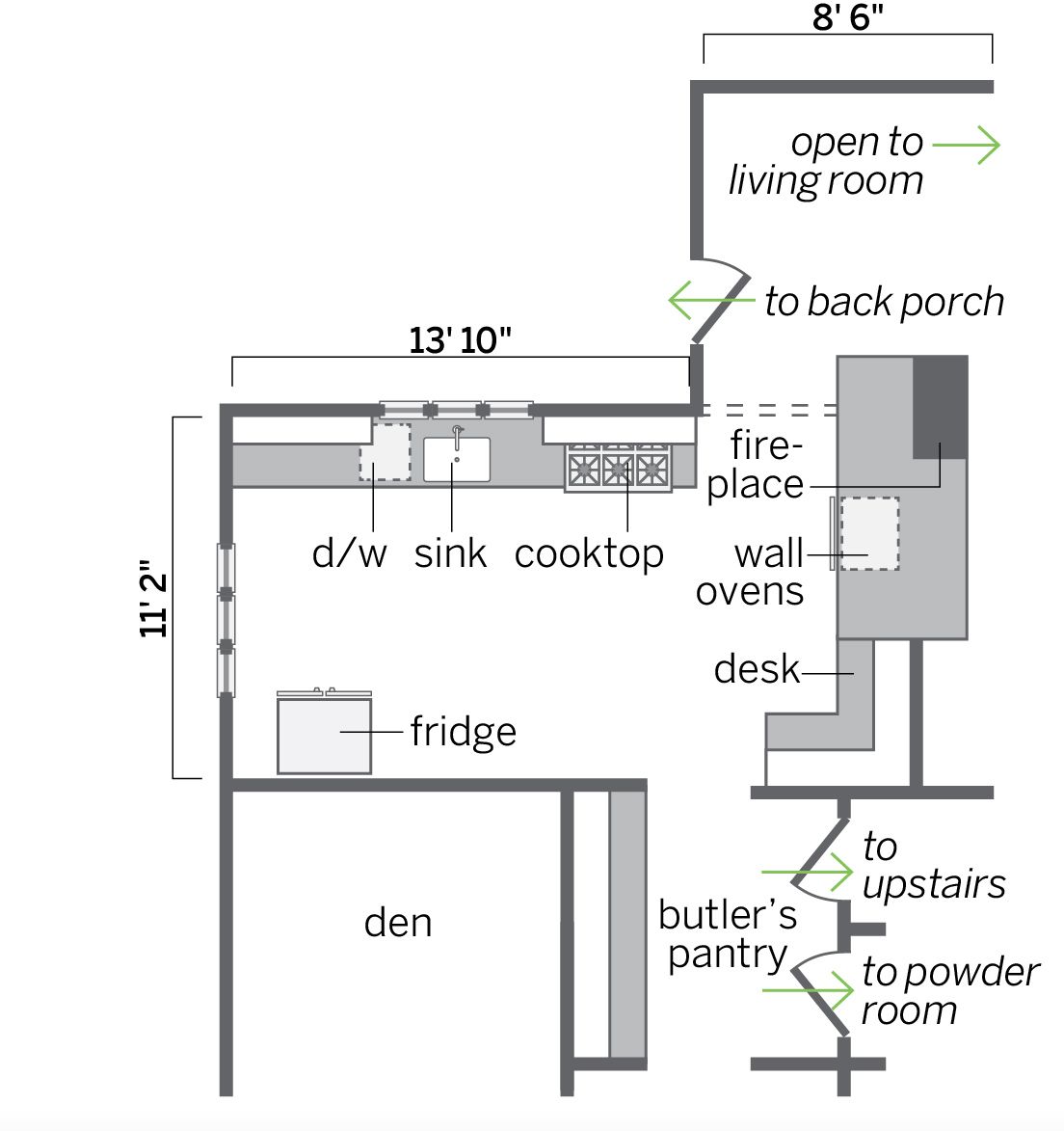 The kitchen was short on food storage and prep space, and the fridge wasn't integrated.
The Kipps' Kitchen—After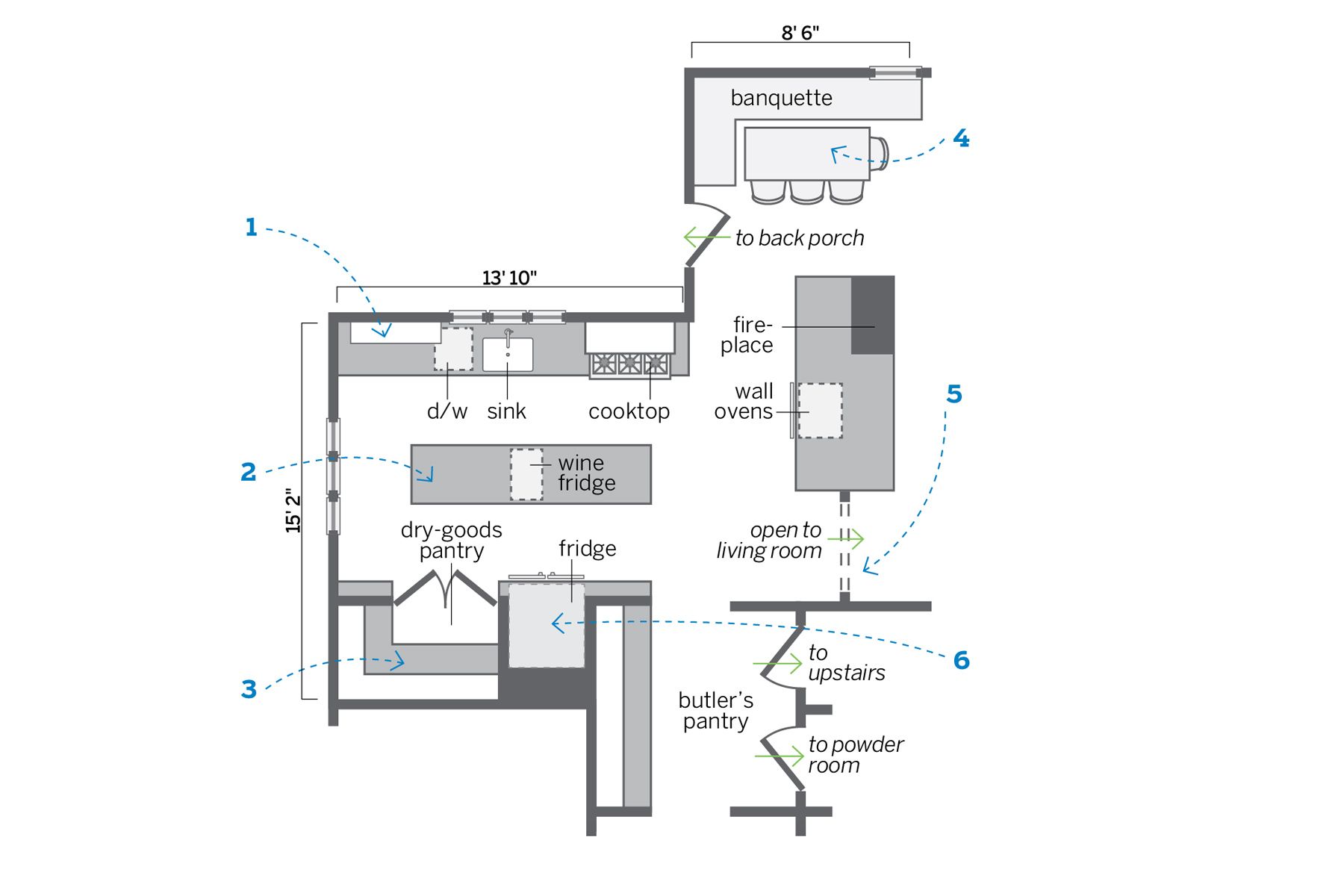 By bumping 4 feet into the den, the kitchen gained a second pantry, a place to tuck in the fridge, and an island—for a total of 277 square feet. Here's how they did it:
1. Removed upper cabinets; added floating shelves. Kept dishwasher, sink, and cooktop locations the same.
2. Put in a storage island with a wine fridge and an overhang at one end for casual dining.
3. Bumped 4 feet into the den to create a walk-in dry-goods pantry lined with shelves.
4. Built an L-shaped banquette that seats up to eight to provide a sit-down dining area near the kitchen.
5. Removed a built-in desk to create a second passageway for better circulation between kitchen and living room.
6. Shifted the refrigerator and recessed it between the two pantries to free up floor space.