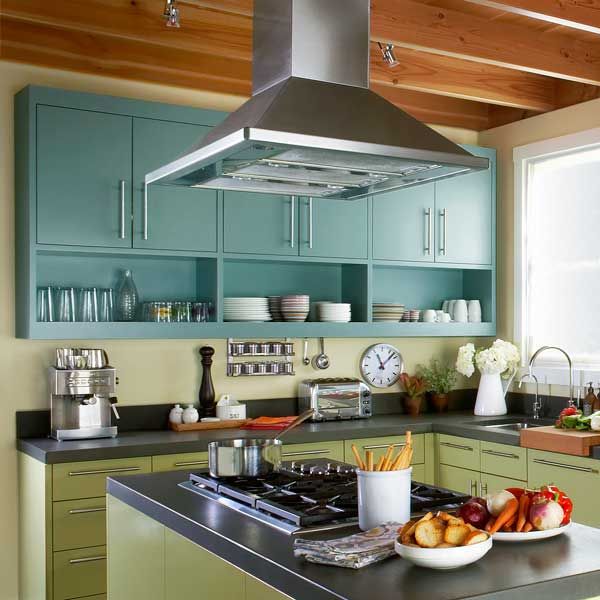 If you've ever forgotten to turn on the fan while trying to get a nice crust on a pan full of fish fillets, you're familiar with the importance of good ventilation. In addition to whisking away unwanted odors, vent hoods remove moisture and grease, as well as carbon monoxide, nitrogen dioxide, and other pollutants that cooking can release into the air.
While these by-products may simply sound like nuisances, studies have shown that cooking without proper ventilation is one cause of poor indoor air quality that can negatively affect your health. That's why the International Residential Code and the U.S. Environmental Protection Agency strongly advise homeowners to install a vent hood to capture, filter, and then expel the fumes outside through a vent in an exterior wall or on the roof.
As houses have become better insulated, and with high-BTU commercial-style ranges ever more popular, proper ventilation has become an increasingly important issue. Picking the right hood requires you to take into account the power of your range and the way you use it, but it's also a huge style decision for your kitchen.
The good news is that while range hoods are a practical necessity, the variety of available looks has never been better; whether you prefer front-and-center utilitarian stainless steel, an insert completely camouflaged behind cabinetry, an artisan-made copper chimney, or a modernist glass unit, there's a style that will work for you.
Shown: Hung from the ceiling, a stainless-steel chimney-style hood vents steam and odors from an island cooktop. Shown: Zephyr 36-inch Napoli island hood, starting at about $2,010; zephyronline.com for dealers.
Vent Hood Vitals: Important Questions to Ask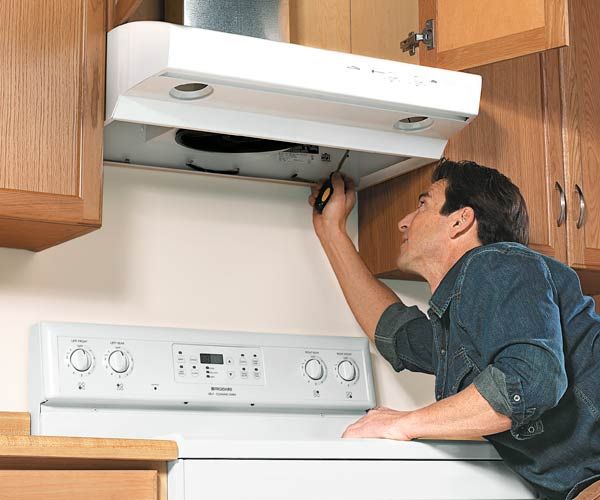 How much does it cost?
Prices vary, depending on size, functionality, and style. A basic 30-inch hood can be had for under $100, while a custom copper 60-inch ceiling-mount chimney-style one can go for more than $20,000. Most mid-priced, high-style hoods can be found for around $1,000.
DIY or hire a pro?
Swapping in a similar unit is a simple job that requires basic electrical work to connect the wiring. To install a new vent, you'll need to cut holes in the walls, ceiling, or roof and run ductwork. This could be a project for an experienced DIYer or might best be left to a contractor.
Where to buy?
You can order a variety of hoods online or find them at appliance retailers, showrooms, restaurant suppliers, and home centers.
What about maintenance?
Experts recommend cleaning the filters after every 30 hours of use—typically every month or two—to keep a hood running smoothly.
Vent Hood Parts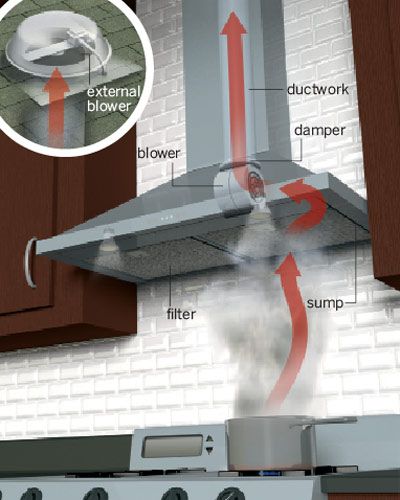 Sump: Inverted area along the rim that collects fumes until the fan can exhaust them. Should be at least 1 inch deep.
Filter: Traps grease before it can reach the blower and ductwork. Metal mesh filters are the most common type.
Blower: Also called a fan, it moves air into the duct. Most blowers are in the hood, but they can be located "in-line," up in the duct itself, or externally (inset), where the duct terminates.
Ductwork: The metal channel that leads the air out to the exhaust vent.
Damper: Prevents outside air from coming in when the fan is off.
Note: Vent hoods over 400 cfm require that makeup air be brought in from the outside when the unit is on. This air can come from a supply fan, a motorized damper, or another source.
Under The Hood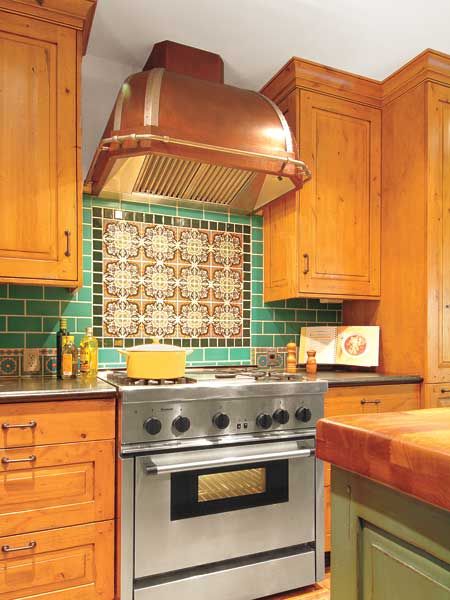 Ducted or not? Venting the polluted air out of your house is always preferable to recirculating it. Recirculating fans use charcoal filters to clean the air and release it back into the house when ducting to the outside is impossible, as in many apartment buildings. When it's the only option, a recirculating hood is better than no ventilation at all, but this type should never be used with pro-style appliances.
Think about power. The amount of air the blower moves, measured in cubic feet per minute (cfm), is one of the biggest factors to consider when choosing a hood. The larger and more powerful your burners are, the more cfm you need. (See "Calculator" section below.)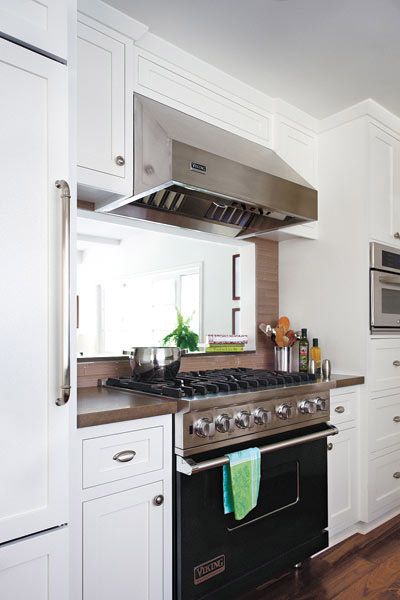 Measure it right. A hood should be at least as wide as your cooking surface, but an extra 3 inches on each side can improve efficiency. The depth should cover the back burners and at least half of the front burners, though full coverage is best. The height at which the hood hangs above your cooktop will also affect how well it works.
A wall- or island-mount should be about 30 inches above the cooktop, while undercabinet-mounts, typically less powerful and with smaller ducts, should sit 24 inches above the range. If you want to place the hood higher than recommended, you'll need a wider unit—extending 3 inches beyond both sides of the range—and more cfm to compensate. (See "Calculator" section right below.)
Consider the noise. To avoid a loud fan, check the sones (1 sone equals about 40 decibels). A fan set on low typically comes in under 1 sone, but high speeds can jump to 10 or more. For a quieter unit, look for one that's 6 or fewer sones at 600 cfm.
Calculator: How Many CFM Do You Need?
Range Hood Height, Surface Area Considerations & More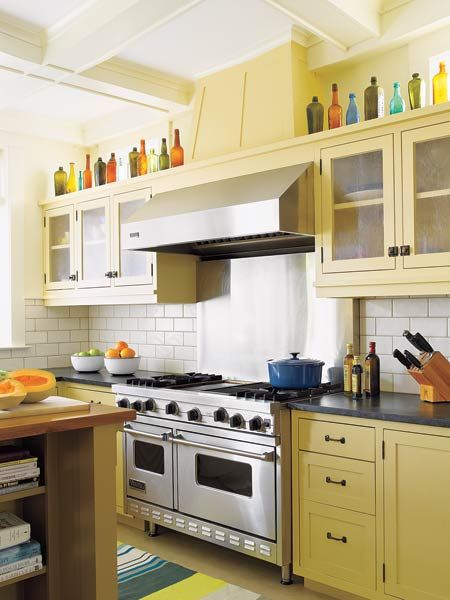 As a general rule, calculate 100 cfm for every linear foot of cooking surface. For pro-style ranges, the formula is 100 cfm for every 10,000 BTUs your appliance puts out. Other factors come into play as well. For every 3 inches a hood exceeds the suggested height above the cooktop, add 100 cfm.
Island hoods require extra cfm to compensate for cross drafts, so calculate 150 cfm per linear foot for conventional cooktops; add an additional 100 cfm to the pro-range estimate. And consider how you cook. If you rarely grill or stir-fry at high heat, you may be able to go with a lower cfm than recommended.
Extra Features That May (or May Not) be Worth Your Money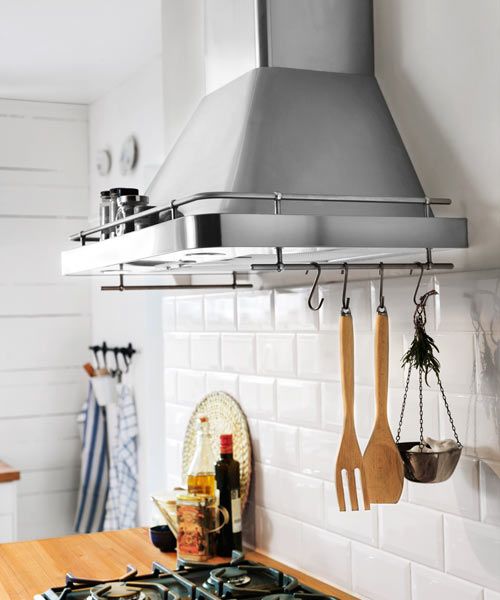 Multiple fan speeds: You really need only high and low settings. If you've got all the burners cranked up, you'll need more ventilation. But a low speed should suffice when using just one or two pans over medium heat.
Heat sensors: By sensing temperature changes, some units will turn on the fan automatically or adjust to the appropriate speed.
Remote control: This can be useful for hard-to-reach island hoods or for times when you're (briefly) away from the stove.
Exhaust timers: After a certain period of time, typically 10 minutes, this feature shuts off the blower automatically—handy if you want to leave the fan running to take care of lingering odors.
Built-in storage: Short on cabinet and counter space? Look for a hood with rails around the front and sides for hanging small pans and utensils. Certain designs also create a shallow shelf at the edge of the hood.
Shown: A built-in shelf and rails hold spices and utensils. IKEA Datid hood, about $680; ikea.com for stores
Range Hood Venting Options
Undercabinet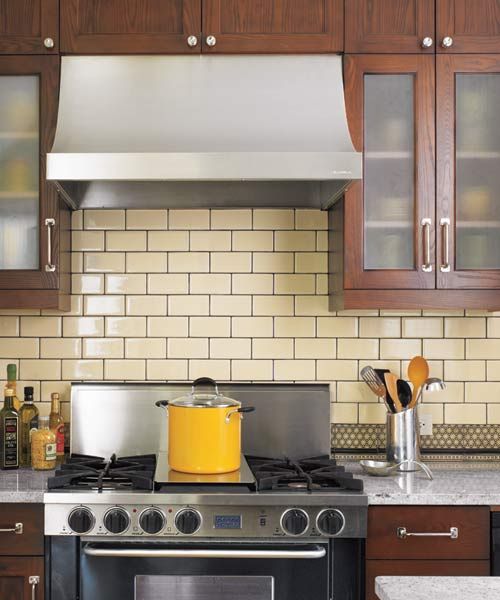 This type takes up less visual space but cuts down on storage if the duct runs through the upper cabinet. Some hoods sit flush below cabinetry and slide out when needed. Vented combination microwave hoods can also save space, though they're less powerful.
Shown: Vent-A-Hood 30-inch DAH18, about $1,910; ventahood.com
Wall-Mount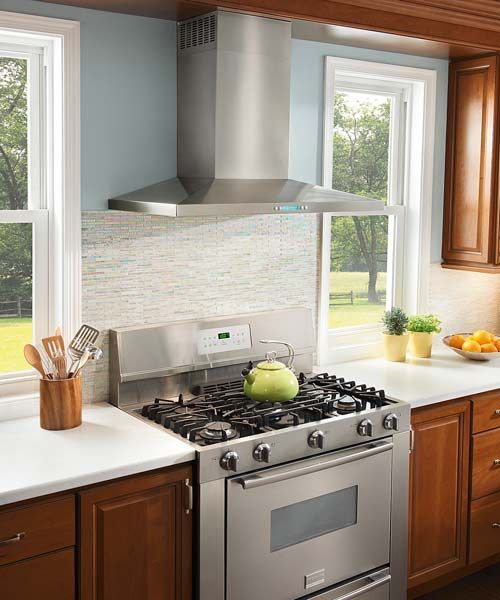 A stainless-steel unit with exposed ductwork plays well with the commercial-kitchen look, but there are options in a variety of shapes and materials to suit any style.
Shown: Frigidaire 36-inch Gallery Premier Wall-Mount Hood, about $1,150; frigidaire.com for dealers
Ceiling-Mount Chimney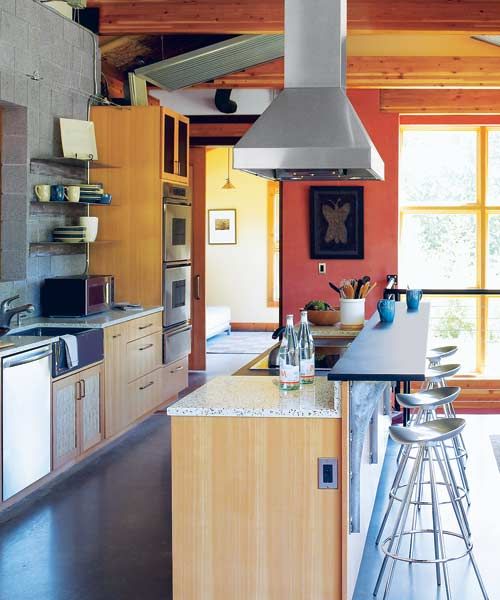 Usually hung above an island, it can be pricey because it's finished on all sides. Be aware: Since these units tend to be more powerful, some with internal blowers can be very noisy.
Similar to shown: Wolf 36-inch Pro Island Hood, about $2,990; subzero-wolf.com for showrooms
Downdraft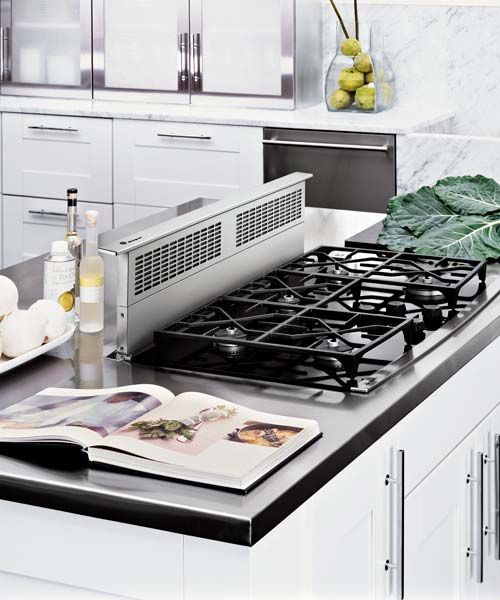 This slim vent retracts behind the cooktop into the cabinet below. This type tends to be less effective since it pulls rising smoke down, though some climb to 14 inches for better capture. Not recommended for high-BTU cooktops.
Shown: GE Monogram 36-inch Telescopic Downdraft, about $1,400; monogram.com for showrooms
Perimetric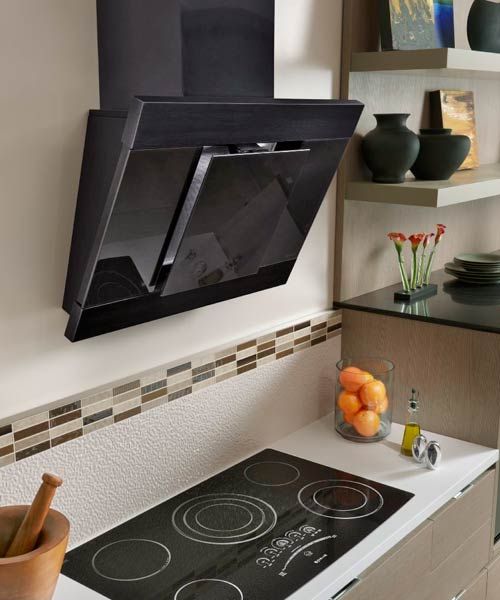 This wall-hung type pulls in smoke through vents around its edges instead of the center, like a traditional hood. It's ideal for those who want more headroom, but it isn't powerful enough to handle a 90,000-plus BTU range.
Shown: Jenn-Air 32-inch Glass Collection Perimetric Hood, about $2,000; jennair.com for showrooms
Vent Hood Insert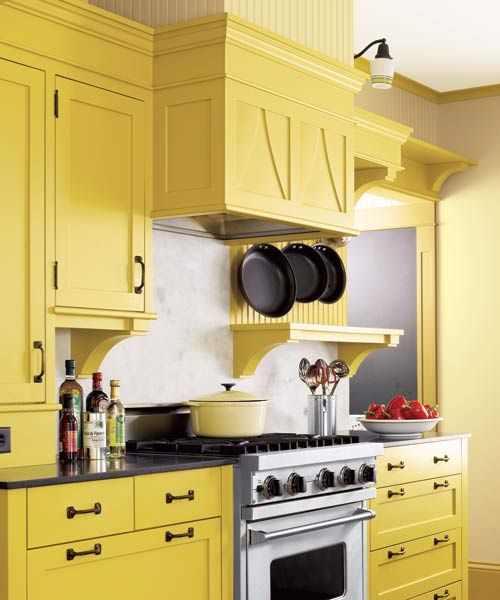 The guts of the hood—a power pack and a liner—can be hidden inside cabinetry or a custom-built hood.
Similar to shown: Best PIK33 power pack, $1,350, and liner L3336S, about $230; bestrangehoods.com for dealers
Vent Hood Ducts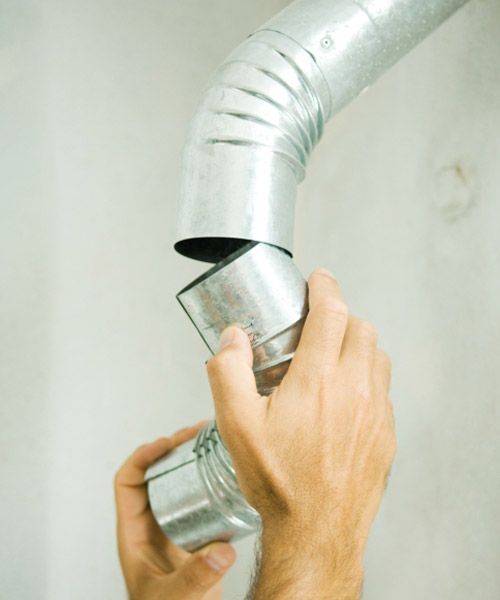 When it comes to ductwork, it's a numbers game.
•Choose ducting that's the same size as or slightly larger than the vent opening. The more powerful the hood, the larger the duct. For instance, a typical 400-cfm unit requires a 6-inch duct, while a 1,200-cfm model needs a 10- to 12-inch duct.
•For the best airflow, use smooth galvanized metal ducting rather than flexible or corrugated ducting. Seal joints with duct-joint mastic tape.
•Keep duct runs as straight and short as possible. Use gradual, 45-degree turns rather than 90-degree ones. The fewer the turns, the more efficient the system will be.
Noise Reduction Solutions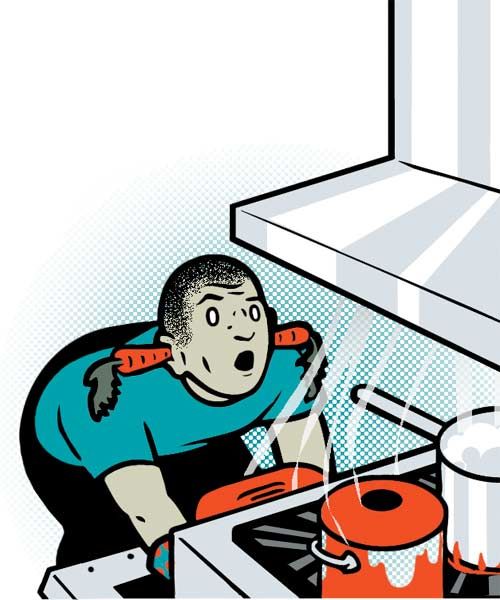 Worried that a powerful vent hood's overly loud whir will make it impossible to carry on a conversation while you cook? Although most blowers are in the hood, they can also be placed in different locations to help reduce the noise. You just need to specify where you want it before you order the hood.
In-line blowers are located in the ductwork in the wall or between the ceiling joists. But while the fan noise may be less noticeable, you still might hear the duct vibrating.
A better option is a remote or external blower, where the fan is placed on the roof or exterior wall with the exhaust vent. Placing the blower outside can also free up cabinet space.
Vent Hood Filter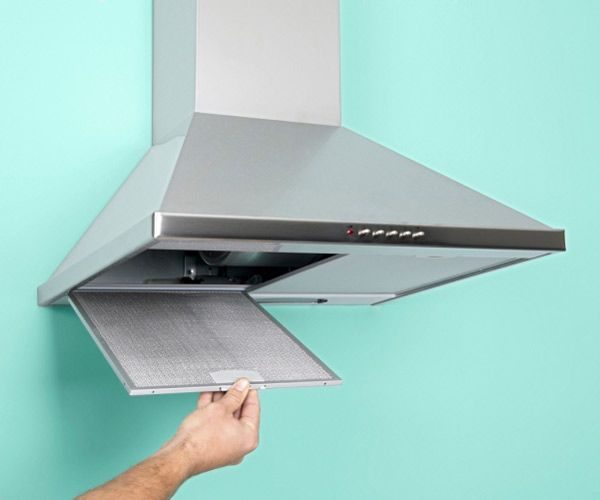 Here's how the three most common grease-trapping methods work
•Metal mesh
The hood's blower pulls smoke and vapors through several layers of aluminum or stainless-steel mesh, catching the grease. These removable filters should be cleaned regularly—most can be popped into the dishwasher—to prevent clogs that can slow airflow.
•Baffles
More common on high-cfm, commercial-style units, these slat-style metal filters force the smoke to change direction several times, causing grease droplets to separate from the air and drip down into a tray that can be taken out for cleaning.
•Centrifugal traps
In place of a filter, centrifugal force within the blower liquefies grease, which is collected in a tray or a cup that's removable for cleaning. With no filters to slow the airflow, these hoods require fewer cfm than those with baffles or mesh to do the same job, often with less noise.
Hood Vent Styles
Traditional Mantel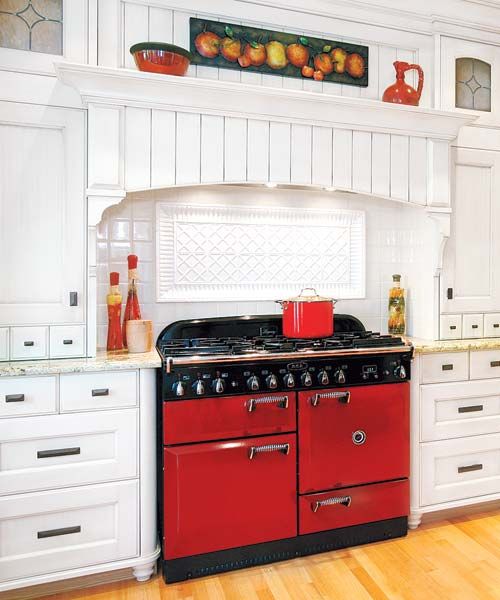 Building a custom wood mantel allows you to recess a hood insert above the stove, making it nearly invisible. The mantel can be as simple or as ornate as you want, either blending with your cabinetry or becoming an eye-catching focal point. This white-painted version with vertical planks subtly frames a showstopping cherry-red stove and creates a display shelf.
Similar to shown: Air-Pro unfinished 60-inch red oak detachable-front mantel hood, about $1,580; kitchensource.com
Luxe Metalwork
A swath of copper warms up stainless appliances. Paired with distressed painted cabinets, this sculptural, bell-shaped hood adds even more old-world charm.
Similar to shown: RangeCraft Miami copper hood, about $8,500; rangecraft.com
Warm Modern Look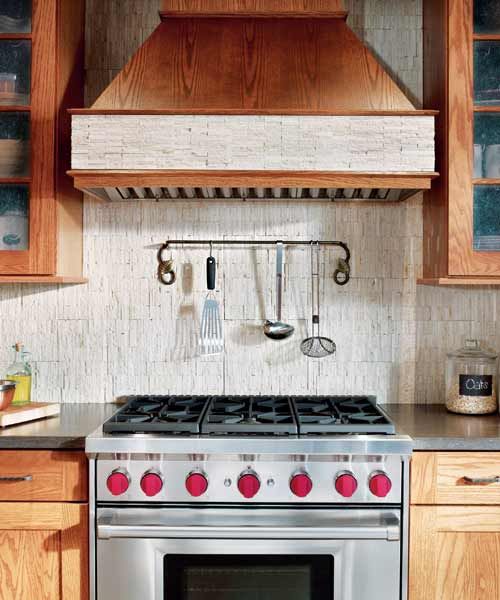 Another option for a totally seamless appearance: Have your cabinetmaker create a coordinating custom hood and fit it with an insert. Pairing the wood grain with a band of stone mosaic tile trim—running horizontally, not vertically as it does on the backsplash—gives this kitchen sleek, earthy appeal.
Shown: Wolf Pro Hood Liner, starting at about $1,080; subzero-wolf.com for showrooms
Cottage Character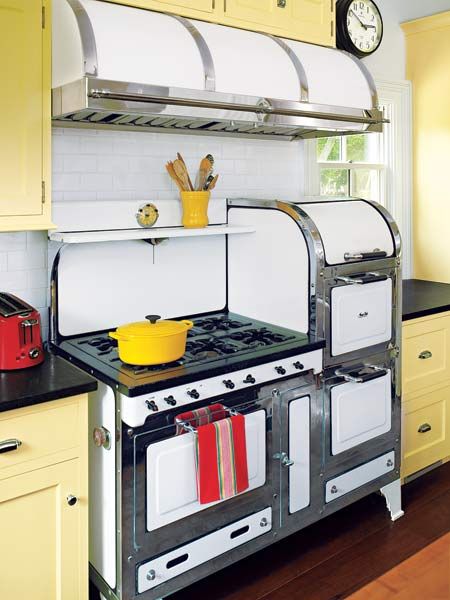 A matching hood tops off this vintage stove. With a white finish and chrome straps and accents, it works perfectly with the circa 1930s Magic Chef range.
Shown: Modern-Aire customized PS-26 hood, starting at about $3,200; modernaire.com