Add Color to the Party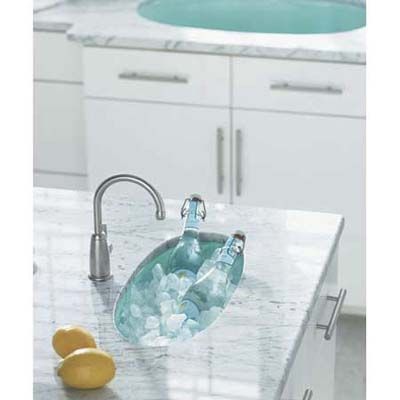 The Iron/Tones prep sink from Kohler combines cast iron with an ultra-thick layer of enamel for resistance to staining, scratching, and chipping. Measuring 22-inch by 12-inch, the self-rimming basin is 5-inches deep. Available in a variety of colors. Shown in Vapor green.
Over the Moon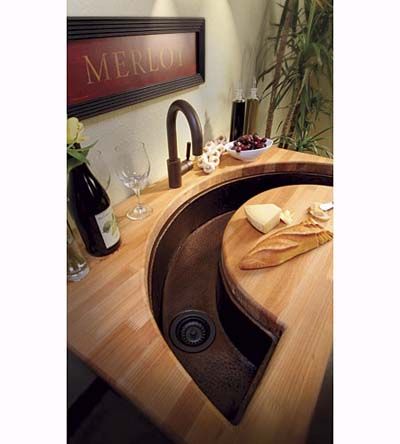 Native Trails Luna sink, the newest addition to their line of hand hammered recycled copper basins, has a distinctive curved shape and dual drain design. The arched form creates prep space in front of the sink, perfect for chopping veggies or mixing cocktails. Both sides can be filled with ice to keep beverages cool and accessible. The basin measures 38-inch by 18-inch, with trough dimensions 6-inch wide and 6-inch deep. Available in Antique or Brushed Nickel finish.
Delicate Details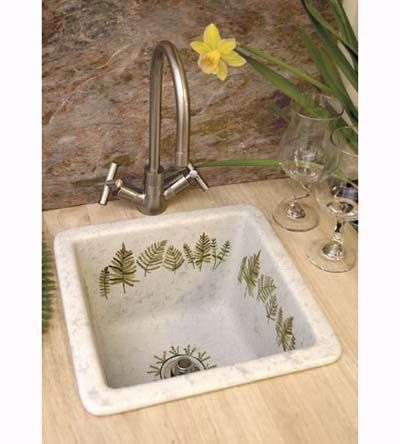 Purple Sage Collections brings nature inside with its Fern sink, which features hand-painted fern fronds in organic green on faux gray stone porcelain. It measures 12 ½-inch square and is 7-inches deep.
Terrific Trough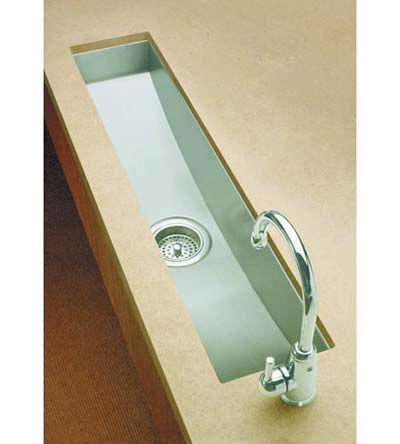 Featuring a distinctive square shape, Kohler's Undertone trough sink can be seamlessly integrated into any workspace or countertop. For bar-or island-use, the sinks come in four sizes ranging from 22-inches to 60-inches. Ideal for prep and cleanup when entertaining, wire drying racks and storage baskets are included.
Modern Style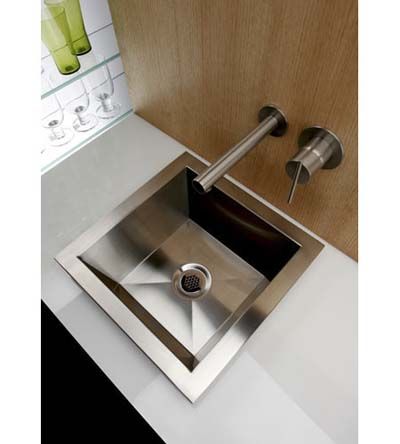 Elkay's Avado sink's square shape makes it perfect for more modern settings. Made from professional-grade stainless steel, an optional matte finish eliminates fingerprints and smudges for easy maintenance.
Down the Keyhole
Marvel's Keyhole sink features a large, round bowl ideal for rinsing wine glasses and platters. A deep, recessed drainer provides additional prep space and inhibits water spillage when draining larger items. Accessories include a circular chopping board, a stainless drainer trivet, and a stainless steel garnish bowl.
Quiet Time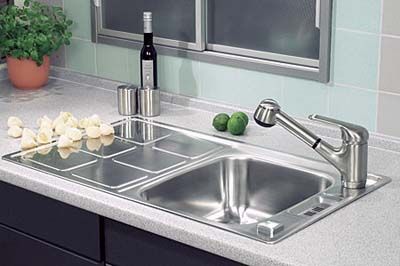 Teka's Quadro sink is constructed of stainless steel with a hand-polished Euro finish. Sound-deadening panels muffle the clanging of pots and pans. Swivel clips offer an easy installation.
Traditional Looks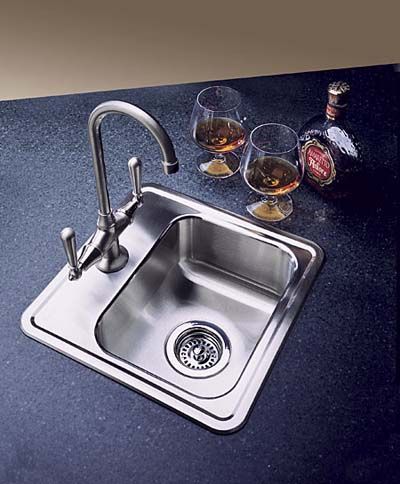 Blanco's Spex stainless steel, drop-in bar sink measures 15-inch square, making it perfect for use at an island or bar area.
Cool Concrete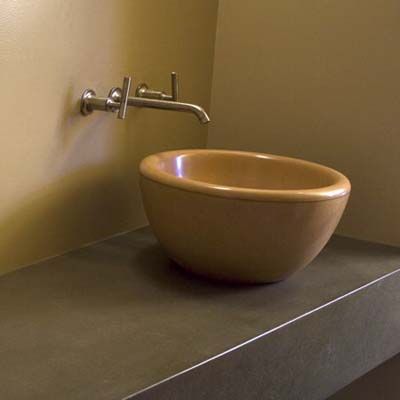 The Merlot vessel sink from Sonoma Cast Stone is designed to be used above the counter surface. Hand-crafted from all-natural materials, the company's pre-cast concrete VesselSinks are available in both classic concrete, which will patina over time, and the company's Nucrete, which is modified to keep the material looking new and stainless.
It's Hip to be Square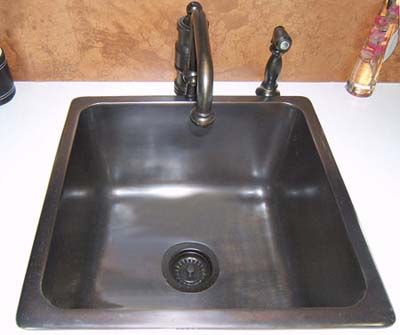 Elite's square bar sink is 18-inches by 18-inches, and 10-inches deep. It is available in satin nickel, satin bronze, traditional bronze, traditional dark, and oil rubbed bronze (shown).
Shaped for Success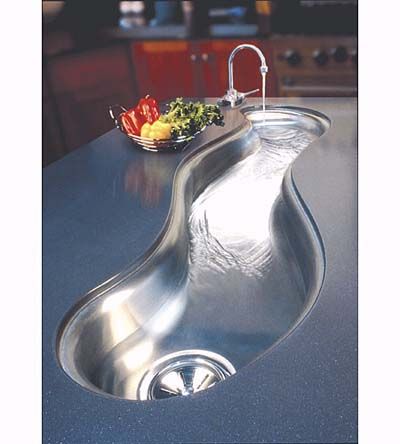 The Mystic by Elkay, a four-foot-long meandering secondary sink, is perfect for entertaining. The faucet and drain are positioned at opposite ends, allowing the water to flow through. Filled with ice, the stainless steel sink can keep beverages chilled during parties. A new 26-inch version is ideal for a butler's pantry.
Farmhouse Flair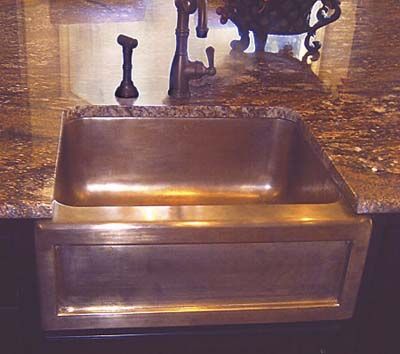 Elite puts a spin on the traditional farmhouse sink with its Chameleon mini, which measures 22- by 16-inches. It is available with four interchangeable sink aprons handcrafted by artists out of solid bronze with nature-themed designs. Available finishes are satin nickel, traditional dark and satin bronze (shown).
Perfect Fit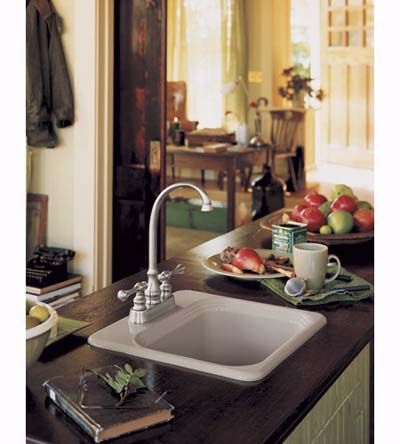 The Northland entertainment sink from Kohler can fit in with any design, available in a variety of colors and finishes. The 15-inch by 15-inch unit offers self-rimming installation and durable cast iron construction.
Natural Look
Ideal as a secondary sink, Blancorondo, from Blanco, is made from Silgranti, which is 80-percent natural granite, mixed with acrylic resin, offering the look and feel of natural stone. The surface is scratch and heat-resistant. It's nonporous nature makes it resistant to stains as well.