Save While You Splurge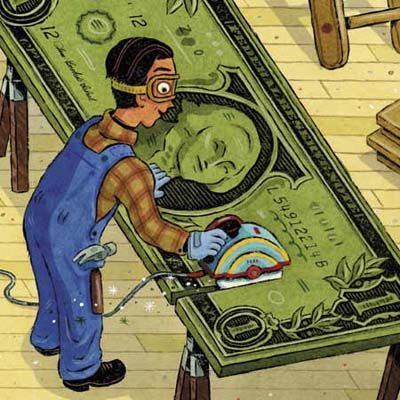 We asked the pros to share their money-saving secrets for getting top-shelf looks without spending top dollar on some of the most popular—and notoriously expensive—home-improvement projects. With these 11 tips, you can have your granite and actually afford to eat off it, too.
The Details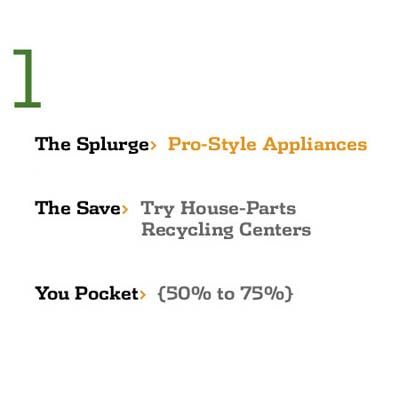 Look for house-parts recycling centers in well-heeled zip codes. A growing number of them now stock gently used high-end appliances from the likes of Viking and Sub-Zero. "When a multimillionaire buys a house, he or she redoes the kitchen, and that usually means replacing the perfectly good appliances that the previous owner installed just a few years earlier," says Steve Feldman, president of the nonprofit salvager Green Demolitions, which has stores in Norwalk, Connecticut; Bethel, New York; and Honesdale, Pennsylvania. He has hundreds of ranges, cooktops, wine fridges, vent hoods, and warming drawers that have been donated by homeowners or dealers. Donors get a tax write-off, and you get a deep discount on the resale. Just keep in mind that these appliances come without warranties, so have them checked out—and possibly tuned up—by a repair pro. Still, if you're getting a nearly new Viking range for thousands less than retail, you'll come out way ahead.
The Details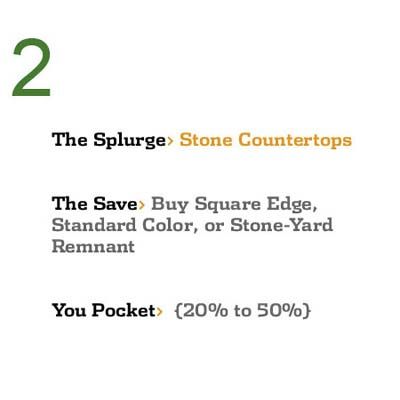 Knock $500 or more off of the $2,500 average installed price of a granite countertop simply by choosing a square edge instead of a bullnose or other curved
detail. "The more complex the profile, the more grinding and polishing we have to do, sometimes by hand," says Rick Herrera, of Herrera Marble Design in the Los Angeles area. A fancy Roman ogee could run $15 per linear foot more than a square, he says. Also avoid rare blue colors, which cost up to three times more than grays, whites, blacks, and earthy tones. For small jobs, such as a kitchen island or bathroom vanity, proceed directly to the remnant area at your local stone yard. Scraps left over or rejected from big jobs often sell for half of what it would cost to slice the same-size section out of a virgin slab, including fabrication and installation, says Kirk Lytle, owner of Stonehenge Granite in Atlanta. "Using a remnant piece, we can put granite in a powder room for about the same price as laminate," he says. Just be sure to factor in standard cabinet depths—lengths can vary, but don't get anything shallower than 25½ inches to top kitchen cabinets, or 22½ inches for vanities.
The Details
Custom wood-paneled wainscoting in an average-size 11-by-13-foot dining room could easily cost $6,000 or more. But a skilled carpenter can create much the same look for about $3,000 with some well-placed stock moldings from a lumberyard. Use chair rail to form the top of the wainscot, mitered picture-rail molding in the middle to mimic raised panels, and keep your existing baseboards, says architect Carol Kurth of Bedford, New York. "Then paint the chair rail and the wall and molding below it in the same color of semigloss, and it'll look like woodwork."
The Details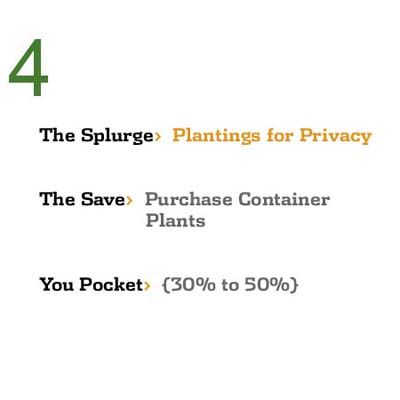 If you're shopping for plantings to screen an unsightly air-conditioning compressor or to shield you from your next-door neighbor, you can prune the cost of trees and shrubs by buying containerized specimens instead of slightly taller—but much -pricier—balled-and-burlapped plants. A 3-foot oak leaf hydrangea that's been grown in the ground, for instance, costs about $75, while a 2-footer in a container is about $50. "The container plant will be fuller and healthier than the one that's had the root ball dug up and wrapped in burlap—and will quickly outgrow it," says Chicago landscape architect Douglas Hoerr. The savings multiply if the shrubs are professionally planted, since many landscapers base their fees on the cost of the plants.
The Details
A copper roof is perhaps the ultimate luxury—especially now, when scrap alone sells for as much as $3 per pound. Capping a new bay window in copper typically runs $2,500 to $3,500. But you can knock up to $1,000 off that by using a prefab roof. Order them through window retailers and online at decoroof.com and proofroof.com. You get the same 16-ounce material as with a custom job; the savings are in the labor, because a prefab system can be installed by a general contractor or window installer in about an hour. It could take a specialty roofer or metalsmith more than a day to shape, cut, and hammer individual copper sheets or shingles into place.
The Details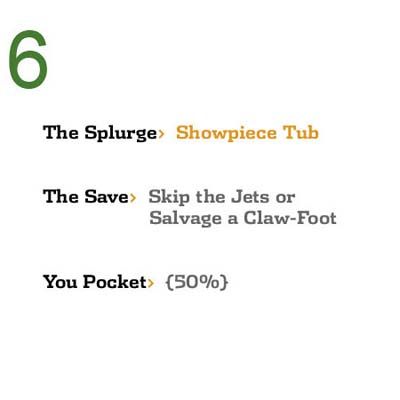 You can save about $2,000 on a new tub that'll make a gorgeous focal point for your master bath if you forgo the jets, says Long Beach, California, kitchen and bathroom designer Dana Jones. "A few years ago, everyone had to have a whirlpool, but now people realize that a simple soaking tub is preferable, because it's so much easier to keep sanitized." (Even if you don't use them, jets must be routinely flushed with bleach to keep them clean.) The same 6-foot drop-in soaker tub from Kohler, for instance, costs $1,285 without jets, compared with $3,226 for the whirlpool model. Features to look for are a slanted back for reclining and an overflow valve at least 16 inches above the tub floor so the water will cover your knees. Both are hallmarks of the original soaker: the claw-foot tub. Pick up a vintage one, reglazed and ready to install, for $1,200 or less at a salvage yard near you.
The Details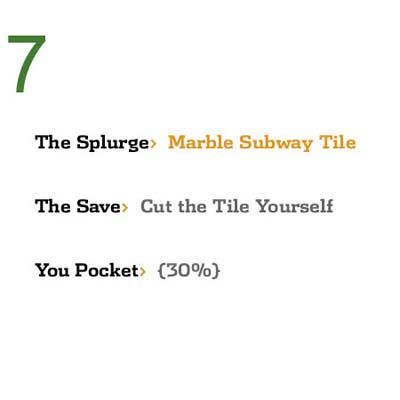 Typically the smaller the tile, the bigger the price tag when you buy by the square foot. But you can trim the expense of a subway-tile backsplash or bathroom wainscot by as much as half if you get 12-by-12-inch tiles and cut them down yourself, says Trumbull, Connecticut, tile setter George Taterosian. Just rent a masonry wet saw (about $50 a day; see homedepotrents.com), set the gauge to the dimension you want, and feed the tiles through. In white Carrera marble, that 12-by-12 will cost you about $12, compared with $17 per square foot for the smaller 3-by-6-inch brick-shaped tiles. A horizontal running-bond pattern is the traditional layout for subway tiles, but for a more of-the-moment and high-end look, mount them vertically instead.
The Details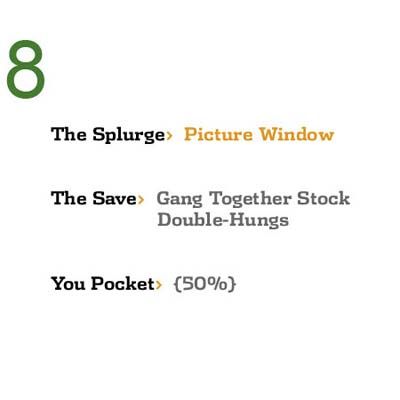 Peruse the catalog of just about any window manufacturer and you'll see all sorts of gorgeous, made-to-order picture windows for $4,000 and up. But you can achieve much the same results for about $2,000 by simply ganging together stock double-hungs, which come as large as 4 by 7 feet and are offered in an array of divided-light configurations to match your home's existing windows. "You'll get the same view and the same natural light," says New York City architect Dennis Wedlick. "Plus, you'll be able to open the double-hungs to get fresh air," he points out, which you can't do with the nonoperable sash in most picture windows.
The Details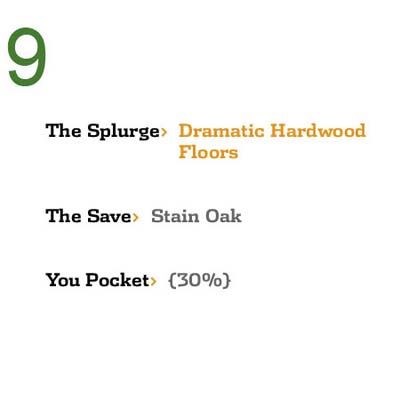 A hot trend in flooring right now is dark woods. "They look so luxurious and create contrast against painted trim, carpets, and furniture," says architect Carol Kurth. But naturally rich-looking woods like mahogany and walnut can be prohibitively expensive. Kurth recommends buying an inexpensive oak instead and paying the installer an additional 25 cents per square foot to apply an ebony stain. You can buy lower-grade flooring (Number 2) instead of the best (clear), and save another $1 or more per square foot in materials. Just be sure to order slightly more than the standard 10 percent overage in case any of the boards are cracked or have other surface defects that could be accentuated by the darker stains.
The Details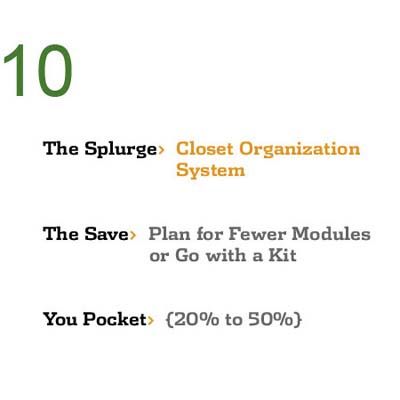 Hiring a closet company to outfit a walk-in can easily run $5,000 to $10,000. But with clever planning, you can knock $1,000 to $3,000 off the job. For instance, most paint-grade wood or MDF systems consist of floor-to-ceiling modules with shelves, racks, cubbies, or drawers. Two-foot-wide modules provide the greatest variety of storage configurations, but if you go with 3-footers, you'll get away with one less compartment overall. This cuts your costs, but not your storage capacity, says Mike Carson, president of Closet Works, a custom shop in Elmhurst, Illinois. If you install your own system from a kit, you can save another $1,000 to $2,000. The trick is to work with a web-based dealer with high-quality materials and good customer service. Designers at easyclosets.com, for example, will create a plan for you based on your closet's measurements and your specific storage needs.
The Details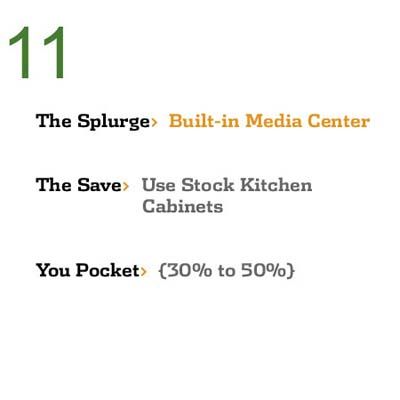 You want to give all that fancy home–theater equipment the showcase it deserves, but you could easily eclipse your electronics spending on a large custom built-in, which costs about $12,000 if made of cherry or maple. A thriftier option is to assemble it from stock kitchen cabinets: An 8-foot-long, solid-wood media center runs about $6,000 to $8,000, even with professional installation. Most configurations have a mix of standard 24-inch-deep wall cabinets, open shelves, and vanity drawer bases in the center, and slender pantry cabinets on either side. Finish the unit with matching crown moldings, filler strips, and glass-front doors to make it look like custom furniture. Better still, since you're putting the television in a niche instead of hanging it on the wall, you'll be able to afford a big screen that's even more Super Bowl–worthy. A 50-inch hi-def rear-projection TV is about 14 inches deep, but set into a built-in, nobody will know it's not a 4-inch plasma. Specify a unit with an LED bulb, because they don't need to be replaced like other rear-projection bulbs, says Steve Samson, vice president for system design and engineering at Tweeter in Boston.