Stowaway Zone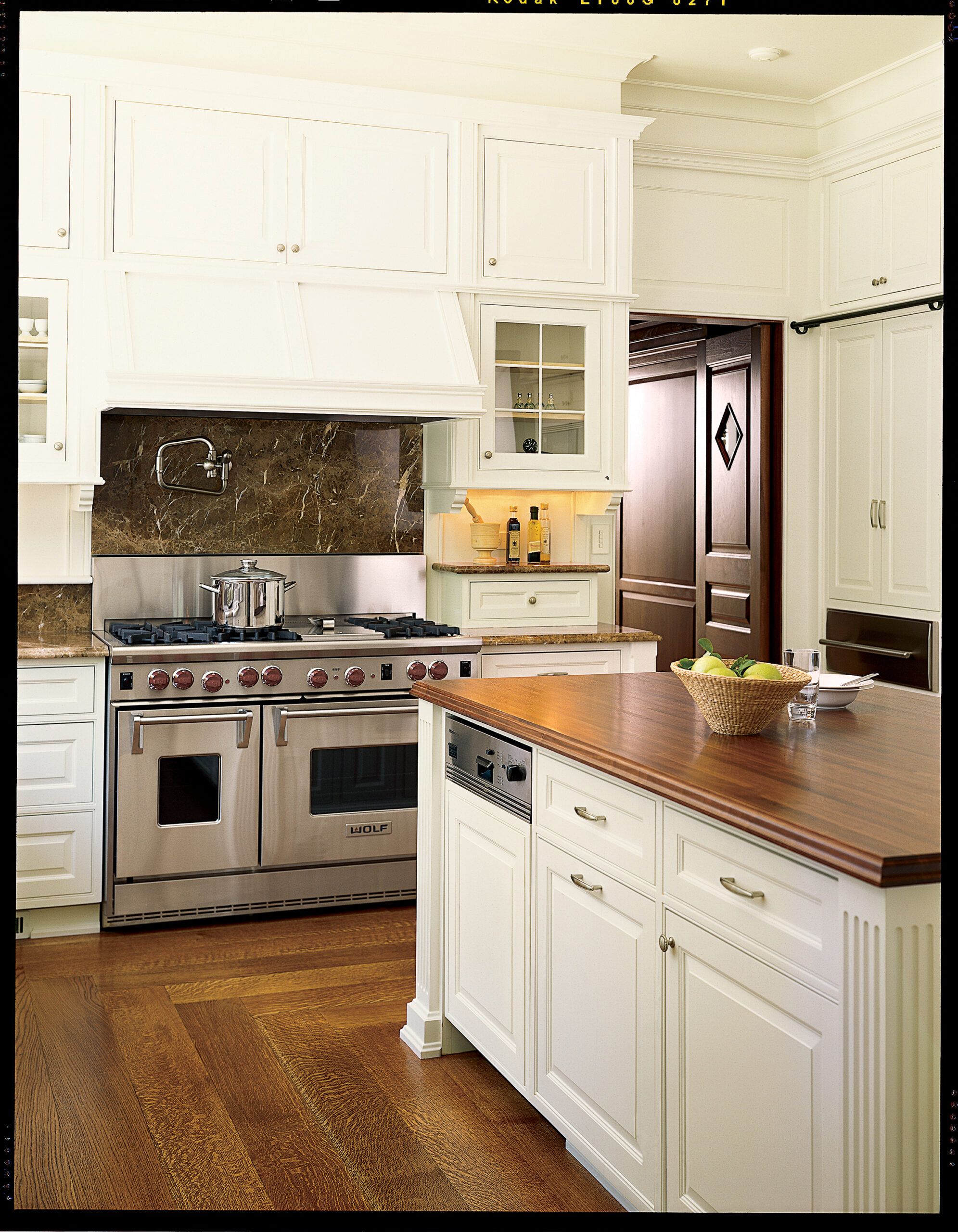 With its walnut-topped island, marble counters, and 7-inch-wide white oak floorboards, this 10½-by-14-foot kitchen is elegant, to be sure. But the real beauty lies in much more than its pretty face. With two sinks, two dishwashers, double wall ovens, a warming drawer, a 48-inch range, a full-size refrigerator, a full-size freezer, and cabinets, cabinets, and more cabinets, this is one high-functioning facility built for cooking, cleaning up, and above all, storing. "It's like your walking inside a big cabinet," says Mac Patterson, the Connecticut architect who designed the kitchen. "The whole room is a cupboard."
Besides providing a big prep area, the 3½-by-7-foot island houses a dishwasher, pull-out recycling bins, and cabinet and drawer storage for cookware and utensils. On the other side of the island, the counter extends a foot beyond the cabinets to provide space for stools and knees.
Adapted from a story by Joe Carter
Seamless Style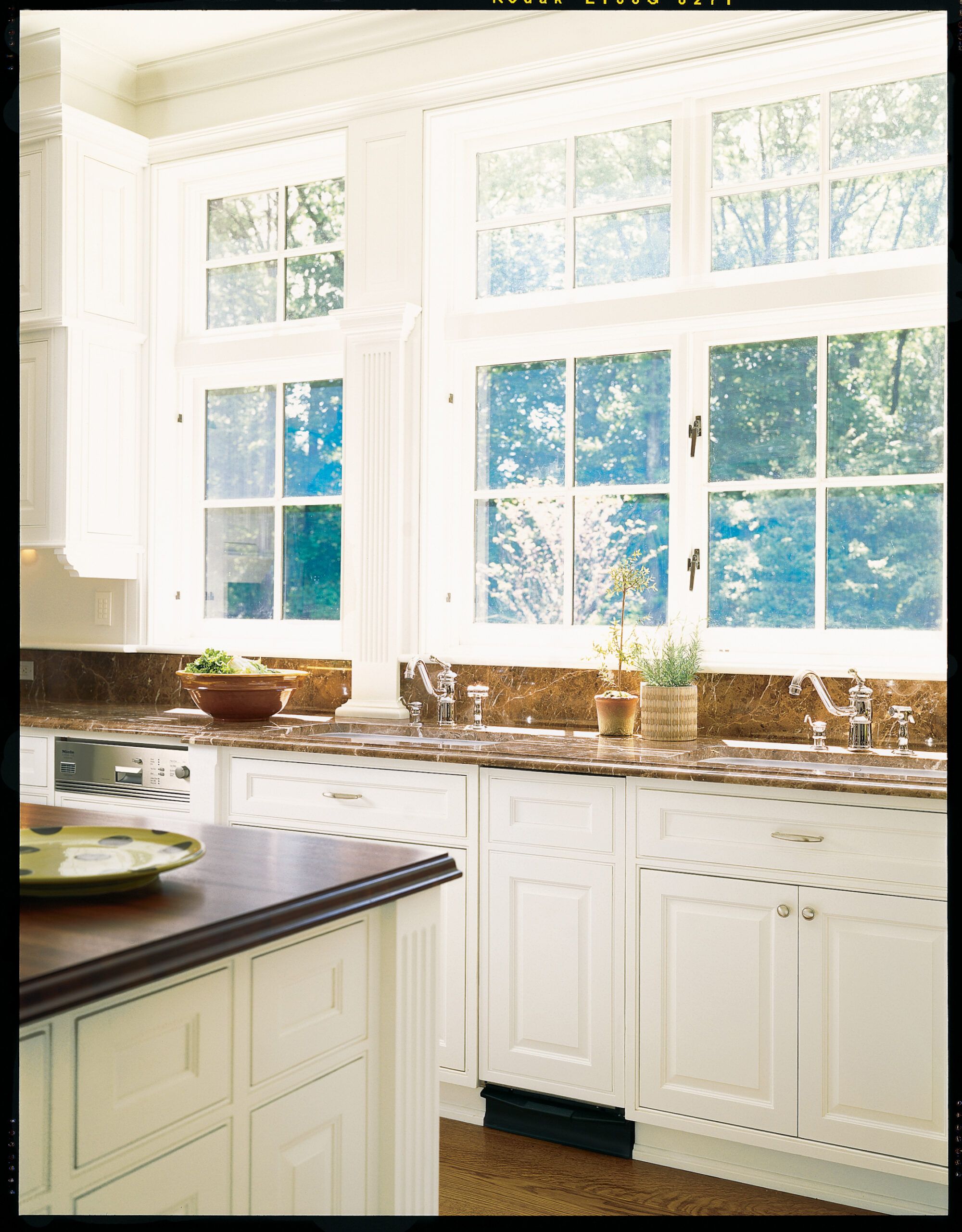 Raised panels help conceal the kitchen's multiple appliances, including the trash compactor, seen between the sinks, and the two dishwashers, located to the left of the sinks and in the island. An 11-foot expanse of windows keeps the room bright and airy.
New Heights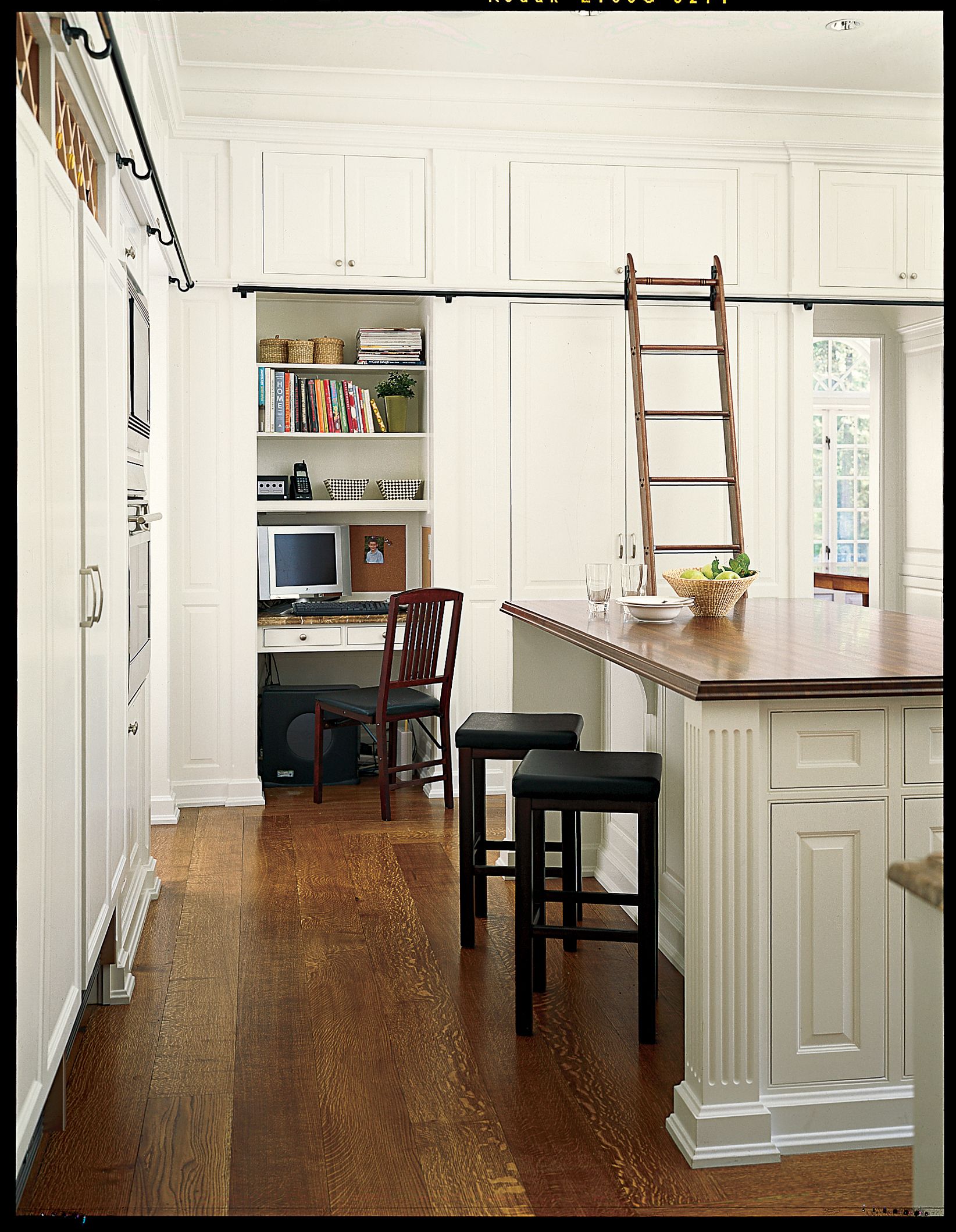 Arrayed along all four walls (except where there are windows), about 50 linear feet of upper cabinets extend to the 10-foot ceiling, providing storage for infrequently used kitchen gear—and, notes homeowner Jay Johnston, "bad gifts." What's stowed on high can be accessed by a custom-made library ladder that slides along a metal track.
Library Ladder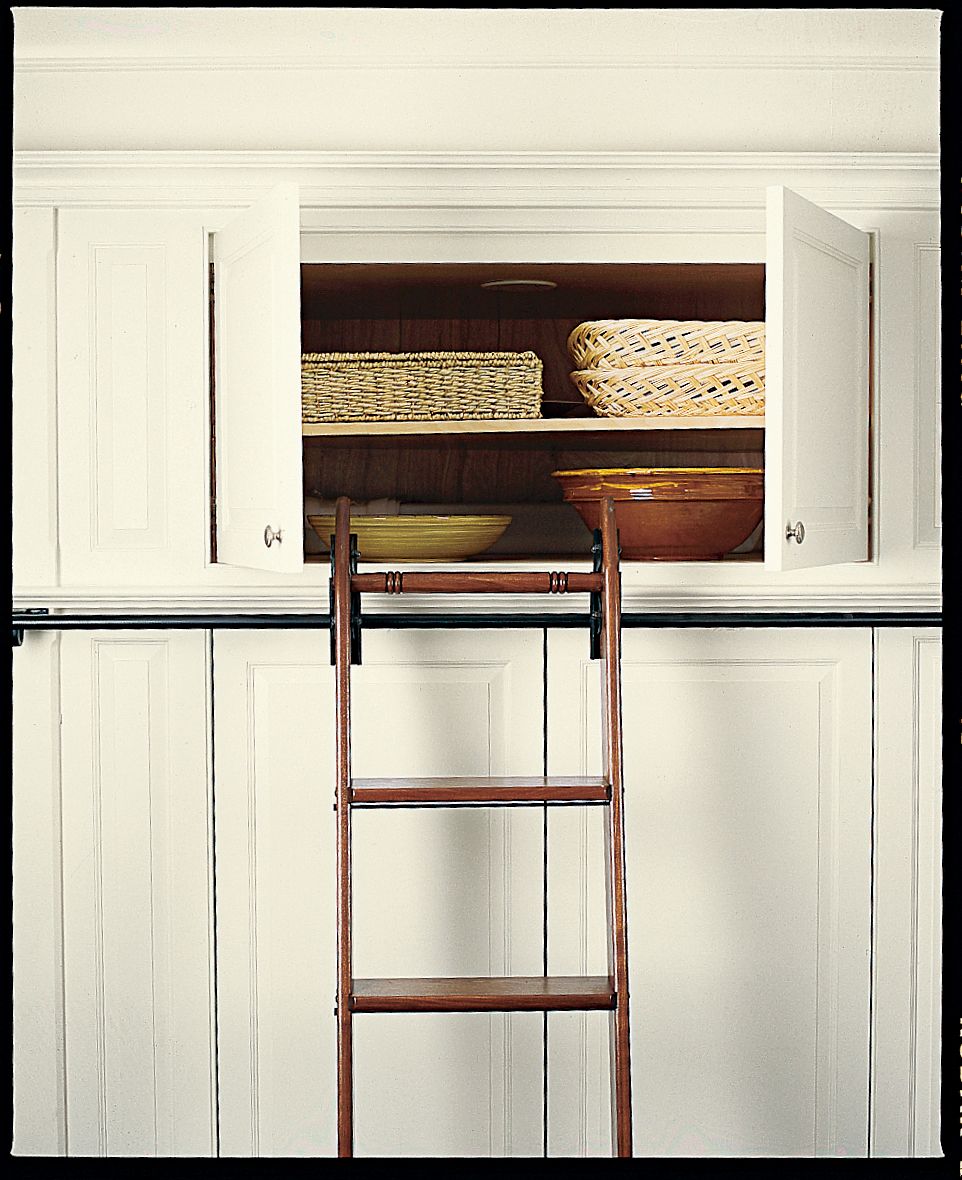 To turn a corner, it simply unhooks from one track so it can be hung on another. In the desk station, a remote-control button turns the 15-inch flatscreen monitor from a TV to a computer screen that's used to control the whole-house audio system.
On Display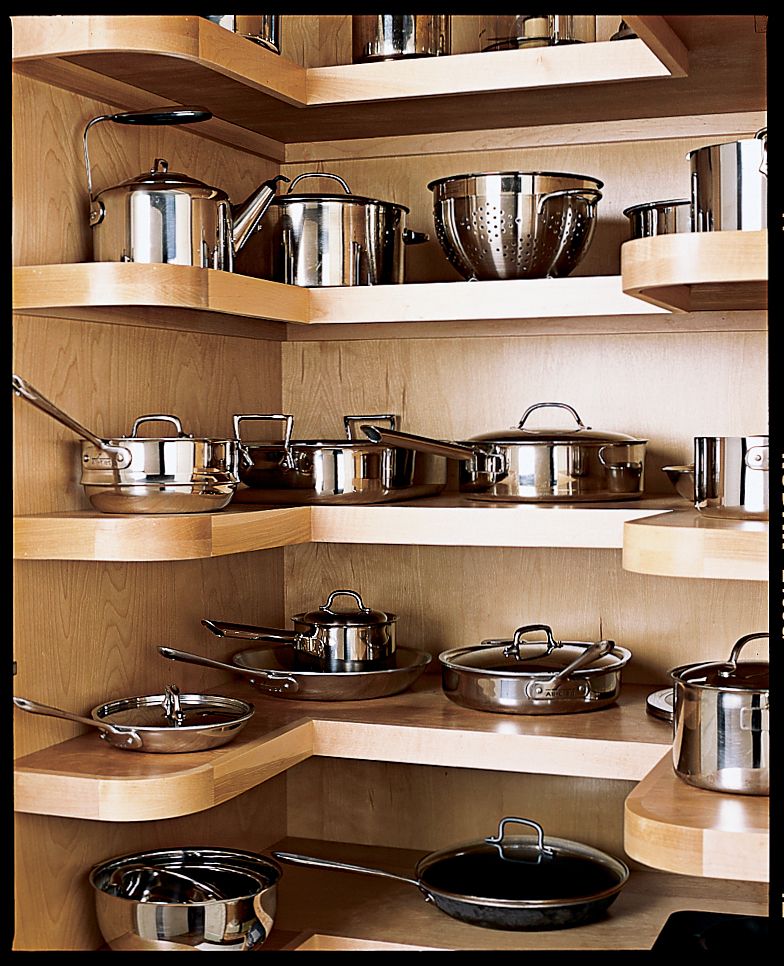 A pantry devoted to pots and pans keeps them out of sight but readily accessible. U-shaped plywood shelves put the whole contents on view; rounded edges make scrapes less likely.
Easy Access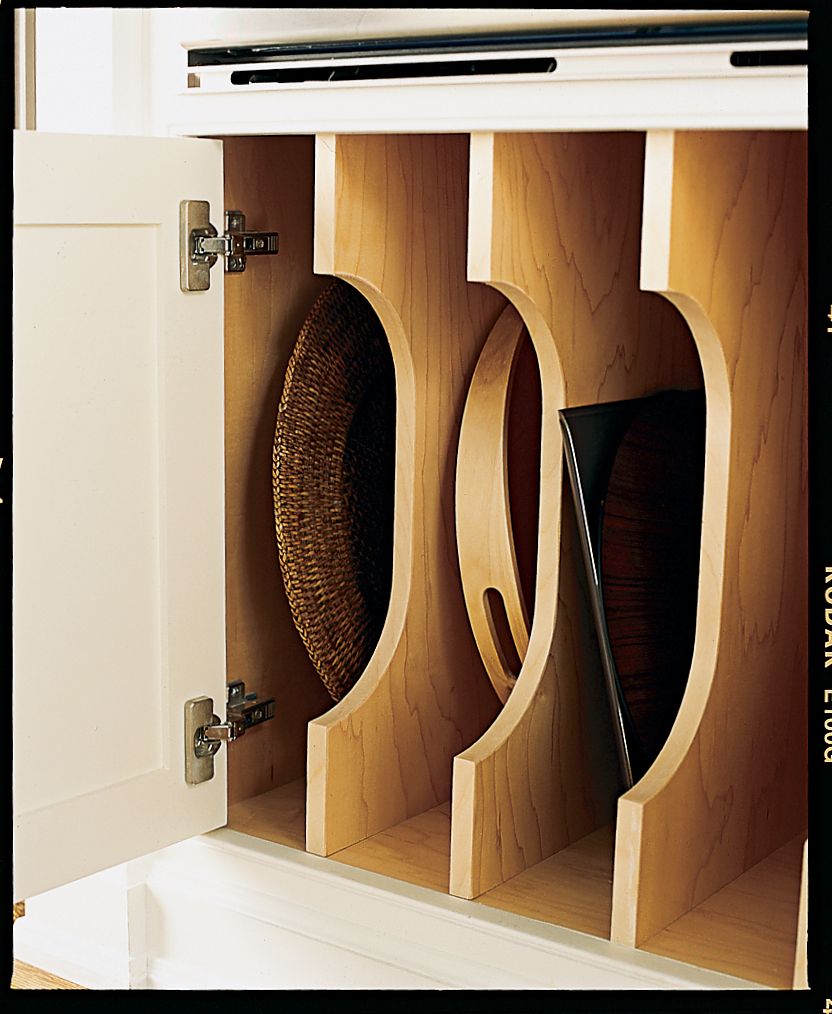 Beneath the ovens, vertical plywood dividers organize baking sheets and trays; recessed edges make stored items easy to grab.
Cooking Convenience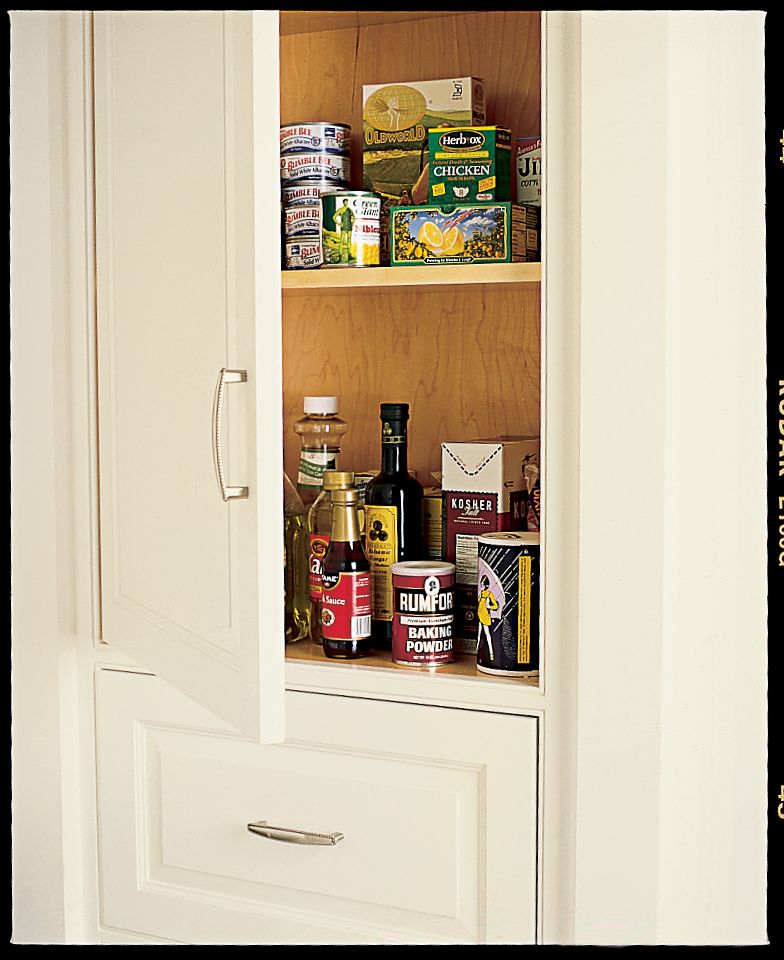 A cabinet in the range-side storage wall keeps cooking supplies close to where they're used; shelves are spaced well apart to fit tall bottles.
Floor Plan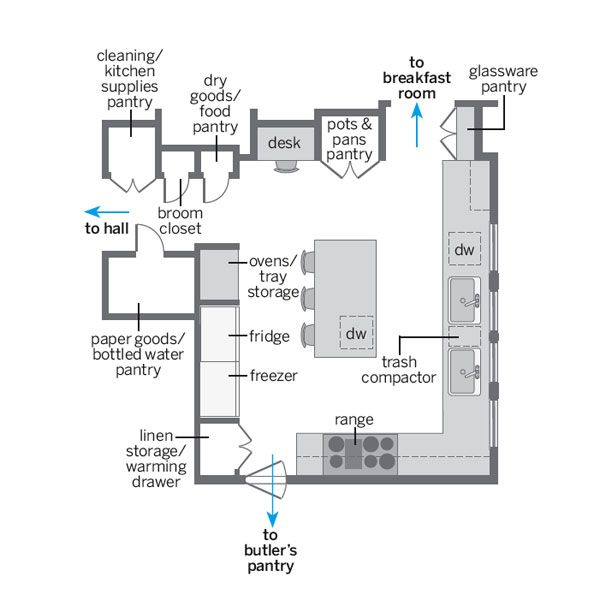 Plenty of pantries, cabinets, and drawers provide ample storage in this 10½-by-14-foot space. In addition, the sinks, 6-burner range, and full-size fridge form a compact work triangle. Multiple appliances allow each workstation to handle food prep (and cleanup) for a crowd. The 3½-by-7-foot island offers more workspace and stool seating.