After: Fit for a Kitchen Island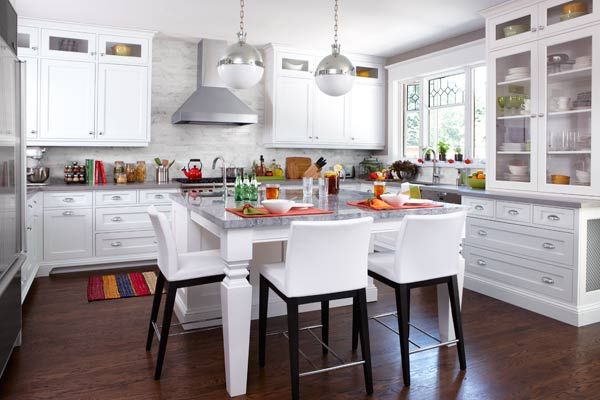 Sometimes form ruins function. When Anamaria and Stephen Manna bought their late-Victorian-era home, in Toronto, Ontario, Canada, they realized that its long, narrow kitchen, with cooking and cleanup space plastered along one wall, just wouldn't work as a gathering place for them and their two daughters. Says Anamaria, "I dreamed of a square island, a place for the family to eat and talk about their day."
Shown: Bumping out the back wall created a rectangular footprint that fits a family-friendly center island big enough for everyone to pull up a stool.
Designer: Jane Lockhart Interior Design, Toronto, ON; 416-762-2493
Contractor: Andrew Smith Contracting, Toronto, ON; 416-881-3739
Place mats, napkins, and napkin rings: Crate & Barrel
Spice rack: Bed Bath & Beyond
Before: One-Wall Kitchen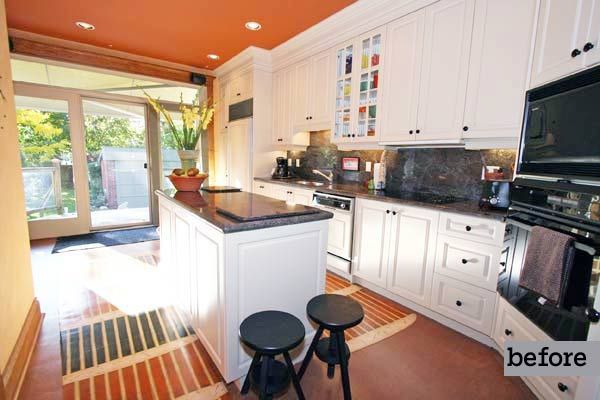 So the Mannas called in designer Jane Lockhart to reimagine the space. Her plan bumped out the back wall by 8 feet to give them the island they were after. One end functions as a table with three open sides for stools, facilitating face-to-face conversation. Flat-panel cabinets with simple inset molding, white-marble backsplash tile, and practical gray quartz and granite counters feel in keeping with the period house. Lockhart, whose aim was to "achieve a vintage look in a contemporary way," included distinctive details in the design, among them leaded-glass windows over the sink and polished-nickel globe pendant lights above the island. "It's now a welcoming, comfortable, family-oriented space," says Anamaria. "Just what I wanted."
Shown: Though large, the one-wall kitchen had little room for hanging out.
Designed for Continuity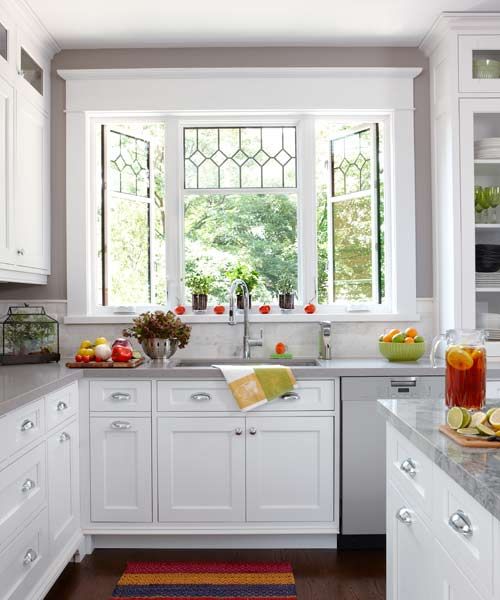 Leaded-glass windows, bin-pull hardware, and marble tile help the new space blend into the old house.
Soap dispenser: Simple Human; Bed Bath & Beyond
Polished Nook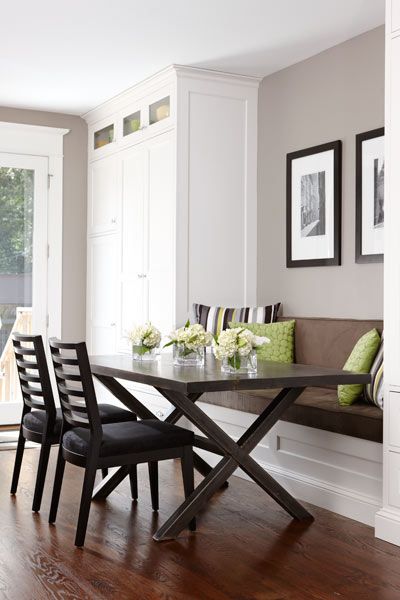 A built-in banquette flanked by tall pantry cabinets creates an eating nook. Dark-stained oak floors help warm up the white cabinetry.
Sharp-Looking Range Hood
The range hood "floats" in front of a backsplash of Bianco Hizhou polished marble tiles.
Hood: Vent-A-Hood
Range: Wolf
Hot Spot for Coffee and Wine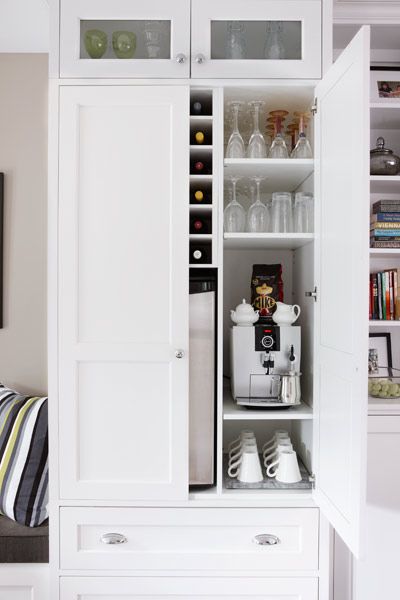 A coffee and wine bar is tucked into one of the pantry units; small glass-panel doors up top help lighten the look of tall cabinetry.
Cabinetmaker: Brice's Hand Crafted Furniture, Queensville, ON; 905-478-4175
Clever Radiator Disguise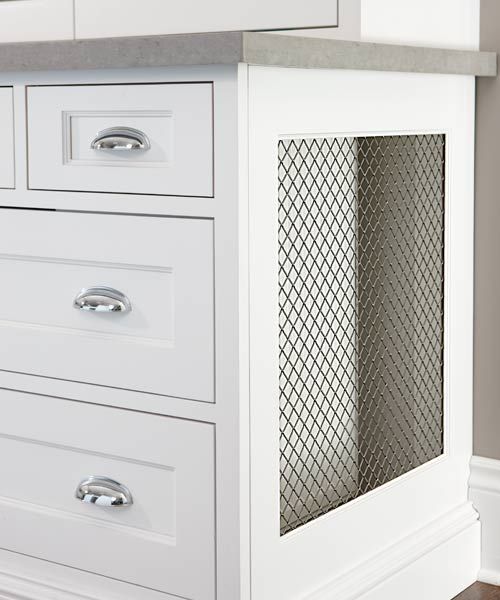 False drawer fronts hide a radiator; metal mesh on the end cap allows heat to escape.
Standout Kitchen Island Legs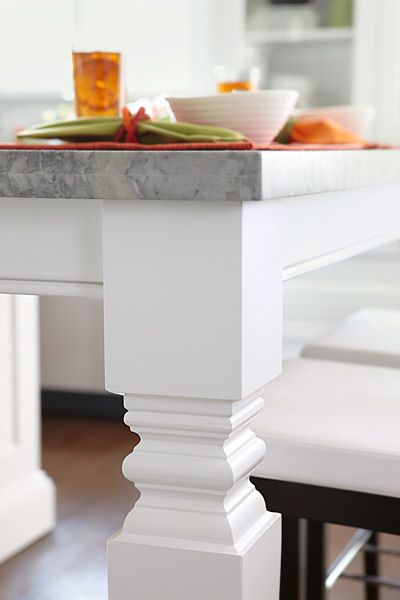 The granite-topped island has decorative square table legs at one end.
Reflective Lights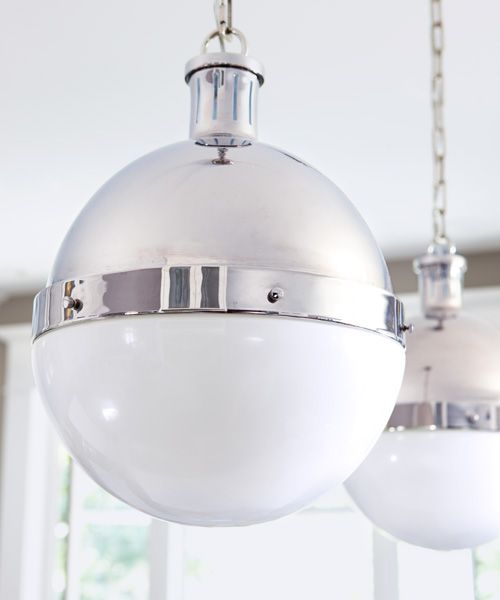 Industrial-style globe lights add drama over the island.
Pendants: Ginger
Floor Plan Before: Cook in a Corner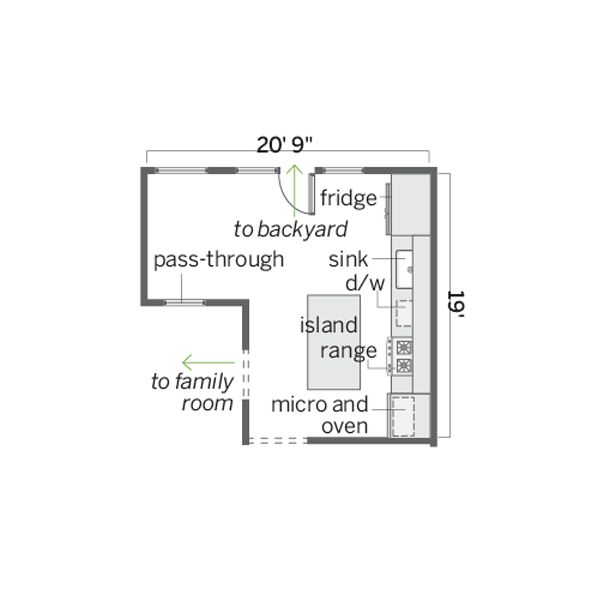 The L-shaped space, with appliances arrayed along one wall, isolated the cook from the family room action.
Homeowner tip: "I banned iPads, computers, and TV from the new kitchen so that we could concentrate on each other." —Anamaria Manna, Toronto, Ontario, Canada
Floor Plan After: New Square Space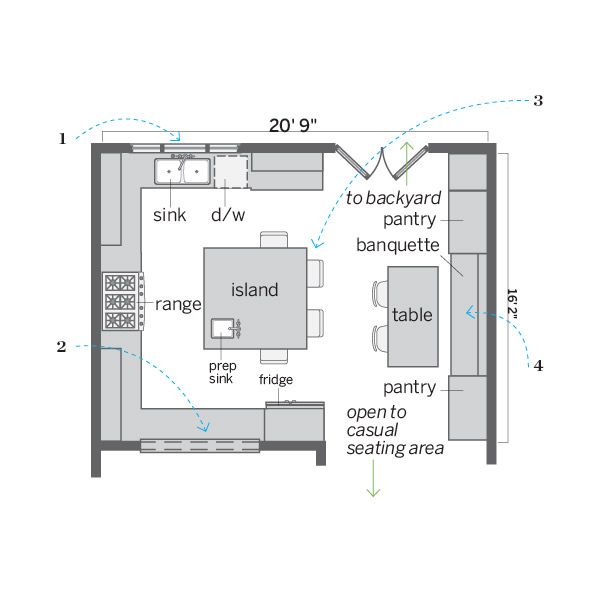 Adding square footage allowed for a nearly square footprint, better flow, and an improved workspace.
1. Bumped out what is now the sink wall by 8 feet. Brightened it with three windows and French doors. A continuous run of countertop forms a U around the room.
2. Widened the pass-through to the family room to open up the sight line. The wall marks the end of the new kitchen, which is open to a separate casual seating area in the former kitchen's ell.
3. Added a large square island with table-style seating along one end and a prep sink at the other.
4. Built in a banquette between two pantry cabinets and added a table and chairs for a dining nook.