End Of An Era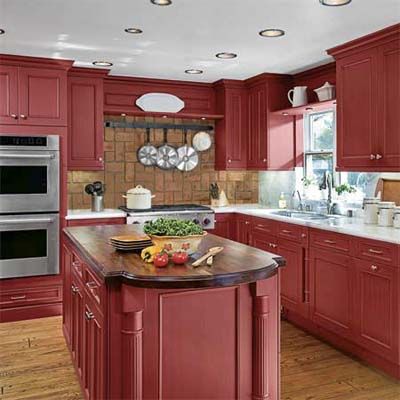 Just as certain clothes can signify an era, so can some kitchens. The one in Laurie and Kent ­Adamson's Cape Cod—style house, in San Clemente, California, dated to 1985 and revealed its past with "oak, lots of oak!" says Laurie, from honey-colored floors to golden cabinets to whitewashed decorative beams. Though Laurie, an occupational therapist, and Kent, an orthopedic surgeon, love to entertain, they waited 19 years and until the last of their three children was a teenager—before tackling the room. Then they got to work. Guided by local designer Debbie Nassetta, they created a smart-looking, high-functioning cooking space in the 13½-by-19-foot kitchen without moving walls or changing the locations of the island, cooktop, wall ovens, or sink. Barn-red Wood-Mode cabinets and walnut and marble counters replaced the 20-year-old oak boxes and acres of ceramic tile.
A Very Red Redo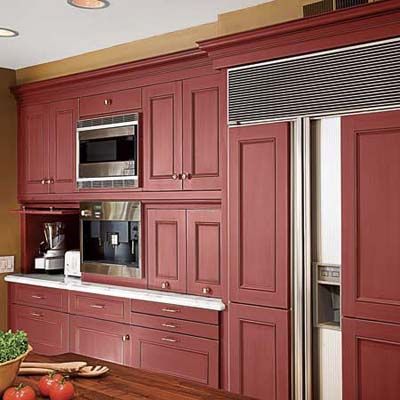 "We knew we could increase the storage and go up a notch with high-performance appliances without incurring the cost of changing the footprint," says Nassetta, who also updated an adjoining walk-in pantry. Laurie had two ­requests: lots of red, and just enough of that 1980s brick to echo the ­fireplace in the adjacent family room. Armed with pillow fabric
in Laurie's favorite shade, Nassetta worked with the cabinetmaker to create a custom barn red, then had it glazed and rubbed to give it a vintage look. Out went old oak boxes and appliances, and in came storage-filled maple cabinets, marble and walnut counters, recessed lights, and a cook's paradise of appliances including a refrigerator from Sub-Zero, a microwave from Sharp, and a coffee station from Miele. A downdraft vent that disappears behind the cooktop allows the remaining bit of brickwork to be a focal point—and a friendly nod to the past.
Downdraft Vent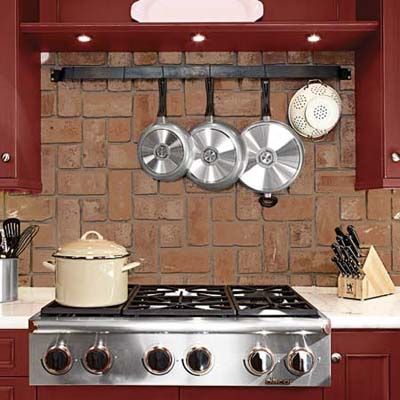 The iron pot rack and brick wall, the lone keepers from the kitchen's previous incarnation, are protected from splatters by a pop-up downdraft vent behind the Dacor cooktop.
Sink Area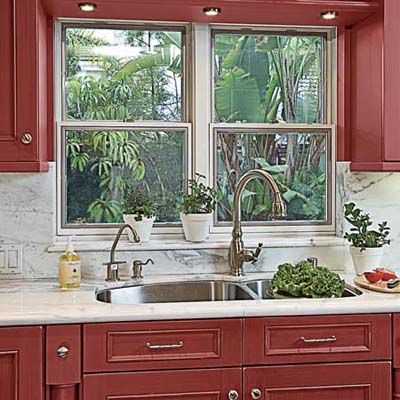 Pale, polished calacatta marble covers the countertops, backsplash, and clever, behind-the-sink windowsill for a clean,
light-reflecting contrast to the red cabinets. A foot pedal in the cabinet's toekick under the Franke sink controls the Kohler faucet for hands-free operation—a natural for Kent, a surgeon. Extending storage to the ceiling made a natural space for an open shelf with lighting over the sink.
Columns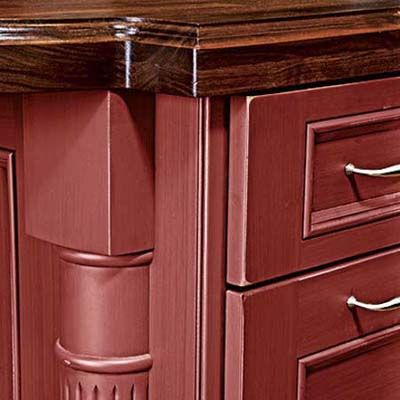 Fluted columns add detail to the walnut-topped island. Similar ones flanking the sink cabinets pull out for spice and oil storage on one side, towel storage on the other.
Shelf Unit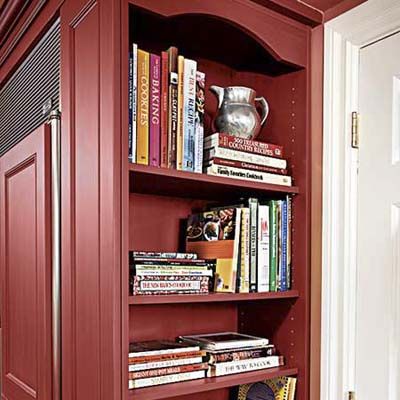 A built-in shelf unit at the end of the refrigerator wall holds cookbooks. It faces the passageway into the existing food pantry.
Window Seat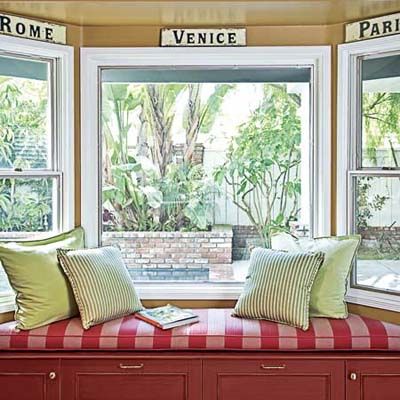 Deep drawers under the window seat hold table linens and picnicware. On either end are cabinets stocked with treats for the family's pets, who know exactly where to find them.
Kitchen Before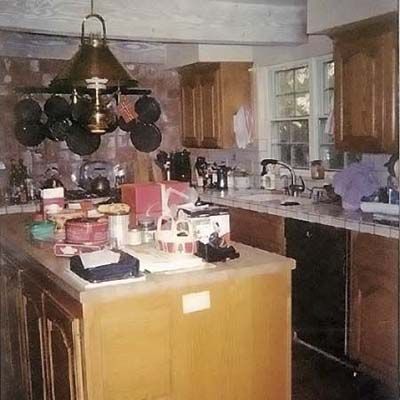 Brickwork, a pot rack, and oak floors are the kitchen's only
links to its past.
Floor Plan: Before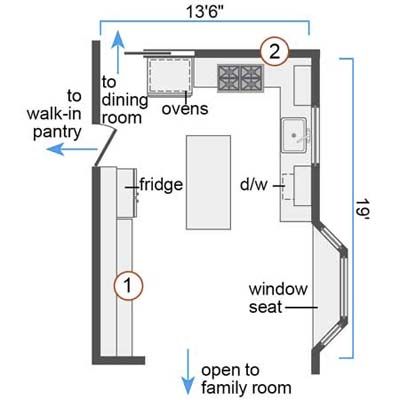 While the room was a generous 13½ by 19 feet, countertops were often cluttered with small appliances, and storage wasn't well organized.
Floor Plan: After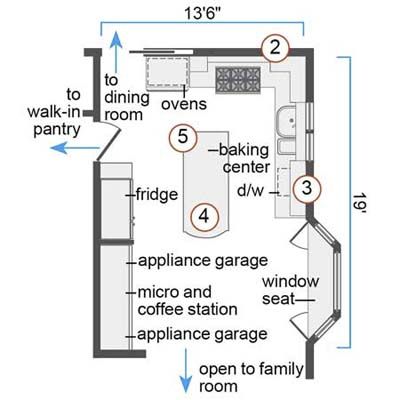 What They Did
1. Installed floor-to-ceiling storage along the refrigerator wall with built-in appliances for a clean, uncluttered look. A 48-inch paneled refrigerator sits flush with the base cabinets, and a microwave and coffee station were installed in the upper cabinets. Two appliance garages keep a smoothie maker, toaster, and other countertop appliances close at hand but out of sight. Lower cabinets hold a paneled warming drawer and a pullout cutting board.
2. Added upper cabinets on the stove wall and an open shelf with undercounter puck lights, and installed a cabinet above the Thermador wall ovens, with built-in slots for baking sheets.
3. Put in taller cabinets along the sink wall for more storage and installed a corner base unit with a "super Susan" for easy access to pots.
4. Lengthened the island top, giving it a rounded overhang with space for bar-stool seating at the end farthest from the cooking zone.
5. Created a baking center at the oven end of the island with a roomy pullout unit that conceals three shelves to hold mixing bowls, measuring cups, a sifter, flour, sugar, and other dry goods.