Stylish Room for Everyone: After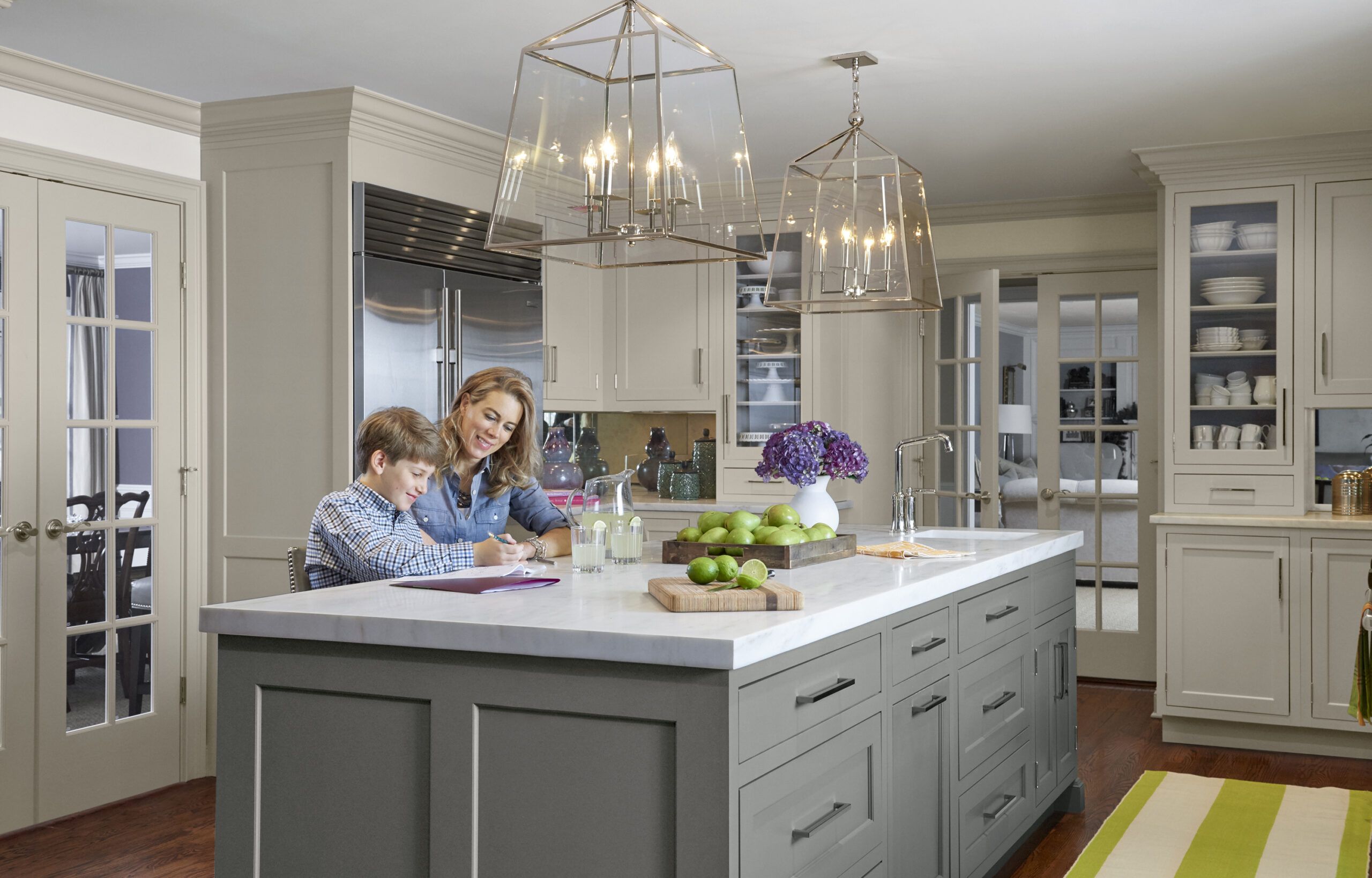 There's a reason they call it the heart of the home. More than just a place for food prep, today's kitchens are lively destinations, where guests pile in and children gravitate in search of snacks and homework help. Elizabeth Kemp and her husband, Doug, who are known to entertain dozens of adults and kids at a time, had the needs of their busy household—and social schedule—in mind when they renovated the 1970s house they share with three young sons, in New Canaan, Connecticut.
Shown: Homeowner Elizabeth Kemp sits with son Chase, 10, at an island designed to serve the whole family.
Troublesome Design Elements: Before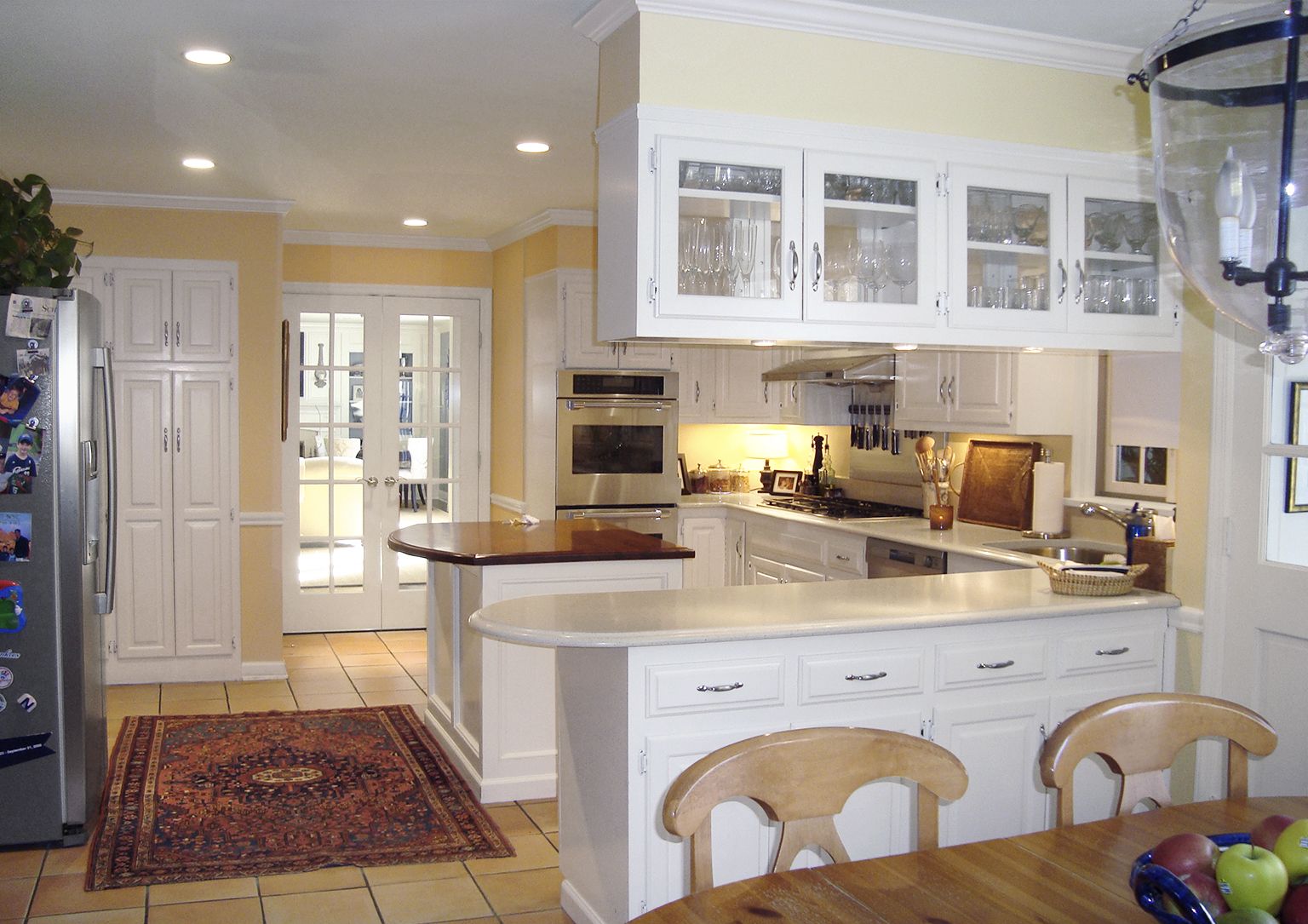 Working with designer Terry Scarborough, of Deane Inc., and general contractor Chris Kuehn (Longridge Builders), they enlarged the kitchen to create a free-flowing staging ground with a marble-topped island, a butler's pantry, a breakfast nook, and prep space to spare. Finishes like flat-panel cabinets, sleek pulls, a subtle palette, and snazzy light fixtures contribute to the fresh, semiformal look. Elizabeth, a pro organizer and weekend baker, also homed in on storage. "I like having everything in its place, like dedicated shelves for baking racks and trays," she says. Twin sinks and dishwashers allow kids and guests to help rustle up dinner, though there's plenty of room to just grab a seat and watch.
Shown: Despite a spruce-up in 2000, the 1970s kitchen still had a traffic-curbing peninsula and head-banging cabinets.
Glass-Front Kitchen Cabinets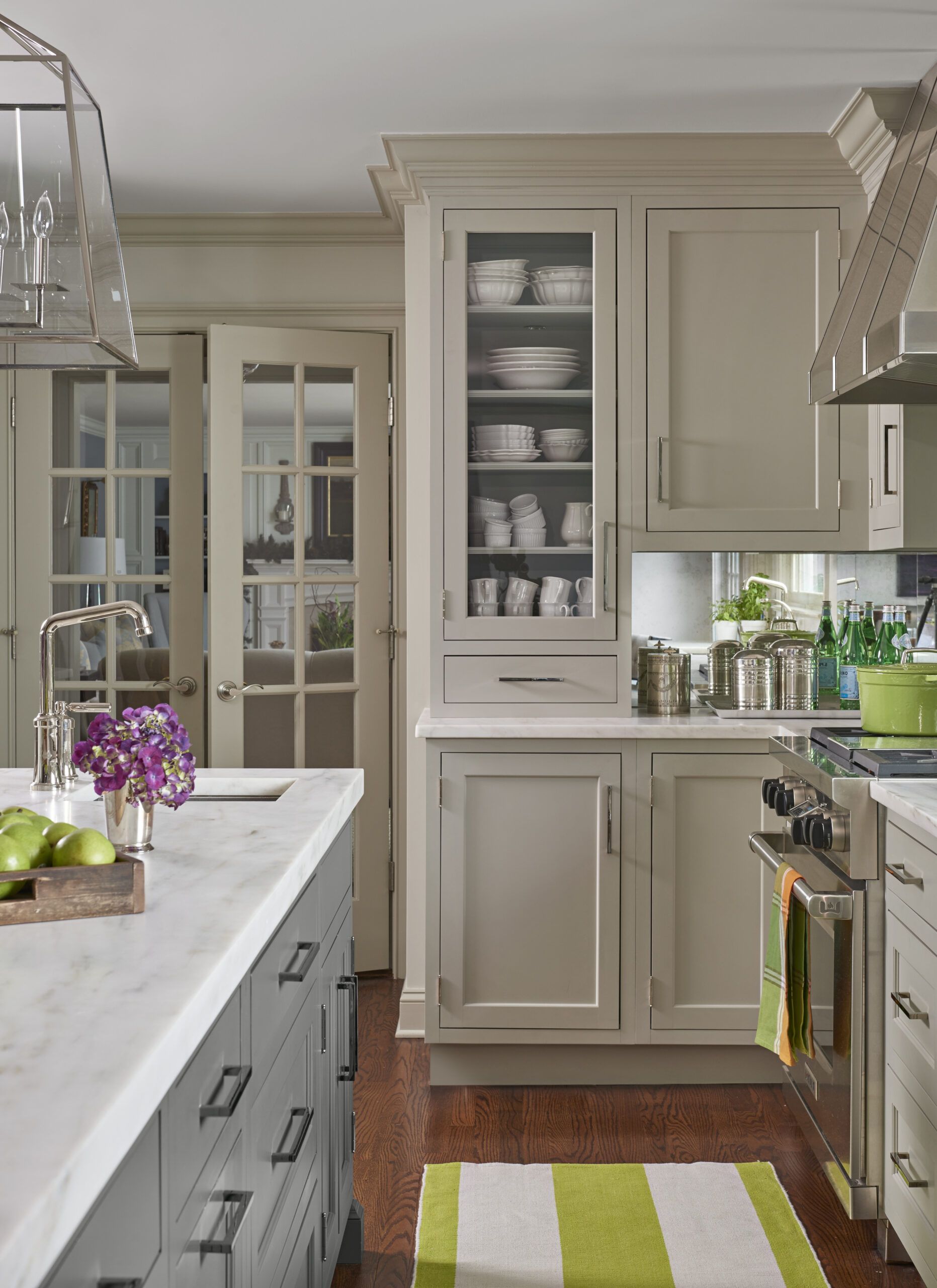 Glass-front cabinets have built-up crown molding and a drawer above counter space, suggesting a hutch. The backsplash is antiqued mirror.
Paint: Benjamin Moore's HC-167 Amherst Gray (island and butler's-pantry cabinets), 1535 Seattle Mist (perimeter cabinets and trim), and custom blend (walls)
Range, refrigerator, refrigerator drawers, warming drawer, and wine refrigerator: Sub-Zero and Wolf
Sinks: Julien
Cabinet pulls: Top Knobs
Airy Lantern-Style Chandeliers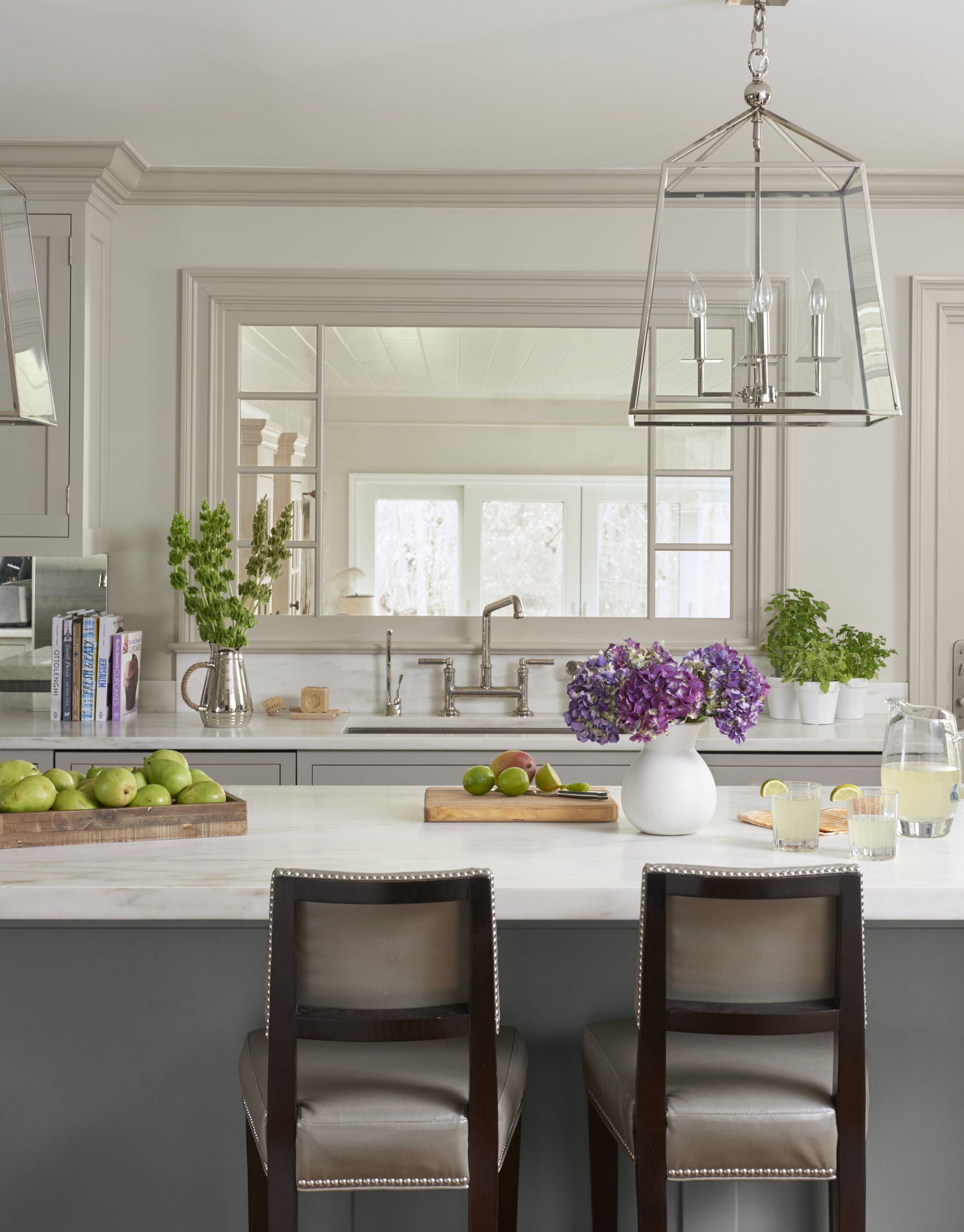 Light travels through lantern-style chandeliers from an enlarged window overlooking the sunroom.
Pendant lights: Regina Andrew Design; lampsplus.com
Countertops: Stonehenge Marble & Granite LLC
Barstools: Lee Industries
Bigger Window for the Kitchen Sink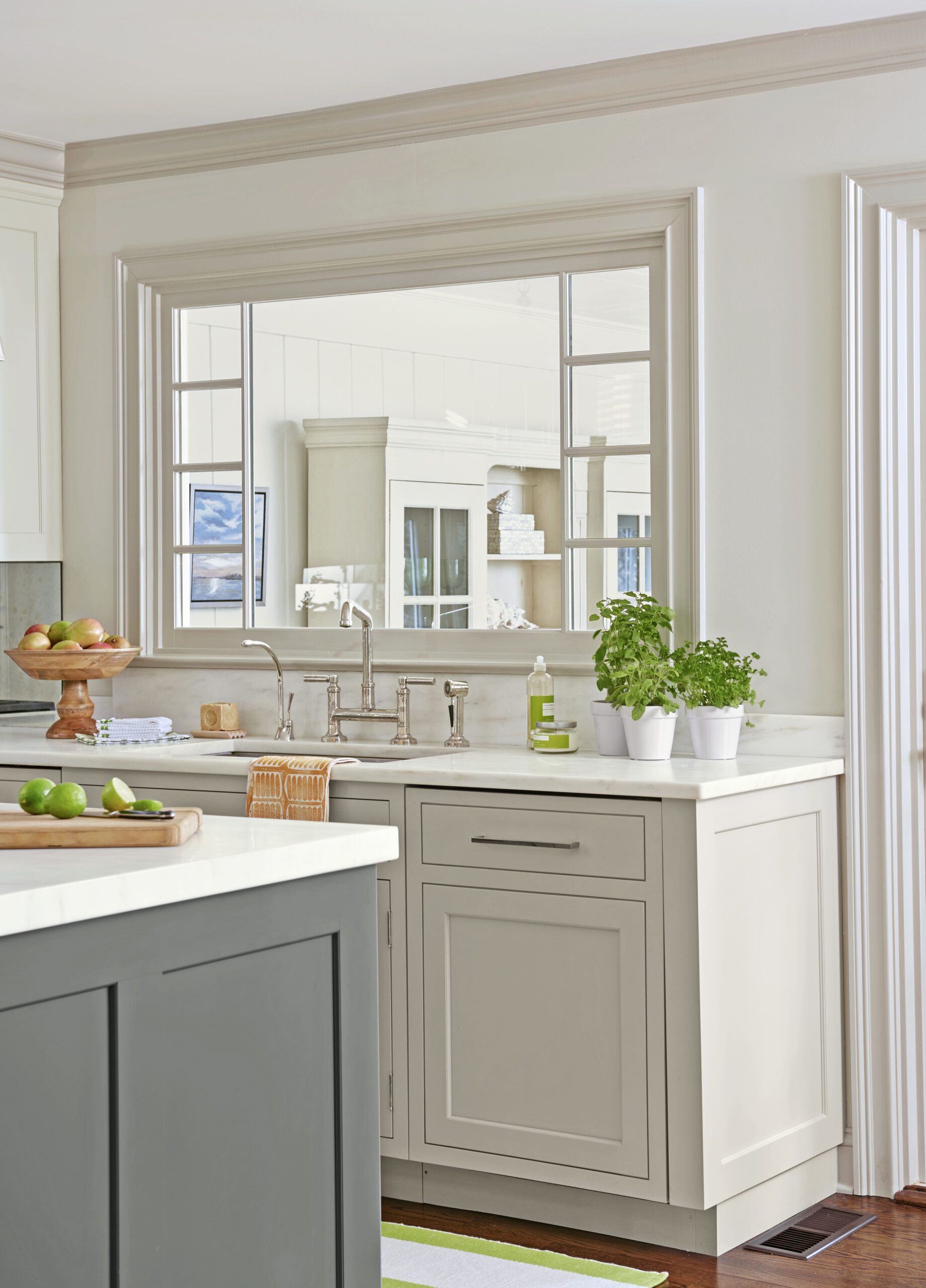 Enlarged to bring in more light, the window over the sink frames a bridge faucet with a streamlined, transitional profile.
Pro advice: "If space allows, go for two sinks—one for prep and one for cleanup. It signals that this is an 'interactive' kitchen, where friends and family members can get involved." —Terry Scarborough, kitchen designer, New Canaan, Conn.
Dishwashers: ASKO
Faucets: Kallista
Pretty Cake Stands on Display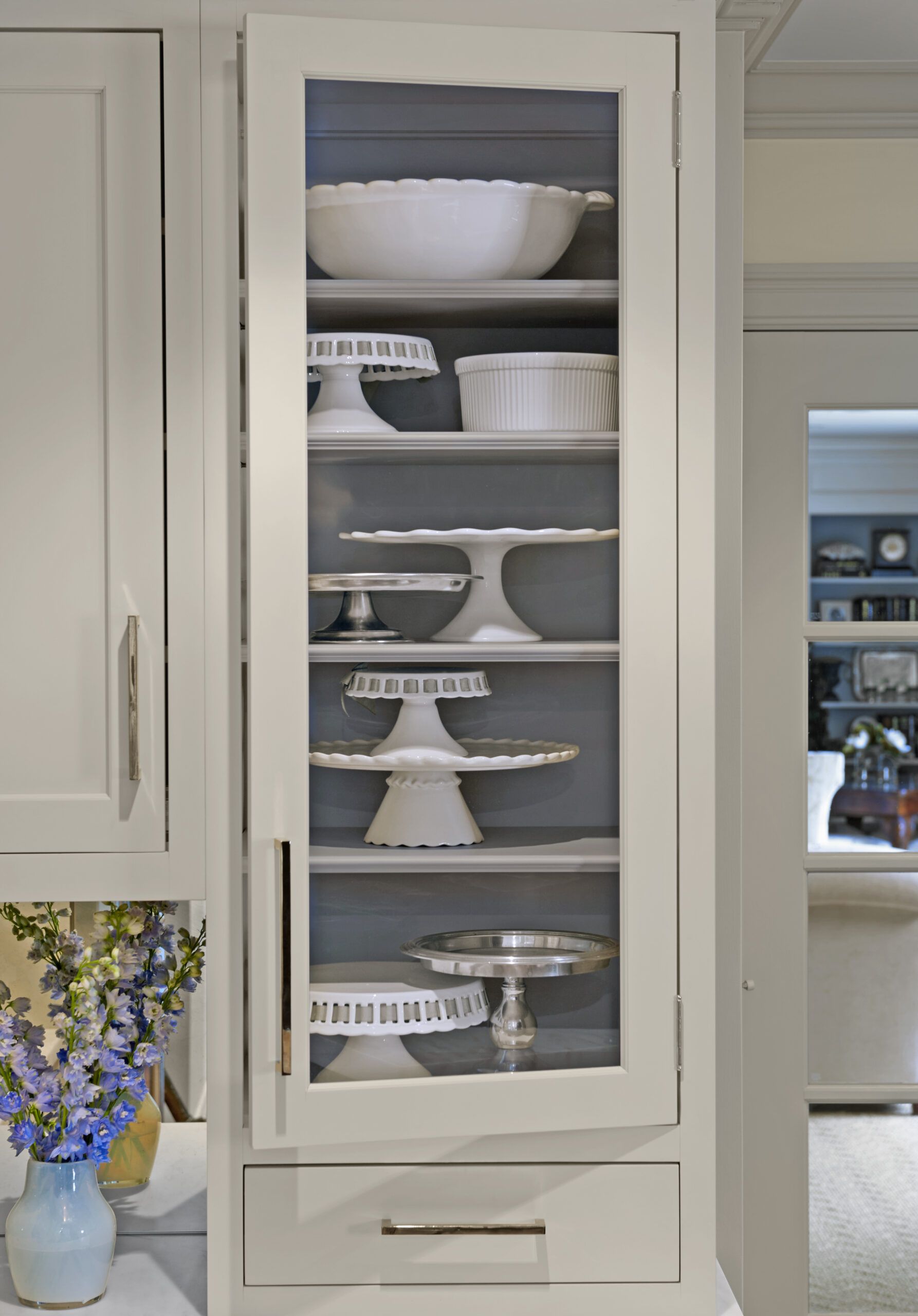 A collection of cake stands and bowls creates a decorative landscape in one cabinet.
Personal Touches for the Breakfast Nook
Elizabeth finished the new breakfast nook with a cast-aluminum pedestal table and artwork she painted herself.
Breakfast table: Oly
Hidden Storage in the Banquette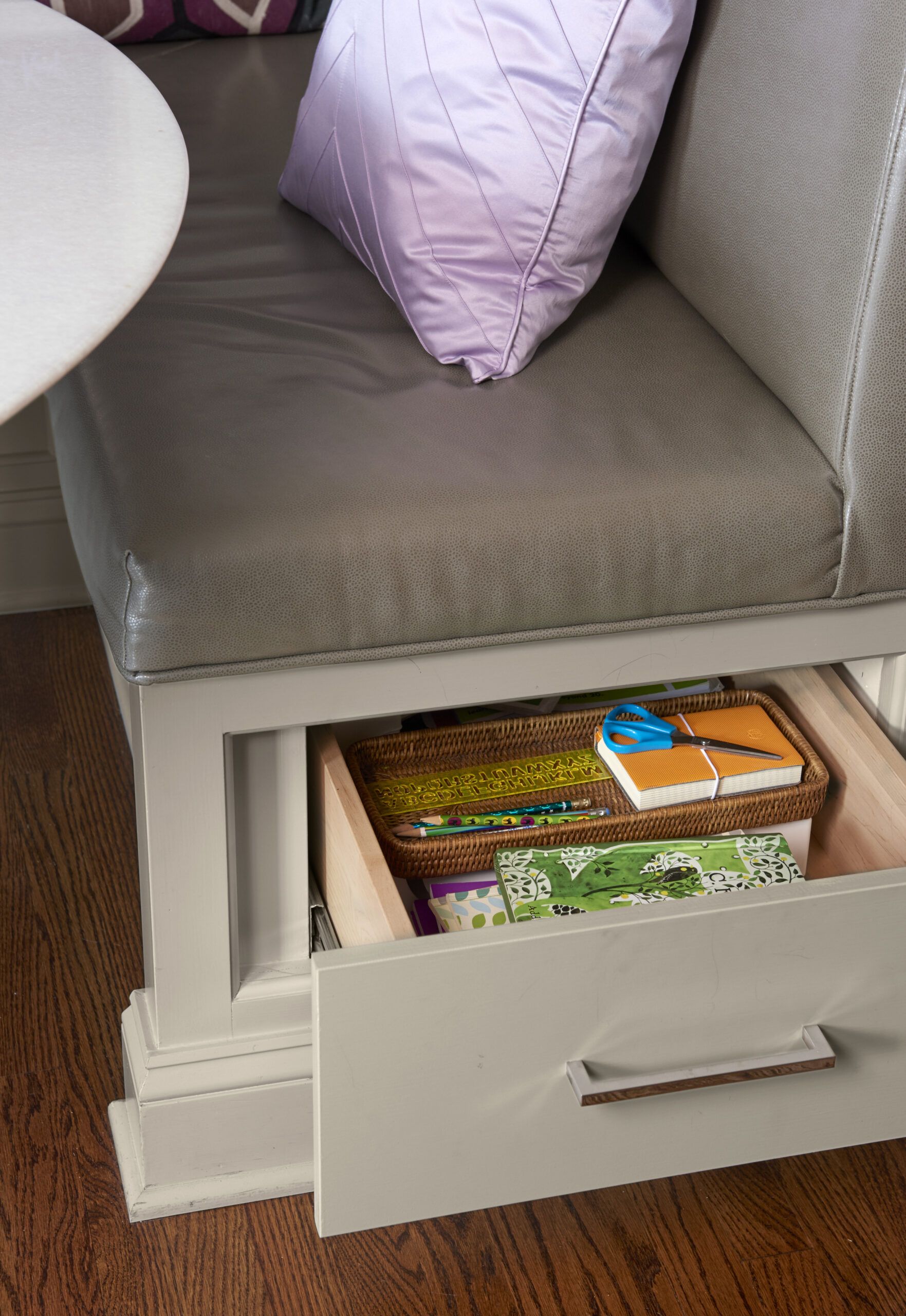 A drawer packed with school supplies hides under the breakfast-nook banquette. Vinyl upholstery fends off food stains.
Handsome New Butler's Pantry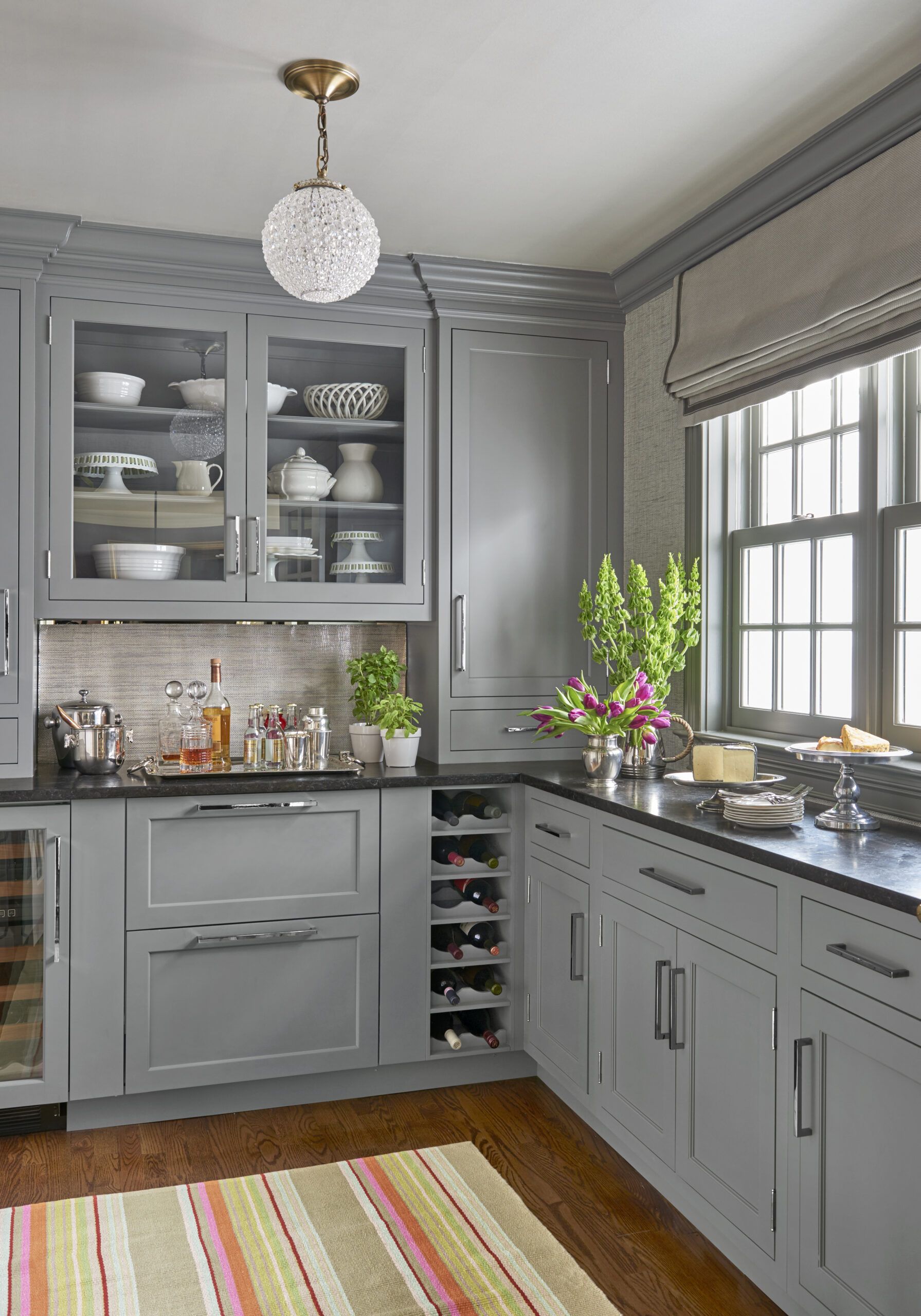 The first-class butler's pantry boasts "leatherized" black-granite countertops, silvery grasscloth wallpaper, and a sparkling ceiling fixture.
Wallpaper: Phillip Jeffries (to the trade only)
Refrigerator Drawers for Easy Access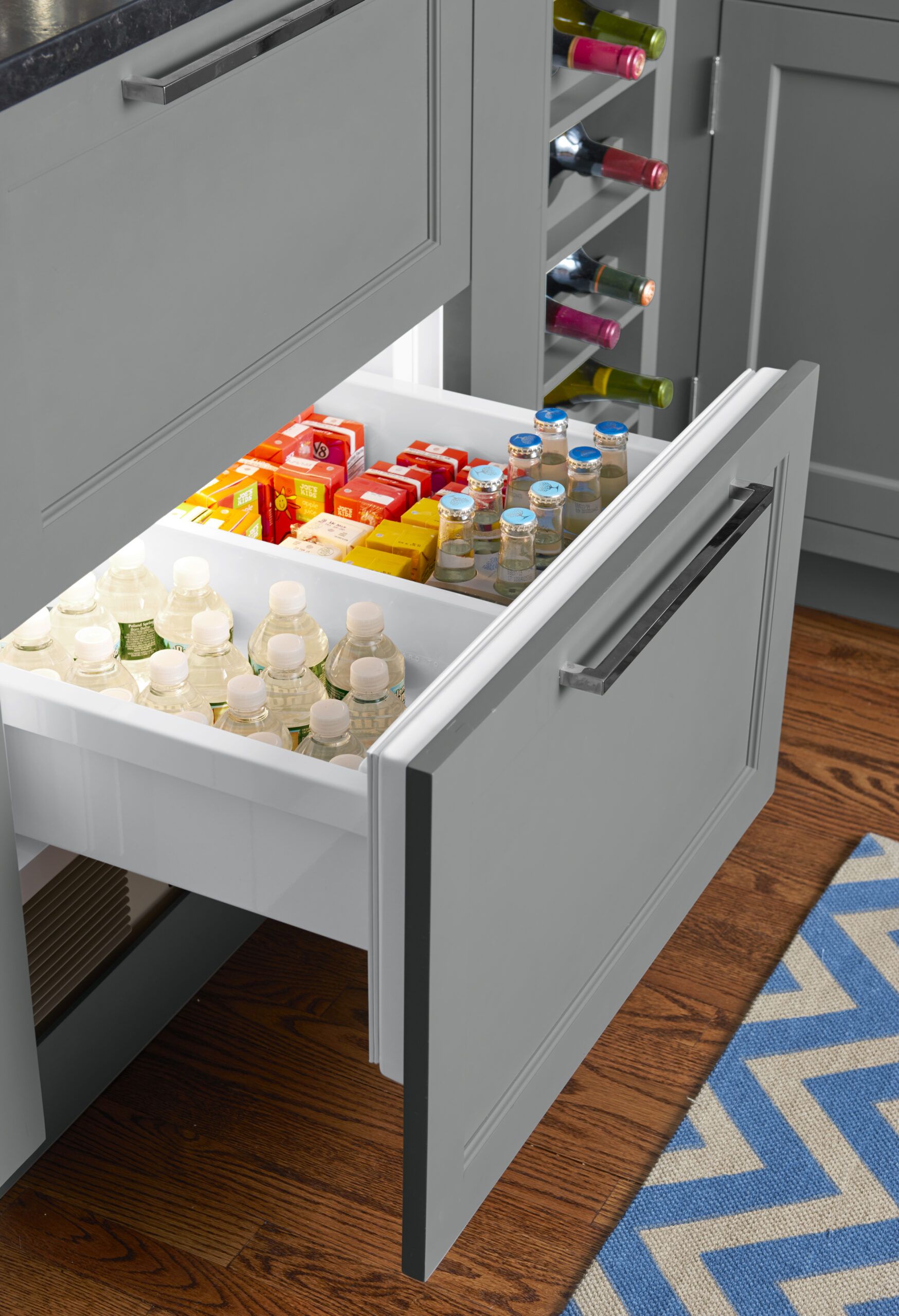 Thirsty kids and guests can dodge the cooking zone by tapping the fridge drawers and wine rack in the butler's pantry.
Intrusive Peninsula: Floor Plan Before
A peninsula cut the 350-square-foot space in half.
Bumped-Out Living Space: Floor Plan After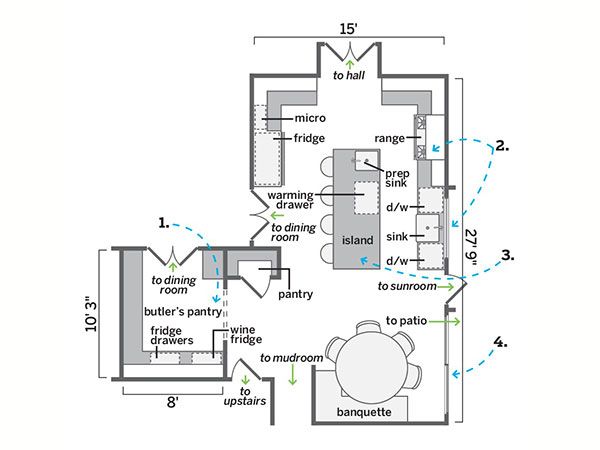 Opened up, bumped out, and augmented by a walk-in pantry and a larger breakfast nook, it's now a 522-square-foot living space.
1. Annexed space for a butler's pantry with French doors that match ones added next to the fridge.
2. Rebuilt the wall with a vent duct for a high-Btu range; put in a larger window.
3. Removed the peninsula and replaced the island with one that has seating and a prep sink.
4. Bumped out two walls and added sliders opening onto a patio next to the sunroom.