Create a Shaker-Style Kitchen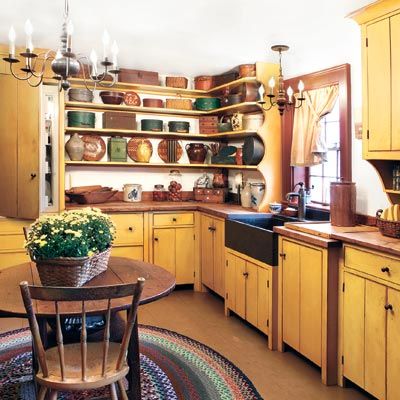 With its focus on simplicity and practicality, Shaker design offers a period look especially well suited to the kitchen. Case in point: In the space here, wide-plank cabinets coated in milk paint disguise high-tech appliances, while an understated poplar table and chair offer a sturdy dining spot. "This kitchen is a great example of early-19th-century design—yet it's totally up-to-date," says Tim Tanner, who features the room in his new book, Early American Country Homes (Gibbs Smith). Adding to the space's authenticity are a braided rug, handwoven baskets, and traditional accessories, including Shaker oval boxes and painted redware plates. Read on for the ingredients to create a similar look in your home.
Spindle Chair
Thanks to its simple frame, this Windsor-inspired seat looks right at home in a country-, colonial-, or Shaker-style space.
About $90; Sturbridge Yankee Workshop
Colorful Hooked Rug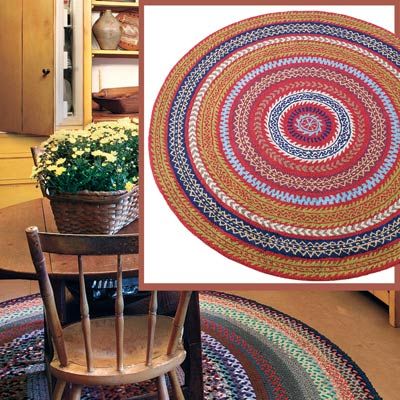 Brighten a room of heavy wood furniture with this vibrant round mat, which features patterned bands with a Fair Isle motif.
About $198 for a 5-foot-diameter rug; Garnet Hill
Walnut-Hued Basket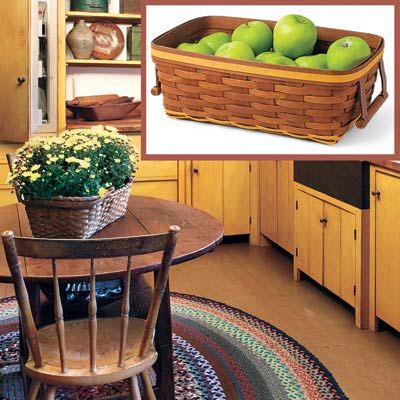 Leather trim and wood handles update this woven maple container, a fresh alternative to the standard fruit bowl.
About $69; Longaberger
Six-Light Chandelier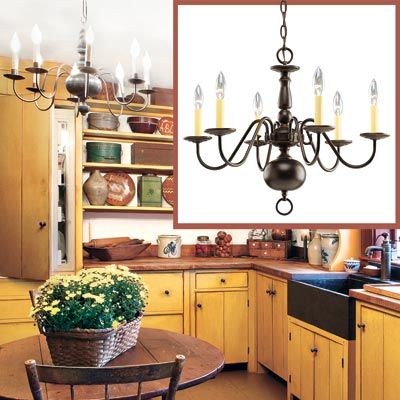 Progress Lighting's colonial-style fixture adds unexpected elegance to a dining nook.
About $124; The Home Depot
Rustic Pottery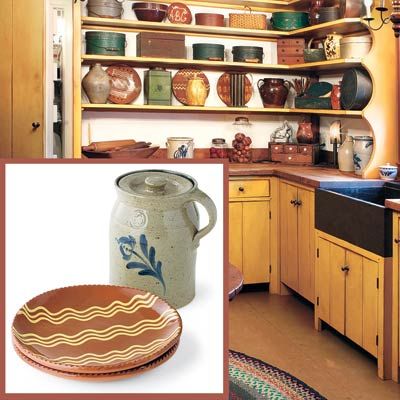 Hand-thrown dishware, such as these redware plates and a salt-glazed canister, does double duty as decor when displayed on shelves.
Plates, about $27 each; Henderson's Redware
Canister, about $51; Cambridge Stoneware Co.
Scalloped Hutch Top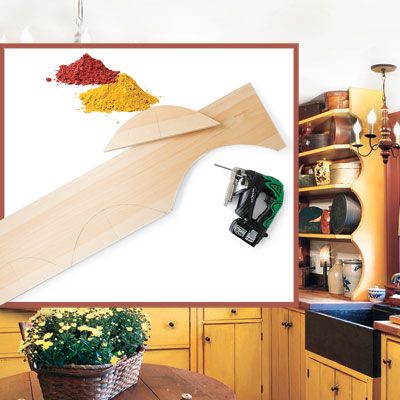 Curved cutouts that graduate from small to large add interest to open shelving. For the sides, download our template, or create your own, then trace the design onto 112 pine boards and cut with a jigsaw. Coat with milk paint for rich color.
Paint, about $17 per quart; Milk Paint
Weathered Lever Faucet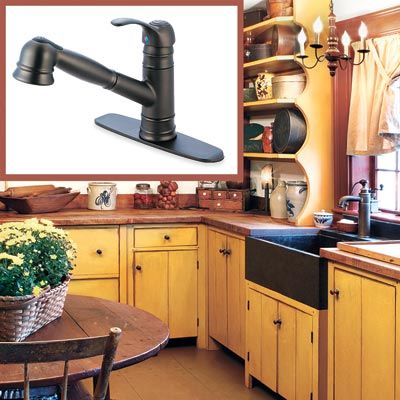 Evoke an old-fashioned water pump with Kingston Brass's bronze faucet with a handy pull-out spray.
About $111; Faucet Direct.com
Round Table
The warm finishes, simply turned legs, and modest size of this dining surface make it feel stylistically appropriate.
About $200; J.C. Penney
Shaker Boxes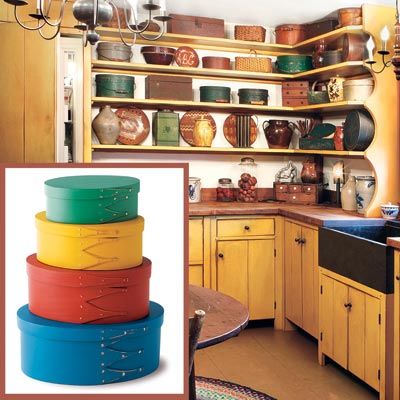 These traditional oval containers are crafted from Pennsylvania cherry using templates that date back to the mid-1800s.
About $31–$48; Shaker Workshops