Show Off Kitchen Shelving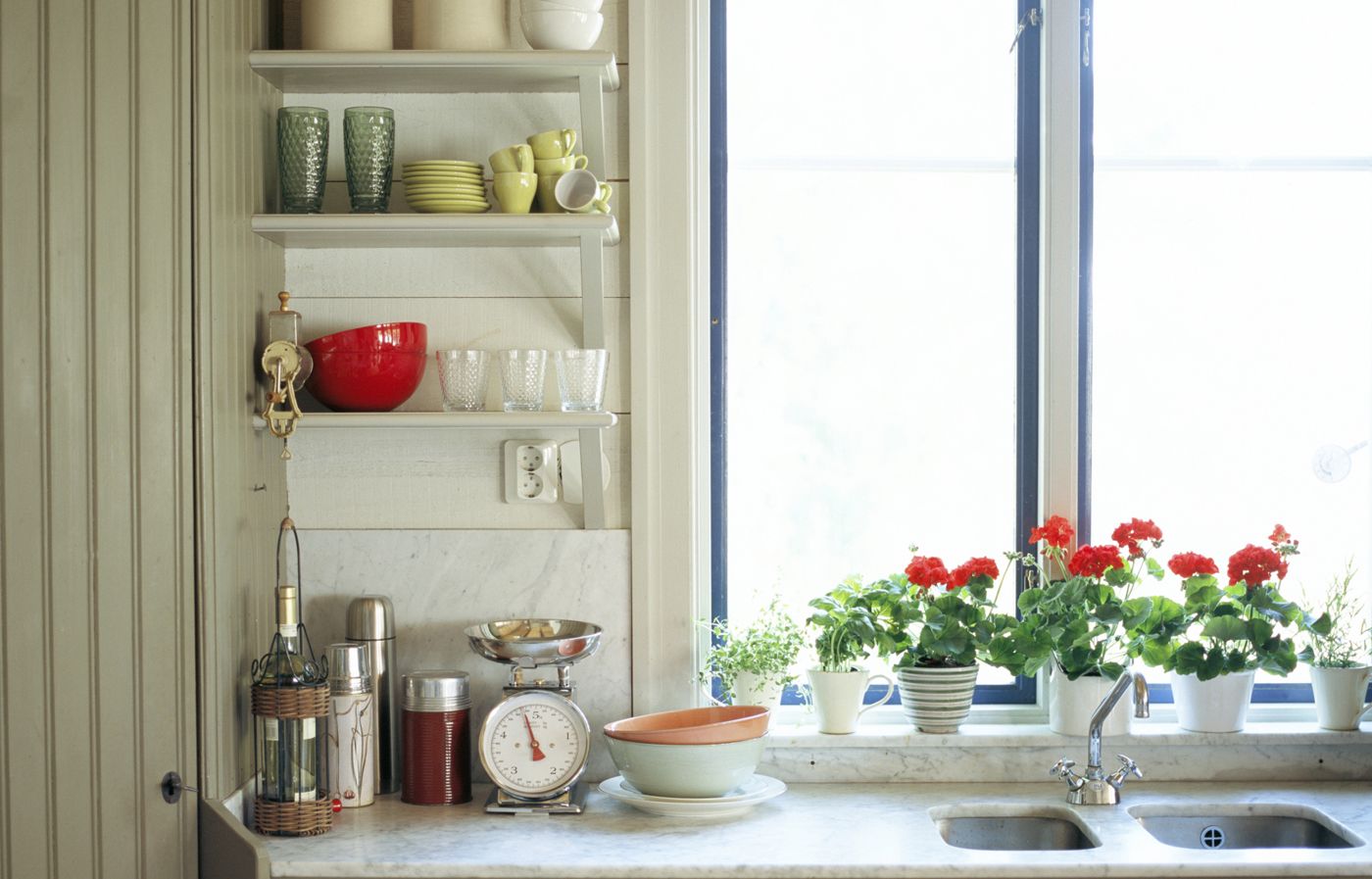 Open shelving filled with eye-popping Fiestaware has legs beyond your "Dream Kitchen" Pinterest board and the pages of This Old House magazine. But ask yourself a few questions before you adapt it in your family's high-traffic cook space: Am I a neat person? Do I love my drinkware enough to display it? If you answered yes, TOH design editor Tisha Leung says you're ready to make the move to open shelving. "It's a really big step visually, and your whole lifestyle changes," she warns. Now that you're committed, read on for her advice on making open shelving work for you.
1. Ease Into the Style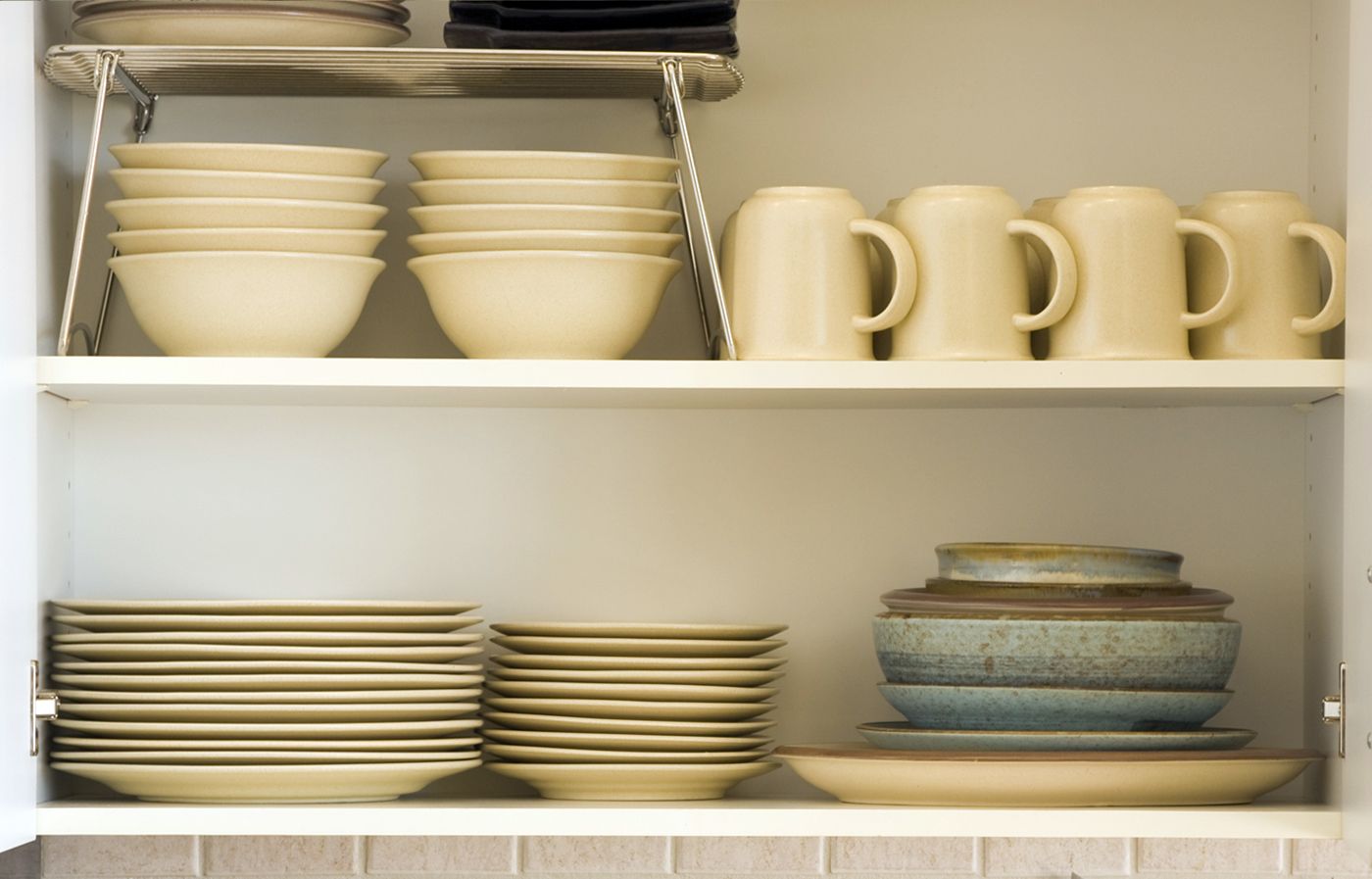 Tisha recommends removing a pair of cabinet doors from your existing kitchen cabinets to give this look a test run. If you want a side-by-side comparison, take the doors off an upper cabinet and leave the doors on an adjacent one. "You can always put them back if you decide that 'open clutter' gives you the heebie-jeebies," she says.
2. Avoid a White Background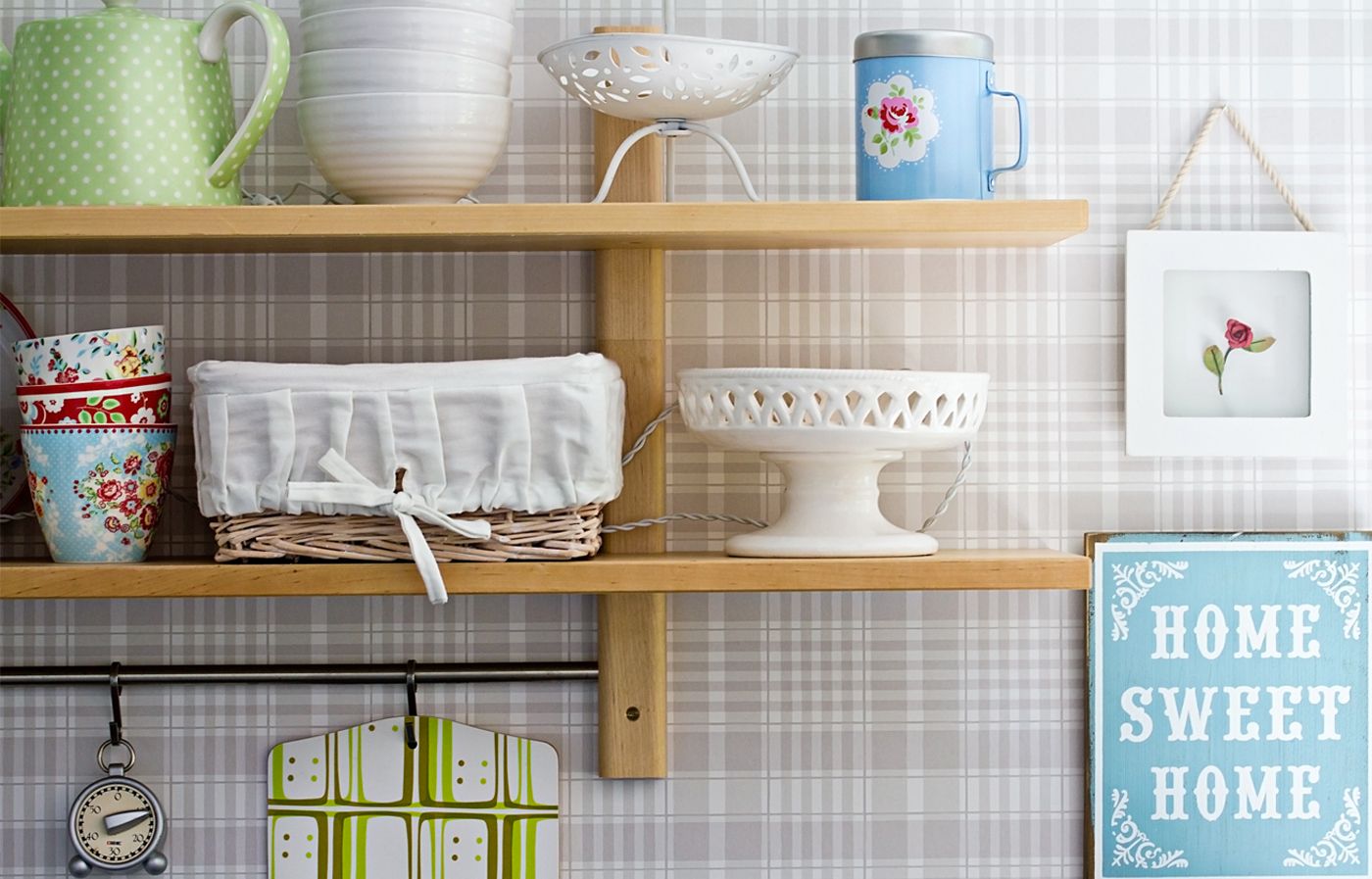 Your kitchen display deserves more than a stark-white background. "White even shows white dust," Tisha says. "Stick with a colored or tiled back you can wipe down—or use beadboard for texture."
3. Fill Bottom Shelves With Functional Items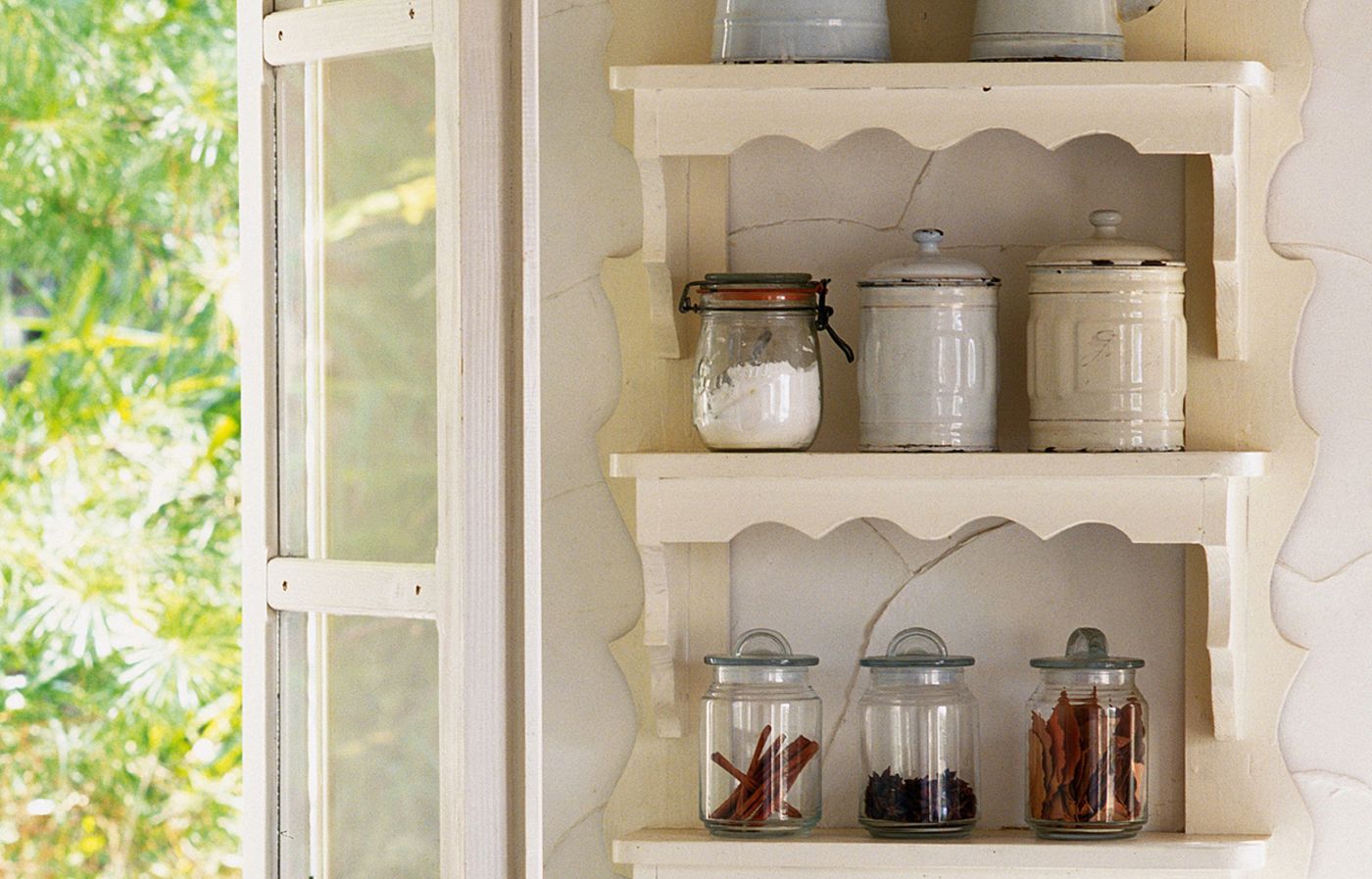 "Organizing is obvious," says Tisha. "Place most-used items on the bottom shelves and less-used, more decorative items as you go higher up." She also points out that open shelving lends itself to organization because you can't cram items into empty space, like you might with cabinets. Plus, when you're having a dinner party, you won't have to brace yourself for a sippy-cup avalanche when you reach for great-grandmother's prized glass pitcher on the tip-top shelf.
4. Mix Functional and Decorative Items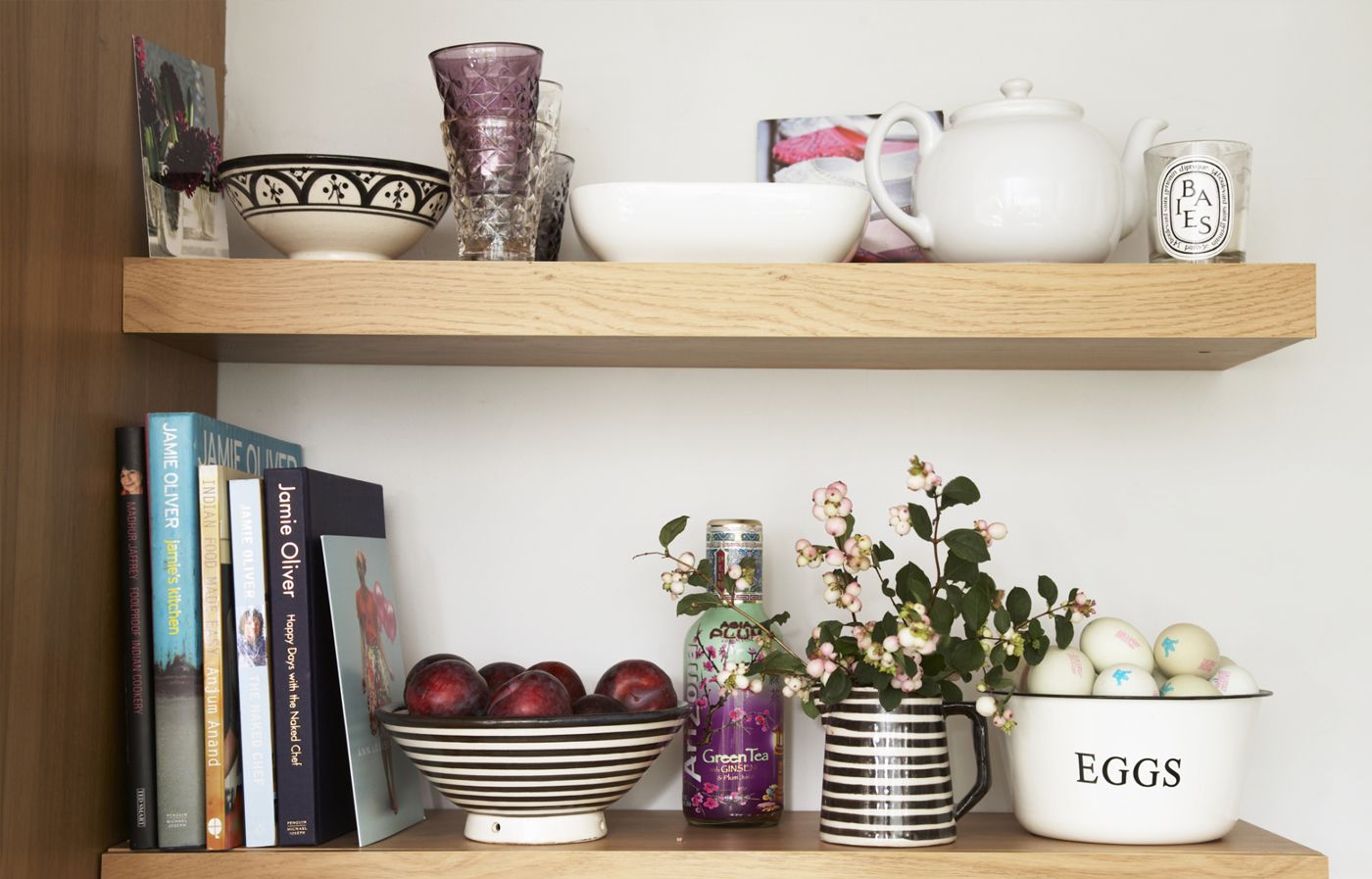 Remember that while open shelving is valuable real estate for your everyday items, there's also room to squeeze in some keepsakes and cookbooks. "They don't all have to be functional pieces," says Tisha. "Mix functional with an antique find, like a soup tureen or a vintage canister that has a great shape or silhouette"
5. Tell a Cohesive Design Story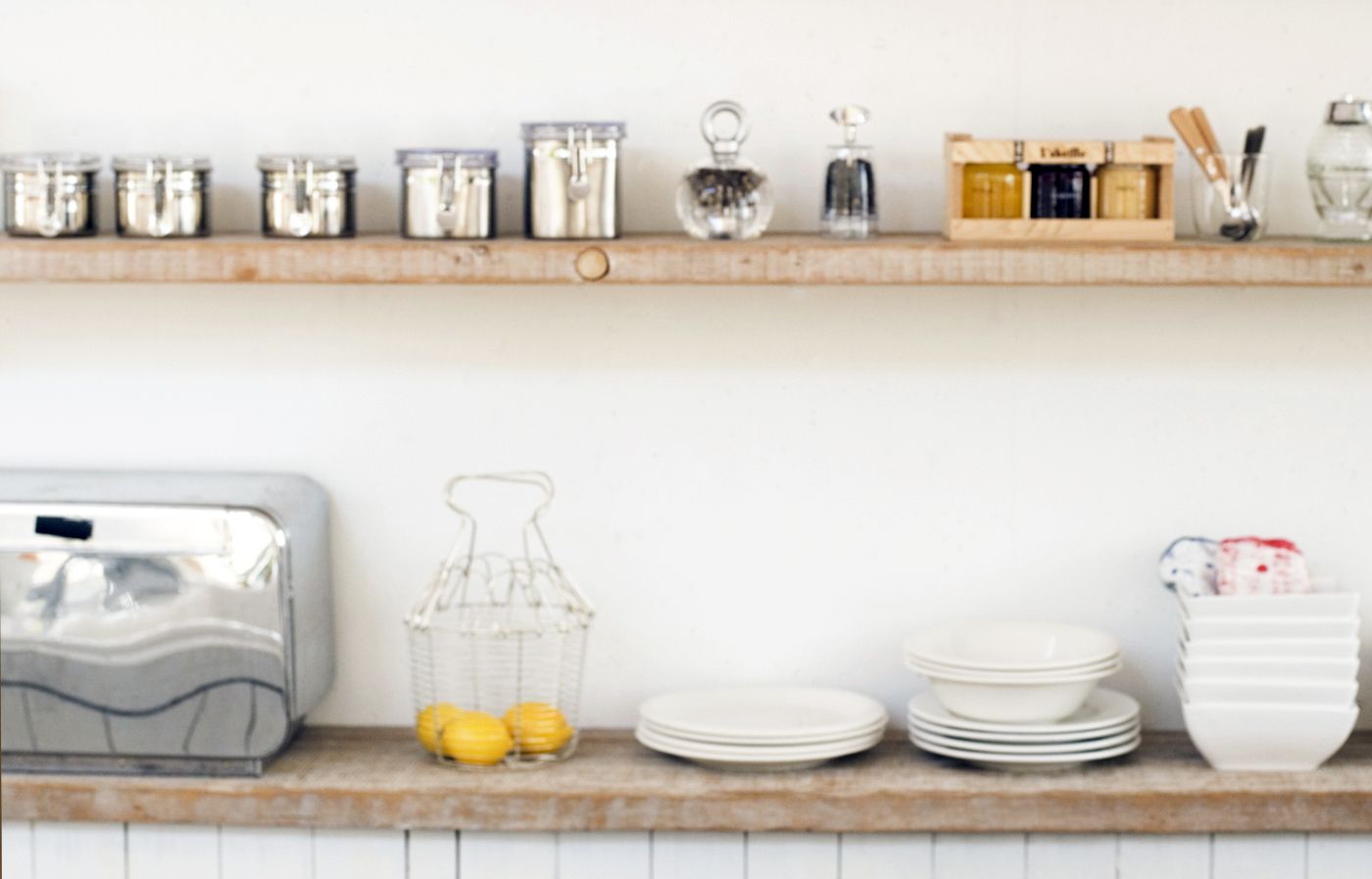 "Chances are that if you're contemplating open shelves, you have a few favorite items or dishware collections. Let those be your design guide," says Tisha. She suggests selecting a color theme, perhaps from your favorite dinnerware, and then adding a white or other neutral color to fill out the display.
Now that you know the rules, install wall-mount shelves or floating shelves to add open shelving to your kitchen.
Here are links to some of our favorite wall-mounted shelves including a wine rack, adjustable shelf, chrome shelf, floating corner shelf, and a floating decorative wall shelf.