Everyone Loves an Island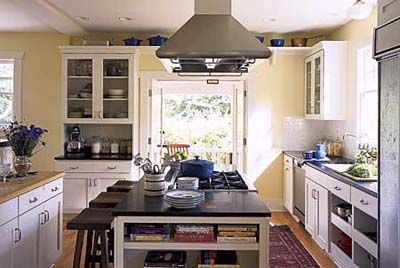 Kitchen fads come and go (remember trashmashers?) but customers will always want an island in their kitchen.
The kitchen island is the perfect place to balance congregation and separation, ensuring that hosts can cook and clean while they socialize with their guests. And they can be a great place for kids to do homework under the parents' watchful eyes.
"Why would you want to prep food with a wall or a cabinet door a few inches from your nose, or eyes for that matter?" says Johnny Grey, renowned Bristish kitchen designer. "An island that faces into the center of the room is the place for prepping and cooking. Sociability is not possible without eye contact."
Space Considerations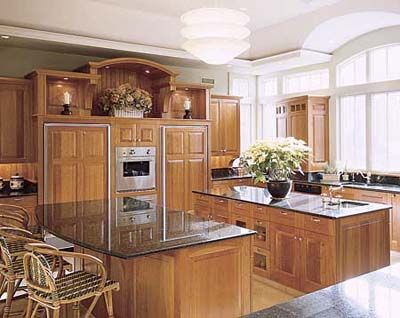 There is no hard and fast rule for size, but architect Duo Dickinson recommends that an island be at least 4 feet long and a little more than 2 feet deep, with ample room to move around it. "Unless your kitchen is at least 8 feet wide and more than 12 feet long, don't even think about an island," he says.
That means there should be at least 36 inches between and island's the perimeter and the cabinetry or appliances that surround it. The National Kitchen and Bath Association recommends 42 inches, or 48 inches if two cooks are using the room—not an uncommon situation in many families.
Keep these figures in mind when some one tells you that they just have to have an island in the tiny galley kitchen.
Color Adds Variety and Focus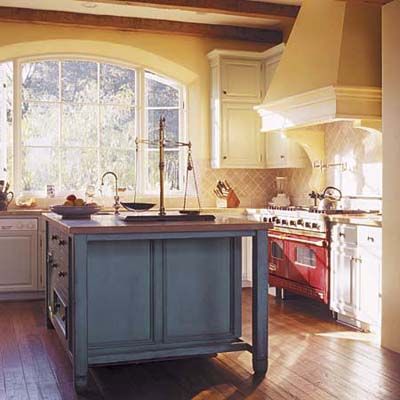 With a contrasting scheme, the island takes on an identity of its own—and makes an interesting focal point. Though the cabinetry might be similar to that of the rest of the kitchen, the island can be given a contrasting shape, color, finish, or countertop material.
Different Counter Heights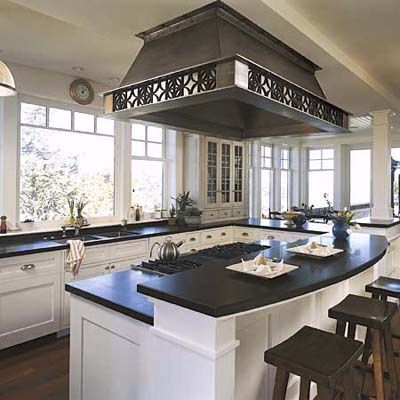 An island with a cooktop allows the chef to socialize while making meals. Here, the cook can prepare food on the six-burner cooktop and serve guests sitting on the stools.
If your customers have small children, they might want to think twice about this kind of arrangement. Clumsy kids could easily spill their juice cup from the higher counter down into a sizzling frying pan on the lower level.
A Good Place to Put Appliances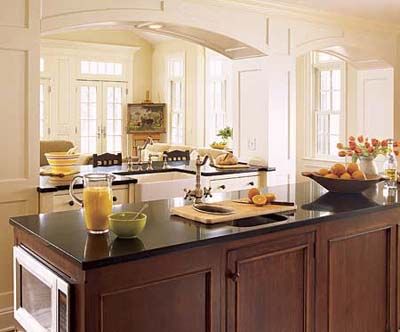 Other appliances that can be tucked neatly away into the island include the dishwasher, microwave, warming drawer, garbage disposal, and beverage center. This 10-foot island allowed the designer to minimize appliances seen at eye level, putting more focus on the character of the cabinetry.
Storage Station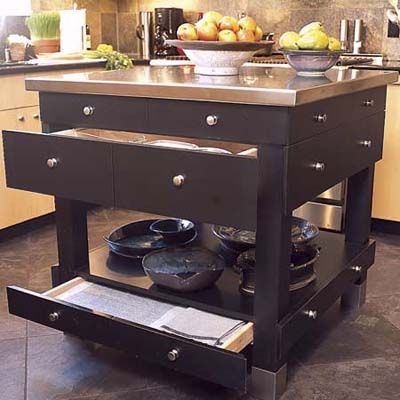 It's not only appliances that get stowed away in kitchen islands. Large 30-inch-wide drawers on one side hold cookware and linens. The open shelf stores serving dishes.
If your customer likes this design, you might want to warn them that anyone who pulls up a stool or even leans on the countertop is going to want to rest their foot on the bottom shelf, which could cause problems with cleanliness.
Furniture Style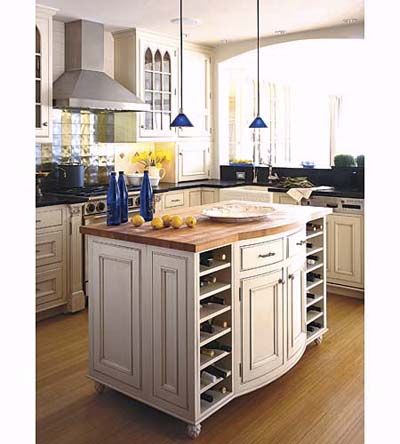 Wine storage at the island is as stylish as it is practical. The racks, along with decorative pineapple feet and a bow front, make this one look like a piece of fine furniture. But with its 4½-by-3-foot butcher-block top, microwave, pull-out trash bin, and multiple drawers for pots, pans, and cutlery, it takes a lot of pressure off the perimeter countertops and storage areas in the kitchen.
Traffic Zones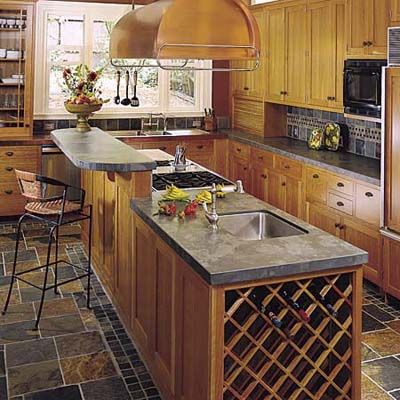 A long but narrow island also features wine storage, which is neatly tucked into the end near the prep sink, creating a bar zone for entertaining. The raised soapstone countertop can be used as a breakfast bar or staging area, all while concealing the chef's lower workstation, which includes a cooktop.
Point out to your customers that while a long island will be very functional, it will also require walking around every time they want to cross the room.
Stool Storage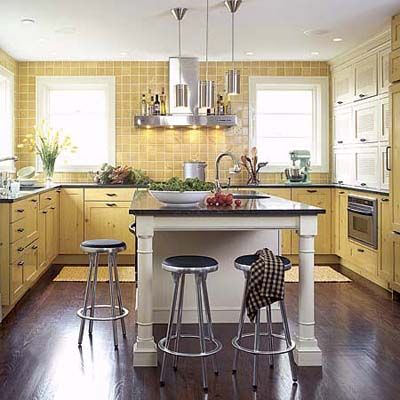 Open space underneath an island might seem like a waste, but in a crowded kitchen it's a great place to stash the stools when no one is sitting on them.
Sink in an Island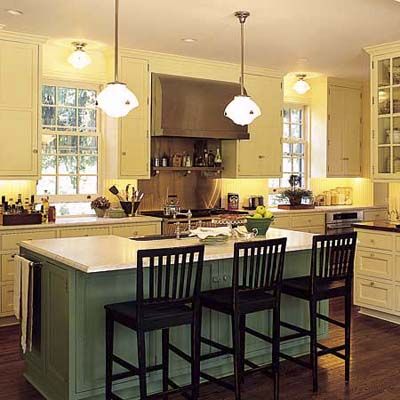 One of the beauties of putting a clean-up sink in an island is that there is usually lots of counter space surrounding it for dishes or even bounty from the vegetable garden.
But before your customer gets all excited about an island sink, make sure they know about the added expense of running a vent pipe to a sink that doesn't back up to a wall. And check with your local inspector to find out what does and doesn't pass code in your location.