How to Afford the Kitchen You Want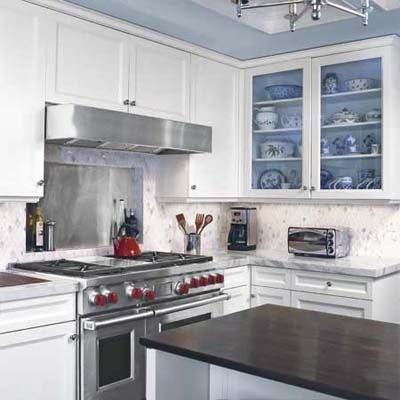 Here's a savvy approach to kitchen remodeling: Take your cues from a classic cooking space with timeless good looks—like the six-figure, fully custom one shown here complete with glossy white cabinets, gleaming stretches of marble and walnut, a showy stainless-steel centerpiece, every corner as carefully tailored as a Savile Row suit. Then order it up, à la carte.
Shown: Painted wood cabinets, marble prep surfaces, wood floors, and a stone sink have been the backbone of a traditional working kitchen for centuries. Stainless-steel appliances, decorative tilework, a handsome coffered ceiling, and an elegant light fixture help elevate the once utilitarian space to a luxe one.
Smart Homeowners Know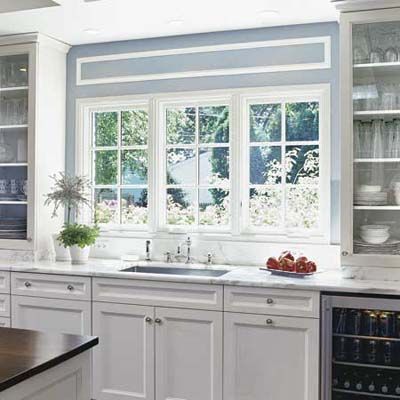 Want to copy the place down to the last, pricey detail? Go for it. Not in the market for major extravagance? Then maybe just steal that combination of light-reflecting woodwork and Carrara-style counters. Maybe give glass doors a pass if your dinnerware can't take the pressure. You may want to spring for the heirloom-quality faucet if you're in your forever house (just take it with you if you decide to sell). Or skip the diva range for one that offers a little less drama and a little more value.
As resourceful homeowners know, the smart money is on learning to mix high-end products and materials with those on the lower end—while keeping a keen eye on quality, of course. You've probably been doing that for years yourself (which helps explain how you ended up with a $20 toaster and a $200 panini grill). Now's a good time to apply that same approach to freshening up your kitchen. Start with some of these inspiring finds.
Range: Luxe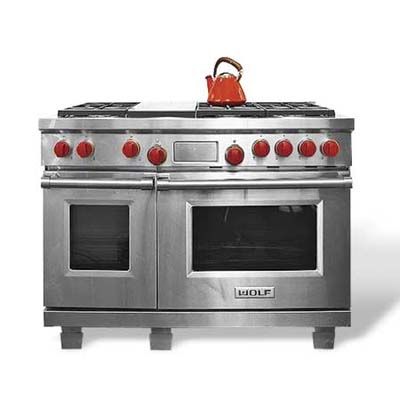 Pro-style looks and big-BTU heating are widely available. Fuel type, capacity, and features will determine the cost.
Dual-fuel classic. Wolf's 48-inch "dual-fuel" range has six gas burners (one with dual simmer/boil settings) and a griddle, plus two electric ovens for even baking—a double-convection 4.5-cubic-footer and a 2.5-cubic-foot side oven. Bonus: adjustable legs for leveling. About $11,000; Sub-zero
Range: Moderate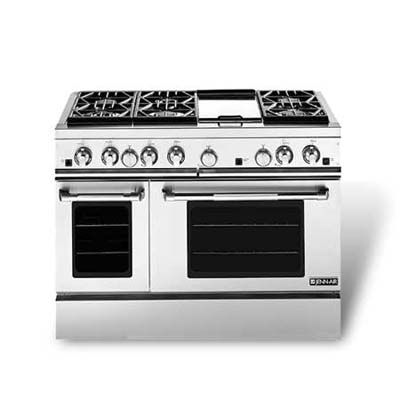 Gas-only update. If you can live without an electric oven and adjustable feet, Jenn-Air's 48-inch Pro-Style gas range has the same features, with almost the same oven capacities. About $6,399 (not including backsplash); Jenn-Air
Range: Budget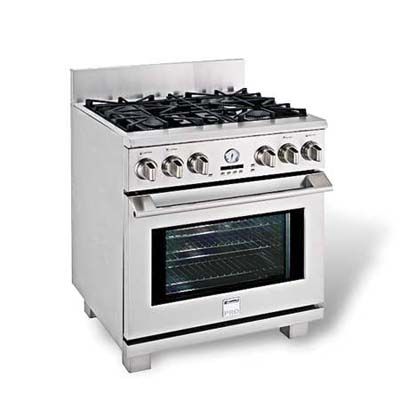 Scaled-down dual-fuel. Four burners and one oven enough? Then consider Kenmore's 30-inch, dual-fuel Pro range. It's got the lines down pat, plus a button lock for the controls to keep kids safe. About $3,999; Sears
Backsplash: Luxe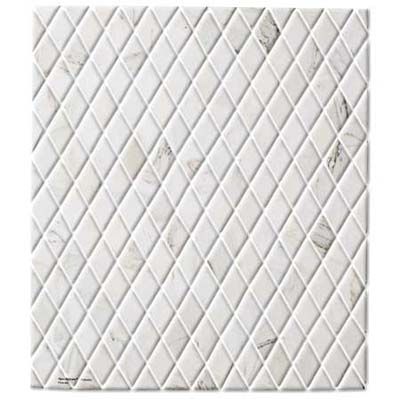 The elegant, diamond-shaped marble mosaic tiles on this kitchen's backsplash are definitely out of the ordinary. But there are more affordable options, too. Like most mosaics, the three tile samples shown here come attached to
a mesh backing to ease installation.
Multitoned marble diamonds.These polished mosaics from Walker Zanger are hand-cut from Calacatta marble. The stone's natural color variations give the tiles eye-catching depth and interest. About $46 per square foot (shown installed); Walker Zanger
Backsplash: Moderate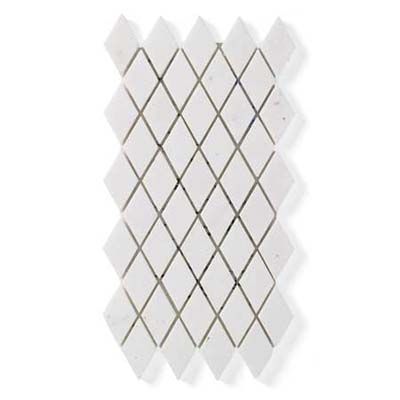 White marble diamonds. Pure white Cristola marble mosaics from Cancos have a little less sheen and no veining but deliver a light, bright, natural-stone look for a bit less. About $38
per square foot; Cancos Tile & Stone
Backsplash: Budget
Improvise with ceramic squares. Try giving prosaic 1-inch white ceramic mosaics a quarter turn to create a less costly diamond shape (find them for as little as $3 per square foot). Upping the style ante: These half-inch-thick squares from Artistic Tile are made and glazed by hand. About $27 per square foot; Artistic Tile
Prep Sink: Luxe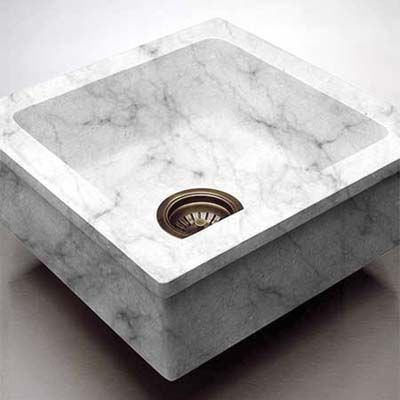 The custom built-in sink in the kitchen shown throughout this story took three days
to make from individual slabs of Carrara marble glued together, for a four-figure price tag. You can order something like it without having to wait for a fabricator. Add a custom cutting board for on top from a woodworker ( The Vermont Butcher Block & Board Company offers a range of fancy maple and walnut ones).
Stone sink in stock. Stone Forest's 17-inch-square sink is hand-carved
from a solid block of Carrara marble. It weighs in at 80 pounds and comes pretreated with three coats of sealant to prevent staining. About $980; Stone Forest for stores
Prep Sink: Moderate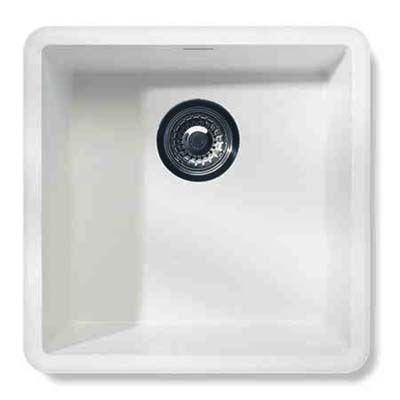 Copy it in Corian. The new 16-inch-square, crisp-cornered Vaso might be mistaken for an old stone sink—a white one. But its solid-surface material never needs sealing, scratches can be sanded out, and it won't chip around the lip. About $799; Dupont
Prep Sink: Budget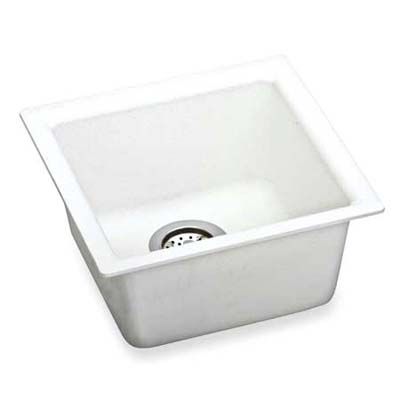 Durable approximation. While Elkay's new 15-inch-square E-granite undermount sink may not exactly mimic solid stone, it's got some in it. It's made from a hard-wearing, nonstaining composite of crushed granite and resin that requires no sealing. About $273; Elkay
Sink: Luxe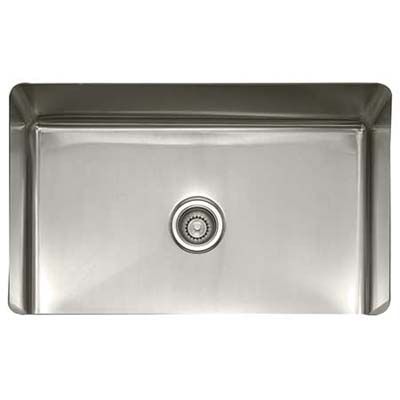 One 30- to 32-inch-wide basin trumps the double-bowl these days. But any stainless sink with noise-dampening rubber pads on the underside and 16- to 20-gauge stainless steel (lower-gauge is thicker and better) can fill the bill.
Deep and heavy-duty. Made of pro-grade 16-gauge stainless steel, this Franke sink is 11½ inches deep to fit tall stockpots. It also has the biggest sound-reduction pads of the bunch. You can customize the drain placement when you order. About $1,825; Franke
Sink: Moderate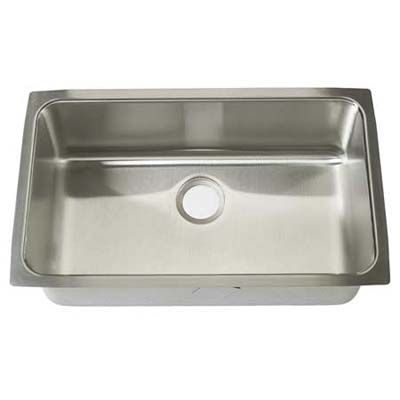 Shallower, thinner, but still substantial. Residential-grade
18-gauge steel and an easier-on-the-back working depth of 10 inches may
be enough for you. Elkay's version has
a good spray-over-pad sound-reducing treatment and a textured finish that helps it stand up to scuffs. About $811; Elkay
Sink: Budget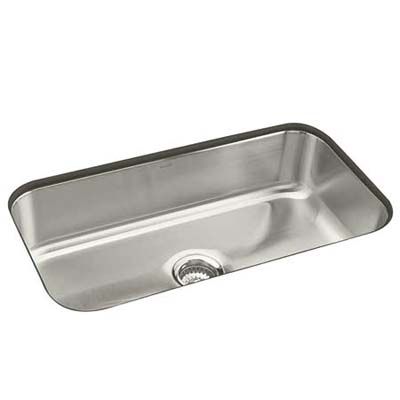 Similar specs, solid value. A little shinier (more prone to scratches), a little tinnier when you thump it (because of reduced soundproofing), Sterling's model still has the luxe size, 18-gauge stainless steel, and pad insulation, as well as a comfortable 9-inch depth. About $443; Sterling Plumbing
Faucet: Luxe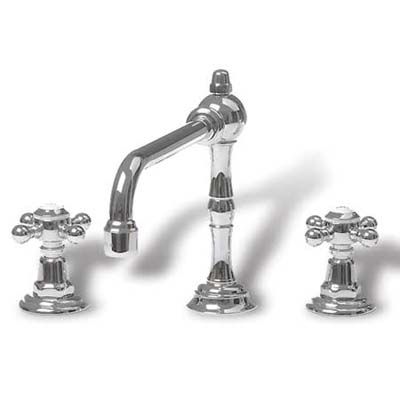 Focus on weighty brass castings, a durable finish, and high-performance valves for the best overall investment. Of course, you gotta love the way it looks, too.
Precious metal and compression valves. More than half the cost of Dornbracht's sophisticated, cross-handled faucet comes from its exotic custom coating of real platinum alloy. The three-layered, electroplated finish is guaranteed for life; the valves' top-of-the-line, traditional compression cartridges, for up to five years. About $2,568 (hand spray included); Dornbracht
Faucet: Moderate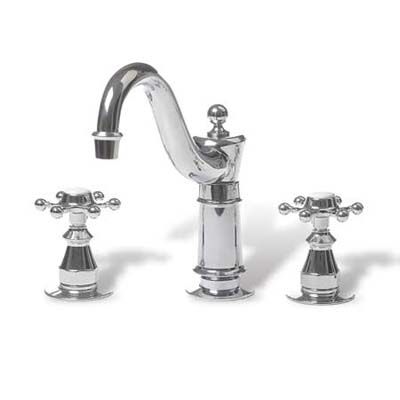 Traditional finish, ceramic discs. This faucet from Kohler costs less because it comes in a more conventional chrome-plated brass. More important is that under the charming six-point cross handles are valves with long-wearing ceramic discs. Comes with a lifetime guarantee. About $726 (hand spray included); Home Depot
Faucet: Budget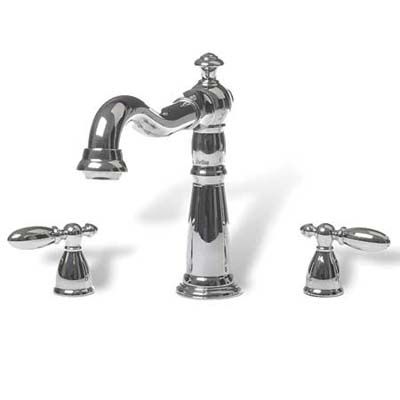 Less brass, steel valves. This brass spigot's got a chrome-plated nickel finish; the simpler lever handles are plated zinc. Stainless-steel discs in the valves make this Delta set—guaranteed for life—an excellent value. About $351 (hand spray included); Delta
Countertop: Luxe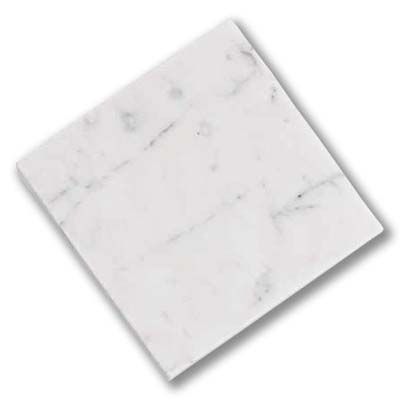 The average kitchen has roughly 23 linear feet of counter surface. That
much marble is a gorgeous extravagance. Fortunately, look-alike synthetic
materials can deliver a similar look for less.
Gray-veined Carrara marble. For many, the wonderful character this stone imparts is worth a little extra work: periodic sealing with food-grade mineral oil, a bit more care in using trivets, the need for a fast cleanup to avoid stains. About $75 to $90 per square foot, installed; Cancos Tile & Stone
Countertop: Moderate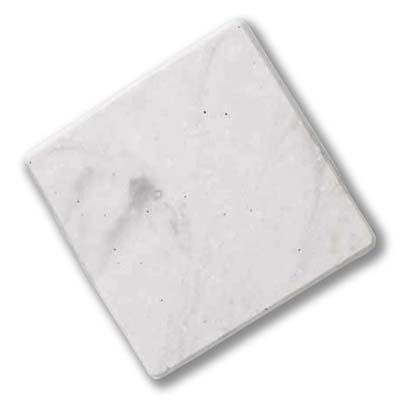 Seamless solid surfacing. This Corian solid surfacing in Rain Cloud does a fairly good job of imitating Carrara, though with a more uniform look. While scratches and extended exposure to extreme heat can still cause damage, it definitely requires less upkeep. Another plus: seamless countertops. About $60 to $75, installed; Dupont
Countertop: Budget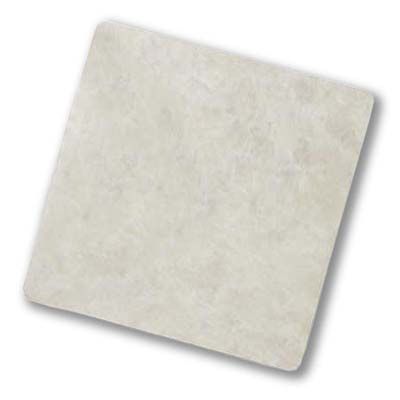 Budget-friendly laminate. Wilsonart's simulated marble has a nice neutral look. Plastic laminate wears for years—just don't cut into it. Independent tests actually found that it resists stains and heat damage better than other synthetics. Be sure to hire a good installer to minimize seams. About $20 to $25 per square foot, installed; Wilsonart International
Chandelier: Luxe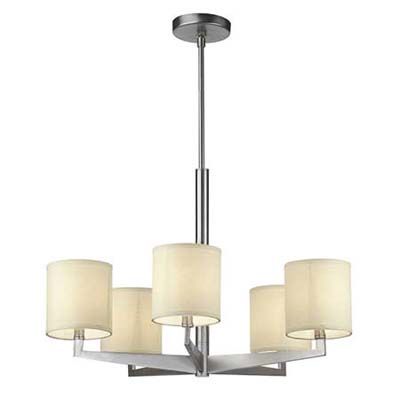 Where material is the same (steel) and finish nearly so (satin or brushed nickel), as in the three fixtures below, it's mostly design and dimensions that you're paying for.
Sleek, solid, and sizable. A modern take on the discontinued fixture at
right, this satin-nickel, five-arm number from Shades of Light is 27 inches in diameter. It also has a ceiling-mounted rod, a nice upgrade from the chain-link look. About $490; Shades of Light
Chandelier: Moderate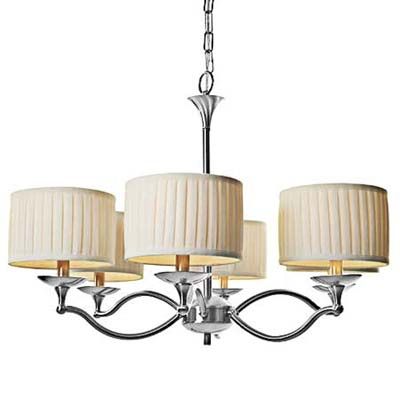 Less sturdy, one more light. This traditional brushed-nickel fixture from Thomas Lighting is 25½ inches in diameter. Its six curved arms are more detailed, but thinner and more easily dented. About $305; Thomas Lighting
Chandelier: Budget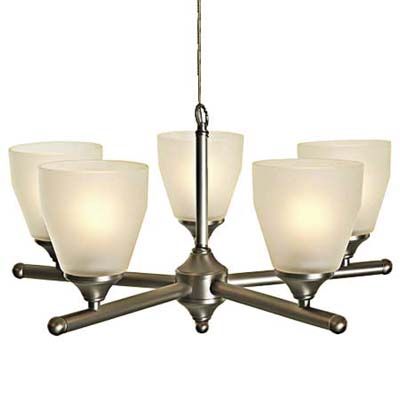 Compact, simplified design. Glass shades meet plain tubular-steel arms finished in brushed nickel on this five-light Kichler chandelier that's 21 inches across. about $178; Lamps Beautiful Glass shades meet plain tubular-steel arms finished in brushed nickel on this five-light Kichler chandelier that's 21 inches across. about $178; Lamps Beautiful
Cabinets: Luxe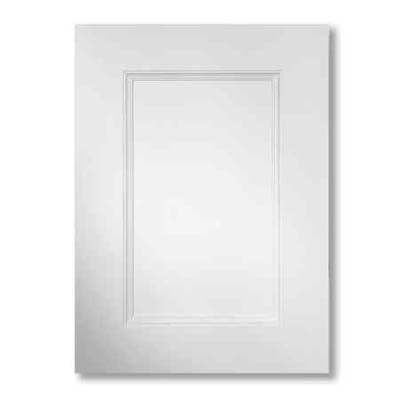 The cost of cabinets mostly comes from whether you choose custom (order up any size you want), semicustom (choose from a wide array of predetermined sizes), or stock inventory (rely on set dimensions and use filler strips in between as needed).
The doors have differences, too. Prices listed are for complete cabinetry in the styles shown.
Custom painted maple. Quality Custom Cabinet's door is a full inch thick, made with mortise-and-tenon joinery. Milled hardwood gives its inset detail sharp definition. It covers a made-to-order box of ½-inch plywood. About $650 per linear foot; Quality Custom Cabinetry
Cabinets: Moderate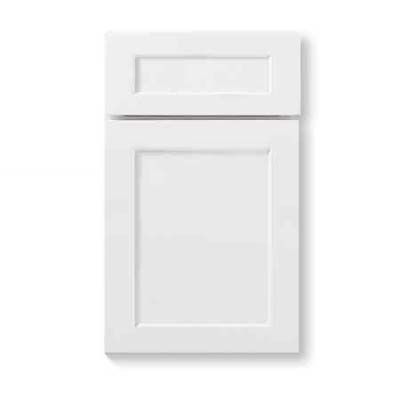 Semicustom painted maple. Kraftmaid's solid maple door is a simple recessed panel with a baked-on enamel finish. It covers a box of ½-inch plywood. About $203 to $282 per linear foot; KraftMaid
Cabinets: Budget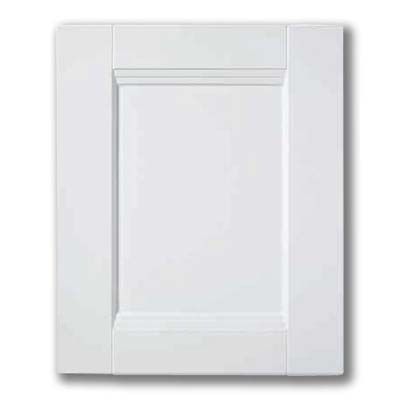 Stock with ThermoFoil. A milled-MDF frame and melamine panel make up this less expensive door from American Woodmark. ThermoFoil covering—molded PVC plastic—is hard-wearing and easy to clean but can be vulnerable near cooktops. The box has ½-inch particleboard sides and a 1/8-inch MDF back. About $127 per linear foot; Woodmark-Home Depot
Knobs: Luxe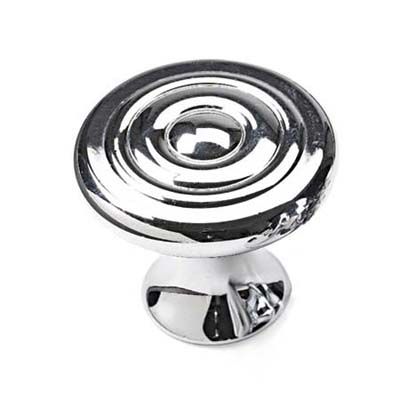 Hefty brass "bodies." Chrome plating. Nearly identical designs. Much
of the difference between these vintage-style cabinet knobs comes down to
how they're made.
Clean-cut castings. Watermark's flat-faced design gets its crisp detail in part from the six or seven cleanings it receives after being cast from molten brass. It's then polished by hand to eliminate nicks or bumps and coated in copper, nickel, then chrome (three times each) for a top-quality finish. About $33; Watermark Designs
Knobs: Moderate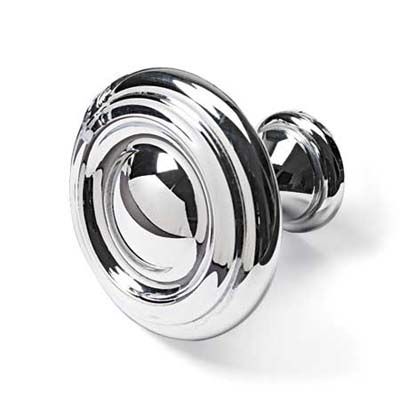 Full-figured and turned. A larger but similar style by Omnia starts with a brass billet that's detailed on a lathe before it's chrome-plated—a process that approximates the look of a casting in less time. About $15; Hardware Hut.com
Knobs: Budget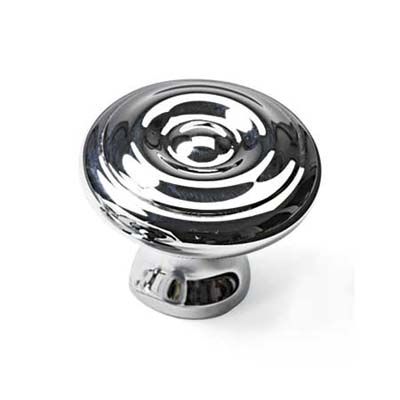 A smoother look-alike. Baldwin's domed knob is brass that's been forged, a less expensive process that produces softer lines. It is then polished by hand and chrome-plated. About $4; Baldwin Brass Outlet
Wood Countertop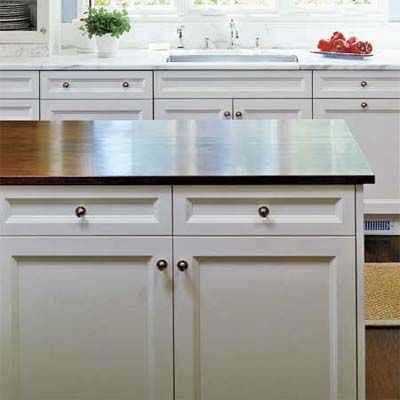 When perimeter countertops are light in color, mixing in a rich, wood surface makes for a dramatic accent—and can help delineate a serving or dining spot. But the lustrous finished walnut in the kitchen we show is costly, typically about $100 per square foot. A more affordable ash or maple for about half the price can provide a similar look when darkly stained, topped with a water-based varnish, and maintained with a food-grade beeswax (like Clapham's Beeswax Salad Bowl Finish), which makes the sealer last longer and gives the surface a soft shine.
Hardwood Flooring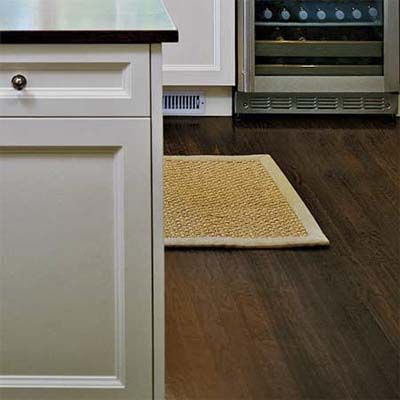 Rich, dark hardwood—like the stained oak in this kitchen—offers a handsome contrast in a mostly white kitchen. And with all the choices out there, getting the look doesn't have to be your costliest upgrade. The price difference between prefinished solid wood (about $5 to $16, uninstalled) and engineered wood (about $2 to $11, uninstalled) is often mere dollars per square foot. The latter requires less install time—and time is money, if you're hiring out—and is also more DIY-friendly. But the boards won't withstand as much refinishing down the line. Cheaper laminate about (about $4 to $8, installed) and vinyl about (about $3 to $7, installed) can provide the right color contrast and, in some cases,
a decent (waterproof) stand-in for the look of dark-stained wood, if not the feel.
Coffered Ceiling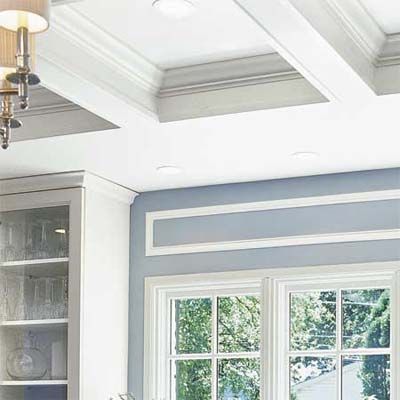 For this ceiling, carpenters boxed out a grid with 2x4s and covered the recesses with drywall, then added stock crown molding. For a coffered look that comes just from applied moldings, companies like Midwestern Wood Products sell easy-to-install solid-wood modular systems (a kit of runners and cross-ties) that let competent DIYers hang their own. At about $12 per square foot, you could pay $2,500 for a 13-by-15-foot ceiling like this one.
Buying Tips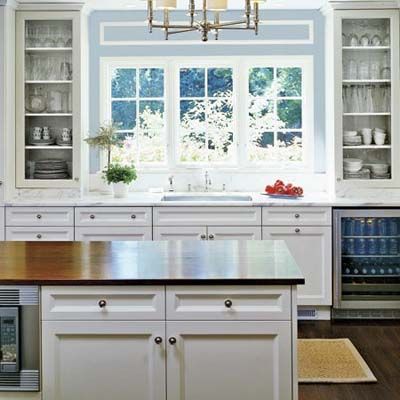 In this story we've mostly listed manufacturers' suggested
retail prices (MSRPs). But it pays to check around (it even pays to haggle for free
delivery and an extended warranty with high-priced items that are rarely discounted). Google can help you comparison-shop online, and so can sites like Pricegraber.com and Shopzilla, which gather up sources for you. They steered us to a number of online retailers offering a kitchen faucet listed at about $272 (MSRP) for less than $190, including one that offered free shipping. But not so fast! It didn't apply to orders under $199.99. So keep in fmind: No price comparison is final until you include shipping and delivery. Also, it's safest to buy from approved dealers (listed at manufacturers' websites)—and nothing's a bargain without a good warranty and return policy. So be sure to read all the fine print.