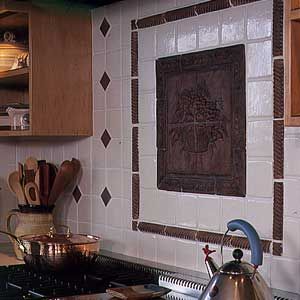 Backsplashes began life as functional conveniences — easy-to-clean surfaces that protect kitchen walls, especially those behind the cooktop, sink and prep area. But it didn't take long for kitchen designers and homeowners to realize that a distinctive backsplash can also help a kitchen look great. That means you can add real flair to your kitchen with relatively little fuss, because installing a backsplash is a project you can tackle without disturbing other elements in the room.
There are no real rules governing backsplashes. Besides selecting a material (or materials), you have to decide how "long" the run should be. Wrapping the backsplash around the entire room gives a sense of visual continuity, which could help a small space seem larger. The opposite approach—panels behind specific areas like the range or sink —highlights and draws attention to these areas.
The other choice is how tall the treatment should stand. A backsplash that runs all the way up to the bottom of the wall cabinets gives the room a finished quality. As for a low backsplash, Karen Thompson, a design consultant for a branch of The Home Depot in Atlanta, says, "I don't recommend the standard 4-in. backsplash because it adds another horizontal line to a room that's full of them. Also, the wall has to be finished off with paint or wallpaper, which isn't very durable."
Because a backsplash bridges the counter and cabinets, choose a material and color that work with those elements. Complementary colors or variations on a dominant color give a traditional look. To liven up the room, add some contrast, like a stainless backsplash with cherry cabinets, or a checkerboard of dark and light tiles. Consider texture, too. Rough finishes add a casual flavor, while slick, shiny surfaces emphasize elegance and a contemporary feeling.
This roundup will show you how several backsplash materials stack up when it comes to installation, cost and maintenance.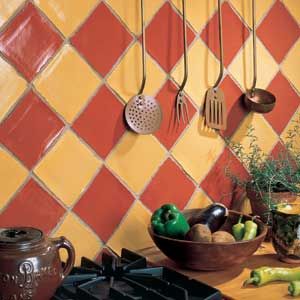 Ceramic Tile
By virtue of its sheer variety in color, shape and size, ceramic tile is undoubtedly the most versatile backsplash material. Even simple tricks— turning square tiles on point, varying and combining standard shapes, adding the occasional accent tile—can spice up your kitchen without emptying your wallet.
How the tile is set depends on where you live. In the West, installers often set tile in thinset adhesive over a "floated" mortar bed usually about 1/2 in. thick. This traditional construction technique is not recommended for novice tile setters. But when a pro does it right, it's virtually bombproof.
In the East, you might get a blank stare from your tile installer if you ask him if he intends to float a mortar bed for your backsplash. He'll likely use cement backerboard as a substrate—1/4- or 1/2-in.-thick sheets screwed to the wall. Either method is okay.
Prices start at $2 per square foot for 4-in. machine-made tiles and can easily top $20 per square foot for handmade tile. Mesh-backed mosaic tiles in a 151- or 152-ft. sheet start at $5 or less per square foot; their glass counterparts are considerably more, starting at $25 per square foot. Mass-produced tile murals may cost as little as $45 for a six-tile pattern of, say, flowers or vegetables. But you can also spend thousands of dollars for hand-painted murals designed by an artist who creates original designs.
Labor rates for setting tile vary by region as well as by the complexity of the job. Robert Daniels, of the Tile Council of America, says labor rates average from about $2.50 per square foot to $8.50 per square foot. But prices are higher in some local markets. One tile contractor in the San Francisco area, for example, calculates labor at $9.50 per square foot for setting standard-grade tile (more for mosaics, stone tile and custom installations). In other parts of the country, like Florida, setting rates are less than $2 per square foot. But wherever you are, look for established tile contractors. One trade-group executive warns that tile work is too often backed by only a "taillight guarantee." That is, it's good only as long as you can see the installer's taillights. When he's gone, it's gone.
Most wall tiles require little maintenance (porous stone and clay tiles must be sealed periodically). However grout between tiles should be sealed so it won't stain or absorb water. Epoxy grout, says Chip O'Rear, assistant executive director of the National Tile Contractors Association, is water- and stainproof, but it is harder to install and may yellow over time. O'Rear says a strong solvent will remove the yellowing. Just remember, you have to use this type of solvent with caution and adequate ventilation.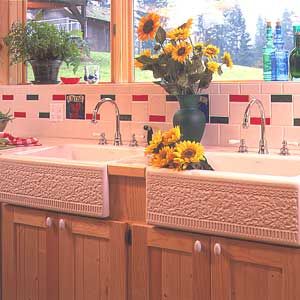 Stone
Natural stone offers almost as many possibilities in color and texture as tile. With the ascendancy of polished granite as a counter choice—one suburban Connecticut kitchen showroom estimates that 60 percent of the new counters it handles are granite— tumbled marble in 4-in. squares is becoming the backsplash du jour. It has a worn, pitted surface, and its colors have been softened and muted by abrasion or an acid wash.
Stone tile is set much like ceramic tile: on a mortar bed or cement backerboard with thinset adhesive, or over drywall with mastic. But, says O'Rear, setting highly reflective stone tile is less forgiving than ceramic tile because uneven surfaces are glaringly obvious. Some stone is uneven in thickness, which means it should be set in mortar instead of thinset. A medium mortar bed of up to 3/4-in. thickness can be applied without causing shrink cracks or damaging tile as it cures. For dense, nonporous stone, O'Rear says, the installer should use a high-quality polymer-modified thinset to improve adhesion.
Four-inch tumbled-marble tile starts at $10 per square foot, but prices can climb to $5 or $6 for each 4-in. stone tile. Dark colors are more expensive than lighter colors. Granite tiles begin at around $11 per square foot.
Grout is all but impossible to remove from untreated porous stone. So seal or make sure the installer seals stone like limestone or marble before installation for easier cleanup. O'Rear says water-based sealers, or grout releases, are generally a better bet in the kitchen than solvent-based sealers.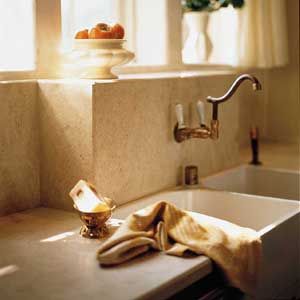 Solid Surfacing
For kitchens with solid-surface counters, a backsplash of the same material offers an opportunity to give the room a neat, sleek appearance. Upkeep is minimal; solid surfacing is a tough material, and scratches and other defects can be sanded and buffed out.
Solid-surface backsplashes range from 1/2-in.-tall pieces that serve only as a transition to tile or some other material that runs to the bottom of wall cabinets to a full-height piece that runs from countertop to wall cabinet. Fabricators use 1/4- or 1/2-in.-thick material. The simplest approach is a loose splash—one that is not integral to the countertop—which is applied in the field. Jeff Purcell, owner of Surface Techniques, a fabricator in South Norwalk, Connecticut, says one advantage of a loose backsplash is that it follows wall contours more easily than a rigid splash fused to the counter. Installers set the backsplash in silicone adhesive. The seam between counter and backsplash is paper thin, and when excess silicone is scraped away, it is nearly invisible.
Another approach is to glue the backsplash to the countertop in the shop, using a small coved piece. These pieces are fused with a special two-part adhesive that makes for a very strong, virtually invisible joint. Purcell says coved pieces are either custom-made, in the same shop where the countertop is fabricated, or purchased separately as a snap-on part. Although custom coves are more expensive, the fabricator can ensure the pieces will match. Because snap-on cove is made elsewhere, there's no guarantee that its color will match the countertop exactly.
If you go with a solid surface, your fabricator might throw in the backsplash for free, as long as he has enough extra material. If he has to buy additional material, a 4-in. loose backsplash will cost $25 to $30 per linear foot, and an integral coved backsplash will run $40 to $50 per linear foot. Because there is so much material waste involved, a full-height backsplash could be as much as $75 per linear foot.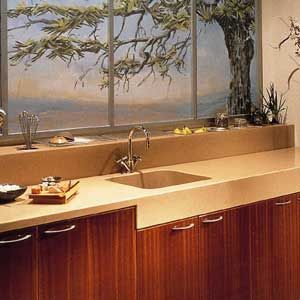 Metal and Metal Laminates
A skilled metal worker can fabricate a backsplash out of virtually any sheet metal on the market (copper, stainless steel, zinc, brass and even nickel) and provide a range of surface textures (hammered, ribbed and even the quilted pattern you might have seen last time you were in a circa-1930s diner). Shops that specialize in sheet-metal countertops and backsplashes might be hard to find, so be persistent if you're looking to complement your stainless-steel appliances.
Fabricators typically use sheet metal about 1/16 in. thick: 16- to 22-ga. stainless steel, 20-oz. copper, 24-ga. zinc. It is sometimes bonded to a rigid backing material, such as a water-resistant medium-density fiberboard (MDF), and the assembly is then glued to the wall. Unlike tile or stone, sheet metal is unforgiving. Anything that interrupts the flow of the wall—electric outlets, light switches, windows—requires a precise cutout. Fabricators usually work from templates made on site. They locate cuts exactly so installers don't run into unwelcome surprises. Costs quickly climb with the number of obstructions fabricators have to work around.
With the exception of unusually pricey tile, a sheet-metal backsplash is probably the most expensive option available. Soupcan Inc., a fabricator of metal countertops in Chicago, charges $140 to $160 per square foot for copper or zinc that has been laid up on a substrate. Stainless Steel Kitchens, a specialty fabricator in Elkhart, Indiana, charges considerably less than that for stainless steel. Prices start at $20 per square foot for 16-ga. stainless. But that is for metal not mounted on a backer sheet, and does not include any receptacle cutouts.
Aside from scratching, stainless steel is impervious to all but intentional abuse. Copper, zinc and brass, however, are what pros call "maintenance finishes." These metals oxidize, producing a patina of uneven coloring. Whether metals are allowed to age or are polished regularly to maintain the original appearance is up to the homeowner.
A less expensive route is metal laminate, which is similar to high-pressure plastic laminate, but it is topped with a thin layer of aluminum, brass, copper or stainless steel. Made by several companies, including Formica and Wilsonart, it is available in a variety of finishes and textures. Fabricators buy sheets 2 and 4 ft. wide and up to 10 ft. long and apply the material much as they would plastic laminate. It is glued to a particleboard or MDF core with contact adhesive, and it can be worked with the same tools used to make plastic laminate.
Metal-faced laminates are available through fabricators and from home centers for $6 to $8 per square foot; fabrication and installation will add $8 to $9 per square foot to that figure.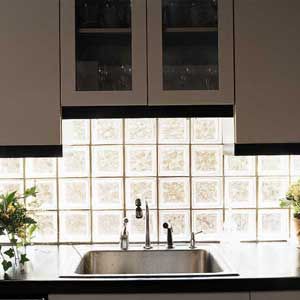 Glass
Glass- or acrylic-block backsplashes are usually part of an exterior wall, where they can let in natural light. This is a truly unique and somewhat unusual treatment that requires careful planning.
Just like conventional windows, glass-block units must be set into adequately framed openings. That means opening up the wall and adding load-carrying headers. This makes it more difficult and expensive to use glass or acrylic block as a backsplash, says Robert Tildsley, a Boston-area architect. In one kitchen, Tildsley used glass block to create a 20-ft. run of backsplash 20 in. high. Because glass block can't be cut, the dimensions of the material determine backsplash height. Tildsley set the block in mortar, and cased and flashed it on the outside of the house as he would a window. Framing had to be precise. In all, the decision to use glass block added "several thousand" dollars to the project. Most of that cost was in extra design and building steps, not materials.
Prices for clear, loose glass block range from about $4.25 for a 6 x 6-in. block to about $15.25 for a 12 x 12-in. one. Pittsburgh Corning manufactures a line of preassembled glass-block window units in vinyl frames. The 2-in.-thick block is bonded with silicone. Units 8 and 16 in. high, about the right size for a backsplash, are available in widths from 16 up to 80 in. Retail prices will vary, but an 8 x 48-in. window costs about $260 and a 16 x 64-in. runs around $350. Lighter and more energy efficient than glass, acrylic block is either 2 or 3 in. thick, and it is assembled in aluminum or vinyl frames for installation. Hy-Lite Products, of Beaumont, California, makes assembled units sized on 6- and 8-in. grids for roughly $25 to $30 per square foot. For example, a 2-in. unit that's 18 in. tall x 42 in. wide retails for about $160.
Plate glass also can be used as a backsplash, and has the advantage of reflecting light onto work surfaces. Attached to the wall with screws, it can protect faux finishes and hand-painted murals. Because the glass panels can be removed, walls can be painted without fear of having the finish ruined by water or grease. Although stainproof and easy to clean, glass has an obvious weakness; Nancy Mullan, a certified kitchen designer in New York who has used this treatment, says that the panels are subject to cracking if a fastener is tightened just a hair too much.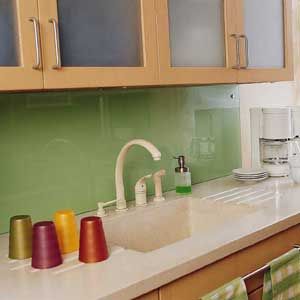 Installing a Tile Backsplash
Kevin Bracchitta chose a stone mosaic tile for the backsplash in his Tarrytown, New York, renovated kitchen and added glazed ceramic leaves as an accent. Although the design is unusual, tile installer Maciek Salamon says you can use the same tools, materials and techniques for just about any ceramic- or stone-tile installation.
You can apply backsplash tile over a mortar bed, with thinset adhesive on cement backerboard or directly to drywall with a premixed adhesive called mastic. This last approach is not the best idea for shower stalls or tub surrounds where lots of water is splashed on the walls. But it's generally fine for a backsplash in the kitchen as long as you seal the seam between backsplash and counter.
If you are adding a new counter, put it in before the backsplash. That makes for a more watertight installation, and the backsplash hides the gap between the countertop and the wall.
Spread the mastic with a notched trowel. For standard ceramic tile, a trowel with notches 3/16 in. deep is a good choice. The stone mosaic tiles shown here are not perfectly flat, so Salamon also buttered the back of the tile with mastic to make sure there would be no voids. You do not have to butter standard tiles. Press the tiles into the mastic and rotate them slightly to spread the adhesive evenly. Although these tiles are butted tightly together, you typically will use plastic spacers between tiles so that the grout lines are even. In most cases, you will have to cut the top row of tiles to fit.
The counter will support the bottom row of tiles as they are set in place. When Salamon got to the area behind the range, the tile had nothing to rest on as the mastic cured. Usually this isn't a problem for standard ceramic tile—the mastic will keep them in place—but for heavier tile, additional support is a good idea. Here, a few small screws were enough to keep the tiles from sagging until the mastic grabbed. Alternately, a wood batten or length of aluminum angle will also work.
Cutting tile is inevitable. Snap cutters, which score and break ceramic tile along a straight line, are easy to use. For a smoother finish, try a wet saw, which uses water and a diamond blade (rent one from a tile store or home center). Wet saws are messy, but they don't chip brittle tile surfaces. Also, they can be used to make L-shaped and other stopped cuts and, with practice, contoured cuts. A snap cutter can't do that. Home centers and hardware stores also sell round tile-cutting carbide blades that fit in a hacksaw frame. They can be useful for cutting curved profiles in soft-bodied wall tile, or for cutting out receptacle holes in the middle of a field tile.
Apply grout after the mastic has had a day to cure; use sanded grout for gaps of 1/8 in. or more and unsanded grout for narrower gaps. For a more durable job, choose a grout that is fortified with polymers. The one spot where caulk, not grout, should be used is the seam between the countertop and the backsplash. The right material for that is a top-quality silicone caulk. The Tile Council of America suggests a 1/8-in.-wide caulk joint at the seam. Grout, like many types of stone, should be sealed to prevent stains and water infiltration.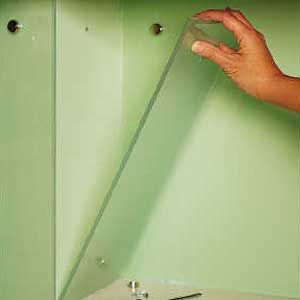 WHERE TO FIND IT
Artistic Tile
79 5th Ave.
New York, NY 10003
212/727-9331
Stone and ceramic tiles.
DuPont Corian
Box 80012
Wilmington, DE 19880-0012
800/426-7426
Solid surfacing.
Formica Corp.
10155 Reading Rd.
Cincinnati, OH 45241
513/786-3400.
Solid surfacing, metal laminates.
Hy-Lite Products Inc.
101 California Ave.
Beaumont, CA 92223
800/827-3691
Acrylic block.
Meredith Art Tile
1201 Millerton Rd. SE
Box 8854
Canton, OH 44711
330/484-1656
Ceramic tile.
Pittsburgh Corning Corp.
800 Presque Isle Dr.
Pittsburgh, PA 15239
724/327-6100
Glass block.
Soupcan Inc.
1500 S. Western Ave.
Chicago, IL 60608
312/243-6928
Metal countertops, backsplashes.
The Stainless Steel Kitchen
28359 Glenview Dr.
Elkhart, IN 46514
800/275-1250
Metal countertops, backsplashes.
Walker Zanger
13190 Telfair Ave.
Sylmar, CA 91342
800/540-0235
Stone, ceramic tile.
Wilsonart International Inc.
2211 N. General Bruce Dr.
Temple, TX 76503
800/433-3222
Solid surfacing, metal laminates.