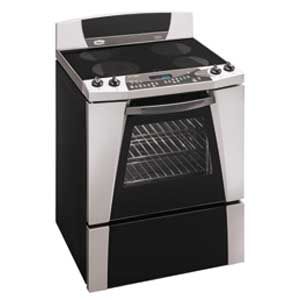 A lot has changed in the American kitchen in the last quarter century. (And not just because men wear the aprons more often than they used to.) When This Old House first hit the airwaves in 1979, the standard American kitchen featured a four-burner electric range—preferred because no one had yet figured out a way to make gas ovens self-cleaning—and, for a lucky few, an over-the-stove microwave. Avocado green and harvest gold still ruled the day, and only the most serious foodie had the latest technology: a convection oven, which could cook a 12-pound turkey in under three hours.
What a difference 25 years makes. The high-end kitchen of 2004 is outfitted with a six-burner restaurant-style range sheathed in stainless steel, and hardcore cooks wouldn't consider anything but "dual fuel" capability—gas burners above for high heat, electric ovens below for pinpoint control. Today's stoves pump out more Btus to cook everything faster, clean up easier thanks to sealed burner boxes and smooth cooktops, and are safer to use because better insulation and the replacement of pilot lights with electronic ignition have cut the risk of fire. If the 1979 range was the equivalent of a hatchback, today's is an SUV.
As with any evolution, change is ongoing. So even as we sort through the latest developments, among them a range that doubles as a refrigerator and a microwave oven that uses halogen light to brown food, research-and-development folks are busy—dare we say it?—cooking up a whole new round of improvements. Read on for a look at how stove manufacturers have adapted to Americans' changing needs and tastes, and what new developments are on the front burner.
— Dan DiClerico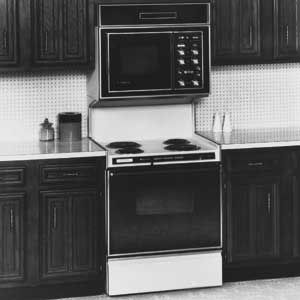 The Past
With its Day-Glo-orange countertops and fluorescent lights, the kitchen of the first This Old House project was typical of its era. So was the stove: a 30-inch black porcelain range with four 8,000-Btu gas burners and a gas-fired oven. The overhead microwave with built-in ventilation was a marvel of its time. That's pretty much what the standard kitchen of 1979 had to offer. But change was in the air. By the end of the '70s, a handful of trends were emerging that would redefine the way people cooked.
Convection ovens Like microwave ovens, convection ovens cook fast: 25 to 30 percent faster than conventional cooking methods. But unlike microwaves, which can leave food bland and rubbery, convection ovens—which use fans to evenly circulate heat around the oven cavity—sacrifice none of the flavor. Downdraft ventilation Until the downdraft cooktop was introduced, stoves were almost always against a wall, where they could be vented to the outdoors. Downdrafts, which vent through the floor, kick-started the move toward island design. Eventually, overhead range hoods followed, leading to the sculptural, chimney-style hoods seen today.
Smooth cooktop There's no way to keep pots from spilling or boiling over, but owners of the first smooth cooktops didn't care. Cleaning was as easy as a swipe of the glass that covered concealed electric burners. The only downside to the early models was that the glass turned yellow—a problem solved a few years later with the invention of ceramic surfacing.
Pro stoves As far back as 1979, serious cooks were installing restaurant equipment at home. Trouble was, the high-heat stoves weren't yet safe for residential use—a problem soon to be remedied.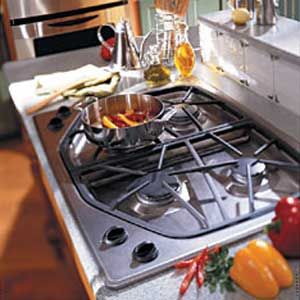 The Present
Fast-forward 25 years, to the finale of last season's This Old House Dream Kitchen project in Lake Forest, Illinois. The centerpiece of this kitchen—a 36-inch six-burner professional-grade range in stainless steel—has capabilities barely dreamed of in 1979. The burners ignite electronically without the aid of a pilot light and can pump out a torrid 15,000 Btu for searing or a gentle 600 Btu for simmering. With a convection oven to cook food fast and a separate warming drawer to keep it hot, the appliances do practically everything but prep the food itself.
A New Era in Stoves Somewhere along the line, we went from a meat-and-potatoes nation to one that wanted the ability to cook restaurant-quality meals at home. To do it, we needed restaurant-grade equipment that wouldn't burn the house down. We got it when building contractor Fred Carl Jr. stuffed the walls of a high-performance range with thermal spun insulation, a technology borrowed from NASA, and created the first Viking range. Though pro-grade ranges account for only a small percent of the market, they've had a trickle-down effect on standard appliances, in terms of both style and performance. Today, even average ranges can be had in stainless steel, with convection ovens, electronic controls, and at least one high-Btu burner. And there are still more new cooking options on the horizon.
Refrigerated ranges Whirlpool's Polara is equipped with a cooling element, which means you can pop in a roast in the morning and it stays refrigerated until the oven fires up at the preprogrammed time. If the oven isn't opened after an hour of keep-warm time, it reverts to refrigeration (24 hours is the max on refrigeration). The smooth-top surface burners can be used whether the range is in cooking or cooling mode.
Trivection ovens A combination of thermal, convection, and microwave energies, trivection is the latest leap forward in speed cooking. The technology is said to cook food up to five times faster than conventional ovens. Electronic controls automatically convert your old recipes, so if Mom's lasagna usually bakes for 60 minutes at 300 degrees, just punch in those numbers and the oven takes over—serving the dish hot in about 15 minutes.
Steam ovens For most people, steam ovens conjure up images of soggy buffet food. But in fact they can do a good job on everything from meatballs to custard. They're ideal for busy lifestyles—dishes cook up fast (20 minutes or less for most recipes), and because the high moisture content keeps food from drying out, steam is also great for reheating.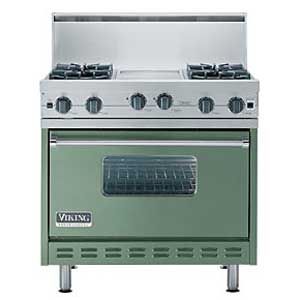 The Future
No matter what the future holds, one thing is certain: Tomorrow's food will taste better and reach the table faster than it does today. According to industry experts, surface cooking is currently getting the most attention from R&D departments at home and abroad. Here are two technologies to watch.
Induction cooking uses a powerful electromagnet to generate heat energy in a metal pot or pan. When the pan is placed on the smooth-surface "burner," the magnetic field induces it to heat up. No pan, no heat, so the surface itself never gets hot to the touch. Magnetic induction heats with an 85 to 90 percent efficiency rating, versus less than 70 percent for electric and about 50 percent for gas, so food cooks fast. The only catch: Ferrous metal cookware is needed to complete the electromagnetic circuit, so your aluminum, copper, and Pyrex pots are all out. The first time this technology was tried, in the 1980s, high costs and performance shortcomings led to its early demise; this time, manufacturers say, it will stick, because it's fast, safe, and competitively priced. Smooth gas cooktops are another innovation in the works. By covering gas burners with ceramic surfacing, manufacturers hope to offer the best of both worlds: the pinpoint control of gas with the easy cleanup of a smooth cooktop. A handful of prototypes have been developed, but none is ready for market. The challenge, industry insiders say, is designing a covered burner that matches the performance of an open gas flame.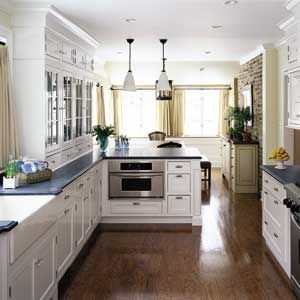 Modern Cooking Milestones
1910: Hotpoint introduces the first electric range.
1911: The electric frying pan is brought to market.
1938: The first pressure cooker designed for residential use is introduced at a New York City trade show.
1948: Sale of the first electric warming tray.
1955: Tappan designs a microwave for residential use.
1956: General Electric creates the toaster oven.
1962: Julia Child's "The French Chef" debuts on TV.
1963: The first self-cleaning electric range hits showrooms.
1981: Emerging electronic technology allows for such features as built-in timers and automatic shut-offs.
1999: Halogen lights are first used to accelerate oven cooking times.
2002: Whirlpool introduces the Polara, a combination refrigerator and range.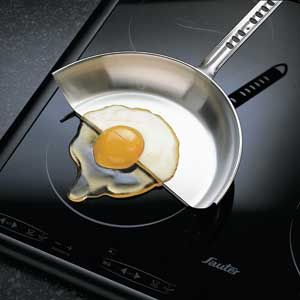 Where to Find It
For further information:
National Association of Home Appliances
Washington, D.C.
202-872-5955
Pro-grade ranges:
Viking Range Corp.
Greenwood, MS
888-845-4641
KitchenAid
St. Joseph, MI
800-541-6390
Thermador
Huntington Beach, CA
800-656-9226
Wolf
Compton, CA
800-366-9653
Trivection:
General Electric
800-626-2000
Refrigerated Ranges:
Polara by Whirlpool
Benton Harbor, MI
800-253-1301
Steam Ovens:
Miele
Princeton, NJ
800-843-7231
Wolf
Compton, CA
800-366-9653
Induction cooktops:
Ceramaspeed
Maryville, TN
865-681-7070
Pressure cookers:
Kuhn Rikon
800-662-5882