Smarter Siding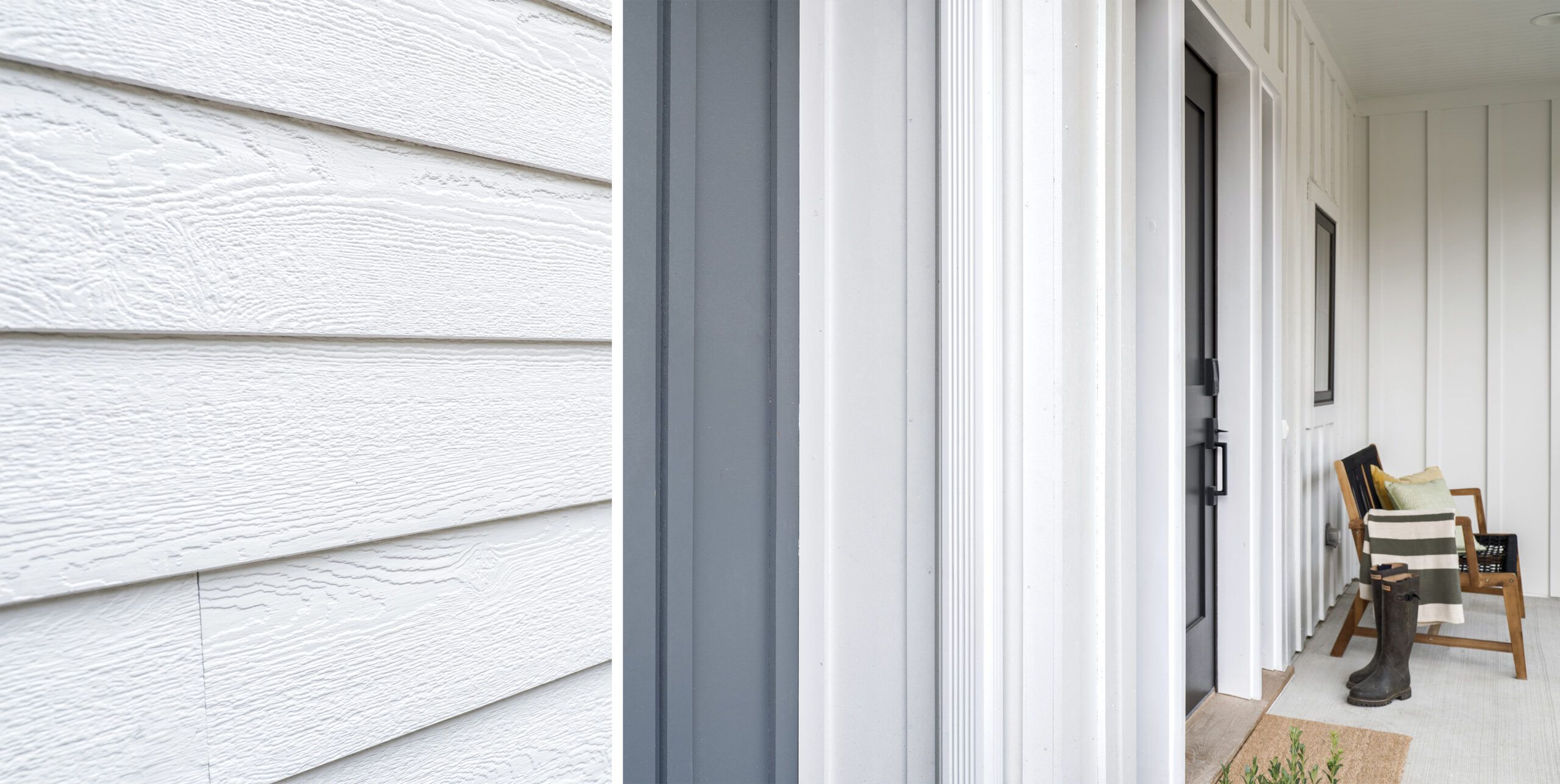 ​Effren opted for an exceptionally durable engineered siding that looks like wood, but it's weather-, termite- and rot-resistant and requires very little maintenance. He selected a smooth finish vertical siding (above left) and a cedar-textured lap siding (above right) for a contemporary cottage look.
Siding: LP SmartSide
Dimensional look, extra protection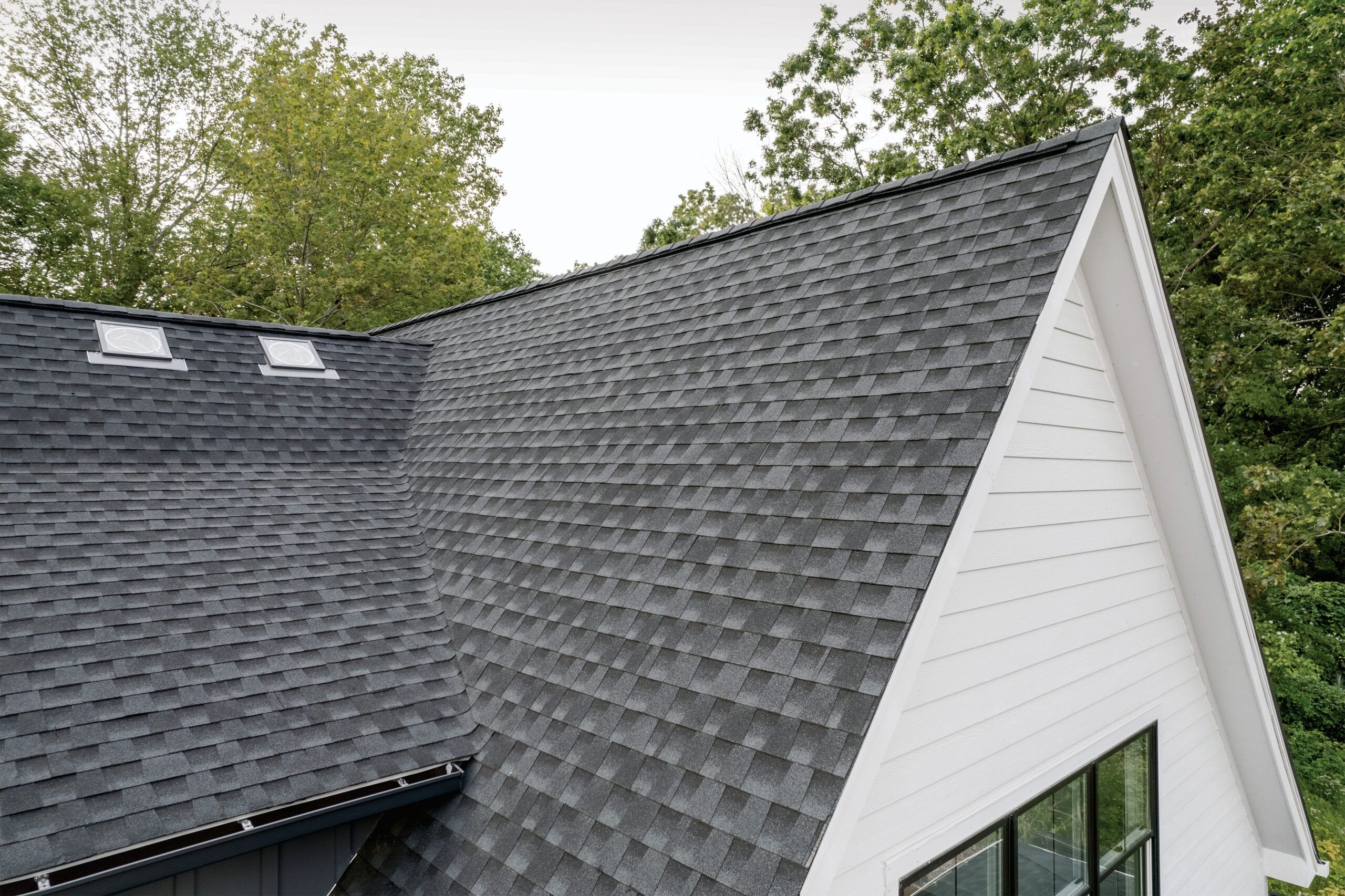 On the roof, architectural shingles feature an enhanced shadow effect for a genuine wood-shake look. They're constructed for faster and more accurate installation and superior wind-uplift performance, critical in the northeast, where hurricane-force winds are not entirely uncommon. ​
Shingles: Timberline HDZ Shingles in Charcoal by GAF
Protected Gutters—and Safer Homeowners ​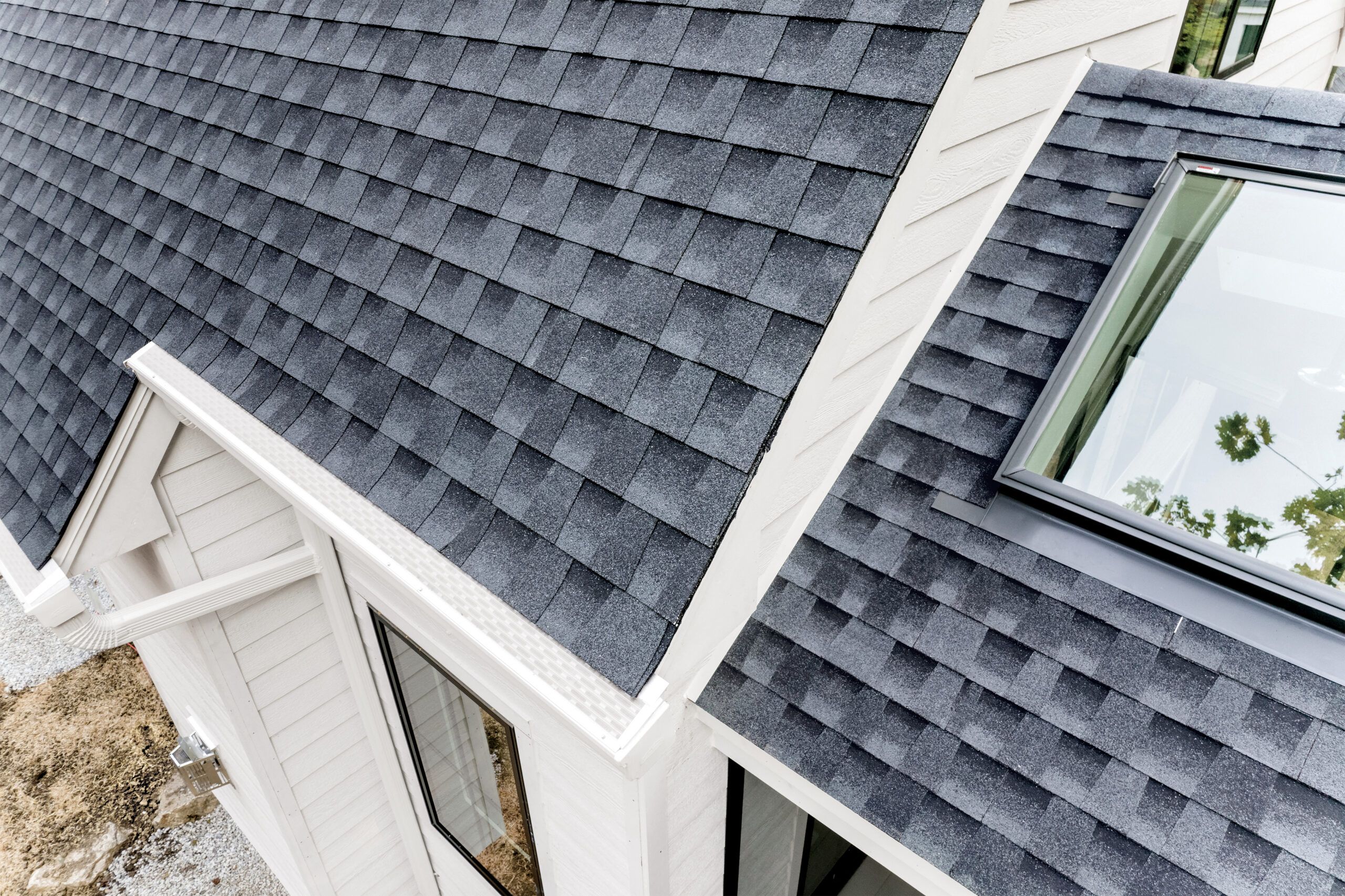 Clogged gutters can lead to a variety of issues, from leaks and mold to soffit rot. Not to mention that climbing up a ladder to clean those gutters presents a real safety hazard. These professionally-installed stainless-steel micro mesh gutter guards will allow water to pass through while keeping fallen leaves freely and other debris out—so the homeowners will never have to climb a ladder again. ​
Gutter guards: All Weather Armour
Strong steel doors​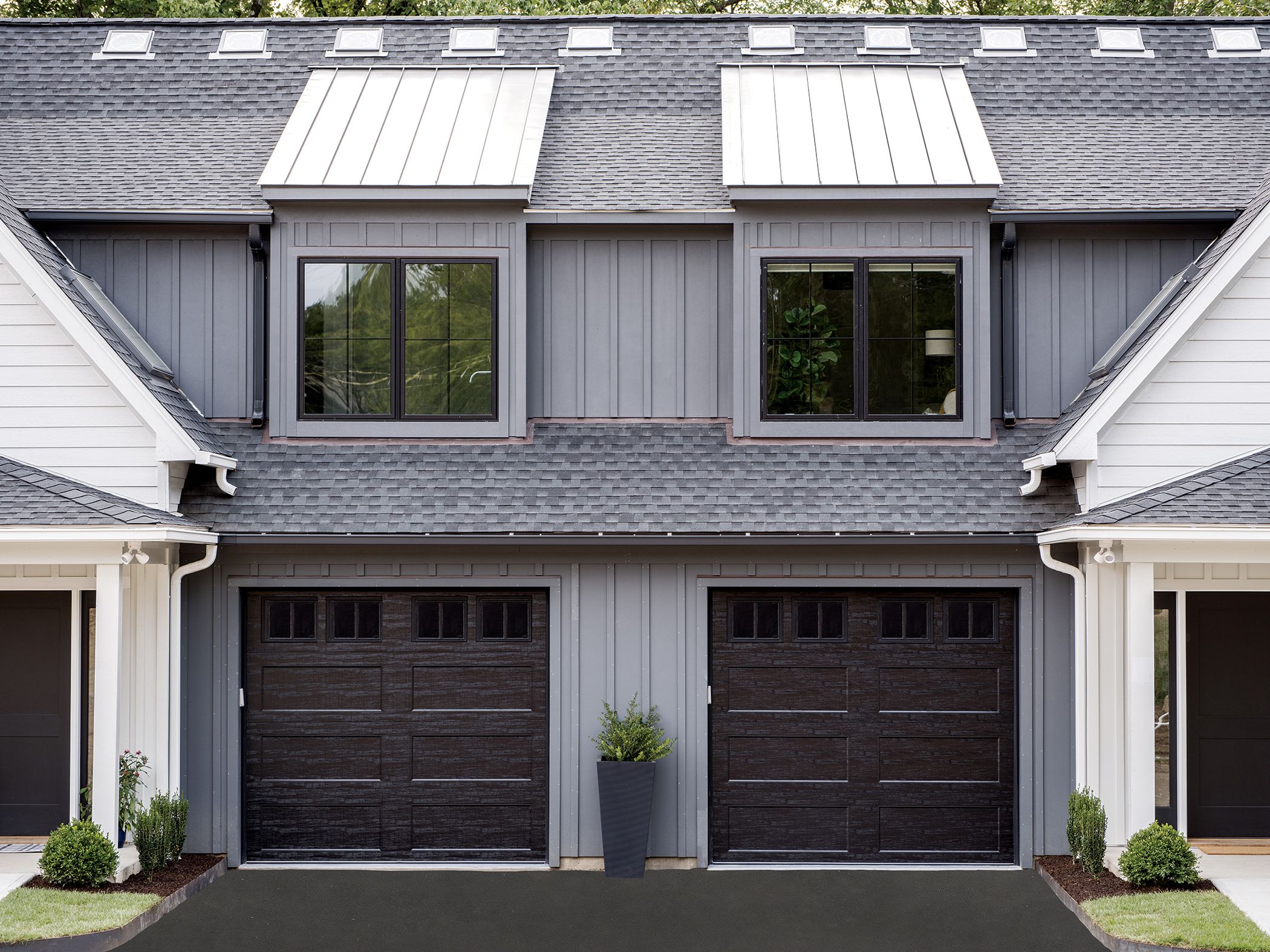 Single-car garages separate the units. These doors feature the traditional symmetry of wood stile-and-rail doors but are made of three-layer steel. The core is filled with polyurethane foam insulation to keep the space warmer in winter and cooler in summer. ​
​Garage doors: Clopay
Outdoor enhancements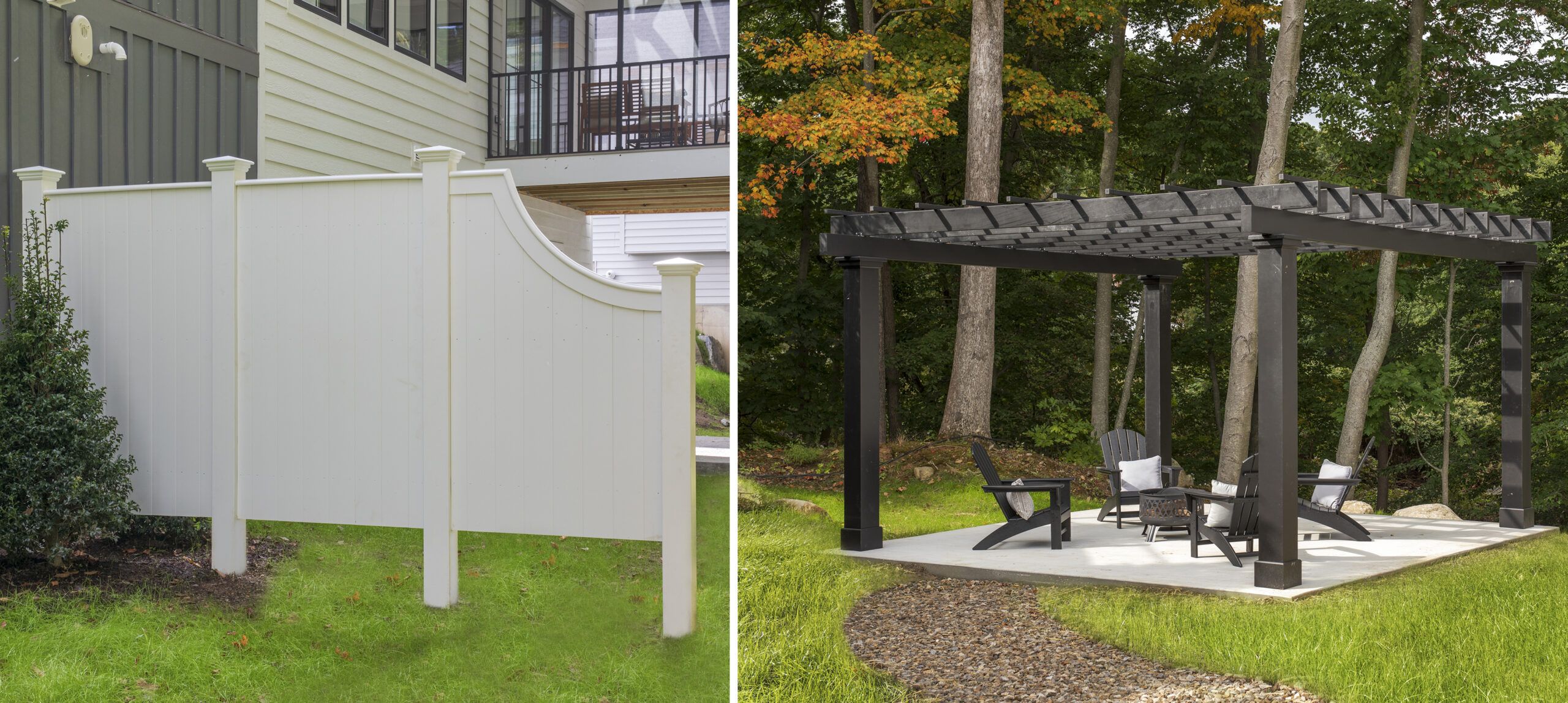 Out back, a maintenance-free fence separates the units and provides privacy. And this inviting pergola provides a shaded gathering spot for the units to share. The fence and pergola are both made of cellular PVC, so they won't need restaining, repairing or replacing for years to come.​
Fence, pergola: Walpole Outdoors
Easy—and attractive—egress
The property slopes downward toward the back, allowing for additional usable living space and storage in the basement. Terraced-step design egress window wells make it easy to escape in case of emergency, and they can be filled with plants or flowers to create a nice view for the lower-level spaces. ​
​Window wells: The BILCO Company
Larger-item access
A double basement door provides code-compliant egress and easy access to bikes, gear, and seasonal items. Heavy gauge steel construction and sturdy concealed hinges ensure all-weather operation. ​
Basement door: The BILCO Company
Controlled comfort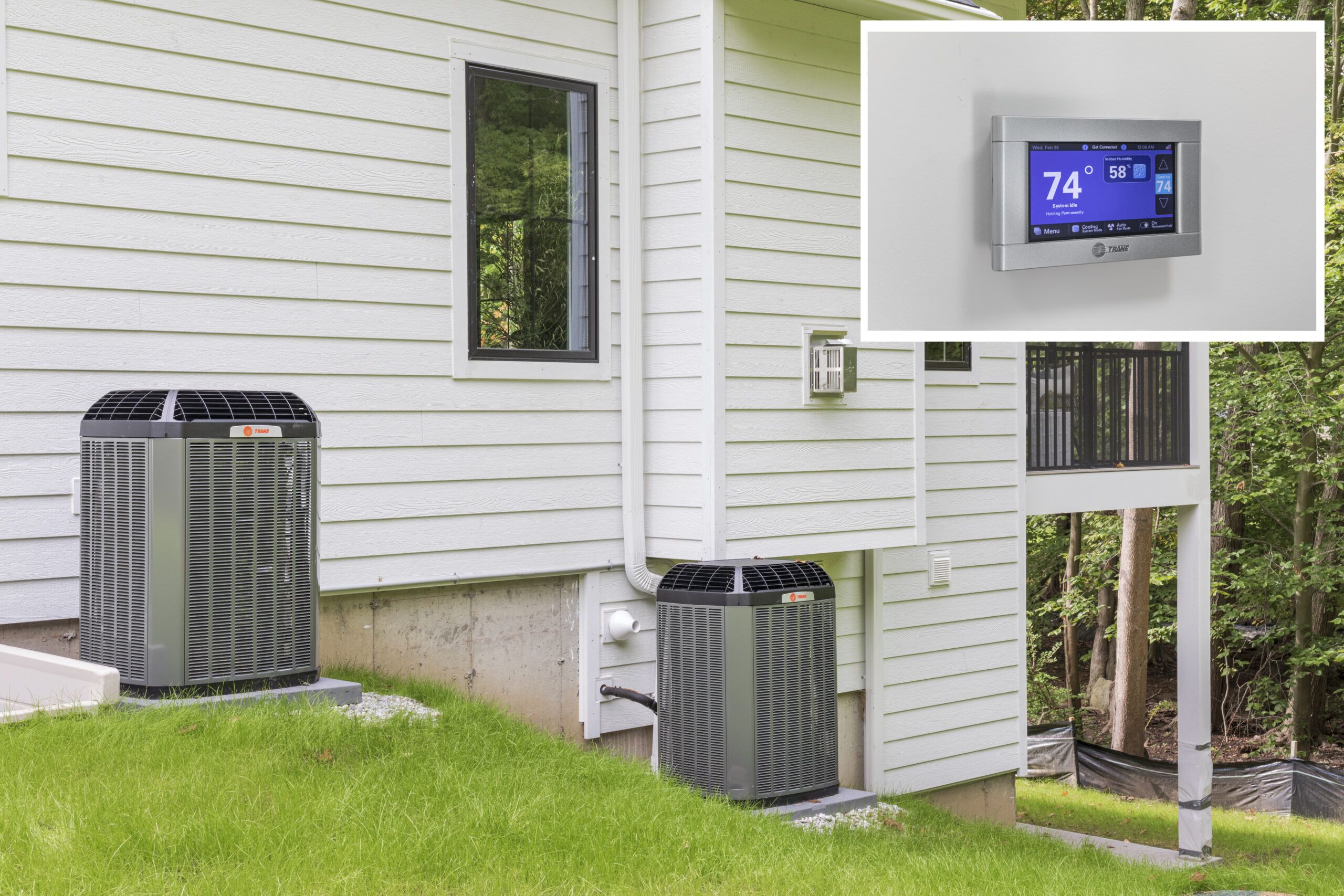 Each cottage features two compressors to power separate first and second-floor air-conditioning zones. These variable speed air conditioning units are impressively quiet and efficient, providing multi-stage, precision control, and automatically adjusting the temperature while maintaining speeds to avoid temperature swings. Wi-fi-enabled thermostats are easily operable from a smartphone, tablet, or computer, which makes adjusting the temperature a breeze from just about anywhere.​
HVAC: Trane
Screened-in serenity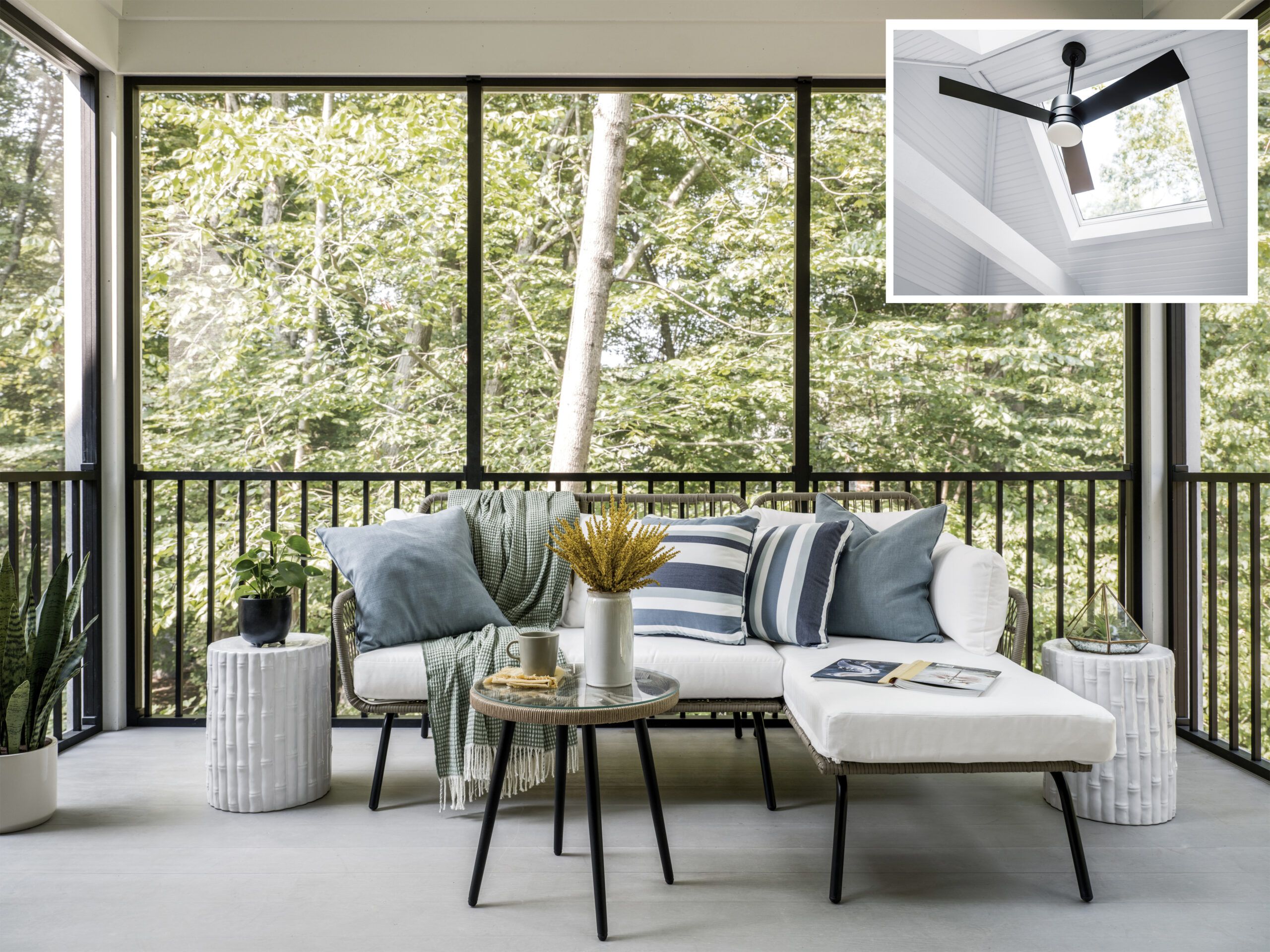 On the main level just off the living room, each unit features a lovely screened-in porch that's perfect for dining alfresco. A pair of skylights overhead bring in sky views and natural light, and a ceiling fan keeps the fresh air circulating. The floor and ceiling are constructed of weather-resistant synthetic materials, so it's designed for "almost" year-round enjoyment.​
Skylights: VELUX; Ceiling fan: Modern Forms, from Chloe Winston Lighting Design; Porch floor and ceiling board: Aeratis​
Three-Pronged Approach to Better IAQ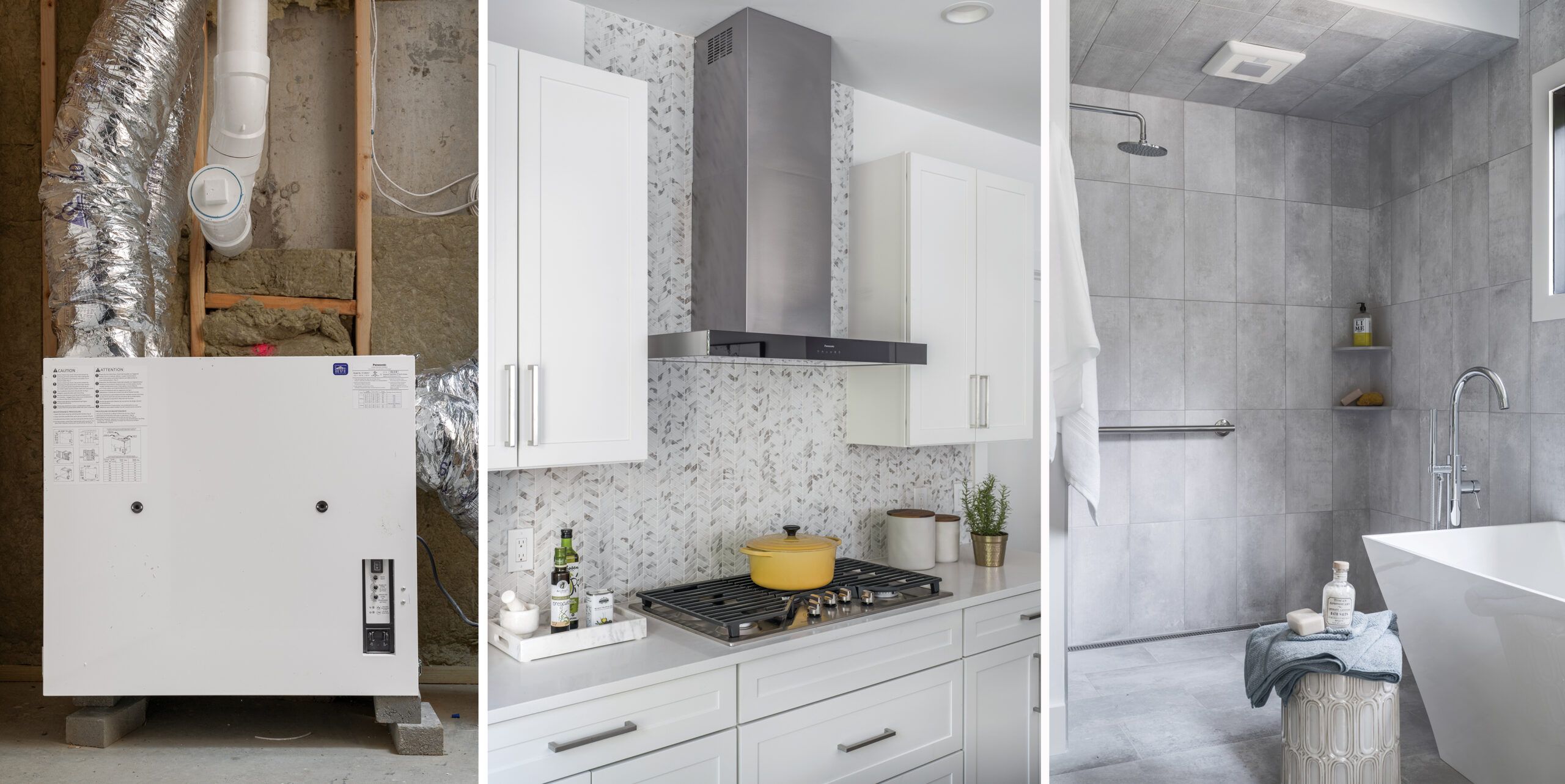 Homes today are built to be ever more tightly-sealed to conserve energy, save money, and maintain comfort. But this sealed-up environment can create unintended consequences: without an exchange of fresh air, toxins from things like cooking vapors, cleaning products, VOC's and viruses can build up and pose health concerns, and excess moisture can cause mold and mildew.
To combat this, Effren opted for a strategic mix of mechanical ventilation products to create a healthier indoor environment:​ ​(1) An energy recovery ventilator (ERV) to increase whole-home air flow; (2) a high-powered range hood designed to efficiently—and quietly—clear the kitchen of cooking odors and smoke; (3) a variety of bathroom ventilation fans; the fan shown here removes excess moisture while providing much-needed light.
Ventilation products: Panasonic
Circuits that tell a story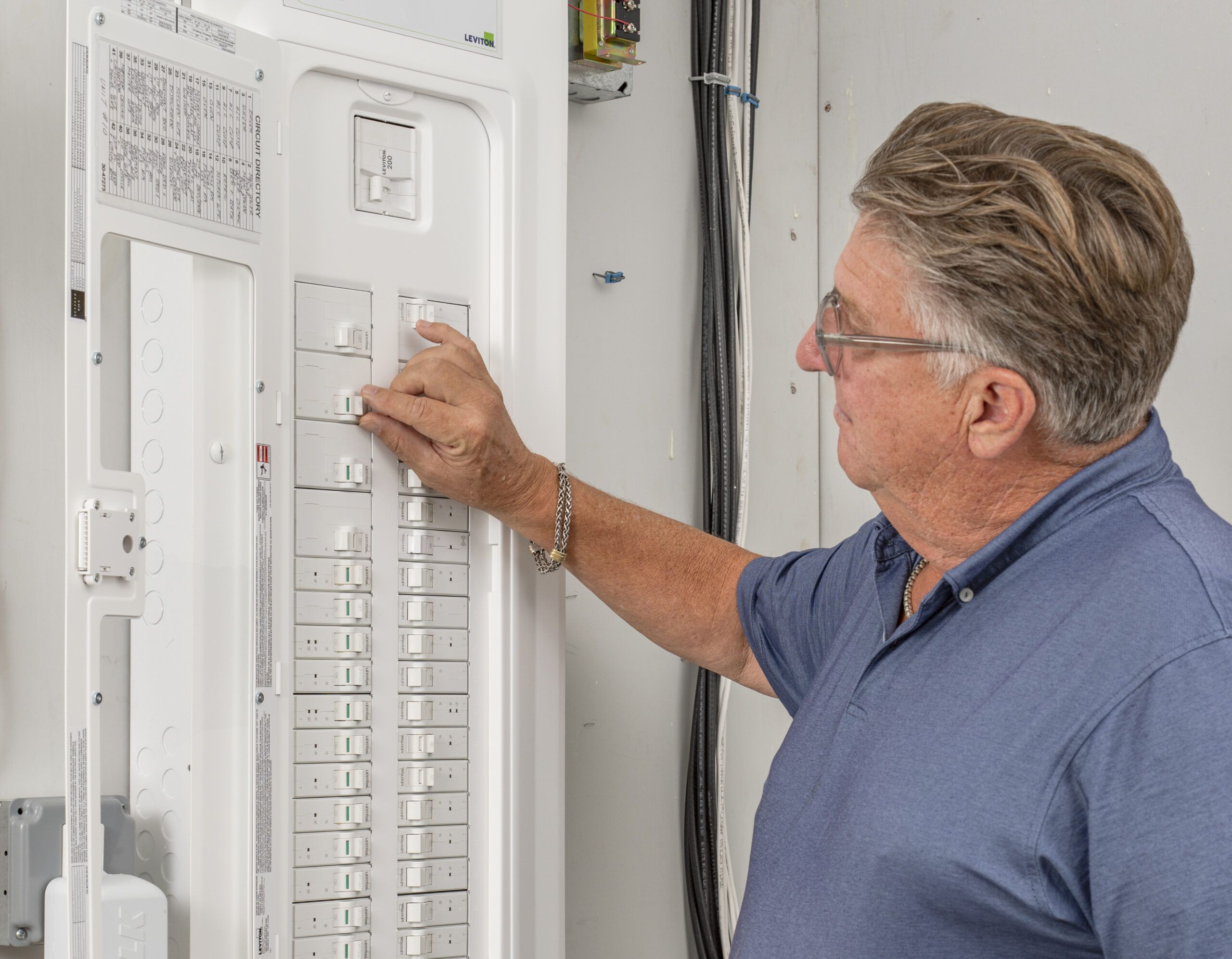 Effren installed a load center with smart circuit breakers to monitor the real-time energy consumption of anything plugged into their branch circuit; he can then use a free app to evaluate energy consumption, remotely control any circuit breaker, and view system status in real time to detect if any critical loads need to be addressed. ​
​Load center, smart circuit breakers: Leviton
Setting the scene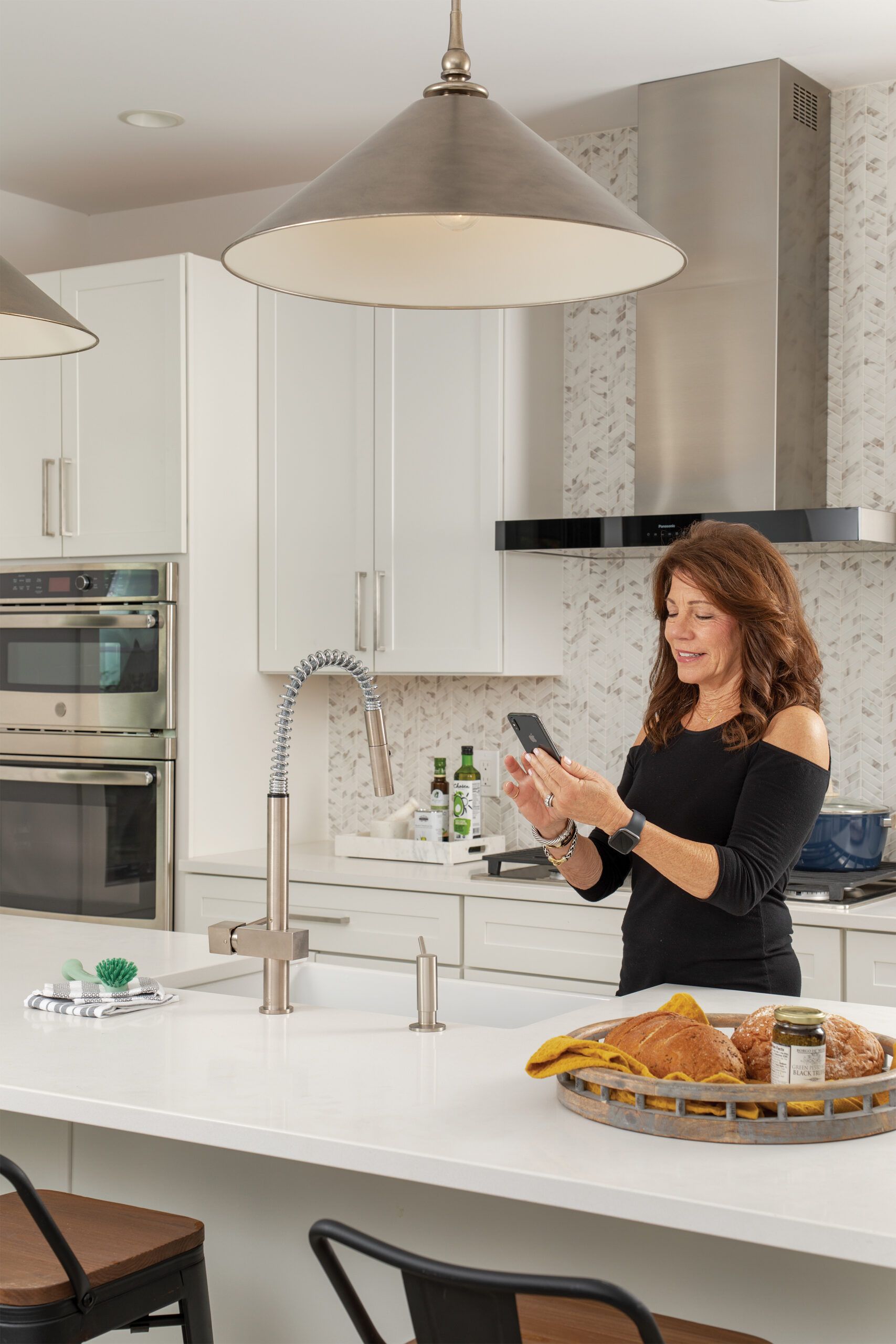 While you may have seen a lot of smart switches that turn lights on and off, the Effrens installed smart dimmers. These WiFi-enabled switches connect to a free app, allowing the user to orchestrate scenes—so you can ask Alexa for 'Dinner Time,' 'Movie Night,' or 'Cocktail Party,' and get perfectly dimmed mood lighting every time. ​
Smart dimmers: Leviton​
Enlightened spaces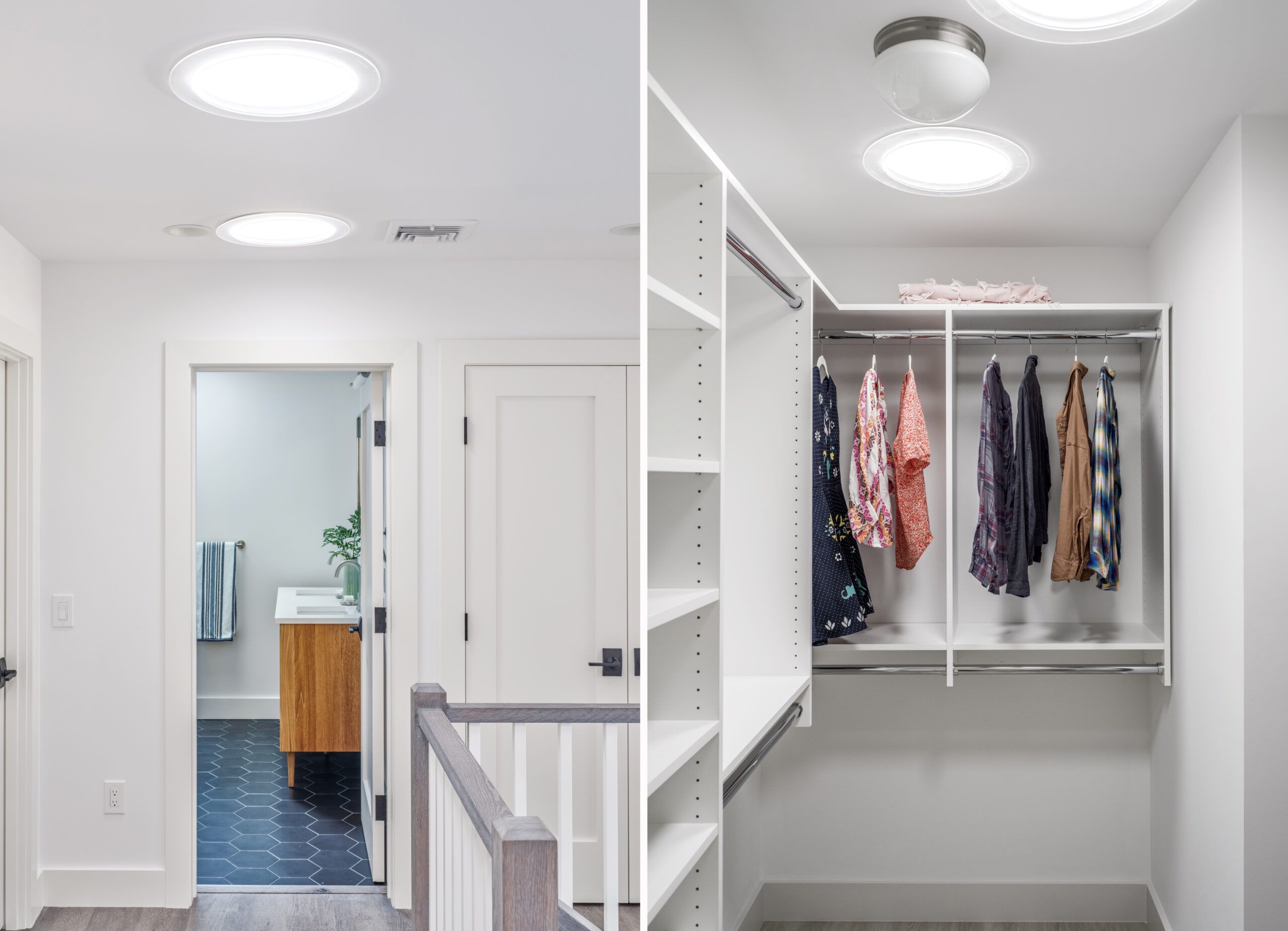 Effren became a fan of these sun tunnel skylights when he installed them into his own home, the 2020 Farmhouse in Fairfield County. Says Effren, "They bring an incredible amount of natural daylight down from the roof into the innermost spaces, like this window-less hallway and master suite closet." ​​
Sun Tunnel Skylights: VELUX
---
Return to the Idea House landing page to see more of the Cottage Community! ​