Revamped Attic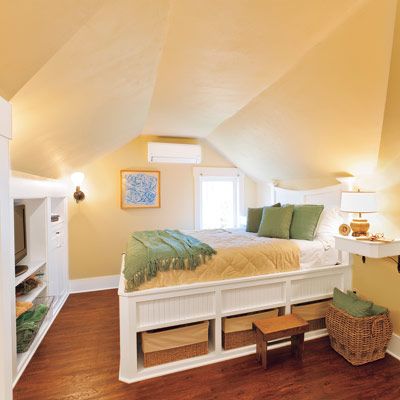 A small-space remodel can be as exacting as a jigsaw puzzle. That's what Matthew and Darci Haney found while renovating the three-room upstairs space in their Carlton, Oregon, cottage.
Shown: New windows meet fire code, and built-in furniture, cabinets, and open shelves—together with a new bath—make use of every square foot.
Before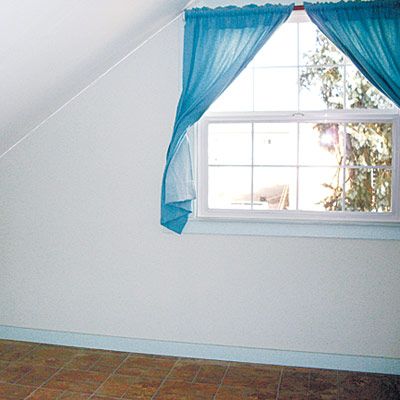 Former owners had turned the tucked-under-the-roof space over to their cats, leaving the rooms, along with the rest of the house, in sore need of a redo.
Shown: The tiny top floor had good headroom under its three gables, but the three-room space lacked style—and plumbing.
Repurposed Find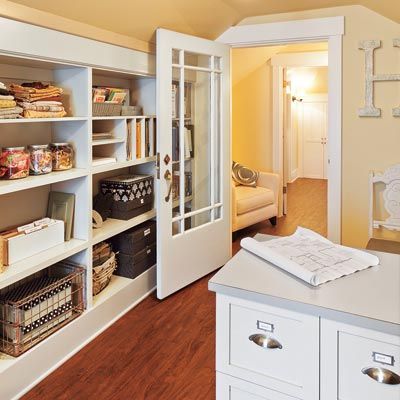 Holding to a $14,000 budget, the couple hired a plumber and an electrician to work with Matthew, an experienced carpenter. He demolished one wall and took others down to the studs to create a top-floor master suite, office, and reading nook with closets, cabinets, and open shelves cut into the knee walls. Old peel-and-stick tile and carpet came out in favor of cherry-look vinyl planks. The team added a marble-lined bath with two sinks and placed a shower area under the highest point of one gable to create a luxurious sense of space. Rather than haul furniture up narrow stairs, Matthew built two desks, a platform bed—with storage cubbies along the base—and wall-hung nightstands on-site. He wiggled the mattress and box spring in through the new office window.
Shown: The Craftsman-style glass-panel door, salvaged from the entry of the 1938 house, channels light through the space.
Light fixtures: Norwell Lighting and Accessories, norwellinc.com
Bin pulls and label holders: E.B. Bradley Co., ebbradley.com
Cozy Spot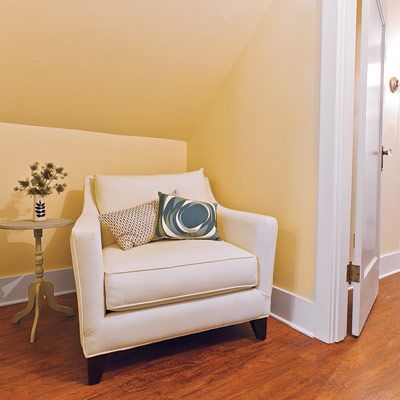 A reading nook on the stair landing serves as a buffer between the master suite and the office.
Chair: Macy's, macys.com
Pillows: Petit Coterie, petit-coterie.com
Open Space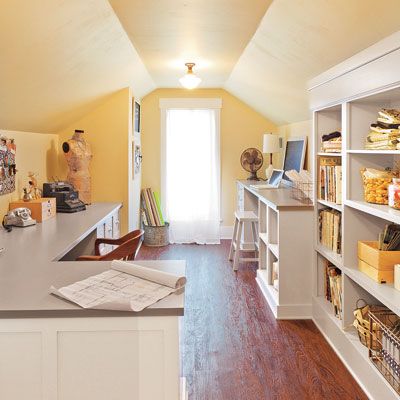 After 10 months, all the pieces fit cozily in 500 functional square feet. "Everything is where we need it," Matthew says. "It's warm and comfortable, and makes you realize you can do a lot with the space you have."
Shown: A new 5-foot-tall window added light in the office and a way for the mattress and box springs to circumnavigate the narrow stairs.
Window: Jeld-Wen, jeld-wen.com
Vinyl floor planks: TrafficMaster Allure in Brazilian Cherry, homedepot.com
Added Organization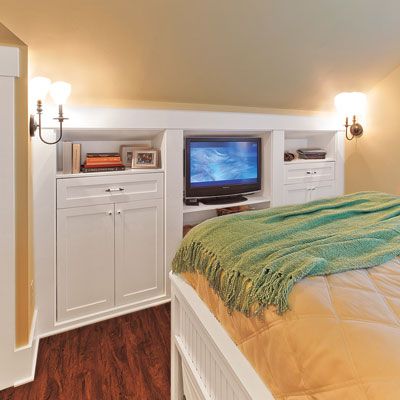 Built-in flat-panel cabinets and open shelves tuck media equipment under the sloped ceiling.
Sconces: Sea Gull Lighting, seagulllighting.com
TV: Proscan
Cabinet pulls: Etsy, etsy.com
Stylish Redesign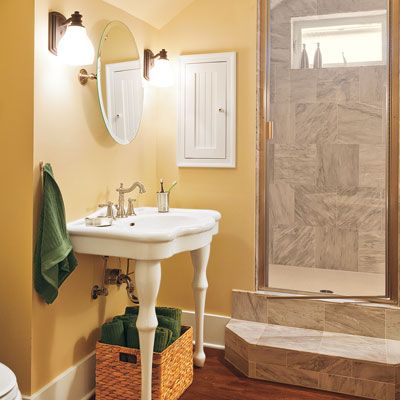 Curvy console sinks give the bath an open look. The marble-lined shower, raised to create space for plumbing, fits under the highest point of one gable.
Sink: Nottingham Brass, nottinghambrass.com
Faucet and shower fittings: Kohler, kohler.com
Final Floor Plan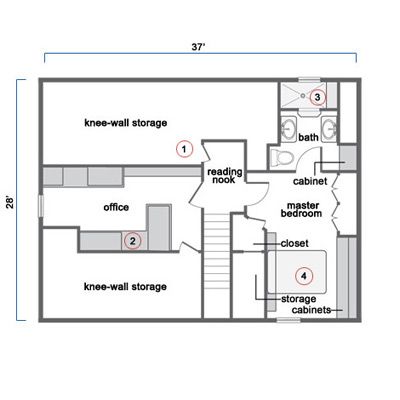 Removing one wall helped turn two small rooms into a bedroom; a third room became a new bath. A reading nook, knee-wall storage, and built-in furniture wring extra function out of the space and give it a finished look.
What they did:
1. Rebuilt the knee walls with 3-foot-high doors to create storage voids where the slope of the roof is too low for standing.
2. Added built-in desks with file cabinets underneath.
3. Placed the shower in front of a window under one gable's high point, adding light and a sense of spaciousness.
4. Built in a bed with storage compartments underneath and a pair of wall-hung nightstands.