A Full Day of Fun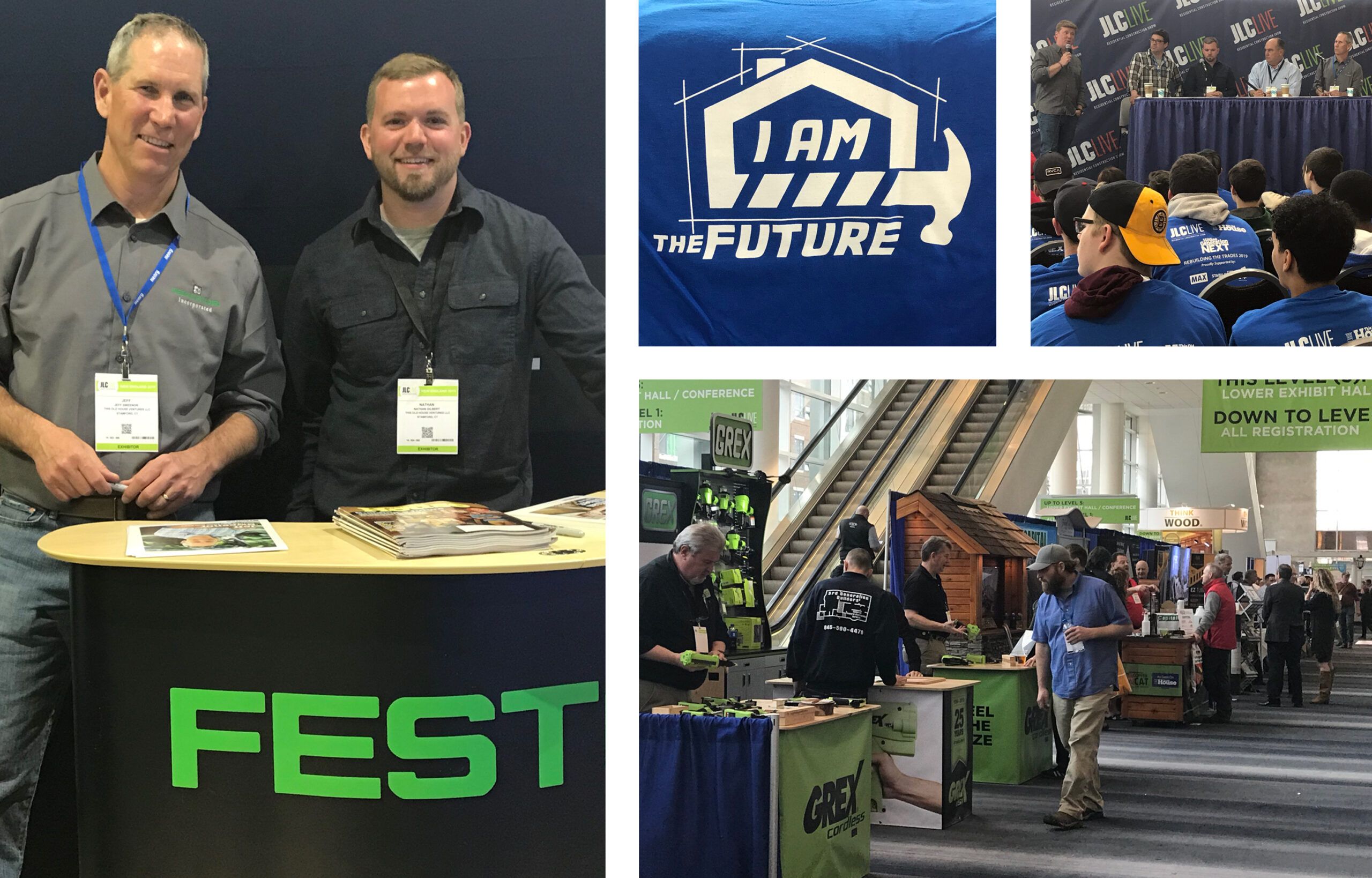 On Friday, March 29, a few Insiders and their guests got the chance to experience a jam-packed slate of activities at the JLC LIVE trade show in Providence, Rhode Island. From meeting This Old House team members to tool demos to actually being on camera, it was quite a day!
Want to be the first to know about events like this? Join This Old House Insider!
The Host with the Most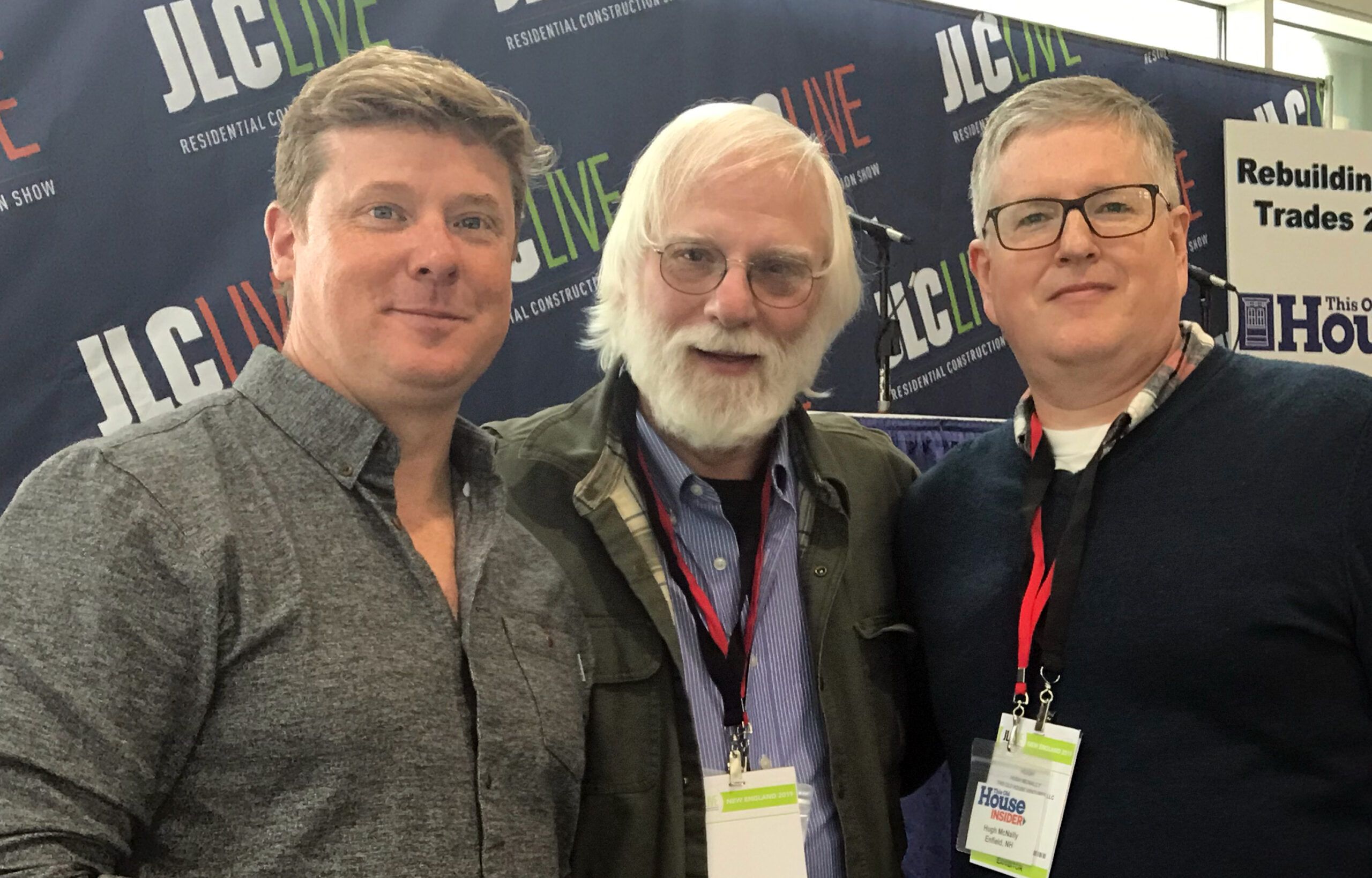 This Old House host Kevin O'Connor was on double duty, hosting both a panel and a livestream during the course of the day, but he still made time to meet Insiders!
Insider member Hugh McNally of Enfield, NH (right), has major TOH bona fides—he's done work on his home inspired by both TOH TV (renovating a basement with a Tom Silva-approved wall system) and AskTOH (adding cable railing to a deck).
Hugh brought his longtime friend Greg Mandas of Redding, CT (center) with him—though the guys met when both were working as retail software developers, Greg jumped at the chance to come to JLC LIVE because he now works as a carpenter and a theater stage construction foreman.
Encouraging the Next Generation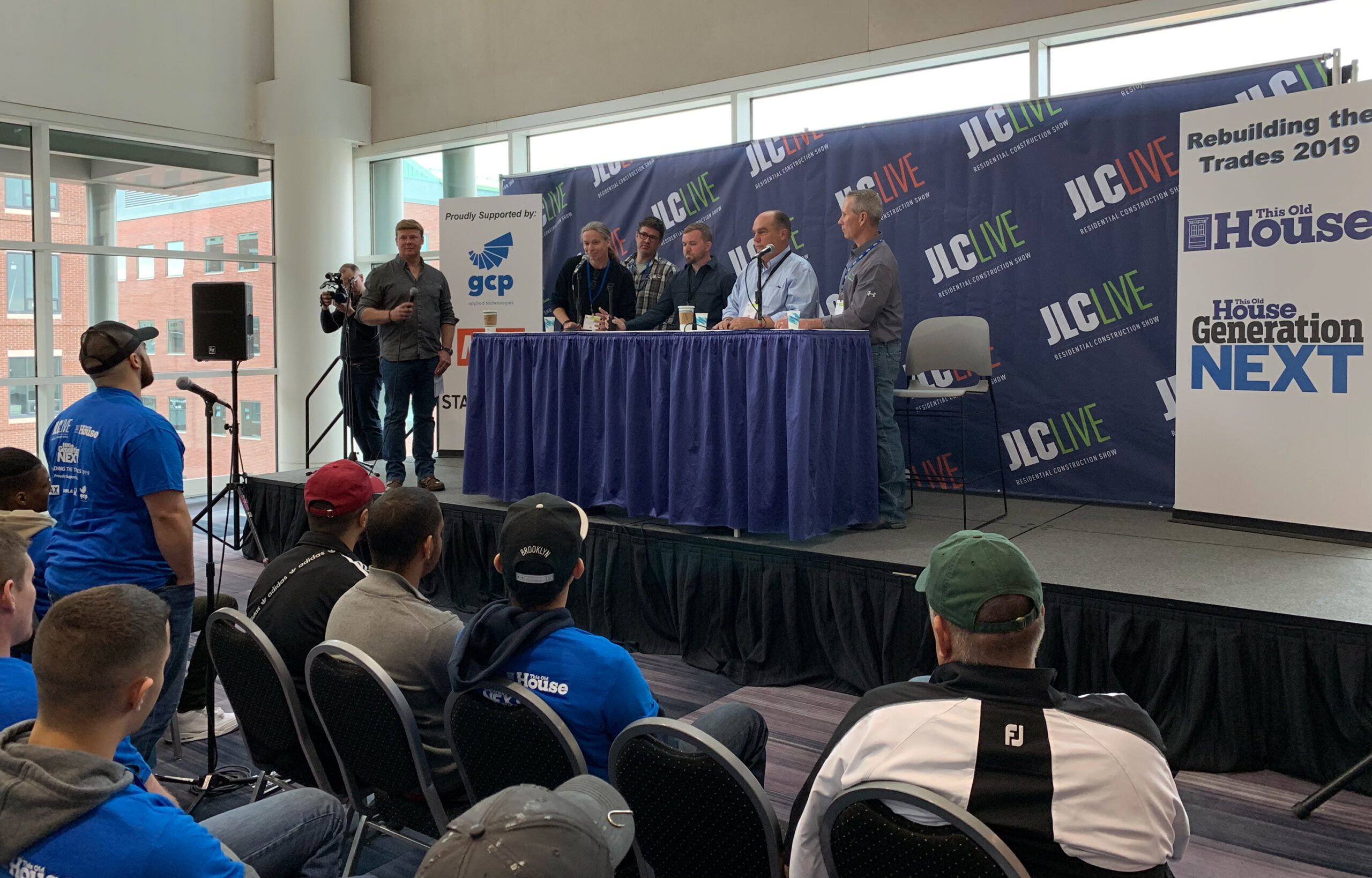 The first "official" event of the day that Insiders got to attend was a panel discussion about the importance of apprenticeships and other training programs in the trades (moderated by Kevin, of course!). Also sharing their advice were TOH plumbing and heating expert Richard Trethewey, TOH home builder Jeff Sweenor, and apprentice-turned-AskTOH carpenter Nathan Gilbert, among others.
Hanging With Richard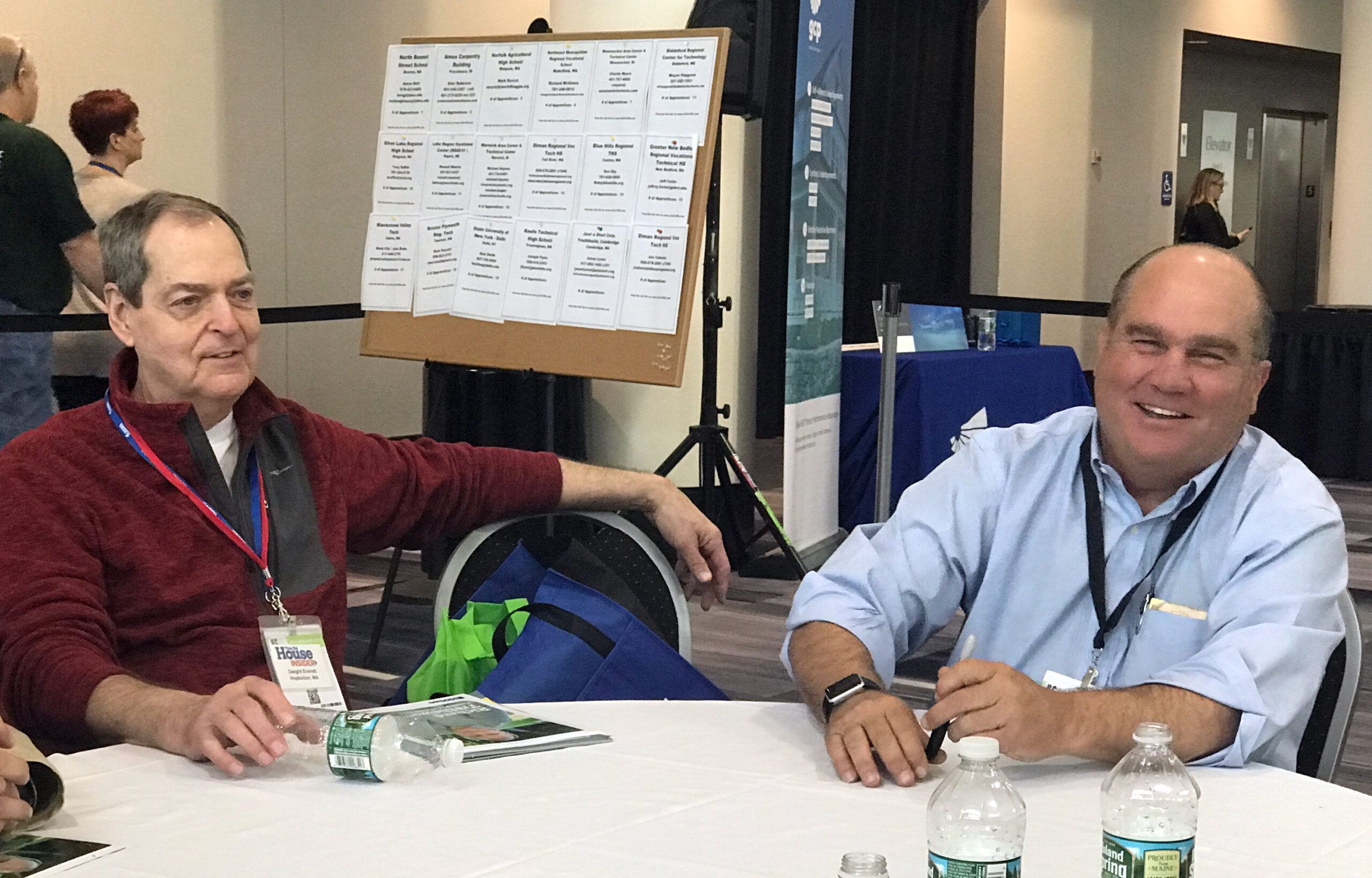 After the panel, Insiders and guests enjoyed an informal lunch with the TOH gang, where they got the chance to actually meet everyone and talk more in-depth. Dwight Everett of Hopkinton, MA—seen here with Richard—had plenty to say. Dwight left the corporate world to start his own business, focusing on renovations and particularly cabinet building. Between avid DIYers and folks who work in the trades, JLC LIVE was a great fit for this group of Insiders!
Lights, Camera…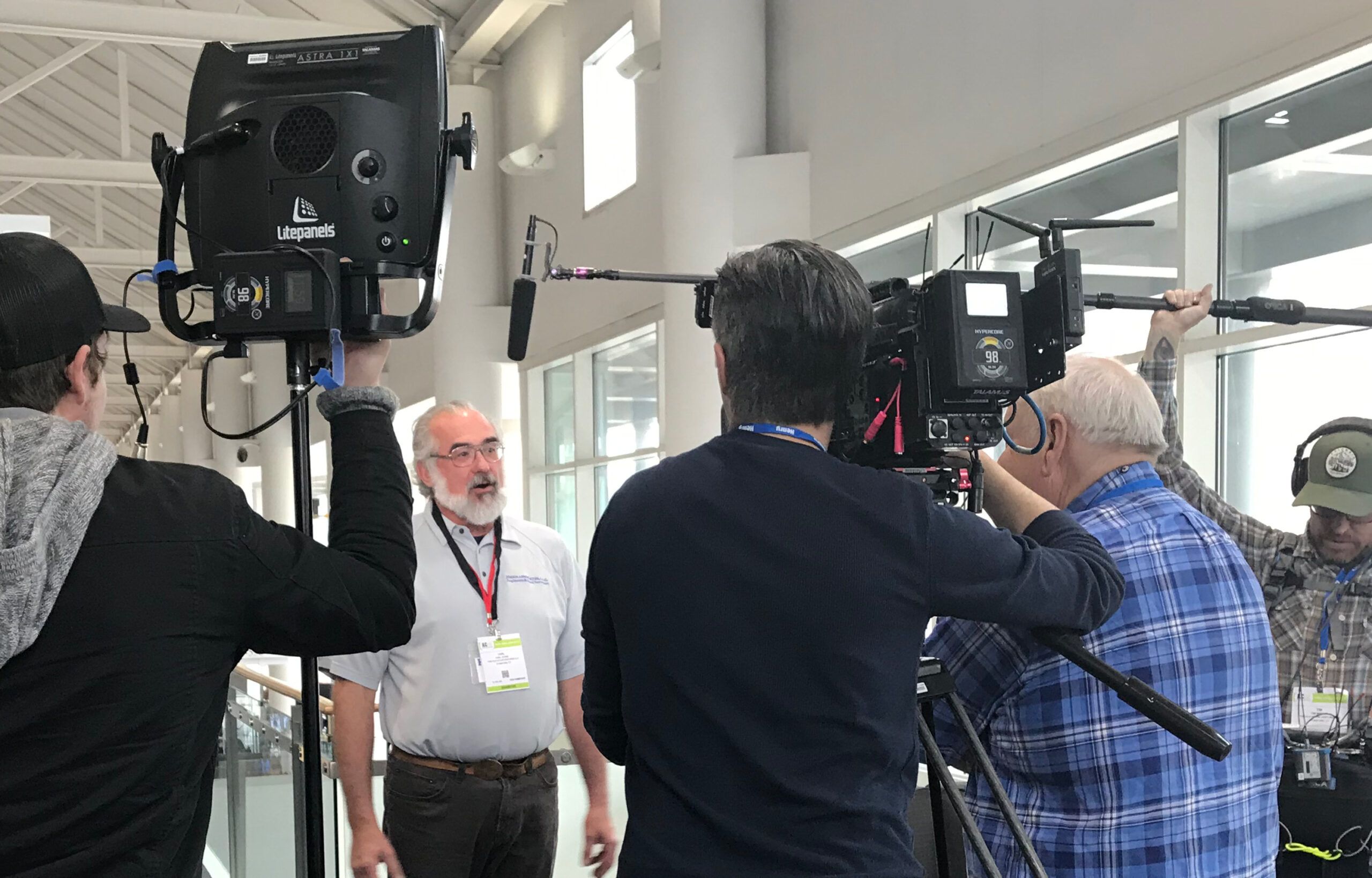 Crew members from TOH TV were on hand, too, and when they found free time they interviewed some of the Insider members about their favorite memories from 40 years of This Old House. Insider Carl Jenne, who came up from Bridgewater, NJ with his son Doug, had plenty to share! Himself the son of a mason, Carl became a civil engineer, working in all aspects of construction.
"I've been watching TOH from the start," Carl says. "Now that I'm retired, I'm hoping to do some improvements on my mountain home in North Carolina and use the woodworking shop I have there. I've finally got the time to make some of the great projects Norm Abram did on The New Yankee Workshop—or at least think much more seriously about making them!"
Sign Here, Please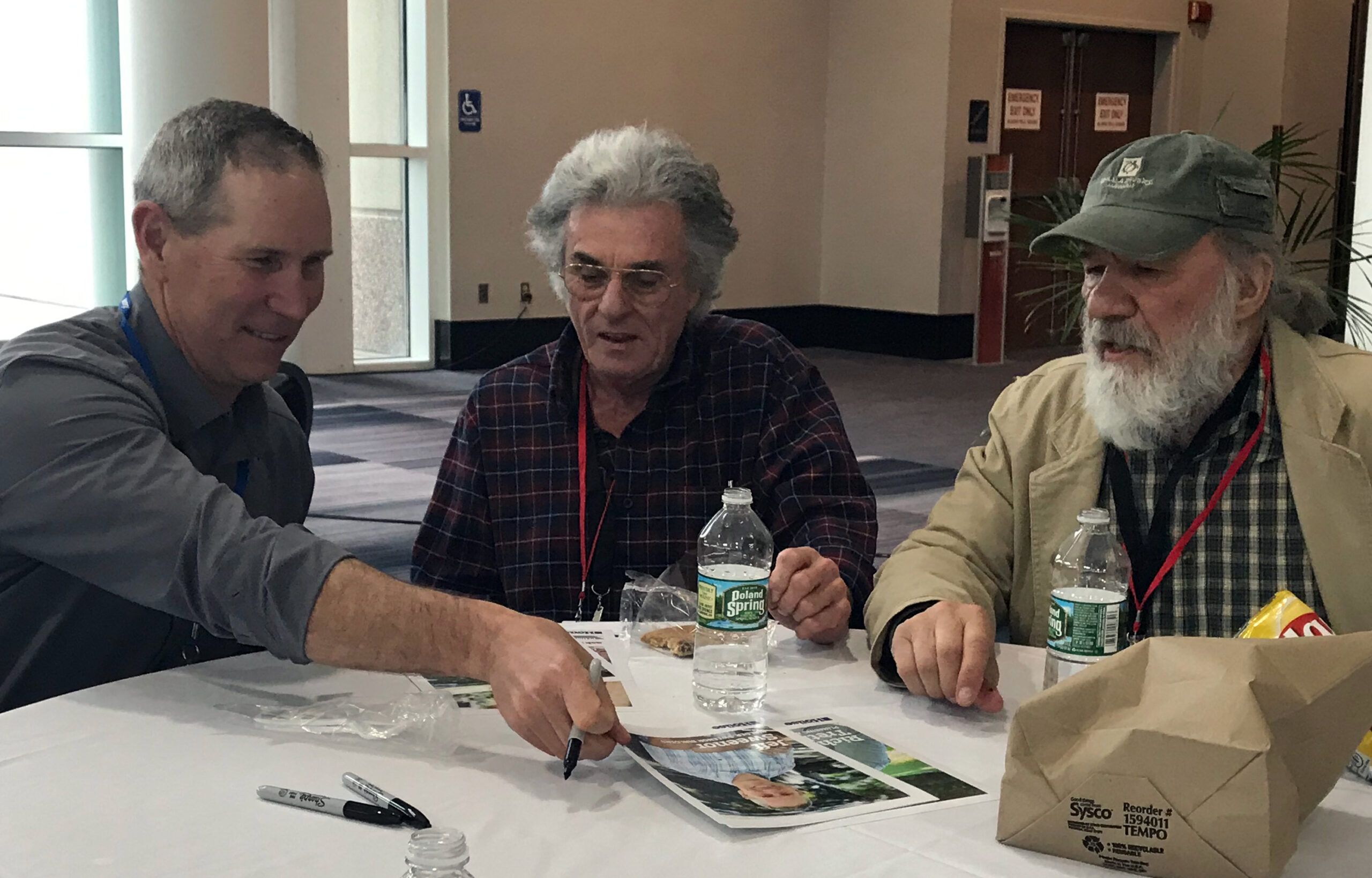 There was time to get autographs and photos, too—here Jeff Sweenor, the contractor for the Westerly Ranch House, reaches for a headshot to sign for Insider Bob Lewis (center), of Narragansett, RI. (He brought pal Gerry Champagne, right, along for the day.) Bob says he's always enjoyed carpentry as a hobby, but given that his most recent project is finishing a third floor addition on his house, that's some hobby!
Watch and Learn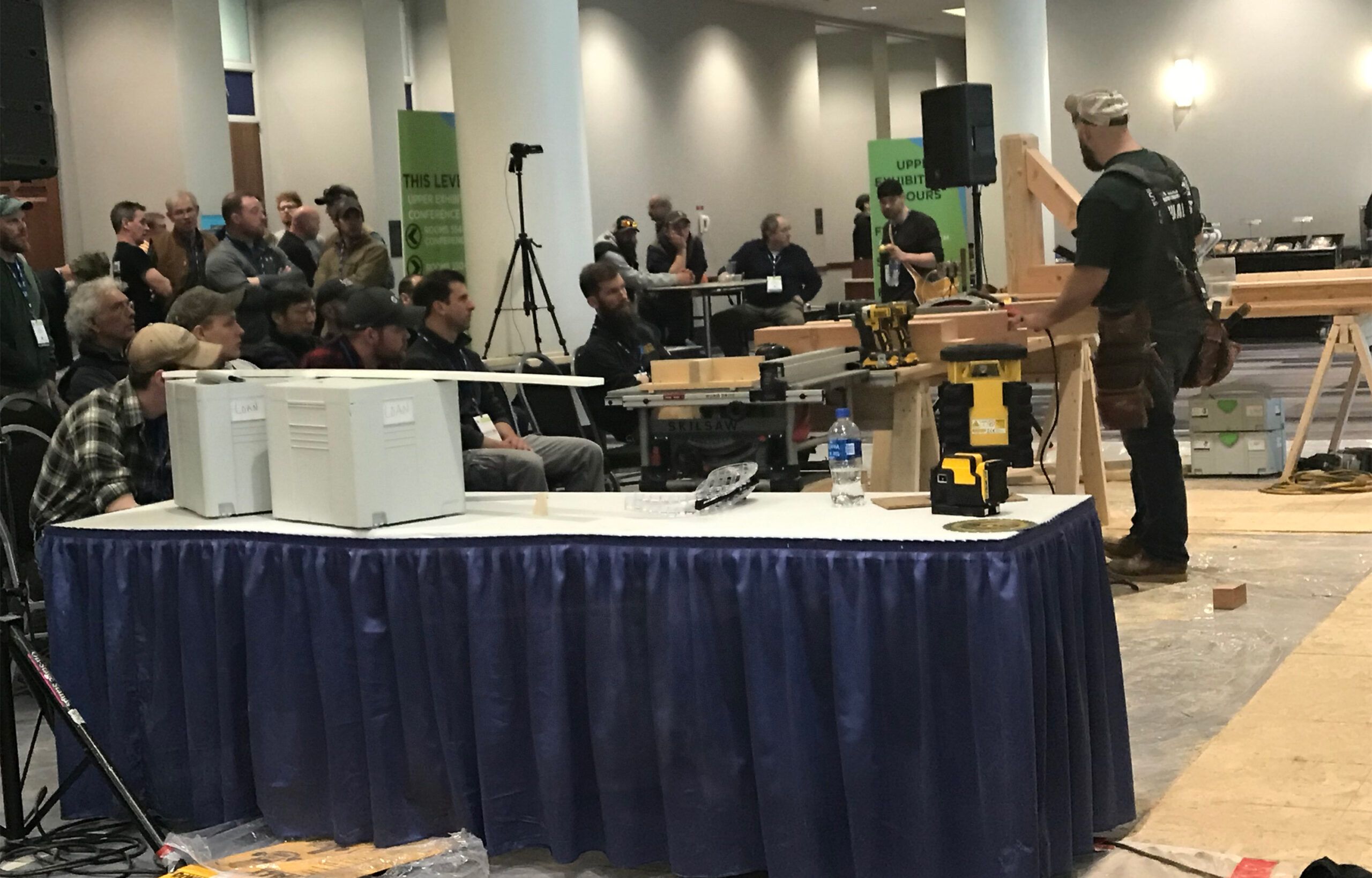 JLC LIVE boasted a huge exhibition floor to explore, with numerous vendors offering live tool demonstrations throughout the day. The TOH team made an appearance at the Festool booth, though with such a busy schedule the guys didn't get the chance to have fun with any of the tools!
Here's a Question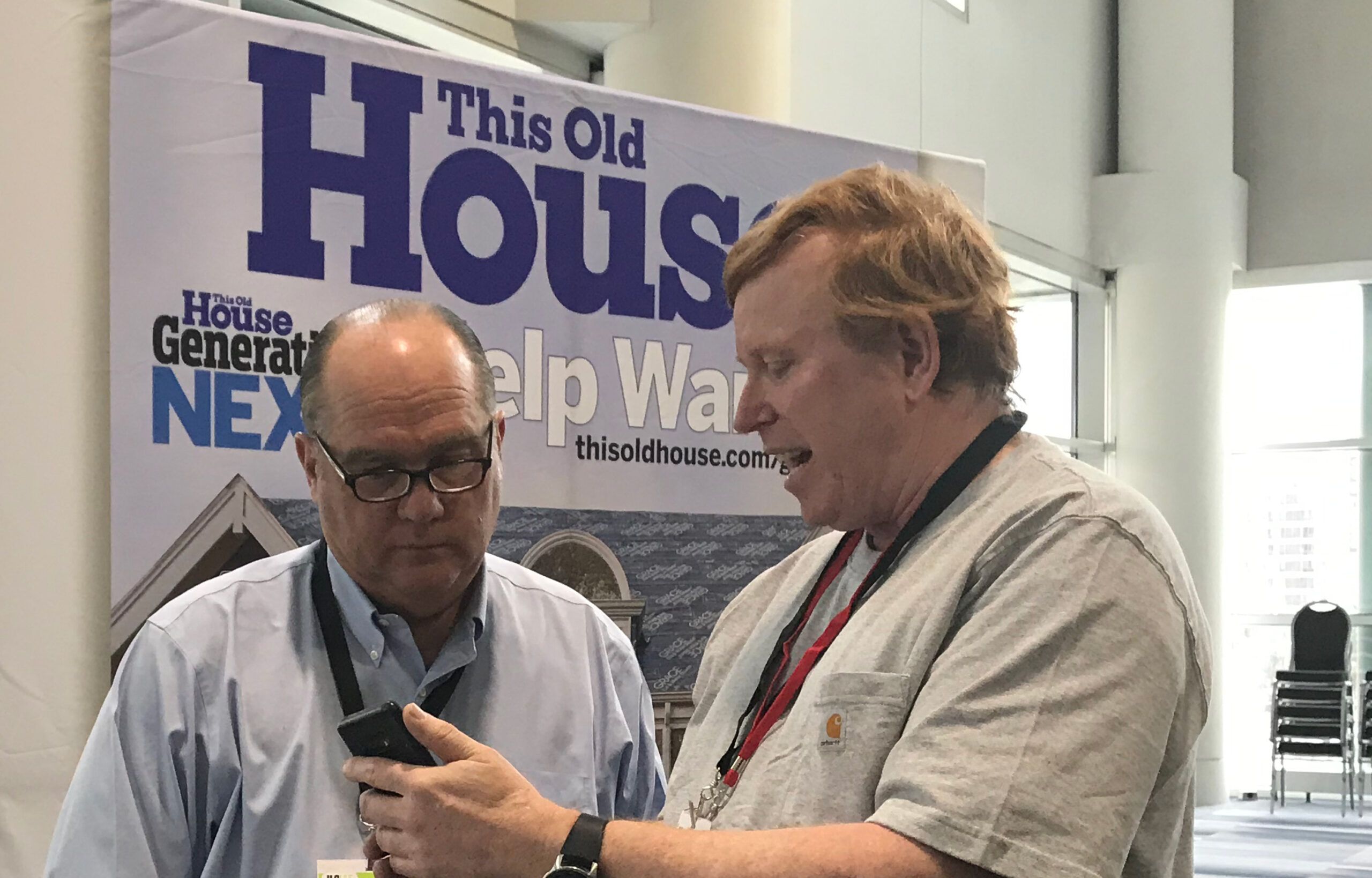 Insider Rich Keyes (right) recently relocated to Cheshire, MA, where he's planning extensive renovations on a family home. Among his many plans—which include altering the roofline and attaching the garage to the house—Rich hopes to replace the house's current steam heating system. Naturally he had plenty of questions for our own Richard!
He was also doubly a winner: In addition to getting a pass to come to JLC LIVE, Rich won a job site radio from Festool in a raffle at a reception later that evening!
Fathers and Sons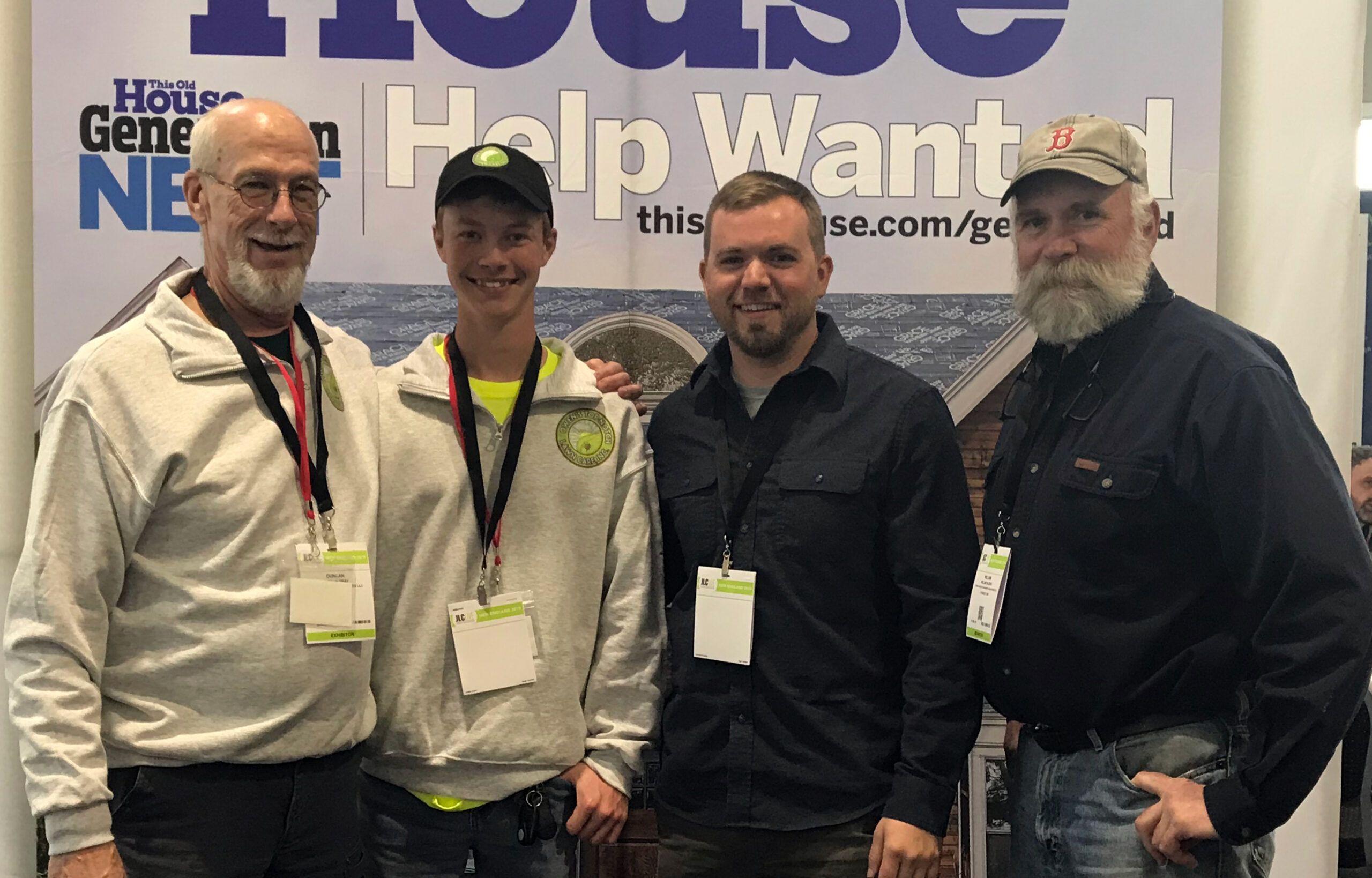 Insider Duncan Gray (left) and his son Owen (center left) were excited to come to JLC LIVE, since Owen has recently entered the trades with his own landscaping and snowplowing business out of Swansea, MA. The pair grabbed a photo with another father-and-son duo—former apprentice Nathan Gilbert (center right), who was joined at the event by his dad, Bill (right)!
Pro2Pro Live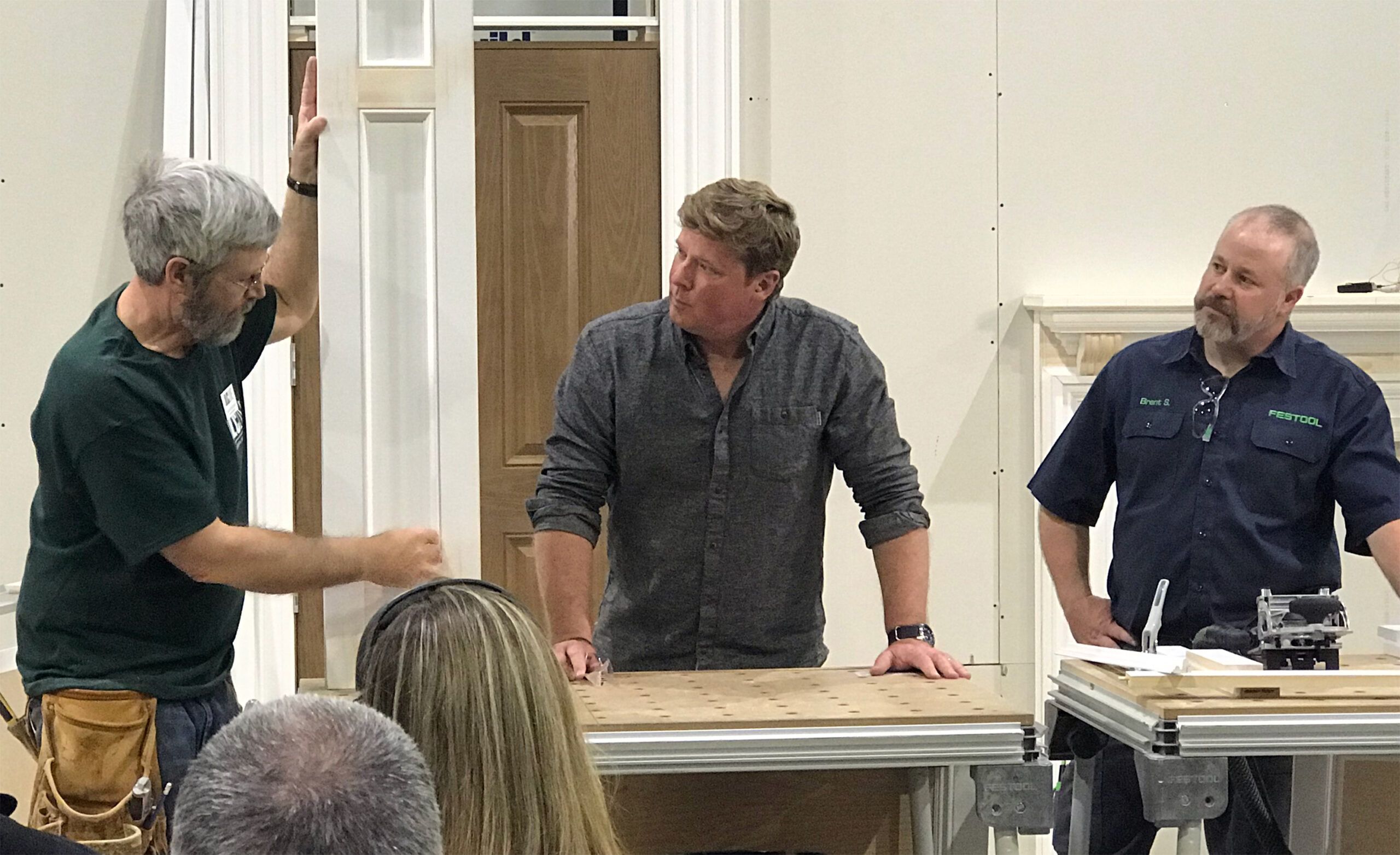 Insiders also had the chance to be part of the audience for the Pro2Pro livestream that was filmed at JLC LIVE. Kevin hosted the live Q&A, which featured master carpenter Gary Striegler (left) demonstrating his technique for building wainscot. Festool pro Brent Shively (right) also showed off the brand's Domino system for mortise-and-tenon joinery.
Want to see the demos (and the Q&A)? You can watch the archived video here.
A Surprise Reunion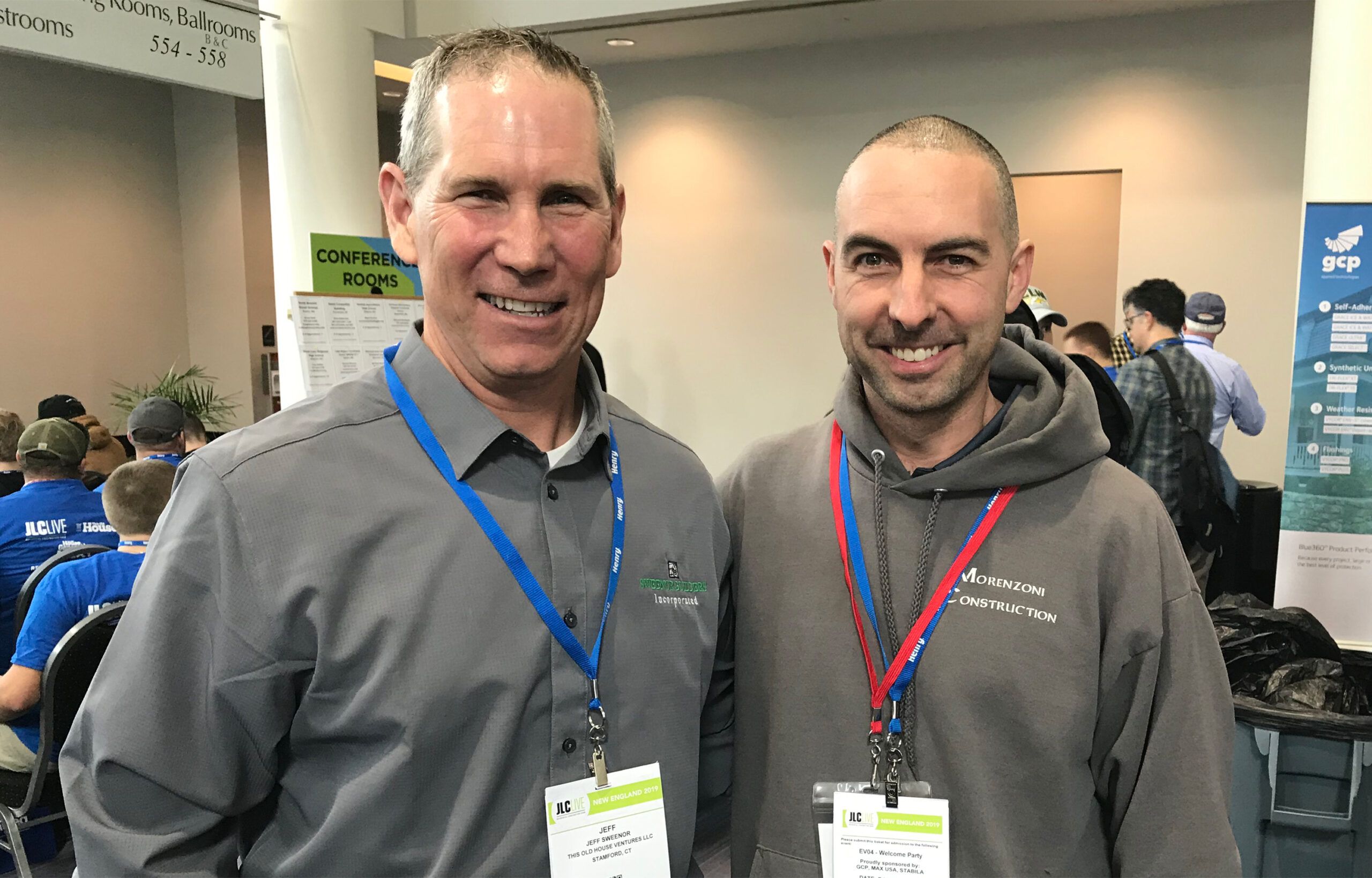 Here's a fun one: Insider Tim Morenzoni of Glendale, NY, who runs a construction company in addition to being a firefighter with the FDNY, got to reconnect with home builder Jeff Sweenor, who years ago built Tim's mother's home in Rhode Island. (Jeff remembered "Timmy" and his brothers from back in the day!)
Tim was thrilled to be at JLC LIVE—which he's attended annually for almost 10 years—and especially enthusiastic about TOH's emphasis on strengthening the trades. "I'm only 35, but I see the lack of skills in the younger generation, both in new firefighters coming onto the job as well as trying to hire carpenters for my business," Tim says. "When I first got onto the fire department 12 years ago, we had guys with plumbing, electrical, and carpentry backgrounds. Now almost everyone has a college degree, but no experience in a trade."
Bright Futures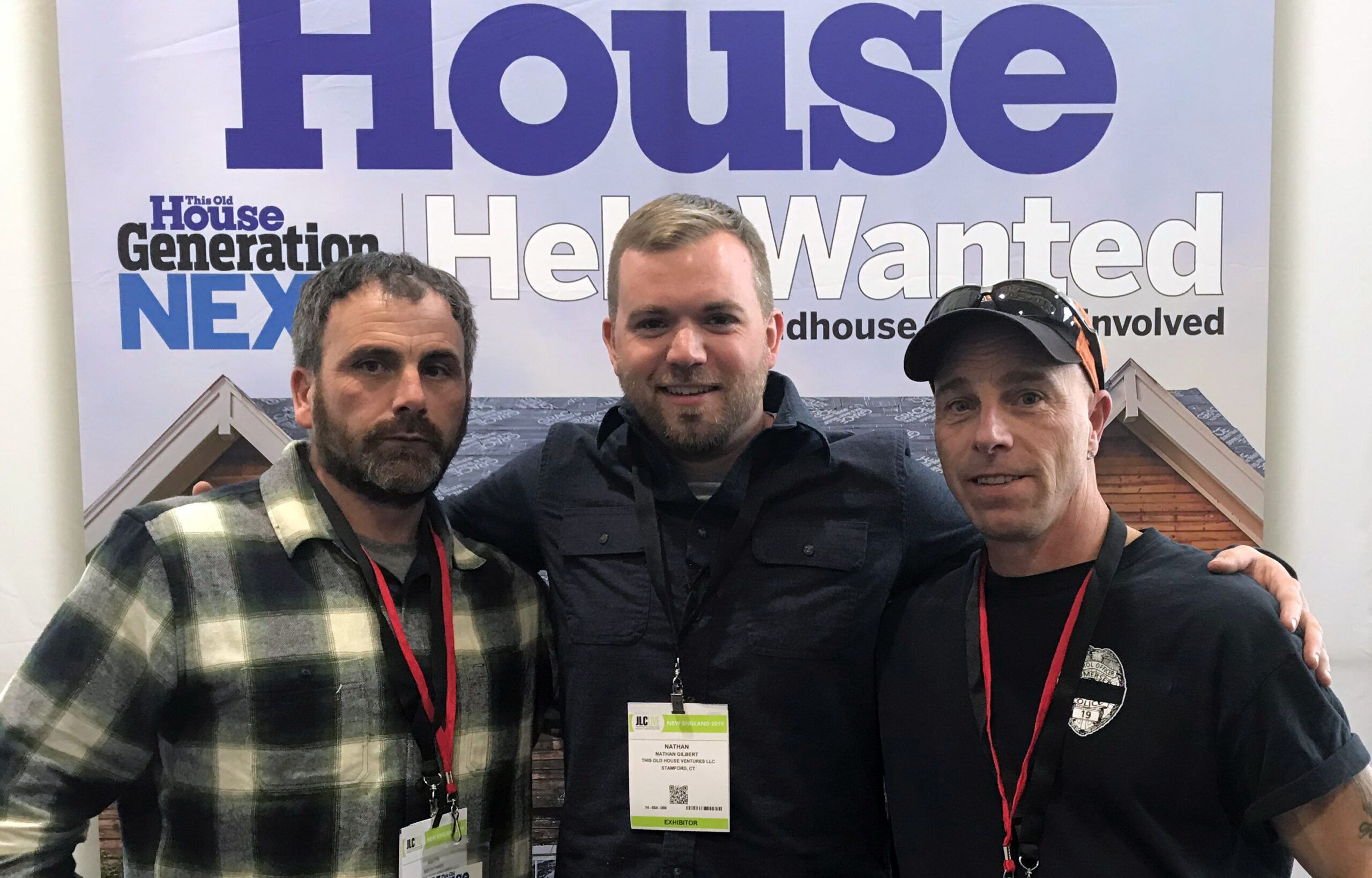 Insider Keith Faris (left), of Wolfeboro Falls, NH, brought his brother Chris (right) to JLC LIVE, where the two snagged a photo and chatted with carpenter Nathan Gilbert. Keith also showed off photos of his own—both finished projects and works in progress from his construction business, and of his grade-school-aged son helping out on the job. You're never too young to gain an appreciation for working with your hands!
Get the chance to be part of great events like this one, participate in exclusive livestream Q&A sessions, have access to the entire 40 years' worth of TOH TV, and more—join This Old House Insider!