The 2018 Tommy Awards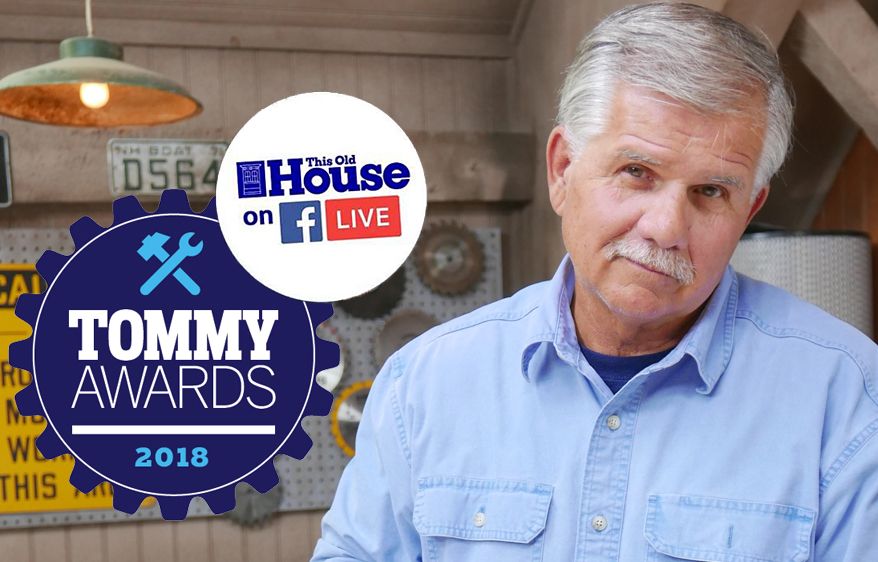 On Wednesday, June 6, the winners of the first-ever Tommy Awards were announced on Facebook Live. This Old House Insiders came from all across the country to be recognized for their truly amazing home projects, and to find out who won the Grand Prize—a visit from Ask This Old House.
Keep reading to learn about the winning projects—it was a tough choice, but in the end these won over the judges (including Tom Silva himself, of course!).
Not an Insider? For the chance to be part of events like this, join today!
Best Deck: David L., Memphis, TN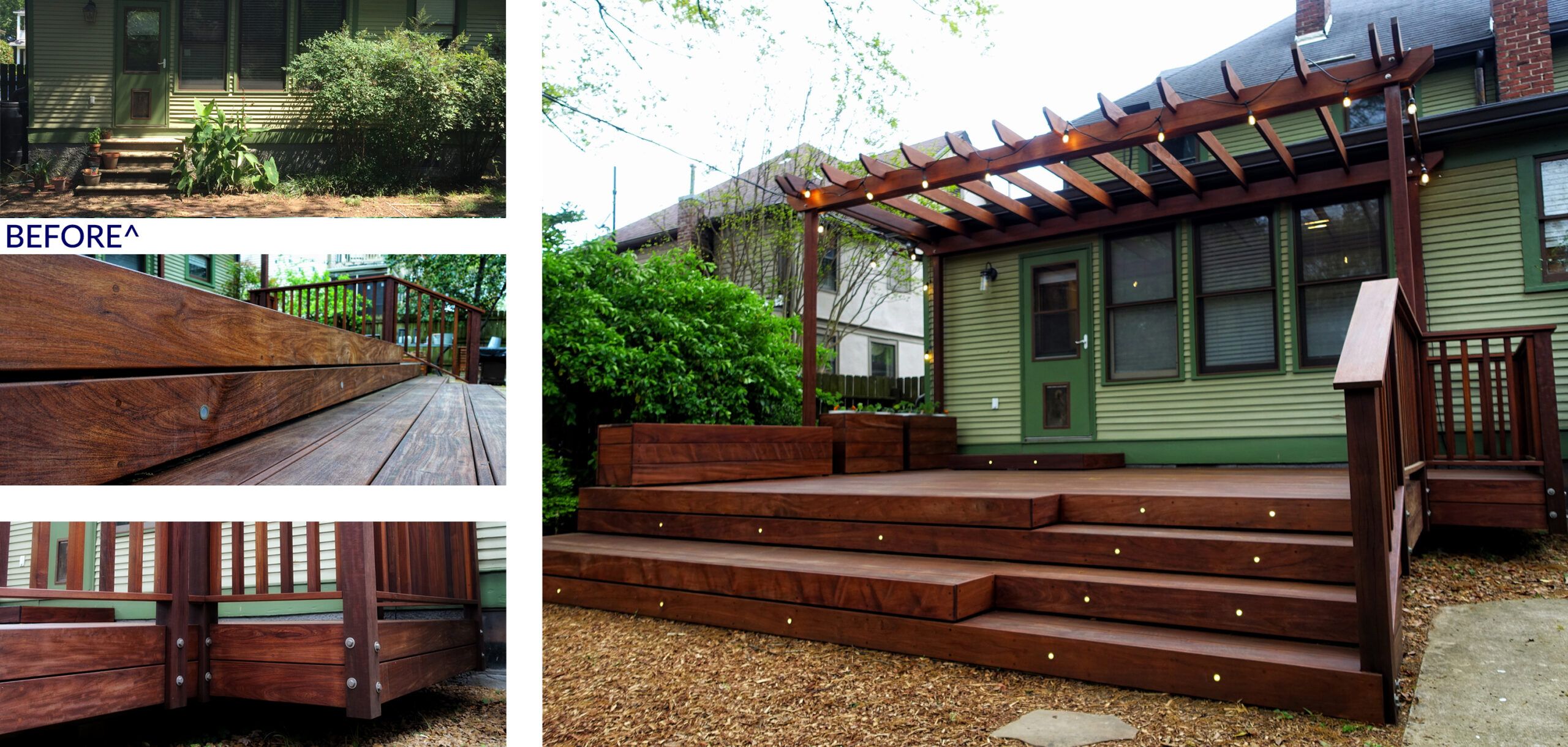 "Our 1910 home had an old set of concrete steps at the back door with no railing, and a large area of bare ground thanks to our foster dogs," says David Lewis of Memphis, TN. (See photo, top left.) "With a new (human) addition to the family, we set out to create a safe and fun outdoor living and entertaining space."
The result is a deck and pergola deemed Tommy Award-worthy! Built from ipe, no detail was overlooked. The 2×10 framing is cantilevered on two sides, "providing extra space for seating, with a 'floating' look," David says. (Left, center)
A bench and planters line one edge, adding even more seating, serving as a handrail, plus creating space for an herb garden adjacent to the kitchen.
"At the back of the deck, two seating steps were incorporated to provide an easy transition to grade and play space for the kiddos," says David. (Bottom left.) These also show off the beautiful wood and careful craftsmanship. "We cut hardwood plugs on-site using the ipe cutoffs, and installed flush-mounted LED lights in the stair treads to provide both ambient and safety lighting."
Best Deck: David L., Memphis, TN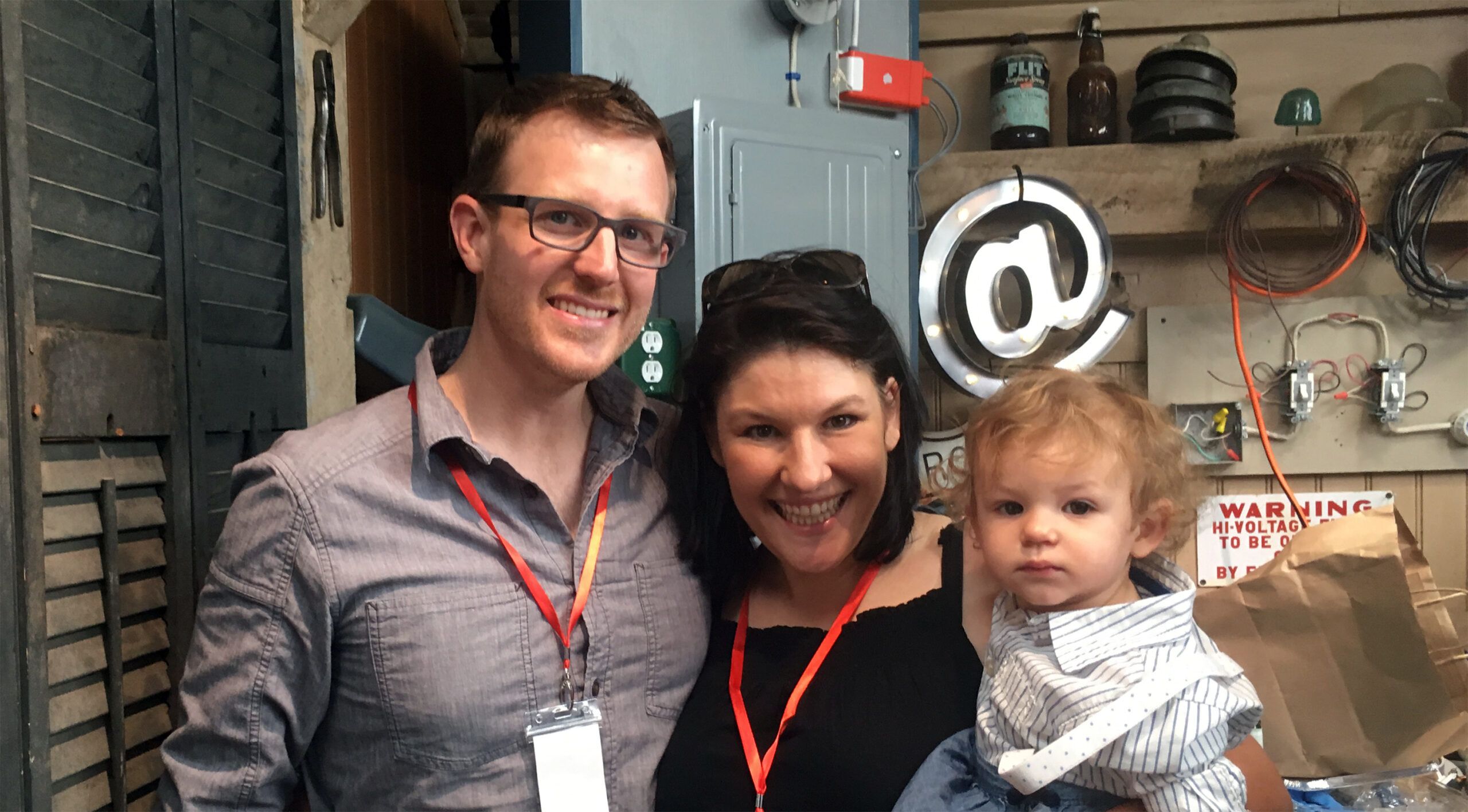 "I wouldn't have even known to use Ipe if it weren't for This Old House," says David, who flew in from Tennessee with his wife, Julia Hanebrink, and their daughter, Nova. Nova enjoyed clapping when dad went up to receive his Tommy Award!
Best Build It: David S., Santa Monica, CA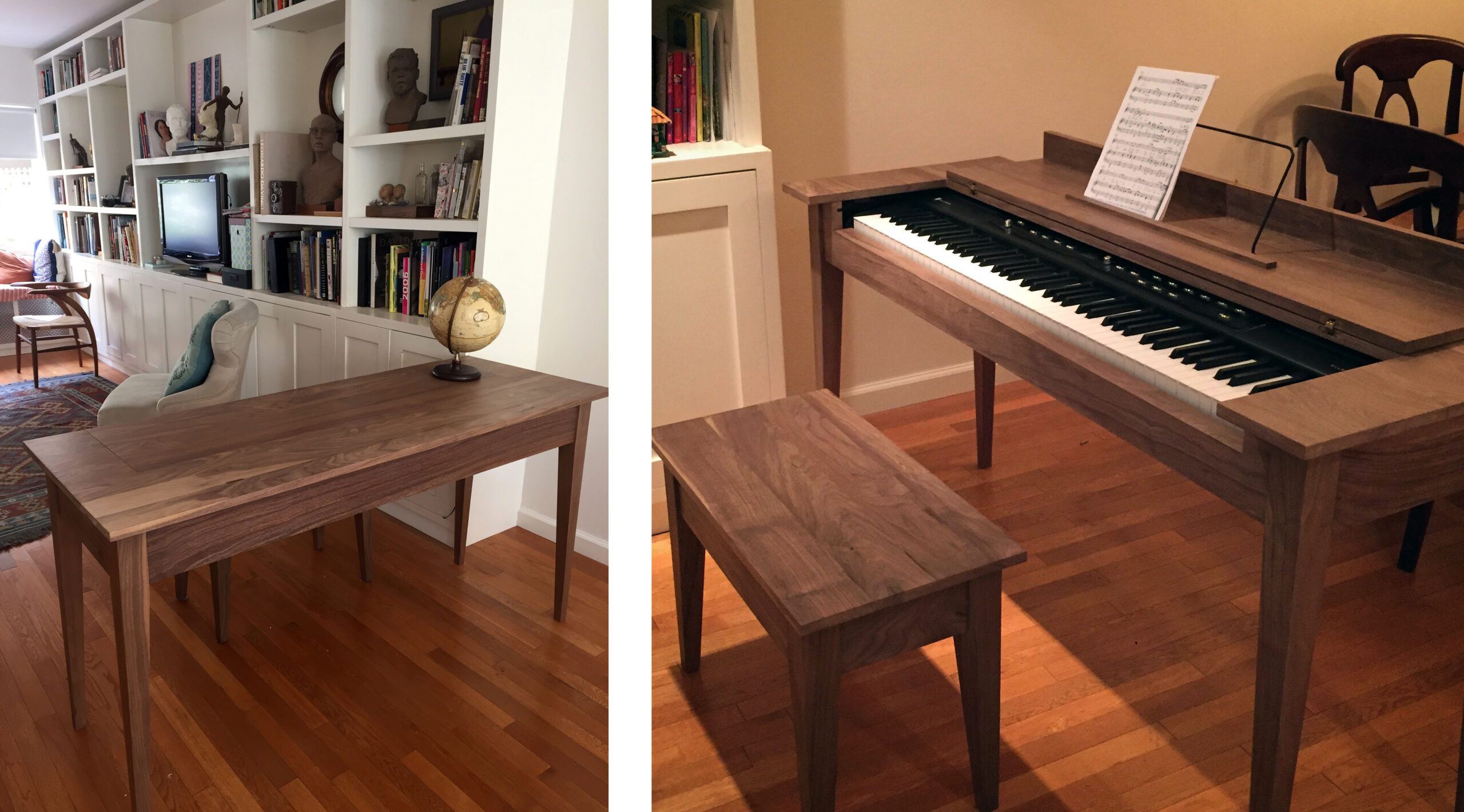 "My 8-year-old daughter has an electric piano which we didn't really have space for," says David Simon of Santa Monica, California. "Well, we actually had space in the living room, but the piano is black plastic and not very attractive." His clever solution impressed the Tommy Awards judges: David designed and built a walnut table with invisible hinges that hides the piano, but allows his daughter to open it and play it any time she wants.
"I used Soss invisible hinges for the section of the top that opens, and measured the keyboard so that only the keys and controls are exposed when the top is up," David says. (Above right.)
When piano practice is done, the instrument is completely camouflaged by the handsome table, which fits right in to the space. Says David, "I tried to keep the lines on the table top of the section that opens to a hairline." Bravo!
Best Build It: David S., Santa Monica, CA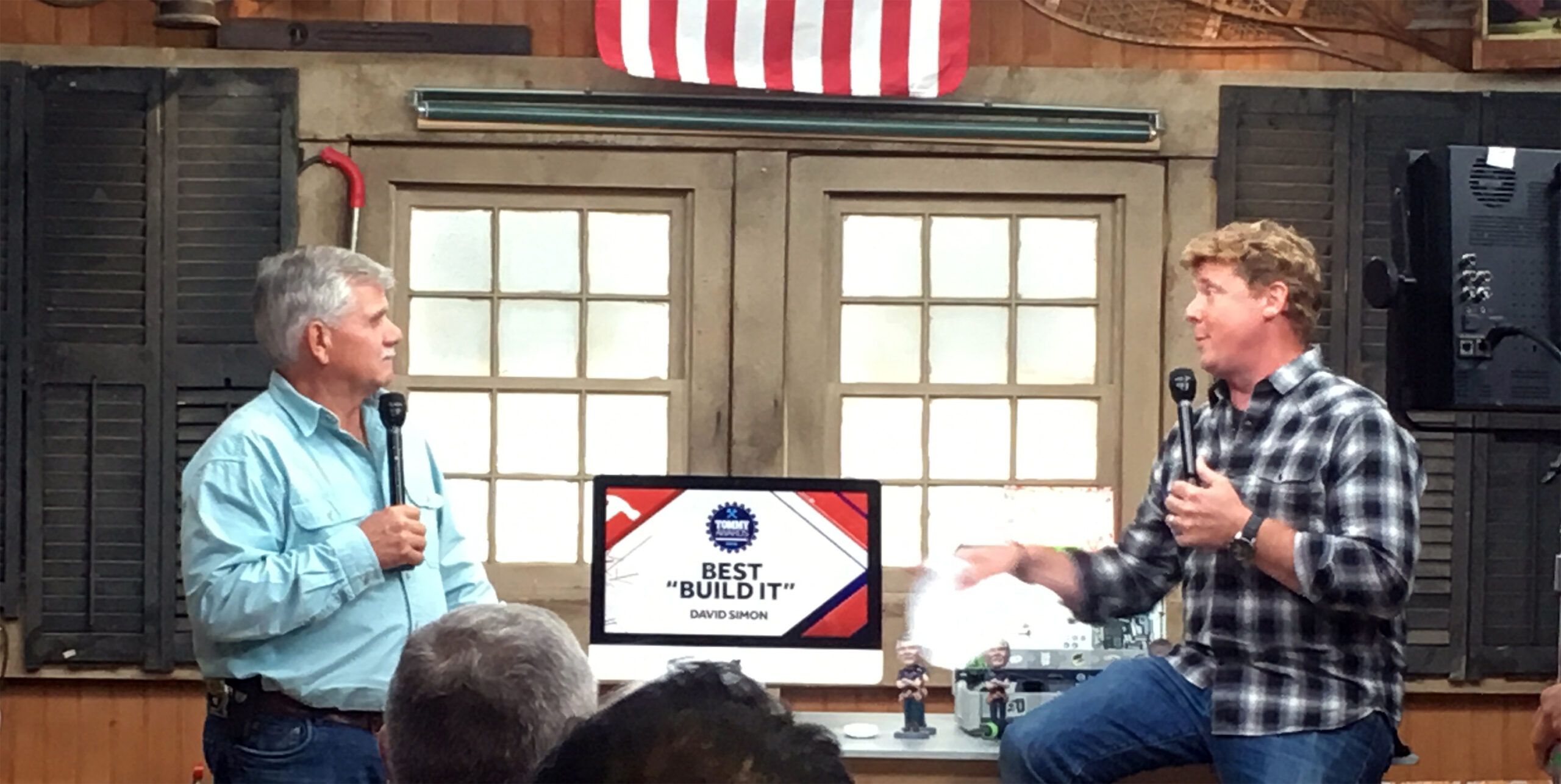 Unfortunately, David wasn't able to make it to the east coast to receive his award, but host Kevin O'Connor accepted it on his behalf. Kevin also noted that he especially enjoyed seeing all the furniture (and more!) that Insiders had made, since working on "Build It" projects is one of his favorite parts of Ask This Old House.
Best Use of Reclaimed Materials: Bill H., Georgetown, MA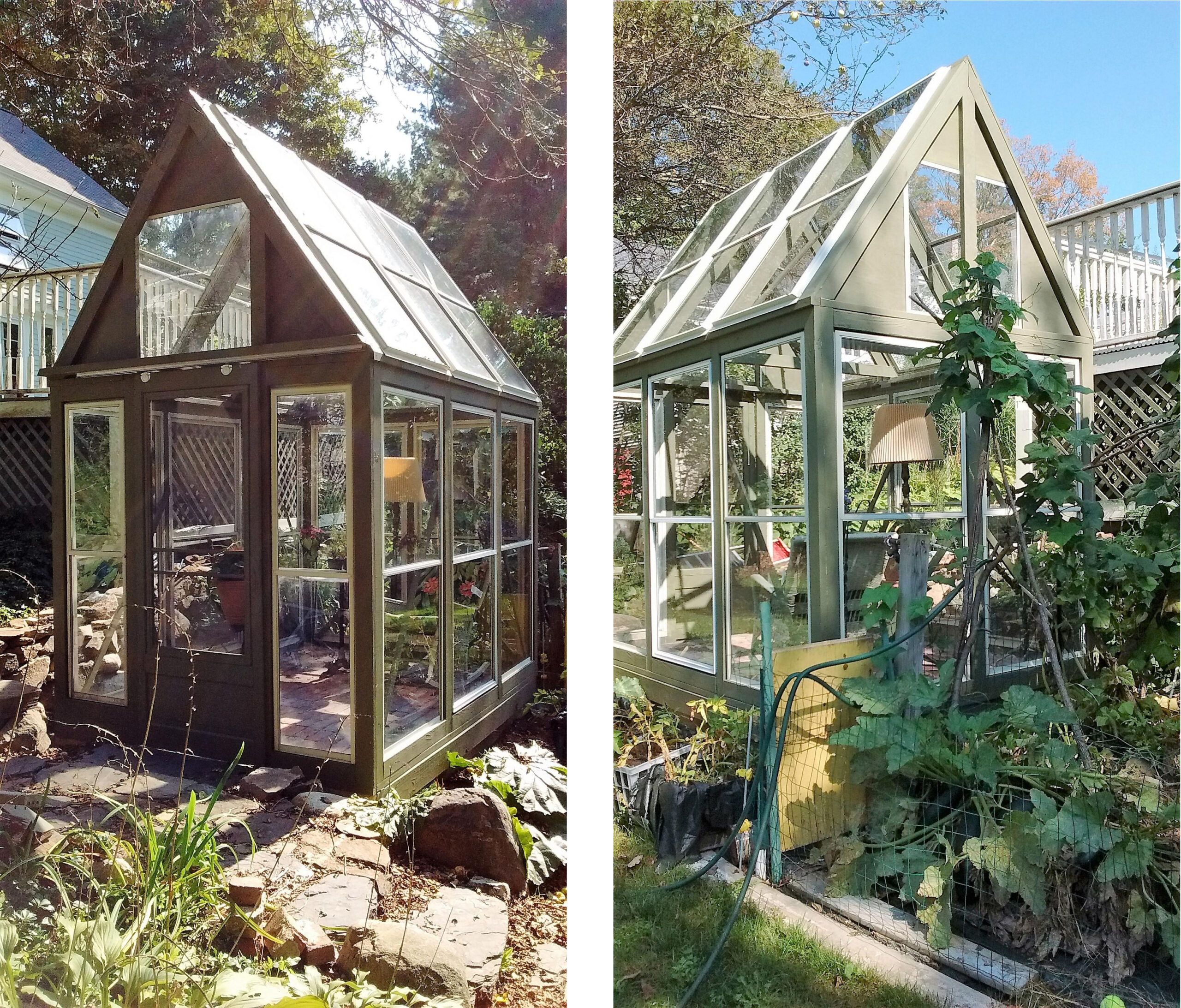 The judges were wowed by this clever reuse by Bill Hastings of Georgetown, Massachusetts. "I upgraded the windows on my house, and used the aluminum combination windows that I removed to build this greenhouse," Bill says. (Above, front view at left and back at right.)
He mounted the windows on a frame made with 2x4s and deck screws; the approximately 7'x10′ structure's base "was made with leftover bricks from a chimney I removed when I installed a new through-the-wall venting furnace." Another terrific detail: The sliding door, which Bill mounted using pocket-door hardware.
Best Use of Reclaimed Materials: Bill H., Georgetown, MA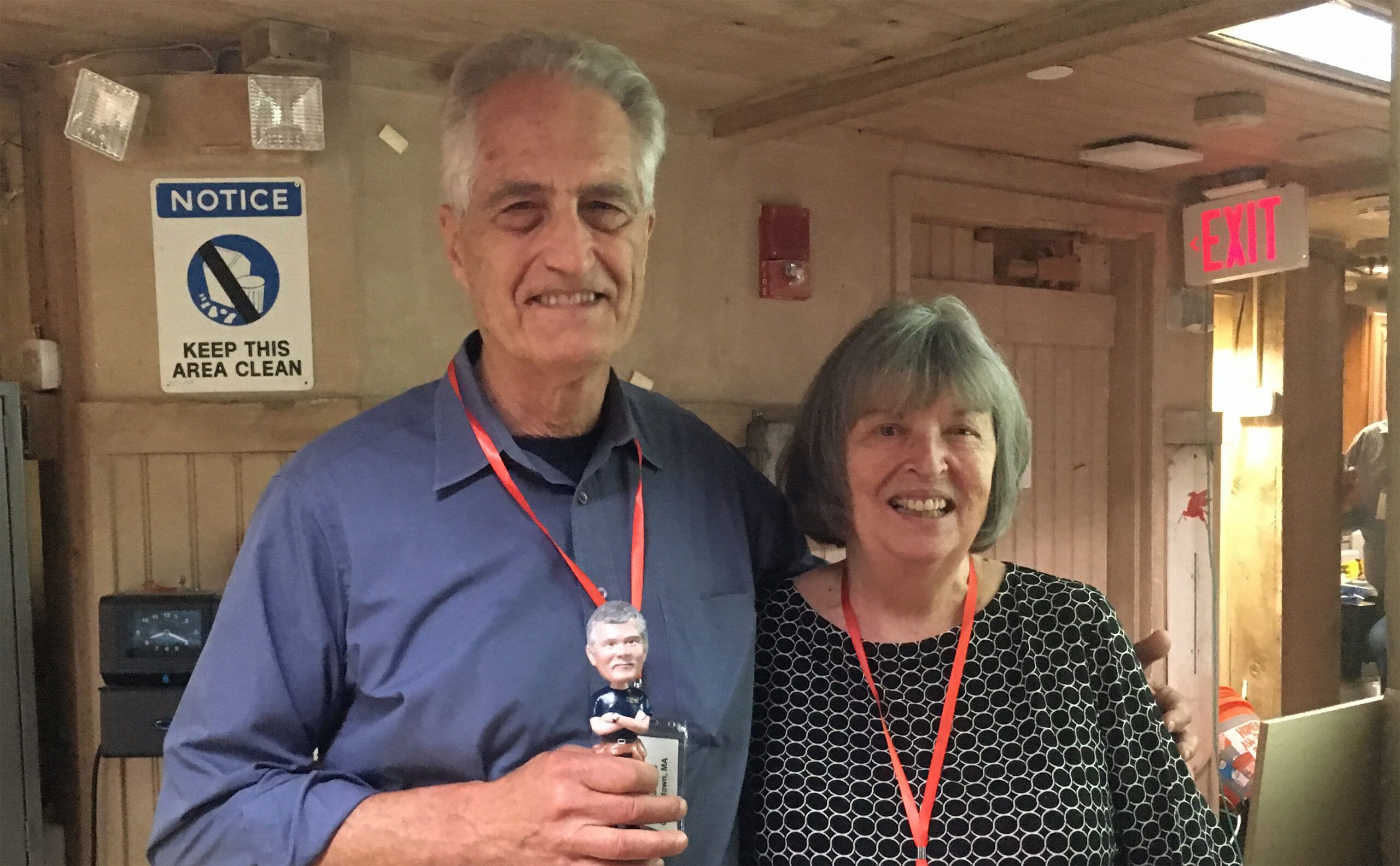 Saving any building material that still had use in it—as general contractor Tom Silva noted his own father had—has certainly paid off for Bill Hastings, who brought his wife Elizabeth to the awards. Since completing the greenhouse this past fall, the couple have put it to good use, keeping vegetables growing through an especially cold New England winter.
Best Kitchen or Bath Renovation: Doug H., Canal Winchester, OH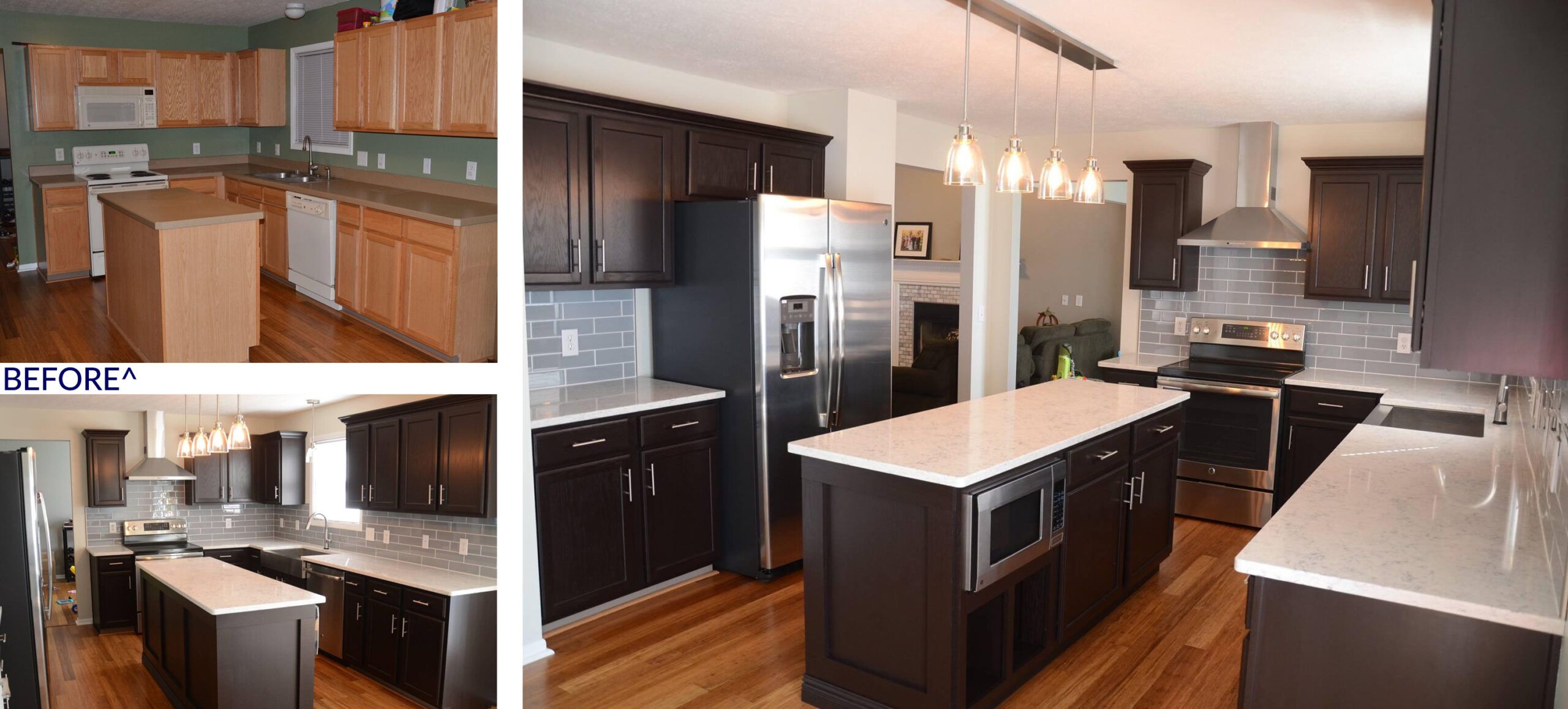 This amazing kitchen before and after proves that you don't need to tear down walls to get a totally new look. "Prior to the remodel, it was your standard builder-grade kitchen," says Doug Hinkle of Canal Winchester, Ohio. (See before photo, upper left.) "My wife Casey and I started with our cabinets, which people can't believe aren't new! To save money, we simply sanded, stained, and clear-coated our existing ones. A little elbow grease goes a long way (and is easier on the wallet)."
Doug and Casey also came up with a smart solution for their biggest upgrade. Adding a new range hood meant relocating the microwave—a must-have, but not the most beautiful kitchen appliance. The Hinkles decided to remodel their kitchen island, going from a standard 4′ to 6′, to accommodate the microwave (and get more prep space to boot!). "We ended up buying a standard 24″ base cabinet and retrofitted it ourselves to house a new microwave with two cubbies underneath for storage," Doug says. "After running the proper electrical, we anchored it to the existing island. To conceal the two cabinets we anchored, we ran 1″x4″ oak planks to add dimension." (See above right photo.)
They saved money wherever possible, from buying appliances at major holiday weekend sales to taking advantage of utility rebates for energy-efficient appliances to creating their own chandelier lighting fixture. "We are total DIYers and watched tons of This Old House videos," Doug says. "Doing so virtually gives you a mentor right there as you're doing the work. If we can do this, anyone can!"
Best Kitchen or Bath Renovation: Doug H., Canal Winchester, OH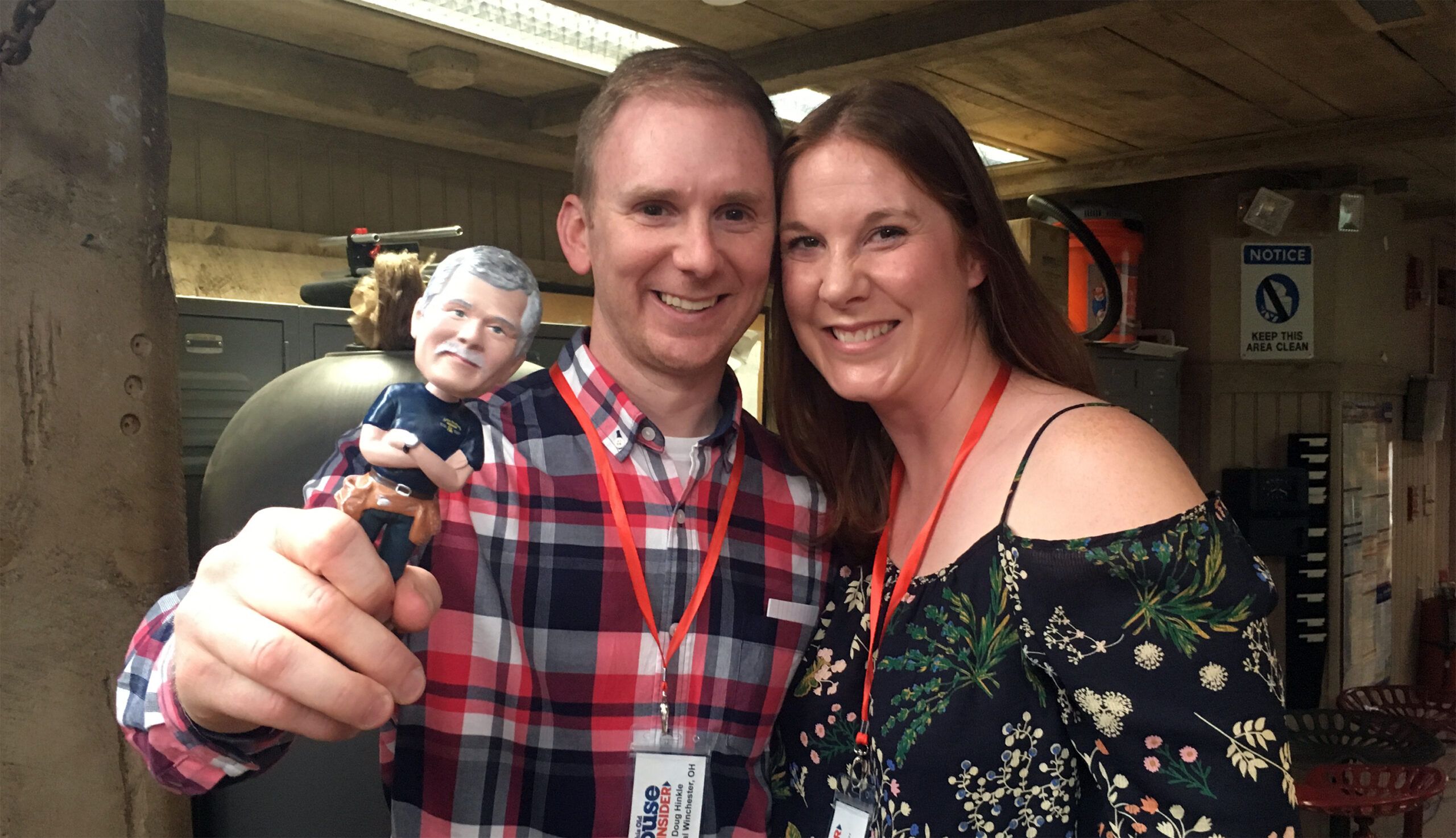 That kitchen's total transformation was a team effort for Doug and Casey Hinkle, and both were extremely appreciative of having those efforts recognized. With an infant and a toddler, the two got much of the work done by taking half days at work or staying up extra late to put in time while the kids slept.
Even more amazing? "We were able to use the kitchen the entire time," Casey said. "We only had a few nights where take-out was the only option." They plan on adding to the room's decor with mementos from the Tommy Awards.
Best Whole-House Renovation: Diane B., Gwinn, MI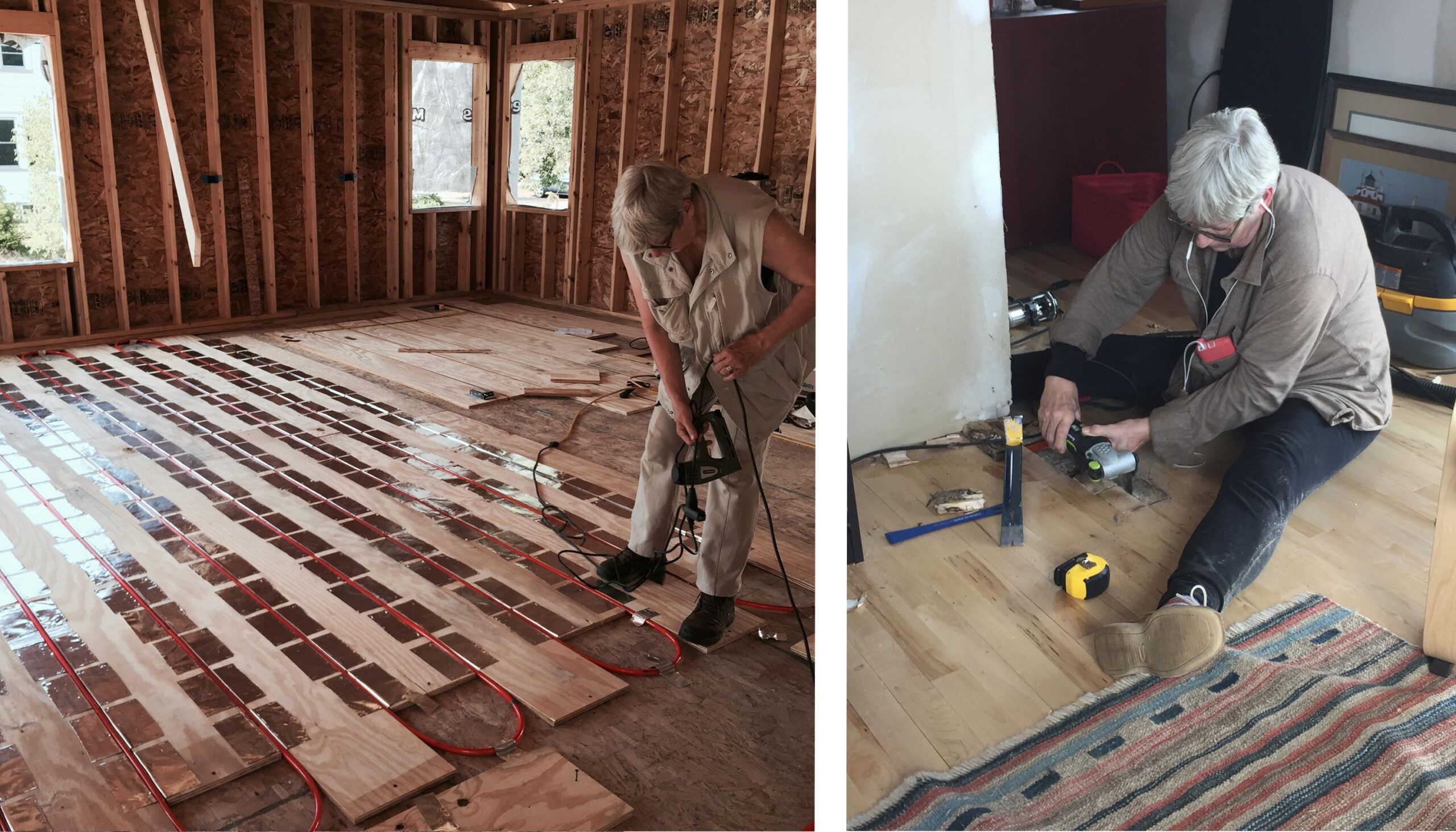 "I'm nearly 70 years old, and until three years ago, I had never used a power saw," says Diane Bostow of Gwinn, Michigan. But in the course of renovating and putting a substantial addition on the 575-square-foot 1940s home she shares with husband Lanny Cross, Diane learned to use a lot more than just a power saw. She used a CAD program to design the 1,800-square-foot, two-story addition, and in addition to hiring and supervising the work on the house, Diane took on plenty herself. "Now I am proficient with my radial saw, circular saw, skill saw, table saw, router, oscillating tool, and a couple of drivers," she says. How'd she learn so quickly? With help from YouTube, including, of course, videos from This Old House.
"I laid all of the pex in the house, from the new, cement-floored walkout basement to the original old house. I used a plywood spacing system with metal on top to spread the heat," Diane says of the photo at left. On the right? "I'm repairing damage to the maple flooring the guys caused by putting a nail puncture in my pex!"
Best Whole-House Renovation: Diane B., Gwinn, MI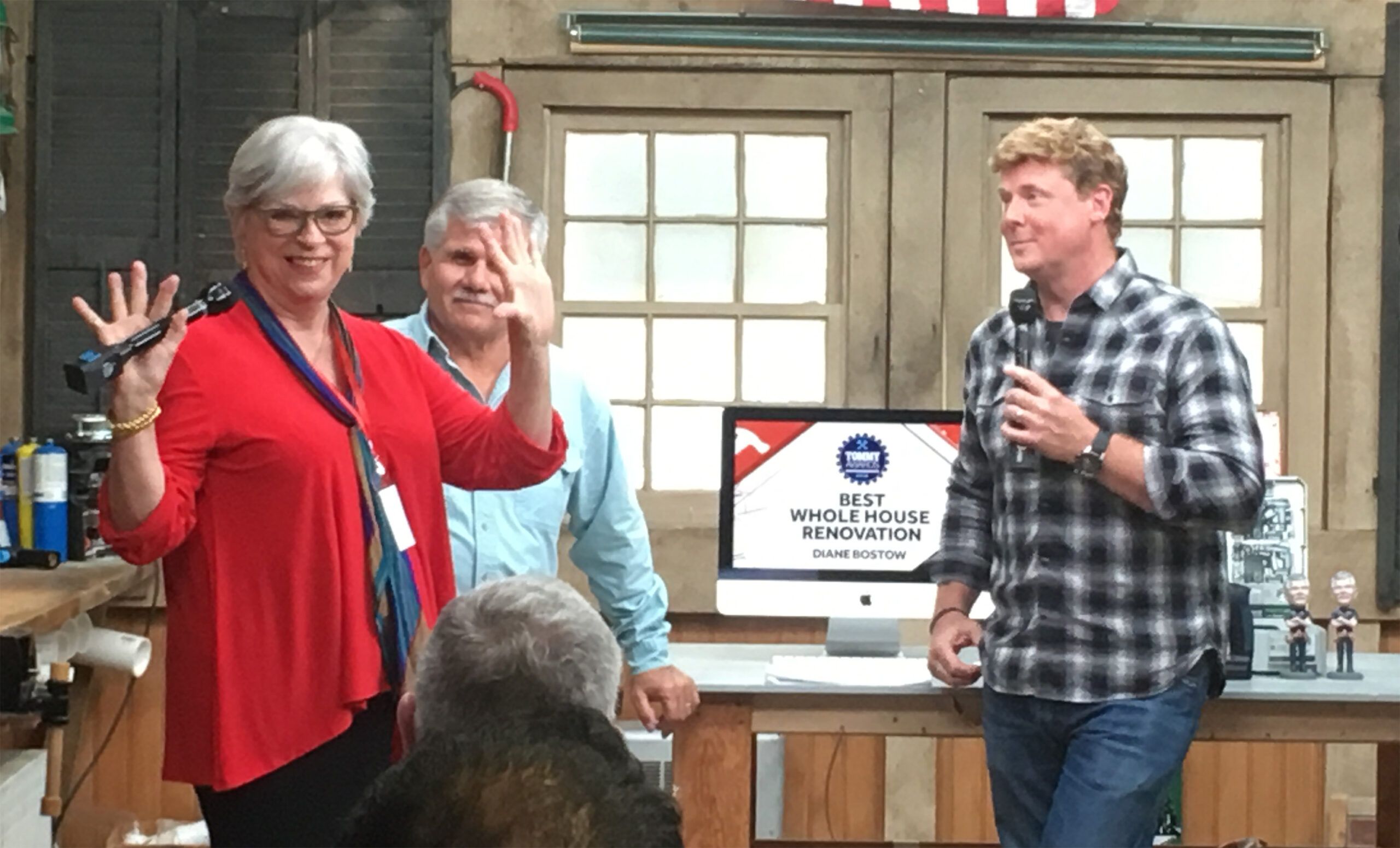 "Don't let anyone tell you you can't do it," was Diane Bostow's inspiring message when she accepted her Tommy Award. Growing up, she hadn't been allowed to take shop class; now, Diane's making up for lost time. "I'm only just getting around to smaller projects like shelving, or even tile, now," she says.
Diane also gave the live audience quite a laugh when she credited Tommy with helping her keep "all ten fingers." "Wait, how many?" Tommy quipped.
Best Single-Room Renovation: Wayne B., Pepperell, MA
Though it's in an 1872 Victorian, when Wayne Burton of Pepperell, Massachusetts decided to work on this dining room, it echoed a very different decade—the 1970s. (Upper left)
"We removed the dated wallpaper and smoothed the plaster, took out a closet door to create a built-in wall hutch with antique glass doors, and built paneled wainscoting that encircles the whole room," Wayne says. (Right)
But for the most wow-worthy detail, look up: Wayne added a coffered ceiling that's made up of 20 boxes plus a perimeter box, giving him a grand total of 84 pieces of crown molding! (Lower left)
Best Single-Room Renovation: Wayne B., Pepperell, MA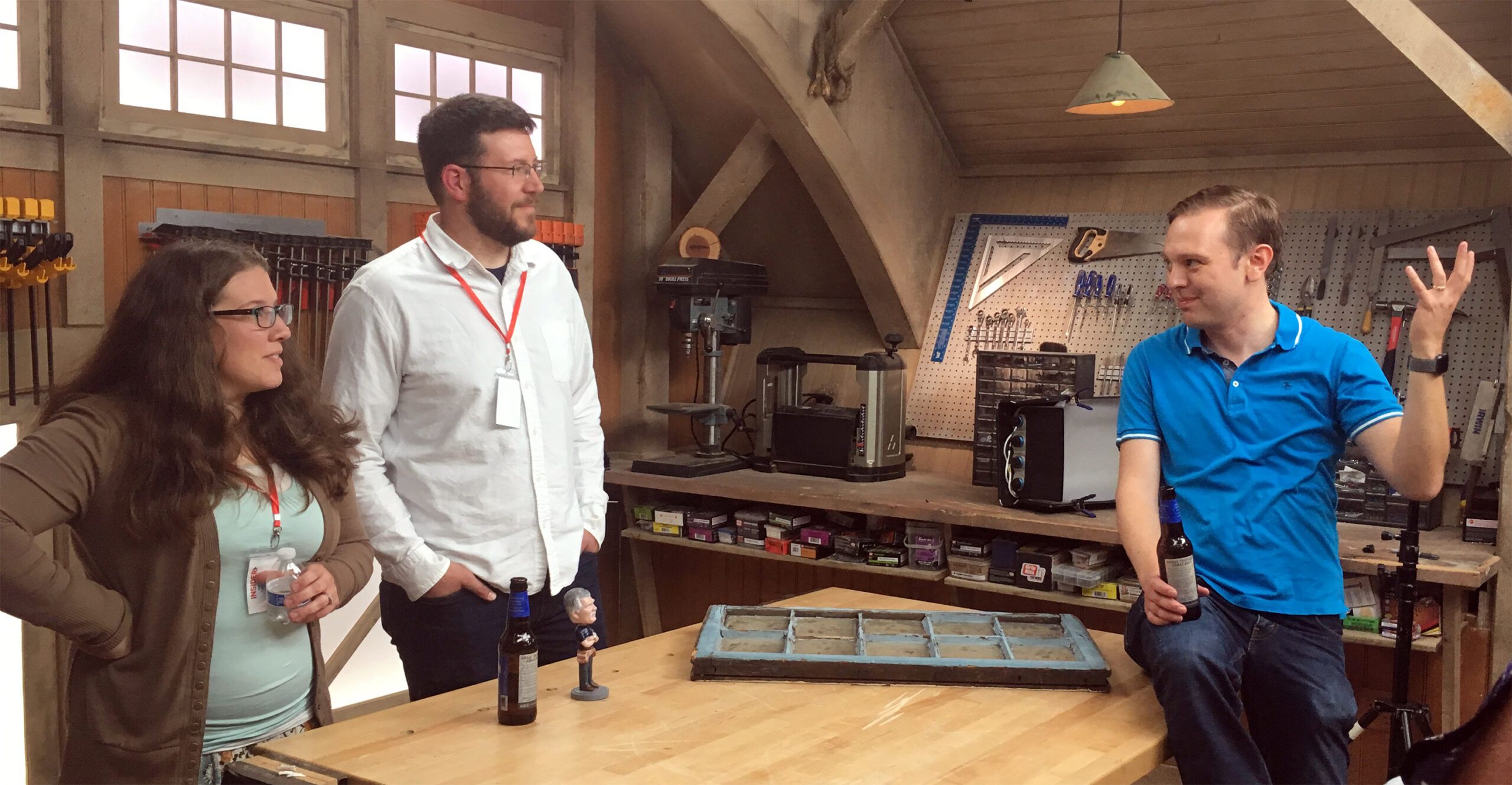 There were audible gasps when the "after" photo of Wayne and wife Jess's dining room was revealed. And though all of the winners were grand prize-worthy, it was this one-room transformation that took home top honors.
Wayne and Jess enjoyed chatting with Ask This Old House producer Heath Racela after the awards show. They'll get to see more of Heath—and the cast—when they receive the grand prize, a house call from ATOH. Look for them in Season 17!
Want the opportunity to be part of events like this? Become a member of This Old House Insider.