Harrison Ford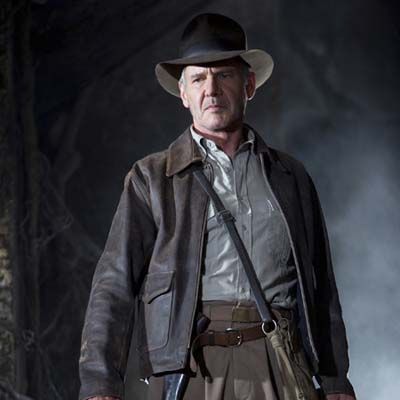 As Hollywood stories go it doesn't get much better than this: a struggling actor finds such success in his day job as a carpenter that he is dubbed "carpenter to the stars." That access leads to reading for roles, and then the roles themselves. The actor becomes one of Hollywood's biggest names: Harrison Ford.
Ford took books out of the library to learn his craft and eventually built a recording studio for Sergio Mendes, earned his nickname from Sally Kellerman, and was doing work for Francis Ford Coppola, who gave him a bit part in The Conversation. While working at Coppola's office, Ford ran into George Lucas who had given him a small role in American Graffiti. According to lore, Lucas asked Ford to read lines and help him audition other actors for a role in a new movie. The movie was Star Wars. The role was Han Solo. The rest is history.
Terrence Howard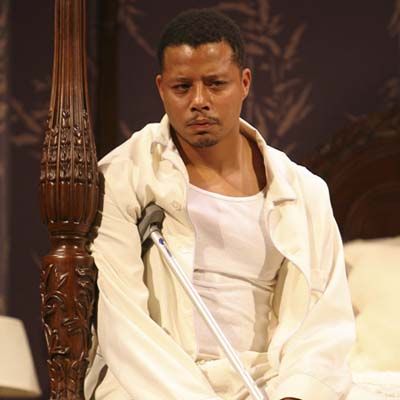 Terrence Howard is making his Broadway debut in a revival of Tennessee Williams' classic, Cat on a Hot Tin Roof. Howard, who was nominated for a Best Actor Oscar, plays the male lead in the play: a character named Brick. An appropriate name for Howard, who not only earned his keep as a carpenter before his acting career took off but who still keeps himself busy with carpentry and stone work. "I've been renovating my 250-year-old carriage house in Philadelphia," Howard says.
He just completed building a 1,400-foot long stone wall—three feet thick and five feet high—around the property, and he loved the manual labor nearly as much as acting. "Every man should work with his hands," he says. "It makes you happy."
Adam Carolla
Adam Carolla isn't unique for having worked as a carpenter before becoming a celebrity. What makes Carolla stand out is that after gaining fame he willingly showed his handiwork on television. In 2005, TLC's The Adam Carolla Project featured the Loveline and Man Show star gutting and renovating a home, relying on his own skills and those of the guys with whom he used to work. The extra twist was that the house in question was his childhood home, which Carolla purchased from his father for $739,000. After enduring nonstop mishaps and bickering amongst his crew, the house had a resale value of about $1 million after the project was complete. Bet he could have used that kind of deal back in his tradesman days.
Tim Allen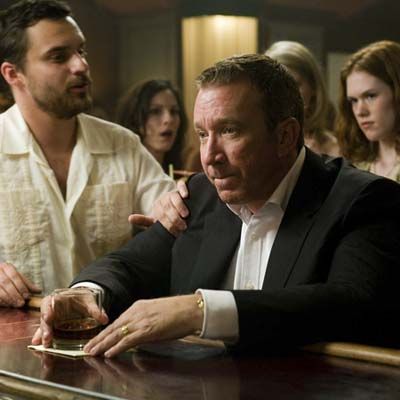 When it comes to Hollywood and handymen, the first name to leap to mind is Tim Allen. Well, okay, it's actually Allen's character, Tim Taylor, the host of "Tool Time," the television show within a television show on the long-running hit,
In real life, Allen's first love is cars, but he takes his home improvement tools very seriously. His favorite class in high school was shop, and it was the whole male obsession with home improvement that built the foundation of his stand-up persona, which led to the television show Home Improvement. From there, it made sense that Allen, who saved a tool set that his grandfather had given him when he was a kid, created Tim Allen Signature Tools by Ryobi in the late '90s, and Time Allen Signature Stuff, which offered building projects for kids and their parents (with profits going to charity). Maybe instead of Buzz Lightyear in Toy Story, Allen should have played Woody.
William H. Macy
William H. Macy first became famous in Fargo, and it was while working on that Coen brothers classic that Macy discovered woodworking. No, not the kind of woodworking as in the scene in which Steve Buscemi's character is fed into a wood chipper. Macy pursued the real deal. In fact, he became so accomplished in his new vocation of woodturning that he earned himself a cover story on Woodturning Basics magazine (from the editors of Fine Woodworking). Discussing that feature on "The Late Late Show with Craig Ferguson," Macy, in typically modest fashion, called his most recent creation a "butt-ugly bowl," adding that "it didn't know if it was bowl or a plate. It was a plowl."
Skeet Ulrich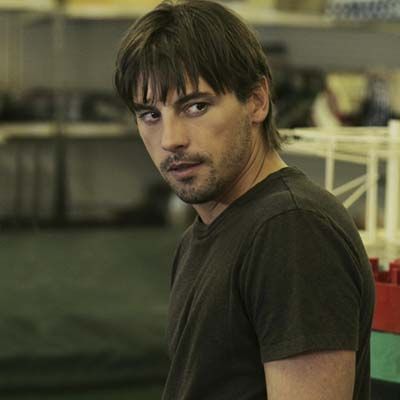 Skeet Ulrich's acting career began with an apprenticeship at the Atlantic Theatre, while studying at New York University. That seems fitting because the Atlantic was co-founded by none other than actor-woodworker William H. Macy, and Ulrich, now starring in the television show Jericho, not only does woodworking, but he relied on his hands to pay his bills during those early days. In fact, it was the offer of an eight-month kitchen remodel job that made Ulrich realize his passion for acting. He turned down the job and fortunately, soon landed a role on a CBS made-for-TV movie. Within two years, he had put all his other jobs behind him for good.
Daniel Day-Lewis
If Daniel Day-Lewis really had been the last of the Mohicans, he probably would have survived just fine. Day-Lewis studied woodworking and nearly became a cabinetmaker before being told he didn't have the right temperament for the solitary craft. But Day-Lewis, who brings that meticulous sense of craftsmanship to his acting, still makes furniture and even took time out from acting at one point to apprentice as a shoe cobbler in Italy. On the set of Last of the Mohicans, Day-Lewis actually helped build a canoe. Of course, he also learned to track and skin animals.
Tony Dow
Tony Dow was "intimidated" by his father, a designer and contractor. "He was too good," Dow recalls. So, as a youth, Dow took a different path and found a permanent place in pop culture history as Wally on Leave it to Beaver. Although he continued acting after he grew up, Dow also devoted increasing energy to painting and sculpting, and then later, to architecture design. "The painting and sculpting definitely helped me envision what I wanted to build," he says, adding that he was completely self-taught.
When he found contractors too expensive, he and his business partner began doing the physical labor themselves. Dow, who now builds luxury condominiums, still loves challenging himself, for example building a chest of drawers differently each time in order to learn from the process. But he says his favorite part of most jobs is in his head. "It's the conceptualizing I enjoy the most, the figuring it out. When you get to doing the drywall and the painting, it can become kind of tedious."
Ed Begley Jr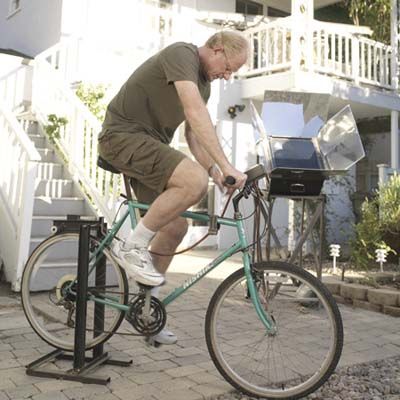 Ed Begley Jr. was an environmentalist before it was trendy, probably before many of today's eco-conscious stars were even born. For Begley, being green means being green all the time, and accordingly, he has remade his home so it is thoroughly self-sufficient. This means solar energy for starters, but Begley has gone much farther, as viewers of HGTV's 2006 series, Living With Ed, may recall. On the show, Ed was always busy with projects like installing a new carpet made from recycled materials. But it was more than just about being handy for Begley—he used his feet too. Begley is more than just the rare Hollywood star who often forgoes his eco-friendly car for an old-fashioned bicycle; he's rigged up a stationary bike in his house just to power his toaster.
Courteney Cox-Arquette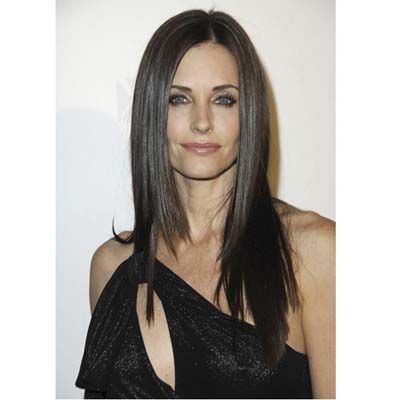 Courteney Cox-Arquette's most famous home was a fictional Manhattan apartment that she lived in for years as Monica on Friends. That place reflected not her tastes but those ascribed to Monica and her roommates, Phoebe and Rachel, by the show's creators. Cox-Arquette does, however, have well-defined tastes when it comes to houses. In the last two decades she has repeatedly bought houses in the Los Angeles area, then designed and overseen their renovation before re-selling them. Her specific likes and dislikes—and their sharp contrast with those of her husband, David Arquette—even led the couple to executive produce a show on WE called Mix It Up, in which couples tried to find design solutions that would work for both partners upon moving in together.
Brad Pitt
Brad Pitt has long been fascinated by architecture. And he has loved the city of New Orleans for years. So, in the aftermath of Hurricane Katrina, Pitt, understanding the frustration of residents still without homes, found a way to combine his passions, his fame, and his money. Pitt put up $5 million in seed money and founded Make It Right, commissioning architects to find ways to build affordable, earth-friendly homes in New Orleans. Make It Right will build 150 sustainable homes in the devastated Lower Ninth Ward, with an emphasis on finding designs that can be easily replicated throughout the city. That should indeed help make things right in New Orleans. (To contribute, go to makeitrightnola.org.)