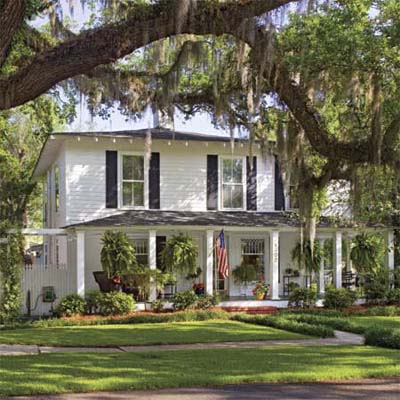 »
Remodeled 1909 Craftsman
The 1909 Craftsman sat on a corner lot, near restaurants and shops in the historic downtown district of Conway, South Carolina, just blocks from the ranch house where we lived. It had a wraparound porch and leaded-glass windows and was surrounded by moss-draped live oaks. But more than anything, it looked like a home my grandmother had lived in. For five years I had walked by it, each time imagining it had a big claw-foot tub and the same wood-polish smell inside.

Then there was the fact that the house bore the number 1300, and we could get it for $135,000. Thirteen, of course, is our lucky number.

We had learned a lot while working on our ranch house, and we liked the looks of this project, figuring we could throw ourselves into it for a few years. Before we knew it, we had sold our old place and moved into our "new" house—on our lucky day, July 13, 2000.

Contribute to This Story Below