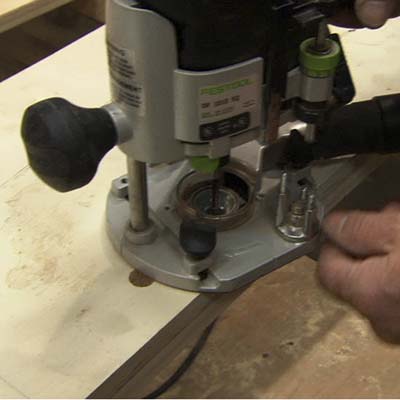 Prepare to drill holes in the side pieces for metal shelf pegs by first making a hole-drilling template out of
¾
-inch pine cut to the same length as the bookcase sides. Using a drill/driver fitted with a
⅝
-inch spade bit, bore a series of equally spaced holes in the template board.
Mark a line at the center of the template board and on each bookcase side piece. Clamp the template to the inside surface of one side piece, lining up the center lines. Outfit a plunge router with a
¼
-inch straight bit and
⅝
-inch-diameter collar.
Set the collar into one of the template holes, turn on the router, and plunge down to make a
¼
-inch-diameter by
⅜
-inch-deep hole in the side. Repeat for each template hole.
Unclamp the template, flip it over and drill mating shelf-peg holes on the opposite edge of the bookcase side. Repeat this hole-drilling process in the other side piece.