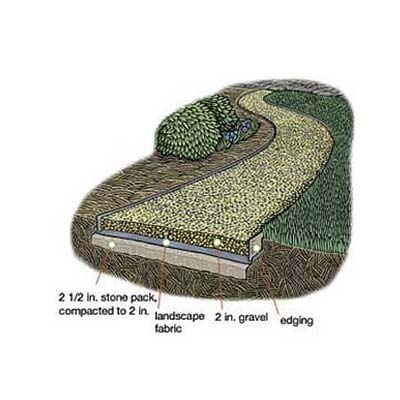 Gravel paths are easy to construct because they aren't set very deep. You only have to dig down a few inches to make room for the pebbles—even in cold-weather climates. Because the tiny stones move fluidly, winter's freezes and thaws won't heave and crack the surface in the same way they would with a rigid material like stones or pavers. Not only that, a gravel path can take on many shapes. "You can make a twisty, curvy, organic walk," says Roger Cook,
This Old House
landscape contractor. "And you don't have to worry about cutting the stones."
Still, to give the path structure and stability, it must have a compact base. In zones with hard clay, that can be the soil itself. But in most areas, especially where the soil is sandy, you'll need to create a base of tamped-down stone pack, which is a mix of
¾
-inch stones and stone dust. A lining of landscape fabric over the base will keep weeds from growing up through the path.
The gravel, being so movable, needs an edge to contain it. Galvanized steel is a durable and traditional choice and also malleable enough for curves. But you can also use pressure-treated wood, cedar, bricks, cobblestones, or even plastic edging. Just be sure the gravel stops about
½
inch short of the edging's top—which should be flush with surrounding plant beds and lawn—or the gravel will spill over. You can also make the path as wide as you like: 3 to 4 feet is standard.
What you put down between the edging is also a matter of choice. Colonial Americans crushed the cast-off shells from their oyster feasts to line their garden paths; these days you're likely to see crushed granite or lava stone as often as gravel.