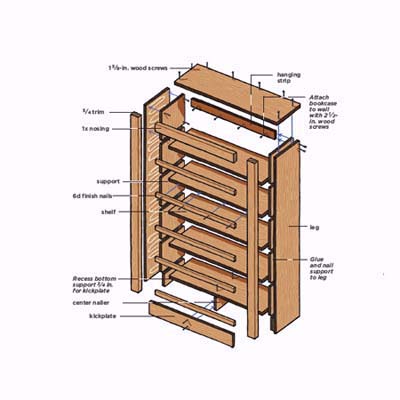 Traditionally, built-in bookcases are made with solid wood boards, carefully routed to make tight grooves that accept each shelf. But sawn lumber is expensive — enough oak for a 8-foot bookcase, for example, could run into thousands of dollars. Plywood that has a hardwood veneer is not only less expensive but in many cases stronger than solid softwoods like pine. Most lumberyards stock the basics: birch, maple, and oak veneer plywoods. Birch is the best wood to use if you plan to paint your bookcase, and maple lends itself to a variety of stains. But there are also special-order lumberyards that make veneer plywood from any kind of wood, including mahogany, teak, cherry, or walnut. For these, it's best to use a clear finish and let the beauty of the wood shine through.

For the strongest frame, we used oak plywood and doubled its thickness for the bookcase sides, or legs, by gluing and nailing plywood shelf supports onto longer boards. (Cutting grooves in a single board would compromise its strength.) The rough ply edges are hidden by solid-wood finish trim.

The tricky part of working with plywood is ripping down the 4-foot-wide boards to the widths needed for the frame and shelves. Making a straight cut along an entire 8-foot sheet with a circular saw is difficult, and running plywood through a portable table saw is dangerous. Your best bet is to find out if your lumberyard has a commercial table saw to make clean, straight rips. Most yards will make the cuts for a dollar or so each. Calculate how deep you want the bookcase frame and the shelves to be, subtract 11/16 inches to account for the added depth of the 5/4 solid-wood trim, then have the lumberyard rip all your sheets into boards of that width. Once you get home, you can use a circular saw to cut these narrower pieces to length.