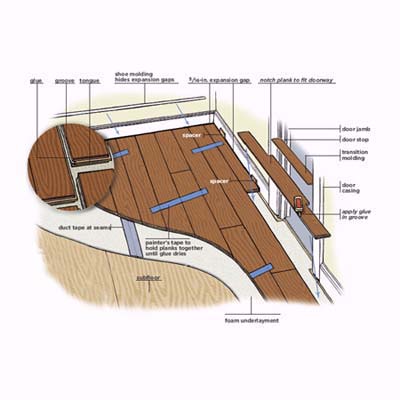 Engineered flooring goes down over a thin foam sheet, which provides cushioning and sound-dampening. The planks glue together to create a floor that "floats" — moves freely — as a unit. You need to leave a 5/16-inch gap between the flooring and the baseboard or wall around the perimeter of the room to allow the floor enough space to expand. In most cases, you can install the flooring without removing existing baseboard, concealing the expansion gap with shoe molding (or quarter-round, which is wider). Or, you can remove the baseboard, lay the flooring, and then reinstall the baseboard on top. Regardless of which method you use, nail the molding to the wall, not the flooring, so the floor can move.
Once the prep work is done (Step 1), decide which direction to lay the flooring. Running the planks parallel with the longest wall usually looks best. Then measure the width of the room (subtract 5/8 inch to account for the expansion gap on both sides) and divide by the width of the flooring you've chosen to calculate how many courses of planks will be needed. Chances are you'll need to rip, or trim lengthwise, the last course to fit. If your calculation results in a final course that's at least 1
½
inches wide, then the first course should be a full-width plank. But if the last course is narrower, rip the first course down to ensure the last course will have a pleasing width.
Contribute to This Story Below
Flush-cut dovetail saw,
to trim door casings

Miter saw,
for cutting flooring and molding to length

Jigsaw or circular saw,
to rip flooring to width

Hammer and nail set,
for tapping planks together and installing molding

Flat bar,
to pry last plank into place

Coping saw,
for coping molding's inside corners
1. ENGINEERED WOOD FLOORING
sold in bundles of 11 to 30 square feet. Calculate the square footage of the room, then add 10 percent to account for off-cuts
2. FOAM UNDERLAYMENT
sold in 3- or 4-foot-wide rolls
3. DUCT TAPE
to seal foam underlayment seams
4. 5/16-INCH SPACERS
to create expansion gaps between flooring and walls
5. GLUE
use only the type recommended by the flooring manufacturer
6. PAINTER'S TAPE7. TRANSITION MOLDING8. QUARTER-ROUND SHOE MOLDING9. 1 1/2-INCH (4D) FINISH NAILS
for attaching shoe molding