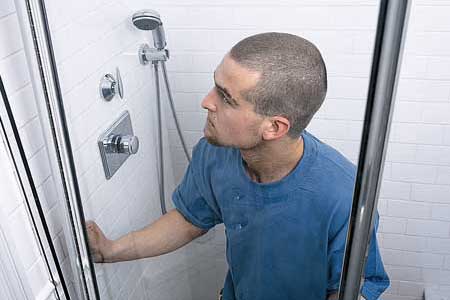 "Done right, nothing beats a shower enclosed in glass," says Rich Rosenfield with pride, as he wipes the glass-and-metal door to a spotless shine. Rosenfield has just spent an hour and a half installing this enclosure, one of about 40 he puts in every week for Banner Glass Shelmar of Waltham, Massachusetts.

Tempered-glass shower enclosures are permanent and easy to clean, and have a sleek transparency that makes a bathroom appear bigger. And when properly installed, they keep water where it belongs.

These enclosures come in two types: framed and frameless. The frameless systems, while elegant, require thicker glass, expensive hardware, and flawless fabrication. Framed units weigh and cost less, and can take more abuse.

He also says that frameless enclosures are much more challenging to install, whereas hanging a framed door and side panel is a project most homeowners can complete in an afternoon.
Contribute to This Story Below
4—foot level,
for checking the jambs, door, and glass panel for plumb

25—foot tape measure

Caulking gun with clear, mildew—resistant silicone sealant,
for sealing joints between frame and tile

Automatic punch,
for starting holes in tile

10—inch single—cut file,
for removing burrs from aluminum pieces after cutting

Ratcheting screwdriver with No. 2 Phillips and straight bits

Plastic mallet (for tapping in plastic anchors

Drill bits,
3/16-inch masonry bit for boring holes in tile and 7/32- and 3/16-inch twist bits for pilot holes in aluminum

Drill

Hacksaw with 32-tpi blade,
for trimming the aluminum base track and drip rail

Utility knife,
for trimming vinyl sweep

Wet/dry vacuum,
for picking up dust and metal chips
1. SHOWER DOOR AND FRAME
2. CANVAS DROP CLOTH
for protecting the floor
3. GLASS CLEANER AND PAPER TOWELS
for cleaning shower door and panel after installation.
4. ISOPROPYL RUBBING ALCOHOL
for cleaning walls and threshold before caulking