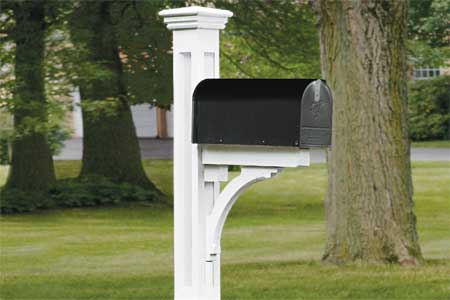 A sturdy wood mailbox post decorated with paneled sides and a cornice top is a far cry from the syrup cans and cigar boxes Americans set by the roadside to get the first rural deliveries - or worse, the sad metal pipes used today to support a single dented and rusting box. Standing tall like a sentry, a paneled post lends an air of authority and sophistication to any stop on the mail carrier's route.

Assembling one from basic lumber and trim takes half a day and basic carpentry skills. Or you can pick up a ready-made post and get it in the ground in just a couple of hours. Either way, you're guaranteed to set an elegant tone with a classical-inspired design. Read on to learn how to apply molding to stock lumber for a custom-built post or to determine which ready-made one is best for your yard and budget.

Contribute to This Story Below
Miter Saw

Jigsaw

Drill Driver

Hammer

Speed Square

100-grit Sandpaper

Polyester Nylon Paintbrush
1. Pressure Treated Lumber
a 4x4 post, 2x2, 2x6, and a 1x
2.

¾

-inch Pressure Treated Plywood
to sheath the base of the post.
3.

½

-by-1

½

-inch Lattice and Molding
Choose a baseboard, small crown molding and window bead to trim the post.
4. Post Cap
a 5x5 cap will cover the post and decorative sheathing.
5. Mailbox6. 1 5/8-inch and 3-inch Deck Screws7. Stainless Steel Siding Nails8. Acrylic Adhesive Caulk9. Exterior Latex Primer and Paint