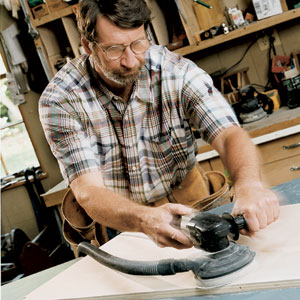 A random-orbit sander can sand the socks off your old vibrating sander when you've got to strip paint off furniture, prepare new molding, or clean up between finish coats. It can also smooth and clean metal and composite materials such as solid-surface countertops. "On the TV projects and at the New Yankee Workshop, we use random-orbits more than any other sander," says
This Old House
master carpenter Norm Abram.
These machines owe their versatility to their unique motion: The sandpaper disc spins in a circle while the whole pad moves in an oval loop. As a result, no single abrasive particle follows the same path twice, leaving a swirl-free finish even when sanding across the grain. But while random-orbits work more quickly than vibrating sanders, they can't aggressively remove a lot of material—for that, get a belt sander for flat surfaces or a disc sander for curved ones.
When choosing a random-orbit sander, look for a motor size, body configuration, and pad size (5- or 6-inch) that fits your workload. A decent palm-size unit will cost between $50 and $100, while heavy-duty right-angle or in-line ones cost $150 to $200. Whichever type suits you, be sure to get a model with built-in dust control. If you have a shop vacuum, do what Norm does and connect the sander to it. You don't want to breathe in any of the material that these sanders remove so effortlessly.
Where to Find ItPalm sander
#5012k by Makita USA Inc.
La Mirada, CA
800-462-5482
www.makitausa.com
Right-angle drive
6" Variable Speed Random Orbit Sander Kit with Dust Collection #97366
Porter Cable
Jackson, TN
888-848-5175
www.portercable.com
In-line drive
6" Random Orbit Sander # 3727DVS
Bosch Power Tools
877-267-2499
www.boschtools.com
Detail sander
#MSxe 636 II
Fein Power Tools Inc.
Pittsburgh, PA
800-441-9878
www.feinus.com