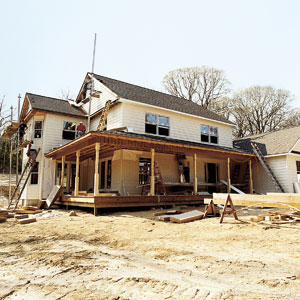 Not Entirely Maintenance Free

To keep vinyl siding looking its best, it should be washed periodically to remove the mold, mildew, dirt, and chalky oxidation that collects on the surface. Tom uses a soft-bristle brush and a bucket with a 30/70 mix of vinegar and water. (If that doesn't do the job, the Vinyl Siding Institute suggests mixing 1/3 cup laundry detergent, 2/3 cup powdered household cleaner, 1 quart liquid laundry bleach, and 1 gallon water.) He just brushes it on, working from the bottom up, and gently hoses it off. Tom discourages homeowners from using a power washer on their siding; the high-pressure equipment is likely to drive water behind the panels.

Repairing a damaged panel is simple. With a zip tool and a flick of the wrist, Tom simply unhooks it from the ones above and below, then pulls out the nails. A new panel can then be snapped in place, nailed, and rehooked. The biggest problem is matching the replacement to the surrounding pieces, which will undoubtedly have faded. "What I'll do," Tom says, "is replace the damaged piece with some siding from a less conspicuous part of the house." Then he replaces that piece with the new, unfaded length.

All vinyl siding will fade somewhat. After 10 to 15 years, the change can be significant. When that happens, or if you simply want to change its color, vinyl can be painted, as self-defeating as it may seem. (Check with the manufacturer first; many companies void the warranty if siding is painted.) Wash the siding first, and use latex paint, which will flex with the vinyl's movement. But don't count on changing a pale-yellow house to hunter green; dark colors absorb more heat than lighter ones and can cause panels to expand too much and buckle. (For that very reason, vinyl's color palette is limited to lighter shades.)

Tom is well aware of the fact that plastic siding draws strong opinions from his clients. "It's pretty hard to convince someone who wants vinyl to use wood siding instead, and vice versa," he says. "Some people like it and some don't, just as some people like Fords and some prefer Chevys." Whether vinyl siding is good or not depends a lot on the quality of the product and the installation job. "Would I put it on my house again, if maintenance issues weren't a factor? Probably not," Tom says. "I really prefer wood." But he really, really doesn't like to paint.