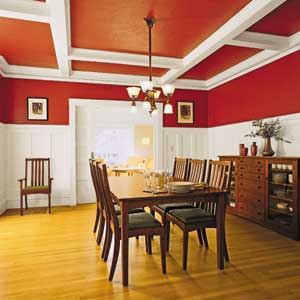 So you've rehabbed your house like a skilled surgeon, fixing structural flaws and preserving each room's distinct architectural character. But something's still missing. More than likely, that something is color—the renovator's secret weapon. Did you know that crown molding can visually raise the ceiling or lower it, depending on how it contrasts with the walls? Or that deft use of color can turn one room into a lively gathering place and another into a relaxing space for curling up with a book? If you're comfortable with saw, hammer, and drill but freeze in front of the aisle of color chips at the home center, you're not alone. So we went to readers—and our own resident renovators—to identify the color questions you're itching to ask. Then we pitched them to paint pros, colorists, and designers around the country and asked them to spill the tricks of their trades. Use this primer to make sense of those confounding chip strips, then pick out a palette that will bring out the best features of each wall, nook, and niche in your house. No more panic in the paint store.

Q: My downstairs walls are all off-white. It's so boring! Where's a good place to start adding color?
A: "Think of the space as a whole to be approached one room at a time," says ­Susan English, a specialty painter and color consultant in Cold Spring, New York. English often starts in the dining room, a social space where dramatic colors like red, gold, and terra-cotta seem apt, and the soft lighting appropriate there enhances their warmth. Then she cranks down the color in the adjoining spaces, with shades that play a supporting role. "Since the rooms typically flow into one another, keep in mind you'll be viewing them in combination," says English. She painted her own dining room a deep pumpkin, and the adjacent halls and rooms in muted shades of green, gray, and khaki.

Q: Our kitchen is open to both the dining room and the living room. What's an easy way to pick colors that will blend well together?
A: If varying your color choices from room to room is too much to tackle, try painting neighboring spaces two shades "just a rung away from each other on the paint-chip strip," advises color expert Mary Rice, vice president of marketing for Behr. Or use neutrals such as buff, taupe, or gray as a bridge between rooms painted in bolder, more contrasting colors. If rooms are typically closed off from one another—often the case with upstairs bedrooms, for example—coordination is less important than picking a color that makes you feel good. In private spaces, personal preference rules.