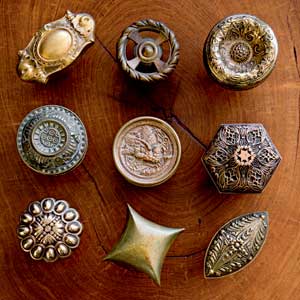 The way Bo Sullivan talked about the Antique Doorknob Collectors of America having its conference and auction in Portland, Oregon, you'd think the Grateful Dead had resurrected Jerry Garcia for a reunion concert. "You have to come," he said. "It'll be amazing."

I didn't go. Not because I doubted Bo, the historian for Rejuvenation, which makes new door hardware based on old designs, but because I had just made a pilgrimage to Discovery Architectural Antiques in Gonzales, Texas, where one of the shop's co-owners, Brad Kittel, gave me a private viewing of his extraordinary doorknob collection. Plus, why bother when so much of the buying and selling of antique hardware happens online these days?

In 2005, for instance, a cast bronze knob with the figure of an elk sold on an auction website for $9,450, a record amount paid for a doorknob. The "standing elk" was made in 1870 by the Metallic Compression Casting Company, then the benchmark for quality in American hardware. What distinguishes the company's designs is the detail, Kittel told me as he handed me his prized Metallic Compression lion's-head knob: "Just look at the whiskers." Artisans achieved such precision by hand-pouring molten metal—bronze, brass, or iron—into a carved mold, which they spun in a mechanical centrifuge until all the tiny voids were filled.