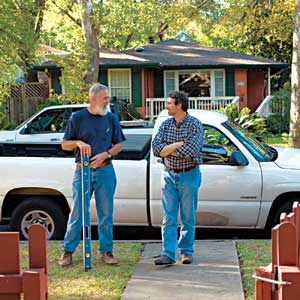 Newlyweds Michele Grieshaber and Michael Klug's first priority in planning the renovation of Michele's two-bedroom, one-bath house was to create enough room for themselves and Michael's two sons to live together comfortably. But running a close second was their desire to make it a green project, taking into account healthy living, sustainable architecture, and responsible use of materials.

Lucky for them, there are few better places to go green than Austin, Texas, the location of their 1920s Craftsman bungalow, which is also This Old House TV's current project house. The city has the oldest green-building program in the country, so green architects and contractors are plentiful. Plus, there are lots of incentives from the local utility company, an abundance of green building supplies, and a five-star green rating system to help home improvers set goals.

Of course, not every homeowner wanting to get a green renovation off the ground will have such a rich support system. Still, Michele and Michael's experience raises issues every remodeler needs to deal with. Here are five things to keep in mind when planning yours.

1. Think realistically about square footage.

Consider how much space you really need, not just how much you want. After all, truly eco-friendly means using as few new materials, and creating as little waste, as possible. "A lot of people think their house has to be big enough for a Super Bowl party, even if they'll never use the space except for that one event," says Michele. To add just two small bedrooms, a second bathroom, and a modest study/library, she and Michael chose to bump up the attic, raising the roof by a mere 6 feet and leaving the house's footprint intact.

Adding unnecessary square footage doesn't just result in the excessive use and disposal of building materials—you also have to factor in the extra heating, air-conditioning, electricity, and furniture you'll need to service the living space. If you can't give up certain amenities, let rooms do double duty—a laundry room that's also a pantry, say, or a home office that converts to a guest room.