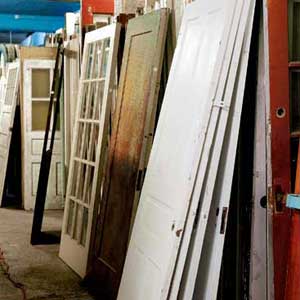 Introduction

For centuries, doors have marked our comings and goings, shut out storms, and guarded against intruders. They've also provided a handsome focal point, whether placed inside a house or out, with raised wood panels, arched tops, or leaded-glass insets.

Most doors sold at home centers today are little more than utilitarian molded metal or plain wooden slabs; special-order models from lumberyards offer better design and craftsmanship. But for doors with a timeworn patina or made from old-growth wood—much of which isn't logged anymore—visit an architectural salvage yard. There you'll find models to suit a range of personal tastes, house styles, and uses both practical and creative. A matched lot of six-panel interior doors rescued from a demolished 1760s house, for instance, would be period-appropriate replacements for the hollow-cores in a new Colonial Revival. And a 19th-century barn door with wrought-iron strap hinges could be repurposed as a rustic garden gate between stone pillars.

New doors come in standard sizes, but old ones were often made-to-order by a finish carpenter. So measure your doorway before visiting a salvage yard. Calculate the distance from the inside of one side jamb to the inside of the other, and from the threshold to the header. Then subtract 1/4 inch from each measurement to provide clearance for the door swing.

It is often possible to cut down an old door by an inch or so on the top, bottom, or sides, taking care not to ruin the original proportions. If the door is too small, you may be able to enlarge it by attaching wood sections, but the whole thing will have to be painted to cover the patch. Enlarging a stained door is a job best left to a professional. Bob Reed, owner of the Stripping Workshop, a wood repair and refinishing business in Washington, D.C., uses wood of the same type and vintage as the original door for nearly invisible alterations. Reed, who layers various stains to achieve the aged look of the original finish, goes as far as hand painting tiny grain lines on the wood patch to replicate those on the rest of the door.