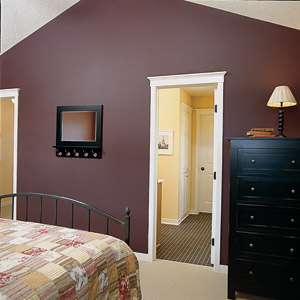 5 Common Color Mistakes

1. Being afraid.
"The world is divided into two groups—the color courageous and the color cowardly," says New York color marketing consultant Ken Charbonneau. "People who live in colorful interiors have gotten over the fear of making a mistake." The best way to get over that fear is to always start with a color you love—from a rug, a painting, a fabric. Then test it on the wall. If it's too strong, consider asking your paint store to formulate it at "half-strength" to lighten it or to tone it down by adding more gray.

2. Putting too much on the walls.
Be aware of the intensity of the colors in a room. "If you have an Oriental rug with five or six strong colors, don't paint the walls in equally strong hues. Let the rug be the focal point and the walls a lighter color," says Sherwin-Williams's Sheri Thompson.

3. Putting too little on the walls.
If you think your room is boring, look at it in terms of the 60-30-10 rule that designers employ: Sixty percent of the color in a space generally comes from the walls; 30 percent from upholstery, floor covering, or window treatments; and 10 percent from accent pieces, accessories, and artwork. Translation: Liven up those white walls.

4. Rushing the process.
The best way to find a color you can live with is to paint a 4-by-4-foot swatch on the wall and live with it for at least 24 to 48 hours so you can see it in natural and artificial light. "Taking the extra time to do the swatch test is worth it to find a color you'll love living with for years," says Benjamin Moore's Doty Horn.

5. Forgetting about primer.
When changing the color of a wall, primer (white or tinted) is vital to getting the actual color you picked out. Michael Baillie, paint sales associate at The Home Depot, says, "Priming ensures there will be no interference from the previous wall color."