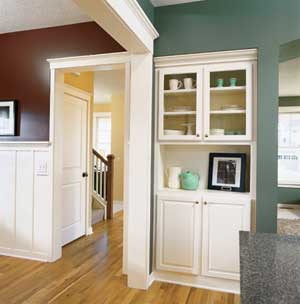 When she hears people express a reluctance to paint their rooms in vivid hues because they believe it is inappropriate to the age or architectural style of their house, designer Susan Sargent waves away their concerns as though swatting flies. "I tell them to get over it. Truth is, every period of American architecture has welcomed colorful rooms," says Sargent, who is known for her bright-colored furnishings line. Indeed, from the blue-painted hearth of a Colonial Revival to the deep red parlor walls of a Queen Anne to the teal accents of a Craftsman bungalow, there has always been a place for color inside the house. Even in today's open-plan homes, where kitchens, living rooms, and dining rooms are often one large space, color is used to help define interiors and create focal points in relatively featureless rooms. The trick, of course, is figuring out which colors to use and where to put them.

Using Color Architecturally

One of the most effective ways to use color to transform a room is to play up its architectural features. Molding, mantels, built-in bookcases, arched doorways, wainscot, windows, and doors all offer an opportunity to add another layer of interest to colored walls.

For subtle emphasis, Sheri Thompson, director of color marketing and design for Sherwin-Williams, suggests painting molding or doorways just one step lighter or darker than the primary wall. "It's a subtle shift in color but it really brings your eye to the detail," she says. Painting a metallic glaze right on top of an existing painted element, like a ceiling medallion, is another way to draw attention. "A copper or bronze finish is very translucent and it gives a nice shimmer that enhances the architectural feature," says Thompson.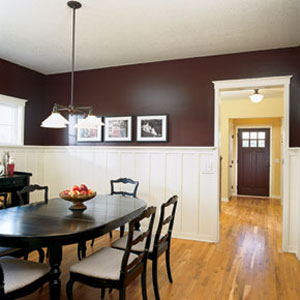 For a bolder approach, try using two different colors in the same room. For example, paint a built-in bookcase or niche a shade of green in a room with blue walls, which will highlight the items on the bookcase or inside the recessed area. Of course, architectural elements can also provide continuity throughout a house if they are painted the same color in every room. Starting in the Federal period and continuing today, white and off-white have been the traditional choice for molding, windows, and doors.