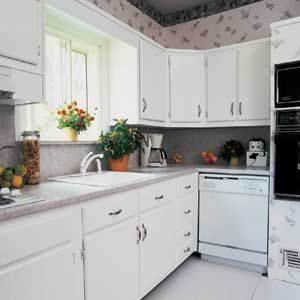 Mary Saunder disliked the cabinets in her kitchen from the moment she moved into her Bowie, Maryland, home. "They were metal, the color of bronze," Saunder says, "but my husband's motto was 'If it ain't broke don't fix it.'" When her husband passed away last February, Mary decided it was time to act. "I couldn't stand it any more," she says. But rather than spend the $25,000 or $30,000 redoing the kitchen with new cabinets would have cost her, she settled on a simpler, cheaper and far less intrusive solution. Motivated by a newspaper ad for Sears' kitchen-cabinet-refacing service, she scheduled an appointment and signed up. After two visits to take measurements and show her the new finish and hardware options she could choose from, Sears moved in. Two days and 29 cabinets later, Mary's kitchen was transformed. "I'm 100 percent satisfied," she says. Total cost: $9,100. Mary Saunder is fairly typical of thousands of U.S. homeowners who make the decision each year to reface rather than replace their cabinets. "The truth is," says Gerald Baldner, founder and president of Kitchen Solvers, a refacing franchising firm in La Crosse, Wisconsin, "some of the cabinets built 20 and 30 years ago are more solidly constructed than most modular, prebuilt cabinets today. So when it's time to redo the kitchen, it often doesn't make sense to start from scratch."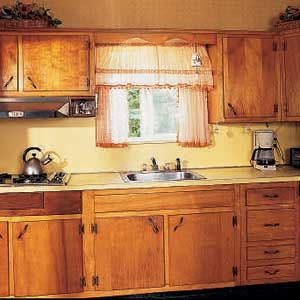 The basic refacing project consists of installing new cabinet door and drawer fronts and covering the exposed face frames of the cabinets with a matching wood or plastic veneer. Most jobs take two to four days, depending on kitchen size and extras like replacing counters or adding an extra cabinet. The work itself is a standardized progression of tasks, generally handled by one or two craftsmen. They begin by removing doors and drawer fronts from cabinets and roughing up the old finish on face frames and side panels to prepare them for the new covering. They then glue and sometimes nail the new finish over the old, the nail holes filled and the seams and edges trimmed to make them unobtrusive. New panels or molding are used to trim out the exposed undersides of the upper cabinets to give them a finished look, and the base cabinet toekick is replaced. Finally, new cabinet doors and drawer fronts are attached, and new hardware is mounted on each of them. There generally are three finish options: plastic laminates, rigid thermofoils (RTF) and wood veneer. The cost to refinish cabinets depends on the material. Refacing laminates come in a wide variety of solid colors and wood-grain looks. Slightly more expensive than RTF, laminates nevertheless lack malleability, which means they're limited to plain cabinet door styles when compared with RTF. RTF is a very malleable vinyl foil pressure-molded over medium-density-fiberboard doors. It can be shaped and molded in a range of styles, including arched and cathedral doors, raised panel and eyebrow raised panels. RTF comes in a fewer solid colors than laminates, but its wood grain is made to look realistic. "From 10 ft., it would be hard for the average person to tell it from real wood," says Michael Mard, a kitchen and bath designer for Alure Kitchen Refacing in East Meadow, New York. Up close is another story, however, and for that reason, wood veneers remain a popular option. "Plastic laminates are fairly true to life, but there's a beauty and richness to wood that you just can't get with other materials," says Brian Titus, of Cabinetpak Kitchens, which operates refacing companies in Washington, D.C., and Ohio. Refacing a kitchen with wood will cost from 10 percent to 25 percent more than RTF and laminates, and it can be done in oak, maple, cherry, birch, walnut or almost any other wood a customer wants.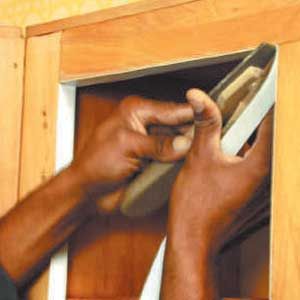 Often, it Doesn't Make Sense
But refacing isn't for every kitchen. Most important, it doesn't address the issue of a poor kitchen layout. "If you go to the expense of refacing and still end up with a nonfunctional kitchen, you've wasted your money," says Cyndi Cantley, of Cantley & Co., a certified kitchen designer in Birmingham, Alabama. Other conditions that rule out refacing include existing cabinets that are beginning to fall apart or aren't well built to begin with; metal cabinets that are rusting; and larger structural issues, like floors that have settled and left cabinets out of kilter. If you have any of these problems, you shouldn't consider refacing. Refacer Brian Titus says he regularly encounters cabinets in such bad shape he has to pass on them.
Beyond the Cabinets
Choosing a finish material may be the most important decision a refacing customer makes, but it's by no means the only one. One particularly popular option is having old wood center glides on kitchen drawers replaced with new side-mounted tracks on rollers. ("Almost everyone does the silverware drawer," says one refacer.) In fact, many customers opt for completely new, custom-built drawer boxes. Most refacers also handle flooring and countertop installations, because homeowners often want to update the rest of their kitchen. And unless the sink and faucet are in good shape, many refacers strongly urge replacing them along with the countertops. Refacers will also custom-build new corner cabinets or over-the-refrigerator units to match old ones, and will add islands and crown molding. Sears offers appliance replacement through its refacing service, and many refacers sell lazy Susans, wine racks, pull-out trash bins, flip-out drawer fronts, pull-out shelves and other accessories. All these additional options will affect the cost to refinish cabinets.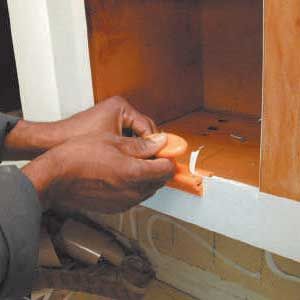 What Refacing Costs
The cost to refinish cabinets depends on the size of your kitchen, the materials you choose, and how many options you elect to include. "Our typical refacing job runs $4,000 to $5,000," says Gerald Baldner of Kitchen Solvers, which has 105 refacing franchises in 30 states. "And that includes countertop, trim, molding, valences, new toekick, shelf and drawer liner, as well as accessories and tax." According to Carl Hyman, owner of Alure Kitchen Refacing, which serves an upscale clientele and refaces about 150 kitchens a year, his company's average job runs about $8,500 (including countertops). The average refacing job by Sears, which operates its refacing business through its own employees in some states and through licensees in others, costs $4,000 to $6,000. As with any remodeling project, your best bet is to get a number of different quotes. The bottom line is that it comes down to personal taste. "You can take the same kitchen and do the plain-Jane refacing for $3,000 or, for $8,000 or $9,000, do it with wood, Corian countertops, a new sink and some bells and whistles," says Cabinetpak's Titus. Whatever you pay, it's bound to be significantly less than the cost of a new kitchen. Companies like Alure, Kitchen Tune-Up and Kitchen Solvers, which offer both refacing and full-remodeling services, maintain a complete remodel runs on average twice as much as a high-end refacing job. Kitchen Solvers' Baldner cautions customers who have been told at home centers and other retailers that they can have new cabinets installed for about the same price to calculate carefully. "There are a lot of costs added on that most people don't think about when considering kitchen remodeling," he says. "If you get a quote on new cabinets, make sure it includes handles, molding, installation, sales tax, delivery charges, refinishing your walls if the new cabinets don't line up with the old, any required plumbing or electrical work." And then there's the prolonged disruption and mess that come with a full-scale remodeling job. "We're selling convenience as much as we are cost savings," says Murray Gross, president and chief executive officer of Dallas-based U.S. Remodelers Inc., the refacing licensee for Century 21.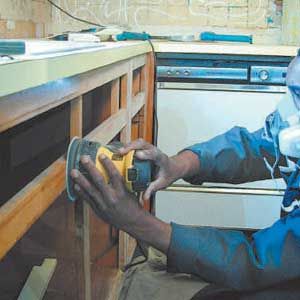 Buyer Beware
Before:
After:
Refacers are listed in the yellow pages most often under "Kitchen Cabinets and Equipment-Household." But be aware; the quality of work varies widely, and bad refacing work looks bad. If you can, get a recommendation from friends and visit the company's showroom. If the company does not have one, it will send a rep to your home with samples of veneers, cabinet hardware, counters and cabinet doors. Make sure you spend as much time discussing the process with the salesperson as the esthetics.
Since the industry is composed of both local mom-and-pop refacers and national companies like Sears, U.S. Remodelers and Kitchen Tune-Up, it's easy to get several bids. Before you sign a contract, check references and insurance coverage carefully. Ask lots of questions, and nail down the terms of the warranty (for instance, if it's based on full-replacement or prorated cost). Also ask to see past jobs in person. Check out corners, edges and where stiles and rails meet on the face frame. These intersections should be crisp and the grain should run with the length of each member like any wood cabinet. Check to make sure the inside edges of the face frames have been faced as well. Refacing offers convenience and savings —but only if the work is done well.
Dealing with Lead
If your kitchen cabinets were painted before 1978, the paint most likely has lead in it, and refacing contractors are required to take special precautions when working. They're also required by federal law to provide homeowners with the "Protect Your Family From Lead in the Home" brochure. New adhesives are being developed so refacers don't have to sand, but until they come to market, you should be wary of contractors who aren't knowledgeable about dealing with lead or are cavalier about it. Alure Kitchen Refacing, in East Meadow, New York, has sent its workers to HUD-sponsored seminars to learn how to remove lead paint safely. The key, says Alure General Manager Sal Ferro, is to keep surfaces moist to keep the dust down, seal the kitchen with plastic and have workers wear respirators. Alure also cleans up with HEPA vacuums, which don't exhaust lead dust. Sears and U.S. Remodelers deal with the issue by encapsulating cabinets that have lead paint on them with 1/4-in. MDF or composite board. It's glued to the old surface and the refacing is put on top of that, according to Gary DiBartolo, national business manager for Sears Home Improvement Services.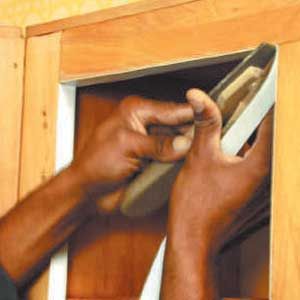 Step-by-Step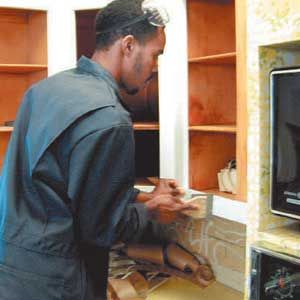 Where to Find It
Alure Kitchen Refacing
1999 Hempstead Tpke.
East Meadow, NY 11554
516/296-7777
Cabinetpak Kitchens
800/323-9510
Cantley & Company
205/324-2400
Kitchen Solvers
401 Jay St.
La Crosse, WI 54601
800/845-6779
Kitchen Tune-Up
813 Circle Dr.
Aberdeen, SD 57401
800/333-6385
Kitchen Tune-Up
31 Winding Wood Rd. N
Rye Brook, NY 10573
914/939-3151
Sears, Roebuck and Co.
3333 Beverly Rd.
Hoffman Estates, Ill. 60179
888/809-7158
U.S Remodelers
1341 W. Mockingbird
Suite 900 E,
Dallas, TX 75247
888/595-3223