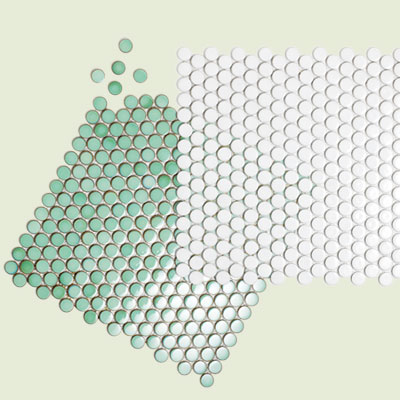 »
Full Circle
They've been around for more than a century but never achieved the ubiquity of hex tile. Maybe that's why penny rounds have emerged as fresh design material today. Originally sold in face-mounted paper sheets and set into a sand-and-cement mortar that also served as the grout, easy-to-clean unglazed porcelain circles debuted in bathrooms and kitchens in the early 1900s. Simple black-and-white patterns quickly led to more colorful dot and flower designs that enhanced foyer floors.
Still prized as a no-slip surface underfoot, penny tile now has more range than ever. While extra rounds of firing lend porcelain versions a hardness with superior durability for high-traffic areas, ceramic styles—now mesh-mounted or joined with glue dots for easy installation—are making a splash as backsplashes, shower walls, and fireplace surrounds. While the familiar
¾
-inch size remains the standard, sizes do vary a bit (as noted). Here, 13 of our favorites.
Contribute to This Story Below
More in Painting & Finishes