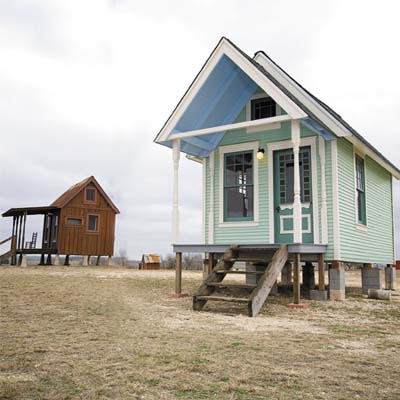 »
Small Space Solutions
In 2006 Brad Kittel expanded his salvage business,
Discovery Architectural Antiques
, in Gonzales, Texas, to include diminutive, one-of-a-kind houses built almost exclusively out of the vintage materials he stockpiles; typically only the plumbing, electrical systems, and insulation are new. Each one of his Tiny Texas Houses evokes a period style, whether it's a Queen Anne dripping with gingerbread trim or a gambrel-roofed Dutch Colonial.
Kittel is among a growing group of builders and designers who are challenging the long-standing belief that a bigger house is a better house. But unlike many of his peers in the small-house movement, whose contemporary mod-pod designs seem to be inspired more by the future than the past, Kittel's approach is decidedly
Little House on the Prairie
. Just like a frontier farmhouse, his Rustic Ranch with a loft bedroom, pullman kitchen, and single bath could be used as a permanent home and then added on to later as needs change.
The Rustic Ranch and Victorian Cottage await buyers at Discovery Architectural Antiques in Texas. At 10 by 16 feet and 10 by 17 feet, respectively, they are the teeniest of the Tiny Texas Houses.

Contribute to This Story Below