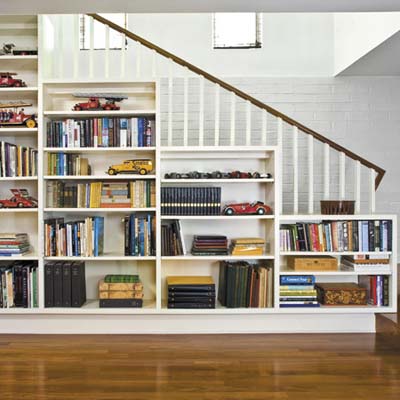 »
Built-in Spaces
Nothing puts your square footage to better use than a built-in. Whether that means a desk framed within a seldom-used closet or a bookcase tucked into a niche beside the fireplace, built-ins maximize every available inch in your floor plan. They handily transform the dead zones under stairs and below windows into functional space and help you get organized by adding new storage options without adding on to your house. You can design them to tie in with other architectural elements in the room, such as crown molding and wainscoting. Fitted with doors, they help maintain the integrity of period interiors by concealing modern amenities like computer workstations or a mini fridge in a wet bar. You don't have to spend a fortune to get those good looks and the improved functionality, either. We'll show you a portfolio of carpenter-crafted and DIY designs, all to help you bring a sense of order and distinction to your rooms.
Here, bookshelf units of descending height cleverly make use of the otherwise dead space along a basement-level staircase. Constructed of solid 1
½
-inch lumber, the shelves are sturdy enough to support heavy loads of art and reference books along with display items.
Contribute to This Story Below