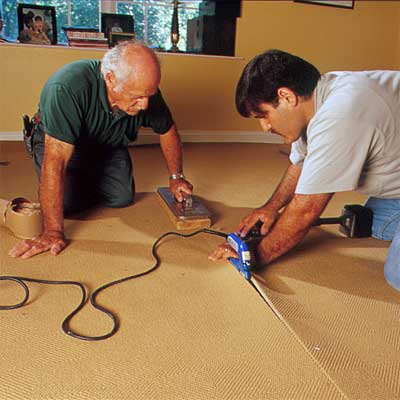 If you need to seam together two or more pieces of carpeting, you'll need an electric seaming iron, seaming weight, and roll of heat-activated seam tape. Plug in the iron and let it heat up. Butt the edges of the two pieces of carpeting tight together, but don't allow them to overlap. Lift up and fold back one edge of carpeting. Slide a length of heat-activated seam tape halfway underneath the edge of carpeting that's flat on the floor. Run the tape along the entire seam, making sure it's positioned halfway under the carpeting.

Lay flat the folded-back piece of carpeting, and check for a tight fit along the seam. Starting at one wall, slip the hot seaming iron into the seam. Slowly glide the iron between the two pieces of carpeting, activating the adhesive on the seam tape. Ask a helper follow closely behind with a seaming weight, and firmly press down on the carpet to adhere both edges to the tape.

As you work your way across the floor, you may have to stop occasionally and use the knee kicker to close up the seam.