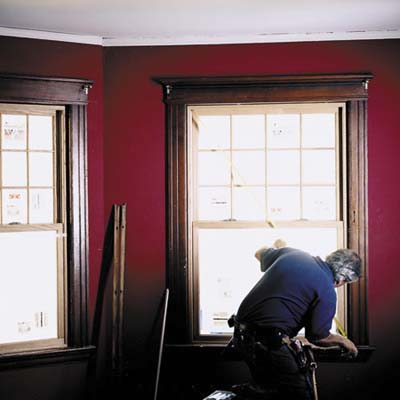 The most important step in the window-replacement process happens long before installation day. It's when you measure the dimensions of the existing window frame to make sure you order a replacement unit that's the right size . Here's how to do it.

Start by measuring the inside width of the old window frame, jamb to jamb, in three places: across the top, middle, and bottom. Write down the smallest of the three measurements.

Next, measure the frame's height from the top of the sill to the underside of the head jamb in three places: at the left jamb, in the middle, and at the right. Again, record the smallest measurement.

Check the squareness of the frame by measuring the diagonals from corner to corner. The two dimensions should be the same. If the frame is out of square by 1/4 inch or so, don't worry; the replacement can be shimmed to fit. Anything more may require adjustments to the frame. If the frame is so out of whack that a square replacement wouldn't look right, you'll need a full-frame replacement.

Finally, use an angle-measuring tool to determine the slope of the sill; some replacements come with a choice of sill angles.